Deciding between the Greek islands of Crete and Rhodes can be very difficult because they are both beautiful with plenty to do and both are popular holiday destinations.
Here we try to help you make an informed decision by highlighting their differences… So, are you ready to pick between Crete or Rhodes?
---
Disclaimer: Posts include affiliate links to products or services. I might earn a commission if you make a purchase.
---
Crete or Rhodes: Which One Should Be Your Next Escape to Greece?
Let's start by considering the different traits of both Greek islands to understand whether Crete or Rhodes is the best choice for you.
Crete or Rhodes: Consider the Location
Crete is the largest of the Greek islands and is situated in the Mediterranean, just south of the Cyclades. It has two international airports (one in Heraklion and one in Chania), as well as two important seaports in both towns with daily connections to mainland Greece.
You might also want to read: How to Travel to Crete.
In complete contrast, the island of Rhodes is about eight times smaller than Crete and has just one airport which is 14 km southwest of Rhodes Town.
Mandraki is the island's port and is also a sizeable marina, popular with the owners of snazzy yachts from all over Europe.
Suggested Length of Your Holiday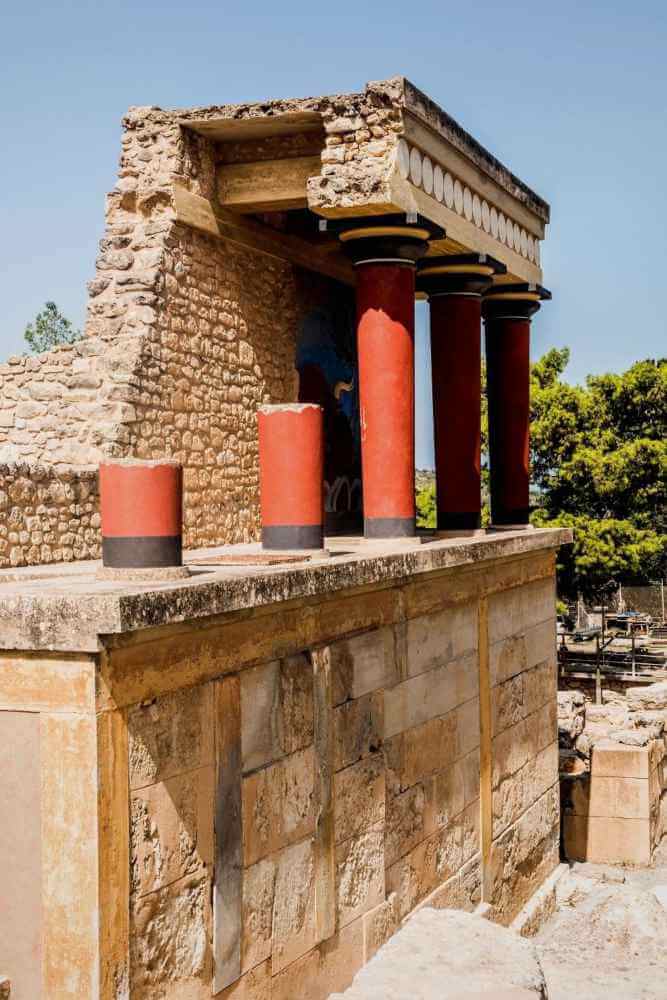 If you are looking for an island that can be enjoyed for a long weekend or midweek break of less than a week, Rhodes is ideal.
Because of its much larger physical size, Crete takes longer to explore, and at least one week is needed – although even longer is preferable if you plan to delve into its rich archaeological treasures which tell the story of the Minoan civilization that inhabited Crete and other islands during the Bronze Age, about 3,500 years ago.
Ease of Getting Around
The easiest way to get around both islands is to hire a car, but it is fun to hire a boat to make an excursion too.
Crete has a good bus network but because of the size of the island, the journey times can often be too long (especially for day trips) however the landscapes are worth the experience.
In Rhodes, there is a good bus service between the towns and there are also several tours of Rhodes Town available.
If you plan to stay in and around the main town, it is easy to reach most landmarks in town on foot.
Which car rental service is the best to choose?
If you want to rent a car for your trip and look for the best service, I am here to help you! Consider choosing Discover Cars, an international car rental booking service present worldwide. This way, you will find the best car for your trip wherever you are!
Beaches and Coastline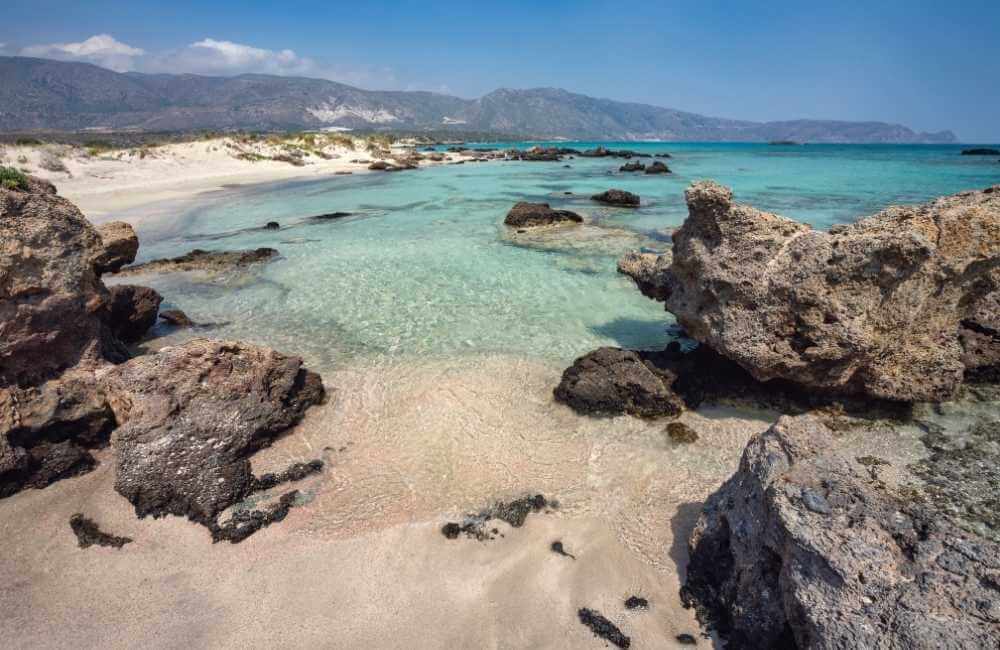 Crete has a very long and varied coastline with pretty fishing villages and numerous deserted coves.
Crete also has two of the most stunning beaches in the whole of Greece – Balos, and Elafonisi.
Balos with its clear lagoon and the nearby islet of Gramvousa is a truly stunning destination, while Elafonisi Beach has gorgeous powder-pinkish sand.
Vai is another popular beach that is fringed by date palms with an ancient monastery open to visitors close by.
Almost all of the coastline of Rhodes is made of gorgeous beaches. Many are sandy with calm, clear waters — with Pefkos being the best and most popular of all.
On the South coast of the island, the beach of Prasonisi is simply perfect for kite surfing.
Crete vs. Rhodes: Towns and Villages to Visit
Both islands have traditional towns and villages to discover where time seems to almost stand still. In Crete, the town of Chania has a beautiful Venetian harbor, an Egyptian lighthouse, and numerous alleyways.
The town of Rethymnon is like a picture postcard with cobbled streets and houses with brightly-painted front doors.
Interested in visiting Rethymnon with the coolest pocket digital guide? Check this downloadable guide to the old town with tips to also visit Arkadi Monastery
Elounda is renowned for its luxury hotels and is a popular destination with the rich and famous. If you have a hire car, you can explore some of the many hill villages situated inland.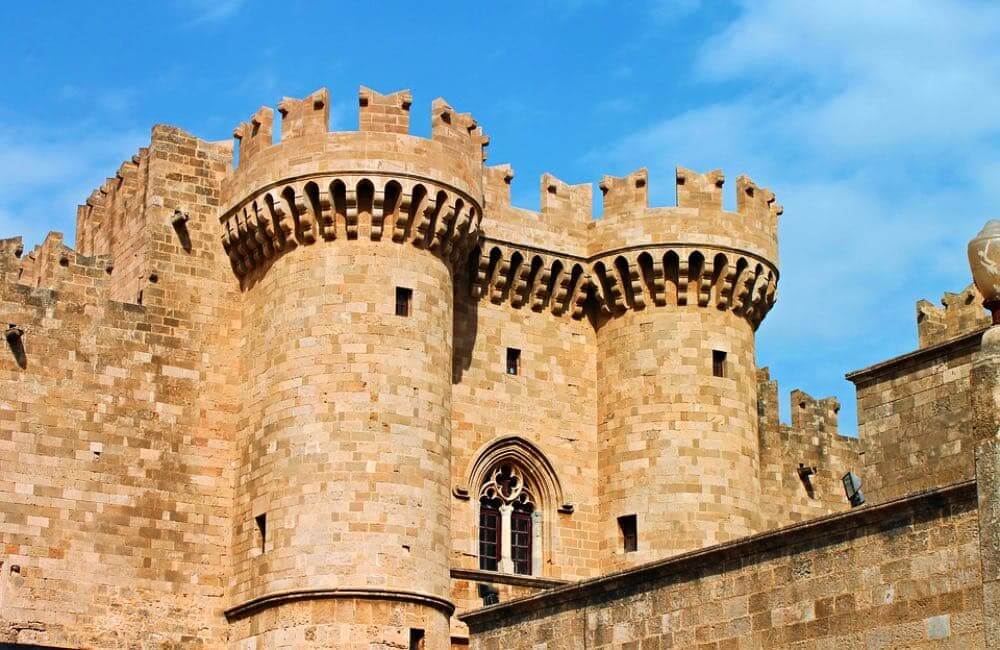 There are 28 towns and villages in Rhodes with the famous Rhodes medieval town on the north coast being one of the most popular holiday destinations in Europe!
Lindos is the second town and is built on and around a huge rock and is dominated by its castle. Faliraki is another popular place to discover, it was once a fishing village but today is a popular resort.
Top Places to Visit in Crete and Rhodes
Crete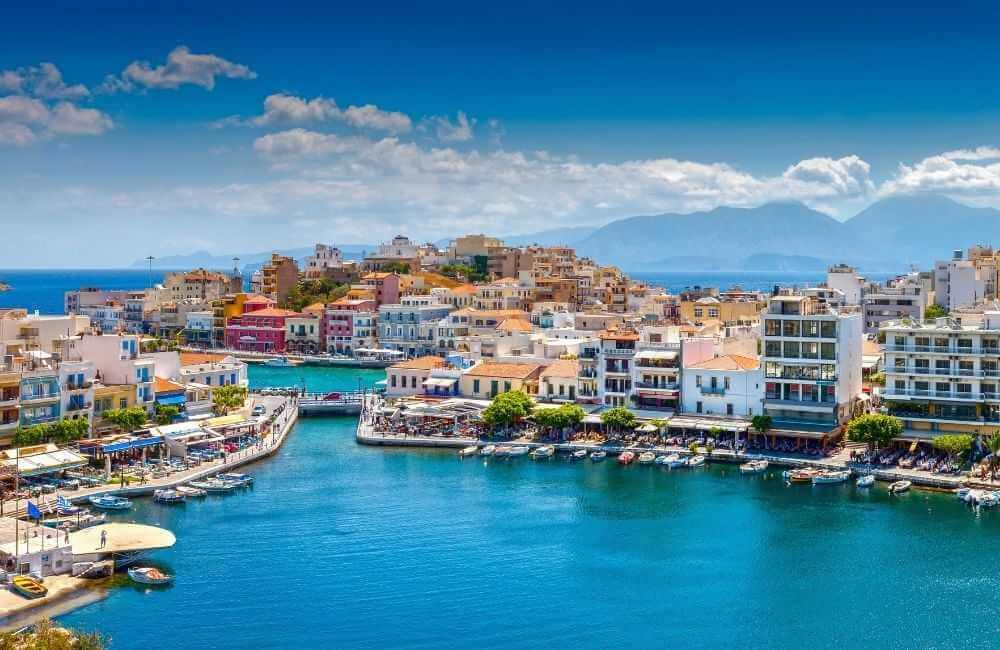 Knossos: This world-famous archaeological site with its magnificent palace, was once the capital of Minoan Crete and is Europe's oldest city.
Heraklion Archaeological Museum: Situated in the island's capital, this museum has the largest collection of Minoan artifacts in the country. Read about the museum here.
Samaria Gorge: This spectacular canyon is 13 km in length and leads walkers through a rocky gully that is nearly 300 meters high in places. Check out this organized hike through Samaria Gorge to enjoy the experience.
Lake Voulismeni: This beautiful lake is located in Agios Nikolaos one of the most picturesque towns in Crete
Spinalonga: The island of Spinalonga is a former leper colony that was used until 1957 and is just a short boat ride from the town of Plaka, near Elounda. Get ready to visit Spinalonga by checking out this guide.
Rhodes
The Palace of The Grand Master: This was one of the first castles built by the Crusader Knights of St John, which today contains a museum that tells you everything about the history of the island. This guided visit is true value for money!
Rhodes Town: This is a UNESCO-listed World Heritage site as it is a medieval walled city in remarkably good condition. If you're traveling on a budget, you will enjoy this super affordable, entertaining, and educational Rhodes Old Town Highlights Self-Guided Treasure Hunt & Tour.
Mandraki: The island's famous harbor, guarded by its two iconic sculptures — one of a doe and the other, of a stag.
Lindos: A major archaeological site and also a hilltop village, where visitors walk up to the top through the cobbled streets to be rewarded with a spectacular view. If you're staying in Rhodes Town and would like to explore Lindos at a relaxed pace, then booking a Lindos Round-Trip Bus Transfer with Free Time can be a winning idea.
The Valley of the Butterflies – Petaloudes: During the summer months, from May to September, there are thousands of butterflies to be seen in this pretty valley that is five kilometers in length. Check out this tour of Petaloudes and other nearby areas.
Sports for Everyone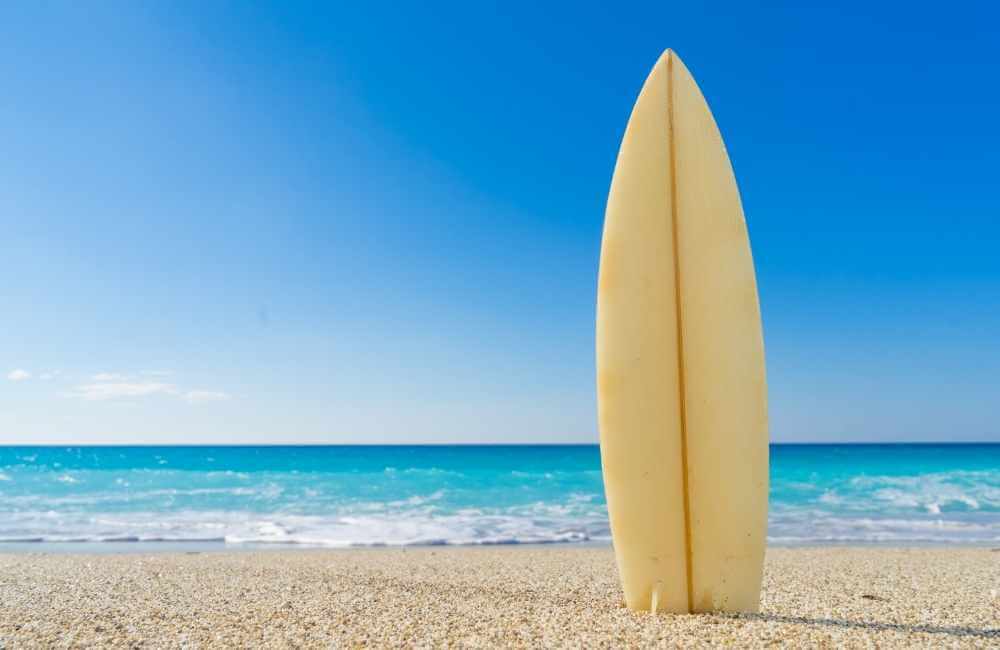 Both islands offer an array of water sports including snorkeling, windsurfing, water skiing, and paragliding. Windsurfing and kitesurfing are particularly big in Rhodes while kayaking is a favorite activity for families.
There are internationally recognized diving courses available in some resorts too and for family fun, there are also several water parks that kids love!
Want more? There is the opportunity to rent your boat or to learn how to sail and there are mountain bikes for rent too.
For those who enjoy hiking, you will find some excellent hiking trails both in Crete and Rhodes. For keen golfers, there are golf courses on both islands.
A Taste of the Islands
There are plenty of Greek dishes you can enjoy in both Crete and Rhodes! Delicious pastries and cups of Greek coffee can be enjoyed throughout the day – or a Frappé which is a chilled coffee served with plenty of ice.
Main dishes include village-style salads (xoriatiki), meat, and fish cooked over charcoal, and oven-baked dishes such as moussaka or gemista (check this guide to Cretan food for more details).
The best way to enjoy a variety of different dishes is to order a mezé which is like a tasting menu to share and consists of more than a dozen plates.
Crete has plenty of island specialties for visitors.
Dakos is a large barley rusk that originated on the island and is dipped in olive oil and then topped with chopped tomatoes, capers, and crumbled feta.
Many villages make their cheeses and kaltsounia is a local cheese or spinach pie.
There are many meat specialties to sample, including cold slices of smoked pork, lamb dishes, and even fried snails (chochlioi boubouristi) to sample as well as vegetable dishes and ones made with pulses.
Crete produces wines and raki (or tsikoudia) which is the local spirit made from grapes but not aniseed.
In Rhodes, there are plenty of delicious dishes to sample including several made with broad beans and horse beans, plenty of fresh fish and seafood, meat cooked over charcoal or in casseroles, and many kinds of cheese.
Flower blossom honey, olive oil, and locally grown thyme are often featured in many dishes. There are also plenty of Greek beers and wines to enjoy as well as ouzo, raki, and tsipouro.
Crete or Rhodes: Which is Best for Island Hopping?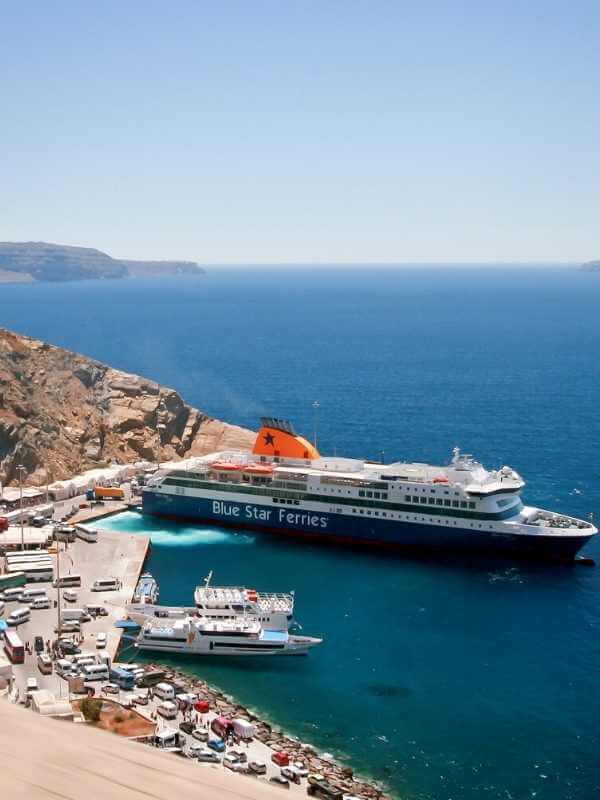 Island hopping by boat is a popular way to explore several islands in one holiday and Crete is the perfect location for those planning to island hop to Santorini (two hours by boat) Paros, and Naxos (3.5 hours by boat).
If you fancy island hopping from Rhodes, the delightful island of Symi is just a few hours by boat and is famous for its gorgeous harbor which is surrounded by elegant mansions and people selling natural sea sponges.
The most easternmost Greek island, Kastellorizo lies just a few kilometers from the Turkish mainland. It is a tiny island and consists of one small town with Venetian mansions and no beach!
It is well worth paying a local fisherman to take you to see the Blue Grotto and the famous islet of Ro. Patmos, Tilos, and Nisyros are other islands within easy reach of Rhodes.
Both islands make great holiday destinations and each has its character, perhaps the ideal solution is to visit one this year and the other next year! Which one are you visiting? Crete or Rhodes?
Read more about Greece
PLANNING A LAST-MINUTE TRIP TO GREECE?
Be sure to book accommodation and tours in Greece ahead of time to ensure availability!
🛥️ Book ferry tickets with Ferryhopper.
🛌 Find hotel deals on Booking.com.
🚘 Compare car rental prices with Discover Cars.
💳 In need of money? Use WISE as a digital card and top-up from the app.
🛌 Suggested Accommodation in Crete:
🗺️ More resources to book your trip to Crete
Pin this Guide to Deciding Which Island is Best: Crete or Rhodes!
---
You might also want to read these posts about Crete's regions:
---
About my blog: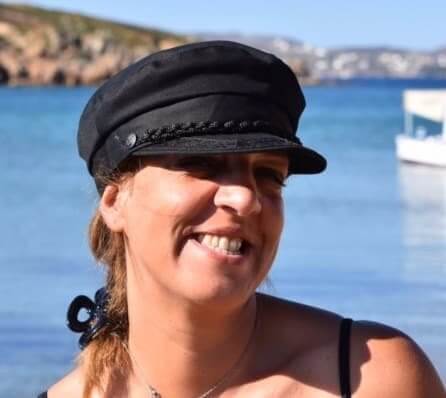 I moved to Crete in 2016. During these years, I learned much about the island.
In Crete, I juggle being a solo mom, hosting culinary tours, and writing for several travel media.
I've written for Greek Reporter, published travel guides about Greece, co-authored DK Eyewitness Top 10 Crete, and had more glasses of frappe than any regular person could ever handle.