Although Crete is too big to explore all in a single vacation, nothing compares to island hopping in Greece. For that reason, here are five suggestions for Greek islands to visit from Crete. No matter your taste, at least one island on this list can be your next love at first sight. Ready to discover it yourself? Let's roll!
---
Disclaimer: Posts include affiliate links to products or services. I might earn a commission if you make a purchase.
---
Beautiful Islands to Visit from Crete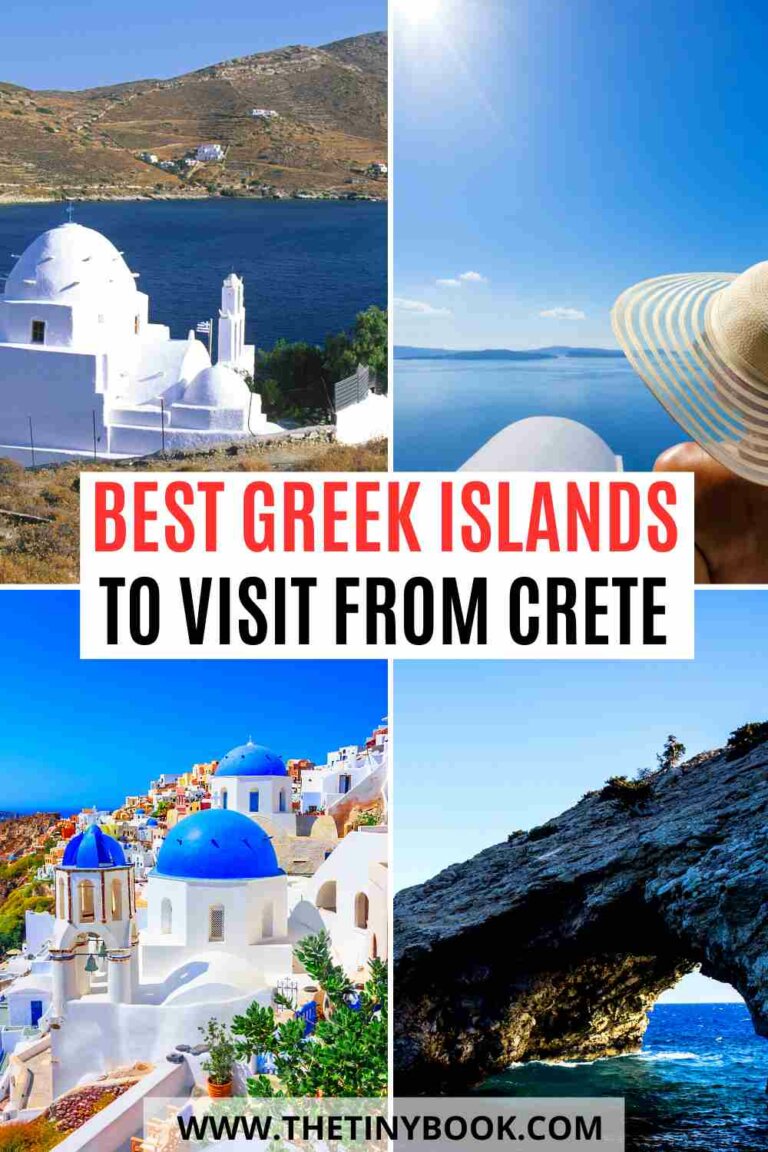 So, are you ready to set sail?
In no particular order, these are my top favorite islands near Crete, take a look!
From Crete to Santorini: The Most Instagrammable Spot in Greece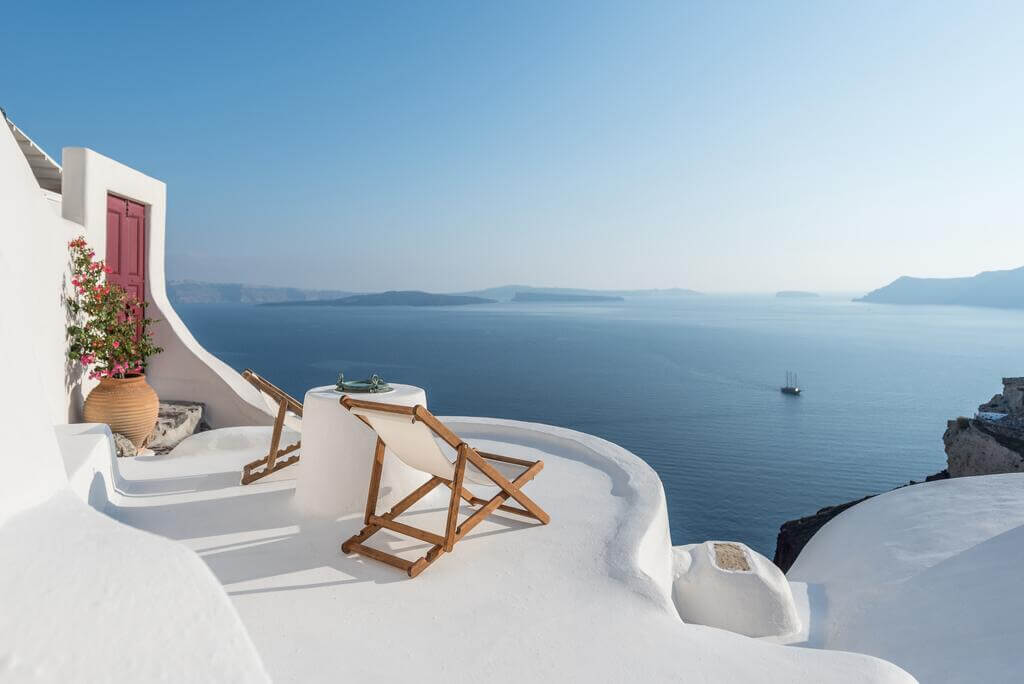 If you are after the best possible setting for your sunset photo, look no further than Santorini. Also known as Thira, the island is famous for the caldera, its unique open-sea lagoon created by past volcanic activity.
This site is one of the most photographed places in Greece, so remember to take your camera with you.
The east side of the caldera is full of cute towns and small villages that offer a panoramic view of the volcano and the sunset.
If you are wondering which to visit first, the capital Fira and Oia are the most famous settlements among tourists in Santorini.
In between the two, Imerovigli village stands on the highest point of the Caldera cliff, about 300 meters above sea level.
Thankfully, no matter which place you go in West Santorini, the view over the caldera is breathtaking.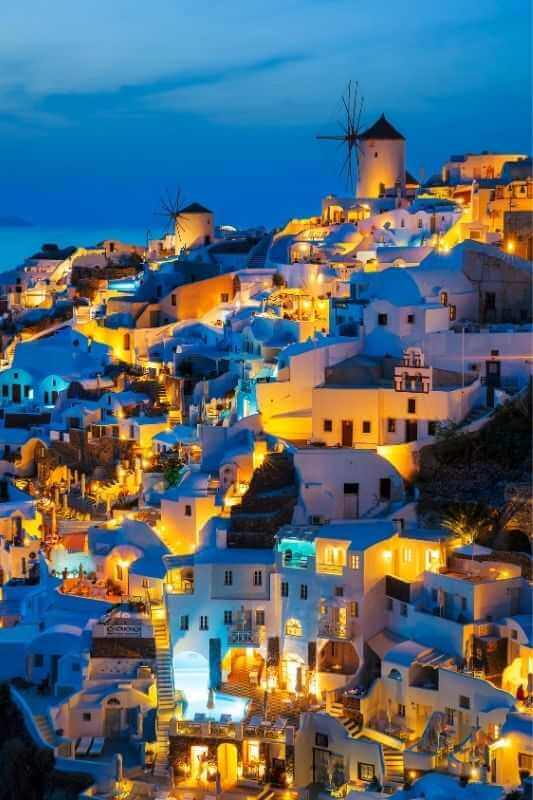 To explore Santorini at its best, remember to bring a good pair of sneakers; you will walk a lot. The island's rocky terrain means it is better to walk than drive.
And if you are up for a challenge, you can hike from Thira to Oia. Throughout the journey, you will have the entire caldera at your feet.
Although the west side of the island gets the most attention, make sure to visit east Santorini too. Hot springs and picturesque villages create the ideal conditions for a honeymoon or wedding you will never forget.
However, you should not be put off by these romantic traits… Santorini is one of the best Greek islands for solo travelers!
Sandwiched between the Aegean Sea and the rugged peaks of Vouno mountain, Perissa and Kamari are two settlements with black sand beaches, whitewashed houses, and a relaxed seaside nightlife.
From here, you can also take a catamaran cruise and sail around the island for an experience you will long remember.
How to Get from Crete to Santorini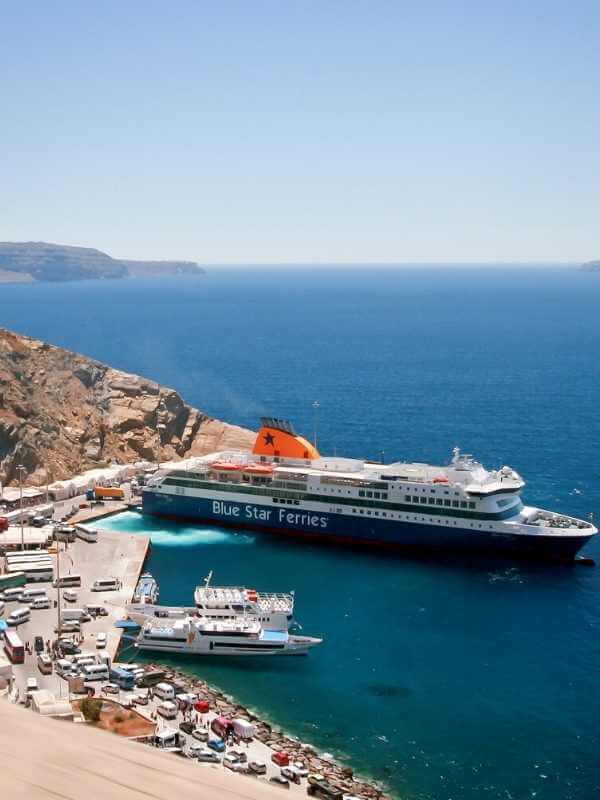 The easiest way to get from Crete to Santorini is to take the ferry from Heraklion port. The route operates during summer and offers one to two daily crossings.
Depending on the type of boat you board, it can take anything from two to six hours.
⛴️ Check out ferry ticket fees and schedules
Although more costly, it is worth opting for a speedboat that completes the route in less than two hours (1.50 h with Power Jet Seajets). In summer, there are also ships leaving from Chania, Rethymnon, and the port of Agios Nikolaos.
The earliest Crete to Santorini ferry departs from Heraklion at 8 am and arrives at the port of Athinios at 10 am. The latest ferry from Heraklion departs at 8.15 pm and arrives in Santorini around 2.30 am.
Click here for more details and to get the latest ticket prices.
Another quick way to get to Santorini from Crete is by air through the airports of Chania or Heraklion.
You can learn more in this article: How to Get to Santorini.
Although there is no permanent air route, it is worth checking out if affordable direct flights are available during your stay in Crete.
✈️ Find cheap flights with Skyscanner.
Accommodation in Santorini
If you're thinking about spending the night in Santorini, click here to find affordable accommodation as well as luxury hotels and family resorts
From Crete to Karpathos: An Off-the-Beaten-Path Destination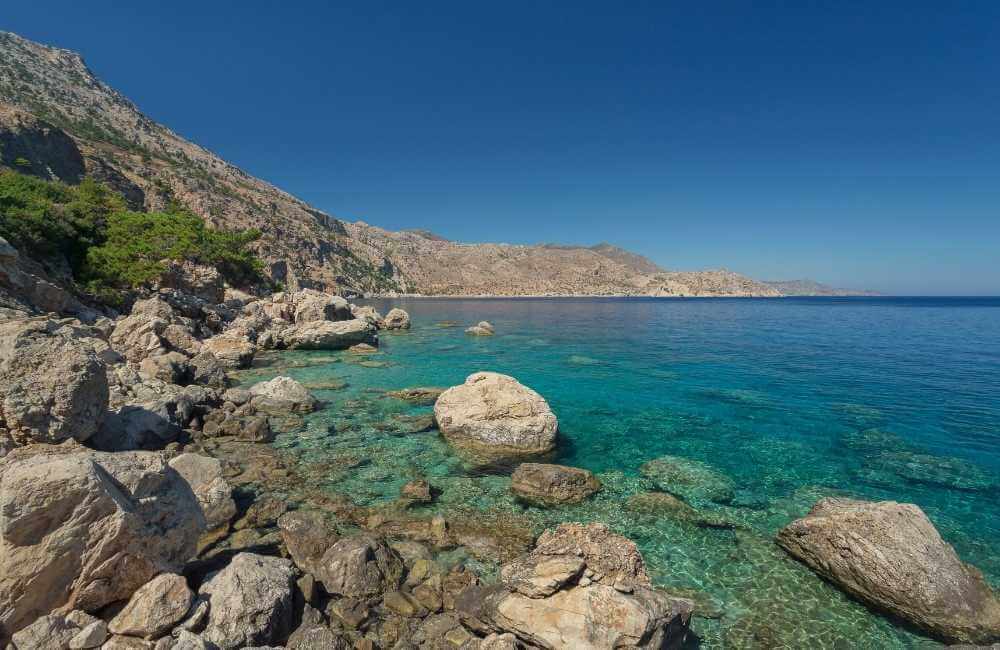 Another island that is worth every bit of your attention is no other than Karpathos. Directly south of Rhodes, the island of Karpathos makes for a great excursion off the beaten track from Crete to the Dodecanese.
Not only will you love its sandy beaches with crystal-clear emerald waters, but you will also have the chance to explore the unspoiled terrain that makes it a top destination for beach lovers.
Take the breathtaking Apella Beach, for example. It is about a sandy enclave of water in a picturesque bay that will leave you breathless for its beauty.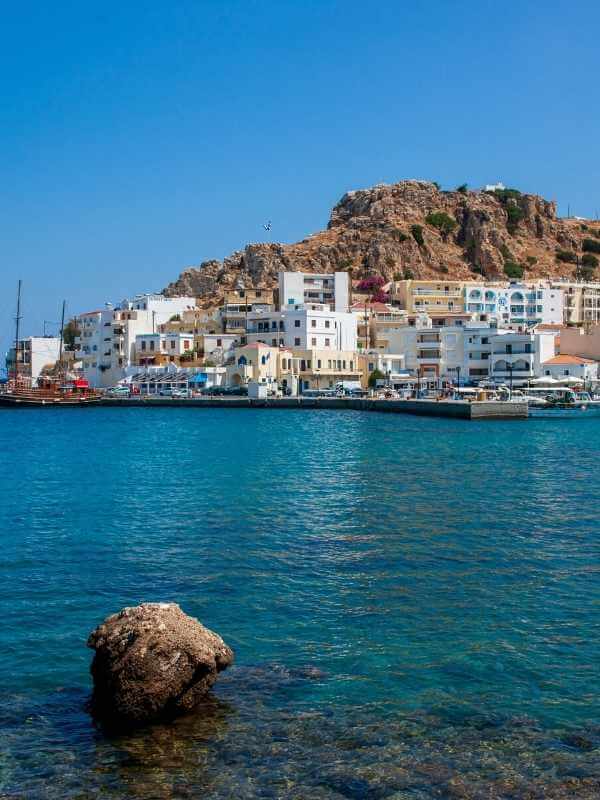 And the same applies to the beautiful beaches of Kyra Panagia and Agios Minas, to name just a few.
Yet, beaches make just a speck of what Karpathos can offer. Age-old settlements, ancient ruins, strong traditions, and customs, as well as an extended list of ancient sites, all come together to create the perfect setting for the ultimate holidays in Greece.
Did we mention that Karpathos is quite off-the-beaten-path as well?
Although more and more tourists discover this often-overlooked island that sits in the shadows of Rhodes and Crete, Karpathos has not lost an iota of its appeal and is one of the best places for an all-Greek holiday.
Its residents have always managed to maintain the island's original character intact.
And that is evident the moment you step foot on its picturesque port.
The main town of Pigadia is full of traditional restaurants, cafes, bars, and shops that come to life in the summer months to cater to your every need.
The laid-back charm of Karpathos capital is evident all around. And the same applies to the entire island and its coastline.
However, you don't need to stay on the shores to appreciate the unparalleled beauty of Karpathos. You can just as quickly head to the mountains and explore the unique vibe of traditional settlements with a rich history such as Olympos village.
It wasn't long ago when Olympos had no electricity and no road whatsoever to the rest of Karpathos.
Although that is no more the case, this mountain village retains its traditional charm and offers visitors an experience they will never forget.
How to Get from Crete to Karpathos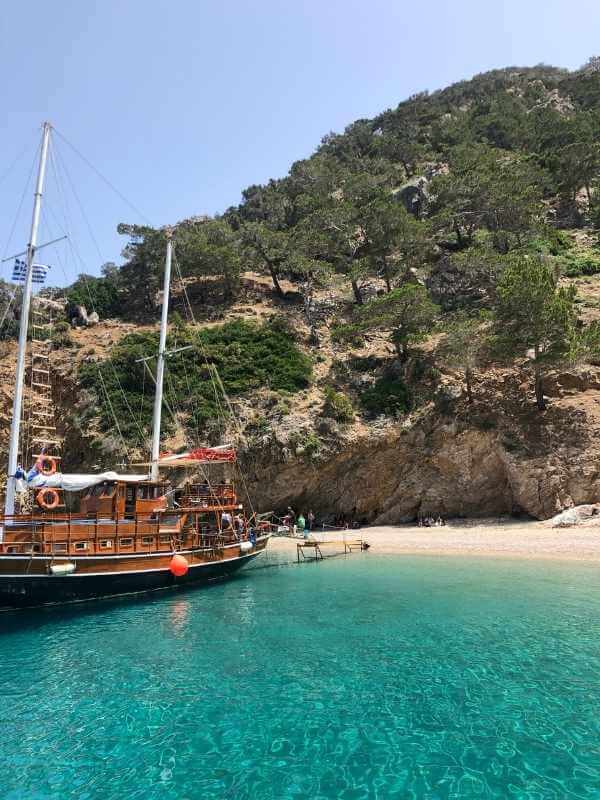 The best way to get from Crete to Karpathos is to take the ferry from Sitia to the Dodecanese islands.
The ferry company Anek Lines operates this route at least once per week, with an average sailing duration of five hours.
If you are not near Sitia, you can also board the same ferry from Heraklion for a total journey duration of 8 hours.
The company Aegeon Pelagon operates the ferry boat Pevelis that covers the route Sitia-Karpathos with a sailing time ranging from 4 to 6 hours, depending on the port of arrival.
Click here for more details and to get the latest ticket prices.
Accommodation in Karpathos
It's a great idea to spend at least a few days in Karpathos, to enjoy a quiet vibe and experience the island's traditions. Click here to find the best places to stay in Karpatos.
From Crete to Paros: The Island with a Hundred Beaches
Between Santorini and Mykonos, the island of Paros is a holiday destination known for its phenomenal beaches (among the best beaches in Greece) and whitewashed Cycladic villages.
At the same time, Paros has so much to offer that it is no wonder many consider it the best Greek island, the one that has it all.
Whether you are looking for historical sites, culture, nightlife, archaeology, or land and water sports, you are sure to find your match in Paros.
The harbor village of Naoussa, with its hundreds of fishing boats, and the old town of Paros, with its renowned boutiques in the neighborhood of Parikia, are the two most visited settlements on the island.
However, if you get to Paros, make sure to also get to the mountainous village of Lefkes and wander around its narrow cobblestone alleys.
With its great views, the landscape around Lefkes is just out of this world.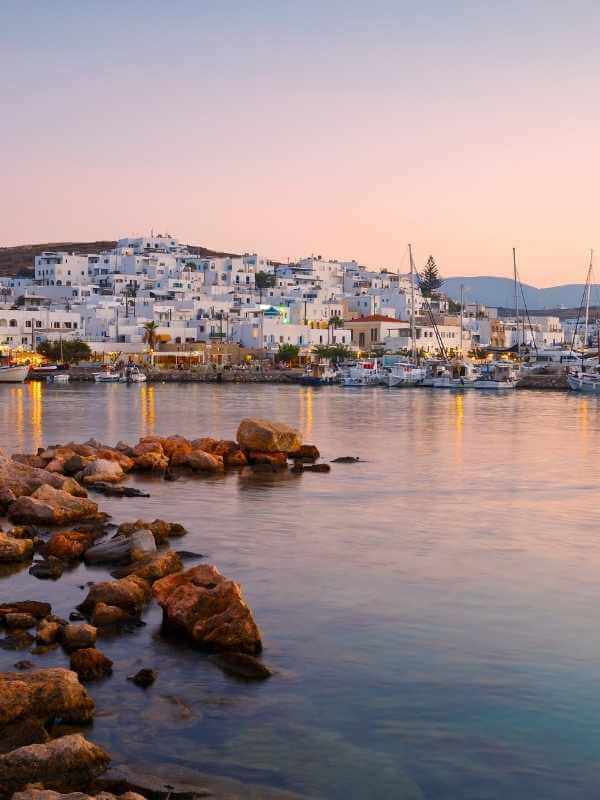 Thankfully, no matter where you stay on the island, there will be plenty of beaches nearby. To name just a few, Krios Beach and Livadia Beach are two sandy enclaves of water right near the center of Parikia.
Similarly, Piperi and Monastiri beaches are within walking distance from Naoussa. In short, there is a beach around the corner wherever you are.
However, the most popular and idyllic beach of Paros is no other than Kolymbithres, which is a quiet cove dotted with sunbeds, only 15 minutes away from Naoussa.
Imagine a million-year-old granite structure standing in grandeur and asking for every bit of your attention.
Although most beaches in Paros are calm and shallow, there are also spots where conditions for watersports are ideal.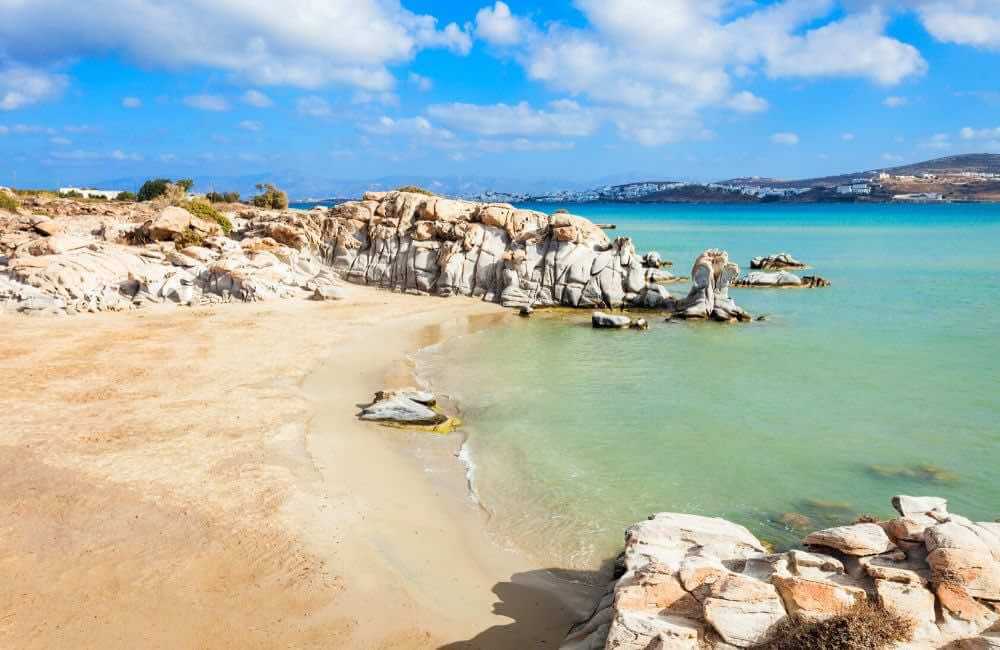 Santa Maria Beach and New Golden Beach are two such places where you can try your hand at windsurfing or get active with various other watersports. Paros has something for everyone.
Even if you are looking for a cruise, know that you have come to the right island. Paros is full of sailing boats you can rent or join for a tour around the island and the Cyclades.
If you do so, make sure to also head to Antiparos island, only a 20 minutes boat drive away (even less if you depart from Pounda port).
Yet, the most popular day trip from Paros is a cruise towards Pantenonisia, a small cluster of islands also known as Blue Lagoon worth visiting.
If you have the chance, sailing around Blue Lagoon and its crystal clear waters is an experience you do not want to miss.
How to Get from Crete to Paros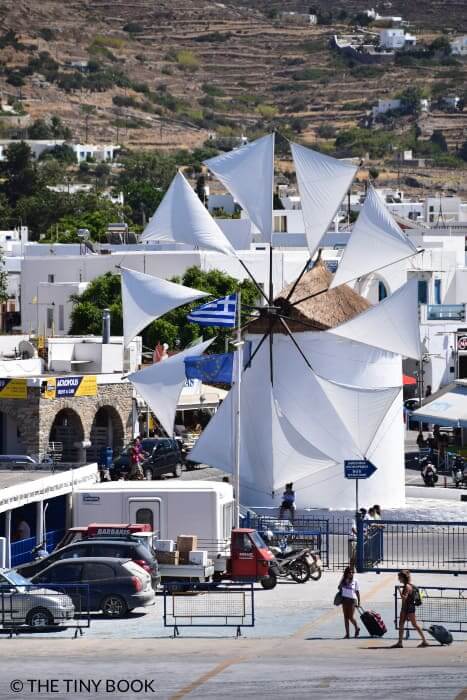 Although there is no direct route from Crete to Paros, you can still take one of the multiple ferries that reach the Cyclades from Crete.
Accommodation in Paros
Paros is an excellent island to spend a few days, especially for those traveling with kids, since it offers plenty of things to do for the whole family and amazing beaches for kids. You can look for accommodation in Paros here, or you can check these thorough accommodation guides to Paros:
From Crete to Ios: the Island of Entertainment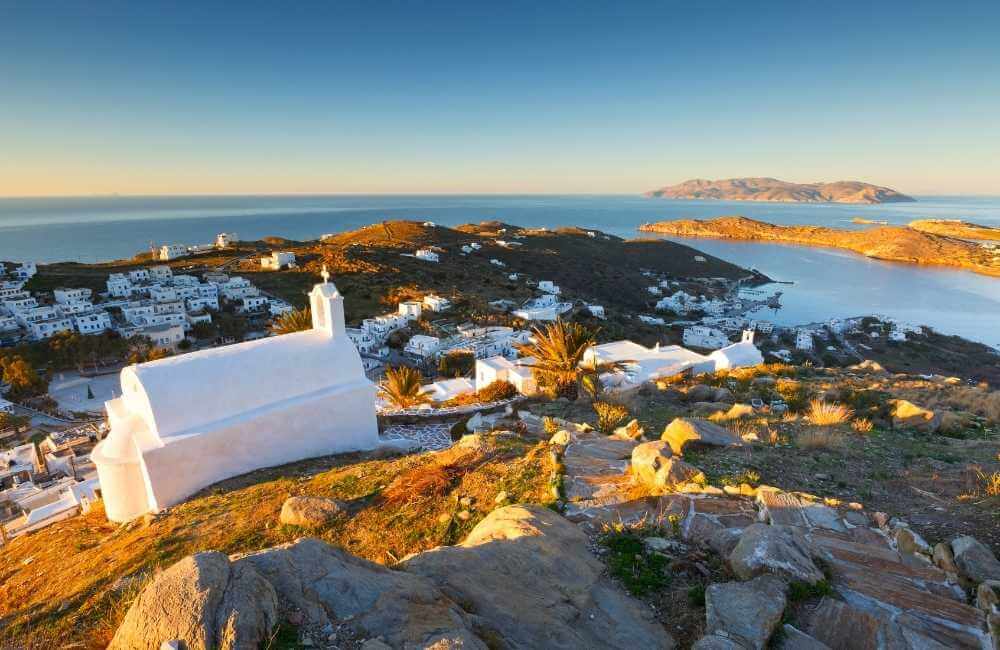 Just a few miles south of Naxos and Paros, the Cycladic island of Ios is an affordable Mykonos alternative when it comes to partying.
It has become one of the most popular islands in Greece for a good reason. The nightlife here is wild and crazy.
It all started in 1980 when hippies from Crete first headed to the virgin beaches of Ios.
Today, the island is full of bars and clubs, popular with people in their twenties, especially Australians, Irish, and Brits.
Most of the night fun occurs in Chora Ios, the island's capital. Built on hilly terrain, the whitewashed town of Chora turns from a peaceful settlement during the day into an all-can-happen disco at night.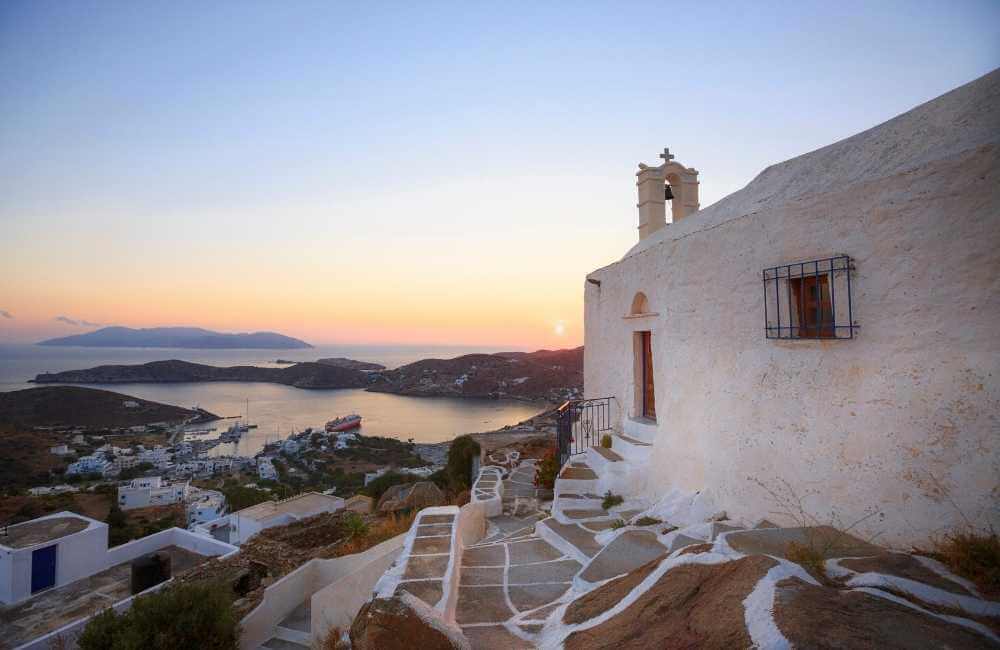 No matter how many nights in a row you visit Chora, you will experience something new every time.
All-night partying in Ios is legendary and attracts thousands of party lovers every summer.
Bars, cocktails, and pulsing music make the epitome of the ultimate island entertainment.
Apart from Chora, another popular spot for partying is Mylopotas Beach, located near the capital. Not only is this the most visited beach on the island, but it offers a great variety of upbeat beach clubs.
Like most beaches on Ios, Mylopotas is a great place to relax and enjoy the crystalline waters and white sand of the Aegean.
There is nothing like sitting on a Greek beach under the sun's heat and the Aegean breeze after a fun night out!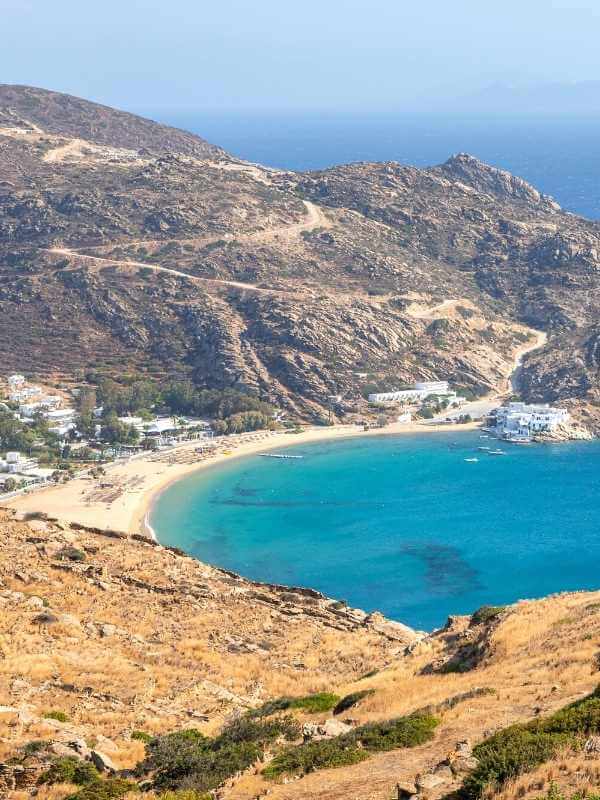 If you are after a more quiet location away from the crowds, look no further than Manganari Beach.
Accessible by car and boat trips, Manganari is full of small, sandy coves, which adds an extra sense of seclusion and uniqueness.
If that is not enough, note that there are also a few nearby diving spots from where you can explore the serenity and richness of underwater life.
Is there any doubt that Ios is one of the best islands near Crete that you can visit in the high season?
How to Get from Crete to Ios
The ferry route that connects Crete with the Cyclades also passes through Ios. The quickest crossing would be taking the SeaJets ferry from Heraklion to the Cyclades.
You can then reach Ios in less than three hours, making this route the most convenient and popular way to get from Crete to Ios.
Click here for more details and to get the latest ticket prices.
Accommodation in Ios
Check out this link to find the best studios, hotels, villas for rent, and other accommodation options in Ios, Greece.
From Crete to Gavdos: Crete's Best-Kept Gem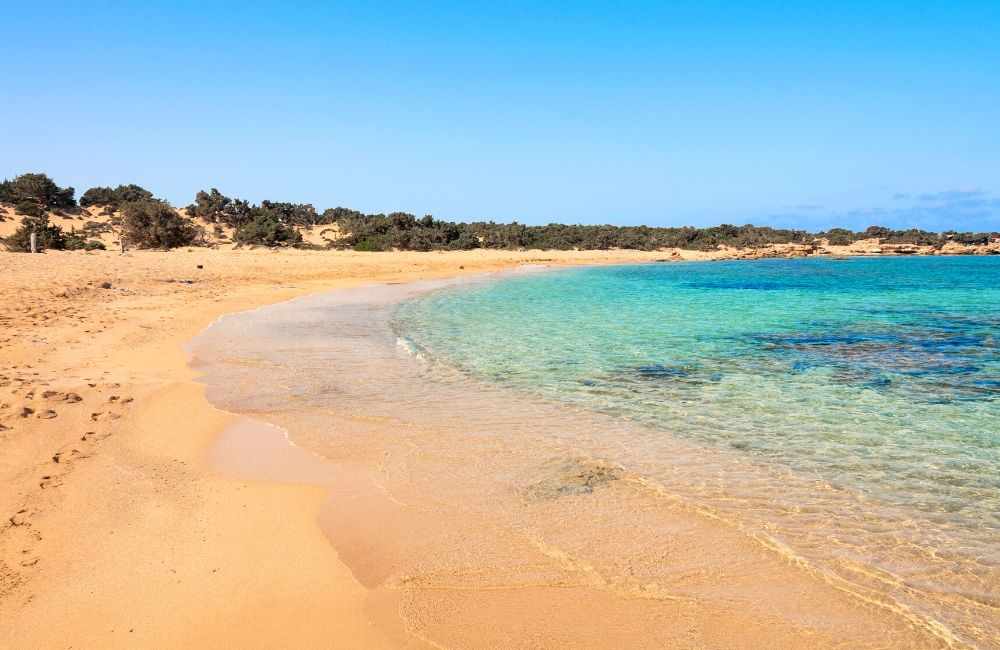 If the above islands sound too far for you, make no mistake and head to Gavdos.
You don't need much time to get there. It will only take you 2 hours to reach this tiny island from the port of Paleochora, in south Crete.
Although it's only 32 square kilometers, the island of Gavdos has more than meets the eye. And since many of the places to visit can only be reached on foot, Gavdos will feel like a large island to explore even when it isn't!
Its natural landscape is full of small shrubs, pines, and the most junipers you can find on the southern beaches of Crete.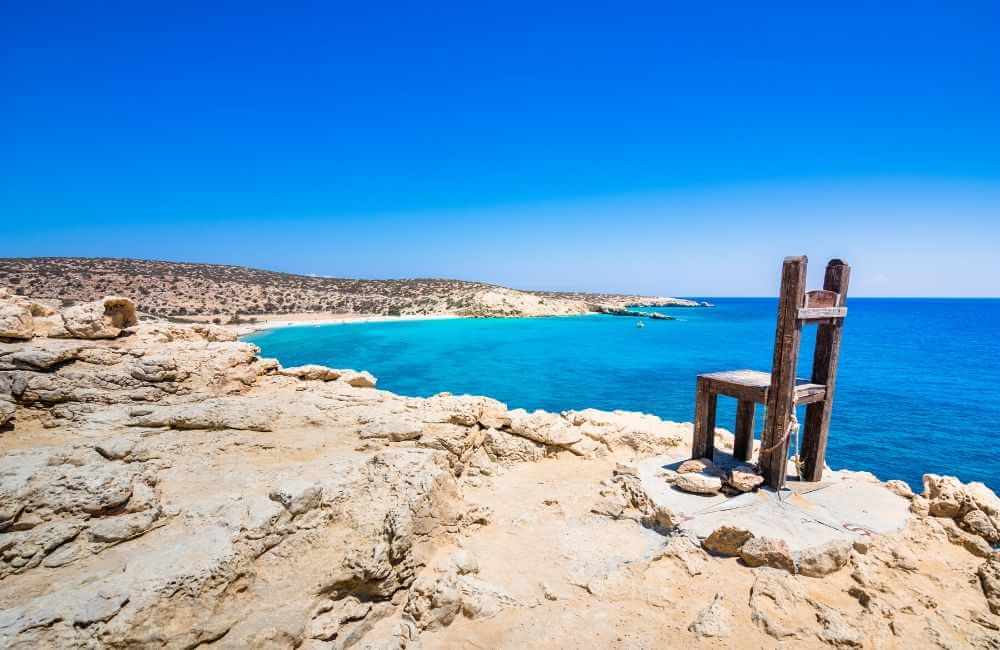 Speaking of location, did you know that Gavdos is the southernmost island in Europe? Gavdos is closer to Africa than Athens itself!
The unique location of Gavdos also means it is the single region with the most hours of sunshine in the whole of Europe!
In other words, you don't need to worry about weather conditions here at all. Just bring with you enough sunscreen, a hat, and lots of positive vibes, and I guarantee you will fall in love with the island in no time.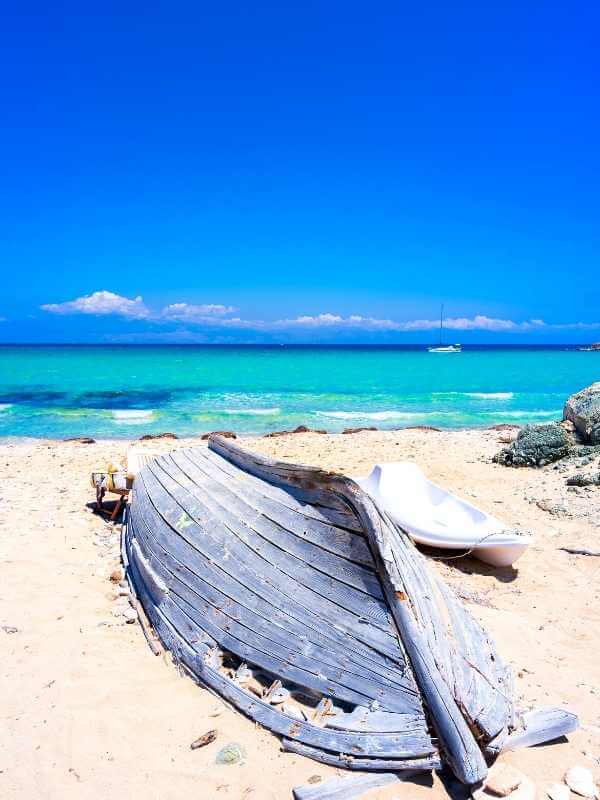 Despite the low levels of rainfalls that Gavdos experiences during the year, you could never find a greener island at that altitude.
The reason? Two rivers that appear during winter make sure Gavdos is full of pine trees and vegetation that will leave you breathless.
Of course, those rivers dry out during summer as the temperature hits 40 °C on average. That's okay, though; we can't have everything. Still, Gavdos gets as close to that as a Greek island can be.
How to Get from Crete to Gavdos
The easiest way to get to Gavdos from Crete is to board the ferry from Chora Sfakion. There, you can find the most weekly trips to Gavdos.
Keep in mind that the best time to visit Gavdos is from June to September, out of those months, the ferry frequency decreases dramatically.
However, note that those schedules can change all too often, so make sure to check in advance.
And the same applies to the ferry routes from the coastal seaside villages of Sougia and Paleochora.
Click here for more details and to get the latest ticket prices.
Accommodation in Gavdos
Since it's quite impossible to visit Gavdos on a day trip, you will certainly need to find accommodation on the island to spend at least one night. You can read this article with the best places to stay in Gavdos or check out other alternatives at this link.
Bonus 5 More Greek Islands Near Crete Worth a Visit
Despite Crete being quite remote and lonely, almost at the edge of the Aegean, there are several islands you can visit departing from Crete.
Some of the islands are off the coast, quite close to Crete, those are Gavdos, already mentioned above, but also Chrissi, Imeri Grammvousi, Spinalonga, Dia, Koufonisi, Kythira, and Antikythira.
Chrissi Island, just like Gavdos, is on the southern coast of Crete. It is an uninhabited slice of heaven you can visit in a day.
You can depart from the port of Ierapetra or Makrigialos, on the southern coast of Lasithi, and spend a fantastic day on one of the most exotic islands in the Libyan Sea.
Other nearby islands are Imeri Gramvousa, which you can visit with a cruise when heading to Balos Beach, and Dia Island, right opposite Heraklion, both of them on the Sea of Crete, on the northern coast.
Dia can be visited with a day trip, and it is a great destination for swimming, fishing, and having a fun day at sea.
Also on the north coast, the small islet of Spinalonga is an island off the coast of Crete ideal for a half-day trip.
The former leper colony is now an archaeological site and a popular destination to learn more about the tragic past of Crete.
Koufonisi is another very small island near the southern coast of Crete, opposite Makrigialos, a charming coastal village close to Ierapetra.
The landscape on the island is heavenly. It resembles the exotic atmosphere of Chrissi, but there are no trees to protect you from the sun.
In Koufonisi you will fall in love with the dunes, the paradisiac beaches, and the crystal clear sea. Click here to find the latest information about day cruises to Koufonisi.
Kythira and Antikythera may take longer to visit but are worth the trip. They are located between Crete and the southern Peloponnese, at the junction of where the Aegean, the Ionian Sea, and the Sea of Crete meet.
To visit, you need to board the boat that departs from the port of Kissamos, in West Crete, and the sailing time is about 4 hours.
Although nothing can beat island hopping in Greece, don't forget to make the most of your holidays in Crete.
If you do want to experience everything that the largest Greek island has to offer, remember that you would need more than a couple of weeks or even months.
Yet, the same applies to other destinations in Greece. Bottom line? You don't need to worry about your decision. No matter where you end up in the Aegean, you will have more than a few reasons to want to come back to the very same place.
Sounds interesting? Welcome to Greece!
Are you ready to explore more Greek islands?
Read more about Crete
🛌 Suggested Accommodation in Crete:
🗺️ More resources to book your trip to Crete
Written by Dimitrios Tsevremes
Passionate about travel, spirituality, and sports, I have lived in 5 countries and traveled to more places than I have counted. Writing, for me, is a way to express myself and my creativity. Whether I write for my blog or a freelancing gig, I always fall in love with the process and often lose my sense of time. If you want, you can check out more about me and my work here.
Pin This Guide to the Best Greek Islands to Visit from Crete for Your Travels in Greece!
---
You might also want to read these posts about Crete's regions:
---
About my blog: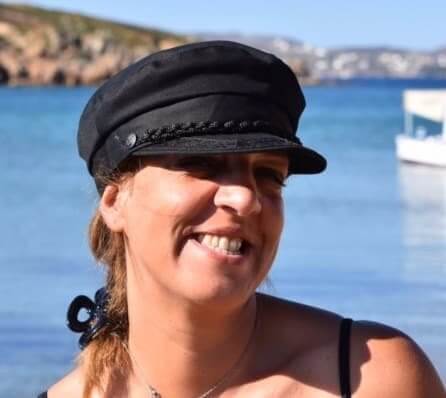 I moved to Crete in 2016. During these years, I learned much about the island.
In Crete, I juggle being a solo mom, hosting culinary tours, and writing for several travel blogs.
I've written for Greek Reporter, published travel guides about Greece, and had more glasses of frappe than any regular person could ever handle.