Naxos is a fantastic Aegean island, big enough to spend an unforgettable holiday without any risk of getting bored. There are so many different things to do in Naxos that no matter how long you'll stay, days will never seem to be enough.
---
Disclaimer: Posts include affiliate links leading you to products or services, I might earn a small commission if you make a purchase. This has no extra cost to you but allows me to continue writing articles that are helpful for your travels. I only recommend things I use myself or that I believe will deliver value to you. 
---
Last-minute plans for Greece?
Get there: Use Ferryhopper to book your tickets.
Stay: Find great accommodation deals on Booking.com.
Move around: Compare car rental prices with Discover Cars.
Tours: Check the most popular places with GetYourGuide.
Read more: Pack the Lonely Planet Guide to Greece or get a copy of my digital guide to Santorini.
Top-rated tours in Naxos:
Cruise to Koufonissia with BBQ
Rina Cave & Small Islands Cruise with Lunch
Cooking Class & Dinner at a Village House
Walking Tour and Sunset at the Portara
General Things to Know About Naxos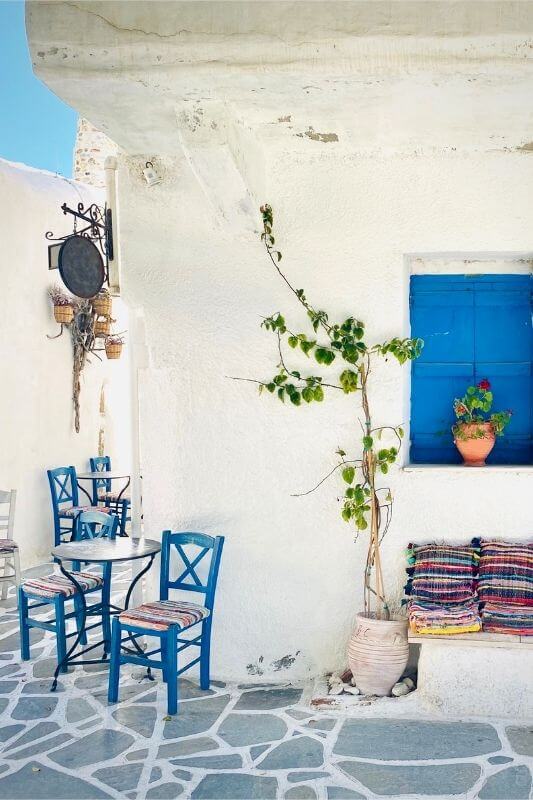 About Naxos: Right in the heart of the Aegean Sea, Naxos is a large and lush Cycladic island with one-of-a-kind features. It's not really a famous tourist destination, and yet, it offers a plethora of things to do.
Naxos is a rich island with fertile plains, springs and rivers, green valleys, and high mountains. And if these were not enough, it's also home to some of the best beaches in Greece.
The main center of the island is known as Chora, yet, being such an extensive place, there are several villages that keep very traditional habits to the present day.
The island economy depends mostly on its agriculture, Naxos is, in fact, known for its fantastic cheeses as well as for its potatoes, and its landmark spirit, the kitron.
What to Expect in Naxos
The island enjoys a mild Mediterranean climate all year round, with very hot summers, and not much rain. Generally speaking, summer-like weather begins in mid-March lasting until the end of September, sometimes even well into October!
From the beginning of Spring, the island wears its greenest dress. Wildflowers and herbs fill the air with inebriating aromas. But when the peak of the summer gets closer, the landscape turns dry and harsh.
Winter, instead, is cold but temperatures are not as rigid as in the rest of Europe. It's quite rare to find temperatures below zero, and there are many sunny days even during the cold season.
Frequently Asked Questions about Naxos
How long does it take to get to Naxos from the port of Piraeus?
It all depends on how you travel. Usually, it takes from 3 to 4 hours to travel from Piraeus to Naxos with a high-speed boat. If you're traveling with regular service, the trip can last up to 5 hours.
Can you fly directly to Naxos?
There are no direct flights from the rest of Europe, but you can fly from Athens. Alternatively, you can fly to other Cycladic islands, such as Mykonos or Santorini, and then board a ferry to Naxos island.
What is Naxos known for?
Naxos is known for being the largest of the Cyclades. It's also known for its lush landscape, its delicious gastronomy, featuring top-quality dairy products, as well as for the large concentration of minerals, the marble quarries, and the stunning Temple of Apollo easy to spot upon arrival, opposite the port.
Which is better, Naxos or Paros?
It all depends on what you're looking for. If you are traveling to the Greek islands to find exciting nightlife, then Paros is your option, with two different centers, Paroikia and Naoussa. the island has a wider offer as far as bars, nightclubs, and shopping opportunities. Naxos is more relaxed, with a wider territory to discover, plenty of churches, sites, and ruins.
Is Naxos a party island?
Not really… There are many venues where to spend the night, such as wine bars, tavernas, and beautiful restaurants, but, if you're looking for an exciting nightlife, stick to islands such as Mykonos, Ios, or Paros.
Is Naxos expensive?
Naxos is a place where it's possible to spend little and enjoy a lot. Definitely more affordable than Mykonos or Santorini, accommodation is often convenient. Being quite a rich island, most of the products you will eat are sourced locally, therefore prices are also good when it comes to food and drinks.
What are the best things to do in Naxos?
Nothing better than exploring the magnificent beaches, tasting the local gastronomy made of genuine staple products, such as the local cheeses and the famous potatoes of Naxos. You can also explore ancient archaeological sites, starting by the famous Temple of Apollo and its immense gate, the Portara, right opposite the port of Naxos. To learn more, read on… This article has the answers you're looking for.
Map of Naxos
How much time you should spend in Naxos
Even though just a couple of days will be ok to have a quick view of the island, if you really want to go any deeper, I would not recommend spending less than 5 days on the island. Having more time, it'll be easier to explore hidden villages, visit remote beaches, and get in real touch with the local culture.
A week would be enough… And more than a week, ideal! Let's now take a look at some of the things you can do in Naxos if you have at least 4 or 5 days.
Stunning Things to Do on Naxos Island, Greece
Make a point to put these things in your Naxos bucket list!
Discover the Beautiful Chora of Naxos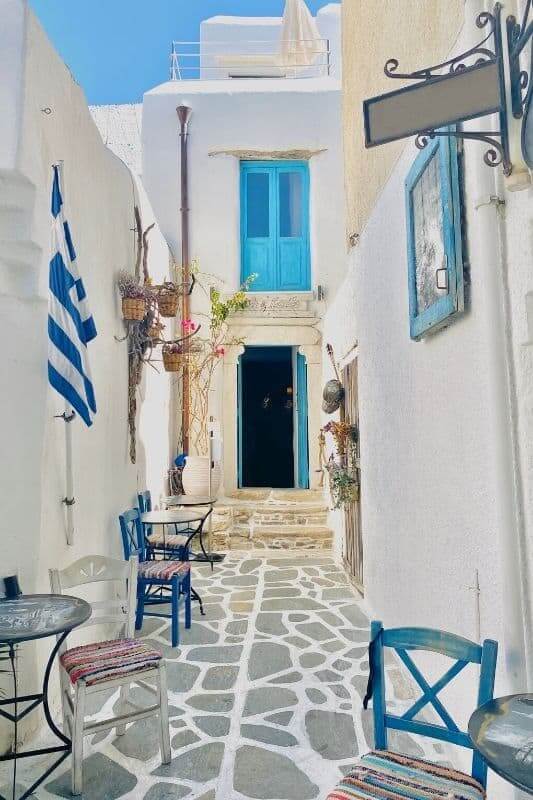 One of the most stunning things to do in Naxos is to get lost in the romantic atmosphere of the old town. The city, or Chora, stands in a somewhat higher position and it offers a magnificent view of the sea. If you look at the old town from the port, instead, the imposing Venetian castle on top of the chora is the piece of jewellery on top of the crown.
Known also as Bourgo, the old town grew surrounding the walls of the castle. Bourgo is a typical Cycladic settlement of whitewashed cubic houses with colorful doors and shutters, and adorned with pink and white bougainvillea.
Stop at any of the local tavernas for a cold drink during summer and to watch life passing by in this gorgeous area of Naxos.
Check the Kastro of Naxos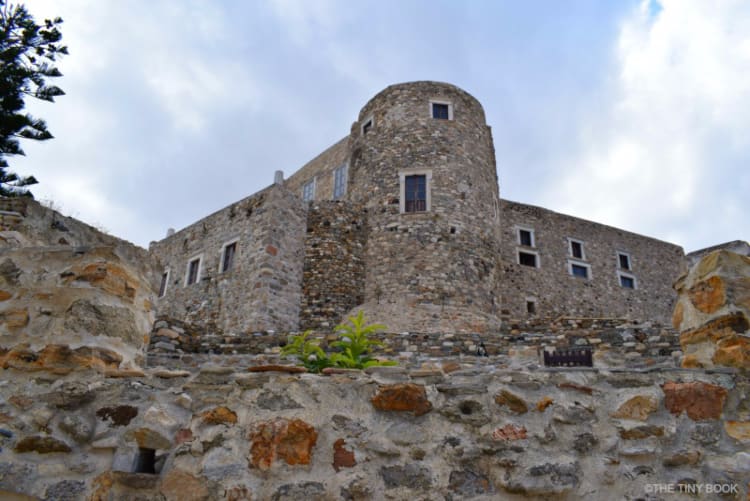 The best way to access the Venetian Castle is through the gate known as Trani Porta, or the main gate, located towards the north. Inside the castle, check the rests of the defensive towers, the passages, and the ancient alleys.
You can also access the Catholic church inside the castle as well as the ancient cemetery.
Watch the Sunset from the Portara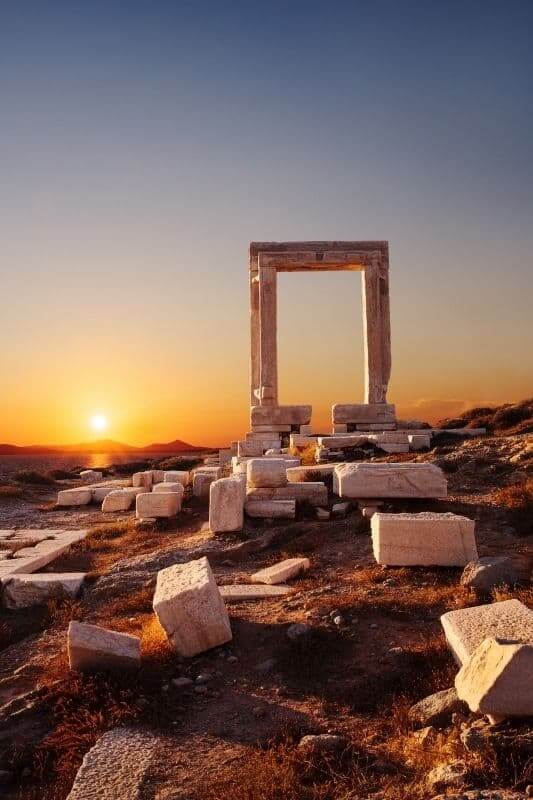 The city is connected to the Palatia islet by a long man-made road that everyone walks in the late hours of the day to secure a spot close to the Portara. Nobody wants to miss the sun going down in this corner of the Aegean.
The views of the sun setting over the sea are quite impressive from this point. Besides, the whole white chora lightens up with red and orange tones, a beautiful sight that you can't miss when you visit the island.
>>Read more about Naxos' Archaeological Sites<<
Visit the Venetian Museum
Known as Domus Della Rocca-Barozzi, the Venetian museum is located next to Trani Gate.
The visit let's you better admire the structure of the old castle but it also gives you the opportunity to taste the different wines that the Della Rocca-Barozzi family produces on the island.
Discover the Archaeological Museum of Naxos
One more thing to visit when you are inside the castle, occupying the premises of the former French School, is the interesting Archaeological Museum of Naxos.
The museum features the mysterious Cycladic statues as well as an impressive collection of objects from different historic times, from the Neolithic to the Roman periods.
Spend a Day at One of the City Beaches
There are two beaches close to Chora that you can visit, Grotta and Agios Giorgos. These are convenient places to sunbathe and swim if you are not planning to explore other beaches on the island.
None of them can be considered the best beaches in Naxos, but certain characteristics make them worth a visit.
If you're a fan of snorkeling, then Grotta can be your cup of tea. The beach is known for the submerged Minoan settlements that can still be seen under the sea.
Agios Giorgos, instead, is a long sandy beach on the southern end of the seaside promenade.
Explore the Mountains of Naxos
Other than for its spectacular beaches, Naxos is also famous for the green valleys, the hight mountains, and a myriad of traditional villages you can discover.
Driving around the island you can discover forgotten archaeological ruins, lonely churches, remains of abandoned fortresses, and inspiring landscapes.
You can spend a day visiting several villages, tasting the traditional foods of the island, and learning about unique Naxian arts and crafts.
Sangri is a gorgeous settlement where time seems to have stopped ages ago. Kato Sangri (Lower Sangri) hosts the remains of an old Venetian Castle, while in Ano Sangri (Upper Sangri), there's the old Byzantine Castle of Apaliron, about 400 meters high and with stunning views of the underlying valley.
Check Temple of Demeter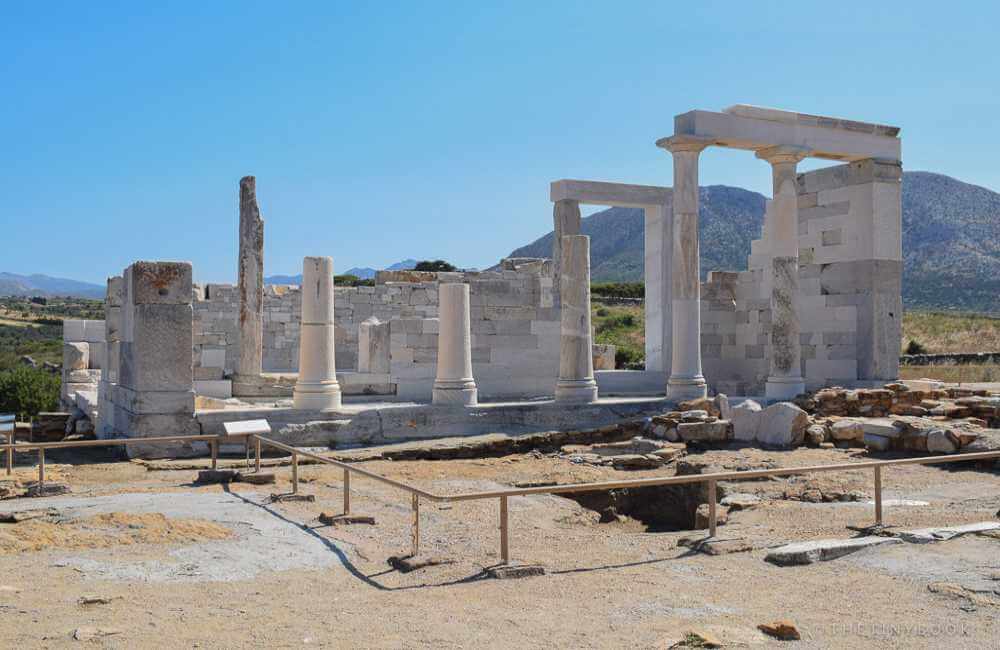 It's also in the area of Sangri where you can discover one of the most spectacular remains from Classical times, the Temple of Demeter with its perfect square shape.
Close to the temple you can also check a small but interesting archaeological museum with findings from the local excavations as well as a Paleochristian basilica.
Discover Halki and the Tragea Valley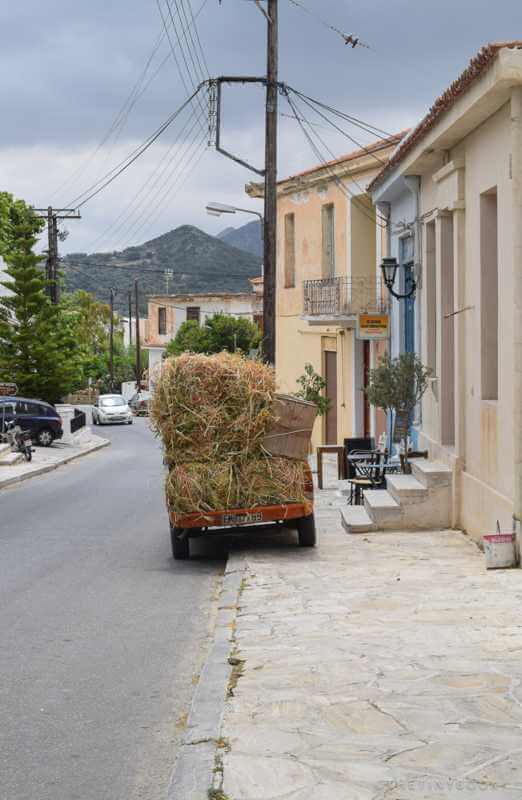 Once you leave Sangri behind, keep driving north to reach the Tragea Valley, a unique wide valley covered with olive trees and aromatic plants. From here, it's possible to reach the picturesque settlement of Halki, one of the best-known traditional settlements on the island.
Halki is known for Vallindras Distillery which has been producing kitron since 1896. Kitron is the landmark spirit produced in Naxos made with the zest and the leaves of a local tree. You can read everything about our visit to the distillery and the liquor in this article.
Go Beyond Halki: Apeiranthos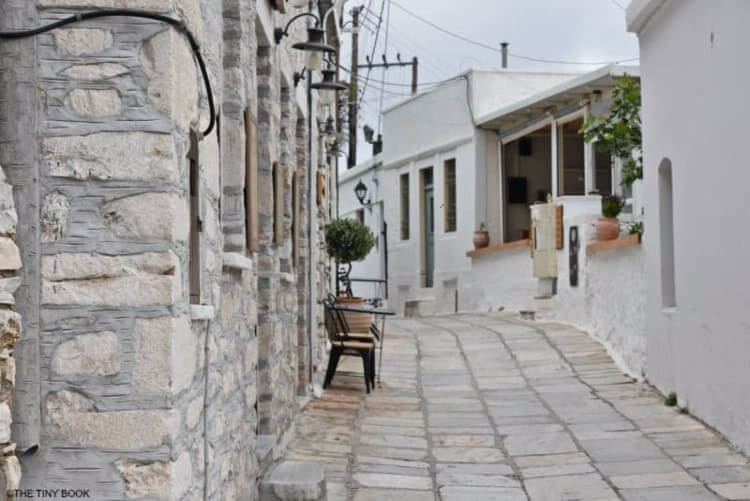 Apeiranthos is an immaculate white marble settlement with very clear Cretan characteristics. In fact, several historians believe that Cretans moves here and founded the village back in the 10th century.
In Apeiranthos, you will find characteristic Venetian fortifications as well as amazing natural views of the surrounding valleys. There are four museums in the small village as well as tasty and varied gastronomy to taste, focusing on local cheeses, natural yogurt, and other dairy products.
Check out the Northern Coast of Naxos
Driving the scenic road that from Apeiranthos leads to Apollonas is another of the many things to do in Naxos. Although not a exciting ride for those faint of heart, this mountain road can be prove extremely fun for adrenaline junkies!
Driving this way, you will venture along winding roads from the villages of Koronos all the way to Koronida, the highest settlement on the island. This is certainly one of the best things to do in Naxos and a non-touristic one!
Spend Time in the Village of Apollonas
Known mostly for the 12-meter long Kouros, the male statue left abandoned in the area hundreds of years ago, Apollonas is a small fishing village with a couple of tiny beaches that attract those holiday makers who want to relax and disconnect in this less popular area of Naxos.
There are several cafés and tavernas for a traditional lunch by the sea too. You can either spend the night in one of the small local hotels, or you can drive back to Naxos, taking the panoramic coastal road, most of if impressively overlooking the sea.
If the trip gets too long, you can stop for a visit in Engares, a typical village with a small museum featuring an ancient olive mill.
Hike Mount Zas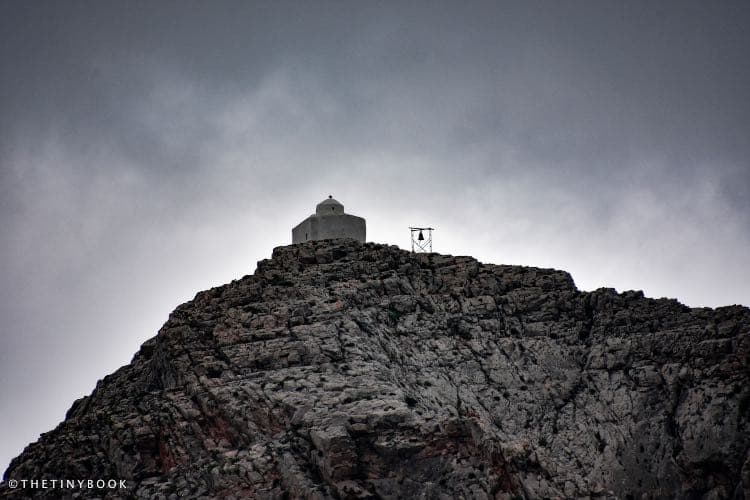 If you love adventure, you can hike the tallest mountain on the Cyclades. According to the myth, this was the place in which God Zeus grew up (if you're looking for such a place in Crete, check this cave). Following the legend, you can also learn that his son, God Dionysus, also grew up here, in the Cave of Zas.
The mountain is a beloved trekking destination on Naxos island. It's possible to follow the trekking path that starts from Danakos village. Once on the summit, the views of the sea and other Cycladic islands are stunning. Besides, you can discover a lot about the local species too.
It's possible to get there with your own car or taking public the bus that from the Chora of Naxos reaches the village of Danakos (check the bus schedules at the station. Please take into account that the departure hours can change according to the season and the weather conditions).
Learn More About the Kouros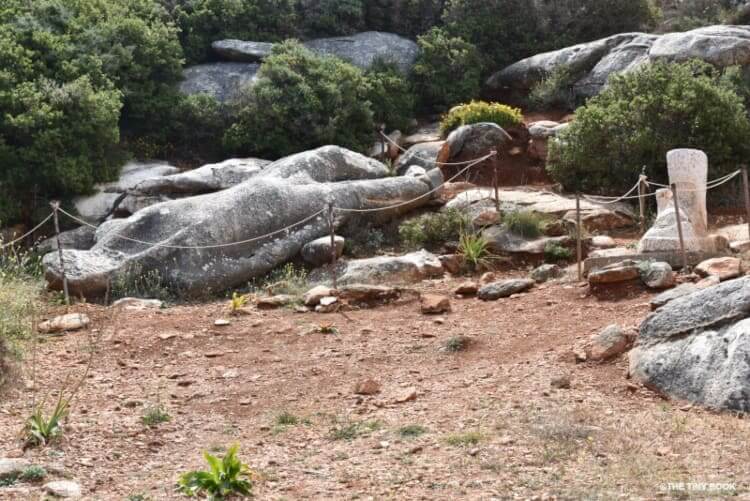 Close to the village of Flerio, it's possible to visit two of the most mysterious ancient remains on this island. These two male figures left unfinished in the area are located close to the impressive marble quarries of Naxos, towards the center of the island. They are about 6 meters long each and date back to approximately 570 BC. In this post, you can check more photos and read about my visit.
Take a Day Trip to the Small Cyclades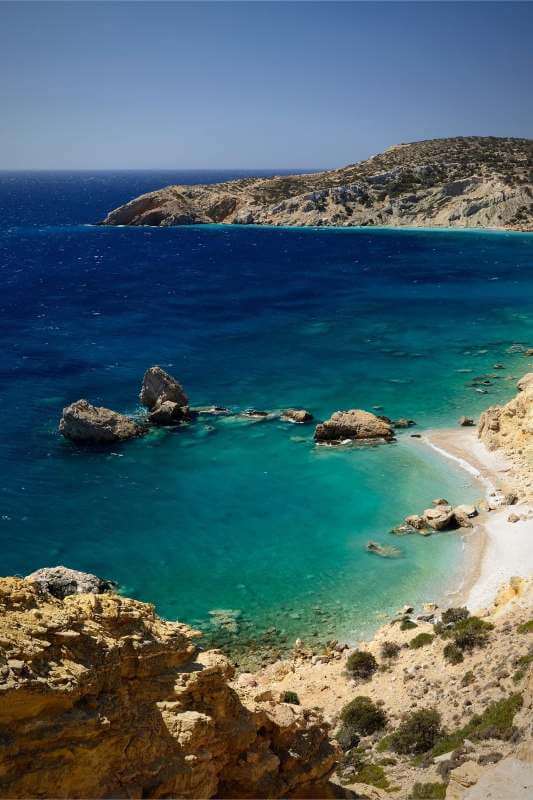 The group of small islands also known as the Lesser Cyclades or Small Cyclades is located between the islands of Naxos and Amorgos, you can take a ferry to visit Iraklia, Schinoussa, Ano Koufonissia, or Donoussa.
The paradisiac islands have yet to be discovered by mass tourism, and they are an ideal place to completely relax and disconnect.
It's possible to reach the Small Cyclades with the Express Skopelitis, a small ferry that sails to these islands all year round, here it's possible check the ticket prices and the schedule.
Top 5 Beaches in Naxos
Of course, you cannot visit Naxos without checking the local beaches, some of them are among the most beautiful ones in the Mediterranean. These are the top five beaches you must see in Naxos:
Plaka Beach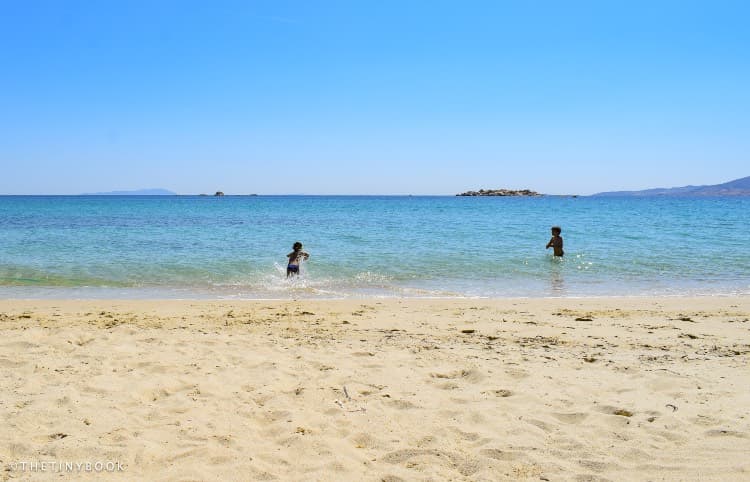 Plaka is one of my favorite beaches in Naxos… and in Greece. Maybe because I've visited during May, when it was virtually empty, maybe because the trip to Naxos is one of my fondest memories when it comes to discovering the Cyclades…
Not sure, but trust me, this is a fantastic beach and you won't be disappointed.
The beach features kilometers of soft, clear sand and pristine waters, nudism is ok and it's possible to get food and drinks within a small walking distance.
Agios Prokopios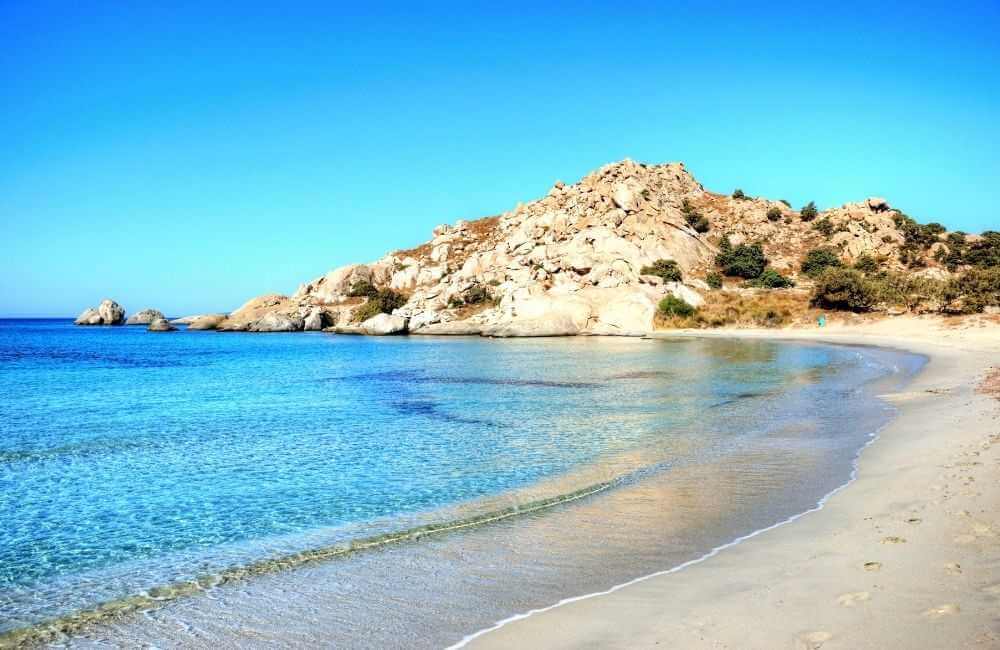 About 15 minutes by car from the Chora, Agios Prokopios is a popular beach in Naxos that you can't miss. It's possible to reach the area with a public bus as well, so it's commonly quite crowded.
The beach is well organized and there are some great tavernas at the beachfront promenade usually overpopulated all day long.
The water has a fantastic, vibrant turquoise color, the sand is soft, and there are some spots where you can get shelter from the sun under tamarisk trees.
Mikri Viglia
Probably the most exotic beach on the island, the beach is known for the transparent waters and soft sand. There are some rocks on different spots along the shore which create small coves repaired from the wind.
Mikri Viglia is known as one of the finest beaches in Greece. If you're traveling with kids, check the southern side of the beach, Limanaki, well protected from the northern winds.
Agia Anna
It might not be as spectacular as the other beaches mentioned above, but Agia Anna is easy to reach from the center of town and it's super well-organized, which makes it one of the most popular shores on Naxos. It has very shallow waters which makes it perfect for children.
The beach is close to Agios Prokopios beach, so it can be easy to visit both on the same day. Agia Anna tends to get quite busy during the summer.
Apollonas
This lesser-known beach is in a somewhat remote position on the northern tip of the island, so not many visitors get to the area unless they have their own car. It's also possible to get to Apollonas with the public bus that departs from the Chora.
In the area, you will find beaches with small pebbles and with sand. There's some organization by the beach, including traditional tavernas serving the catch of the day, and a few studios to spend the night if you change your mind and want to spend the evening instead of going back to the Chora.
Top Tours You Shouldn't Miss in Naxos
Cooking Class at a Village
This fantastic 4-hour experience includes a cooking class and meal tasting. No better experience than being part of the island's everyday life.
Cook your favorite Greek recipes and discover one of the most picturesque villages on Naxos.
South Naxos Day Cruise
Sail from Agia Anna to discover the hidden beaches of the southeast coastline of Naxos. This cruise takes you to the cave of Rina and the gorgeous bay of Kalados.
Enjoy a tasty typical Greek barbecue meal and dive in the pristine Aegean.
Delos and Mykonos from Naxos! Full-Day Boat Trip
With this tour, you'll sail across the Aegean Sea from Naxos to visit the uninhabited, sacred island of Delos. Here you can hire a private professional guide or join a guided group.
Then, cruise to Mykonos for a further 3 hours of free time to explore Mykonos Town and stroll the pretty alleys of the romantic Little Venice district. You will sail back to Naxos in the early evening.
Walking Tour and Sunset at the Portara
Enjoy a relaxed evening walking tour of Naxos Old Town and the Castle with a local, discover the beautiful sights of the city, and enjoy the sunset from the Portara.
Full-Day Small Cyclades Sailing Cruise
Sail to the Small Cyclades and venture to a top-secret location. The tour features three stops for snorkeling and exploring the area, with some time to eat as well.
Best Hotels in Naxos
Budget accommodation: Centrally located in Naxos Town, Korali Palace Studios offers white-washed rooms and studios at very affordable prices. Check fees on Booking.com and compare prices on Hotel.com.
Mid-range hotel: Enjoy the spectacular views of the Portara from the Portara Seaside Luxury Suites, you can get the offers on Booking.com or find discounted deals on Hotels.com.
Top luxury hotel in Naxos: Discover the beautiful area of Stelida staying at Mythology Naxos Villas & Suites. Compare prices and offers at Booking.com and Hotels.com.
Where to Eat in Naxos
O Vasilis: A top-rated place on the island for traditional dishes (Melanes village)
Yasouvlaki: Informal style, delicious souvlaki, and comfort food (Chora promenade)
Taverna Dalas: Traditional Greek dishes with convenient prices (Koronos village)
You must try:
Local dishes made with potatoes, the potatoes from Naxos are exported to the rest of the islands and are delicious, crispy when fried, or cooked in the oven.
Graviera cheese from Naxos, one of the most delicious cheeses in Greece.
Kitron, the local alcoholic drink that has been a landmark of Naxos for ages.
Naxos at Night
There's a lot to do in Naxos at night for every age and every pocket, as a matter of fact, nightlife can be pretty active and intense…. or as romantic as you can make it.
Such a big island offers a varied plethora of entertainment from the most romantic sunset spot by the sea to clubs and bars to listen to music and enjoy summer cocktails.
Top Things to Do in Naxos at Night
Enjoy the sunset at the Portara, then walk along the romantic alleys in the Chora, and go for a degustation of local wines at La Vigne. If you're in the mood, you can enjoy some jazz music at Jazz & Blues Bar, a speakeasy also in the Chora of Naxos.
In the mood for cocktails? Check Yazoo Summer Bliss Cocktail Bar right in the heart of Plaka, opposite the sea. Another great seaside venue, this time in Agia Anna beach is Banana Bar. In town, enjoy the terrace views and the drinks at 520 Cocktail Bar. Looking for a music bar? Check On the Rocks Bar, also in Naxos Chora.
Want to go clubbing? Ocean Mojo Club is a top place for a fun evening seasoned with the most amazing cocktails (Naxos Town waterfront).
How to Get to Naxos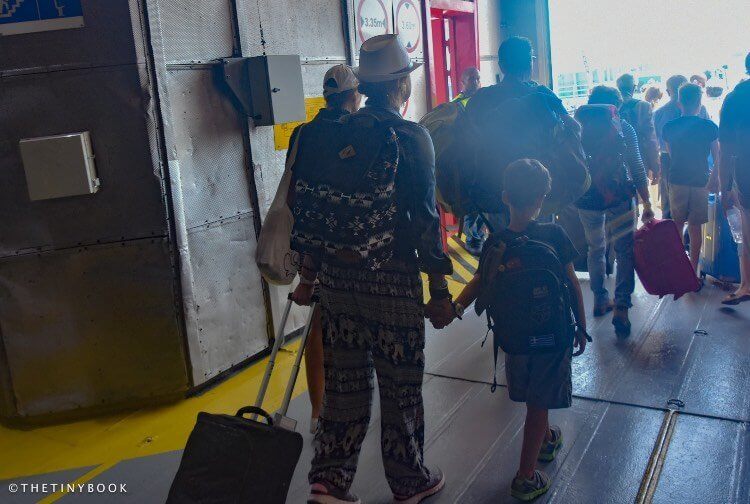 The best way to get to Naxos from Athens is by plane. The flight is really quick and prices can be affordable if booking with plenty of time. However, the most common way to reach the destination is traveling to Naxos with the ferry.
Most departures are from the port of Piraeus, on mainland Greece. In summer, there are at least xxx boats reaching Naxos on a daily basis. there are also departures from the port of
There are also ferries departing from the Port of Rafina, (closer to Athens international airport), with a travel time from 3 to 5 hours. Weekly ferry services depart from the Port of Lavrio also in Athens.
For more information about different ways to reach Naxos, check this article.
How to Move Around in Naxos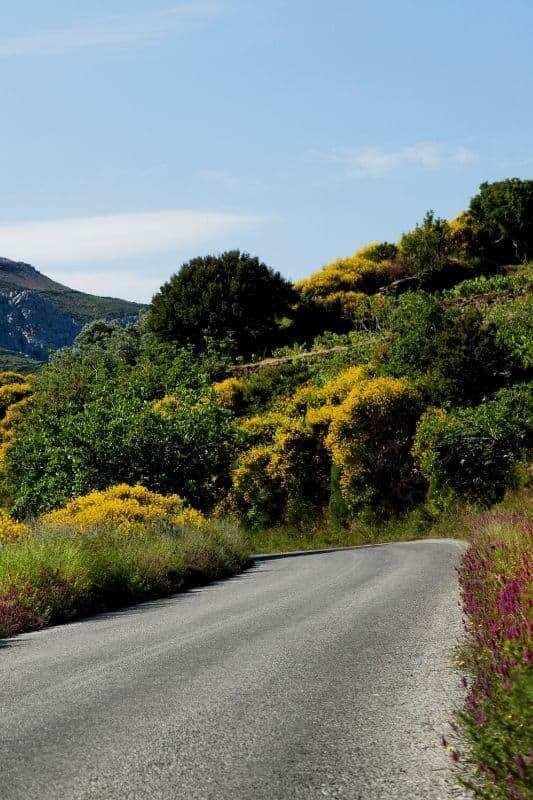 On such a big island, nothing better than the freedom of renting your own car. It's the perfect way to explore hidden corners of the island that you would otherwise miss because no public transport reaches the areas frequently.
Besides, a rental car lets you forget about schedules and offer more flexibility when planning your itinerary beforehand or your day on the go.
We've had an awesome experience with a local company, however, you can also check an international car rental search engine for more choice when looking for a car to rent.
Hiring a bike is a second possibility, especially if you just plan to move close to the center or to visit beaches that are not off the beaten track. However, motorcycles are not really the best means of transport if you're traveling with the family or in colder months, the mountain roads tend to be cold and even icy winter.
What to Pack for a Trip to Naxos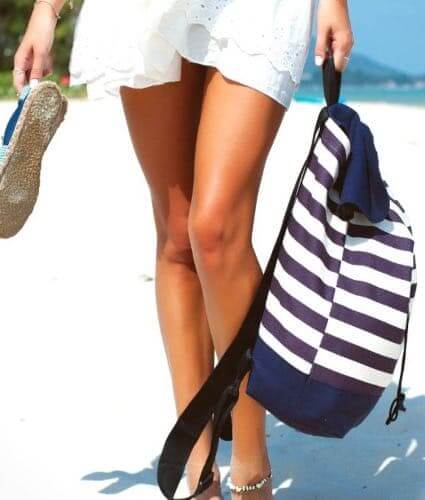 Hikers will certainly walk better when wearing breathable walking shoes. If you venture into the mountains, go for a comfortable pair of pants, and add a good quality hat to your outfit. If you want more details about how to prepare your beach back, check this article!
Clothing and accessories: Pack clothes that you can easily mix and match. Choose breathable material or garments that dry fast for you to wash and wear the day after. Three t-shirts, two pairs of shorts, and a couple of summer dresses will be more than fine.
For men, a nice shirt for dinner, three to five t-shirts, plus two pairs of shorts or bermudas are more than enough for a week on the islands.
When it comes to shoes, if you're a woman, avoid heels and prefer flat sandals or wedges. For men, the best shoes are summer loafers or soft leather sandals. Don't leave your flipflops at home.
Don't forget your toiletries, your electronics, your photo camera, extra memory cards, and a good guide to the Greek islands.
Only a Short Visit to Naxos? Don't Miss These…
If you're visiting Naxos for a couple of days only, these are the three things you should not miss:
Visit the Portara at sunset
Explore the beach of Plaka
Spend a few hours discovering the mountain village of Halki
More Resources to Visit Naxos
---
Are you visiting Naxos soon?
Let me know in the comments below!
---
Travel Plans for Greece?
More Resources to Organize Your Trip!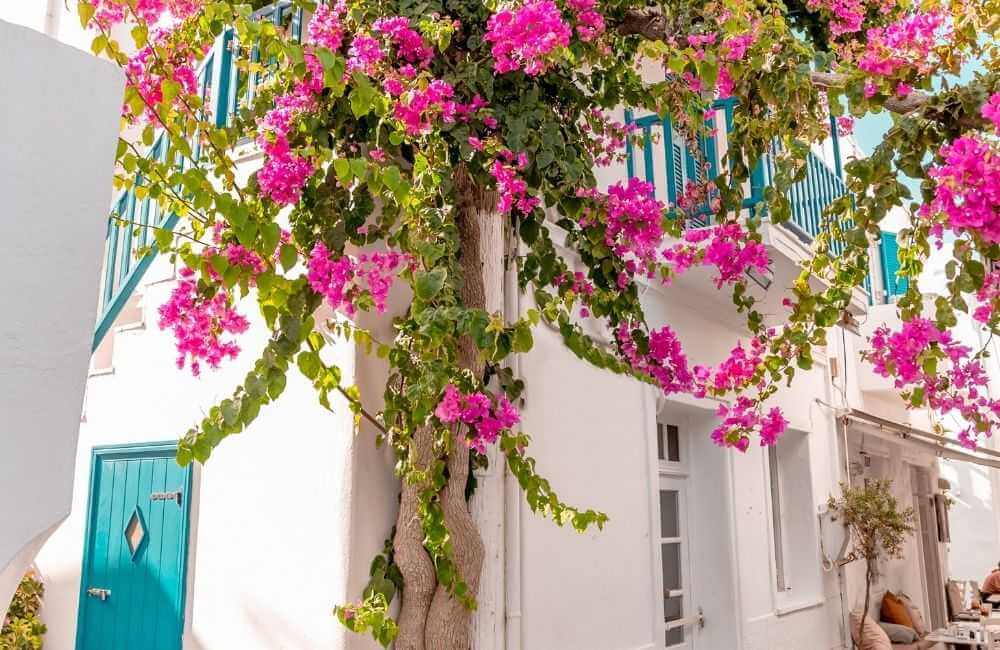 Start by heading right to my Greece travel guide for in-depth details you need to know about Greece. You can also check my post to plan a trip to Greece with children!
Get in touch if you need extra help to plan your trip. If you want to tour West Crete, check my guide. Want more? Join my Private Facebook Group to connect with like-minded travelers who love Crete as much as you do!
Make Sure You've Got Everything For a Hassle-Free Vacation!
Without my Osprey backpack, I never move around the islands…it's a sturdy but light travel partner I just love. For short trips, I carry this crossbody bag. If I drive, I pack my Nikon D7200 and a good travel guide! Lonely Planet's Best of Greece & the Greek Islands.
When it comes to plane tickets, compare prices with a powerful search engine. However, nothing beats traveling by sea in Greece. With Ferry Hopper, you can book in advance at the lowest price.
For accommodation, I use Booking.com.
Traveling to remote places is easier with Discover Cars. Other times, I join organized tours with GetYourGuide, which features anything from cooking lessons to airport transfer!
COMING TO CRETE SOON?
Get in touch and let me know!
Read more:
Amazing Greek Presents for a Greek-Themed Christmas
Sublime Things to Do in Patmos, Greece
The Most Amazing Beaches in Sifnos Island
How to Get to Mykonos: Best Ways to Travel to the Greek Island
How to Get from Heraklion to Chania: Practical Guide by a Local
Pin this Guide to Remember What to Do on Naxos Island for Your Next Trip to Greece!
About the author of this blog: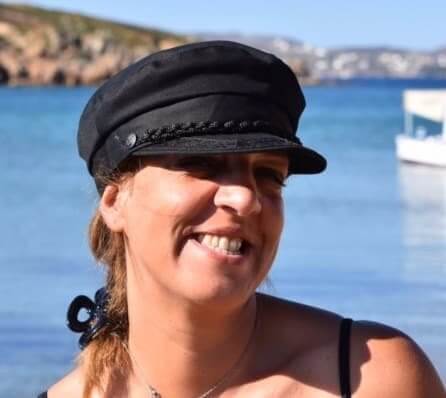 Gabi has been living in Crete for the last five years. Here, she juggles being a solo mom, hosting culinary tours in the summer, translating, and writing for The Tiny Book and her other blogs.
She's written for Greek Reporter, published three travel guides about Greece, and had more glasses of frappe than any regular person would be able to handle.
---
You might also want to read:
---