Antiparos is a tiny, luminous Greek island in the South Aegean. It's so small that many assume that it's just a day trip destination. People sail from Paros and quickly visit Antiparos in a few hours. However, there has been a shift in this trend. More travelers have started choosing Antiparos as their main destination… Why?
Well, unlike other popular islands, Antiparos remains private and secluded. You won't see crowds but tranquil rural fields, a few windmills, and heavenly beaches. Let's check all the things to do in Antiparos.
---
Disclaimer: Posts include affiliate links to products or services. I might earn a commission if you make a purchase at no extra cost.
---
Things to Do in Antiparos, Greece
Antiparos Essentials
Getting there: Book your ferry tickets in advance at the lowest price.
Where to stay in Antiparos: To stay where I did, check Kouros Village.
If you're a home rental type, read the reviews of this place close to the port, or check this stunning villa on the island!
Top-rated tours that you can take from nearby Paros:
– Full-Day Sailing Cruise in the Small Cyclades.
– Santorini Full-Day Boat Trip From Paros.
Touring Antiparos by car? Use Discover Cars to find the best deals.
General Information About Antiparos Island, Greece
Laid-back and quiet, Antiparos remains a hidden gem. Just one main road, a limited seaside promenade, and not much nightlife. An island that takes you to another dimension, or – at least – a bit back in time.
The island retains that Greek village atmosphere of the early Sixties. A lifestyle made of bicycles and early morning visits to the port to bargain for the catch of the day.
An island where everyone closes the shutters after lunch because it's time for an afternoon siesta.
You might also want to read: Best things to do in Paros.
People still go by the streets (well, mostly by the only main road) and greet each other with enough time to spare. Every single day.
Sharing a coffee table with locals is normal practice.
Being recognized as a newly arrived after is also likely, but they will still greet you as one of them.
Things to Do in Antiparos: Live Like a Local
With an extension of about 39 square kilometers, Antiparos is small enough to be seen in a rather short time. Either rent a bicycle or a car in a local agency and move around in freedom.
Having a smooth landscape, it's easy to reach most of the beaches and many secluded areas. Remember, especially if cycling, there just are few shops around and mostly downtown. Do bring with you a bottle of water and a hat.
Antiparos, More than a Day Trip Destination from Paros
Less than a nautical mile from the bigger Paros, it only takes 7 minutes to cross from the Parian port of Pounda. Antiparos is also fairly close to the biggest island of Naxos, but you'll still need to reach Paros first to see Antiparos. These were the two main reasons why people would choose Antiparos as a day trip.
However, more travelers are looking for a different kind of holiday, and Antiparos is the place offering that. There're not many things to do on the island, just a few sights to visit, and a handful of laid-back, but extremely beautiful beaches.
There are some very good dining spots, and coastal hotels with heavenly views of the coast. Just about all you need for a trip to disconnect from the stress of everyday life.
And if things get too quiet, it's easy to solve with a day trip to Paros. So, if you are on the hunt for an unspoiled place without missing the Greek island vibe, check some of the things to do and see in Antiparos.
More Amazing Things to Do in Antiparos
So, if you've made up your mind and are planning to spend your time in Antiparos, these are some of the things you can do and places to check out on the island…
Discover the Beaches in Antiparos
There are several beaches you can enjoy in Antiparos, we've seen them all and written a complete list you can check here. However, if you want to narrow your choice, the best beaches to visit in Antiparos are Soros and Agios Giorgos, in the south.
Soros is a well-organized beach where to spend the whole day. In the place, you can choose to sip a drink in one of the comfortable lounges and enjoy a lunch at the restaurant serving fresh salads and fish.
Agios Giorgos is a calm corner in Antiparos, as well as the departure point to visit the archaeological site and island of Despotiko (also home to a great solitary beach). The seaside tavernas in Agios Giorgos are well-known for their fresh seafood.
Our guide to travel in Antiparos with kids includes a whole list of Antiparos' beaches. It's super useful to learn more about every beach of Antiparos even if you're not traveling with children.
Spend the Evenings by the Sea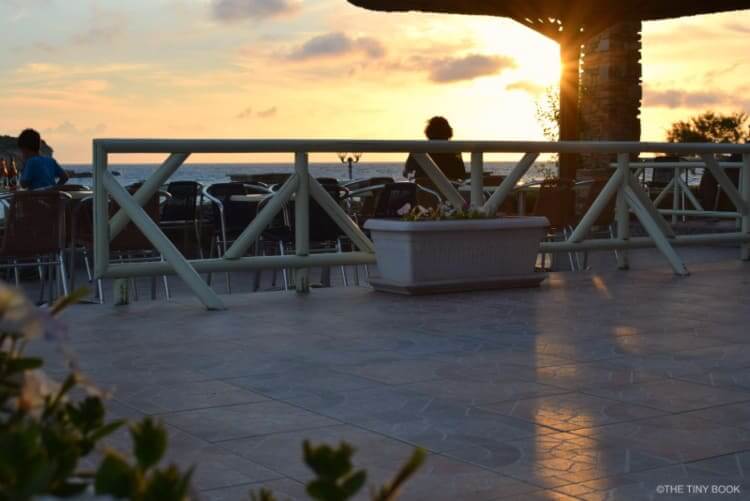 If you rather go for quiet nightlife, you can enjoy a drink watching the sunset or simply chill out. Of all the places, one of the best options for this is Sifneiko, right by the sea.
Cool music, great cocktails, and the most amazing sunset of Antiparos. Nikos will make sure everything is flawless.
Visit the Chora of Antiparos
The Chora or main town in Antiparos develops along one pedestrian, this is a gorgeous lane with shops and beautiful Cycladic houses.
Most of them are decorated with colorful bougainvillea. It's a village lightened with tasty artisan shops, pretty boutiques, tavernas, and cafés.
Walking to the end of the pedestrian road, you will reach Antiparos' square and the old castle. The small fortress is nested in the heart of the village and it's a peaceful place for a walk.
The main square is the traditional meeting point for the locals, with a picturesque café under the shadow of a centennial tree.
Explore the Cave of Antiparos
One of the places I enjoyed most when traveling to Antiparos was the morning visit to the Cave. Considered among the most beautiful caves in Europe, the place is on Agios Ioannis hill, right in the heart of the island. You will have to climb about 400 steps down to visit one of the most spectacular formations of stalactites ad stalagmites.
There are four local buses per day reaching the cave, departing with the first one will allow more time to visit. Otherwise, you can drive up the hill or – if in fairly good shape – hike there. Read more about Antiparos Cave.
Where to Stay in Antiparos
Being such a tiny island, accommodation is also limited and tends to be completely booked rather fast early in the season. We stayed in the wonderful Kouros Village and the experience was simply perfect. The family-run hotel is known for its great hospitality but also the amazing views of the port.
The pool is beautiful and most of the rooms have just been renovated with great taste, including all the comforts for a beach holiday. Iliada and her family will go above and beyond to make you feel at home.
If you want to compare other hotels in Antiparos head to this dedicated page.
Where to Eat in Antiparos
I visited different restaurants and tavernas on the island. The food is delicious everywhere and it all depends on what you're looking for. I've written an article about the three best places where we had dinner, my absolute favorite remains the family atmosphere of Pavlo's Place, read the reviews here.
They also offer accommodation, do consider Pavlo's for a wonderful stay.
Antiparos for Kids: Perfect Family Destination
This quiet environment comes along with a great dose of safety. Parents with small kids love to let them wander around in town, knowing that they won't get lost.
All things that make Antiparos a great destination for toddlers who can afford a holiday during the school term. Spring here means fields in blossom and the kind of sun a kid's skin copes with best.
Planning to travel to the island with your family? Check out this useful guide to visiting Antiparos with kids.
On activities for families, kids will enjoy a trip to the Cave of Antiparos, a boat ride either to Despotiko or around the island, A morning swim on one of the many pristine beaches, and, at night, ice cream at Vicky's.
When to Visit Antiparos
Being the weather warm since the beginning of May, the island is a great place for holidays in unusual months.
If you prefer to avoid busy places, (not that the island gets that busy) locals will be happy to welcome you off the peak season.
They will have more time to chat with you and show you the territory they are proud of.
Travel to Antiparos: How to Reach the Island
The only way to get to Antiparos is from the island of Paros, about 10 minutes away. Use the local ferry boat – all year long – from the port of Pounda (Paros), for passengers and cars.
The trip is about 7 minutes. Pounda is 7 km from Paroikia, and you can get there either by public bus or by taxi.
You can also take a direct boat (Summer only and just for passengers) from the port of Paros (Paroikia). The trip takes a bit more, about 25 minutes.
To reach Paros, either travel from the ports of Athens (Ports of Piraeus and Rafina), or by plane. Check my Paros travel guide to learn more.
Day Trips from Antiparos Island
Willing to move around during your time on the island? Check Paros on a day trip!
Visit the Island of Paros
Reaching the port of Pounda
There's a daily ferry boat covering the brief route Antiparos-Port of Pounda (Paros). Boats depart every half an hour with a schedule that starts at 06.00 am. The last boat departs from Paros at 03.30 am, so staying in Paros until late for dinner, or a few drinks with friends is not a problem.
You can board with your car, so reaching Naoussa or Paroikia from the tranquil Port of Pounda is not an issue at all.
Docking in Paroikia
It's also possible to directly reach the capital of Paros, Paroikia, from Antiparos. This direct route has a more limited schedule, but it's also an option.
Ferries depart from Antiparos, starting in the morning, with the following schedule:
From Antiparos to Paroikia: 09.15 – 09.45 – 10.45 – 11.30 – 13.00 – 15.00– 16.00 – 17.00 – 18.00 – 19.00 – (also at 21.00 on Mondays, Wednesdays, Fridays, and Saturdays).
From Paroikia to Antiparos: 10.05 – 10.45 – 11.50 – 12.15 – 14.00 – 15.30 – 16.30 – 17.30 – 18-30 – 19-30 – (also at 22.00 on Mondays, Wednesdays, Fridays, and Saturdays).
How to Move Around in Antiparos
Renting a car is possible downtown, and it is a good option to better explore the island without being tied to the bus schedule.
However, there is a bus service departing from the port to the most important beaches. With the bus, you can reach the beaches of Panagia, Glyfa, Apantima, Soros, and Agios Georgios.
The bus also covers the route to Antiparos Cave four times a day. The updated schedule can be found here.
Have you ever been to Antiparos?
Let me know in the comments below!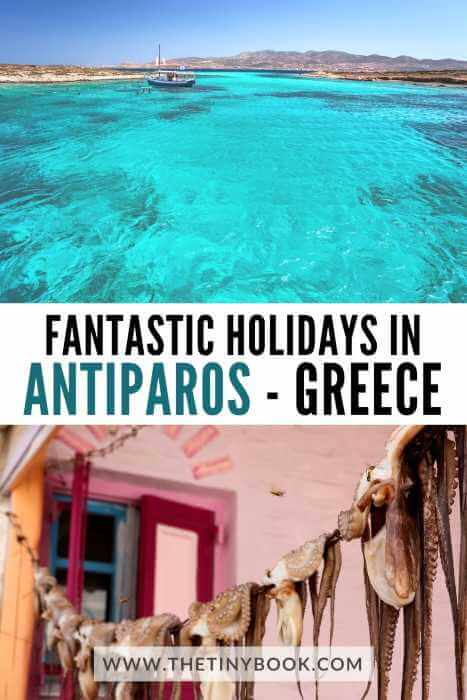 About my blog: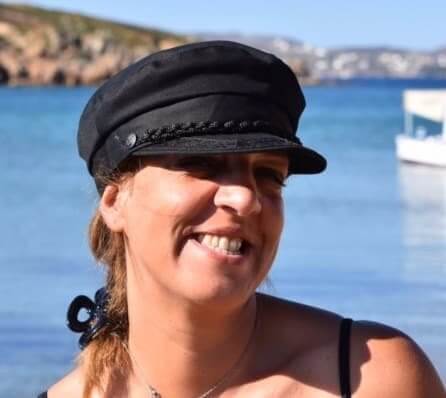 I moved to Crete in 2016. During these years, I learned much about the island.
In Crete, I juggle being a solo mom, hosting culinary tours, and writing for several travel blogs.
I've written for Greek Reporter, published travel guides about Greece, and had more glasses of frappe than any regular person could ever handle.
---