There are wonderful places to eat on the small Cycladic island of Antiparos, in Greece. These are some of them. If you are planning a holiday on the paradisiacal island of Antiparos, you have probably already read about where to stay, what to do and when to visit this Aegean gem. What you might still have to figure out is what and where to eat in town. Whether you are a first-class foodie, or in search for a quick bite, this island has a good offer of local tavernas and refined restaurants. Here we present three dining options on the Cycladic island of Antiparos.
---
Disclaimer: Posts include affiliate links to products or services. I might earn a commission if you make a purchase, at no extra cost to you.
---
Best Restaurants in Antiparos
Last-minute plans for Greece?
Get there: Use Ferryhopper to book your tickets.
Stay: Find accommodation deals on Booking.com.
Move around: Compare car rental prices with Discover Cars.
Tours: Visit popular places with GetYourGuide.
Read more: Pack the Lonely Planet Guide to Greece.
Three very different ideas to satisfy all kinds of pockets and tastes!
It's no mystery that one of the main reasons for us to move to Greece is its food. Even living so many years in Italy – also known as a food paradise – we cannot resist the call of moussaka.
There is nothing to do about it… We love Greek traditional food. We love the kind of food that still has the taste of grandma to it.
The food you would seek refuge in, during a rainy day or on a cold winter night. Those wonderful Greek dishes, both great in hot and cold weather, because, you know, good food is always good food, despite the time of the year… Bon appétit!
Pavlo's Place: Comfort food
The best place to find an authentic tradition of Greek food is Pavlo's Place.
A family-run taverna that has been open since 1980. Here, dad cooks, kids serve and sweets are mom's specialties. You will be greeted by the nicest guy in town, Ben, who will open his fridge full of local meat, fish, and sausages and will describe to you the delicious way those can be cooked for you.
He will also provide a gastronomic tour around the menu of the day, making think of impossible strategies to try everything you can.
That's sadly impossible. So, our suggestion is to share, ask for different dishes and share them with your family so that everyone can taste a bit of all. You won't regret a bite.
Our choice in Pavlo's Place
We fell for the inviting psaromeze, a mix of fresh seafood cooked in a delicious sauce with potatoes and other vegetables.
Our second dish was a homemade goat in a wine sauce and potatoes in the oven. Tender, tasty, and inviting. For the kids loukaniko, the village sausages, a must-go option they loved with fries. Horta, or wild greens, as a side dish. Finally, a dish that has made the place famous over the years is Chicken Pavlo's.
This is a roll of aubergine, bacon, peppers, and of course, tender chicken bites. A feast.
Pavlo's Place also serves homemade wine (ask for their sweet wine and be ready to love it) and a very strong tsikoudia.
This last one will come with exquisite freshly baked pastries. Price range: Excellent. Convenient price for outstanding food. Service: Outstandingly friendly, kind, and knowledgeable. Atmosphere: Familiar, cheerful, relaxed.
Meet Greek meat
We found this place by chance and we liked it very much. Pantelis Grill House specializes in different meat cuts, grilled meat, gyros, souvlaki, and great salads.
It's almost at the end of the main pedestrian road of Antiparos, where the alley makes a turn to lead you toward the Kastro.
An open dining area in the front of the restaurant is nicely decorated. White tones and inscriptions on the windows describe the advantages of eating meat.
Our Choice in Pantelis
Being our first night in town and extremely tired after a long day changing ferries, our decision had to be quick, and satisfying, and leave us ready to go to rest.
Regular-sized pork and chicken gyros, full of meat, tzatziki, and fresh vegetables left our kids as happy as they could be…
Kids are always happy when there are gyros involved. For adults, simply souvlakia, tomato, and cucumber salad, regularly soaking in stunning local olive oil, and abundant French fries.
All in all, good quality, regular Greek food, as you might find on any island. Price range: Good. Convenient price for regular food. Service: Friendly and kind. Atmosphere: Relaxed and great for families.
An exotic touch of Italy
After our previous declaration of unconditional love for Greek cuisine, this recommendation might look like a contradiction. Well, it isn't.
Sale Rosso is an outstanding Italian restaurant, really run by Italians. This restaurant is in a very central position on the main road of the chora. It's colorful but the delicate atmosphere proves really inviting.
Sicilian Rossella, the chef, was happy to present us with some of her specialties that recall the Italian tradition with a touch of modern techniques and twists.
Our choice in Sale Rosso
For the kids, the obvious was pasta al pomodoro (of which they have been in abstinence since we arrived in Greece).
A very simple dished cooked the traditional way. No exotic touches that might scare tiny palates. Smart idea. Adults, instead, were tempted with a variety of creative bruschetta, including Italian cold cuts but also tomatoes and local octopus.
They were followed by their special vitello tonnato: abundant, tender, and delicious.
Finally, it was time to try their Polpo bastardo, octopus served with a cream of Italian taleggio cheese.
A dish that, against all odds, was fantastic. Italian wine, homemade bread sticks. A traditional display of Italian desserts to end, as they say in Italy, in bellezza.
Service: Very friendly and kind. Atmosphere: Perfect for a romantic night. Price range: Though the food is excellent, prices are a bit over the traditional Greek standards. Well worth it though.
Pin it! Where to eat on the Cycladic island of Antiparos
About the author of this blog: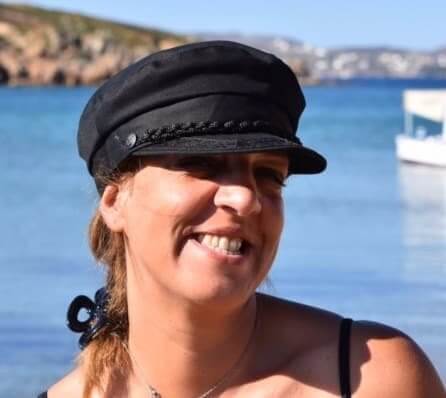 Gabi has been living in Crete for the last five years. On the island, she juggles being a solo mom, hosting culinary tours in summer, translating, and freelance writing.
She's written for Greek Reporter, published several travel guides about Greece, and had more glasses of frappe than any regular person would be able to handle.