Santorini is undoubtedly one of the most popular destinations in Greece. Nestled in the Aegean Sea, it is known for its stunning sunsets, whitewashed homes, and gorgeous caldera views. But when it comes to choosing the best area to stay, it can be overwhelming due to the various options, such as the famous village of Oia to the lively town of Fira.
That's why we gathered all the best areas to stay in Santorini and recommended hotels that will suit all preferences and interests to help you find the perfect base for your Greek island getaway.
---
Disclaimer: Posts include affiliate links to products or services. I might earn a commission if you make a purchase.
---
Best Areas to Stay in Santorini
PLANNING A LAST-MINUTE TRIP TO GREECE?
Be sure to book accommodation and tours in Greece ahead of time to ensure availability!
🛥️ Book ferry tickets with Ferryhopper.
🛌 Find hotel deals on Booking.com.
🚘 Compare car rental prices with Discover Cars.
💳 In need of money? Use WISE as a digital card and top-up from the app.
Where to Stay in Santorini: The Most Coveted Areas on the Island
With its breathtaking beauty and unique charm, it's no wonder that Santorini has become a dream destination for many, especially couples.
If you're trying to decide which area to stay in Santorini, this article has some answers… read on!
Oia
Oiaely the crown jewel of Santorini, it epitomizes beauty and romance across Greece. It is perched on the cliff, creating a picture-perfect postcard with charming white Cycladic houses, blue-domed churches, and narrow winding streets.
Furthermore, Oia is renowned for its stunning sunsets, where the sky becomes a canvas with vibrant hues of orange and pink, creating a scene that will surely leave you mesmerized.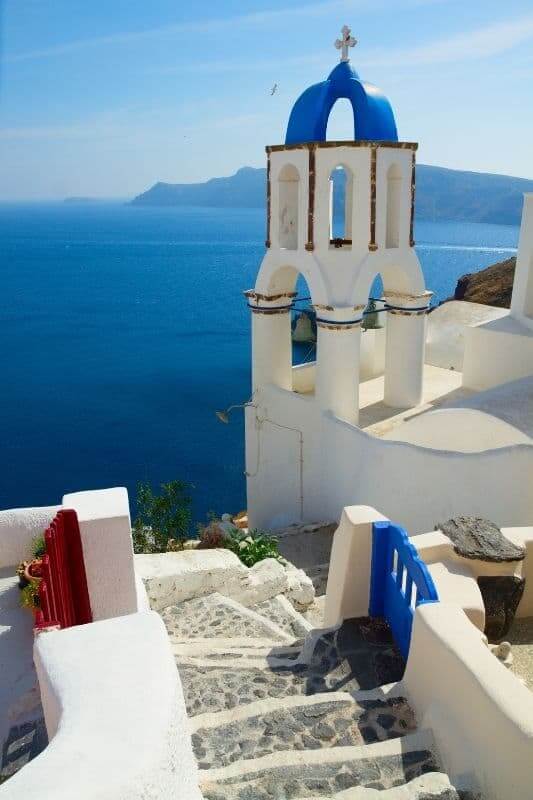 The dazzling caldera views from Oia are simply unparalleled. Specifically, here you can have a breathtaking panorama of the volcanic islands and the endless azure sea.
So, with its upscale boutique hotels, luxury resorts, exquisite dining options, vibrant alleys, art galleries, lively bars, and local cafes, Oia provides an indulgent and luxurious experience for travelers seeking a memorable stay.
Recommended Hotel in Oia
Fira
Fira is the capital of Santorini and a bustling hub offering a diverse range of experiences. Perched on the cliff's edge, Fira features awe-inspiring panoramic views of the volcanic Caldera and the deep blue sea.
The town is a labyrinth of narrow streets filled with shops, restaurants, and cafes. For instance, avid shoppers will love the array of boutiques, jewelry stores, and local souvenir shops.
In the evening, Fira comes alive with a vibrant nightlife scene, with bars and clubs offering entertainment and a lively atmosphere.
But while in Fira, a must-do activity is visiting the Museum of Prehistoric Thera, which showcases a vast collection of ancient artifacts and provides insights into Santorini's fascinating history.
Recommended Hotel in Fira
Imerovigli
Imerovigli, often called the "balcony of Santorini," is a serene and picturesque village with stunning panoramic views of the Caldera and the endless Aegean Sea. It is known for its luxurious hotels and resorts that offer the perfect tranquil retreat.
Generally, the village also exudes a unique charm, with its whitewashed buildings, blue-domed churches, and narrow paths that beckon exploration.
However, while in Imerovigli, you should opt for a leisurely walk to Skaros Rock, a rocky outcrop showcasing the remnants of a medieval castle. The stunning walk will reward you with breathtaking vistas.
So, whether you want to marvel at the golden hues of the sunset from the comfort of your private balcony or unwind by the hotel pool overlooking the Caldera, staying in Imerovigli ensures a serene and unforgettable experience in Santorini.
Recommended Hotel in Imerovigli
Firostefani
Firostefani is a picturesque village on the caldera cliffs, just a short walk north of the island's capital, Fira. Firostefani is often considered an excellent area to stay in Santorini for its spectacular caldera views and the remarkable sunsets that can be observed in this area.
Besides, many accommodations have terraces or balconies to enjoy the view.
While Fira can get quite bustling with tourists, Firostefani maintains a more relaxed vibe, making it an ideal place for couples and travelers looking for a quieter experience.
On the other hand, Firostefani is just a short walk away from Fira, which means you can easily access the amenities and attractions of Fira while enjoying a quieter stay.
The village features traditional Cycladic architecture, with whitewashed buildings, blue domes, and narrow winding streets. It also has excellent restaurants and tavernas offering traditional Greek cuisine and international dishes.
Finally, it's worth noticing that Frostefani is well-positioned for exploring Santorini's attractions. You can easily access the hiking trails that lead to Oia or visit cultural sites like the Archaeological Museum of Thera in Fira.
Recommended Hotel in Firostefani
Pyrgos
Pyrgos is a traditional village inland offering a serene and authentic Santorini experience. Generally, it is known for its peaceful atmosphere, featuring narrow winding streets, whitewashed buildings, charming blue-domed churches, and panoramic views of the island's landscape.
While in Pyrgos, you can explore the maze-like streets to discover hidden corners and immerse in the tranquil ambiance.
It's a fantastic destination to explore medieval Venetian castle ruins, with sweeping vistas over vineyards, the sea, and surrounding villages.
Pyrgos is also home to several wineries, where you can indulge in wine tasting and learn about the island's unique viticulture.
In conclusion, Pyrgos offers a more laid-back and authentic Santorini experience away from the crowds, making it an ideal area for a relaxing Greek island holiday.
Recommended Hotel in Pyrgos
Kamari
Kamari is a coastal village on the southeast of Santorini and a popular destination for beach lovers and those seeking a more relaxed and vibrant atmosphere.
Situated along a volcanic beach, Kamari offers a unique experience with its dark sand and crystal-clear waters.
Its beachfront promenade has restaurants, cafes, and shops, creating a lively and bustling vibe.
Kamari Beach offers various water sports and beach activities, such as kayaking, paddleboarding, and snorkeling, providing ample opportunities for adventure and relaxation.
The village also boasts an array of accommodation options, ranging from budget-friendly hotels to luxurious resorts, meaning you can find the perfect stay for your preferences.
So, with its beachfront charm, vibrant nightlife, and proximity to other attractions, Kamari is an ideal choice for those looking for a beach getaway with a lively ambiance on the beautiful island of Santorini.
Recommended Hotel in Kamari
Perissa
Perissa is a true hidden gem, laid-back and relaxed. The main attraction of Perissa is its beautiful black sand beach, stretching for a few miles along the azure sea.
Over here, you can unwind on sun loungers, soak up the sun, and enjoy a refreshing swim in crystal-clear waters.
Additionally, the beachfront promenade features various tavernas, cafes, and bars where you can savor delicious local cuisine and refreshing drinks while enjoying the coastal breeze.
Perissa also offers a range of water sports activities, from jet skiing to windsurfing, perfect for those seeking a more adventurous experience.
The small village has a charming and authentic feel, with various accommodations to suit all budgets.
With its relaxed vibes, stunning beach, and numerous tourist amenities, Perissa is a beautiful area to stay in Santorini for a tranquil and enjoyable vacation.
Recommended Hotel in Perissa
Akrotiri
Akrotiri is a captivating area that offers a unique and off-the-beaten-path experience. It is the ideal destination for those fascinated with Greece's long and rich history.
Specifically, Akrotiri is home to the famous Minoan Bronze Age settlement, often called the Pompeii of the Aegean.
So, here you can explore the well-preserved ruins and get a glimpse into the ancient civilization that thrived here thousands of years ago.
Akrotiri also boasts stunning views of the Caldera, with its picturesque cliffs and breathtaking sunsets. Furthermore, the area is less crowded than other parts of the island, creating a more serene and secluded atmosphere.
The village also features traditional Cycladic architecture, with whitewashed houses and blue-domed churches. Therefore, staying in Akrotiri provides an opportunity to immerse yourself in history while enjoying the serene ambiance of the island.
Recommended Hotel in Akrotiri
Santorini on a budget? Check out this Santorini Hostel!
Caveland: Located in the tranquil settlement of Karterados, just minutes from the center of Fira, Caveland is a beautiful place to stay in Santorini, offering dorms and private rooms, a fantastic shared pool, and genuinely Santoriniean architecture.
Book a stay here.
Santorini is a paradise that offers a plethora of picturesque villages to choose from, each providing its unique charms and attractions.
Whether you're drawn to the iconic blue-domed churches and mesmerizing sunsets, a vibrant atmosphere with numerous shopping or entertainment, or tranquility and panoramic sights, there is undoubtedly an area in Santorini to suit every preference.
Furthermore, Santorini truly has something for everyone, from the black sand beaches and water sports to archaeological wonders and historical sites.
So, be sure that whichever area you select for your stay, you can immerse yourself in breathtaking landscapes, delectable cuisine, and warm Greek hospitality.
Read more about Santorini
🛌 Suggested Accommodation in Santorini
Pin it Now: Best Areas to Stay in Santorini for Your Next Adventures in Greece!
About my blog: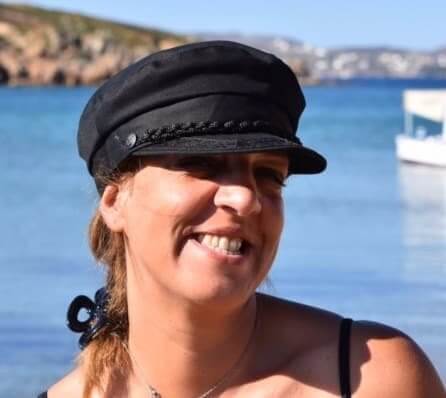 I moved to Crete in 2016. During these years, I learned much about the island.
In Crete, I juggle being a solo mom, hosting culinary tours, and writing for several travel media.
I've written for Greek Reporter, published travel guides about Greece, co-authored DK Eyewitness Top 10 Crete, and had more glasses of frappe than any regular person could ever handle.