Are you tired of crowded tourist destinations and crave something new? Look no further than Serifos, an enchanting island calling all nature lovers, history enthusiasts, and excited foodies.
To set your mind, prepare to embark on an extraordinary journey as we unveil these 11 reasons to visit Serifos and discover why it should be your next destination.
---
Disclaimer: Posts include affiliate links to products or services. I might earn a commission if you make a purchase.
---
11 Reasons Why Serifos Should Be Your Next Travel Destination
PLANNING A LAST-MINUTE TRIP TO GREECE?
Be sure to book accommodation and tours in Greece ahead of time to ensure availability!
🛥️ Book ferry tickets with Ferryhopper.
🛌 Find hotel deals on Booking.com.
🚘 Compare car rental prices with Discover Cars.
💳 In need of money? Use WISE as a digital card and top-up from the app.
The Old Town: Explore Chora and Experience the Town's Cultural Scene
Your adventure in Serifos begins in Chora, the island's main town. As you wander through the narrow cobblestone streets, you'll be wrapped up in the charm and authenticity of this traditional Greek village.
You'll especially love Piatsa, the central square, where you can relax and soak in the vibrant atmosphere.
Not only is Serifos a feast for the eyes, but also a haven for art enthusiasts.
You'll adore the numerous galleries scattered throughout Chora, showcasing the works of local artists, not to mention the traditional music concerts and theater performances.
Warm Hospitality: Experience the Authentic Greek Culture of Serifos
One of Serifos's defining characteristics is its residents' hospitality. As you stroll through the streets, you'll be greeted with genuine smiles and friendly Hellos.
Engage in conversations with the islanders, and you'll gain a deeper understanding of the authentic Greek culture that permeates every aspect of life in Serifos.
Embrace the opportunity to experience the local customs and traditions, and you'll create memories that will last a lifetime.
The people of Serifos are proud of their heritage and are eager to share it with curious travelers like yourself.
Pristine Beaches: Visit Serifo's Wild and Scenic Beaches
Serifos is home to several pristine beaches, each offering a unique experience. If you yearn for secluded and untouched beauty, head to Kalo Ampeli or Sikamia beaches.
You'll find these remote shores in picturesque coves surrounded by rugged cliffs and crystal-clear turquoise waters.
Agios Sostis and Psili Ammos are perfect choices for those seeking more organized beaches.
Lounge on the golden sands, swim in the refreshing waters and enjoy the beachside amenities the local tavern provides.
Hiking: Embrace Serifo's Rugged Terrain
Prefer to venture off-foot? Serifos offers several hiking trails that will take you through the island's rugged terrain and reveal its hidden treasures.
Along the way, you'll encounter unique flora and fauna, adding to the experience.
One of the most rewarding hikes is the trail to Agios Konstantinos Chapel. As you ascend the hill, you'll be rewarded with breathtaking panoramic views of the island and the sparkling Aegean Sea.
Monastery: Discover the Rich Heritage of Serifos
Serifos is not just a paradise for nature lovers; it also boasts a rich history dating back thousands of years.
And there's no better place to glimpse the island's past than visiting the Monastery of Taxiarches, also known as the Holy Monastery of the Archangels.
This Byzantine monastery, perched on a hilltop, offers extraordinary views of the surrounding landscape. Step inside and admire the exquisite frescoes and icons that adorn the walls, depicting scenes from religious texts.
The tranquil atmosphere will envelop you, providing a respite from the bustling world outside.
Castles: Visit Serifos Castles
For castle enthusiasts, Serifos is a treasure trove of ancient sites waiting to be explored.
One of the most iconic is Gria (Kastro tis Grias), or Old Woman's Castle, with its characteristic stone steps and stunning island views. It's located on top of a hill above Koutalas Bay.
Imagine stepping back in time as you wander through the ruins of this ancient fortress. Feel the whispers of history in the air as you envision the lives of the people who once inhabited this imposing stronghold.
About 5 km from Livadi, in Serifos' Chora, close to the church of Agios Konstantinos, it's also possible to see the Venetian Castle of Serifos, a fortified village founded by the Venetians dating back to 1430.
Mythology: Unravel Serifos Mythology and Enter the Cave of the Cyclops
Serifos is steeped in ancient mythology, with tales that ignite your imagination. The Cyclops story is one of the most famous myths associated with the island.
According to legend, the Cyclop Polyphemus, blinded by the hero Odysseus, sought refuge in the Cave of the Cyclops in Serifos, locally also k known as the Cave of Koutalas.
Today, you can enter this ancient cave and start a mythical adventure you'll long remember. Marvel at the stalactites and stalagmites that adorn its walls, creating an otherworldly atmosphere.
Then, let your mind wander as you immerse yourself in the stories of gods and heroes that shaped the mythology of Serifos.
In the area, check out the so-called Throne of Serifos, where – according to the legend – Cyclops used to sit to look out to sea. The Throne is immense and offers a great view of the underlying bay near Megalo Livadi.
Mines: View the Abandoned Mines in Megalo Livadi
Serifos has a rich mining history and has left its mark on the island's landscape and culture.
The abandoned mines in Megalo Livadi are a poignant reminder of this bygone era.
During your stay on the island, visiting the memorial site and gaining insight into the lives of the miners who toiled in these quarries is a good idea.
The rusted machinery and crumbling buildings tell a story of hard work and perseverance.
Take a moment to reflect on the significance of this historical site and pay tribute to the miners who worked here.
Good to Know: If you're interested in visiting the abandoned mines, a local guide will ensure you don't get lost in this underground maze.
Gastronomy: Taste Serifos Delicacies
True to Greek standards, Serifos offers a gastronomic delight for every food lover. Start your culinary expedition with Dolmadakia. Delicious vine leaves stuffed with rice and herbs.
Then, try the traditional Serifos sausages made with a unique blend of spices. Their smoky and savory flavors paired perfectly with local ouzo or a glass of tsipouro.
Another must-taste specialty is marathopita, a fragrant fennel pie that shelters Serifos wild herbs' aromas.
Organic Wine: Enjoy the Local Wine in Serifos
Serifos is not only a feast for the senses but also for the palate. The island is known for its organic wines, made with love and care by local winemakers.
Visit wineries such as Chrysoloras Winery and learn about the local winemaking process.
Sample various wines, from crisp whites to full-bodied reds, and discover the unique flavors that characterize the wines of Cyclades.
Finally, raise a glass to Serifos and toast to the beauty and richness of this charming island.
Sweets: Savor Local Sweets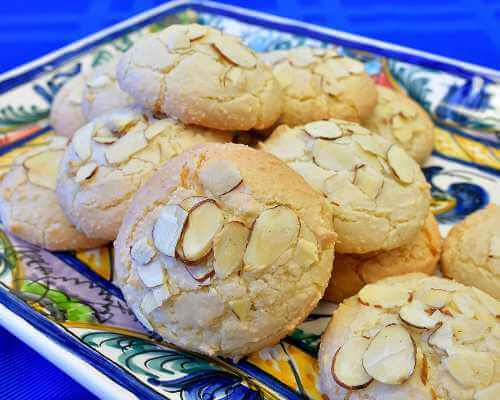 Because a holiday meal is never complete without dessert, Serifos offers a delightful array of confections to satisfy your sweet tooth. One of the island's specialties is Amygdalota, almond-based cookies with a delicate texture and a hint of citrus flavor.
For a taste of the island's sweet bounty, try the local thyme honey. This golden nectar is infused with the aromatic flavors of the island's wild herbs, creating a unique and unforgettable taste.
Drizzle it over a slice of fresh cheese, or enjoy it as a topping on your morning yogurt. Every spoonful will transport you to the sun-drenched hillsides of Serifos.
Affordability: Enjoy Lower Prices and Fewer Crowds in Serifos
One of the advantages of choosing Serifos as your next travel destination is its affordability. The island offers lower prices for accommodations, dining, and activities than its more famous neighbors.
That means you'll be able to stretch your budget further without compromising on the quality of your experience. Isn't this one of the best reasons to visit Serifos?
In addition to lower prices, Serifos boasts fewer crowds, allowing you to explore the island at your own pace and enjoy its scenic beauty without the hustle and bustle of tourist crowds.
Suggested Accommodation in Serifos
Check out the following recommended places to stay and try to book at least a couple of months before the planned trip.
So… Why Serifos Should Be Your Next Travel Destination
As we end our journey through the enthralling island of Serifos, it's clear that this hidden gem of the Cyclades should be on every adventurer's bucket list.
With its captivating landscapes, rich history, warm hospitality, and delectable cuisine, Serifos offers a truly immersive and memorable travel experience.
Read more about the Greek Islands
🛌 Suggested Accommodation in Athens:
🗺️ More resources to book your trip to Greece:
Written by Dimitrios Tsevremes
Passionate about travel, spirituality, and sports, I have lived in 5 countries and traveled to more places than I have counted. Writing, for me, is a way to express myself and my creativity. Whether I write for my blog or a freelancing gig, I always fall in love with the process and often lose my sense of time. If you want, you can check out more about me and my work here.
Pin it! Top Reasons to Visit Serifos, Greece!
About my blog: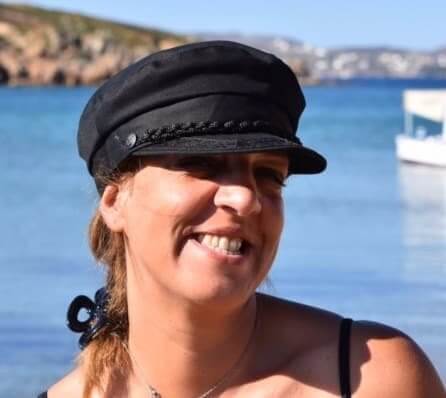 I moved to Crete in 2016. During these years, I learned much about the island.
In Crete, I juggle being a solo mom, hosting culinary tours, and writing for several travel media.
I've written for Greek Reporter, published travel guides about Greece, co-authored DK Eyewitness Top 10 Crete, and had more glasses of frappe than any regular person could ever handle.