With its picturesque islands and rich cultural heritage, Greece is a dream destination for many travelers.
However, one common misconception is that visiting these Greek islands comes with a hefty price tag. But fear not, as Greece also offers a plethora of stunning islands suitable for budget-conscious travelers.
Let's explore some of the best Greek islands for budget travelers, where stunning natural landscapes, historical sites, and warm hospitality combine to create an unforgettable and affordable adventure.
---
Disclaimer: Posts include affiliate links to products or services. I might earn a commission if you make a purchase.
---
Cheap Greek Islands You Must See!
PLANNING A LAST-MINUTE TRIP TO GREECE?
Be sure to book accommodation and tours in Greece ahead of time to ensure availability!
🛥️ Book ferry tickets with Ferryhopper.
🛌 Find hotel deals on Booking.com.
🚘 Compare car rental prices with Discover Cars.
💳 In need of money? Use WISE as a digital card and top-up from the app.
Best Greek Islands for Budget Travelers
From affordable accommodations to delicious local cuisine at reasonable prices to free or low-cost activities, these island gems provide an opportunity to experience the beauty of the Greek islands without breaking the bank. Take a look!
Corfu
Corfu is one of the cheapest Greek islands where you can experience a vibrant atmosphere, diverse cultural heritage, lively nightlife, stunning landscapes, and gorgeous beaches.
In fact, even though Corfu features plenty of expensive and luxurious resorts in areas like Kassiopi and Nissaki, there are many affordable accommodation options and budget-friendly dining choices.
Specifically, areas like Benitses, Gouvia, Dassia, and Ypsos feature various cheap deals at hotels, restaurants, and bars.
Furthermore, Sidari and Roda are ideal destinations for families or couples looking for budget-friendly hotels or self-catering apartments.
Check out this guide to the best areas to stay in Corfu.
Corfu Town, the island's capital, is a maze of narrow streets lined with cozy taverns and vibrant markets where you can sample traditional Greek cuisine without breaking the bank.
Also, suppose you wish to immerse in Corfu's beautiful nature. In that case, the island has many accessible public beaches (free), secluded coves, and sandy shores, as well as hiking trails taking you to stunning viewpoints that are easily accessible by public transportation or even on foot.
Crete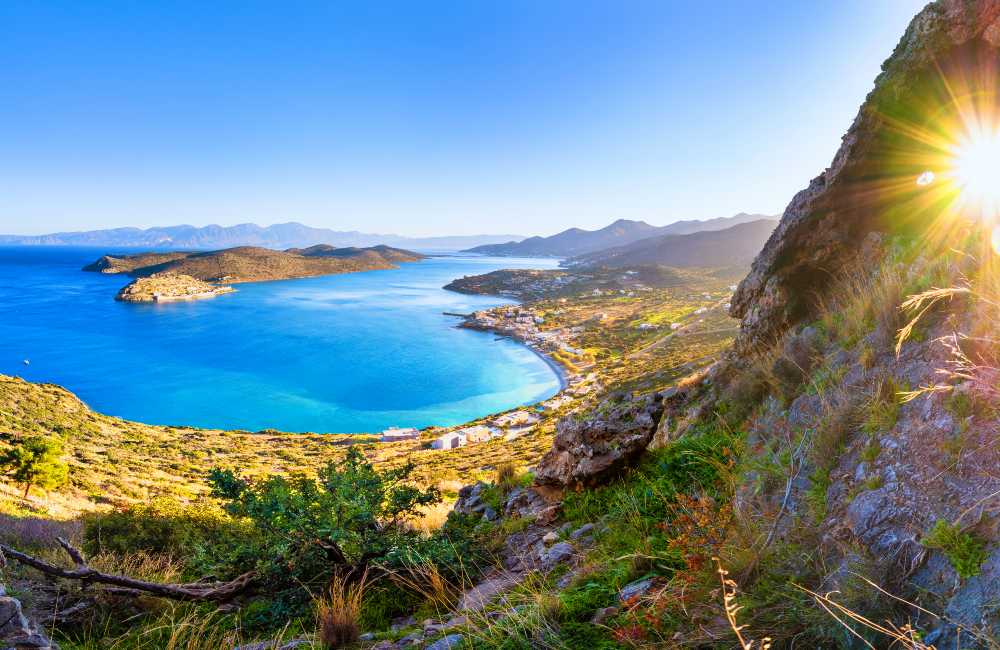 Crete is undoubtedly one of the most popular Greek islands. And it offers things to do for any budget. In fact, Crete can be expensive, but it also offers a plethora of inexpensive experiences. (And you're on the right blog if you're looking for those!)
Crete has a range of affordable accommodations, from budget-friendly hostels to charming guesthouses, suiting every type of traveler and preference.
As Greece's largest island, Crete is a hub of culture, history, and natural beauty, with numerous dining options showcasing Crete's delicious cuisine, picturesque rural villages perfect for cultural immersion, hiking trails along mountainous and coastal regions, idyllic beaches, and ancient ruins.
So, Crete would definitely keep you busy, and thankfully, the island has an excellent bus network, allowing you to explore Crete on a budget.
Some popular and affordable activities around Crete are hiking the breathtaking Samaria Gorge, exploring the fascinating ruins of the Palace of Knossos and the Malia Archaeological Site, and spending a day at the famous pink beach of Elafonisi.
If you're wondering how to explore all that Crete offers on a budget, the best way is to use public transportation or rent an affordable car at least six months in advance!
Which car rental service is the best to choose?
If you want to rent a car for your trip and look for the best service, I am here to help you! Consider choosing Discover Cars, an international car rental booking service present worldwide. This way, you will find the best car for your trip wherever you are!
Rhodes
Like Crete, Rhodes is a popular destination in Greece due to its historical significance and medieval charm.
Surprisingly, Rhodes is quite affordable, unlike other famous Greek islands, making it a hidden gem for budget travelers.
Generally, the island features numerous hotels, creating competition that significantly drops prices. So you can find hotel rooms starting from only €25 per night for two people.
Don't forget that Rhodes is one of the cheapest Greek Islands to fly into, with frequent flights from major European cities.
✈️ Search for cheap flights with CheapOAir.
Also, the town of Rhodes, with its narrow cobblestone streets and ancient architecture, is a treat to explore on foot, and you can indulge in affordable, authentic Greek dishes in family-run taverns.
The island boasts multiple picturesque shores for beach lovers, some of which offer free access and stunning views of the Aegean Sea.
Kos
Kos is a hidden gem in the Dodecanese archipelago and a paradise for budget travelers seeking a unique Greek island experience.
It is primarily an excellent destination for those looking for an active holiday since Kos is said to be Greece's most bike-friendly island.
So, you can quickly get an affordable rental bike and explore Kos' stunning beaches, diverse landscapes, and rich heritage.
Kos Town is lively, with bustling markets and charming taverns serving delicious, hearty Greek dishes at affordable prices.
Other parts of the island with great hotel deals and self-catering accommodations are Kardamena and Kefalos, which feature gorgeous beaches and family-friendly amenities. In fact, Kos is a fantastic destination for families with children!
Also, Marmari and Tigkaki are fantastic windsurfing destinations featuring plenty of budget-friendly accommodation with all-inclusive deals.
Zakynthos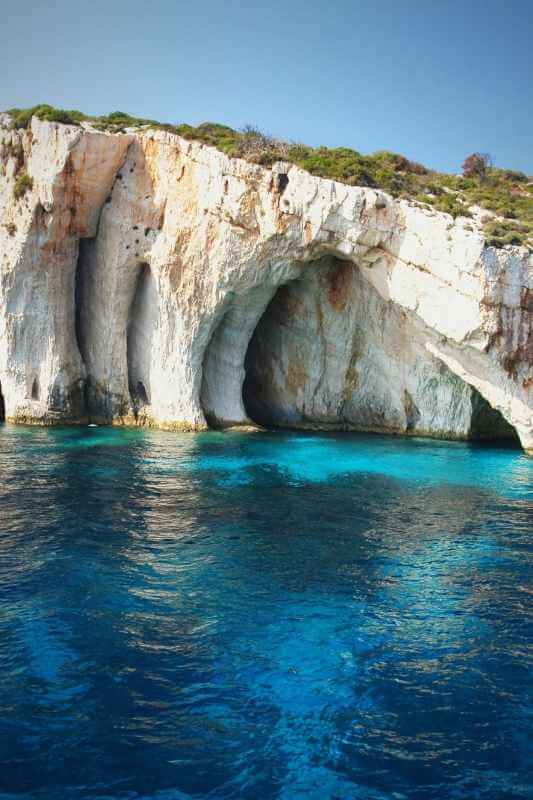 Zakynthos, also known as Zante, is a stunning island on the Ionian Sea best known for the iconic and jaw-dropping Shipwreck Beach.
However, although it holds significant popularity among travelers, it is a fantastic budget-friendly destination due to its affordable, lively nightlife.
Laganas is by far the best resort for cheap, delicious cocktails and unforgettable nightlife, with numerous restaurants, bars, and clubs.
If you prefer something more quiet, head to Tsilivi and Alykes, which offer great bars, traditional taverns serving traditional Greek dishes, and plenty of affordable hotels and apartments for rent.
Click here to find accommodation in Zakynthos.
A car is not essential in Zakynthos since you can efficiently use the island's affordable public transportation and reach almost every part of it, from the airport to Shipwreck Beach and plenty of other villages across the island.
Naxos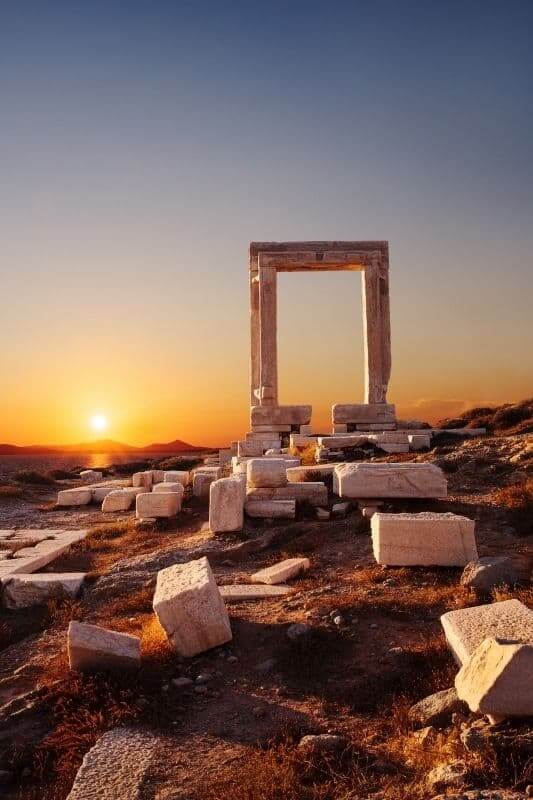 Naxos is the largest of the Cyclades island group and one of the best for an authentic Greek island experience on a budget.
The island offers thrilling and affordable adventures with its stunning beaches, charming villages, and rich history. Furthermore, it features plenty of budget-friendly accommodations and dining options.
For instance, if you love water activities, Naxos is an excellent destination for kitesurfing, windsurfing, or sailing due to its windy climate.
The island is famous for its white sandy beaches surrounded by luscious greenery, creating the perfect scenery for swimming, snorkeling, or sunbathing.
Furthermore, Naxos is home to the Cyclades' highest mountain, Mount Zas. So, if you're up for a challenge, you can rent a bike to explore gorgeous scenery and reach incredible viewpoints.
Otherwise, opt for a relaxing and rewarding hiking experience.
Last but not least, Naxos is home to the famous landmark Portara, a marble gate dedicated to the god Apollo on the small Palatia (or Ariadne) islet, which is the perfect spot to witness a mesmerizing sunset.
Ios
Its more famous neighbors often overshadow Ios; however, the island is the perfect choice for budget travelers seeking an affordable Greek getaway with many exciting parties.
Generally, Ios is known as a cheap party island where young travelers flock to Chora, the island's capital, to dance the night away in cheap bars and clubs.
But apart from its lively nightlife, Ios features beautiful traditional towns offering a glimpse of authentic Greek island lifestyle and culture.
For instance, the village of Magganari boasts crystal-clear waters, golden sandy beaches, and a laid-back atmosphere, making it the perfect destination for a relaxing beach holiday.
A fantastic free activity for adventurers is following the shepherd's paths up to the island's highest peak, Pyrgos, for gorgeous views of the island and the Aegean Sea.
Samos
Samos is an enchanting island in the Aegean Sea and a hidden paradise for budget travelers.
Specifically, Samos is often overlooked, so prices haven't been driven up, making it one of the cheapest Greek islands. So, you can experience this unspoiled gem easily on a budget.
Samos is a delightful blend of stunning landscapes and historical sites. For instance, the island boasts gorgeous beaches that are some of the best in the country.
They are never overcrowded, immersing you peacefully in their vibrant blue shallow waters and lush green surroundings.
Additionally, Samos is not even a mile away from Turkey. Therefore, it boasts a fascinating blend of both Turkish and Greek culture.
Also, the island is home to renowned mathematician Pythagoras and ancient ruins like the Temple of Hera and the Eupalinos Tunnel.
So, you'll undoubtedly have plenty of things to do, see, and experience on Samos.
Lefkada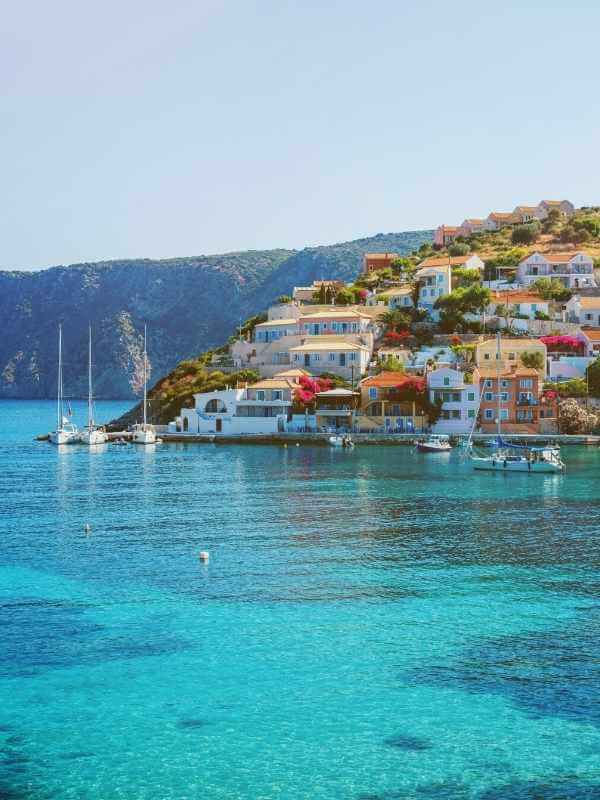 Lefkada is a hidden treasure among the Ionian Sea islands and the perfect escape for budget travelers seeking a mesmerizing holiday destination.
First of all, accessing Lefkada is easy and affordable due to a bridge connecting the island with the mainland.
The closest airport to Lefkada is Aktion Airport in Preveza, which is only one bus away from Lefkada and costs about €3. Furthermore, various cheap flights from several European destinations land on Preveza daily.
Once you reach Lefkada, you'll be greeted by mesmerizing turquoise waters, stunning beaches, and rugged cliffs.
But despite the island's natural beauty, it remains a relatively affordable destination. Specifically, the island offers a range of budget-friendly accommodations, including cozy guesthouses and boutique hotels in charming villages.
Click here to find affordable places to stay in Lefkada.
Lefkada's beaches are regularly featured among the most beautiful beaches in the Mediterranean. So, be ready to explore vibrant blue waters surrounded by tall white cliffs that are often free from hotels and resorts.
Otherwise, you can also opt for an escape to the mountains to discover rustic villages and plenty of hiking opportunities.
Uncertain where to go between Lefkada and Crete? This article has all the info you need!
Thassos
Relatively easy to reach, Thassos is located in the northern Aegean Sea, near the mainland city of Kavala, and can be accessed by a short ferry ride. This makes it convenient for travelers, reducing the cost and time of transportation.
Besides, Thassos offers a range of accommodation options, including budget-friendly hotels, guesthouses, and apartments, making it pretty affordable. Overall, the island provides good value for money, with a lower cost of living if compared to more popular tourist destinations like Santorini or Mykonos.
On the island, you can enjoy delicious Greek cuisine, taste fantastic local wines, and take on activities without breaking the bank.
Thassos is also known for its stunning natural beauty, including lush green landscapes, picturesque beaches, and charming villages.
An island that has managed to retain its Greek charm and authenticity without the crowds and commercialization of some more touristy destinations, Thassos is a must on this list.
Read all the articles about Thassos.
Ikaria
Relatively untouched by mass tourism, Ikaria allows you to find budget-friendly accommodations, including guesthouses, family-run hotels, and apartments, all comfortable places to stay without overspending.
It's a place to experience a more traditional and relaxed Greek way of life. Over here, time seems to move slower, allowing you to experience the island's rich culture and traditions without the commercialization and high prices found on more touristy islands.
Known for its healthy Mediterranean diet, this is the ideal destination for food lovers ready to enjoy delicious and affordable local food.
In Ikaria, you can try traditional Greek dishes and fresh seafood at local tavernas without straining your budget.
Finally, Ikaria boasts stunning beaches, many of which are free to access. They are ideal if you're seeking crystal-clear waters and relaxation on gorgeous sandy shores without paying high fees for beach services.
Other Cheap Greek Islands to Consider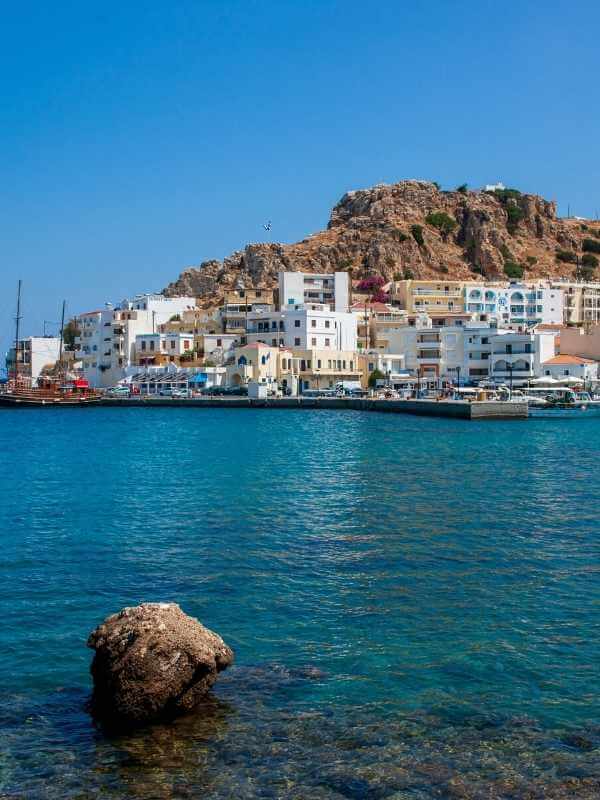 Still unsure which of these cheap Greek islands to visit? These are some other affordable Greek islands to explore:
Amorgos: This island is relatively quiet and budget-friendly, making it an excellent choice for those seeking a peaceful retreat.
Lemnos: Lemnos is a less-visited island with a relaxed atmosphere and affordable options for accommodation and dining.
Lipsi: Lipsi is a small and tranquil island in the Dodecanese group, known for its simplicity and affordability. It offers budget-friendly accommodations, beautiful beaches, and a relaxed atmosphere.
Folegandros: Folegandros is a less-visited Cycladic island with stunning landscapes, charming villages, and affordable options for travelers on a budget.
Astypalea: Located between the Cyclades and the Dodecanese, Astypalea offers affordable accommodation, pristine beaches, and a laid-back atmosphere.
Sikinos: Sikinos is a quiet and unspoiled island in the Cyclades, offering budget-friendly accommodations, beautiful landscapes, and a peaceful environment.
Koufonisia: The small and less-developed islands of Koufonisia are known for their affordable guesthouses, crystal-clear waters, and a relaxed ambiance.
Agistri: Just a short ferry ride from Athens, Agistri is a budget-friendly choice for a quick getaway. It offers lovely beaches, low-cost accommodation, and a relaxing atmosphere.
Karpathos: Karpathos offers a combination of affordability and a more traditional Greek island experience, making it an excellent choice for budget travelers.
Anafi: Anafi is a gorgeous Cycladic island with affordable accommodation options and a slower pace of life, ideal for those seeking a budget-friendly Greek island experience.
While these Greek islands tend to be more budget-friendly than some of the more popular tourist destinations, it's essential to remember that costs can vary depending on the time of year and booking your accommodation way before the date of the trip!
Conclusion: Budget-Friendly Greek Islands
The Greek islands may seem like a dream destination for luxurious holidays, but as we've seen above, they can also be ideal for budget travelers.
Islands like Crete, Corfu, and Rhodes, which are generally popular, can also offer various affordable options, while destinations like Samos, Ikaria, and Ios are hidden gems worth discovering.
So, check out these destinations to plan your next budget-friendly adventure on a Greek island.
Read more about Greece
🛌 Suggested Accommodation in Athens:
🗺️ More resources to book your trip to Greece:
Pin this Guide to the Best Cheap Greek Islands For Your Next Summer Adventure in Greece!
About my blog: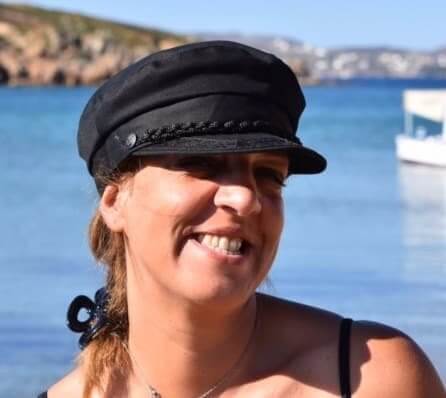 I moved to Crete in 2016. During these years, I learned much about the island.
In Crete, I juggle being a solo mom, hosting culinary tours, and writing for several travel media.
I've written for Greek Reporter, published travel guides about Greece, co-authored DK Eyewitness Top 10 Crete, and had more glasses of frappe than any regular person could ever handle.