If you plan your holidays, nothing is more important than a relaxing and beautiful place to spend the night. And on the island of Thassos, there are many options for accommodation. Whether you want to stay in a hotel, studio, high-end resort, or ordinary apartment, you will be spoilt for choice. To help you with the decision, here is a summary of the best areas to stay in Thassos.
---
Disclaimer: Posts include affiliate links to products or services. I might earn a commission if you make a purchase, at no extra cost to you.
---
Best Areas to Stay on Thassos Island
There are countless seaside villages as well as mountain settlements to choose from when it comes the time to book your Thassos accommodation. However, and especially if it's your first time on the island and have no clue about where to stat, you will get a better picture of where to stay if you first know the answer to these questions:
How much can you spend for accommodation?
If you won't be based in a central area, how much can you spend on transport?
Will you rent a car? if yes, will it be during the whole vacation or only to visit specific places?
Is the place isolated? are there beaches, shops, restaurants, pharmacies, nearby? Do you need them?
Is beach access a must?
Is being close to the port (or airport) a must?
What places on the island you really want to visit?
>> Now that you know what you need for your holidays in Thassos, let's see where you can get it!
In no particular order, these are some of the best places to stay in Thassos.
Limenas
The main port of Thassos, Limenas is the island's administrative center and marketplace. Locals and tourists come here to enjoy a walk around the busy and lively streets. You will find anything here, from modern cafe bars, clubs, taverns to stores of every kind.
The accommodation options are also limitless. Whether you want to stay in a five-star hotel, boutique, or modern apartment, Limenas is the place to be. And because of the intense competition, staying here will not hurt your wallet.
If your budget matters much to you, you can even delay renting a car for two or three days as there are many things to do in Limenas alone.
>>LOOK FOR ACCOMMODATION IN LIMENAS<<
Panagia
After driving south for fifteen minutes from Limenas, you will reach the cosmopolitan village of Panagia on the slopes of Mount Ipsario. The traditional houses overlook the Aegean and the bay in front of the long Golden Beach. There is no way you will not love the scenery. And if you are an early bird, you must not miss the sunrise from this part of the island.
Panagia is also famous for its traditional taverns and delicious meals. It is one of the places of Thasos where tradition has prevailed in the cuisine, with the use of fresh meat and local ingredients.
And once you leave the restaurants, you can walk and explore the network of creeks running from the mountain through the village down to sea level. There is no better way to digest the food and take in the vibes of Panagia.
>>CHECK ACCOMMODATION IN PANAGIA<<
Skala Potamia
Below Panagia, Skala Potamia is a seaside settlement surrounding the two-kilometer-long Golden Beach. Every year, the village gets grander, with more hotels and resorts popping up by the sea. It has become one of the most popular places to stay in Thassos.
The highlight of Skala Potamia is no other than its beach. There is nothing like waking up and swimming in the middle of a majestic bay with a spectacular setting. If you wake up early, you can have the entire two kilometers of sandy beach for yourself. That is an ideal opportunity for a quick walk or run on the shore of Golden beach.
>>CHECK ACCOMMODATION IN SKALA POTAMIAS<<
Kinira
On the east side of Thassos, Kinira is a scarcely-populated settlement that overlooks the tiny islet of Kinira, one kilometer into the sea. More of a tourist resort than a village, Kinira will fascinate with its peace, not to mention the lush landscape and breathtaking scenery.
Although there is not much to do at night, you will not miss a thing here. There are several taverns and a few places to drink coffee or relax after a dive into the water. And for a sense of adventure, you can always rent a kayak or head inland for a hike you will remember for its viewpoints.
>>CHECK ACCOMMODATION IN THE AREA<<
Aliki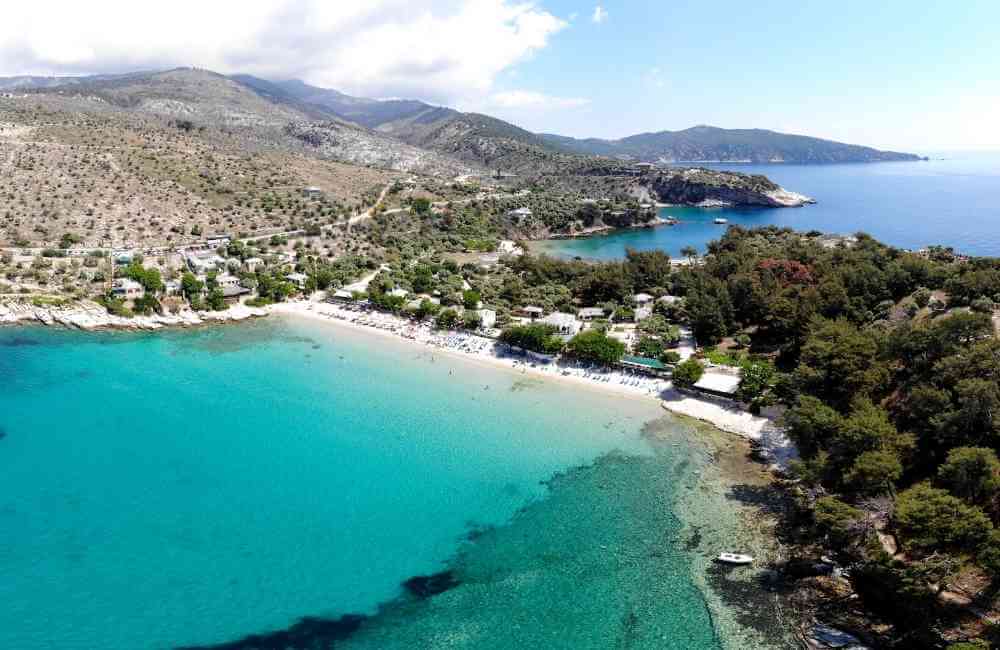 Aliki is another small settlement in Thassos, this time in the southern part of the island. Although the cafes and taverns are open only during summer, the atmosphere is unique. Imagine a small beach packed with bars and restaurants surrounded by lush vegetation. There is even a grocery store in case you even need anything quickly.
>>FIND ACCOMMODATION IN ALIKI<<
Although the accommodation options are limited, you will not regret staying here a bit. Early mornings and evenings are quiet, but the day usually goes by with a crowd on the beach.
Apart from the visitors coming in their cars, many tourists arrive here by boat. Remember that Aliki Beach is also home to one of the most important archaeological sites on the island.
Potos
If you are after a more vibrant and lively place to stay, you can never go wrong with Potos. This small village transforms from a sleeping settlement in winter to a fully-fledged beach resort in summer. Hotels, studios, and apartments are more than the number of residences in the village.
You can find anything in summer here. Large grocery stores, cafe bars that are open until early morning, taverns by the sea, and souvenir shops of any kind create a cosmopolitan setting, unlike anything on the island. And the best part is that Potos, with its many bars, is one of the main places to go out in Thasos, after the capital Limenas.
>>FIND ACCOMMODATION IN POTOS<<
Last-minute plans for Greece?
Get there: Use Ferryhopper to book your tickets.
Stay: Find accommodation deals on Booking.com.
Move around: Compare car rental prices with Discover Cars.
Tours: Visit popular places with GetYourGuide.
Read more: Pack the Lonely Planet Guide to Greece.
Limenaria
Three kilometers north of Potos, Limenaria is the old capital and second-largest settlement of Thassos. Although it is calmer than Potos, you still have more than enough options to dine out, enjoy your drink, or shop in the local stores.
You will love walking along the shore and overlooking Palataki, a 19th-century building that stands imposing on the top of a cliff above the port.
Limenaria is also the starting point for many sea cruises you can take around the island. The most popular route will take you to the famous natural lagoon of Giola and the Archangel Monastery built on the side of a cliff above sea level. You can even rent your own boat and discover the remote and hidden beaches of Thassos.
>>CHECK ACCOMMODATION IN LIMENARIA<<
Theologos
Another old capital of the island, Theologos is a mountainous village, home to some of the most spectacular Macedonia-style houses in Thassos. You can sleep in mansions, hotels, or rental apartments in the heart of the village. Once there, several top restaurants await you for a dining experience you will long remember.
Theologos is also home to one of the most unique sites on the island, the Gourni Waterfalls. Coming directly from the source, a stream of water pours down into two separate pools of cold fresh water.
Take your camera and prepare for some of the most amazing shots you will take on the island. And if you are brave enough, wear your swimsuit and jump into the almost freezing but refreshing waters.
>>CHECK ACCOMMODATION IN THEOLOGOS<<
Skala Marion
A picturesque village in the middle of a bay, Skala Marion will captivate you with its architecture and vibes. All houses stand on a curving cliff that leads to the port from three sides. There, some of the best fish taverns on the island are ready to offer you a romantic dining experience like no other.
And if you feel like swimming, either side of the bay is home to sandy beaches reachable on foot within minutes. One of them has a kids' playground in the water, making it an ideal choice if you have children.
Otherwise, relax on a sunbed or stay in the village to enjoy a cocktail by the port.
>>CHECK WHERE TO STAY IN SKALA MARION<<
Kazaviti
A mountain village like no other, Kazaviti is divided into two different settlements. The Small Kazaviti and the Big Kazaviti. Although one is larger, both are famous for the stone mansions, neoclassical buildings, and surrounding vegetation.
If you stay here, you will feel the difference in temperature from day one. While the rest of Thassos may suffer from unprecedented heat, you may need a blanket in Kazaviti to sleep warm at night. The microclimate here is beyond belief. In short, you will love every bit of staying in Kazaviti.
>>CHECK ACCOMMODATION IN THE AREA<<
Kallirachi
Another mountain village, Kallirachi is much closer to the sea than the rest of the inland settlements. It is also one of the few mountain villages you can see from sea level.
When piracy was thriving, Thassians preferred to hide their houses behind cliffs. But the residents of Kallirachi built their village on top of a steep cliff from where they defended against invaders throwing stones and other materials.
Today, the historical village of Kallirachi is a quiet place, with a few accommodation options and taverns. The best thing about it is no other than the view over the valley full of olive groves and pine trees reaching the shore. And while you will enjoy the cooler temperatures at night, the beach is less than two kilometers away.
>>CHECK ACCOMMODATION IN KALLIRACHI<<
Skala Kallirachi
When piracy receded, Thassians moved from the mountains closer to the sea. They first built structures to house their fishing boats, but later the same buildings became their homes. And they named the new settlements after their birthplace, with the addition of Skala, which translates as Stairs.
As a result, residents of the mountain village of Kallirachi created the coastal settlement of Skala Kallirachis. It is about a picturesque, low-key village with many studios, a few hotels, and tens of apartments to rent.
Although a quiet place, there are plenty of things to do as well. To name a few, you can visit its two sandy beaches, walk along its harbor, or watch the sunset over a cup of coffee.
>>THIS IS OUR FAVORITE PLACE TO STAY ON THE ISLAND<<
So here are some of the best places to stay in Thassos. Hotels, studios, apartments, and resorts all come together to accommodate your every need.
No matter your type of accommodation, Thassos will surprise you with its beaches, landscape, and hospitality of the locals. So what are you waiting for? Book your next stay in Thassos now!
Featured author: this article is part of the extensive Thassos Island Series, written and curated by our Thassian writer, Dimitrios Tsevremes.
---
Where are you planning to stay when you visit Thassos?
Let me know in the comments below!
---
Travel Plans for Greece?
More Resources to Organize Your Trip!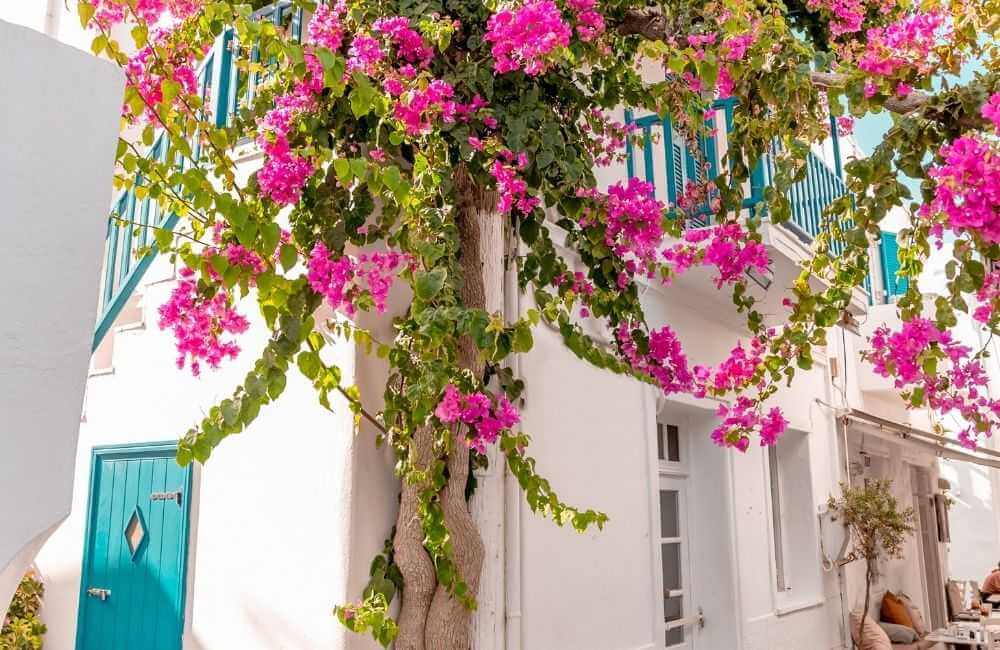 Start by heading right to my Greece travel guide for in-depth details you need to know about Greece. You can also check my post to plan a trip to Greece with children!
Get in touch if you need extra help to plan your trip. If you want to tour West Crete, check my guide. Want more? Join my Private Facebook Group to connect with like-minded travelers who love Crete as much as you do!
Make Sure You've Got Everything For a Hassle-Free Vacation!
Without my Osprey backpack, I never move around the islands…it's a sturdy but light travel partner I just love. For short trips, I carry this crossbody bag. If I drive, I pack my Nikon D7200 and a good travel guide! Lonely Planet's Best of Greece & the Greek Islands.
When it comes to plane tickets, compare prices with a powerful search engine. However, nothing beats traveling by sea in Greece. With Ferry Hopper, you can book in advance at the lowest price.
For accommodation, I use Booking.com.
Traveling to remote places is easier with Discover Cars. Other times, I join organized tours with GetYourGuide, which features anything from cooking lessons to airport transfer!
COMING TO CRETE SOON?
Get in touch and let me know!
This Belongs to a Board! Pin This Guide to the Best Areas Where to Stay in Thassos, Greece!
---
Written by Dimitrios Tsevremes
Passionate about travel, spirituality, and sports, I have lived in 5 countries and traveled to more places than I have counted. Writing for me is a way to express myself and my creativity. Whether I write for my blog or a freelancing gig, I always fall in love with the process and often lose my sense of time. If you want, you can check out more about me and my work here.
You might also want to read:
---
About the author of this blog: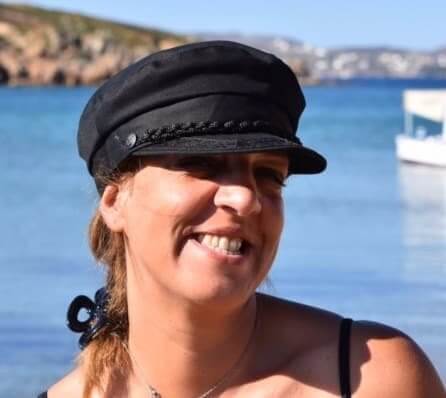 Gabi has been living in Crete for the last five years. On the island, she juggles being a solo mom, hosting culinary tours in summer, translating, and freelance writing.
She's written for Greek Reporter, published several travel guides about Greece, and had more glasses of frappe than any regular person would be able to handle.