Thassos Island is a relatively unknown holiday destination in the northern Aegean Sea in Greece.
Depicted as the upcoming trend for alternative holidays in Greece, I have decided to feature all there is to see and do on the island in an exclusive series utterly dedicated to Thassos.
This article explores some of the main reasons to visit Thassos Island.
---
Disclaimer: Posts include affiliate links to products or services. I might earn a commission if you make a purchase.
---
Top Reasons to Visit Thassos, Greece
PLANNING A LAST-MINUTE TRIP TO GREECE?
Be sure to book accommodation and tours in Greece ahead of time to ensure availability!
🛥️ Book ferry tickets with Ferryhopper.
🛌 Find hotel deals on Booking.com.
🚘 Compare car rental prices with Discover Cars.
💳 In need of money? Use WISE as a digital card and top-up from the app.
Unbeatable Reasons to Visit Thassos
Are you curious to know whether and why you should visit Thassos? Or maybe you are looking for your next holiday destination in Greece. Either way, you have every reason to read this article.
Spoiler alert: Thassos Island has much more than meets the eye. So, without further ado, here are 10 unbeatable reasons to visit Thassos.
Thassos is a Peaceful and Relaxing Summer Destination
The island of Thassos is a relatively unknown holiday destination among Europeans. However, it has always been among the first choices for Balkans and Northern Greece tourists. After all, it is the most northern island of the Aegean.
Since Thassos is cut off and isolated from the rest of the Aegean, there is no direct ferry connection with other Greek islands.
And because most visitors to Greece come by plane, they mostly prefer to land in Athens and start hopping from island to island. If only they knew.
For those reasons, Thassos has remained a peaceful and relaxing summer destination. Crowds form very rarely, in few places, and only during high season. But you would not need to worry about those at all.
All you must do is sit back and embrace the island's majesty. And in the meantime, view unique sights that will leave you breathless.
On a side note, you may have heard of Thasos with one letter "s". Although the official name is Thassos with double "s", both variations point to the same place.
Greeks prefer to use double "s" while visitors keep it simple with one "s". In any case, one thing is for sure: Thassos deserves more attention than it has so far.
Thassos is Home to Giola, a Natural Pool by the Sea
As legend says, one spectacular attraction in Southern Thassos is called Giola, or the Aphrodite Tear. It is about a one-of-its-kind natural pool carved into the rock by the sea. Featured in travel and nature magazines, Giola is a sight that you will not stop admiring.
Hands down, it is the most instagrammable spot in Thassos. This natural pool is about fifteen meters in diameter and no more than three meters deep. And the best part is that you can swim any time of the day. No matter how windy or large the waves are, Giola waters are always quiet.
You can even jump from eight meters in height to the pool's center to get a sense of adventure. If that sounds scary, you can jump from as low as you feel comfortable and build your way up. In any case, you will want to return after a few jumps in no time.
It is Easy and Inexpensive to Reach Thassos by Car
If you have or rent a car, Thassos is one of the Greek islands with the fastest access from the mainland.
The crossing takes as little as twenty-five minutes from the port of Keramoti to Limenas, the island's historical capital. And in summer, there are ferries every half an hour, sometimes even every 20 minutes.
It is no coincidence that locals in Northern Greece often prefer Thassos for a quick weekend getaway. All they have to do is pack up, load the car, and off they go.
And having a vehicle while in Thassos makes for a much grander experience of what the island can offer.
But Greeks are not the only visitors to Thassos. Since Bulgaria and Romania joined the EU, the island has seen an influx of visitors from those two countries, especially Romanians.
Within five hours, you can be from Sofia airport to a beach in Thassos.
And because the distance from the mainland is small, the cost of bringing your car to the island is also considerably low. In other words, traveling in your car will not hurt your wallet while granting you a free pass to every corner of the island.
The Mountains and Natural Landscape are Breathtaking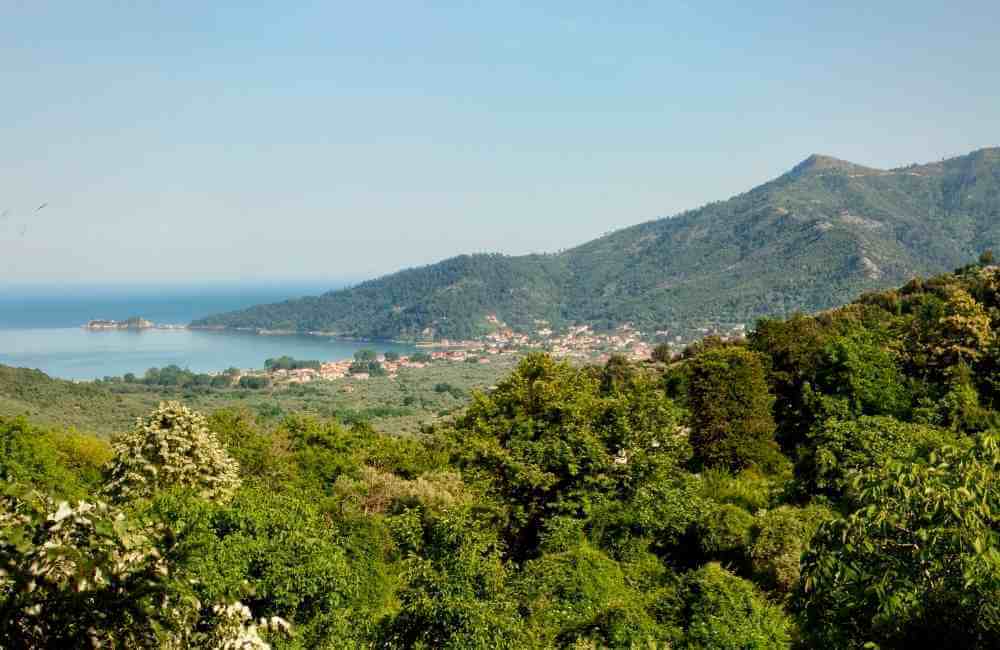 Due to its proximity to the mainland, Thassos is one of the greenest islands in Greece.
Wherever your head turns, you will witness either an endless sight of blue or a mesmerizing deep green. Water and nature come together in harmony to spoil you with spectacular sites.
Whether you prefer the coolness of the mountain villages or the fresh Aegean breeze in the fishing settlements, one thing is sure: Nature here is at its best. And the moment you think you have seen it all, a wonder awaits you in the next corner.
If you are a hiker or love mountain biking, Thassos is the place to be. With hundreds of designated and well-maintained tracks, you will love exploring the island's interior.
You can even drive to the highest peak, at 1204 meters, and be rewarded with a view similar to no other.
The History of Thassos Dates Back Millennia
Like every corner of Greece, Thassos carries a rich and mesmerizing history. The first settlement on the island dates as far back as the Neolithic age, more than 6 thousand years ago. Since then, the island has become a significant center in the region.
Learn how the Phoenicians colonized the island for its gold, how Thassians rebelled against the mighty city-state of Athens, or how marble from the island found its way to Roman palaces. At any point in time, Thassos has a story to tell.
And there is no better way to learn about it than visiting the many museums on the island. Above all, the Archaeological Museum of Thassos stands out for its modernity, unique artifacts, and many awards.
If you prefer to wander around archaeological sites, you have an extra reason to visit Thassos. The capital, Limenas, and Alykes Beach are home to well-preserved archaeological monuments and locations that will travel you back in time. Not to mention the historical settlements in the mountains.
The Beaches in Thassos are Dream-Like
Perhaps the most important reason to visit Thassos is no other than its beaches. The island has more sandy beaches than it has villages. Let alone the hundreds of hidden enclaves and pebble beaches accessible only by sea.
Picture a postcard-like beach. Take out the palm trees and replace them with fig and olive trees instead. There you go! You have just thought of a beach in Thassos.
You will often struggle to choose which beach to visit first. Would it be the Makryammos with its shallow waters, Marble Beach with its lovely scenery, or La Skala with its luxury?
No matter your taste, Thassos has a perfect match for you. And that is why you need to put Thassos on your bucket list.
The Sunsets are Unforgettable
In Thasos, you can witness some of the most romantic sunsets you will ever see in Greece. The atmosphere is so clean that you can watch every detail as the sun slowly drops over the horizon.
Depending on the period, you can witness the sun falling into either the water or the Paggaio Mountains in Kavala. Either way, it is spectacular and worth spending some time to find the ideal spot to watch the sunset.
And if you have a camera, you want to start filming. Sunset hunting is as popular as beach hopping in Thassos. Take your time, and with a few trials and errors, you will find the perfect spot to witness the majesty of Mother Nature unfolding.
The Island is Well Developed while Tradition Still Remains Alive
The island has seen rapid growth after the surge of tourists from the Balkans. Construction companies never cease to build, while new hotels pop up yearly to accommodate the increasing demand. There is no denying Thassos is growing.
The road network is one of the best in the Greek islands. Medical centers, beauty salons, and other modern facilities remind you that the island is well-developed.
However, Thassians know where they are coming from and make sure to promote their traditions.
Almost every village hosts yearly celebrations to commemorate and showcase its traditions. All year round, locals prefer to sing or dance to connect with their past. And if you head into the mountains, you can see people still living in traditional houses.
The Vantage Points are Breathtaking
Thassos is bursting with vantage points to take in breathtaking views of the local scenery. After all, it is an island with a tall mountain and a few valleys that give way to unprecedented views.
Even if you do not want to hike or head inland, you will stumble across many vantage points over the Aegean as you travel around the island. Every stopover will be a chance to take a spectacular photo.
Many parts of the main road go side by side with the tall cliffs, creating a spectacular atmosphere for driving. On one side, you have the breathtaking landscape, and on the other side, the endless blue of the Aegean.
The Food in Thassos is Always Fresh and Yummy
While Greek food is delicious in every corner of the country, taverns in Thassos have a few aces up their sleeves.
It was not long ago that Thassians produced most of what they consumed. Although this has changed with the rise of tourism, almost every household keeps a garden.
Taste a Greek salad with fresh tomatoes, cucumbers, and onions, and see for yourself. And do not forget the Thassos olives and virgin olive oil. After all, the island is full of such trees, and since the harvest period is in winter, almost every household still produces their olive oil.
However, what you will love the most about Thassos food is the freshness of the ingredients.
Whether it is seafood in a beachfront restaurant or goat meat in a traditional tavern in the mountains, you will notice the quality and freshness of each element on the plate.
In short, you have every reason to visit Thassos. Relax on an exotic beach, take your Instagram photos in Giola, lose yourself in the beauty of the Thasos landscape, explore its rich history, or eat a meal you will never forget.
And that is only the tip of the iceberg. All you have to do is visit the island and let its aura captivate you. Thassos will surprise you.
Featured author: this article is part of the extensive Thassos Island Series, written and curated by our Thassian writer, Dimitrios Tsevremes.
Read more about Greece
🛌 Suggested Accommodation in Thassos
Written by Dimitrios Tsevremes
Passionate about travel, spirituality, and sports, I have lived in 5 countries and traveled to more places than I have counted. Writing, for me, is a way to express myself and my creativity. Whether I write for my blog or a freelancing gig, I always fall in love with the process and often lose my sense of time. If you want, you can check out more about me and my work here.
This Belongs to a Board! Pin This Guide to the Best Reasons to Visit Thassos Island!
About my blog: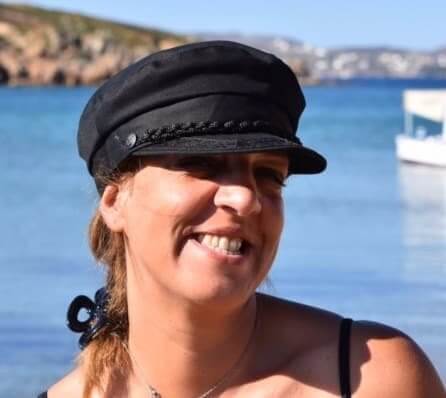 I moved to Crete in 2016. During these years, I learned much about the island.
In Crete, I juggle being a solo mom, hosting culinary tours, and writing for several travel media.
I've written for Greek Reporter, published travel guides about Greece, co-authored DK Eyewitness Top 10 Crete, and had more glasses of frappe than any regular person could ever handle.