We all love a splendid view. And we appreciate it more if the scene includes the crystal clear waters of the Cretan sea. We also love good food. That is why we always enjoy a visit to a seaside restaurant. There, we can have both the view and the dishes. Thankfully, Crete is full of such places.
---
This site contains affiliate links to products and services. I may receive a commission for purchases made through these links.
---
---
---
Best Beach Restaurants in Crete
No matter where you stay on Crete, there will always be a top-quality restaurant nearby, with fresh food and deep taste. To prove it, here is a list of 10 of the most incredible seaside restaurants in Crete.
Salis
Location: Akti Enosseos 3, Chania Town, Crete
Salis is a restaurant in the old Venetian harbor in Chania, right next to the water. Its identity centers around traditional Greek cuisine with a modern twist.
They praise themselves for using only locally sourced ingredients to ensure quality in their dishes. They even state the source of each ingredient in their catalogs.
Although the food menu changes almost weekly, it is always full of innovative modern Greek dishes. For example, you can order and taste their octopus carpaccio or their deconstructed pastitsio.
They even make their own sweets, such as the Namelaka dessert, made of white chocolate, pistachio nuts, and passion fruit mousse.
Apart from delicious dishes, Salis offers fast and professional service to everyone visiting the restaurant. The waiters are helpful and friendly. They take time to make food and wine recommendations while they explain in detail everything about the menu.
If you are in Chania and want to have the ultimate gastronomic experience, Salis is a stylish and exquisite establishment right in the heart of Chania.
Pasifaei Restaurant
Location: Konstantinos Kriaris, Palaiochora, Crete
If you are driving the south Cretan coast and you are near the village of Paleochora, then a visit to Pasifaei restaurant should be a priority. It is hands down the best place in the village thanks to its prime location overlooking the Libyan sea. Because it is very close to the local port, you can see the ferries come and go as you enjoy your meal.
Here, you can have traditional dishes with fine-dining twists. Depending on your perspective, you can also consider them modern dishes rooted in Cretan tradition.
They change their menu frequently and always have a daily specialty if you want to try something new every day.
The ingredients and resulting dishes are of top quality, presented uniquely using lovely crockery and glassware. Everyone can notice that the chefs and their team are committed to providing top-quality, delicious, and beautifully presented food.
Next to your meal, you can also enjoy a glass of wine. Pasifaei has a wide selection of modern Greek and Cretan wines, always of high quality.
Finally, their friendly and helpful staff make for an enjoyable experience. Just make sure to book a table as it can get busy during the summer months.
Nostos
Location: Sofokli Venizelou 73, Rethymnon
Nostos is an elegant restaurant on top of Rethymnon Beach. The view over the water and bay is unparalleled in the area. You can even notice the Fortezza castle above the port.
And the food is as good as the views.
Nostos offers fresh and authentic Greek food. The menu has dish choices for every hour of the day. Either you just woke up and would like a luxurious breakfast, or you want to sit down and enjoy your dinner after a long day, Nostos is the place to go.
What you will love the most about Nostos is its staff. The owners are so friendly that it will feel like knowing them for a lifetime. The service is also professional. The waiters are always eager to answer each question and make honest recommendations.
Although slightly more expensive than nearby restaurants, Nostos is well worth it. The cozy atmosphere, unique views, photogenic and delicious food create the perfect setting to enjoy your meal in one of the most graphical locations of Rethymno.
7 Thalasses Restaurant
Location: Stamathioudaki 89, Rethymnon
If you walk 20 minutes east of Rethymno town, you will come across one of the best restaurants in the whole of Crete. 7 Thalasses restaurant is right next to the water. You can enjoy your meal sitting at a meter's distance from the sea.
The restaurant has a beautiful ambiance, with outdoor seating and the backdrop of the sea and sunset. Of course, you will appreciate the view more if the food is of similar quality.
Thankfully, 7 Thalasses does provide such dishes. To be specific, they specialize in seafood based on the Mediterranean diet, with care for its nutritional value.
You can have a wide selection of well-cooked seafood, from big fish like monkfish to shrimp saganaki, octopus with fava, or lobster linguini. There is something for everyone here.
Their service is of similar standards to the food. The hosts and staff are polite and well-mannered. All in all, 7 Thalasses is a great restaurant to enjoy well-cooked seafood, especially during sunset time.
Prima Plora
Location: 4 Akrotiriou, Rethymnon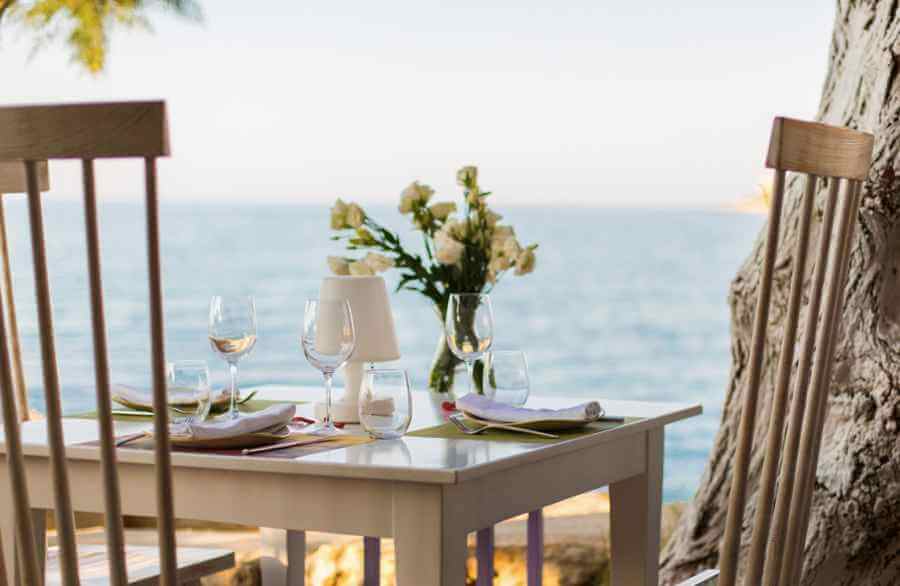 Prima Plora is a seaside restaurant a few kilometers east of Rethymnon. Thanks to its breathtaking location and delicious food, it is one of the most unique and quality restaurants in Rethymnon, with incredible views of the fort and old town.
Prima Plora serves modern dishes with a few Greek entries as well as sushi. Because they specialize in seafood, most of the choices will include fish, shells, or mollusks. They also make sure to use top-quality virgin olive oil and different spices.
When it comes to the kitchen, the cooks are quick to prepare your meals. The service is also professional and attentive. Unfortunately, all these luxuries come at a cost: the restaurant has well above average prices.
You also have to book your table in advance, in some cases days or weeks beforehand.
The restaurant is very popular with the locals as well. So you need to make a reservation even if you visit late or early in the summer season.
In general, this establishment is an ideal place to go for a special occasion or romantic dinner. No matter the reason, the moment you step into the restaurant, and the head waiter takes you to your table, you and your partner are bound to feel special.
Kazoual
Location: Leoforos Sofokli Venizelou 11, Heraklion
In the heart of Heraklion, where the water meets the port, Kazoual restaurant stands impressive and attractive. Apart from the Heraklion bay and port, you will also have a splendid view of the Koule castle.
Kazoual serves traditional Cretan dishes with an emphasis on fresh fish and ingredients. Make sure to try the squid with their special creamy sauce and the risotto with zucchini flowers. The snails are also tasty if you are fond of such meals.
The staff and owner are worth mentioning. They are all super friendly and make you feel at home the moment they start talking to you.
Often, you will find the owner preparing and serving some of the dishes to you. Because it is a family restaurant, you can feel the family vibe, care, and love all around.
The prices are also very reasonable, especially if you consider its location. All in all, if you happen to come across Kazual, remember that it is a remarkable restaurant in the area, worth visiting for a memorable gastronomic experience.
Paralia
Location: Sofokli Venizelou 5, Heraklion, Crete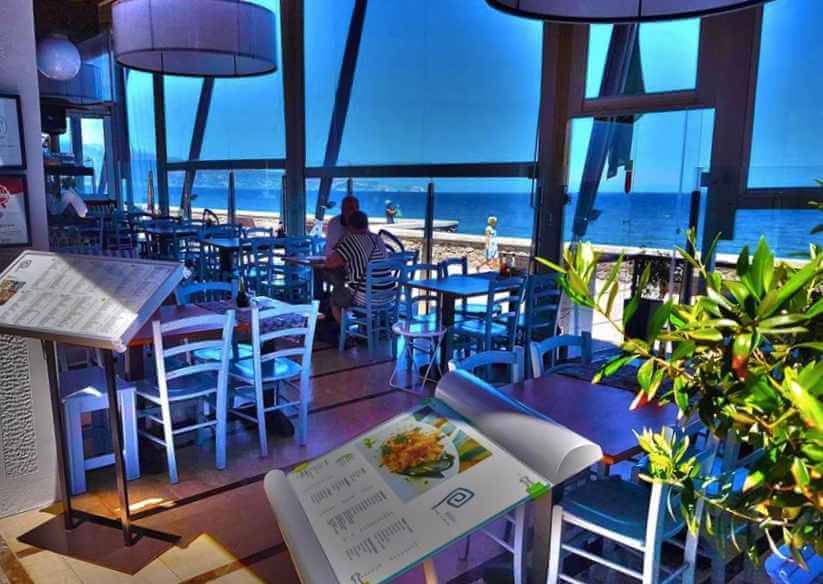 Next to the Venetian harbor and 250 meters walking distance from the Rocca a Mare Fortress in Heraklion, Paralia is a top seaside restaurant. The sea view from the promenade is breathtaking.
You can even watch the people walking around the port, in and out of the spectacular castle of Heraklion. It is a great place to enjoy your meal in the center of Heraklion.
The food is always fresh, tasty, and very reasonably priced. Get prepared for an extravaganza of flavors, with prompt delivery and with the friendliness of the Cretan staff.
Try exquisite dishes such as the vegan moussaka, fritters, and stuffed courgette flower starter.
There is even a free dessert with donut balls in honey and ice cream, accompanied by lemon sorbet. It is so delicious that you will forget you are standing in an idyllic location, in front of the sea in the heart of the Cretan capital.
The service is also excellent, even at times when it gets too busy. No matter how busy it gets, the facilities are always clean so you can enjoy the decoration and unique atmosphere of the area.
Bottom line, if you need any persuading to make Crete, and Heraklion, your first post-corona trip, let Paralia be it.
Restaurant Creta
Location: 20 Agiou Ioanni, Stalis, Crete
If you happen to be anywhere near the picturesque village of Stalida, then a visit to Restaurant Creta is something to be on your bucket list.
This family restaurant opened in 1994 and has since served traditional Greek, Cretan, and international home-cooked specialties.
Next to the many meat and fish options, you will also find vegetarian, vegan, and gluten-free dishes as well as a signature cocktails menu to finish off your meal.
What you will love the most is the spectacular view of the bay and the local beach. It will feel as if you are dining in an exotic destination.
The views are the best during sunset when you can observe the sun slowly sinking on the horizon. There is also a paved path between the restaurant and the beach.
There, you can take a small stroll in the area. You will appreciate the natural beauty of the surroundings as you walk off your meal.
In addition, the family that runs the restaurant is remarkably friendly and always eager to take the extra step to entertain and please you. The waiters and staff are also super friendly and helpful. You will remember your visit to Restaurant Creta for a long time.
Migomis Piano Restaurant
Location: Nikolaou Plastira 20, Agios Nikolaos
Next to the central square of Agios Nikolaos and right above sea level is the renowned Migomis Piano Restaurant. This place has been the favorite spot for locals, celebrities, and visitors in the area.
First operated in 1890, Migomis Piano stands on the edge of the cliff overseeing the port and waves hitting the shores of the cosmopolitan town of Agios Nikolaos.
If you are the kind of person who enjoys dining with a view, then Migomis Piano is your match. The views are simply stunning, especially if your table sits on the end.
Because of its location and top-quality food, this restaurant is almost always full. It would be wise to make a reservation before you visit, just to be on the safe side.
The cuisine is international while there is a wide selection of wines from all over the world.
Very often, you will also enjoy live piano music. The atmosphere is stylish and the decoration elegant. Although there is no dress code, a good dress would fit the surroundings. Migomis Piano is a very classy restaurant, worth bringing your best suite with you.
Pelagos Sea Side
Location: Coriva Beach Hotel, Koutsounari, Ierapetra (Lasithi).
Pelagos Sea Side is another worth visiting restaurant in the south part of Greece, near the Ierapetra settlement. It has its own private beach just a few meters away from the main dining area.
As it gets dark, the restaurant adds tables in the area between the sand of the local beach and the yard of the building. Dining below the stars and by the beach certainly creates a romantic atmosphere.
The restaurant always hosts a renowned chef ready to prepare some of the most delicious and unique dishes from Cretan and Mediterranean cuisine.
The managers make sure there are top-quality fresh ingredients that the cooks use to create exceptional dishes.
When you visit, make sure you taste their smoked pancetta, a dish everyone talks about for days after trying it. In general, every single plate has a clear and dominant taste while the appearance is also well thought.
All in all, it is a gourmet restaurant with small portions and a deep taste. As a result, Pelagos is a bit pricey compared to other local restaurants.
In any case, it is worth visiting if you want to feel special and have a delicious lunch or dinner over a splendid view of the Libyan sea.
So, where are you planning your next seaside dinner to be?
---
Have you ever been to any of these Crete beach restaurants?
Let me know in the comments below!
---
Travel Plans for Crete?
More Resources to Organize Your Trip!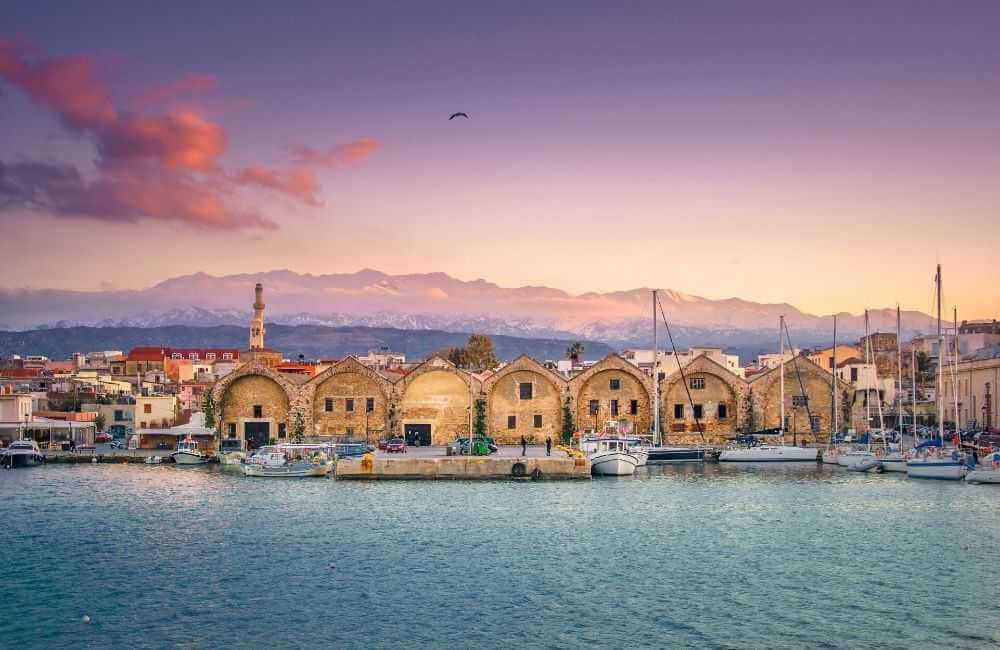 Start by heading right to my tips to plan a trip to Crete for in-depth details you need to know about Greece. You can also check my post to better know what to pack for a trip to the island or read this info to visit Crete with children!
Get in touch if you need extra help to plan your trip. If you want to tour West Crete, check my guide. Want more? Join my Private Facebook Group to connect with like-minded travelers who love Crete as much as you do!
Make Sure You've Got Everything For a Hassle-Free Vacation!
I never move around the islands without my Osprey backpack, a sturdy but light travel partner that I love. For short trips, I carry this little crossbody bag. If I drive, I pack my Nikon D7200 and a good travel guide: Lonely Planet's Best of Greece & the Greek Islands.
When it comes to plane tickets, compare prices with a powerful search engine. However, nothing beats traveling by sea in Greece. With Ferry Hopper, you can book in advance at the lowest price.
For accommodation, I use Booking.com. Traveling to remote places is easier with Discover Cars. Other times, I join organized tours with GetYourGuide, which features anything from cooking lessons to airport transfer!
Are you coming to Crete any time soon?
Get in touch and let me know!
Don't Leave Without Pinning! Pin this Guide to the Most Amazing Seaside Restaurants in Crete For Your Trips!
Written by Dimitrios Tsevremes
Passionate about travel, spirituality, and sports, I have lived in 5 countries and traveled to more places than I have counted. Writing for me is a way to express myself and my creativity. Whether I write for my blog or a freelancing gig, I always fall in love with the process and often lose my sense of time. If you want, you can check more about me and my work here.
---
You might also want to read:
About the author of this blog: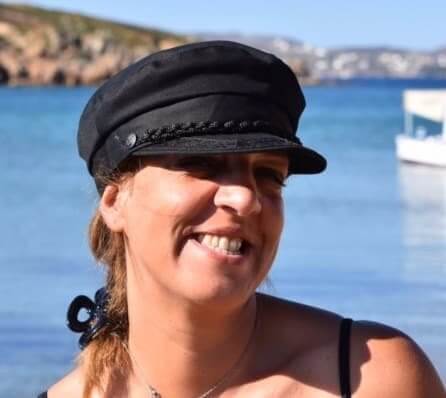 Gabi has been living in Crete for the last five years. Here, she juggles being a solo mom, hosting culinary tours in the summer, translating, and writing for The Tiny Book and her other blogs.
She's written for Greek Reporter, published three travel guides about Greece, and had more glasses of frappe than any regular person would be able to handle.