Crete will fascinate you not only with its spectacular landscape but also with its long and rich history. And there is no better way to discover it all than visiting a museum wherever you are on the island. Now, if you happen to be in Lasithi, you are in for a treat. This article will show you the most worth-visiting museums in East Crete!
---
Disclaimer: Posts include affiliate links to products or services. I might earn a commission if you make a purchase.
---
Top Museums in Lasithi, East Crete
Lasithi Museums
When spending time in the Western region of Lasithi, Crete, there will be so much to add to your to-do list that you could feel a bit overwhelmed.
However, with some planning and organization, it is possible to fit a visit to some of these museums into your itinerary.
In no particular order, these are just some of the museums in Lasithi that you should definitely visit!
Archaeological Museum of Sitia
Location: Piskokephalos National Road, Sitia.
The port town of Sitia houses one of the most important archaeological museums in Lasithi. Here, you will find a unique collection of sculptures, mosaics, and artifacts from Eastern Crete.
In short, it is one of the best museums in Sitia to teach you all about local history.
With just €3, you will get to see an astonishing collection of local archaeological finds.
Most importantly, you will witness one of the most famous ivory statues from the pre-classical era of Greece: a 3500-year-old sculpture of Kouros.
Archaeological Museum of Agios Nikolaos
Location: 41 Konstantinou Palaiologou Street, Agios Nikolaos.
Sitia is not the only town with an established archaeological museum.
Cretan history is so rich that every other village has a dedicated museum to showcase an aspect of the island's past.
And if you are in Agios Nikolaos, you do not want to miss a visit to their archaeological museum once it opens again after the current reconstruction.
The fun (?) part is that this museum last opened to the public back in 2011. Since then, a lack of funds has pushed its reopening after 2021. Although you would not be able to see the exhibits (for now, at least), you can still visit its photo gallery and get a glimpse of the archaeology in Agios Nikolaos. You can also check out more things to do in Agios Nikolaos here!
Folklore Museum of Agios Nikolaos
Location: 1 Konstantinou Palaiologou Street, Agios Nikolaos.
Museums in Agios Nikolaos and Crete are not only about archaeology. Folklore is another common subject among Cretan museums. And Agios Nikolaos is home to one of the most prestigious folklore museums in Crete.
Located in the center of Agios Nikolaos, the museum houses authentic items of Cretan art that reflect traditional life on the island.
Since 2018, the entrance to the museum is free-of-charge, but you are welcome to leave a voluntary donation.
Although the exhibits are not many, you can easily spend hours examining every object and learning more about its history. It is an ideal way to get an understanding of the old Cretan way of life.
Folklore Museum of Neapolis
Location: Plateia E. Venizelou, Neapoli.
If learning about recent Cretan history fascinates you, make sure to spend some time at the Neapoli Folk Museum.
You will get to explore almost every aspect of life in the area since the 1800s. After all, the museum features a rich collection of pictures, wood carvings, and household objects dating as far back as the 19th century.
The entrance is free, courtesy of the village community that invites you to learn more about Neapoli and its development over the past 200 years.
This little museum is a testimony that there is a story to be told in every corner of Crete. If you happen to be in the region, make the time for this museum -you won't regret it.
PRO TIP: Check before you visit, the last pandemic has affected the opening hours of this and many other small museums on the island.
Archaeological Collection of Ierapetra
Location: Platia Ethnikis Antistaseos, Ierapetra.
In the south of Crete, the seaside town of Ierapetra hides another secret worth exploring.
The Archaeological Collection of Ierapetra is your doorway to discovering all about ancient Cretan life.
The art displays, pottery figurines, and ancient statues make this establishment one of the best Museums in Ierapetra.
At just €2, you will have the opportunity to get an in-depth look at ancient Cretan art. Although it is a great place to visit in the region, this museum is under renovation and can be closed when you get there.
The good news is that the building is downtown, so you will probably pass through it during your visit to Ierapetra. If you find it open, do not miss the chance and visit it.
Rodanthi Museum
Location: 78 Ioannou Klotsa Street, Kritsa.
The mountain village of Kritsa houses one of the most unique and well-attended museums in the Lasithi Plateau.
Rodanthi Museum is an invitation to explore a rare collection of plants, herbs, and fossils dating back millions of years.
After your visit here, you will fall in love with Crete even more, if that is possible.
Not only will you admire the natural dyes, smell, and taste of the museum exhibits, but you will also have the opportunity to participate in various activities that will connect you with nature and leave you in awe of its glory.
All these would not be possible without the love and determination of the naturalist and host of the museum, Giorgos Afordakos.
Kritsotopoula Museum
Location: 168 Kritsotopoula Street, Kritsa.
Rodanthi is not the only museum in the tiny village of Kritsa. The name Rodanthi comes from a female figure in the history of the island and Kritsa.
Kritsitopoula Museum tells the story of Rodanthi through the eyes and guidance of one of her ancestors, named Maria.
Rodanthi was a village resident who killed a Turk politician during the Greek uprising in 1817 and joined the rebel group of Lasithi Plateau dressed as a man.
Used as a nickname for Rodanthi, Kritsotopoula roughly translates as the Daughter of Kritsa.
So, yes, Rodanthi and Kritsotopoula museums are two entirely different museums that share the same name in a way. But only the latter tells the story of this figure.
At the same time, it also invites you to explore Cretan life in the early 19th century when Greeks were rising against Turkish occupation.
Archaeological Museum of Myrtos
Location: Myrtos 246, Myrtos.
In the south of Crete, the seaside village of Myrtos is home to one of the most fantastic museums in Lasithi.
The Archaeological and Folklore Collection of Myrtos features a rich collection of Minoan finds, Roman sculptures, and coins from the 3rd up to the 20th century.
There is even a room dedicated to the village's history, focusing on the Second World War. Not to mention the live reconstruction of a nearby Minoan village.
In short, this small museum will take you on a trip through the ancient history of Myrtos, Crete, and the Minoans. It is a must-visit if you are in the area.
Zakros Water Museum
Location: Zakros Village.
Near the lush Greek Springs of Zakros village, the Museum of Water and Hydraulic is a thematic museum that aims to showcase the importance of water in Cretan life through ordinary objects of the past.
Its vision is to educate and motivate the audience to use water rationally and with respect.
The museum is housed in one of the eleven watermills that used to supply water to the entirety of Eastern Crete.
Some of its highlights include the 8-meter-long well, old vases, and various tools that the Cretans have used to bring water into their fields and homes.
You will remember your visit to this one-of-a-kind museum for a long time.
Folklore Museum of Palekastro
Location: Evropis 52, Palekastro.
All the way to the easternmost region of Crete, the Folklore Museum of Palekastro will give you a glimpse into the lifestyle of ancient Cretans.
Your visit will start with a perfect view of an authentic Cretan home, filled with furniture and utensils of the past.
Then, you will see a series of tools and machinery used by locals from the Turkish denomination to 1960. You will even witness authentic costumes and clothing of the past.
And with just a €2 entrance fee, you would not ask for anything more. This place has it all.
Toplou Monastery Museum
Location: Toplou, Lasithi.
A few kilometers to the north of Palekastro, the area around Toplou Monastery is renowned for its landscape and its nearby Vai Beach. However, the building and its museum stand out among all.
The Toplou Monastery Museum is dedicated to Byzantine art and religious relics. In other words, you will walk between valuable paints and pictures of holy men within Christianity.
There is also a very interesting section in the museum dedicated to the exhibition of war objects including weapons, helmets, and a very unique radio used to communicate during the times of the occupation of the island.
The entrance fee is €4 and includes visiting both the monastery and the museum. In short, the museum is well worth exploring on your way to discovering the rough beauty of the Cretan landscape and beaches in the area.
Folklore Museum of Hamezi
Location: Chamaizi, Lasithi.
A few kilometers outside Sitia not far from Richtis Gorge, the traditional village of Hamezi has one of the most unique folklore museums on the island. Here you will get an in-depth look at traditional life in Crete during the last century.
All displays are located within an authentic Cretan house with archways, typical of the era.
The use of arches naturally divides the building into four functional rooms without breaking the integrity of the whole.
Among the many displays on the house, you cannot but admire the simplicity and raw beauty of common everyday items, such as the lovely set of chairs with a low dining table.
At just €1.5, the Folklore Museum of Hamezi is more than worth a visit.
In short, museums in East Crete may not have the publicity as the museums of Heraklion or Chania, but they have all the world's charm.
Thankfully, wherever you go in Crete, there is a story to hear. Look for the nearest museum and experience the beauty of Cretan history firsthand! Are you thinking about visiting any of these East Crete museums?
Read more about Lasithi
🛌 Suggested Accommodation in Lasithi:
🗺️ More resources to book your trip to Crete
Written by Dimitrios Tsevremes
Passionate about travel, spirituality, and sports, I have lived in 5 countries and traveled to more places than I have counted. Writing, for me, is a way to express myself and my creativity. Whether I write for my blog or a freelancing gig, I always fall in love with the process and often lose my sense of time. If you want, you can check out more about me and my work here.
This Belongs to a Board! Pin This Guide to the Best Museums to Visit in Lasithi For Your Next Adventures!
---
You might also want to read these other blog posts about Lasithi:
---
About my blog: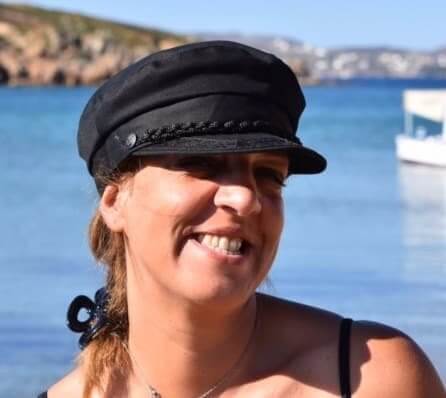 I moved to Crete in 2016. During these years, I learned much about the island.
In Crete, I juggle being a solo mom, hosting culinary tours, and writing for several travel media.
I've written for Greek Reporter, published travel guides about Greece, co-authored DK Eyewitness Top 10 Crete, and had more glasses of frappe than any regular person could ever handle.