If you want to taste the most authentic side of Crete, then a trip to the east side of the island is the way to go! It's in the region of Lasithi where you can find unique family-run tavernas and restaurants, still serving homemade dishes which – in many cases – you can directly pick from the kitchen! In this article, you will find the best restaurants in Agios Nikolaos, the capital of Lasithi, but also some hidden pearls in other important centers of the region, read on and Bon appétit!
---
Disclaimer: Posts include affiliate links to products or services. I might earn a commission if you make a purchase, at no extra cost to you.
---
Best Restaurants in Lasithi, Crete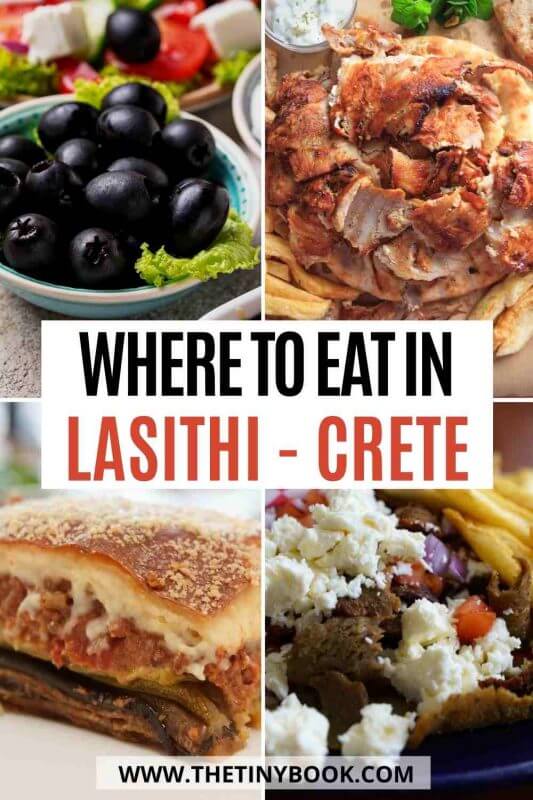 Let's Start by Getting Ready for Crete!
RESOURCES TO BOOK YOUR TRIP:
Book your flight: I use Skyscanner to compare prices before booking a plane ticket.
Book your ferry: When ferries are more convenient than air travel, I use Ferryhopper.
Book your accommodation: I've tried many different platforms for accommodation, but none of them beats the advantages of Booking.com.
Book your car: The best way to find an affordable car to rent is to use a powerful search engine that compares all the rental companies in the market. I use Discover Cars.
Book your tours: Live unforgettable adventures and cultural experiences with Get Your Guide. For instance, you can Visit Elafonisi, discover Balos Beach, hike Samaria, or explore Knossos.
Don't forget travel insurance: Things can go wrong at times, but travel insurance will protect you against illness, injury, theft, and cancellations. I recommend Safety Wing for peace of mind.
Cretan cuisine has started to receive more and more recognition abroad. Thankfully, you do not need to be in any big city in Crete to enjoy an authentic Cretan meal.
There are plenty of restaurants and taverns all around the island. This post talks about the most popular restaurants in East Crete.
The main and more trendy restaurants in Lasithi are in Agios Nikolaos, but in this article, I have also added some top picks in other areas of the region, take a look!
Best hotels in Lasithi
Affordable: Porto Maltese and Katia Apartment in town.
Mid-range: Ostria Apartments in Ammoudara or Villa Olga.
Luxury: Elounda Peninsula in Elounda and Miramare Resort in Agios.
Check also Rental Homes in Agios Nikolaos and Best Elounda Resorts.
Where to Eat in Agios Nikolaos
In no particular order, these are some of the best restaurants, tavernas, and eateries in Agios Nikolaos, the capital of the Lasithi region. They are great places where to eat!
Al Dente
Location: Akti Nearchou 3, Ag. Nikolaos.
One popular place to eat in the village of Agios Nikolaos is Al Dente, located near the small sandy beach of Ammos.
This restaurant serves a wide variety of Greek food, anything from traditional stone oven pizzas to gyros or Greek burgers. In addition, the portions are quite generous
The owner and staff are also friendly, chatty, and eager to help you in whatever way you like. Do not hesitate to ask them for directions, recommendations, or anything at all.
All in all, Al Dente is meant to exceed your expectations of a typical Greek restaurant.
Karnagio
(My Favorite Restaurant in Agios Nikolaos!)
Location: Kon/nou Paleologou 24, Ag. Nikolaos.
Overlooking the tiny sea lake of Voulismeni at the heart of Agios Nikolaos, Karnagio restaurant is a lovely spot to try local specialties and authentic Greek food.
Its owners go a long way to use only Cretan ingredients when available: anything from olive oil and honey to sea salt and fresh fish.
Tourists and locals alike appreciate this concept of using local ingredients. As a result, Karnagio enjoys a good reputation in the area.
Not only is the food tasty and fresh, but the whole atmosphere is unique.
The dining area is just a few meters away from the water and offers a spectacular view of the village. In short, when in Agios Nikolaos, you do not want to miss a visit to Karnagio.
Piato – Homemade Creative Cuisine
Location: Minoos 5, Ag. Nikolaos.
Near Ammoudi Beach, in Agios Nikolaos, Piato is a classy restaurant where you can find innovative Cretan meals.
Their renowned chef and the team of cooks update the menu frequently to offer various creative dishes. They base their menu on traditional Greek cuisine with a modern twist.
Next to the delicious food, the service is also of top quality, as one might expect of such a restaurant.
In addition, the owner is friendly, and professional and can he make the correct wine recommendations for your meal. From the first moment to the last, your visit here will be part of a memorable experience.
BLE Katsarolakia
Location: Koundourou 8, Ag. Nikolaos.
If you are looking for the most stylish and unique tavern in Crete, BLE Katsarolakia should be among your top five. Right next to the port in Agios Nikolaos, this local restaurant is full of flowers, greenery, and colorful decorations.
BLE Katsarolakia has many sitting areas, with tables so distant from each other that they make you feel as if you are eating in nature.
You can choose to dine in a lovely inner yard, along the graphic footpath outside the restaurant, or on a more clinical yet relaxing terrace overlooking the sea. 
When it comes to food, the menu is a collection of traditional Greek dishes, accompanied by many local and international wines. You will remember your visit here for a long time.
Pelagos
Location: Stratigou Koraka 11, Agios Nikolaos.
Pelagos is a beautifully decorated restaurant with a lovely outdoor terrace. There is a relaxing vibe and a calm ambiance around. It is a perfect place to enjoy your meal, be it fresh fish or one of the more traditional Cretan dishes.
However, the most popular dish in Pelagos is seafood pasta. In general, the chef and the cooks know the way to deliver exceptional results.
If you also consider the excellent service by the staff, you start to understand why this restaurant is one of the most visited places in Agios Nikolaos.
Wanna have fun in Agios without spending much? Check the best free things to do in Agios Nikolaos.
Paradosiako
Location: Themistokleous 1-9, Ag. Nikolaos.
Again in the heart of Agios Nikolaos, a few hundred meters away from Pelagos, in front of the local port, Paradosiako is a typical Greek tavern by the water.
In Greek, paradosiako means traditional, and this says it all about this local restaurant. Here, you can find any popular and traditional Greek dish, from moussakas and pastitsio to fresh fish and gyros.
The specialty of the menu is galaktoboureko, a handmade sweet made of custard. In general, your visit here will be a unique opportunity to order a few little dishes, or "mezedes" as the Greeks call them, and enjoy the local raki. 
The view over the small islet in front of the restaurant will make the food taste even better!
Fysalida Wine Bistro
Location: Kon/nou Paleologou, Ag. Nikolaos.
For a more modern restaurant in Agios Nikolaos, you can visit Fysalida, a wine bistro at the heart of the village. Here, you can enjoy your meal in a relaxed setting, with chilled-out vibes and quality music. The menu is rather unique, with some atypical Greek dishes and a wide selection of wines.
In addition, the waiters are professional and very attentive. Their service will make you feel as if you are dining in a modern palace.
They will even bring you a free side plate for your wine. Most importantly, if you cannot choose which bottle of wine to go for, the waiters are knowledgeable and can help you make the right choice.
Best Restaurants in Other Lasithi Towns and Villages
If you're traveling around in Lasithi, then check the following restaurants in the region, they are real gems when it comes to finding the perfect dish of local food!
Miliaras Taverna, Latsida Village
Location: Agios Antonios road, Epar.Od. Latsidas – Lasithi.
Sometimes, even dining by the sea can get boring. Thankfully, Crete is full of villages in the mountains, or in hidden places, where you can also find incredible restaurants.
Milaras is one such place, 8 kilometers west of Agios Nikolaos. This family-owned business offers some of the most delicious and authentic dishes in Crete… and some say in Greece!
If you are a meat lover, do not forget to try the local goat. After all, one of the specialties of the restaurant is goat spaghetti.
Those who love more traditional tastes should try their meat skewers, while those seeking unique experiences should just simply take a look at the picture!
However, because of its popularity, Milaras is usually busy with both locals and tourists. So remember to get in early if you want to find an empty table.
Platanos, Kritsa Village
Location: Kritsotopoulas, Kritsa, Ag. Nikolaos.
Located in the center of the village Krista, Platanos is a picturesque tavern in a green environment. The outdoor seating area is full of trees and offers a nice view of the main street.
You can enjoy your meal while watching the locals come and go. It is a lovely spot to see how life is in a typical mountainous village in Crete.
When it comes to their menu, you can order anything from traditional Greek dishes to desserts and drinks. In addition, there is a wide selection of meat and vegetarian options.
Finally, Platanos is the place to go even during the hottest day of the summer.
The trees and altitude mean that the dining area is always cool and shaded. All in all, Platania is a lovely spot to enjoy your lunch or dinner.
Elia Restaurant, Agkathia Village
Location: Agkathia, Palekastro, Sitia – Lasithi.
There is always a great place to eat nearby, wherever you are in Crete.
Elia Restaurant is a testimony to that. Located in the most eastern part of Crete, in the tiny village of Agkathia, Elia is a traditional Greek restaurant you want to visit if you are near or if you're spending a day on the paradisiac beaches of Chiona or Kouremenos.
Apart from the standard menu and plates, there are daily specials that you can see in the kitchen before you order! Quality and taste are always superb and guaranteed. You can notice the dedication and love the owners put into this restaurant.
They even use their self-produced olive oil, which you can taste or purchase as well. In short, if you want to taste authentic Cretan food, Elia should be among your first options.
Inodion
Location: El. Venizelou 157, Sitia – Lasithi.
In the northeastern part of Crete, in the seaside village of Sitia, Inodion is the local place to go if you are looking for quality Greek food. This is a great place to stop after visiting the Palm Tree Beach of Vai, a few minutes from Sitia.
Here, you can choose between a wide variety of traditional Greek dishes, all made with care by the dedicated cooking team of Sitia.
The owner and staff are also very professional and attentive, eager to provide the best possible service to you and your company. If you want, you can ask them for any meal or place recommendations. They are extremely talkative and friendly. You will notice that from the first moment.
Mitsakakis
Location: Kon/nou Karamanli 6, Sitia – Lasithi.
A hundred meters away, right in front of the port of Sitia, Mitsakakis is another popular local restaurant.
There are dining tables right next to the water, overlooking the harbor and its calm waters. The menu has all the standard Greek dishes as well as plenty of sweets.
When you are here, you want to try the homemade galaktoboureko, with its soft custard and flakey pastry. Even if it is not for a full dinner, you can visit Mitsakakis and enjoy some of the fresh sweets over a cup of coffee.
Aposperitis
Location: El. Venizelou 167, Sitia – Lasithi.
In front of the port of Sitia, Aposperitis is an ideal restaurant to dine over a lovely view of the harbor. Their menu is based on traditional Greek cuisine with an element of freshness and innovation.
Especially when it comes to decoration, you can see the difference and uniqueness of this place.
Apart from the delicious food, the service here is outstanding. Nothing is too much trouble for the staff who will always take the extra step to please you. After your first visit here, you will want to come back. It is that good!
Cretan House
Location: Kon/nou Karamanli 10, Sitia – Lasithi.
Cretan House is what the name suggests: a place to summarize and showcase the beauty of Crete.
There are three main reasons you will fall in love with that restaurant in Sitia: delicious food, warm hospitality, and incredible scenery. It is indeed a miniature of the entire Crete. If that is not enough, the portions in Cretan House are particularly generous.
Even the pricing is better than the competition. In short, you cannot but love Cretan House, just as you love Crete.
Napoleon Restaurant
Location: Str. Samouil 26, Ierapetra – Lasithi.
Always on the beachfront, Napoleon is another traditional Greek restaurant. This tavern, however, is located in Ierapetra, on the southern coast of Crete. Here, you can taste a wide variety of Greek dishes.
There is even a rotating menu with daily specials. Hence, you can get to taste fresh and unique food every single time you visit the restaurant. In addition, the service is fast and professional.
Above all, the view of Tamerici beach and sea is breathtaking. It is an ideal place to enjoy fresh seafood.
Special
Location: Meletioy Metaxaki 1, Ierapetra – Lasithi.
As the name hints, Special is a different approach to Cretan food. Here, they value fast service while using fresh and local ingredients.
Not only will your meal be ready within a few minutes, but the portions are also very generous; some may say even double the standard size.
Locals and tourists come here to order gyros or have another quick meal during the day. In general, it is an ideal place to fill up during breakfast or lunch before getting to the beach. And the best part is it will not hurt your wallet!
Restaurant Kleio
Location: Lebadea, Ierapetra – Lasithi.
A bit on the outskirts of Ierapetra, Kleio is another beachfront tavern, right on top of Livadi beach. Their menu includes both traditional and modern Greek dishes at reasonable prices and with great taste. What you will love the most about Kleio, is nothing else than the atmosphere.
The waves fall a few meters away from the tables, with only sand and a few sunbeds between you and the water.
If that is not enough, the place is full of trees that offer natural shade and can keep you cool even during the hottest summer day. Thanks to that, Kleio can also be a lovely venue for a romantic dinner under the stars.
Vira Potzi
Location: Str. Samouil 82, Ierapetra – Lasithi.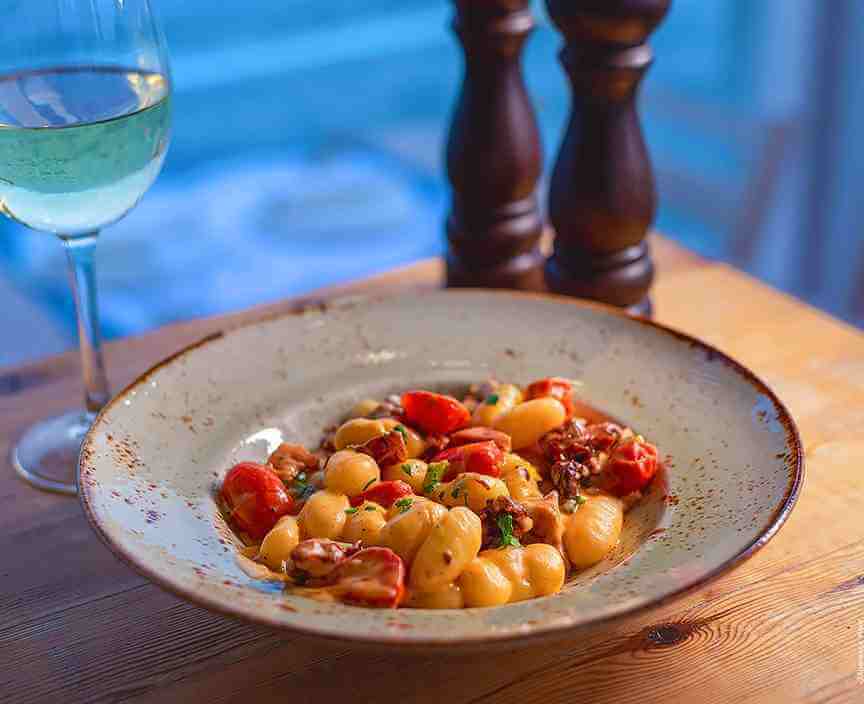 Another great restaurant in Ierapetra is no other than Vira Potzi, right in the center of the local port.
Not only can you enjoy the view over the water, but you can also admire the beauty and majesty of the nearby old fort of the village. It is a truly serene location to enjoy your meal.
The cooks at Vira Potzi prepare everything with great care and attention to detail. You can find a wide selection of traditional Greek dishes, as well as plenty of vegetarian options.
Finally, the staff are super friendly and make just the right recommendations to enjoy your meal.
L'Angolo
Location: Akti Markopoulou 37, Ierapetra – Lasithi.
If you would like a break from Greek food, Ierapetra has its fair share of options to try other cuisines. L'angolo is one such restaurant where you can enjoy a lovely Italian meal.
There are also Greek dishes if you prefer, but the identity and specialty of the place is Italian food. If your belly would like some pizza, carbonara, or ravioli, then this is the place to go.
And the scenery is nothing short of a majestic modern restaurant in front of the sea.
To be specific, the nearest table is only a few centimeters away and above the water. You cannot easily compare L'angolo with any other Italian place on the island.
Kafeníon-Ovelistírion Koutoúzos
Location: Βαϊνιά, Ierapetra – Lasithi.
Although the name of this tavern may be the hardest one to spell on this list, the place is nothing short of a hidden paradise for foodies! It is the definition of the local place to eat.
The tavern has a traditional vibe and a lovely garden naturally shaded by a plethora of trees.
Apart from the warm atmosphere, you cannot miss the majesty and hospitality of the host. The owner is super friendly, fun to talk to, and a true entertainer.
And the place is only a few kilometers away from Ierapetra, in the village of Vania. All in all, you will love your meal in this hidden Cretan paradise.
---
Have you ever been to any of these Restaurants in Lasithi?
Let me know in the comments below!
You might also want to read these articles about Crete:
Pin it Now! Restaurants in Agios Nikolaos, Crete: The Best Places to Eat in Lasithi For Your Next Adventures!
Written by Dimitrios Tsevremes
Passionate about travel, spirituality, and sports, I have lived in 5 countries and traveled to more places than I have counted. Writing for me is a way to express myself and my creativity. Whether I write for my blog or a freelancing gig, I always fall in love with the process and often lose my sense of time. If you want, you can check out more about me and my work here.
---
You might also want to read:
---
About the author of this blog: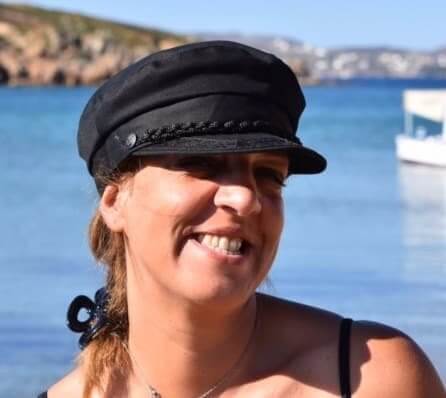 Gabi has been living in Crete for the last five years. On the island, she juggles being a solo mom, hosting culinary tours in summer, translating, and freelance writing.
She's written for Greek Reporter, published several travel guides about Greece, and had more glasses of frappe than any regular person would be able to handle.
COMING TO CRETE SOON?
Get in touch and let me know!