Rethymnon is famous not only for its stunning beaches but also for some of the finest restaurants on the island. And part of them is famous all across Crete!
So here is the best of the best Rethymnon restaurants where you can get great food, excellent service, and a wish to come back.
---
Disclaimer: Posts include affiliate links to products or services. I might earn a commission if you make a purchase.
---
Where to Eat in Crete
Discover the Best Restaurants in Rethymnon!
If you're spending your vacation in Rethymnon, you've probably sorted out where you're staying already.
And if you're here now, reading this, it's probably dinner time, and you're looking for a great restaurant in Rethymnon to end your day in town.
This list includes restaurants in the old town and the nearby villages. You'll find restaurants for any budget and a link to authentic reviews too! Pick one and bon appetit!
Best Restaurants in the Old Town of Rethymnon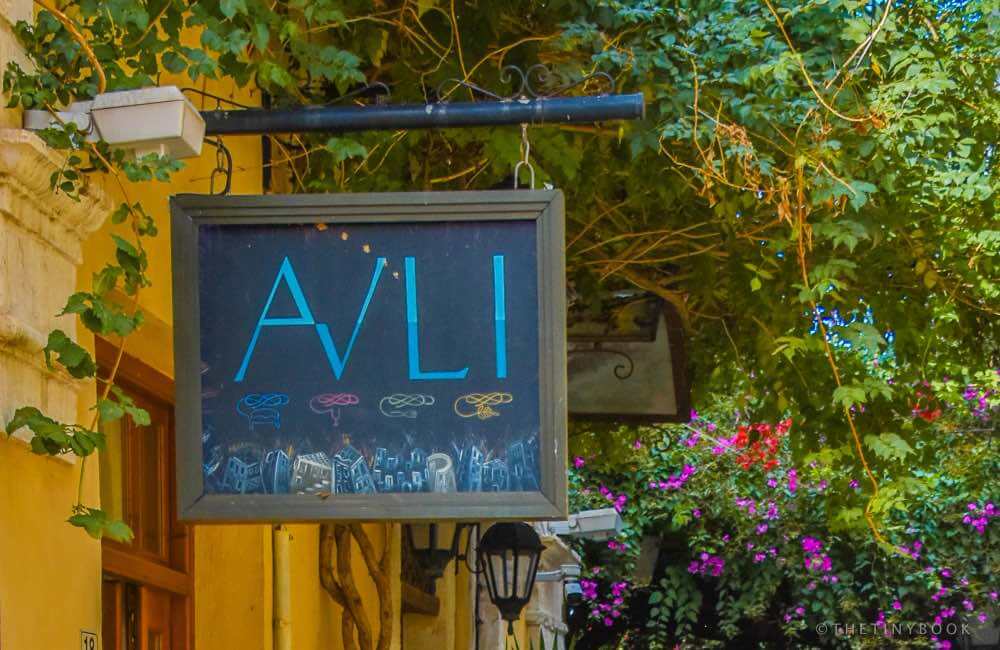 In no particular order (well, kind of…!), these are among my most beloved restaurants in Rethymnon, and definitely, the ones I'd suggest you visit when spending some time in Crete…
Avli
Location: Xanthoudidou 22.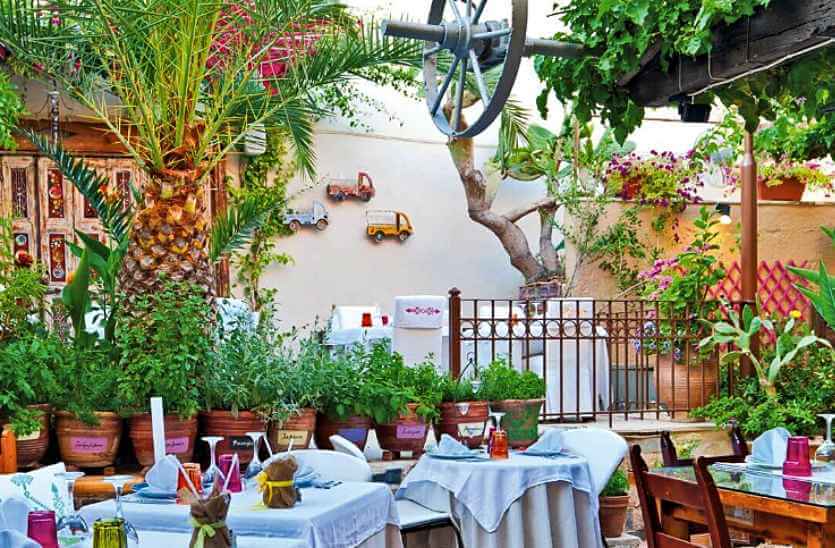 I will never grow tired of recommending booking a table at Avli, probably the most enchanting garden in town, home to fabulous cuisine and authentic Cretan hospitality.
Their impressive menu features fresh local products presented with creativity and impeccable touches of taste… in every meaning.
If you want to splurge in unique flavors, do try their slow-cooked wild goat with honey, thyme, and petimezi (grape molasses).
Avli is also one of the finest boutique hotels on the island, and they also offer a wonderful a-là-carte breakfast both for guests and those who are not staying with them.
Their breakfast menu will allow you to experience an authentic Cretan breakfast once eaten on the island. This is definitely one of those places you should experience at least once when in town.
You can also check my review of this restaurant here.
7 Thalasses
Location: Stamathioudaki 89.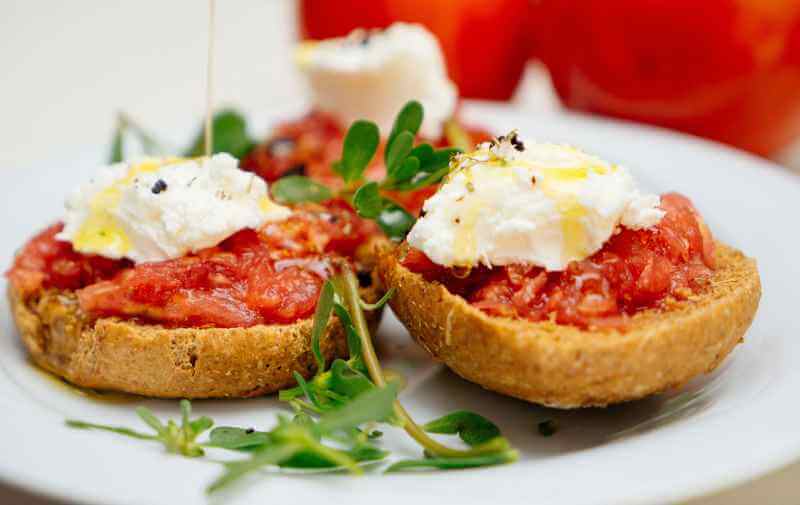 Check out this unique dining place if you want to experience delicious, fresh seafood right by the sea!
Part of the Thalassa Boutique Hotel, the restaurant features stunning fish platters as well as local specialties (including the delicious dakos from the picture!), everything with a clear Mediterranean influence.

f you're in the hint for freshness and utter quality combined with unique sea views and paired with a top wine list, then this place won't disappoint.
Lemonokipos
Location: Eth. Antistaseos 100.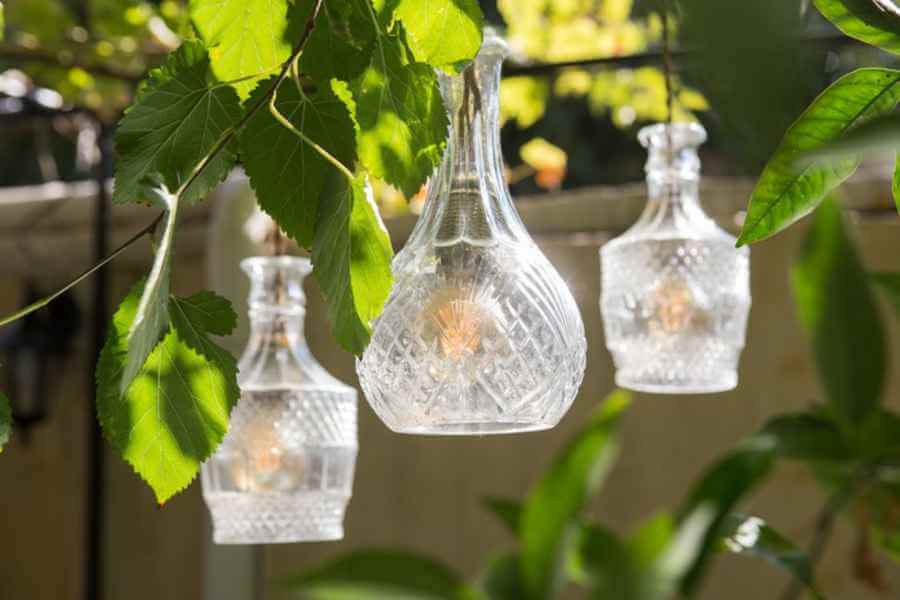 The name of this place, Lemonokipos translates from Greek as Lemon Tree Garden. And no wonder! This restaurant featured a lovely garden overlooking the main Mikrasiaton Square in the Old Town.
So, do have a seat at the wooden table under the foliage of lemon and pomegranate trees!
You can come here just for a coffee (in this case, order their symbolic Lemon Tart) or for a full meal, their choice of seafood is outstanding!
The menu is made of Cretan and Mediterranean-inspired dishes, featuring fresh local ingredients. They have also a great interior sitting space.
If you're a wine lover, check out their cellar with an extensive collection of carefully selected Cretan and Greek wines.
Lemonokipos is one of the finest restaurants in Rethymnon!
Looking for a great bar to enjoy after dinner? Check the best bars, pubs, and beach bars in Rethymnon.
Asikiko
Location: Emmanouil Vernardou 13.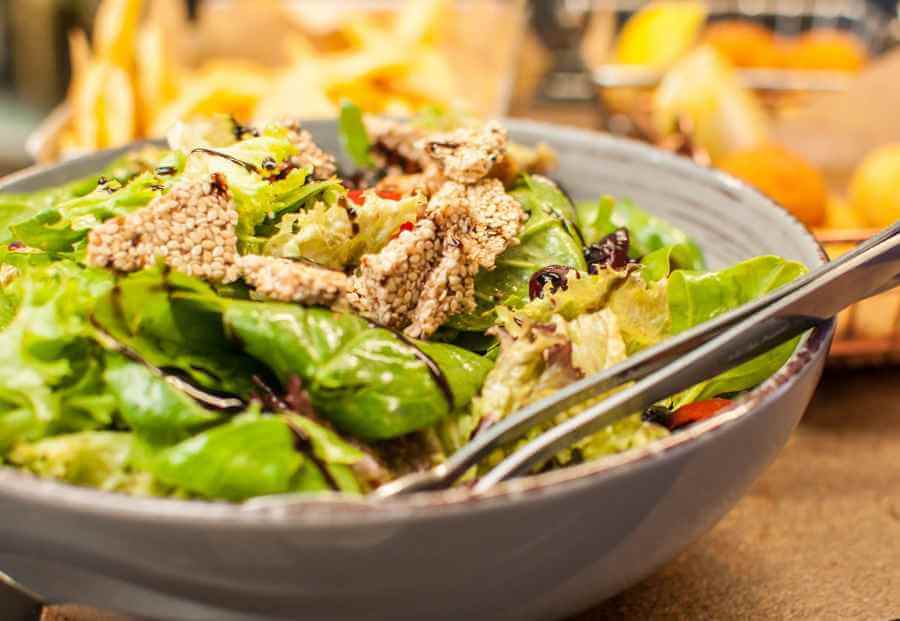 This restaurant in traditional Cretan style should definitely be among the first ones on your list. I just adore their grill mix meat plate served on a wooden board and a carafe of their signature Rakomelo.
Situated in the center of Old Town in a narrow side alley, it has both inside and outside dining areas.
I definitely recommend sitting outside, directly under the shadow of the historic Neratze Mosque.
The evenings here are amazing, featuring traditional Cretan music and the magical lights from the colorful old-fashioned lamps.
This place is always busy in the evening, so if you decide to have dinner here, it is better to make a reservation in advance.
CAVO Rethymnon Restaurant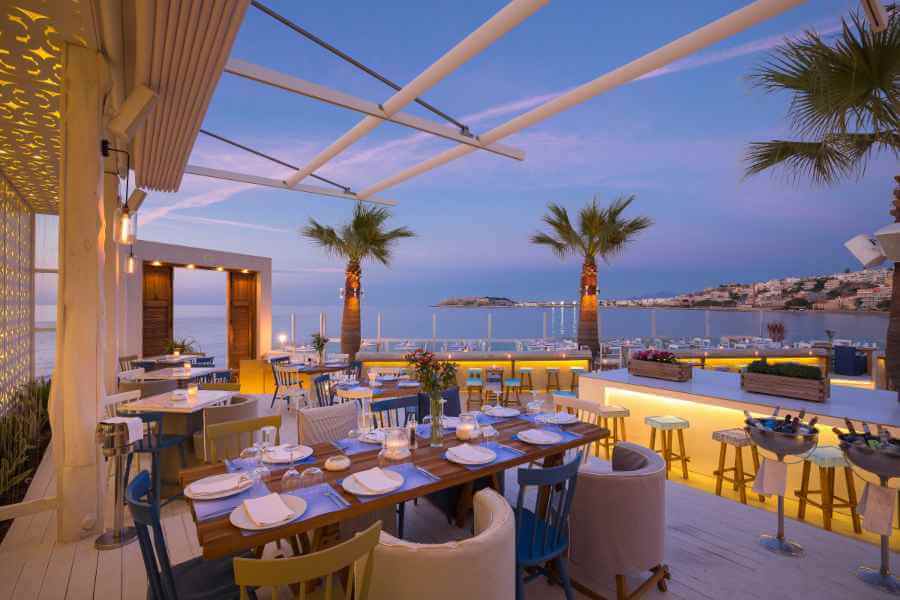 Situated directly on the sea rocks this elegant restaurant in Rethymnon is a perfect place for a romantic dinner.
Enjoy your meal with the sound of the sea splashing nearby and observe the magnificent view over Rethymnon Bay and the fortress.
Their menu offers some of the greatest Cretan dishes, with only Cretan organic ingredients.
Both a taste of their Graviera cheese and the grilled fish of the day should definitely be on your list.
Complement your meal with their carefully selected premium wines or go for a signature cocktail.
Prima Plora – The Food Experience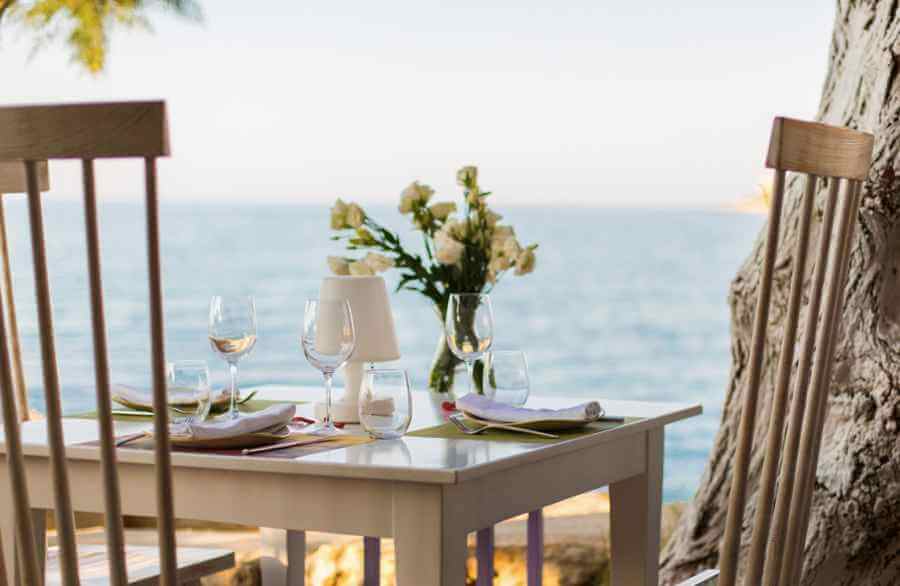 One more stunning place for a romantic dinner by the sea and, hands down, one of my favorite restaurants in Crete… Prima Plora is set in a wonderful location and remains one of the top places to dine in Rethymnon.
The restaurant's menu offers a fantastic selection of fresh seafood, from sushi to more traditional choices, with a touch of fine cuisine attached to every dish.
Romantic, elegant, and delicious, this is definitely another must in Rethymnon when it comes to great food.
La Boheme
Location: Eleftherios Venizelos 52.
If you're looking for an inspiring place where to enjoy a memorable dinner, then head to La Boheme restaurant, in the Old Town of Rethymnon.
It's a fabulous place, with fresh and creative Cretan delicacies served by a super courteous staff.
Baked vegetables, great meat, and a magnificent selection of wines are among the surprise you can enjoy in the fantastic outdoor setting of La Boheme.
Mediterranean cuisine at its best.
Bankery, Tasty Flirts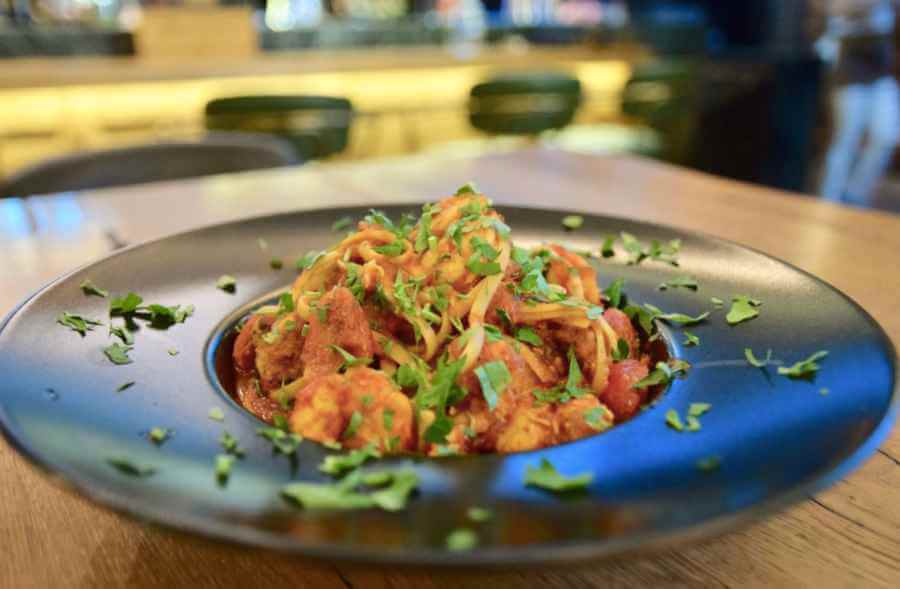 You can't miss this bustling place, located directly in the Rethymnon Center. A trendy café-restaurant that can really offer whatever choice you're in the mood for.
Crispy pastry, hearty breakfasts, a stunning all-day menu, and fast-food choices freshly cooked daily.
As a plus, they have a great bar with professional bartenders that prepare premium quality coffee and exceptional drinks.
I love this place for a fulfilling dish of pasta (like the one in the picture) or a quick brunch either with a Bakel Burger with salmon or a refreshing salad with shrimp and oranges.
The restaurant has a wonderful interior design that changes according to the season.
Thalassographia
Location: Kefalogiannidon 33.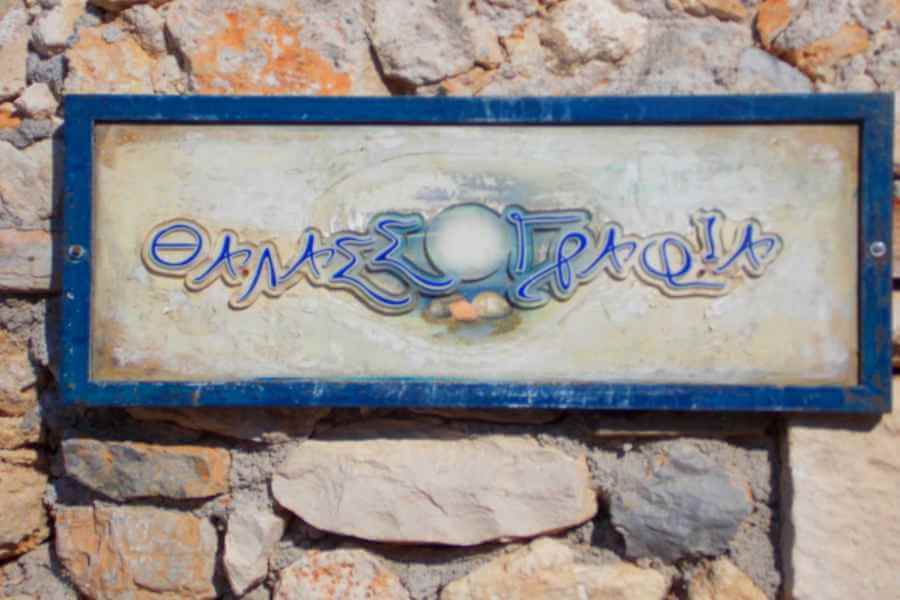 If you want to dine surrounded by a remarkable atmosphere and the spectacular landscape of Rethymnon's Fortezza, then visit Thalassographia.
When in Rethymnon, it's a good idea to check out this bar and restaurant, located in a quiet area of town.
From your table, other than enjoying delicious seafood dishes, you'll be able to splurge on the fantastic sea view.
Pair some crispy fried fish with an ice-cold beer to start a magnificent dinner by the sea.
Raki BaRaki
Location: Arabatzoglou 17.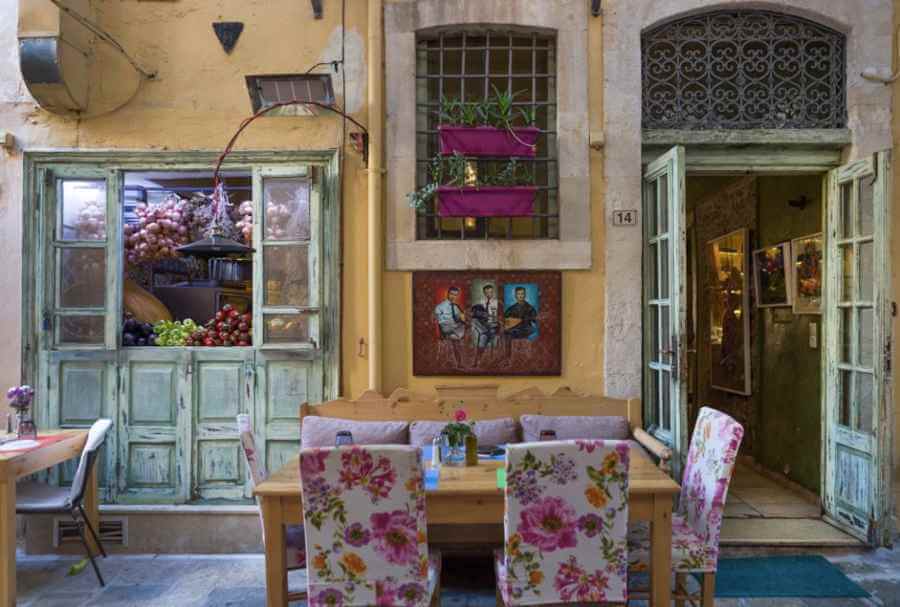 Another of my favorite places in town, don't miss Raki BaRaki if you're looking for a more relaxed, informal atmosphere, authentic Cretan mezes, and a couple of shots of tsikoudia.
The most stunning selection of Cretan dishes, from mussels to sausages, from Cretan kalitsounia pastries to snails or rabbit stew, and much, much more!
Enjoy the beautiful atmosphere of one of the best places to eat in town.
La Casa di Hari's
Location: Mesologgiou 20.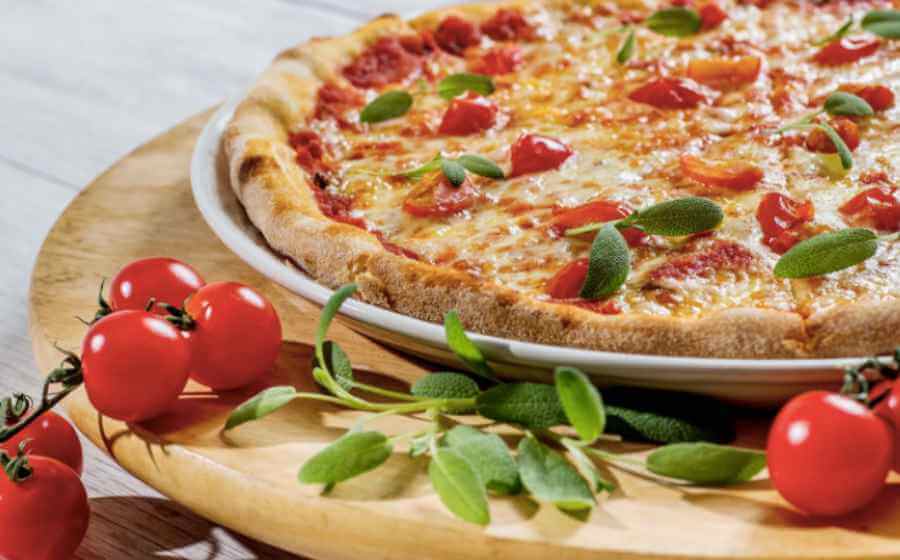 The pizzeria has a pleasant interior design with some interesting details, like a big painting of the ancient Greeks cooking pizza.
Yet, the flavors are definitely Cretan, try their Cretan pizza with smoked pork and chicken apaki (a locally curated meat) topped with Kefalotyri and dry Anthotyro cheese.
… and if you want to try something sweet, head to Hari's Creperie (Location: Mesologgiou 8-10).
If you're in the mood for some authentic Italian flavors, check out La Casa di Hari's.
As a matter of fact, people come from all over Crete to eat here! They have amazing homemade pizzas and pasta dishes.
And it's possible to watch all the processes of cooking from your table. They use fresh local ingredients that add a fantastic taste to each dish.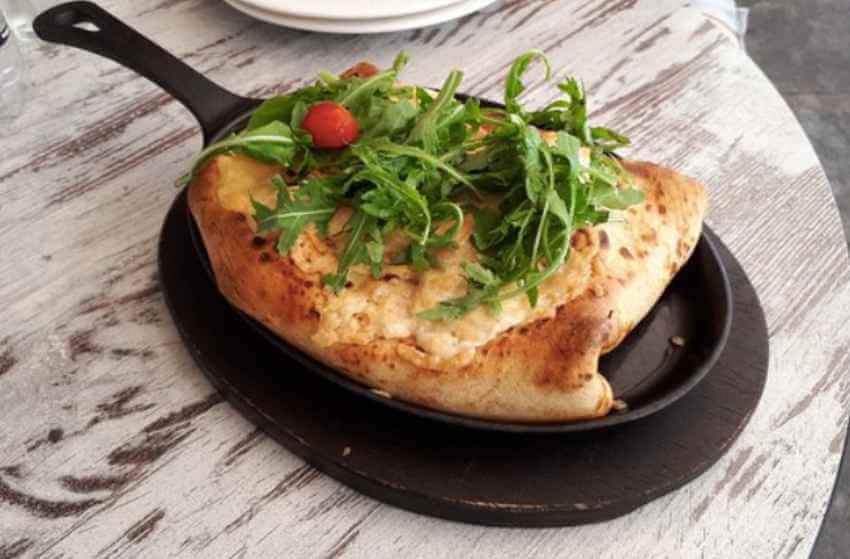 Here, pancakes and waffles are not just a dessert, but a piece of art! All with different toppings, fruits, syrups, chocolates, and cookies. The menu is full of choices.
They also serve savory waffles and pancakes with salami, cheese, bacon, and other ingredients.
If you're up to it, go for my favorite: Hari's Special, a waffle with all the possible toppings, including but not limited to ice cream, fresh strawberries, and bananas. But also chocolate cookies, white and dark chocolate, and even caramelized popcorn!
Both places, and pizzeria and creperie, are always busy, so it can take a long time to get your order, but it is 100% worth it!
Mojo Burgers
One of my favorite places since my first trip to Rethymnon, years ago!
And definitely, a place where you will not only taste their delicious burgers but where you will also want to leave your signature on the wall!
Not far from the new port, in one of the small alleys of the old town, this is a fantastic place for an informal meal.
Do try their Μichael Jackson Burger, with Philadelphia cheese, bacon, tomato, and onions.
Check also their chicken nuggets and homemade onion rings.
Veneto Wine Restaurant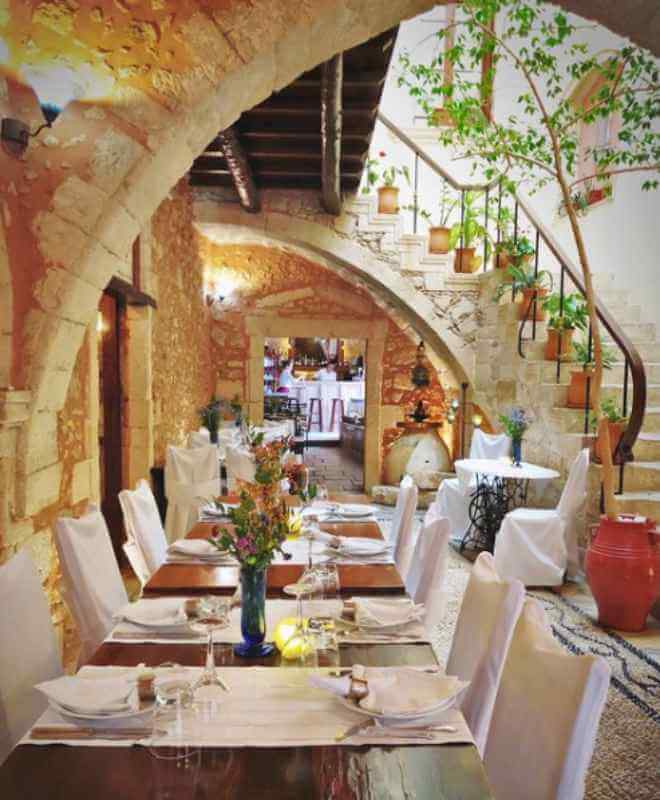 Check out this great place in the heart of the old town which enjoys stunning reviews and for a good reason!
With a certified Cretan menu, the place offers stunning local dishes based on traditional local recipes, created using only fine quality certified ingredients, such as 100% organic vegetables from local producers and fish from the Cretan Sea.
Discover the spectacular atmosphere of the old building, dine in their cozy garden, and enjoy the friendly service that makes Veneto one of the best restaurants in Rethymnon.
If all that was not enough, simply peruse their centennial wine cellar, featuring over a hundred labels from the island, the rest of Greece, and the rest of the world.
Taverna tou Zisi
Location: Machis Kritis 63 (Misiria, Rethymno).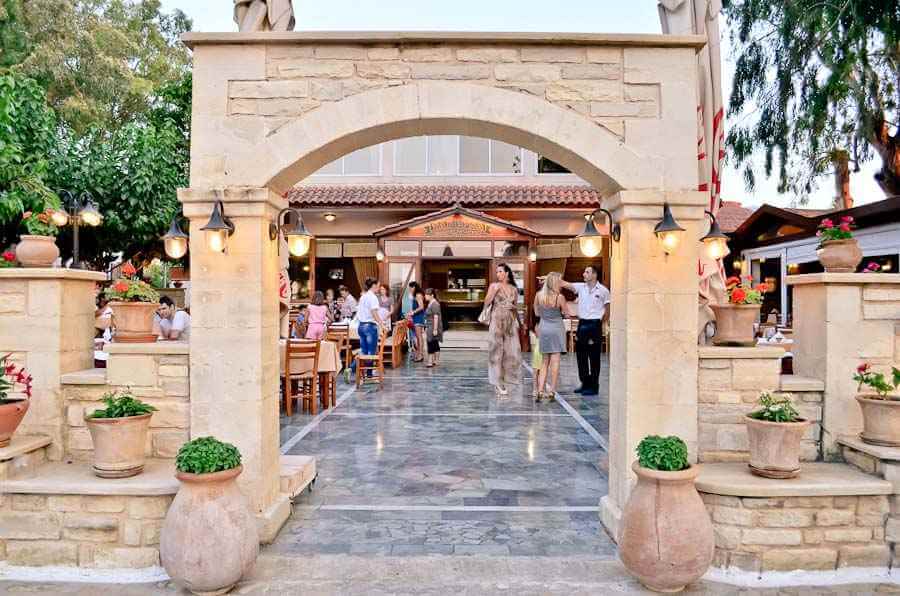 Probably among the most popular places in the area, not exactly in the old town, but really close to the center, Taverna tou Zisi is a staple place in the region for good Cretan food.
Once here, don't be surprised to see that the place is also a favorite among locals.
Choose among the over 30 dishes of meat, fish, or fresh vegetables prepared with fresh Cretan raw materials.
Taverna Zisis has been recognized as a brand of Greek cuisine.
Derlicatessen
Location: Eth. Antistaseos 8.
I can honestly say, that here you can have some of the best gyros in Rethymnon!
Derlicatessen (yes, you read it right!) that you'll find in the old town directly after passing the Guora Gate. The service is extremely fast.
Everything is cooked right in front of you, which will make you even hungrier!
You can either order your food to take away or sit at a table outside, observing the lively main street of the Old Town.
Order a classic pita gyro (chicken or pork) or discover their grilled choices, like one whole chicken or lamb chops.
All the portions here are huge, but the prices are not! Another advantage of this place is that they have a vegan-friendly menu.
You might also want to read about these unique things to do in Rethymnon at night.
Restaurants in the Villages Near Rethymnon Town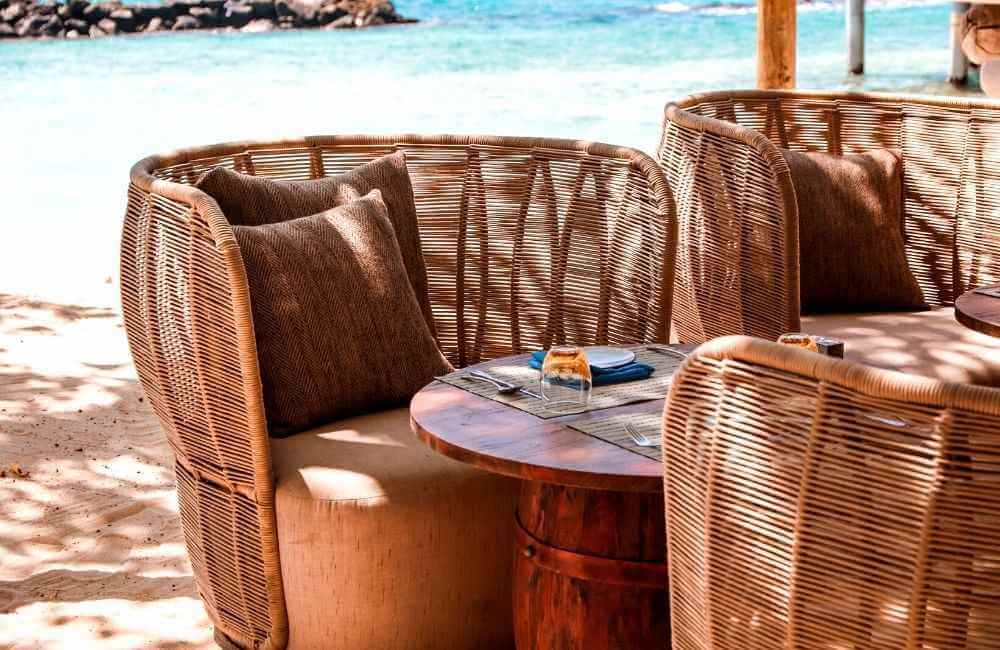 You shouldn't miss a great dinner in a seaside tavern. Maybe at sunset, enjoying the delicious local tastes, a good glass of wine, and pleasant company.
It is also a great idea to explore the villages surrounded by the Cretan mountains, soaking in the natural landscapes of the island.
Check these restaurants not far from the city and discover the magic of dining surrounded by the warm sea breeze of Cretan nights, or the peaceful burble of the waterfalls.
Taverna Eleven by the Sea
Location: Stavromenos village, Rethymnon.
Taverna Eleven is situated directly at the beach in the village of Stavromenos. It's a great place for an early dinner, to enjoy the views of the sun going down on the beach.
As a matter of fact, here sunsets are breathtaking and will definitely make your experience unforgettable!
The menu highlights traditional Greek cuisine with Cretan specialties. I just love their fried calamari and grilled sardines!
The owner is a little bit of a grumbler but always treats you with his homemade lemon raki, his charming son is always ready to help you to choose the right dish.
The taverna has direct access to the beach and even offers a few sunbeds, so you can enjoy your drink at the seafront too.
Country Tavern Drymos
Location: Patsos village, next to the entrance of Agios Antonios Gorge.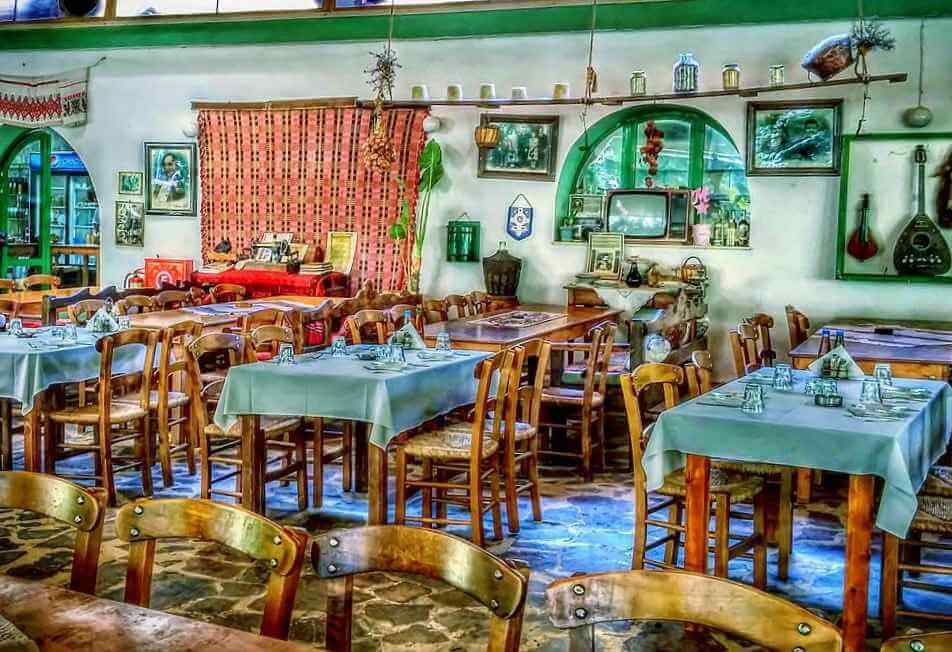 If you decide to go for a hike in the gorge of Agios Antonios (also known as Patsos Gorge), then you must stop at Drymos Country Tavern for a real Cretan meal.
Well actually, this tavern is worth a visit anyway, but after exploring the gorge, you will definitely be so hungry that their giant portions will be ideal.
Once you step into the huge open shed you will travel back in time and experience the Cretan rustic life of the previous century.
Old wooden tables, chairs, and sofas with ornamented covers, a big fire stove with meat cooking, and work tools hanging on the wooden pillars… a postcard of everyday life in any Cretan village.
On one side of the taverna, you'll see the mountain river with small waterfalls and ducks swimming around. You can also find a mini-zoo and a children's playground, so it's a perfect place for families too.
The menu varies according to daily produce. Their pork kontosouvli (meat on the skewer cooked on the open fire) is worth dying for!
At the end of the meal, expect a treat made of, fresh fruit or warm, sweet loukoumades (small donuts dipped in syrup).
Ligo Vouno, Ligo Thalassa (Λίγο Βουνό Λίγο Θάλασσα)
Location: Evita Bay, Bali.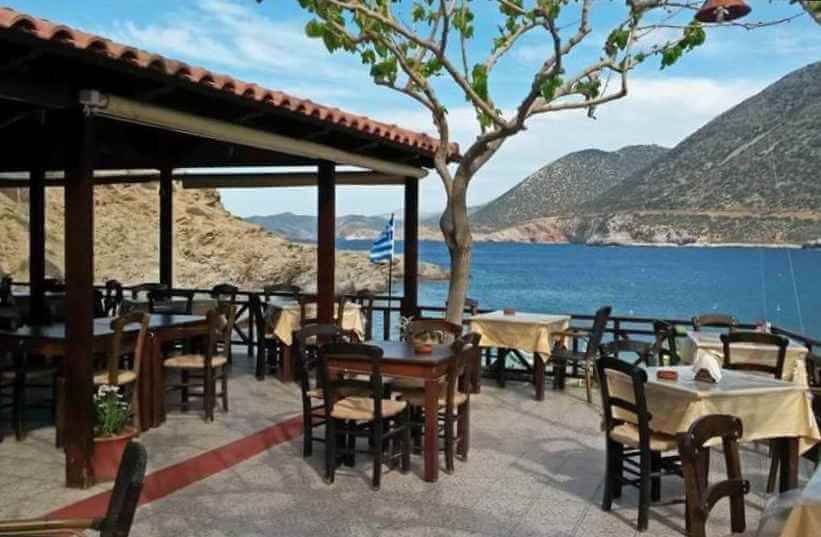 The name of this taverna means A little bit of mountain, a little bit of sea, which is the exact description of this amazing place.
In the furthest bay of the village of Bali, this Cretan taverna offers breathtaking views of the sea, surrounded by mountains.
I come here at least once a year for the excellent food and the friendly staff.
Their rabbit stifado just melts in your mouth, and their homemade red wine is a great choice for any meal.
A little secret: If you ask them, they can sell you a small bottle of wine to take with you. Right in front of the taverna, there is a small but wonderful beach which would make the rest of your day just lovely.
They always treat their guests with some homemade sweets, like an orange pie, and (as is the custom in Crete) a small carafe of raki.
Moschovolies
Location: Village of Meronas.
In the heart of the Valley of Amari, a land of unique gastronomic traditions, this gorgeous, small family taverna proudly serves homemade dishes, cooked the old Cretan way: plenty of local herbs, wood fire, and their own products.
Open also in winter, this is one of those places that you'll be happy to visit again and again.
Don't miss their fantastic stuffed zucchini flowers, one of the many delicacies from their kitchen.
Akrogiali Bali Fish Tavern
If you're spending some time in the beautiful seaside village of Bali, Akrogiali is another lovely taverna you can try.
It's located directly at the entrance of the center port, and you'll easily spot their blue terrace.
All their tables are set in this fantastic open space so, no matter where you sit, you will have a fantastic view over the beach and the port.
The staff here is very friendly and they're always ready to suggest to you what to try, as well as to share the latest news about the whole island…
I love this place for its great seafood menu. Saganaki mussels are a must (mussels cooked in a tomato sauce with feta cheese) and the fried calamari are always fresh and crispy.
Quite traditional music creates a pleasant holiday atmosphere too.
Goules Taverna
Location: Goulediana Villages, Rethymnon.
One of the top-rated restaurants in the Rethymnon region, Goules Taverna, lives up to its impeccable reputation.
The tavern presents a selection of old-time recipes with traditional Cretan traits, including plenty of herbs and tasty spices from the surrounding countryside.
A menu that features the local motto of a little bit of all, including plenty of fragrant Cretan olive oil and strictly fresh products.
Their salads to die for, and certainly add to the experience of a wonderful road trip ride through the local landscape.
This is just a selection of the places I enjoy and where I usually meet with friends when having a night out in Rethymnon.
The old town, as well as the region, has so many restaurants, tavernas, and places to try delicious local food that you wouldn't know which one to pick.
Hopefully, this guide has given you an idea about the best restaurants in Rethymnon… and where you'll have your next Cretan meal!
What restaurant in Rethymnon will you visit?
Read more about Rethymnon
🛌 Suggested Accommodation in Rethymnon:
🗺️ More resources to book your trip to Crete
Pin it Now and Read it Later: Pin This Awesome Guide to the Best Restaurants in Rethymnon for Your Next Trip to Crete!
---
You might also want to read these posts about Crete's regions:
---
About my blog: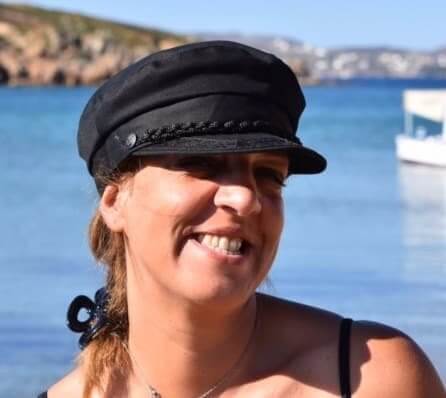 I moved to Crete in 2016. During these years, I learned much about the island.
In Crete, I juggle being a solo mom, hosting culinary tours, and writing for several travel media.
I've written for Greek Reporter, published travel guides about Greece, co-authored DK Eyewitness Top 10 Crete, and had more glasses of frappe than any regular person could ever handle.