Agios Nikolaos, the capital of the region of Lasithi, in Crete, is a gorgeous town full of great things to do. Loved by locals and tourists alike, the city offers plenty of opportunities for those traveling on a budget. There are also many free things to do in the rest of Lasithi, so read on to learn and seize every opportunity!
---
Disclaimer: Posts include affiliate links to products or services. I might earn a commission if you make a purchase, at no extra cost to you.
---
Lasithi on a Budget: Free Things to Do in Agios Nikolaos
Agios Nikolaos is a picturesque city in the prefecture of Lasithi, well-known for the beautiful Lake Voulismeni.
And… do believe me when I say that there are so many free things to do in the city and around, that you can easily spend your vacation here on a budget!
Here is the list of my favorite free things to do in Agios Nikolaos and around.
Let's Start by Getting Ready for Crete!
RESOURCES TO BOOK YOUR TRIP:
Book your flight: I use Skyscanner to compare prices before booking a plane ticket.
Book your ferry: When ferries are more convenient than air travel, I use Ferryhopper.
Book your accommodation: I've tried many different platforms for accommodation, but none of them beats the advantages of Booking.com.
Book your car: The best way to find an affordable car to rent is to use a powerful search engine that compares all the rental companies in the market. I use Discover Cars.
Book your tours: Live unforgettable adventures and cultural experiences with Get Your Guide. For instance, you can Visit Elafonisi, discover Balos Beach, hike Samaria, or explore Knossos.
Don't forget travel insurance: Things can go wrong at times, but travel insurance will protect you against illness, injury, theft, and cancellations. I recommend Safety Wing for peace of mind.
Things to Do in Agios Nikolaos for Free
Check these places and activities in the capital of Lasithi that are completely free to discover…
Lake Voulismeni
Yes, it might sound like an obvious thing to do, but taking a walk in the lake area of Agios Nikolaos is nothing but a must. And of course, it is free.
There are many lovely spots for great pictures, starting with the Fishermen's Crypt.
Also, don't forget to explore the small alleys with the stairs leading uphill for even more breathtaking views of the lake and the sea.
In the surrounding area, there are few monuments, worth passing by, for example, the statues dedicated to Eleutherios Venizelos and the one honoring Kritsotopoula, the heroine of the small village of Kritsa.
You can also extend your walk by strolling along the seaside. Here take some time to discover the famous sculptures of the Abduction of Europe and the Horn of Almathea.
Best hotels in Lasithi
Affordable: Porto Maltese and Katia Apartment in town.
Mid-range: Ostria Apartments in Ammoudara or Villa Olga.
Luxury: Elounda Peninsula in Elounda and Miramare Resort in Agios.
Check also Rental Homes in Agios Nikolaos and Best Elounda Resorts.
Folklore Museum of Agios Nikolaos
The Folk Art Museum of Agios Nikolaos is easy to access since it's right in front of the lake, next to the Tourist Information Bureau.
While walking near Lake Voulismeni, don't miss the chance to visit the Folklore Museum.
It houses a beautiful collection of traditional handmade items, from ornamented plates and embroidered carpets to wooden icons and precious manuscripts.
It is a perfect opportunity to get familiar with the local everyday life of the past centuries.
The entrance to the museum is free, but donations are highly appreciated.
Bioaroma Experience Shop
Once you step into this perfectly designed space you will feel a communion with nature. This is what Bioaroma is all about.
This organic cosmetics and perfumes company created an exceptional experience shop where you can sample their products absolutely for free.
Moreover, there is a small museum section to learn about the role of herbs and essential oils in the Minoan times.
The welcoming staff is always ready to assist you and to share their knowledge about each product or its natural ingredients. To be honest, this is one of the most entertaining things to do in Agios Nikolaos for free!
Check ferry tickets to Greece here!
I can't guarantee that you will get out of Bioaroma without buying anything, but the whole experience can be absolutely free.
Village of Neapoli
This lovely little village is located 15 km west of Agios Nikolaos, on the way to Heraklion. It's a picturesque settlement and I recommend spending a few hours there to feel some real Cretan vibes.
Also in Neapoli, it's possible to find things to do without spending a cent!
Folklore Museum of Neapoli
The Folklore Museum of Neapoli is a small but very informative museum where you can learn a lot about history and everyday life.
The museum houses a collection of everyday items, handmade textiles, wooden carvings, household utensils, and objects that were used in carpentry, tailor, or shoemaker's workshops.
They're mostly 19th-century objects which have been collected from the Mirabello area. The entrance to the museum is free, although you can make a donation before you leave.
Vassilakis Estate
Vassilakis Estate is a family-owned factory that produces high-quality olive oil. They are very passionate about what they do and always welcome visitors willing to get familiar with olive oil making.
Their Friendly Olive Tour will take you on a one-hour journey to learn the secrets of processing olives.
By the end of the tour, you'll also sample the exquisite extra virgin olive oil they produce.
The tour is free, but after tasting such a top-quality oil, I doubt you can leave without buying a bottle or two!
Virgin Mary, the Cathedral of Neapoli
A small but very beautiful from the inside, this Cathedral is a perfect place to spend a few peaceful moments.
All the walls and the ceiling are covered with holy paintings.
The main chandelier is also impressive and the wooden centerpiece is masterly carved.
Traditional Village of Kritsa
Kritsa is one of the oldest villages in Crete and definitely one of the most scenic ones.
It's amphitheatrically built on the rocky hills and it's surrounded by olive groves.
If you are planning a small getaway then this village is worth the experience!
Rodanthi Museum
This unique museum is a result of many years of work by its owner, Mr. Giorgos! The museum houses an incredible collection of dried plants and fossils.
And each of them was collected by the owner himself.
You will get in touch with rare plant spices that can be found only on Crete and learn the process of sun-drying herbs.
Mr. Giorgos is always happy to share his knowledge and will provide all the details about each specimen.
His lovely wife always treats guests with tasty herbal tea. Remember to check the view from the back terrace overlooking the village, it's simply breathtaking.
There is no admission fee, but if you want you can make a donation.
Kritsotopoulas Museum
This museum is dedicated to a well-known Cretan heroine – a girl named Rodanthe.
The museum stands in the original house of Rodanthe' which has been restored to the tiniest detail.
When you visit, you'll learn about this incredibly brave girl who took part in the Cretan Resistance.
Maria, the guide in the museum, is a descendant of Rodanthe's family and will passionately share the story about the Girl of Kritsa and other interesting facts that only her family knows about.
Entrance to the museum is free, but donations are welcome.
>>Check this awesome book about the story of Rodanthe<<
Kritsa Gorge
Just outside the village of Kritsa, there's a beautiful gorge to explore. During summer, the bed of the river is completely dry and this lets you explore in even deeper detail.
The hike is easy with some moderate climbing. It's not long, so you can cover it in just a few hours.
Kritsa Gorge is also a great place for children as they would love such an adventure.
Most of the hiking path is shady, which makes it an ideal afternoon escape from the hot summer sun of the island.
More Free Things to Do in Lasithi
Lasithi is a rich region full of amazing landscapes to discover, these are some of the great places you can discover in the area without breaking the bank!
Timios Stavros Chapel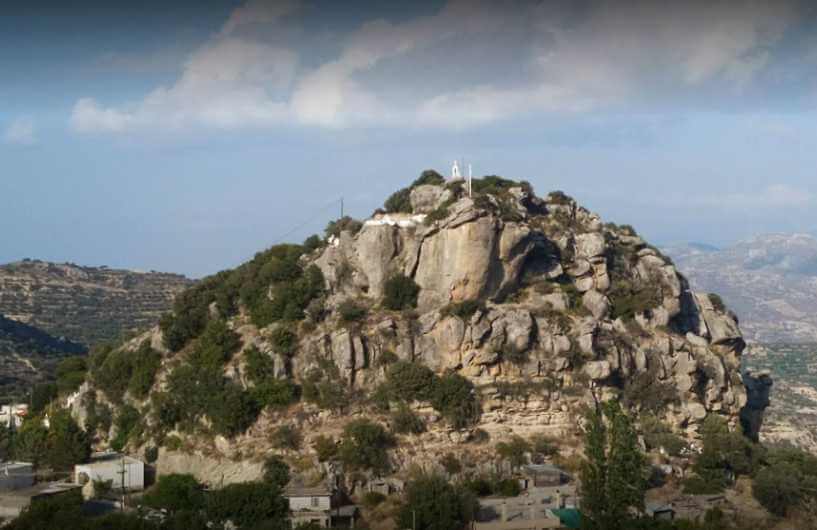 The small chapel of Timios Stavros is situated on the top of a hill above the village of Kalamafka, just 25 kilometers south of Agios Nikolaos.
To reach the church you need to take a staired path from the village.
The walk is not as hard as it sounds, and it takes approximately 10 minutes.
As you reach the chapel you can get great views from the top of the hill not just from Kalamafka but also from the surrounding mountains.
Votania Herbs Farm
Votania Herbs is a unique family-owned herb farm that was born with the purpose of cultivating and preserving a variety of herbs, some of which can only be found on Crete.
This place offers free guided meditations every week.
Just picture yourself in this serene space surrounded by herbs, lemon, and olive trees with a breathtaking view over the Sea of Crete…
The pleasant smell of herbs heated under the sun finishes this relaxing atmosphere with a magic touch.
Votania is the setting to spend some quality time with your inner self and in contact with nature.
Richtis Gorge
Richtis Gorge can easily be described as one of the most beautiful gorges on Crete.
And no wonder… Once you step under the shade of lush planes and walnut trees, you'll be overwhelmed by the incredible beauty of the island's nature.
Hike following the river, to be rewarded with the views of a scenic waterfall. If time allows, spend some time in this amazing spot and indulge in a swim in its refreshing waters.
End your walk at the beautiful secluded beach located at the end of the gorge, and enjoy some time by the crystal clear sea.
Lasithi Plateau
Drive from Agios Nikolaos all the way to the entrance of the plateau and then follow the road around it to discover one of the most important groups of mountain settlements in Crete.
The area is quiet and peaceful, surrounded by the imposing heights of the Dikti Mountains.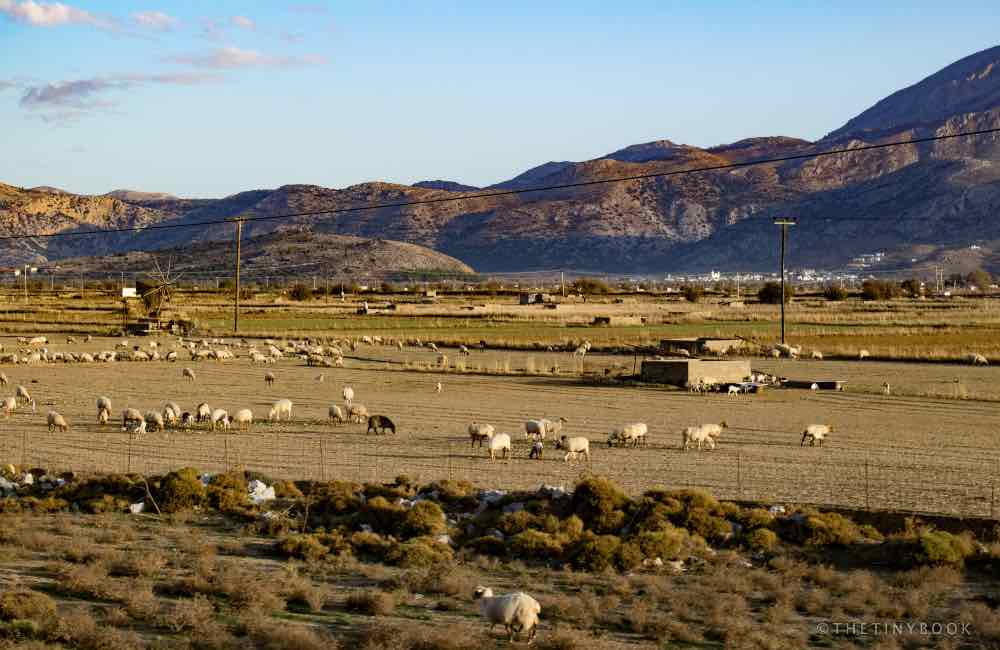 The Lasithi Plateau stands over 850 meters above sea level and all around the highland, there are about 18 different traditional villages where you can learn about Crete's traditions and dive into the past of the island.
Planning a day trip around the Lasithi Plateau?
>>Check this article to find out what to do there<<
Toplou Monastery & Vai Beach
If you're into wine tasting, isolated places, and beautiful landscapes, then embark on a road trip all the way to the easternmost city of Sitia.
And from there, take the mountain road to reach the imposing premises of Toplou Monastery.
Since it's in an isolated and rather vulnerable position, the monastery, which played a key role in the different fight of Crete for independence, stands behind solid fortification walls about 10 meters high.
Toplou Monastery is not as big as other Cretan monasteries, but it's probably one of the most beautiful of all.
With a very small fee you can even visit the museum or, if you prefer, go wine tasting in the cellars of the nearby winery managed by the monks.
If, instead, you're more of a beach-type kind of person, drive all the way to the coast to discover one of Crete's most beautiful beaches.
Vai Beach is surrounded by the biggest palm tree forest in Europe and it's a gem you can't miss when visiting East Crete.
>>Check Toplou and other Cretan monasteries here<<
Ierapetra
Ierapetra is a quiet but fairly big seaside town located in the south of the region of Lasithi.
A visit to Ierapetra is a perfect option for a half-day trip from Agios Nikolaos.
You can easily explore the town on foot, walk along the seaside or check their ancient buildings, including the Venetian Fortress or Kales which you can access for free.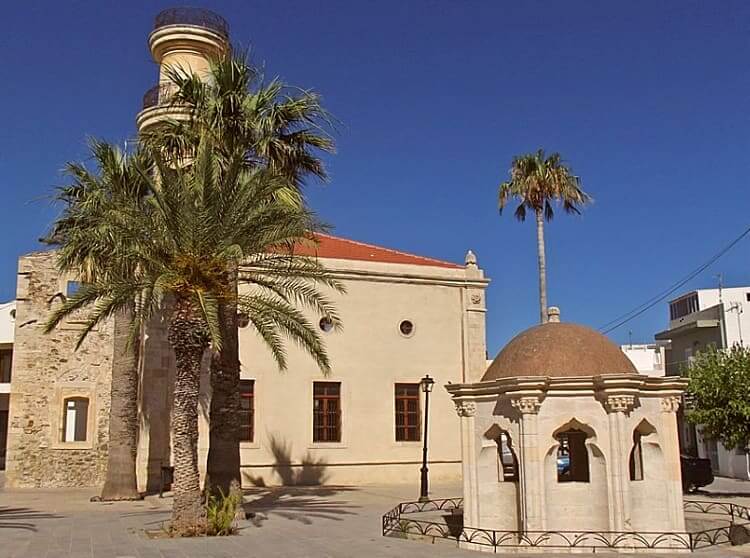 When you head to the main square of Ierapetra, check out the gorgeous Turkish Mosque and the fountain in the front yard, or get lost in the small alleys of the city to spot the abandoned House of Napoleon.
It's not really impressive but you can include it in your Ierapetra walking itinerary.
Finally, make a stop at the lovely church of Afendis Christos. And, of course, stroll along the seaside promenade where you can sit at the café right next to the water.
Aren't you surprised at the many exciting things you can do in Agios Nikolaos and the whole region for free?
Trust me, Lasithi is one of the most beautiful areas on the island and you don't need to spend a lot to see the best of it. It'll be just awesome to discover all of its secrets with a reduced budget.
---
You've Got to Pin this Guide to the Best Things to Do in Lasithi for Free!
About the author of this blog: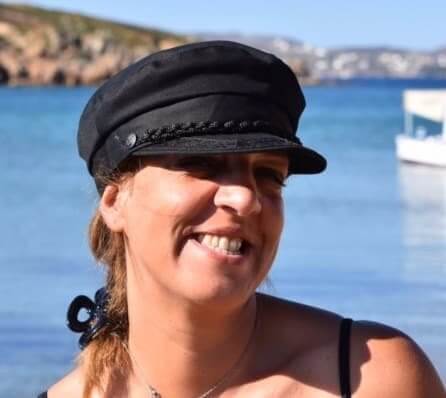 Gabi has been living in Crete for the last five years. On the island, she juggles being a solo mom, hosting culinary tours in summer, translating, and freelance writing.
She's written for Greek Reporter, published several travel guides about Greece, and had more glasses of frappe than any regular person would be able to handle.
---
You might also want to read:
COMING TO CRETE SOON?
Get in touch and let me know!