Heraklion, the capital of Crete, features dozens of super interesting museums dedicated to different periods of Cretan history. Some others, instead, focus on Greek art, folklore and local traditions, nature, and more. If Crete is a travel destination on your horizon, then take a walk with me through this list of the most exciting museums in Heraklion and other exhibitions in the city and the surrounding area.
---
Disclaimer: Posts include affiliate links leading you to products or services, I might earn a small commission if you make a purchase. This has no extra cost to you but allows me to continue writing articles that are helpful for your travels. I only recommend things I use myself or that I believe will deliver value to you. 
---
LAST-MINUTE PLANS FOR CRETE?
– Use Ferryhopper and Skyscanner for the best ticket rates.
– Find great accommodation deals on Booking.com.
– Compare car rental prices with Discover Cars.
– Check the best tours with GetYourGuide.
– Visit Elafonisi, discover Balos Beach, hike Samaria, or explore Knossos.
– Pack the Lonely Planet Guide to Crete or get my digital guide to Chania.
Best Hotels in Heraklion
Affordable: Candia Studios & Rooms or Rea Hotel in the city center.
Mid-range: Capsis Astoria and Veneziano Boutique Hotel in town.
Luxury: GDM Megaron H. M. Hotel or Galaxy Iraklio in the center.
Check also Heraklion Accommodation Guide and Best Places to Stay in Crete.
What Museums to Check When Visiting Heraklion
These are some of my favorite museums that I suggest you check when spending your time in the capital of Crete.
Archaeological Museum of Heraklion
Location: 2 Xanthoudidou 2 Street, Heraklion.
Start your journey into Cretan history from the most important museum in Heraklion and the whole Crete, and one of the most significant in Europe. The Archeological Museum holds one of the most precious collections of Minoan Art as well as numerous collections that cover a period of 5500 thousand years!
Here you can get familiar with the social, artistic, and economic aspects of life during prehistoric times. You'll discover the valuable masterpieces of the Minoan civilization and uncover the secrets that have been gathered from all parts of Crete.
The museum features 27 galleries so account for at least 2 hours to visit them all. There is also a gallery with audio-visual displays that can't be missed if you want to see what some of the archeological findings looked like in their glory days. The Archeological Museum is in the city center and can be easily found.
The entrance ticket is €12 (full price), the reduced ticket is €6. A cool lifehack? If you buy the special ticket package you'll get 3-day access both to the Archeological Museum and Knossos Archeological site (one visit per site allowed in the 3 days).
The package ticket is €12 full, €6 reduced. The price for this ticket is €20 from April 1 to October 31. If bought separately, the entrance to Knossos is €15.
Archaeological Museum of Heraklion Opening Hours
Winter: Mon and Wed-Sun from 9 am to 4 pm. Tue from 10 am to 5 pm.
Summer: Mon and Wed-Sun from 8 am to 8 pm. Tue from 10 am to 8 pm.
Schedules might change, so always check the official website for updates.
Historical Museum of Crete
Location: Leof. Sofokli Venizelou 27
The Historical Museum of Crete is another important Heraklion museum that houses a precious collection of artifacts spanning from the Byzantine period to the 20th century.
Here you will find permanent collections dedicated to Cretan history and art as well as temporary collections devoted to major historic events, such as WW2, and key local figures (including writers such as Kazantzakis and Elytis).
The museum has great media applications which allow you to discover history more interactively. The building that houses the museum is also worth mentioning. It is a great example of Neoclassical architecture, featuring marvelous murals with scenes from the Odyssey and Iliad.
The entrance ticket costs €5 and kids aged 12 and below access it for free. Remember, every first Sunday of the month the admission is free for everyone!
Historical Museum of Crete Opening Hours
Mon and Wed-Fri from 9 am to 3 pm.
Sat and Sun from 11 am to 4 pm.
Natural History Museum of Crete
Location: Sofokli Venizelou Avenue, Heraklion.
If you have kids from 3 to 15, then this place is a must! The super interesting and educational Natural History Museum will get you familiar with the main ecosystems of the Mediterranean area including Crete and the whole of Greece.
Find out about the natural inhabitants of this region through the mega-dioramas, experience a real earthquake in the seismic simulator, or visit the Living Museum where you can check aquariums and terrariums with living animals.
Finally, take some time to discover the natural environment of Crete interactively.
The entrance fee to the Natural History Museum of Crete is €7.5, while the ticket costs €4.5
Natural History Museum of Crete Opening Hours
Mon-Fri from 9 am to 3 pm.
Weekends from 10 am to 6 pm.
Rocca a Mare Fortress
Location: Venetian harbor, ΝW pier, Heraklion. Access is from 18 Agglon Square.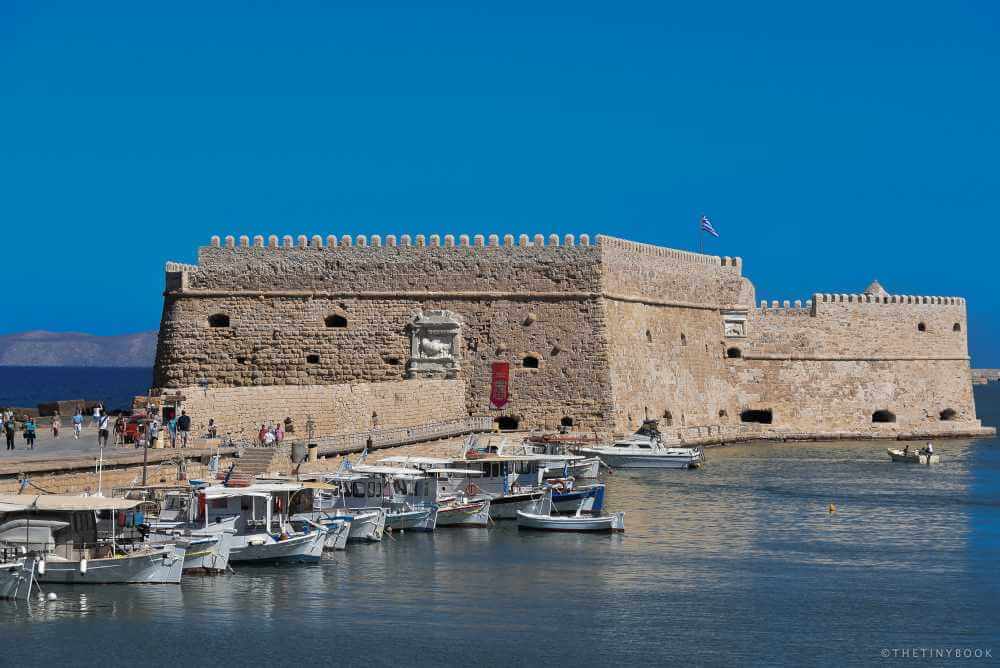 Heraklion's fortress, Rocca a Mare or Koules is a well-known trademark of the city and popular museum in Heraklion. It was built during the 15th century and it's a great example of Venetian fortification castles.
The fortress was used to store food and military supplies as well as to serve as a protection from the sea storms to the harbor. Nowadays after much restoration, the Fortress is open to the public and houses several exhibitions.
Inside the building, check artifacts belong to the Ottoman conquest and the resistance of the Cretans during the Cretan War. Also, don't miss the shipwreck exhibition where you can see some unique underwater archeological findings discovered near the close-by Dia island, by the famous Jacques Custeau. The admission fee is €4.
Rocca a Mare Opening Hours
The Fortress is usually open every day from 8 am to 6 pm.
However, hours can vary during the different seasons, always check with the official website for up-to-date information.
Museum of Christian Art
Location: Karterou Street, next to Agios Minas Cathedral.
This Heraklion museum is situated inside the 13th-century Monastery of St Catherine of Sinai and houses a beautiful collection of religious artifacts from Cretan monasteries dating from the second Byzantine period to the end of the Ottoman reign.
Here you will find frescoes, wood sculptures, and metalwork, as well as old manuscripts and perfect examples of devotional objects and amphoions.
The main exhibition is dedicated to the works of Cretan hagiographer Angelos Akotantos from the 15th century. The entrance fee is €4.
Museum of Christian Art of Heraklion Opening Hours
Winter: Mon-Sat from 9 am to 5 pm.
Summer: Mon-Sat from 9 am to 7.30 pm.
Museum of Ancient Greek Technology of Heraklion "Kostas Kotsanas"
Location: 18 Epimenidou Street, Heraklion.
This relatively small museum is nevertheless absolutely amazing, especially if you are into technology and machinery! Personally, it's one of my favorite places to visit in Heraklion.
Here, you'll find a great collection of objects that show and explain the principles of ancient technology which we are using till nowadays. The guides will gladly make you a tour and even let you test some of the objects. This is a perfect way to discover history in a completely different and fun way.
The museum is present in different cities of Greece, including Athens, Ancient Olympia, and Katakolo, other than in Heraklion.
The entrance costs €5. If you're interested in an organized interactive tour, the price for the ticket is €10, and the minimum size of the group is 4 participants.
Museum of Ancient Greek Technology of Heraklion Opening Hours
Every day from 10 am to 6 pm.
Municipal Museum of the Battle of Crete and the National Resistance
Location: Doukos Beaufort and I. Chatzidaki, Heraklion. According to Heraklion's official website, the museum will soon be transferred to a new venue.
This museum is a place to remember the events that took place in Crete during the Second World War. The broad collection of documents, newspapers, and photos will tell you the story of this tragic period on the island.
Besides, it represents a great opportunity to learn about events that played a crucial role in the history of Crete and Europe.
Inside, you'll find a collection of well-preserved weapons, uniforms, and other objects, as well as pictures that will make you travel in time. The entrance fee is €4.
Municipal Museum of the Battle of Crete and the National Resistance Opening Hours
The museum is open every day from 8.30 am to 3 pm.
Nikos Kazantzakis Museum
Location: Myrtia village, Heraklion region.
Video courtesy myCrete.tv.
This museum is devoted to the life and work of Nikos Kazantzakis, one f Greece's best-known authors, but also a philosopher, and even a politician. For a better idea about the author and the place, check this awesome video by myCrete.tv
In this museum, you'll find an exclusive collection of manuscripts, documents, publications, and letters of this remarkable man as well as rare audiovisual content. The museum has 5 different exhibition rooms, dedicated to different aspects of Nikos Kazantzakis' life.
The venue is in the former house of a local family that was related to Nikos Kazantzakis. The admission is €5. The museum is situated in the village of Myrtia, 15 km away from the city center.
If you decide to visit, take advantage of the ride and visit the magical Neraidospilios, the cave of the fairies, which is just 5 km away from the village.
Nikos Kazantzakis Museum Opening Hours
Winter: Every day from 10 am to 3 pm, Saturdays closed.
Summer: Daily from 9 am to 5 pm.
Lychnostatis Open-Air Museum
Location: Hersonissos, Heraklion region.
This family-owned museum offers a different way to experience the cultural heritage of Crete! First of all, the buildings that make the museum has been built using only elements such as like wood and stone, and no machinery! Yes, the old good way of using bare hands and imagination!
The complex consists of several exhibitions and open-air areas. Here, you can learn about the everyday life of Cretan folks through carefully recreated rooms and workshops. This place breathes tradition, legends, and ethnological heritage.
If you visit, do go for the audio guide as it explains everything in detail. Kids love this place since it's possible for them to touch all the tools and even try to work them.
The museum frequently organizes events, such as traditional dancing performances, theatre, and wine & honey tasting. After you are done exploring, you can visit the beach that's accessible through the back door of the museum!
The entrance is 6 Euros, and €2 more for the audio guide. If you come for the come the second time, the admission is free!
The museum operates daily except Saturdays from 09:00 till 14:00.
Lychnostatis Open-Air Museum Opening Hours
The museum is open daily, from 9 am to 2 pm. Closed on Saturdays.
These are just a few of the many wonderful museums you can visit in Heraklion.
As you can see, there's much more than just a bunch of archaeological sites to visit in the region.
Adding any of these places to your Heraklion itinerary will certainly enrich your trip!
Check ferry tickets to Greece here!
---
Have you been to any of these museums in Heraklion?
Let me know in the comments below!
---
Read more:
Blooming Island: Best Things to Do in Crete in Spring
Great Free Things to Do in Heraklion, Crete
The Best Beaches in Heraklion, Crete
Comfy and Convenient Rental Homes in Heraklion, Crete
Top tours, day trips, and excursions from Heraklion
Pin this Guide to the Best Museums in Heraklion for Your Next Adventures in Crete
About the author of this blog: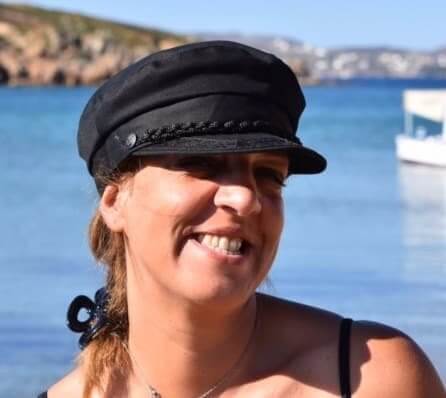 Gabi has been living in Crete for the last five years. Here, she juggles being a solo mom, hosting culinary tours in the summer, translating, and writing for The Tiny Book and her other blogs.
She's written for Greek Reporter, published three travel guides about Greece, and had more glasses of frappe than any regular person would be able to handle.
---
You might also want to read:
---