So… vacation time is getting closer but you're on a low budget? The Tiny Book knows what you're talking about!
Let's try to keep those travel expenses contained with these great free things you can do in Heraklion, Crete!
---
Disclaimer: Posts include affiliate links to products or services. I might earn a commission if you make a purchase.
---
Top Free Things to Do in Heraklion, Crete
Heraklion on a Budget: Free Things to Do in Heraklion, Crete
No matter whether you are on a strict budget or not, it's always great to save a few bucks, isn't it?
The city of Heraklion has so many things to offer and — believe me — some of them will not cost you a cent!
In this article, I've gathered some of the best things to do in Heraklion for free, or for a very small fee. Doing any of these things will help you learn more about the city and enjoy the best of it without spending a fortune!
Visit the Churches and the Cathedrals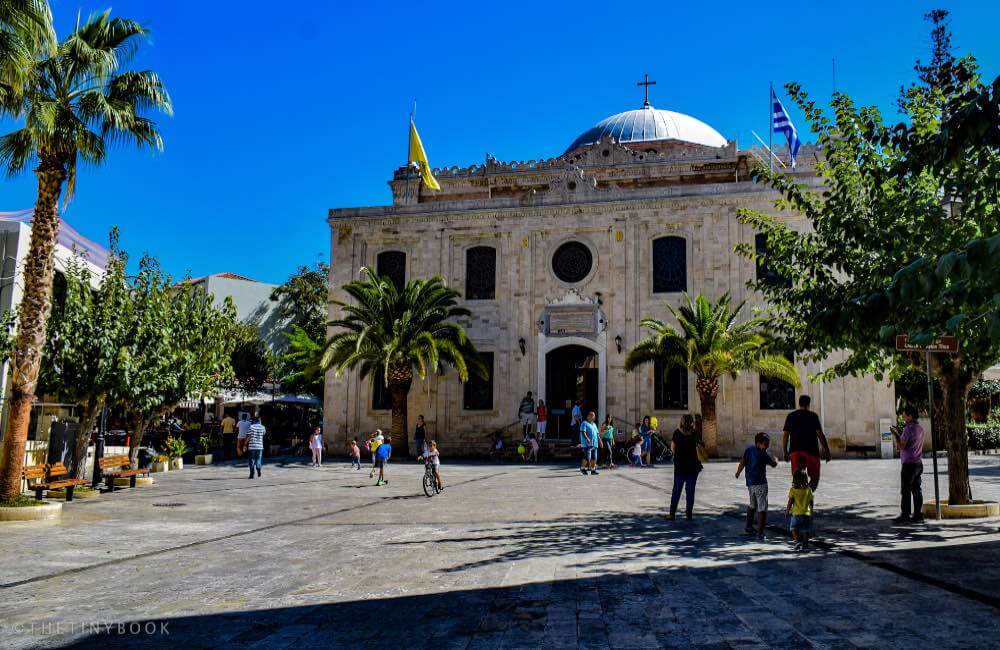 One of the best ways to learn about Heraklion's heritage is through a visit to some of the churches, monasteries, and cathedrals that you'll find in the region.
Spend some time admiring the beautiful interiors and the precious masterpieces sheltered inside some of Heraklion's religious buildings.
One of the places you should visit is Saint Mark's Basilica. This imposing Venetian building currently houses the Municipal Art Gallery of Crete and offers both permanent and temporary exhibitions of famous Cretan artists.
You can spend up to 2 hours enjoying the works of great masters that captured the scenes of everyday Cretan life, as well as landscapes, religious events, and much more.
The entrance to the building is free of charge.
Don't overlook the Cathedral of Agios Minas, the largest and most important cathedral in the city. It features amazing mosaics, astonishing murals, and golden chandeliers that won't let you be indifferent!
Last, but not least, take some time to explore the Church of Agios Titos. The place was first built as a mosque in the 19th century, which explains its unusual form for an Orthodox church.
Right opposite the church, there is a big square where locals usually gather, behind the building, there's a lovely garden ideal for a short break during a hot sunny day.
If you're in the mood to explore more about Crete's religious architecture, drive west to the nearby village of Fodele, (about 30 minutes from the center of town) to admire a great example of Byzantine art.
Discover Heraklion Following Your Own Path
You can easily call Heraklion an open-air museum. And you don't need to pay anything to visit some of its most famous landmarks.
Relax by the iconic Morosini Fountain and discover all the nearby streets with great examples of Venetian and Ottoman Architecture.
Walk along 25th of August street to visit the Venetian Loggia, a building that has been perfectly restored to showcase its past glory.
You can also visit some of the areas inside to check where the offices of nobles were used once upon a time.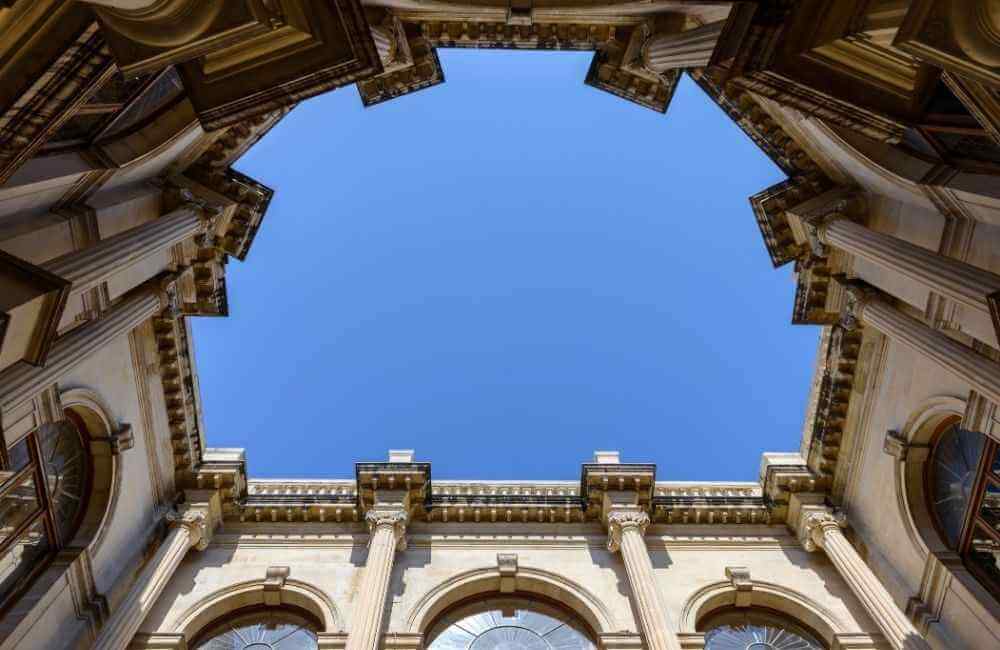 Take some time while wandering around to pass by Bembo Fountain and the statue of Erotokritos. Climb the Venetian City Wall and enjoy a peaceful stroll admiring the scenic vistas of Heraklion and the Sea of Crete.
Climb up to the tomb of the famous local writer Nikos Kazantzakis or take some pictures of the peculiar arches and stoas around the area, the views are worth the experience.
Of course, you cannot miss a walk along the Venetian Harbor and admire the ancient fortress Rocca a Mare Fortress, the remains of Neoria Vecchia, the arsenals, and the Lighthouse at the edge of the Marina.
This is an affordable tour you can download, that's ideal if you want a simple way to discover the city.
Heraklion Free Walking Tour
If you wish to get more details about the history and culture of the city, then you should join this Free Walking Tour organized by local guide Akrivi.
The tour takes place each Tuesday and Thursday during the summer season and lasts 2 hours, from 4 to 6 pm.
The guide will take you to the most important historical landmarks as well as to the not-so-popular ones.
The guide will take you to the most important historical landmarks as well as to the not-so-popular ones.
This is a unique opportunity to learn about the interesting and inspiring stories of the city's past and present.
The tour is completely free, and you will also access some areas without any fee. Get in touch with them via mail: [email protected]
Looking for more free things to do in Heraklion? This guide has plenty of them!
Eat Your Way Through the Farmer's Market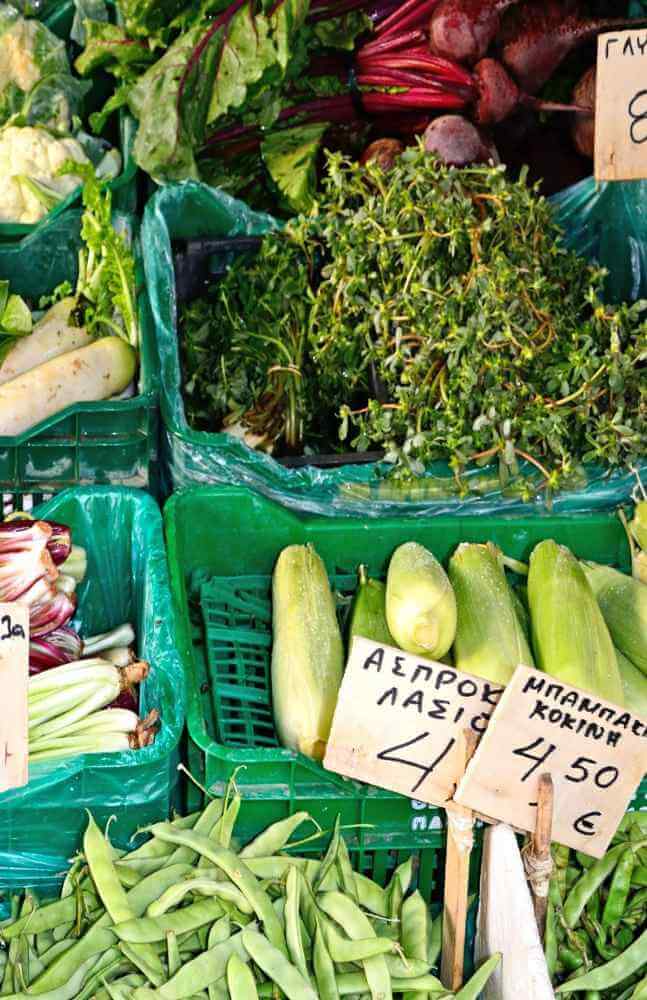 Visiting a farmer's market is a perfect opportunity to feel the local atmosphere, it is something free to do in Heraklion but be careful, it might be tempting to start buying some of the delicious fresh products you will see on display!
Check the wide selection of fresh fruit and vegetables, homemade cheese, wine, olives, and much more.
The entrance is free but I can't guarantee that you won't spend some Euros there!
It's really difficult to resist the temptation of buying at least some of all that deliciousness.
⛴️ Check out ferry ticket fees and schedules
But here is a tip: Ask to try the food. You will be surprised but is a common practice to try everything even if eventually you won't buy anything. And believe me, after such a sumptuous sampling session can easily finish up with a full belly.
The Market is open on Thursdays and Saturdays from 7 am to 3 pm.
One more tip: if you decided to shop, it's always better to visit about an hour before the closing time, that way you'll get ridiculously low prices for the same products
Not an extra dime to spend? Going to the beach is an affordable way to spend time in the region. Discover the beaches in Heraklion.
Visit the Archeological Museum and Knossos for Free!
Yes, you read it right! These two major landmarks in Heraklion can be visited for free on specific dates. Here is the list, check if you're visiting the city on those days or plan accordingly!
6 March (in memory of Melina Mercouri)
18 April (Monuments Day)
18 May (Museums Day)
The last weekend of September(European Heritage Days)
28 October (National Holiday in Greece)
Every first Sunday of the month between November 1st and March 31st
Carefully check your schedule… maybe you'll be lucky to plan your visit on one of these days.
Discover the Villages in the Region (One of the Most Interesting Things to Do in Heraklion!)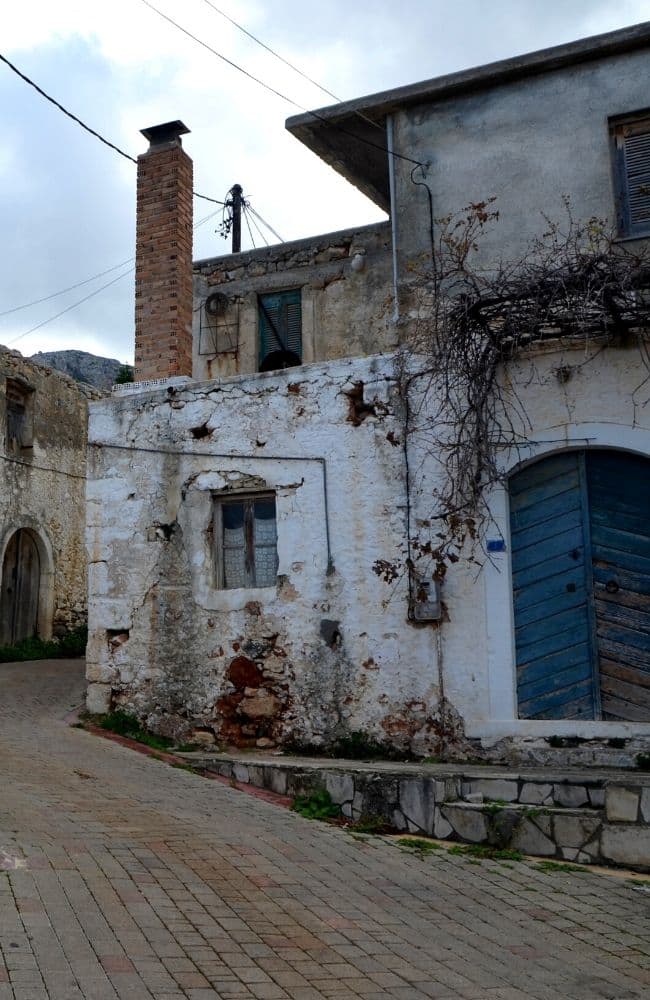 Nothing better than embarking on a road trip and discovering the picturesque villages near Heraklion. This is an unforgettable experience to witness everyday Cretan life and feel like a local.
Take these places into account when planning a road trip:
Archanes
Archanes is a village located on the slope of a green hill offering scenic views of the surrounding areas. The pretty settlement boasts narrow paved streets, flowered hidden yards, and neoclassical buildings with lovely balconies.
Harakas
This charming village is hidden in the mountains overlooking the green plains and valley. Tranquil and relaxed, Harakas is perfect to escape from the bustling city.
Agioi Deka
Check this picturesque village is located in the green Messara plain. It features colorful stone houses as well as a small church with some delicate and refined wooden iconostasis.
Fodele
One of my favorite places in Crete, Fodele is a small village with a traditional square and evergreen orange groves all over the area.
The village is cut in half by a mountain river populated by ducks and geese.
Get in Touch with Nature: Go Hiking
Want to get familiar with Heraklion's beautiful nature? Then hiking is the perfect way to do that. There are a lot of hiking trails, from easiest to hardest, that will add some bright memories to your vacation.
Almiros Gorge
Just outside Heraklion, you can find a trail of moderate difficulty, ideal for an afternoon walk.
Hidden under the shadow of ancient planes and wild olive trees, the gorge has three waterfalls almost visible almost when you reach the end of the path.
At the entrance of the gorge, you will find the small church of Agios Ioannis Farangitis.
Kounaviano Gorge
This is a very pleasant and easy hiking trail located 15 km from the center of Heraklion. The path is marked and easy to follow.
In the area, you'll bump into lovely wooden bridges, old windmills, fruit gardens, and a few small waterfalls. If you want to cross the gorge, the hike can last around 2 hours.
The entrance to the gorge starts in the area of Peza.
Astraciano Trail
This is a pretty short path not far from Archanes, with all of its charm set on the so-called Cave of the Fairies.
The area features a beautiful lake surrounded by rocky walls with engraved silhouettes of fairies and other magical creatures.
Agia Anastasia Gorge
Why not check this small but very picturesque gorge not far from Heraklion? The gorge is named after the cavernous chapel of Agia Anastasia in the same area.
Here, the water leaking from the roof of the cave is considered to have healing properties and to work miracles.
Always check with locals to learn about events and festivals that might be going on at the time of your visit. They can be cheap and valid entertainment ways to have fun in Crete, especially in summer!
Ready to discover Crete on a budget?
🛌 Suggested accommodation in Heraklion:
🗺️ More resources to book your trip to Crete:
Pin This Guide to Explore Heraklion on a Budget!
---
You might also want to read these posts about Crete's regions:
---
About my blog: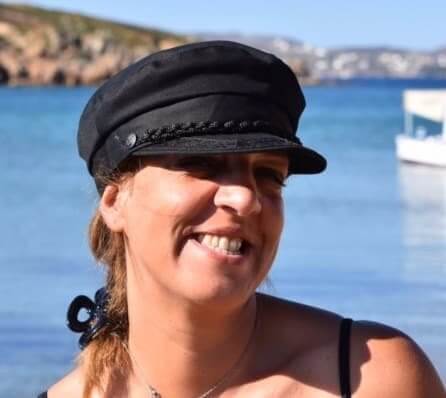 I moved to Crete in 2016. During these years, I learned much about the island.
In Crete, I juggle being a solo mom, hosting culinary tours, and writing for several travel media.
I've written for Greek Reporter, published travel guides about Greece, co-authored DK Eyewitness Top 10 Crete, and had more glasses of frappe than any regular person could ever handle.