Since I started writing about Crete (… and that's 2014!), I'm often asked things like "What's the most beautiful beach?", "What's your favorite town?" or "Which is the most traditional village?" Hard to answer, or simple: All of them! Through the years I've met first-time visitors, returning visitors, and only-going-to-Crete visitors… and we all have different opinions. Which is the prettiest village of all? I can't really make up my mind, but these are — for sure — among the most beautiful villages in Crete.
Enchanting Cretan villages
Life in Cretan Villages
What's life like in a Cretan Village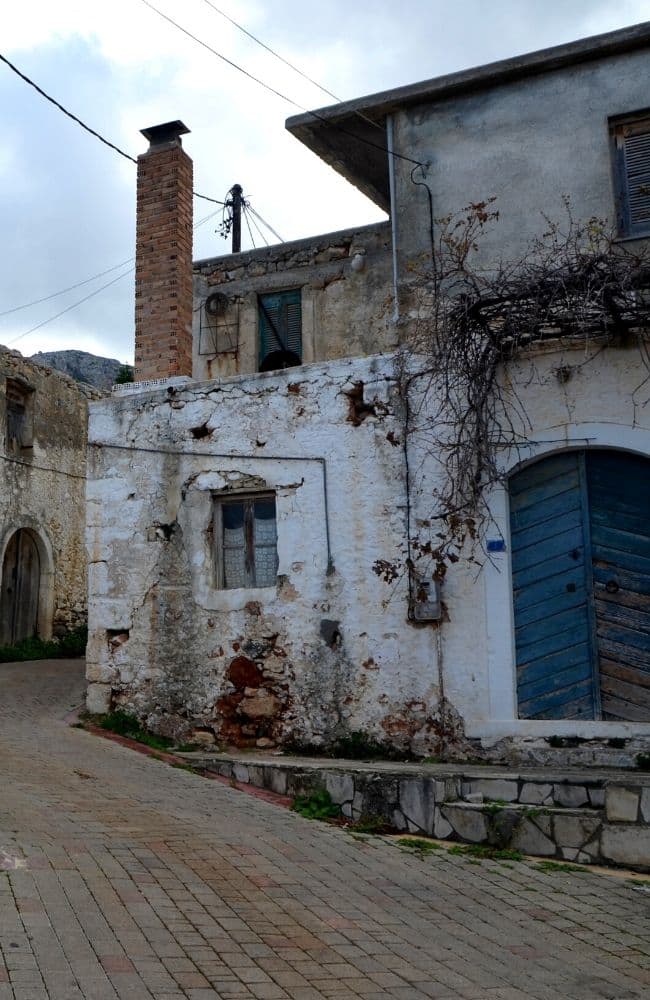 The Xorio, the village, is the place dear to the heart of every Greek, and of course, of every Cretan. And for those who had to exchange life at the village for a life in a bigger city, either to work or to study, there's always a good excuse to return during the holidays. As a matter of fact, any excuse is a good occasion.
Life runs at a different pace, or better, it meanders. There's time to contemplate, to think, and to do all those essential things that we usually postpone when we are in the city because you know… in the city, there's never enough time.
A day in a Cretan village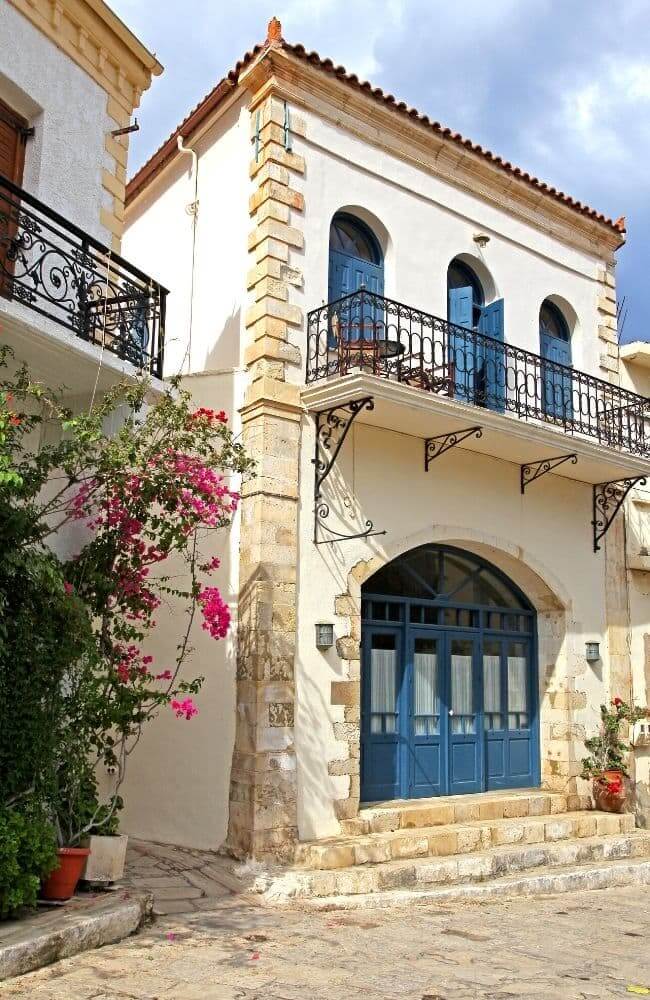 Someone once asked me, "But what do these people do all day in such a quiet place? Isn't it boring to live here?" Well, it depends. If you define boring not being able to go shopping in fancy shops or going out every single night, life can be boring… But life at the xorio is never meaningless (and, by the way, in case you were wondering social media is also a thing in remote villages!).
The village owns a balance we seem to have lost in bigger towns.
A day can be as simple as caring for sheep, gathering honey, making cheese, picking olives, or harvesting grapes. For men, having a few glasses of raki at the kafenio, and a game of tavli with old-time friends. And a chat.
Life in a Cretan village is made of fragrances. It's picking thyme, baking bread or pies in a wooden oven. In the afternoons, once the household chores have been done, women take out a chair and sit by the door in the company of other neighbors. And there are always several kids playing around.
More than just going to the beach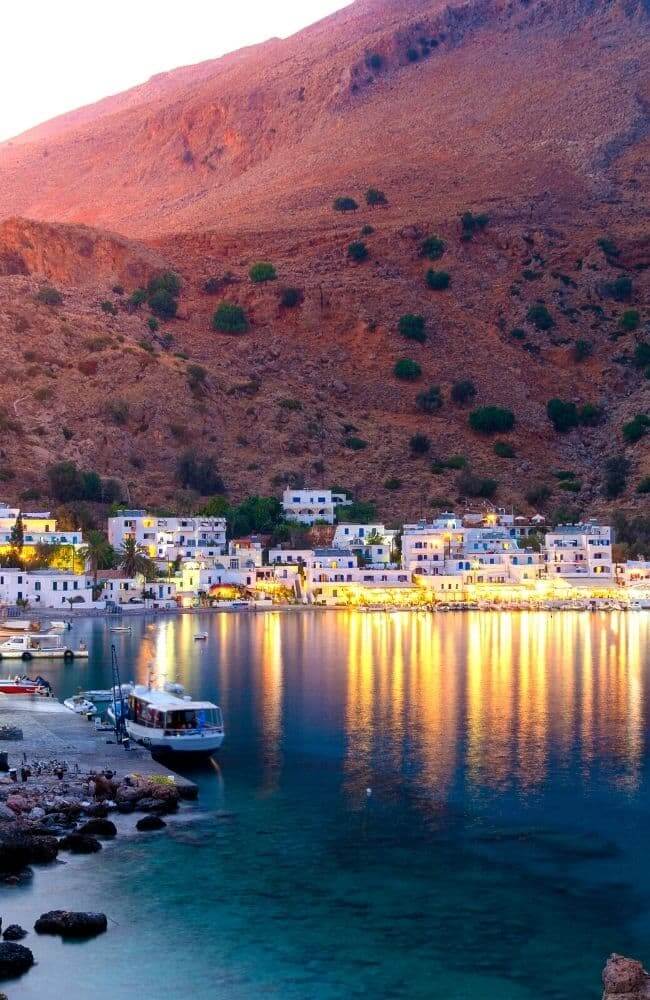 In a nutshell, spending some days at a xorio when visiting Crete will teach you how and why Crete is more than a beautiful collection of beaches.
But also why many (and I mean really many) people choose to return every year, while others never forget a stay on the island.
If you're about to visit Crete and still haven't made up your mind whether it's worthy or not to sacrifice one day at the beach to visit a traditional village, this list with the prettiest villages in Crete might help you make up your mind.
How to go about this list
It's been really hard to come up with a way to classify Cretan villages, many of them, in fact, share more than one characteristic. They have different traits in common. For instance, Therisso is both a mountain and a historic village, while not every seaside village is a fishing village as well.
Others, instead, can be neither one nor the other, but they are certainly traditional. So to put some order, I've decided to place them in each category according to their most distinctive trait, but more often than not, you'll find that villages share a little bit of everything.
On a final note, this list is not thorough, but I will add more places to see as time goes by. As many villages as I'm able to explore. I've also added my two favorite bigger cities to the list. They are not villages but they certainly share the same. The most picturesque old towns in Crete couldn't be left out of a list that includes the prettiest villages in Crete.
Most Beautiful Mountain Villages in Crete
Mochos
Region: Heraklion
Latitude: N 35.264170 | Longitude: E 25.422685
Along the alleys leading to the central square, there are also several traditional shops selling herbs gathered in the area.
To reach the village you need to climb up the mountain through a winding road for less than 10 km.
Thronos
Region: Rethymnon
Latitude: N35.257949 | Longitude: E24.642806
The village was built on top of the former ancient settlement of Sivritos, reaching the peak of its importance during Roman times. The settlement was walled and minted its own coins. Surprisingly enough, its port was ancient Soulia, currently the popular resort of Agia Galini.
Archanes
Region: Heraklion
Latitude: N 35.235613 | Longitude: E 25.159623
It's possible to visit the archaeological site inside the village as well as the sites of Fourni, Anemospilia, and Vathypetro. There's also an interesting Archaeological Museum with findings from the nearby region. Besides, the European hiking path E4 goes through the village as well.
Krasi
Region: Heraklion
Latitude: N 35.233851 | Longitude: E 25.469131
Today, Krasi's importance is also given to the fact that the village is home to one of the several European Houses of Literature, a place specially thought for writers and literary translators where they can spend time creating at very convenient fees.
In the main square check the old springs (vrisi) lright opposite the ancient plane tree, or spend some time admiring the magnificent mountain landscape that surrounds the village. You can read more about this gorgeous village in my article about Zeus' Cave and the Lasithi Plateau.
Fres
Region: Chania
Latitude: N 35.381108 | Longitude: E 24.143690
The square is also home to a small church. Not far, it's possible to visit the imposing Byzantine Church of the Virgin of Two Rocks so named since the building actually stands between two impressive rocks.
Gorgeous Cretan Fishing Villages
Loutro
Region: Chania
Latitude: N 35.199613 | Longitude: E 24.078808
>> Discover the ancient sites in Loutro in this article about the southern villages and beaches of Crete <<
Myrtos
Region: Lasithi
Latitude: N 35.003510 | Longitude: E 25.585111
Myrtos is home to a wide beach, surrounded by two promontories that shape it as a protected bay. Near the village, you can visit the archaeological excavations of the Mycenaean settlement of Pyrgos.
Mochlos
Region: Lasithi
Latitude: N 35.183710 | Longitude: E 25.905651
As a matter of fact, the importance of Mochlos in Crete's ancient past is stated by several archaeologists who consider that the settlement could have been certainly smaller than Knossos but as important as Phaistos (or Festos).
Chora Sfakion
Region: Chania
Latitude: N 35.200599 | Longitude: E 24.137276
Close to the port of Chora Sfakion, you can check the WWII memorial commemorating the evacuation of the allied forces that took place in the small town.
There are several hiking opportunities around Chora Sfakion, including the gorges of Imbros and Aradena (or Aradaina). Up in the mountains, stands another historic village of Crete, Anopolis, which was home to one of Crete's heroes, Yiannis Daskalogiannis, who fought against the Ottomans and died a martyr.
Historic Villages in Crete
Therisso
Region: Chania
Latitude: N 35.406922 | Longitude: E 23.982516
In Therisso, you can visit both the Venizelos Centre for Independence and the National Resistance Museum.
A visit to the village is one of Chania's best day trips ideas. Other than visiting the 6 km-long gorge, you can also discover the Sarakina cave, towards the north of the settlement, as well as enjoy lunch in one of the tavernas serving meat cooked in the traditional Cretan way (lamb or goat).
Therisso is a popular meeting place for locals especially during the weekends.
Anogeia
Region: Rethymnon
Latitude: N 35.291159 | Longitude: E 24.881412
The village underwent a terrible massacre when an important German general was kidnapped and then sent to Anogeia. As a countermeasure, the Germans surrounded the village and killed every man who had not escaped to the mountains. The houses were also destroyed and burned during the massacre.
Anogia is also known for being the place of origin of several important Cretan Lyra players of Crete.
Ano Viannos
Region: Heraklion
Latitude: N 35.052393 | Longitude: E 25.407894
The village gained fame and recognition all over Crete both during the resistance against the Turks in the Ottoman period as well as in the times of the Nazi occupation of Crete. In September 1943, over 350 locals, including women and children, were executed by the Germans after the they received the strict order to Destroy Viannos County.
Traditional Villages in Crete
Vamos
Region: Chania
Latitude: N 35.408071 | Longitude: E 24.197915
Since Vamos was for a long period the capital of the Sfakia region (currently the capital is Chora Sfakion), it was home to beautiful neoclassic buildings (konakia). In recent times, the village was restored, recovering its ancient splendor.
Once in Vamos, make some time to visit Karidi Monastery as well as the impressive olive mill with a dozen of well-preserved stone arches.
Kritsa
Region: Lasithi
Latitude: N 35.157175 | Longitude: E 25.644188
In Kritsa, you can see the museum dedicated to the local heroine Kritsotopoula, a martyr in the hands of the Turkish during the Ottoman period. During Easter, you can witness the important celebrations taking place in Kritsa, when processions depart from the three main churches to concentrate in the main square.
Near Kritsa, don't miss a stop at the church of Panagia Kera, one of the finest Byzantine churches in Crete, with stunning frescos and icons from the same period (between the 13th and 14th centuries).
Epano Elounda
Region: Lasithi
Latitude: N 35.266428 | Longitude: E 25.710599
Most of these old-looking houses have been recently renovated and host some of the nicest rental homes in the area. In this gorgeous little town were also filmed some of the scenes of the famous Greek series To Nisi (The Island), which tells the story of the Leper Colony of Spinalonga.
Margarites
Region: Rethymnon
Latitude: N 35.339192 | Longitude: E 24.686966
Pottery is a very ancient craft on the island, which has been practiced with very beautiful results by every ancient civilization that lived on Crete. However, Margarites is worth a visit not only for the pottery shops and the ceramic vases that decorate the alleys.
But it's also a nice experience to walk along the streets, check the picturesque stone houses or to stop and enjoy a traditional meal in the main square.
Vryses
Region: Chania
Latitude: N 35.375632 | Longitude: E 24.201418
The green and lush landscape of Vryses is enhanced by springs and water fountains and many tall plane trees that give shade and a fresh atmosphere to the central square.
Near Vryses, visit Dourakis Winery, in the village of Alikampos.
Spili
Region: Rethymnon
Latitude: N 35.215658 | Longitude: E 24.535143
In the village, you can visit the Folk Museum of Spili, housing objects such as work tools, and examples of local crafts, typically embroidery and lace. As a matter of fact, embroidery pieces are the most popular souvenir you can take home from Spili.
Those wondering if Spili can be a good place to stay in Crete can read more about this on other villages of Crete in this article.
Sfaka
Region: Lasithi
Latitude: N 35.155270 | Longitude: E 25.923672
Those staying in Sfaka can also visit the beaches of Mochlos, Tholos and even Voulisma. From the village, there are beautiful views of the Gulf of Mirabello.
Kroustas
Region: Lasithi
Latitude: N 35.139841 | Longitude: E 25.660096
For an authentic Cretan lunch, check Stavrakakis Taverna, on the main road of the village. Among the local delicacies, check Krousta's special myzithra cheese pies and the boiled goat (aiga brasti).
In summer, it's a good idea to participate in the local Panigiri (festival) of Ftazymo. Ftazymo is a special type of Cretan rusk produced in Kroustas.
Axos
Region: Rethymnon
Latitude: N 35.309068 | Longitude: E 24.841524
Another unique thing to do in the village is to walk around the archaeological settlement of Ancient Axos, which dates back to the Minoan era.
Tzermiado
Region: Lasithi
Latitude: N 35.199517 | Longitude: E 25.487092
Engage in conversation with the locals, and spend the night to live life at a completely different pace. You will be surrounded by the spectacular views of the fertile Lasithi Plateau, including its windmills, fruit trees and crops, and an incredibly relaxing atmosphere. Read more about the villages of the Lasithi Plateau in this visit guide to the Cave of Zeus.
Bonus: Beautiful Old Towns in Crete
Chania Old Town
Region: Chania
Latitude: N 35.517469 | Longitude: E 24.017813
In the area, discover the different neighborhoods and stop for a round of Cretan raki in a traditional kafenio.
>>Check the best things to see in the old town<<
Rethymnon Old Town
Region: Rethymnon
Latitude: N 35.368167 | Longitude: E 24.476266
>>Check the 10 best things to do in Rethymnon<<
---
Have you ever been to any of these villages in Crete?
Let me know in the comments below!
---
Travel Plans for Crete?
More Resources to Organize Your Trip!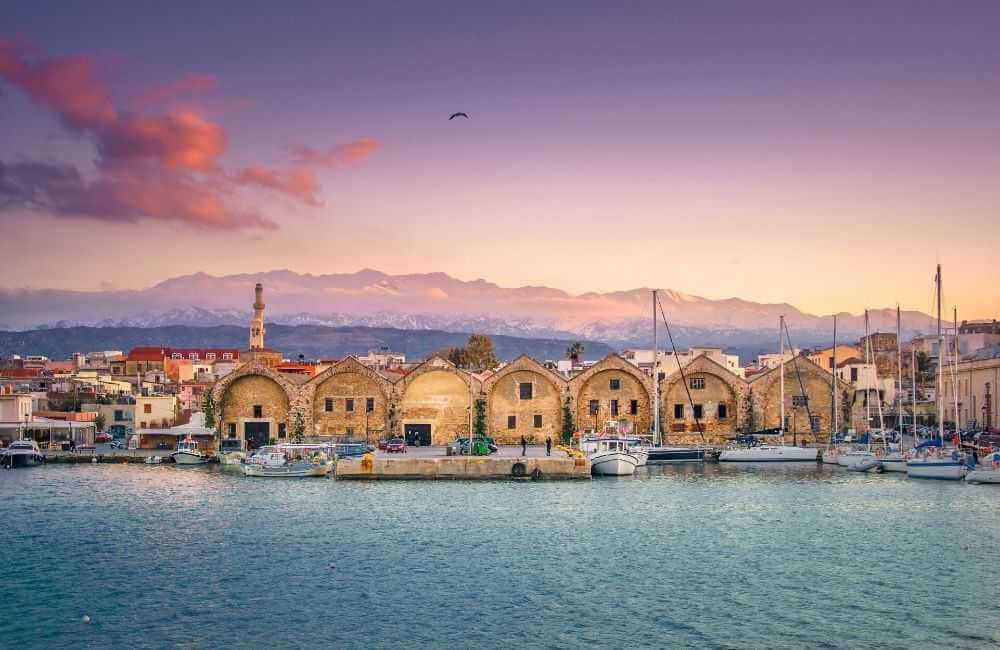 Start by heading right to my tips to plan a trip to Crete for in-depth details you need to know about Greece. You can also check my post to better know what to pack for a trip to the island or read this info to visit Crete with children!
Get in touch if you need extra help to plan your trip. If you want to tour West Crete, check my guide. Want more? Join my Private Facebook Group to connect with like-minded travelers who love Crete as much as you do!
Make Sure You've Got Everything For a Hassle-Free Vacation!
I never move around the islands without my Osprey backpack, a sturdy but light travel partner I just love. For short trips, I carry this little crossbody bag. If I drive, I pack my Nikon D7200 and a good travel guide: Lonely Planet's Best of Greece & the Greek Islands.
When it comes to plane tickets, compare prices with a powerful search engine. However, nothing beats traveling by sea in Greece. With Ferry Hopper, you can book in advance at the lowest price.
For accommodation, I personally use Booking.com. Traveling to remote places is easier with Discover Cars. Other times, I join organized tours with GetYourGuide, which features anything from cooking lessons to airport transfer!
Get in touch and let me know!
Read more:
Discover the Most Beautiful Monasteries in Crete – Visit Guide
Best Books About Crete: Discover Crete from Home
Discover the Most Stunning Archaeological Sites in Crete
The Most Exciting Things to Do in Matala, Crete
Explore the Fantastic Unspoiled Beaches in South Crete
This is a pin-pin situation!
---
You might also want to read:
---