Lasithi, the easternmost region of Crete, is one of the less-visited areas of the island, this gives it a rather off-the-beaten-track vibe, especially in the south. Despite having a more developed northern coast, the East of Crete remains a place ideal for a quiet holiday, as well as a refuge for some of the oldest traditions of Crete. The region has lots of villages, archaeological sites, and unique landmarks to explore, and most of all, it's perfect to relax on the heavenly Lasithi beaches, some of them completely ignored by mass tourism. Let's check here the best beaches in East Crete.
---
Disclaimer: Posts include affiliate links leading you to products or services, I might earn a small commission if you make a purchase. This has no extra cost to you but allows me to continue writing articles that are helpful for your travels. I only recommend things I use myself or that I believe will deliver value to you. 
---
Best Beaches in East Crete: Lasithi, the Eastern Region
We've identified 43 stunning beaches in the East of Crete…! Check the references under the map to know which to visit and where they are.
Map of East Crete (Best Lasithi Beaches)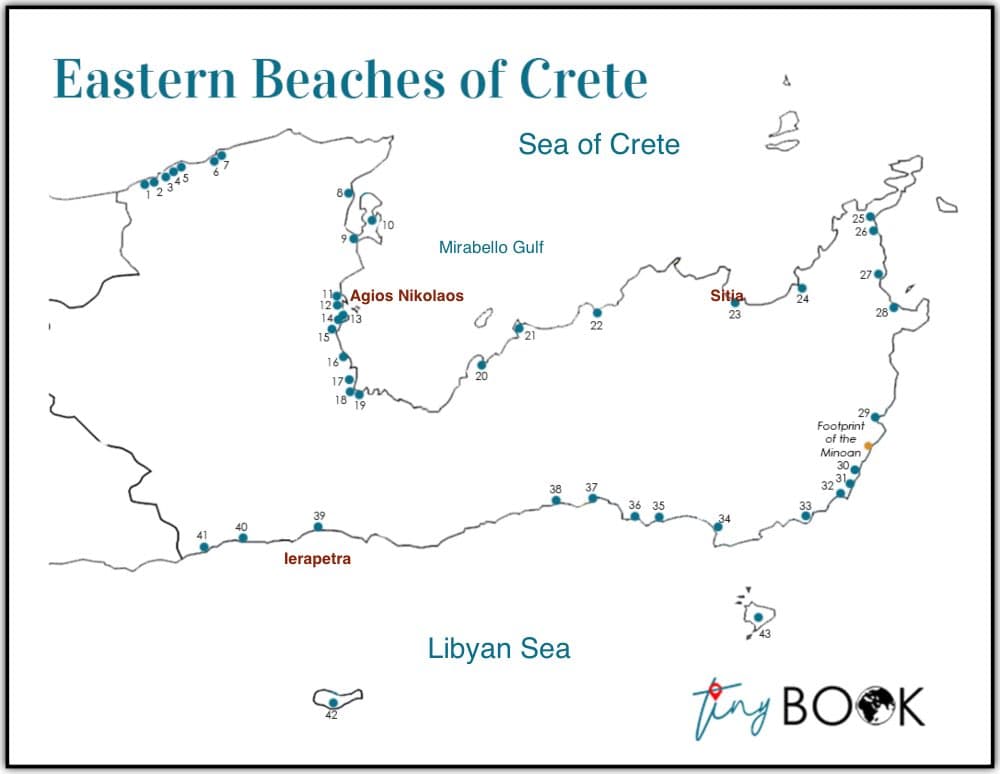 Frequently Asked Questions About East Crete and the Beaches in the Lasithi Region
Which are the main cities in East Crete?
The capital of the region is Agios Nikolaos, on the Gulf of Mirabello. The city has a hospital, schools, and many touristic features, including hotels, restaurants, organized beaches, sports facilities, churches, and museums.
Sitia is an important port on the Sea of Crete. Sitia is 66 km from Agios Nikolaos, on the northern coast, and 59.6 km from Ierapetra in the south. The city has also a small airport.
However, the most important city in the region of Lasithi is Ierapetra, next to the Libyan sea. Ierapetra is Crete's fourth-biggest city on the island, right after Heraklion, Chania, and Rethymnon.
Where to stay in East Crete?
The most convenient places to stay are the main cities and some of the villages close to them:
– North coast: Stay in the cities of Agios Nikolaos and Sitia, or the touristic villages of Sisi, Elounda, Istro, and Mochos.
– Easternmost coast: Villages of Palekastro and Zakros.
– South coast: Choose the city of Ierapetra or the touristic towns of Myrtos, Agia Fotia, and the village of Makrigialos.
– Mountain villages (inland): Agios Giorgos (Lasithi Plateau), Kritsa, Sfaka, Exo Mouliana.
How many days do I need to visit East Crete?
If you just want to focus on the area of Agios Nikolaos, a minimum of three days will allow seeing the main landmarks, the city, and some beaches in the area, or even take a day to visit Sitia and Vai. Plan from a week to 10 days if you also want to pay a more thorough visit to the extreme East and the South.
What's the difference between the northern coast and the southern coast in East Crete?
While on the rest of Crete, the northern towns are well-developed both in terms of tourism but also regarding all-year-round activities (universities, commerce, etc.), in Lasithi, the northern area is more touristic, while the south is developed in terms of local needs. For instance, Agios Nikolaos is a very busy center in summer while, on the other hand, Ierapetra is pretty much alive all year long.
Is there an airport in the Lasithi region?
V. Kornaros (JSH) is Sitia's small regional airport, about 1 m from the city center. It receives national flights from Athens, Lefkada, and Alexandropouli, and seasonal charter flights from Rodhes, as well as Oslo, Stockholm, and Copenhagen.
Best Beaches on the North Coast of Lasithi
In no particular order, these are some of the best beaches in the northern part of the region…
Beaches of Sisi
Latitude: N 35.308521 | Longitude: E 25.518041
Location: 25.5 km from Agios Nikolaos, 40 km from Heraklion
There are a few organized beaches in and around the village of Sisi, however, the coast is rather rugged and rocky in the area.
Paralia Limani is the beach at the port. Towards the east, you can visit Boufos, Avlaki, and Spiliada.
The coast of Sisi (also written Sissi), is usually affected by the northern winds, making the sea quite wavy. Therefore, most tourists seek the calm waters of the port (Paralia Limani means exactly the beach at the port).
Towards the East, Boufos is an organized sandy beach with sunbeds and umbrellas. There's also a convenient taverna. Boufos is just a couple of hundred meters from the port of Sisi.
Not far from Boufos, Avlaki is a small shore, also organized and a bit more protected than Boufos, since it's located at the exit of a fairly narrow bay.
Next to Avlaki, you can also visit Kalimera, another organized beach with very calm waters and well-protected from the wind.
Here, it's possible to practice watersports, rent a sunbed, and have a drink at the beach bar belonging to the close-by hotel.
The easternmost beach of Sisi is Spiliada, less crowded than the other beaches of the village. Spiliada is a sandy beach with a few trees that provide shadow for free if you don't want to rent an umbrella for the day.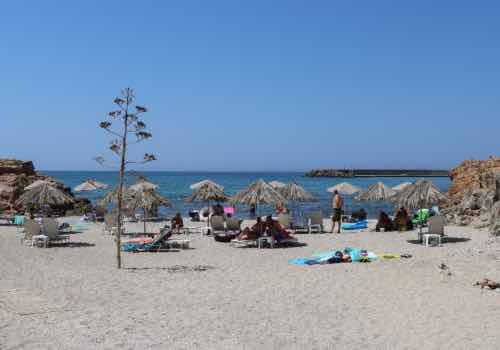 Milatos Beaches
Latitude: N 35.319594 | Longitude: E 25.561424
Location: 25 km from Agios Nikolaos, 41 km from Heraklion
There are a few beaches you can visit in the traditional seaside village of Milatos.
In general, these are pebbled beaches and some of them are organized.
The area is usually hit by northern winds, which makes the sea quite wavy.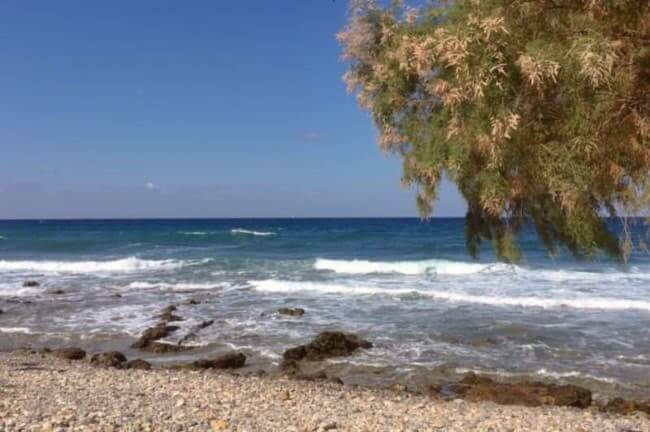 Not far from the port, the main beach of the village is not very popular since it has rough waves and it lacks organization, besides it has rather big pebbles and rocks.
For dramatic landscapes and isolated experiences, go east for about 1 km to find Pigada, surrounded by beautiful cliffs although also windy and wavy. The beach is partially sandy and lacks organization.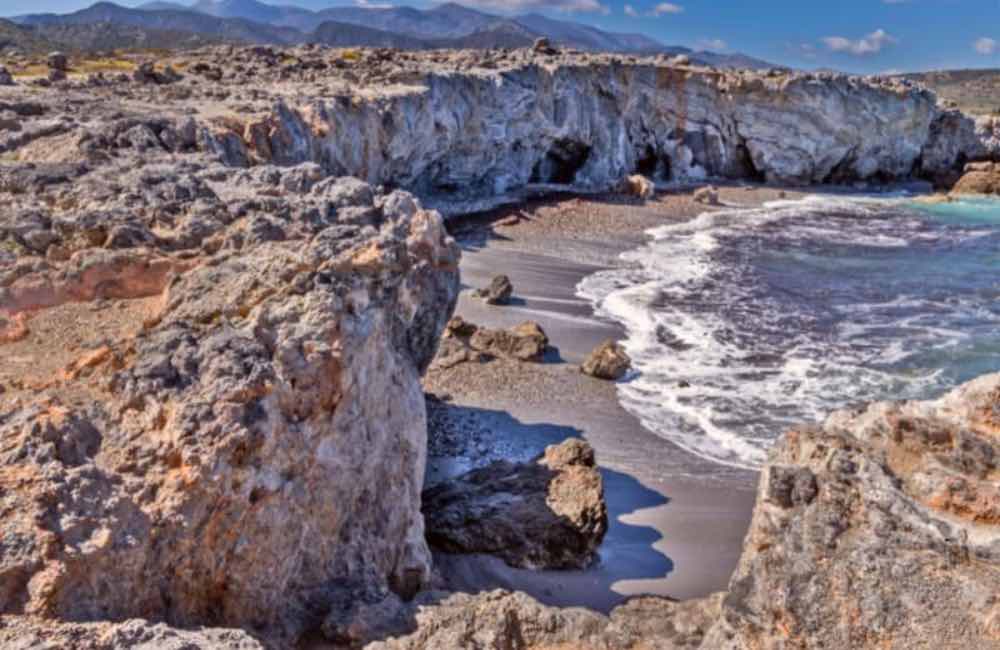 Beaches on Mirabello Gulf (West of Agios Nikolaos)
These beaches are located facing the Gulf of Mirabello (before Agios Nikolaos if you were coming from Heraklion).
Plaka Beach
Latitude: N 35.299622 | Longitude: E 25.727933
Location: 15.7 km from Agios Nikolaos, 81 km from Sitia.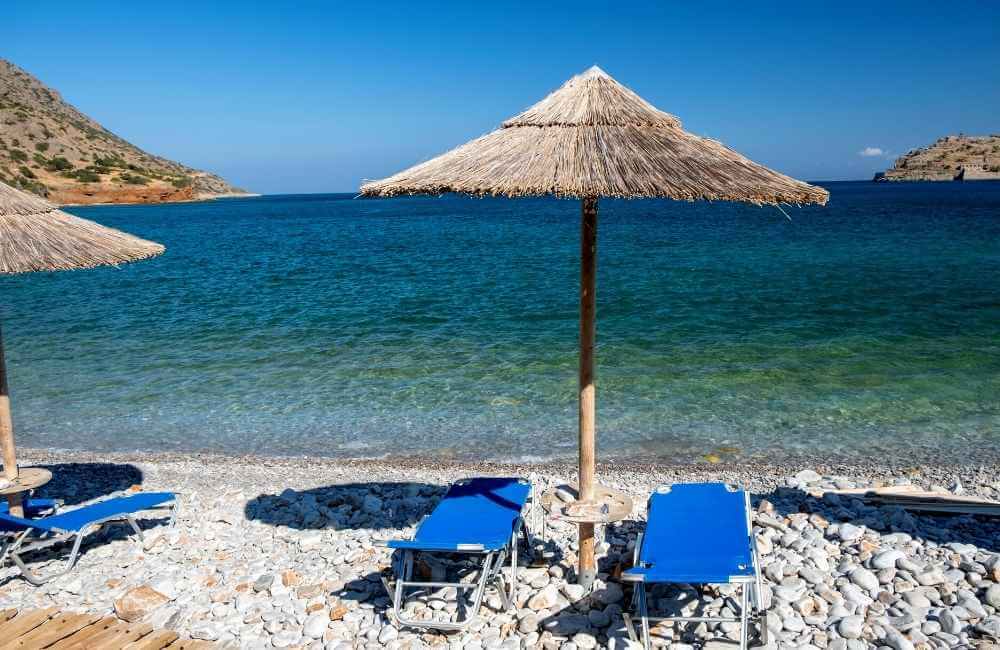 Smooth, white pebbles and incredibly crystalline clear waters are the main characteristics of Plaka, the beach opposite Spinalonga island.
The beach is well organized and there are some great tavernas right on the waterfront.
This is also a favorite spot for snorkeling and for fishing (mostly for locals) due to how transparent the water is in Plaka.
In Plaka, it's also possible to hire a boat ride and visit the former Leper colony of Spinalonga, one of Crete's most important historic and archaeological sites.
Elounda
Latitude: N 35.262018 | Longitude: E 25.722637
Location: 10.7 lm from Agios Nikolaos, 44 km from Ierapetra
Elounda is among the top resorts on the island, and it's also where the most expensive hotels of Crete concentrate.
The resort has long been a favorite of worldwide celebrities both for the several 5-star hotels but mostly for the calm waters of the whole Gulf of Mirabello.
The beach is not as wide and heavenly as you might expect with such a reputation, but the sea is calm and clean.
The most frequented beach is Skisma, a well-organized shore. All along the strip of Elounda, there are bars and tavernas specialized in fresh seafood.
Click here for more information and to check the latest prices in one of the most exclusive Hotels in Elounda.
Kolokitha Beach (Agios Loukas)
Latitude: N 35.261991 | Longitude: E 25.751423
Location: 78.3 km from Sitia, 47.2 km from Ierapetra
The Spinalonga peninsula, also known as Kolokitha, hosts the beautiful beach of Agios Loukas.
To get there from Elounda, it's necessary to pass the artificial road on top of the Olous, an ancient sunken city, as well as the windmills.
Then, continue driving on the dirt track that leads to the beach parking. From there, hike down towards the shore (about 15 minutes).
Kolokitha is a wide sandy beach with beautiful views and not as overcrowded as other Lasithi beaches.
It's not organized and it's a great spot for snorkeling and swimming.
Kolokitha is also a place where the day cruises that visit Spinalonga stop for a beach barbecue.
Beaches in Agios Nikolaos
Ormos Beach
Latitude: N 35.205279| Longitude: E 25.71534
Location: 68.7 km from Sitia, 37,6 from Ierapetra
Ormos Beach is a very calm shore not far from the center of Agios Nikolaos, the waters are usually waveless.
The coast is very shallow too. Unfortunately, it tends to be a bit crowded during the peak season.
It's easy to reach and it's one of the best family-friendly beaches in the area, there is even a small playground area especially thought for children.
Not far from the shore, there's an important Byzantine church from which the village of Agios Nikolaos took its name.
You might also want to read: How to get from Heraklion to Agios Nikolaos
Municipal Beach of Agios Nikolaos (Kitroplateia)
Latitude: N 35.189087 | Longitude: E 25.72101
Location: 66.8 km from Sitia, 35.8 km from Ierapetra
Right in the city center, Kitroplateia is Agios Nikolaos' main beach, therefore it's usually very busy, besides the beach is not so spacious.
Along the coastline, there are several cafeterias and restaurants, and many places selling beach supplies. Kitroplateia is a beach with small pebbles while the shore is shallow.
If you don't mind crowds and loud music, it can be a good compromise when you don't have a car or if you're spending just a few hours in Agios Nikolaos.
Ammos Beach
Latitude: N 35.187076 | Longitude: E 25.715902
Location: 66 km from Sitia, 35 km from Ierapetra
Ammos is a beach with soft, fine sand, perfect for children because it's also very clean, shallow, and safe, never affected by strong currents or winds.
Ammos is known as the beach of the Marina since it's very close to the area.
It's not far from the municipal beach of Agios Nikolaos and it's a favorite for locals, especially on the weekends.
If you're staying in town for just a few hours, choose this shore over Kitroplateia, it's quieter.
Ammoudi Beach
Latitude: N 35.19862 | Longitude: E 25.713007
Location: 36.9 km from Ierapetra, 67.9 km from Sitia: 67.9 km
Although this is not my favorite beach, Ammoudi is the one I prefer when it comes to city beaches in Lasithi, specifically in Agios Nikolaos
Ammoudi beach is quite close to the city center (you can easily walk there from the lake area of Agios Nikolaos) and it's very well organized.
The bay is not affected by winds or currents, it's shallow and very clean, which makes it a favorite shore for families.
All these characteristics make it a trendy spot in the city, so it's hard to find available umbrellas or sunbeds if you arrive too late.
Almyros Beach
Latitude: N 35.19106 | Longitude: E 25.71524
Location: 33 km from Ierapetra, 64.1 km from Sitia
Almyros is, by far, my favorite beach in Agios Nikolaos.
It's super wide and long, allowing everyone to find a corner to stay in, even during the packed summer season.
The spectacular sea of Mirabello Bay is at its best in Almyros, with unique shades of green and blue.
The shore is shallow and calm, it has very fine, golden sand, and it's one of the best bays you can visit if you're staying in the area.
The key feature of the beach is the small stream of water that flows across the beach to end in the sea, a great spot for photography. Kids love to pretend they are adventurers and explorers.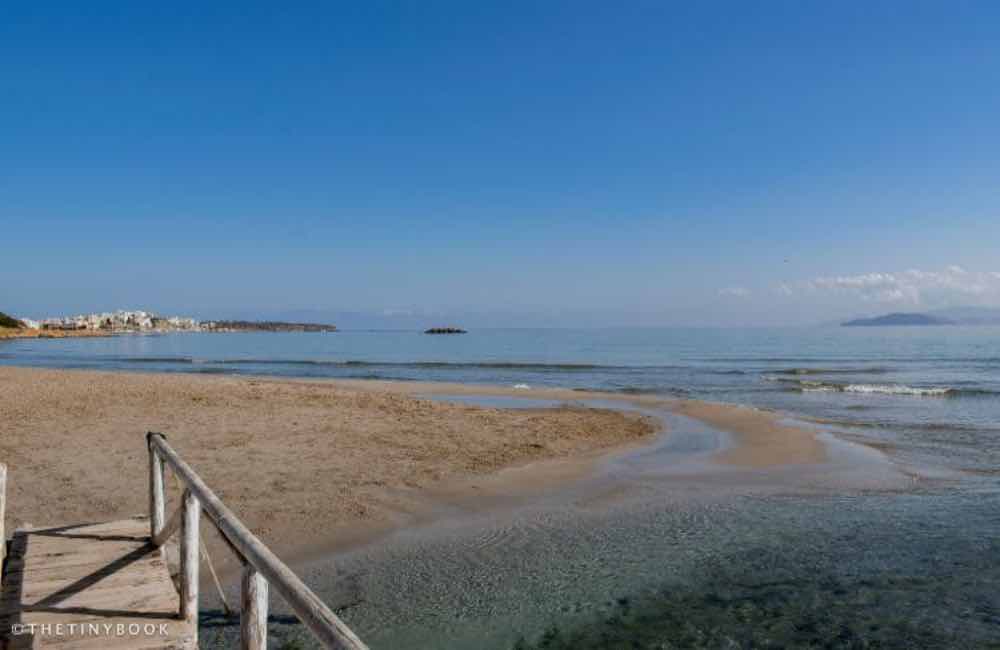 Beaches on Mirabello Gulf (East of Agios Nikolaos)
These beaches are located facing the Gulf of Mirabello, after Agios Nikolaos heading East.
Ammoudara Beach
Latitude: N 35.164897 | Longitude: E 25.717814
Location: 5.5 km from Agios Nikolaos, 32.1 km from Ierapetra
One of the most family-friendly beaches on Mirabello Bay is Ammoudara, just 5 km from the center of Agios Nikolaos. It represents a good option to escape the crowded beaches of the city as it's only 10 minutes away.
This sandy beach with clear water is oriented towards the east, therefore it's not affected by the winds that usually hit the northern coast of Lasithi, and the sea is not wavy.
The general conditions of the beach make Ammoudara a perfect beach for small kids.
Voulisma (Golden Beach)
Latitude: N 35.125594 | Longitude: E 25.746135
Location: 12.7 km from Agios Nikolaos, 22 km from Ierapetra
Golden Beach, locally known as Voulisma, ranks among the best beaches on the island.
It's located on the coast of the small village of Istro, a few minutes away from Agios Nikolaos and it's an organized beach, with clear fine sand, and turquoise waters.
Voulisma can get crowded in summer.
The beach is very popular for families since it's rather shallow, as well as among young people too.
There is a beach bar-taverna and it's also possible to rent umbrellas and sunbeds for the day.
There are other two beaches in the area of Istro, not far from Voulisma, they are the pebbled beach of Karavostasi, quite wide and with partial organization, and Agios Panteleimonas, a smaller, organized bay, with sand and pebbles.
None of them is as beautiful as Voulisma, but both are certainly less crowded, parts of Karavostasi belong to an exclusive hotel in the area and are closed to the public.
Tholos Beach
Latitude: N 35.152937 | Longitude: E 25.861726
Location 29 km from Agios Nikolaos, 22.6 km from Ierapetra
Moving on, along the Gulf of Mirabello, towards the east, it's possible to reach the fairly unknown shore of Tholos, a fantastic isolated beach near the village of Kavousi (famous for its millennial olive tree).
The beach has sand and small pebbles, and it's rather calm and virtually waveless — as most beaches on the gulf.
Despite lacking organization (except for a small beach taverna), you can find shade under the tamarisk trees that line up along the shore.
Whether you're staying in Agios Nikolaos or the southern coast of Ierapetra, the beach is close to both centers and easy to reach no matter where you're based.
Mochlos
Latitude: N 35.182952 | Longitude: E 25.906129
Location: 38.4 km from Agios Nikolaos, 30.1 km from Ierapetra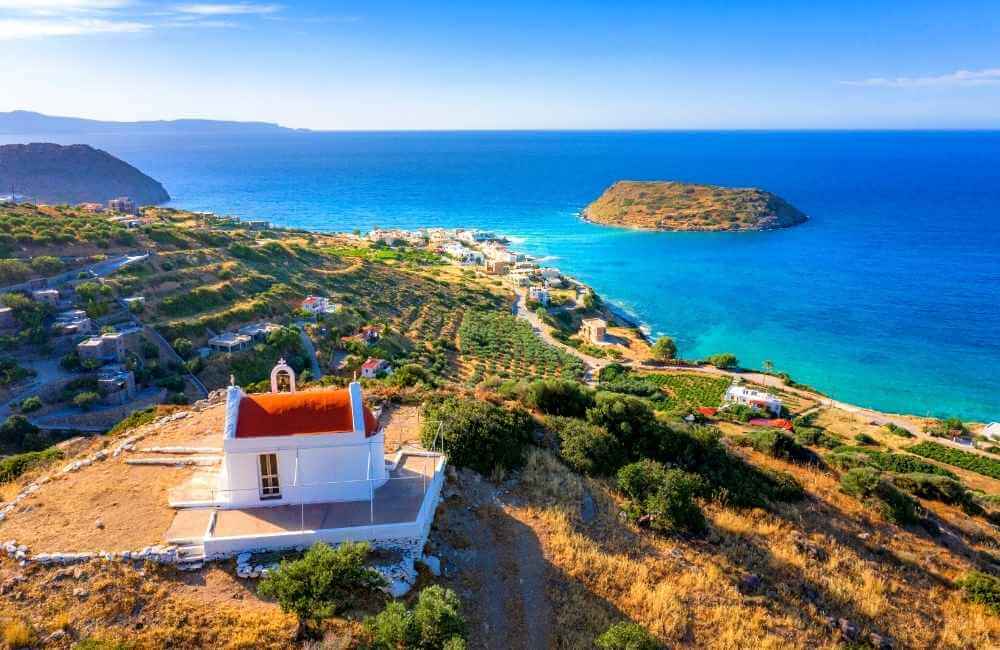 The tranquil seaside and fishing village of Mochlos is located in the extreme east of the Gulf of Mirabello, less than an hour away from Agios Nikolaos.
The village has a very small shore, with transparent waters and a few tavernas in the area.
Right in front of the beach, there is a small islet and there are several ruins from a former Minoan settlement.
According to locals, the area is subject to changing currents and it's not wise attempting to swim towards the islet despite being so close to the shore (about 250 meters).
Near the small port of Mochlos, there's a beautiful rocky beach, ideal to spend an afternoon in complete loneliness.
The village does not have the most stunning beach of Lasithi, however, it's very popular among visitors for its relaxed vibe and cozy atmosphere.
You might also want to read: Unforgettable Day Trip to the Lasithi Plateau, Crete.
Best Beaches on the Extreme Eastern Lasithi Coast
Remote, lonely, and beautiful, the extreme east of Crete hosts some stunning beaches, take a look…
Paralia Sitias
Latitude: N 35.205211 | Longitude: E 26.109420
Location: 60 km from Ierapetra, 67 km from Agios Nikolaos
Paralia Sitias is the municipal beach of this important center of East Crete, it lies on the eastern side of the town, not far from the port.
The beach mixes sand and smallish pebbles while the bay is shallow and quite safe.
In the area, there are bars and restaurants and it's also possible to practice different water sports.
The main portion of the beach is organized (toilets, showers, umbrellas, and a lifeguard service), but there are also some more isolated spots the farther you go from the city to the east.
Although there are more beautiful beaches around Sitia such as Vai and Kouremenos, this beach is a good option if you rather stay in town.
You might also want to read: Best things to do in Sitia.
Vai Palm Beach
Latitude: N 35.254528 | Longitude: E 26.265406
Location: 23 km from Sitia, 92.7 km from Agios Nikolaos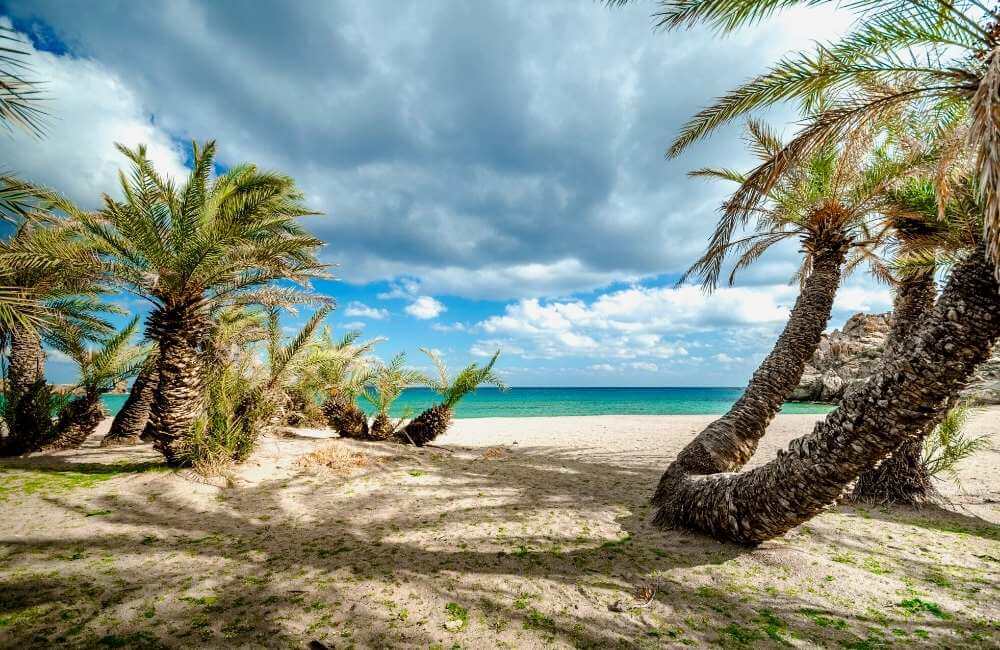 The Palm Grove and Beach of Vai is one of Crete's best-known beaches and probably one of the most beautiful of the Lasithi beaches.
The shore is usually crowded during the peak summer months and until the very end of the summer season.
Home to the largest palm tree grove all over Europe, Vai's most distinctive characteristic is the unique forest of Crete date palm (Phoenix Theofrasti) vai means palm in Greek.
The wide shore has beautiful clear waters, it's shallow and quite calm as well.
The beach is shallow and not severely affected by strong winds. It's a nice beach for families, better if visited during shoulder months (May or October) to avoid the crowds and the chaos.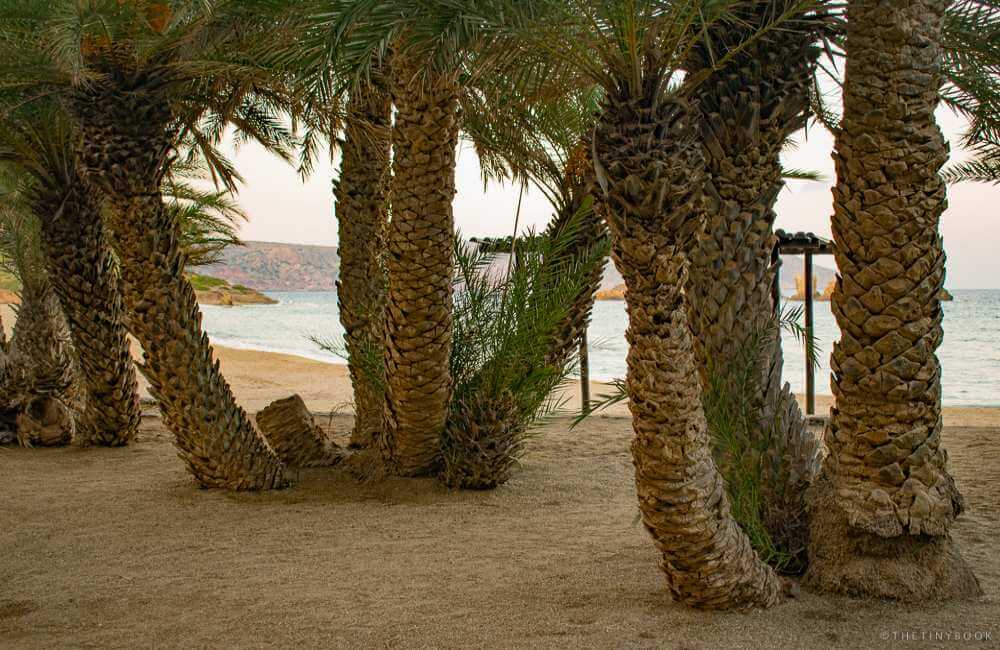 The beach is very well organized, there are beach bars, restaurants, umbrellas, showers, and a free parking area too.
If you're in the mood to explore, don't miss the spectacular Toplou Monastery not far from the beach.
On one of the extremes of the beach, a flock of stairs will take you quite high to take spectacular panoramic photos of the beach.
On the opposite end, there's a series of coves, usually preferred by naturists.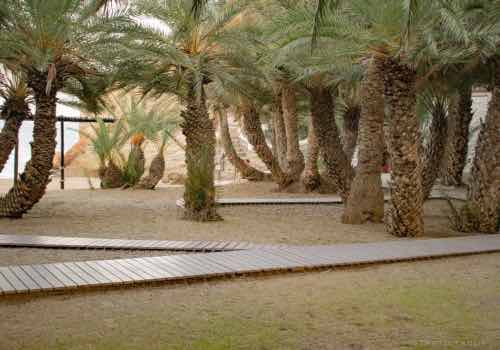 The whole area of Vai is quite isolated, the best places to stay nearby are Sitia or Ierapetra.
North of Vai, you can also visit the beaches of Erimoupolis (Itanos), or travel south to stop at some of the other wonderful beaches that are on the road to Xerocampos.
Itanos Beach
Latitude: N 35.264577 | Longitude: E 26.263187
Location: 2.5 km from Vai Beach, 90 km from Agios Nikolaos
Just under 3 km from the more popular and crowded Vai, the beaches of Erimopoulis, widely known as Itanos, are a series of different small but relaxing shores in East Crete.
The hidden and protected position of the coves makes them safe and protected from waves or winds.
The main beach of Itanos is ideal for families since it's shallow and it has fine sand with very few stones.
On one of the extremes of the coast, there's an area mostly used by naturists, it's quite private and secluded.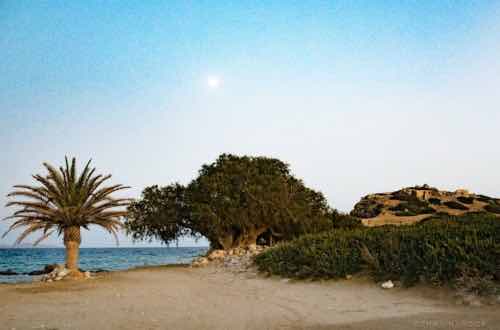 The beach has no organization and it's rather far from facilities such as supermarkets or tavernas, the closest place to buy drinks or food are the canteens of Vai beach.
The most characteristic feature of the area is the small Dorian settlement at the entrance of the beach, the ruins of the archaeological site are open to the public.
The place is also a hot spot to practice snorkeling since part of the ruins of Ancient Itanos still lie under the sea.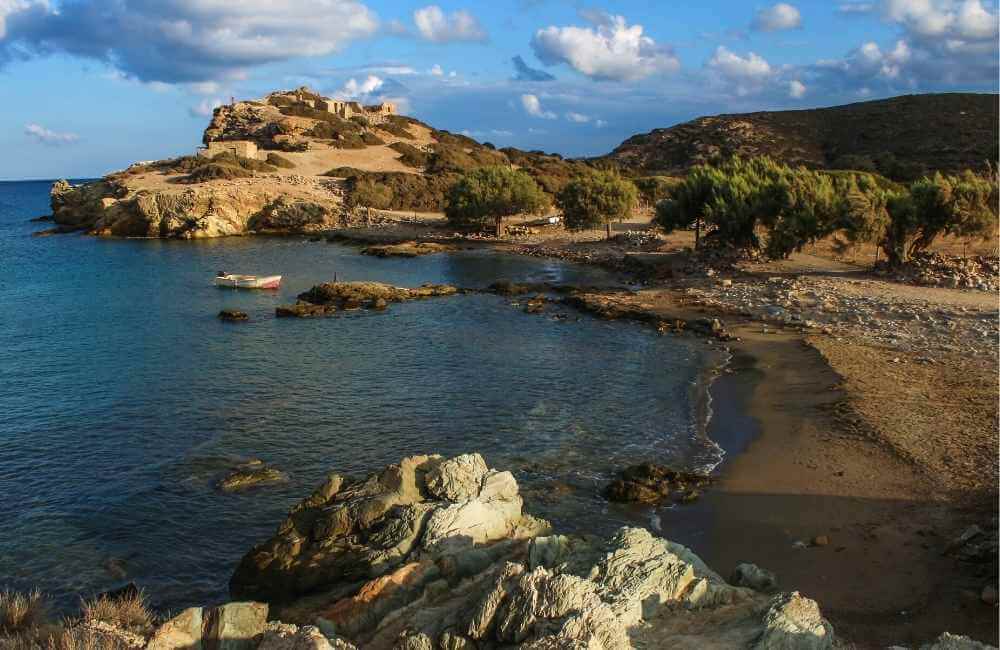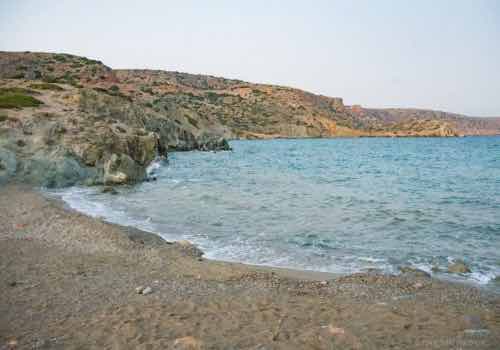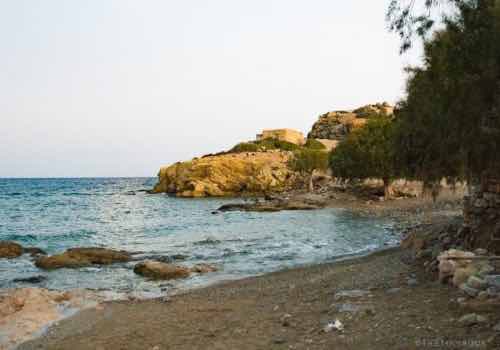 Kouremenos Beach
Latitude: N 35.214828 | Longitude: E 26.268117
Location: 19 km from Sitia: 19 km, 85.6 km from Agios Nikolaos
Less than 1 km away from the small eastern settlement of Palaikastro, Kouremenos is a wide bay bathed by unique turquoise waters.
The beach is shallow with fine, yellow sand, ideal for families with kids.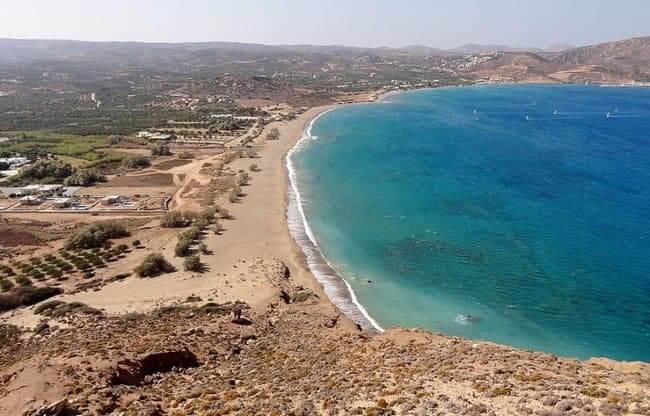 Kouremenos is almost 2 km long, and usually not too crowded. Its unique marine landscape makes snorkeling a favorite activity.
However, the most popular sport in Kouremenos remains windsurfing, as the beach presents the ideal conditions for this activity.
The beach is partially organized, and you can opt to rest under the tamarisk trees if you prefer not to rent an umbrella.
There are some tavernas and beach bars, and it's possible to book accommodation in the area as well as in Palekastro.
Chiona Beach
Latitude: N 35.197155 | Longitude: E 26.277555
Location: 19.5 km from Sitia, 10 km from Vai Beach
Another beautiful shore in Eastern Crete is Chiona, a favorite for those who visit Lasithi every year, and a secret place for naturists too.
There are different coves you can visit in the area of Chiona, which is also close to the village of Palekastro.
Palekastro is an important town in the East. When it comes to staying near Chiona, the town is the place to go.
It also caters to needs such as shops, a supermarket, and a few tavernas.
The area is also famous for the fish restaurants by the waterfront, so there's not a need to pack a lunch.
The organization is minimal, but different trees on the beach provide shade too.
Kato Zakros
Latitude: N 35.098624 | Longitude: E 26.262238
Location: 43.8 km from Sitia, 112.8 km from Agios Nikolaos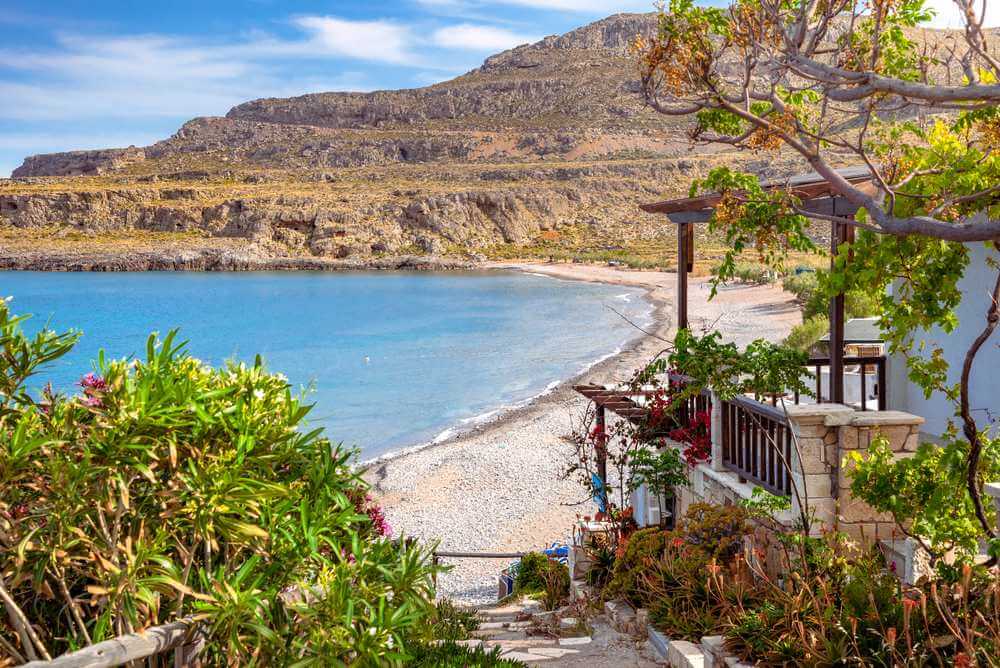 The area is better known for being close to Zakros, where lies one of the four unearthed Minoan Palaces on the island.
However, the seaside area of Kato Zakros (or lower Zakros) has two beautiful small beaches and a fairly long and wide shore.
It is a great idea to rest at this beach after having explored the archaeological site, or once you've hiked down the impressive gorge of Zakros, also known as the Valley of the Dead.
The ravine is known for being a massive burial place during the Minoan period.
There are just a few good tavernas on the beach and very limited choices of accommodation if you want to spend the night.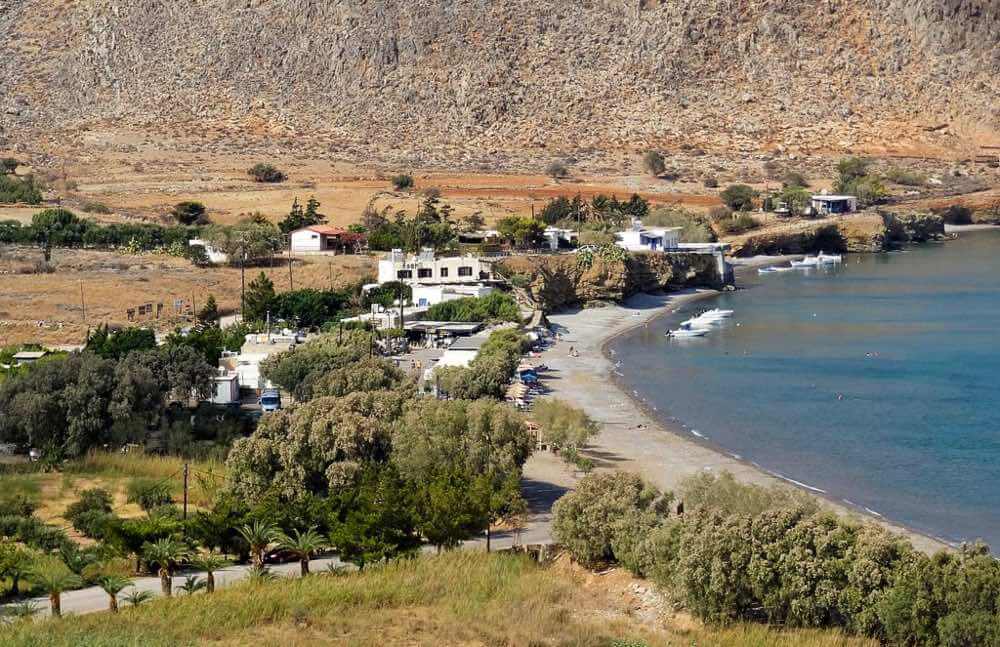 As far as the shore is concerned, it's a sandy beach with pebbles in some areas (especially on the main, bigger beach), with a shallow, crystal clear sea, usually quiet, waveless, and calm.
The whole area has a very special atmosphere, where it looks as if you can enjoy all the best of Crete concentrated in just one place: Zakros' gorge, the Minoan ruins of the palace, the olive groves, some excellent tavernas, and a stunning beach.
Beaches of Xerokampos
Latitude: N 35.032634 | Longitude: E 26.213779
Location: 46.5 km from Sitia, 66.9 km from Ierapetra
Distance from Agios Nikolaos: 100 km (South road), 107 km (North road)
The extensive region known as Xerokampos is a collection of varied and beautiful beaches on the extreme southeastern tip of Crete.
Remote and hard to access, as well as far from every local airport, Xerocampos is the place to go for complete isolation and total relaxation.
Mazida Ammos is the biggest of all the beaches in Xerokampos, and it's probably also one of the prettiest bays in southern Crete, with a very exotic feel. It has turquoise waters, and the sand is clear and very fine.
The bay is protected from the small cape Trachilos, which makes the sea quite flat and calm. The small islet of Kavali stands right opposite this shore.
Another beach worth a visit is Ligias Lakos (also known by the name of Amatos beach), this is a small bay with shallow, clear waters and small pebbles.
To access Ligias Lakos you will need to hike along a dirt path and then cross the cliffs that stand behind the beach.
Best Beaches in South Lasithi… Paradise? It's Here, Take a Look!
Goudouras
Latitude: N 35.014835 | Longitude: E 26.097818
Distance from Ierapetra: 41 km from Ierapetra, 31 km from Xerokampos Beach
Although some people put this shore among the beaches of Xerokampos, it can be certainly considered a beach on its own.
Goudouras is a beautiful bay, quiet, and isolated, like most beaches on the southern coast of Lasithi.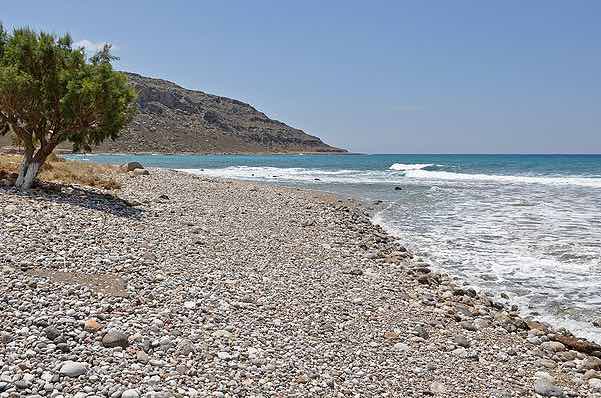 The village of Goudouras and the nearby Asprolithos are perfect places to stay for a peaceful holiday since they're virtually unknown.
On the pebbled beach, there're no crowds nor loud music or chaos, and there's just partial organization, with only a few umbrellas and sunbeds. There are limited places to eat as well.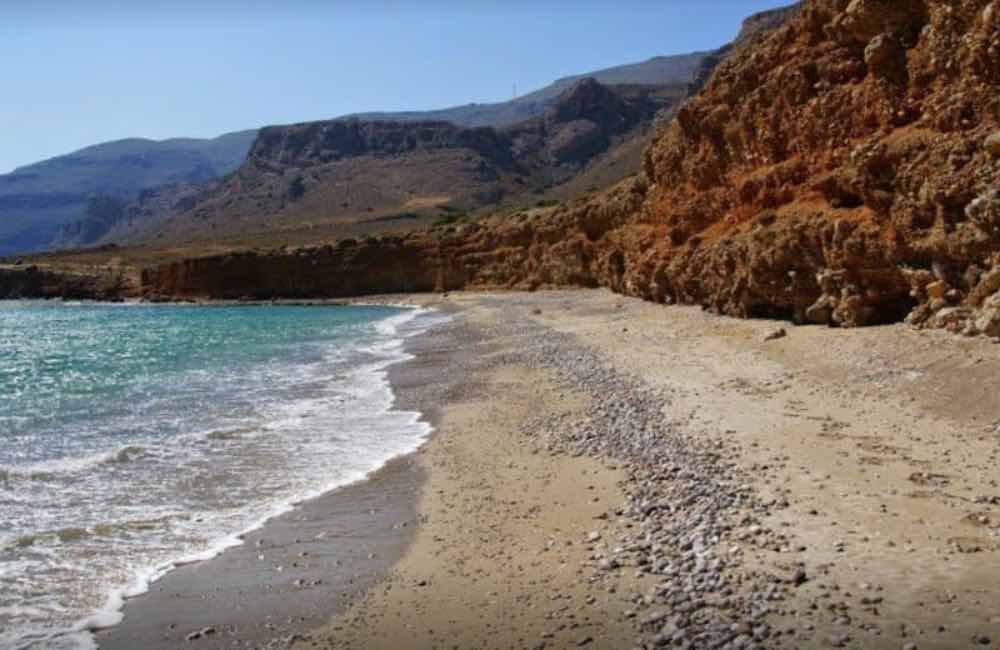 In the area, it's also possible to stop at Votsalaki, another gorgeous bay surrounded by cliffs, which you can access using a staircase.
The shore is known because of the magnificent blue shades of the sea.
You might also want to read: Amazing Things to Do in Agios Nikolaos, Crete.
Dragon's Cave (Ammoudi Beach)
Latitude: N 35.021702 | Longitude: E 26.012769
Location: 32 km from Ierapetra
I've already mentioned this beach in my article about things to do in Ierapetra, and that's because this is another favorite beach I love to visit in the area.
The official name of Dragon's Cave is, in fact, Ammoudi.
The cove is located about 20 minutes east of Ierapetra and it's not easy to access (I strongly recommend wearing closed shoes instead of flip flops to hike down to the beach).
The bay is closed and therefore protected from the winds. It's a very quiet place, usually deserted, with gorgeous clean, and shallow waters.
The beach is not only in a very secluded position but lacks any kind of organization, so bring all you need to spend the day.
Makrigialos
Latitude: N 35.037159 | Longitude: E 25.972291
Location: 26 km from Ierapetra, 33.8 km from Sitia
The bay of Makrigialos is a wide, sandy shore about 20 minutes from the city of Ierapetra.
It's also a beautiful coastal village, with tavernas and beach bars lining up on the waterfront.
The beaches of Makrigialos are quite shallow and calm, the water is immaculate, and most of the shores are made of fine sand.
Makrigialos also ranks among the top beaches of Lasithi as it provides a beautiful sandy bay, a calm atmosphere, and some pretty venues, such as pubs and bars, even for the evening.
There are many high-rated hotels in the area too, and it's a valid alternative to Ierapetra.
In Makrigialos, there is a small harbor from where it's possible to board boats for Chrissi Island and Koufonisi Island too.
Beaches in Ierapetra
Latitude: N 35.008127 | Longitude: E 25.738982
Location: 32 km from Agios Nikolaos, 40 km from Sitia
There is more than one beach in the city of Ierapetra, the best of all being Megali Paralia (or Big Beach).
This is an organized beach on a wide shore with rather coarse pebbles mixed with sand.
Not far and towards the east, between Makrigialos and Ierapetra, it's possible to visit beaches such as Koutsouras, Agia Fotia, and Ferma Beach, the last two of them are well-organized.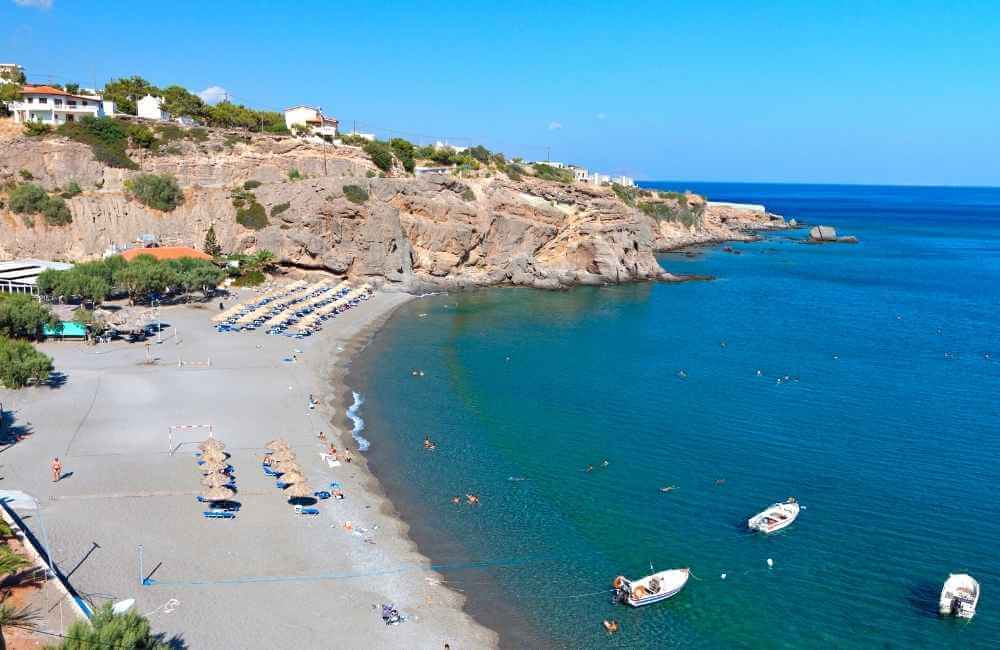 Myrtos Beach
Latitude: N 35.004495 | Longitude: E 25.585051
Location: 14 km from Ierapetra, 50 km from Agios Nikolaos
Known as a southern paradise, Myrtos is another favorite Lasithi beach and village.
Despite being a rather small inhabited center, you can find all kinds of facilities, such as restaurants and tavernas, but also supermarkets, pharmacies, and several hotels to choose from.
Myrtos is a perfect resort if you're looking for some southern quietness and authenticity without feeling completely isolated.
The sea is calm since it lies on a fairly closed bay. The clean, blue sea has awarded a blue flag category to the beach.
The sand is fine, though dark, mixed with fine pebbles in some areas. It's possible to rent umbrellas and enjoy the organization (showers, toilets, etc.).
Islands of South Lasithi
Chrissi Island
Chrissi Island is one of the last remaining unspoiled beaches of the Mediterranean.
Daily boats depart from Ierapetra and Makrigialos every morning during the summer. The ticket ranges from 12 to 25 euros while kids up to 2 can sail for free.
This small island, which can be crossed on foot, is known for the exotic color of the sea and its unique cedar forest.
The beach is a mix of white sand and small pebbles, quite uncomfortable at times, so pack accordingly.
You can read more about Chrissi here
Koufonisi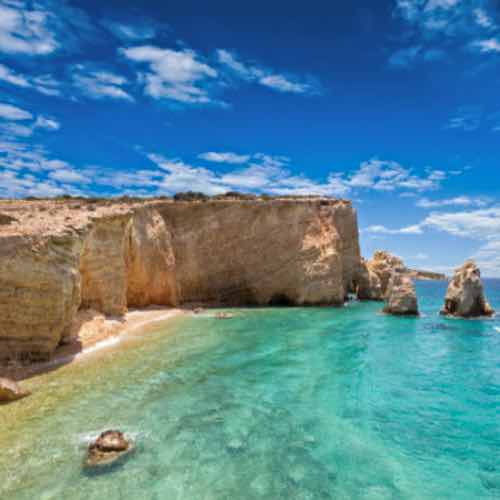 Koufonisi is an uninhabited tiny islet 3 nautical miles from the south of Lasithi.
Boats for Koufonisi depart from the village of Makrigialos, not far from Ierapetra. It's a small uninhabited island about 5 square km big. To visit, you need to take a boat from Makrigialos, a small coastal village near Ierapetra.
The landscape is mainly made of fine sand beaches as well as caves. The islet lacks organization, so be prepared to pack drinks, a few bites, and other necessities if you plan to spend the day.
Koufonisi is a top spot for naturism in Crete <<
East Crete with Kids
When traveling with the whole family, there are a few things that are important to have the smoothest possible experience.
Safe beaches paired with a laid-back atmosphere and a few interesting things to see and do are other key ingredients that make parents and kids equally happy. These are the best and safest sandy Lasithi beaches for kids:
Almyros and Voulisma in Agios Nikolaos are wide and shallow, safe and protected from winds, waves, and with no currents.
Vai Beach is also a wide shore with calm waters, there are a lot of facilities which make life on the beach really easy for moms!
Xerocampos and Myrtos, both on the southern coast are ideal due to the wide spaces. Myrtos, besides, is also close to Ierapetra, which is a big important city on the island. This is usually highly valued for an extra dose of peace of mind
As far as attractions are concerned, Agios Nikolaos offers the typical coastal kind of entertainment, including a city train that travels along the streets of the town.
For more in-depth visits, check the former leper colony of Spinalonga, close to Plaka, and the sunken city of Olous.
Curious kids will love the archaeological sites spread all over Lasithi, including Lato, closer to Agios Nikolaos but also Gournias, Itanos, Zakros, and the Minoan ruins of Myrtos and Makrigialos.
For a unique experience, drive along the Lasithi Plateau and explore the stunning Cave of Zeus.
Finally, in all the three main cities of Lasithi, there are important museums and archaeological collections that will fascinate parents and children alike.
Best Hotels to Stay (by the Beach) in Lasithi
I use Booking.com to find the most convenient accommodation when I'm not staying in Chania (the region where I live). You can check the top-rated places to stay in Lasithi at the following links:
– Sisi Village Click here to check the best-rated hotels and the latest prices.
– Agios Nikolaos Click here to check the best-rated hotels and the latest prices.
– Istro (Voulisma) Click here to check the best-rated hotels and the latest prices.
– Mochlos Click here to check the best-rated hotels and the latest prices.
– Sitia Click here to check the best-rated hotels and the latest prices.
– Xerokampos Click here to check the best-rated hotels and the latest prices.
– Makrigialos Click here to check the best-rated hotels and the latest prices.
– Ierapetra Click here to check the best-rated hotels and the latest prices.
– Myrtos Click here to check the best-rated hotels and the latest prices.
Please, help us protect the beaches in Crete. Respect the environment and don't leave any trash on the beach.
---
Have you ever visited the beaches in Lasithi?
Let me know in the comments below!
You might also want to read these articles:
– The Best Day Trips and Tours from Rethymnon, Crete – A guide to top day trips in and around the Rethymnon region.
– Explore the Fantastic Unspoiled Beaches in South Crete – A local's guide to the best beaches on the southern coast of the island.
– Gavdos, Crete: The Only Guide to the Island you Need – A guide to visiting the island of Gavdos.
– The Most Beautiful Beaches in West Crete – A guide to the most amazing beaches in the Chania region.
– Crete Travel Tips: What to Pack in your Beach Bag – A packing list for your beach bag.
LAST-MINUTE PLANS FOR CRETE?
– Use Ferryhopper and Skyscanner for the best ticket rates.
– Find great accommodation deals on Booking.com.
– Compare car rental prices with Discover Cars.
– Check the best tours with GetYourGuide.
– Visit Elafonisi, discover Balos Beach, hike Samaria, or explore Knossos.
– Pack the Lonely Planet Guide to Crete or get my digital guide to Chania.
Don't Leave Before you Pin this Guide to What Beaches to Visit in East Crete!
About the author of this blog: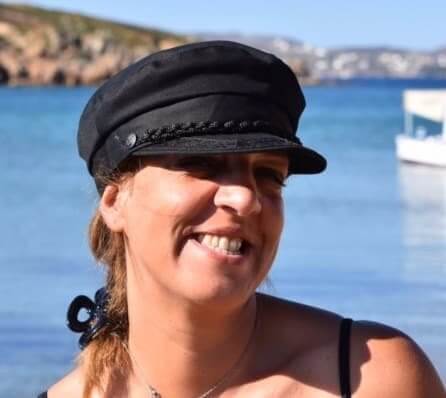 Gabi has been living in Crete for the last five years. Here, she juggles being a solo mom, hosting culinary tours in the summer, translating, and writing for The Tiny Book and her other blogs.
She's written for Greek Reporter, published three travel guides about Greece, and had more glasses of frappe than any regular person would be able to handle.
COMING TO CRETE SOON?
Get in touch and let me know!