Are you ready for an unforgettable adventure in Agios Nikolaos, and the area of Lasithi, the easternmost region of Crete? This article will guide you through a meticulous itinerary for 5 days in Agios Nikolaos, ensuring you make the most of your time in this enchanting part of Crete.
So get ready to explore Lasithi's gems and create memories that will last a lifetime.
---
Disclaimer: Posts include affiliate links to products or services. I might earn a commission if you make a purchase at no extra cost.
---
5 Days In Agios Nikolaos: Top Things to Do
In just five days, you can immerse yourself in the rich cultural heritage, breathtaking landscapes, and hidden gems that Lasithi offers.
Departing from Agios, discover ancient ruins, traditional villages, pristine beaches, and awe-inspiring natural wonders.
Lasithi Day 1: Arrival and Exploring Agios Nikolaos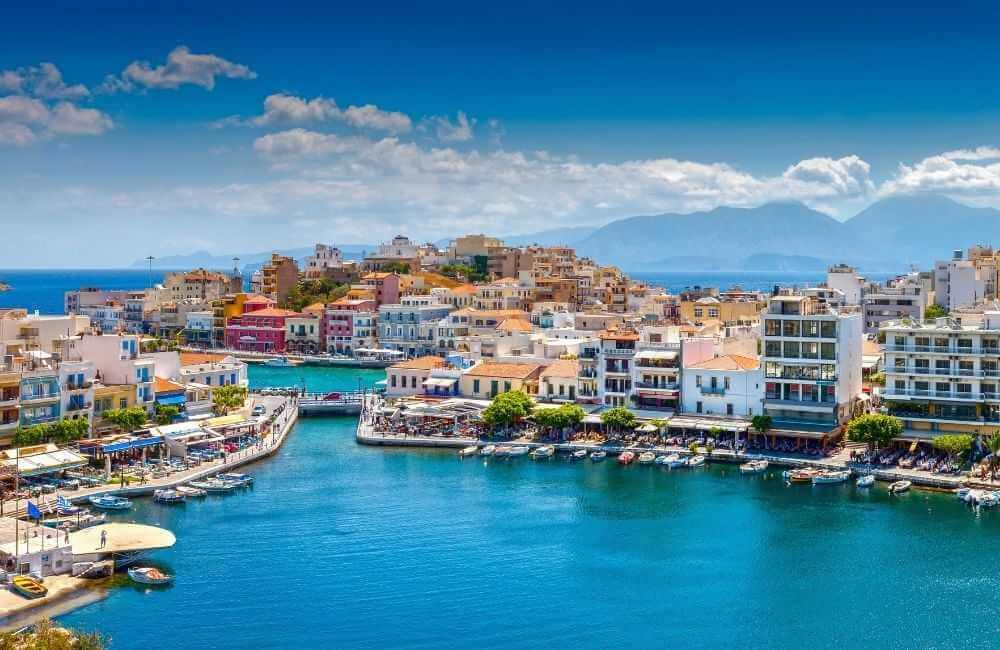 You will probably arrive at Heraklion, the main gate to Crete. From here, it's really easy to get from Heraklion to Agios Nikolaos, the capital of the Lasithi region. You can either rent a car and drive there, or trust a transfer service like this one.
Once in the region, start your exploration of Lasithi in the charming coastal town of Agios Nikolaos, nestled around the picturesque Lake Voulismeni.
Agios is also the capital of the region and the fourth most important city on the northern coast of the island.
Start your day by strolling along the scenic promenade surrounding the tranquil lake. Admire the crystal-clear waters, reflecting the colorful fishing boats and the surrounding architecture.
Then, stop by the open-air cafes and enjoy a cup of traditional Greek coffee while immersing yourself in the peaceful atmosphere.
Next, visit the Archaeological Museum of Agios Nikolaos, and discover the region's rich history through a collection of artifacts, from Minoan pottery to intricate jewelry and ancient sculptures, that showcase the ancient civilizations that once thrived in Lasithi. (Check opening times here).
After exploring the museum, wander through the town's narrow streets, lined with shops offering handmade crafts, souvenirs, and local delicacies.
Also, venture to the vibrant local markets where you can find fresh produce, aromatic herbs, and traditional Cretan products.
LOCALS KNOW: The farmers' market only takes place on Wednesday.
The public market of Agios Nikolaos now takes place in a specially designed area near the Intercity Bus Station (KTEL).
In the evening, treat yourself to a traditional Cretan meal at one of the tavernas overlooking the sea or the lake (there are plenty of them!).
Indulge in mouthwatering dishes like saganaki, dolmades, or freshly caught seafood dishes, accompanied by a glass of local wine.
Lasithi Day 2: Small Villages and Natural Wonders
On the second day, venture to the charming village of Plaka and the captivating island of Spinalonga.
Begin your day driving the short distance between Agios and Plaka. This is a traditional fishing village known for its picturesque beauty.
Once over there, walk through the narrow streets, admiring the traditional stone houses adorned with colorful flowers.
Stroll along the charming waterfront and immerse in the peaceful atmosphere and breathtaking views of Mirabello Bay.
From Plaka, embark on a short boat ride to the captivating island of Spinalonga. This small island holds a fascinating history as it once served as a leper colony.
As you step ashore, explore the remnants of the Venetian fortress standing as a reminder of its past. Wander through the streets, where abandoned houses and buildings still whisper tales of resilience and survival.
Delve deeper into the history of Spinalonga with a visit to its small but super informative museum.
Discover the stories of the individuals who called this place home and gain insights into the compassion and strength that prevailed within these walls.
In the early afternoon, sail back to Plaka and make your way to the small town of Elounda, just a short car ride away.
Over here, you can have a delectable seafood lunch at one of the quaint tavernas, indulging in fresh catches of the day.
In the afternoon, you can pick between a short visit to the sunken Minoan ruins of Olous, a few minutes from the center of Elounda, or head to the ancient ruins of Lato, an archaeological site featuring the ruins of houses, temples, and fortifications dating back to Dorian times.
Lasithi Day 3: Discovering the Traditional Side of Lasithi
On day 3, it's a good idea to jump in a car to drive the impressive circuit of the Lasithi Plateau, one of Crete's most impressive landscapes where you can discover traditional villages, tiny mountain churches, dozens of windmills, and other ancient wonders.
Along the way, you can choose to venture into the mystical depths of the Dikteon Cave, known as the legendary birthplace of Zeus, the king of the gods.
During the visit, you will be stunned by the chambers and passages adorned with awe-inspiring stalactites and stalagmites, and uncover the mythical stories associated with this sacred site.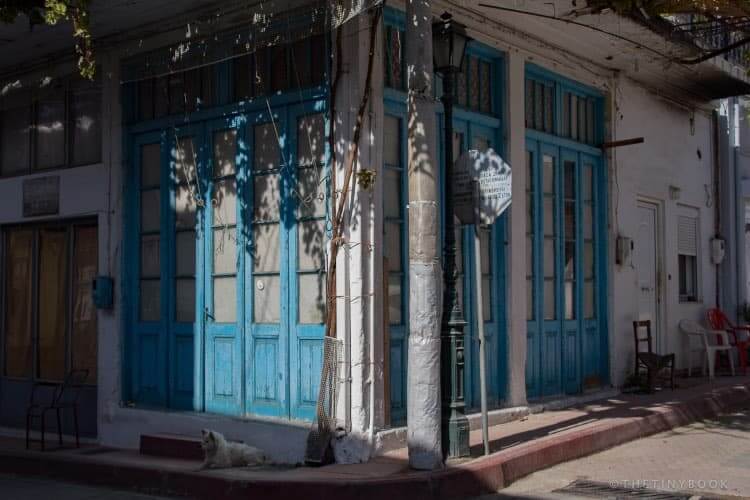 The drive around the plateau can take a whole day, especially if you make a stop at the different villages (there are about 18!). I suggest having lunch in Tzermiado, one of the most picturesque settlements in the area.
This complete guide to Lasithi Plateau will tell you everything you should know to plan a day trip to the area. If, instead, you prefer to visit the Plateau relying on an organized tour that also takes care of transport, I suggest this full-day trip to the Lasithi Plateau.
Lasithi Day 4: Coastal Adventure and Beach Relaxation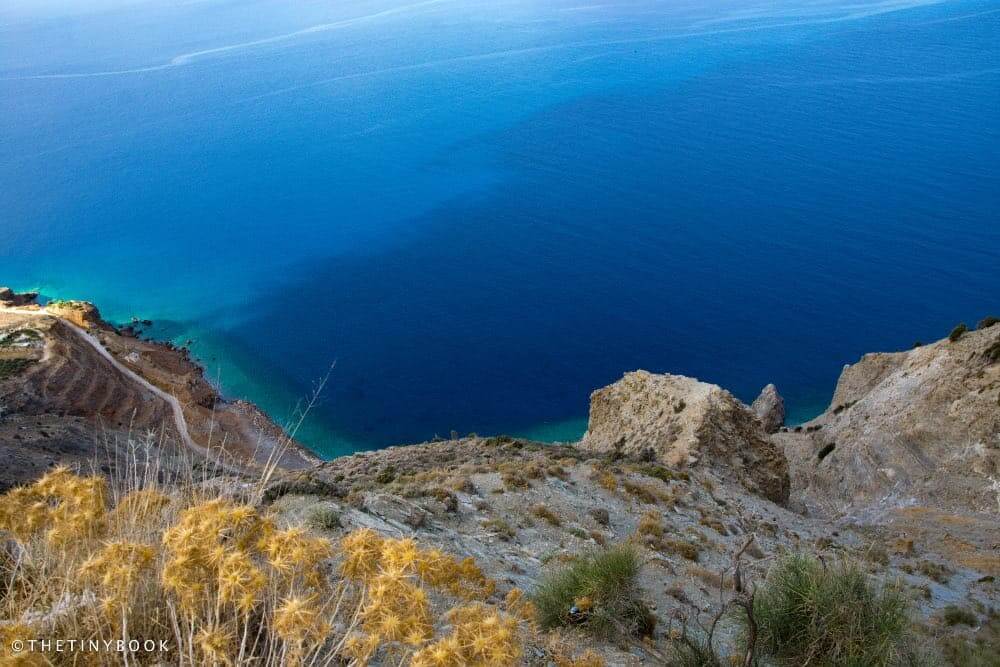 The fourth day of your Lasithi adventure takes you on a journey along the eastern coastline, unveiling the hidden gems of Kavousi, Sitia, Toplou Monastery, and Vai Beach.
Start your day in Kavousi, a traditional settlement famous for the endless olive groves and for housing the oldest olive tree on the island.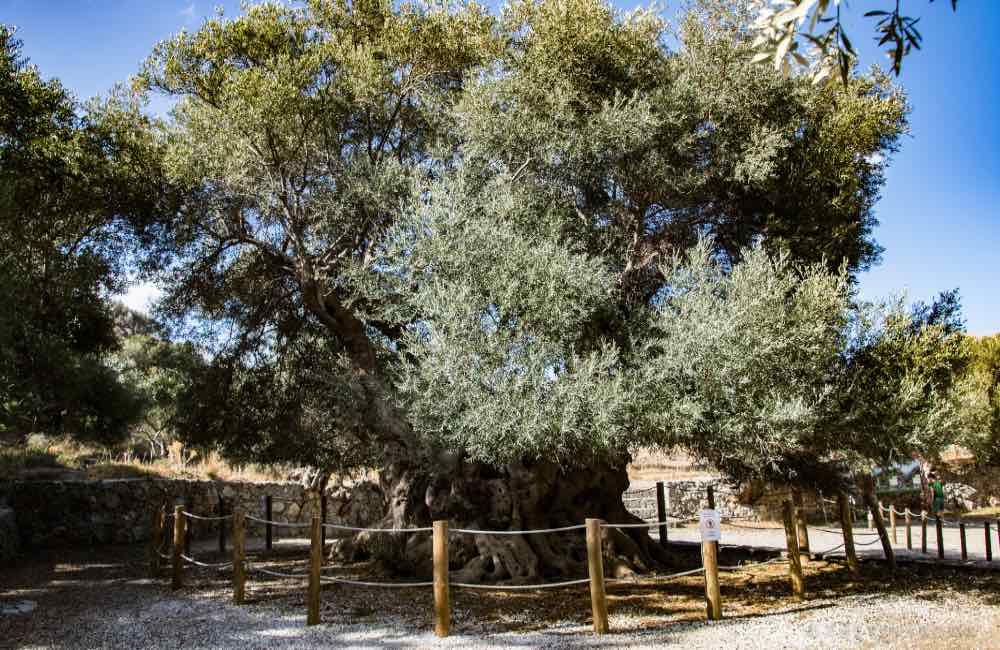 The village stands 140 meters above the sea, in the northern foothills of the Thripti mountain range, and from here you can enjoy the views of both Mirabello Bay and the Isthmus of Ierapetra.
If, instead, you prefer to start the day with a swim, head to the nearby Tholos Beach, with pristine turquoise waters and quite off the beaten paths, so crowds won't be a problem.
Next up, continue your journey to Sitia, a coastal town steeped in history and natural beauty. Explore its enchanting streets, lined with Venetian houses and quaint cafes.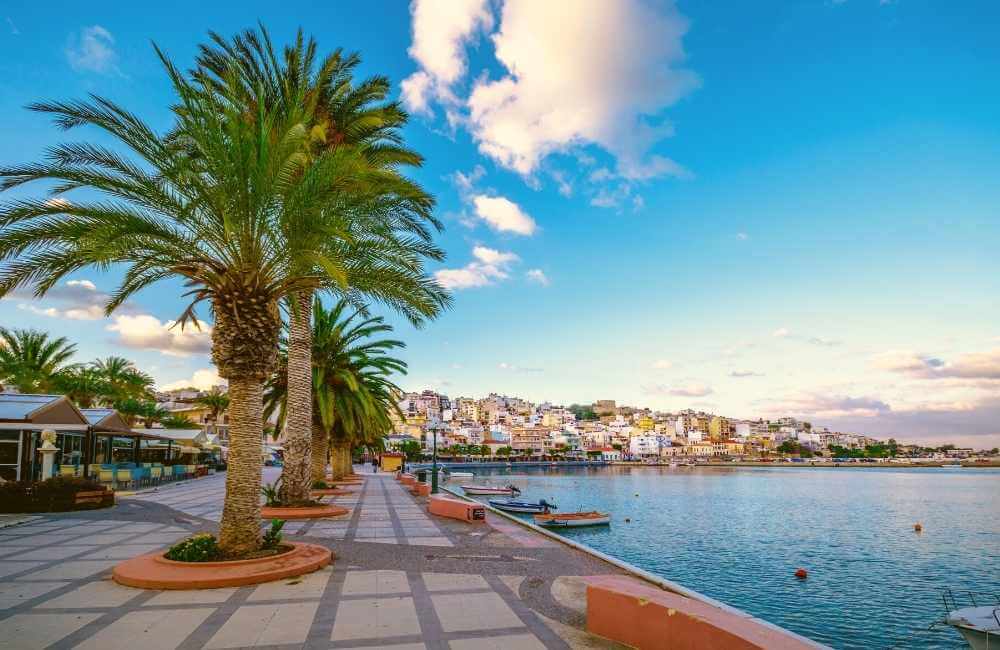 Visit the Venetian Fortress known as Kazarma as well as the Archaeological Museum of Sitia. This is the best place to delve into the region's rich past, admiring an array of artifacts that unearth the stories of ancient civilizations.
Just a short distance away from Sitia, the magnificent Toplou Monastery, is an unmissable landmark in eastern Crete, a unique treasure in the Lasithi region.
The monastery, with its imposing fortified architecture, is one of the most spectacular religious buildings on the island.
To truly grasp its magnificence and historic importance, visit the monastery's museum to see a collection of religious icons and precious manuscripts as well as war objects used during the different battles that the island fought to obtain its freedom.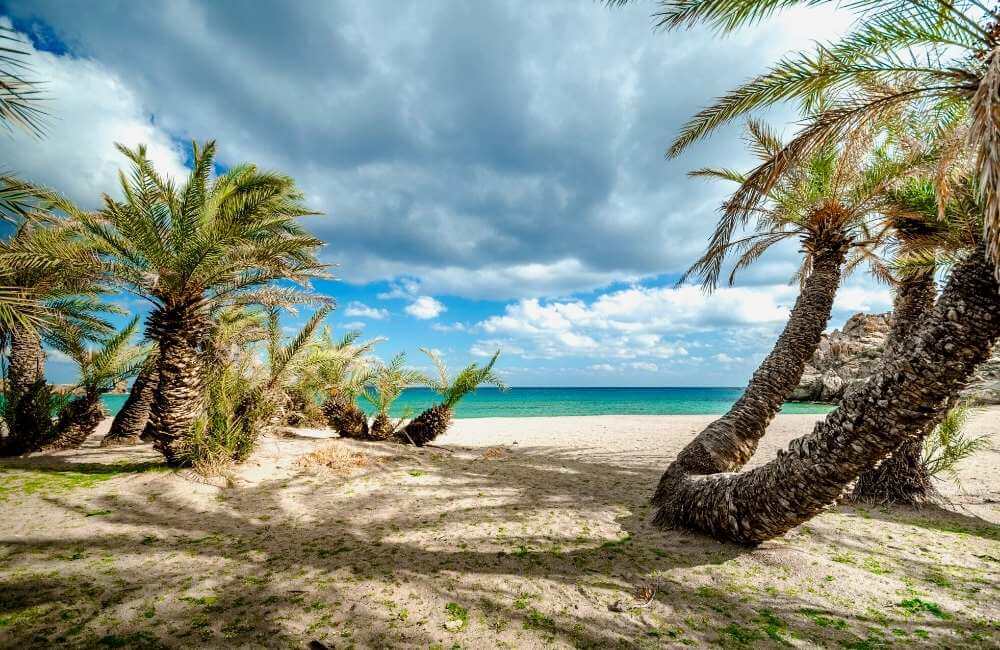 End your day at Vai Beach, a tropical paradise surrounded by Europe's largest palm tree forest. Relax on the pristine sandy shores, immerse in the tranquility, and admire the crystal-clear waters of the Mediterranean.
Lasithi Day 5: Souvenir Shopping and Departure
On your final day in Lasithi, take the time to indulge in some souvenir shopping.
Explore the charming streets of Agios Nikolaos, and spend some time walking along the main pedestrian road, where you'll find an array of local shops and boutiques.
Browse through unique handmade crafts, traditional pottery, intricate jewelry, and locally produced items such as honey, olive oil, and herbs.
After satisfying your shopping desires, savor a leisurely lunch at a lakeside taverna or restaurant (my favorite will always be Karnagio!), savoring the delicious local cuisine one last time.
Indulge in Cretan specialties like dakos, fava, or moussaka, accompanied by a glass of refreshing local wine.
And when the time to bid farewell comes, reflect on the incredible experiences and cherished memories you've created during this 5-day adventure.
Take a moment to savor the beauty of the region one last time, and let the captivating landscapes and the essence of the Cretan way of life inspire you to venture around Crete and Greece even more.
Tips for Traveling to Agios Nikolaos, Lasithi
Before traveling to Lasithi, there are some essential helpful tips that will set for an incredible journey through Lasithi's captivating gems.
Plan ahead
Research and create a well-structured itinerary along with accommodation suited to your taste, preferred transportation mode, and set a budget according to your desires.
Rent a car
Having a car allows for flexibility to explore Lasithi at your own pace. Furthermore, many of the attractions are spread out, so having a car will make it easier to reach remote villages, archaeological sites, and pristine beaches.
Embrace the local culture
Engage with the friendly locals, try traditional Cretan cuisine, and learn a few basic Greek phrases.
Pack essentials
Don't forget to pack comfortable walking shoes, sun protection, beachwear, and a reusable water bottle. This packing guide for Crete will be your best bet when wondering what to pack for Crete.
Respect the environment and heritage sites
As you explore Lasithi's natural wonders and historical sites, be mindful of the environment and follow any rules or regulations to protect these treasures for future generations.
Leave room for spontaneity
While planning is important, allow yourself some flexibility to discover unexpected experiences or hidden gems that may not be in the guidebooks. Sometimes, the best adventures are the ones that happen serendipitously.
Getting Around Lasithi
Exploring the gems of Lasithi is made convenient by various transportation options. However, renting a car is highly recommended as it provides the freedom to navigate the region at your own pace, especially if you're planning to visit remote villages, archaeological sites, and picturesque beaches.
Which car rental service is the best to choose?
If you want to rent a car for your trip and look for the best service, then I am here to help you! Consider choosing Discover Cars, an international car rental booking service present worldwide. This way, you will find the best car for your trip wherever you are!
Taxis are widely available and can be a convenient option for shorter distances or when you prefer not to drive. Also, public transportation, including buses, operates within the region and connects major towns and attractions.
Additionally, organized tours and excursions can be a hassle-free way to explore Lasithi's highlights while enjoying the expertise of local guides.
These are some of the tours I recommend in the area of Lasithi (most of them departing from Agios Nikolaos):
Where to Stay in Lasithi
Lasithi offers a range of accommodation options to suit every traveler's preferences. Specially if you decide to stay in Agios Nikolaos, you will find all kinds of places to stay, from hotels to Airbnbs and amazing villas too.
For those seeking a luxurious and indulgent experience, you'll find upscale resorts and boutique hotels along the coastline, offering stunning views and first-class amenities. Elounda is a top-class seaside resort in the area.
Charming guesthouses and cozy family-run hotels can be found in the traditional villages, providing an authentic and intimate stay.
If you prefer a lively atmosphere, stay in the bustling towns of Agios Nikolaos or Sitia, where you'll find various accommodation options, from budget-friendly hotels to stylish apartments.
These are some of the places I suggest checking out when looking for accommodation in Lasithi:
Five Days in Agios Nikolaos: Final Thoughts
Immersing yourself in the Lasithi's beauty, tranquility, and authenticity while also connecting with the warm-hearted locals adds an extra layer of charm to your adventure.
And whether you're interested in archaeological sites, quaint villages, or serene beaches, Lasithi has it all.
So, all you have to do is enjoy the beauty, history, and culture that this remarkable region has to offer!
Wondering when to visit Lasithi? It's a good idea to explore the region during the shoulder seasons of spring or autumn to avoid large crowds and scorching temperatures.
Are you ready to explore this unique part of Crete?
Read more about Lasithi
🛌 Suggested Accommodation in Lasithi:
🗺️ More resources to book your trip to Crete
Pin this Guide to Enjoy the Best 5 Days in Agios Nikolaos During Your Time in Crete!
---
You might also want to read these posts about Crete's regions:
---
About my blog: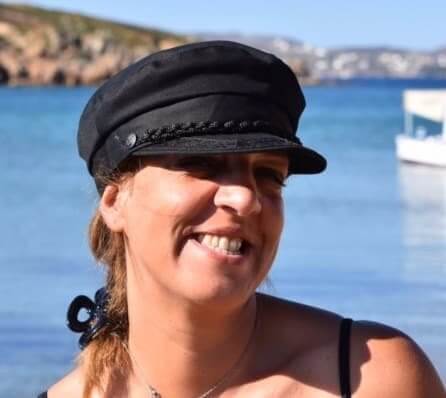 I moved to Crete in 2016. During these years, I learned much about the island.
In Crete, I juggle being a solo mom, hosting culinary tours, and writing for several travel blogs.
I've written for Greek Reporter, published travel guides about Greece, and had more glasses of frappe than any regular person could ever handle.