Greece, known for its stunning sandy beaches and ancient ruins, also holds a secret allure during the winter months. As temperatures drop and snow covers its landscapes, Greece transforms into a winter wonderland, revealing its equally captivating and magical side. So, let's explore the beauty of Winter in Greece!
---
Disclaimer: Posts include affiliate links to products or services. I might earn a commission if you make a purchase at no extra cost.
---
Where to Go in Greece in Winter
PLANNING A LAST-MINUTE TRIP TO GREECE?
Be sure to book accommodation and tours in Greece ahead of time to ensure availability!
🛥️ Book ferry tickets with Ferryhopper.
🛌 Find hotel deals on Booking.com.
🚘 Compare car rental prices with Discover Cars.
💳 In need of money? Use WISE as a digital card and top-up from the app.
Whether you're looking for alpine adventures, cultural heritage experiences, or simply the serenity of a snow-covered landscape, these best winter destinations in Greece promise to immerse you in a world of beauty and tranquility.
Best Winter Destinations in Greece
From the majestic monasteries of Meteora to the charming stone villages of Zagorohoria, Greece offers many winter destinations that will enchant travelers seeking a unique and unforgettable experience.
These are some of the places I recommend considering for a winter break in Greece…
Athens
Athens, Greece's capital, is known for its ancient treasures and vibrant energy, making it a perfect destination for an urban holiday filled with historical and cultural experiences.
In winter, it also holds a special allure, mainly due to the fewer crowds, allowing travelers to immerse themselves in everything it offers.
Read more about the best things to do in Athens in Winter!
Take in the marvelous sight of the iconic Acropolis standing majestically against the clear winter sky, and take a leisurely stroll around the Plaka neighborhood.
Once in Plaka, savor the traditional Greek cuisine in cozy taverns and delve into the city's rich heritage by visiting the Acropolis Museums, the National Archaeological Museum, the ancient Agora, and more historic sites.
Accommodation in Athens
Check out these cozy places to stay in the center of Athens in winter:
Thessaloniki
As Greece's second-largest city, Thessaloniki boasts a captivating blend of history, culture, and winter charm.
The city's bustling streets, adorned with colorful lights and enchanting squares, become a winter wonderland during the colder months and create a vibrant and festive atmosphere.
While in Thessaloniki in winter, climb up the White Tower, the city's iconic symbol, and admire panoramic views of the cityscape blanketed in snow.
Furthermore, explore the city's history through the Archaeological Museum, which offers a fascinating journey through time, showcasing ancient artifacts and treasures.
Lastly, warm up with a cup of traditional Greek coffee in one of the cozy cafes lining Aristotelous Square while soaking in the lively atmosphere.
Accommodation in Thessaloniki
Check out these central places to stay in Thessaloniki in winter:
Ioannina
Located in the stunning landscape of Epirus, Ioannina is an idyllic winter destination in Greece. This picturesque city captivates visitors with its historic charm, tranquil lake, and snow-capped mountains.
Roam through the cobblestone streets of the city's old quarter, where you'll find Byzantine fortifications, museums, and traditional taverns.
Also, be sure to explore the famed Ioannina Castle, famous for its intriguing history and breathtaking views.
Additionally, take a leisurely boat ride across Lake Pamvotis, nestled at the heart of Ioannina, and marvel at the snow-dusted peaks surrounding it.
Accommodation in Ioannina
These are some of the best-rated places to stay in Ioannina:
Arachova
Nestled on the slopes of Mount Parnassus, Arachova stands as one of Greece's premier winter destinations.
It is a charming alpine village captivating visitors with its stone houses, narrow cobblestone streets, and cozy taverns serving local culinary delights.
Furthermore, adventure seekers enjoy the area's plenty of opportunities for skiing, snowboarding, and snowmobiling on the pristine slopes of Mount Parnassus.
Then, after a day of thrilling winter sports, Arachova's traditional guesthouses are the perfect spot to unwind, experience authentic Greek hospitality, and indulge in hot drinks by a crackling fireplace.
Last but not least, Arachova comes alive with a vibrant nightlife as the sun sets, drawing locals and visitors alike.
Accommodation in Arachova
Check out these places to stay in Arachova in winter:
Volos
Situated along the sparkling waters of the Pagasetic Gulf, Volos is a captivating, bustling city, offering visitors a unique blend of traditional charm and scenic beauty.
Take a leisurely stroll along the picturesque promenade, admiring the snow-capped peaks of Mount Pelion in the distance.
Explore the vibrant marketplaces filled with local delicacies, artisanal products, and warm winter clothing.
Delve into the fascinating history and culture of the region at the Archaeological Museum of Volos, or embark on a scenic train ride through the lush landscapes of Pelion.
For adventure enthusiasts, the nearby Mount Pelion offers various winter activities, including skiing, snowboarding, and snowshoeing.
Accommodation in Volos
These are some of the hotels we recommend in the area:
Meteora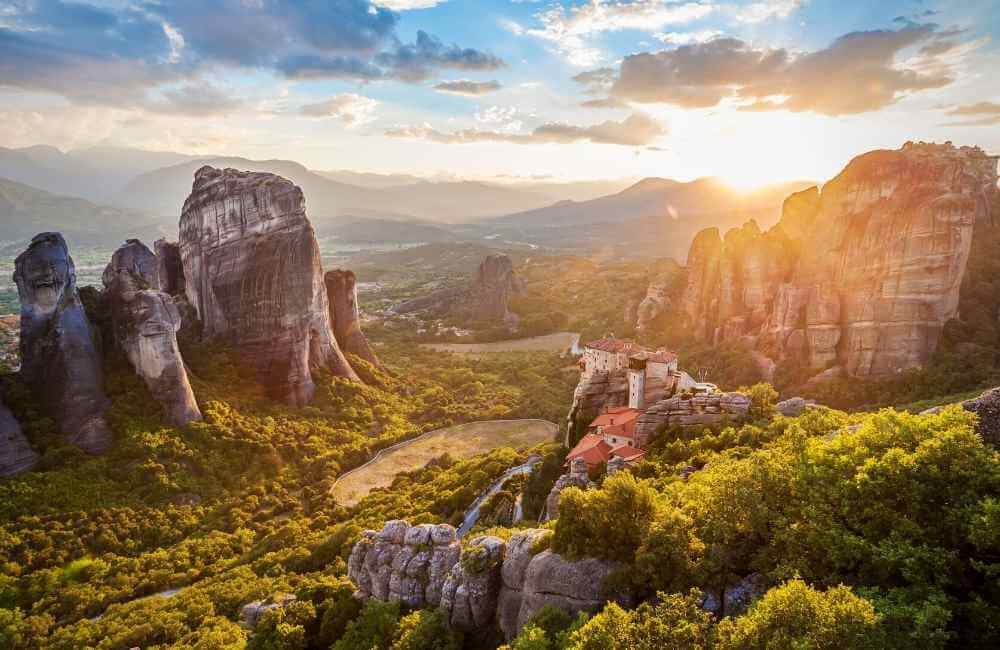 Nestled in the heart of Greece, the enchanting region of Meteora is one of the country's most magical destinations.
As winter begins, the temperatures drop, and a veil of snow paints the landscape, transforming Meteora into a breathtaking winter wonderland.
The notable attractions of this UNESCO World Heritage Site are the imposing monolithic rock formations, seemingly suspended in mid-air, adorned with majestic monasteries perched on their summits.
You can join a half-day (morning) tour to visit the most important monasteries and discover the secrets of this stunning landscape.
Adventurous travelers can go on an exhilarating hike through the snow-covered trails to admire the panoramic vistas of the frozen landscape.
Enjoy the tranquil winter vibe, and immerse themselves in Greece's natural beauty and cultural heritage during winter.
Accommodation near Meteora
Check out these convenient places to stay only minutes from Meteora:
Kastoria
Kastoria is a hidden gem among Greece's best winter destinations tucked away in northern Greece. Known for its picturesque beauty, this charming town showcases a unique blend of natural landscapes and rich history.
As winter descends upon Kastoria, the town transforms into a winter wonderland straight out of a storybook.
The frozen Lake Orestiada, with its shimmering surface, becomes a playground for ice skaters and a haven for photographers capturing the stunning reflections of the surrounding snow-capped mountains.
The traditional mansions and Byzantine-era churches, covered with a blanket of snow, add a touch of magic to the already enchanting atmosphere, making Kastoria an idyllic retreat for winter enthusiasts.
Accommodation in Kastoria
These are some of the top-reviewed places to stay in Kastoria:
Zagorohoria
Nestled in the rugged Pindus Mountains of northwestern Greece, the Zagorohoria region is a winter paradise for adventurers and nature lovers alike.
With a cluster of 46 traditional stone villages, the picturesque Zagorohoria offers a unique blend of alpine landscapes, rich folklore, and warm hospitality.
And in winter, with blankets of pristine snow, Zagorochoria unveils its true magnificence.
The stone-built houses, with their pitched roofs and wooden balconies, create a fairytale-like setting against the towering mountains.
Visitors can join thrilling winter hikes through scenic trails that wind through dense forests, gorges, and icy rivers.
The region also boasts charming stone bridges, some dating back centuries, adding a touch of historical charm to the wintry scenery.
Accommodation in Zagorohoria
Check out these places for an unforgettable stay in Zagorohoria in winter:
Metsovo
Metsovo is a charming town in the heart of the Pindus Mountains with an alpine setting and traditional architecture, offering a captivating blend of natural beauty and cultural heritage.
As snowflakes delicately fall, the town transforms into a winter wonderland.
The streets come alive with the aroma of roasted chestnuts and the sound of laughter echoing from cozy tavernas, and visitors can explore the cobblestone pathways lined with stone houses and small shops selling local handicrafts.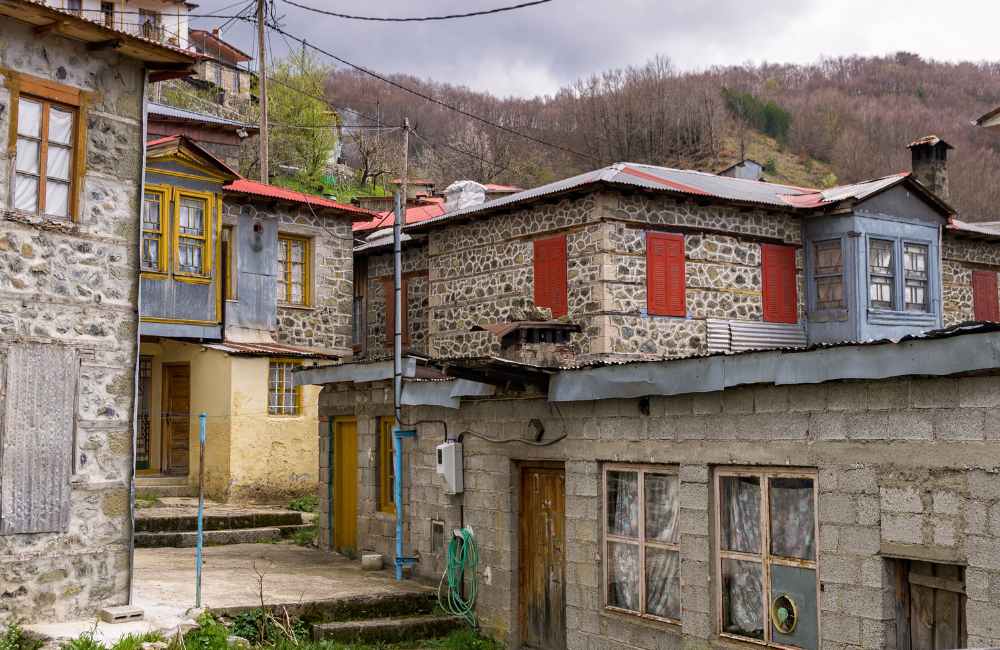 Metsovo offers a range of winter activities for outdoor enthusiasts, from skiing down the slopes of the nearby ski resort to embarking on exhilarating snowshoeing or cross-country skiing adventures.
Accommodation in Metsovo
These are our top picks for the Metsovo area in winter:
Litochoro
Located at the foot of the legendary Mount Olympus, Litochoro is a fantastic destination in Greece for its natural beauty and historical significance. This picturesque town offers magnificent vistas over the mountains.
As winter sets in, Litochoro transforms into a wonderland of snow-dusted landscapes and crisp mountain air.
Adventurous souls can embark on exciting hikes, traversing trails that wind through enchanting forests and icy streams.
For those seeking a challenge, scaling the lower slopes of Mount Olympus is a thrilling experience, rewarded with panoramic views of the surrounding winter scenery.
Also, Litochoro's charming town center, with its stone-paved streets and traditional houses, exudes a cozy atmosphere during the winter months.
Accommodation in Litochoro
Suggested places to stay in winter in Litochoro:
Greece undoubtedly holds a captivating allure beyond its summer charms. From the awe-inspiring monasteries of Meteora, the untamed wilderness of Zagorohoria, and the alpine charm of Litochoro and Metsovo, Greece offers a winter experience like no other.
So, whether you seek adventure on snow-covered slopes, moments of serenity amidst picturesque landscapes, or a glimpse into the country's rich cultural heritage, Greece has it all.
So, bundle up, breathe in the crisp winter air, and let Greece's enchanting destinations cast their spell upon you. Embrace the winter magic and create memories that will last a lifetime in this remarkable corner of the world.
Read more about Greece
🛌 Suggested Accommodation in Athens:
🗺️ More resources to book your trip to Greece:
Pin this Guide to Greece's Best Winter Destinations
About my blog: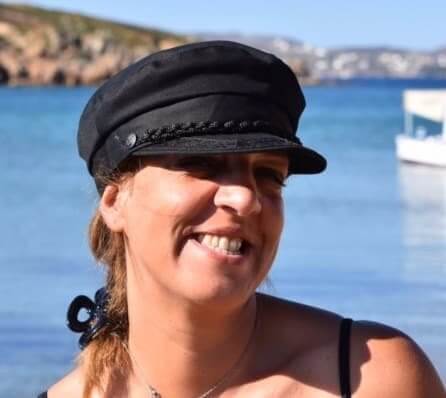 I moved to Crete in 2016. During these years, I learned much about the island.
In Crete, I juggle being a solo mom, hosting culinary tours, and writing for several travel blogs.
I've written for Greek Reporter, published travel guides about Greece, and had more glasses of frappe than any regular person could ever handle.