If you are looking for wheelchair-accessible holidays, Greece and Crete can be an ideal destination.
Although historically, the island has not been friendly to the needs of people with limited mobility, there have been significant improvements in recent years, and we are here to give you the inside scoop on everything you need to know!
Want to learn more? Here is why Crete could be the best Greek island for people with disabilities.
---
Disclaimer: Posts include affiliate links to products or services. I might earn a commission if you make a purchase at no extra cost.
---
Travel Guide to Crete for People with Disabilities
Several Initiatives are Making Crete more Wheelchair-Accessible
Historically, Crete offered little wheelchair access. After all, it isn't the flattest Greek island out there, and many of its settlements have traditionally been built around hills for protection. That being said, things are beginning to change.
For example, the high-end resorts and vacation rentals have installed ramps, making their premises more wheelchair-accessible.
On top of this, travel agents have adapted and offered suitable transportation options and tours.
Many restaurants and museums have even become step-free while providing toilets for disabled people. And, of course, parking for SUVs for disabled people is readily available almost everywhere on the island.
Greeks Have Become More Considerate of Individuals with Limited Mobility
Although Greece is nowhere near Western and Scandinavian countries regarding sensitivity towards disabled people, the Greeks have taken notice and followed suit.
So why now? One big reason is that the government and local authorities have adapted European standards for relevant institutional policies. At the same time, the media has continuously raised awareness of the difficulties disabled people face on a daily basis.
Thankfully, all this effort has paid off immensely. Aside from increased awareness and new initiatives, there have even been community-wide projects.
Rethymno for All is one of these and has made this charming Cretan town more accessible and welcoming to people with reduced mobility.
Cretan Towns that are Friendly to Disabled Tourists
If you want to visit Greece and Crete and have limited mobility issues, it goes without saying that, for the most part, you should stick to the bigger towns where facilities are modern enough to accommodate every need.
Chania, Rethymno, and Heraklion are your best three options, with Agios Nikolaos and the resort of Elounda right behind.
All these towns are home to wheelchair-accessible hotels, friendly locals, dedicated parking for disabled people, and unique transportation options in the form of vans.
As mentioned earlier, the town of Rethymno has shown the most progress in this matter thanks to the Rethymno for All project.
This includes new wheelchair ramps in major monuments, wide streets easy to navigate, and easily accessible museums make Rethymno an ideal destination for disabled tourists.
Cretan Travel Agencies Organize Several Wheelchair-Friendly Tours
Sticking to the island's urban centers doesn't necessarily confine you in terms of places to see. In fact, almost all Cretan travel agents offer tours that are easy to join by people with limited mobility.
For example, you can explore the old city of Chania in the comfort of your wheelchair. On tour gives you the chance to admire its Venetian harbor, visit the town's archaeological museum, and enjoy a panoramic view from the hill of Prophet Elias.
Similarly, there are tours for Rethymno, Heraklion, and even the ancient palace of Knossos.
Of course, due to the nature of archaeological sites, your access to the venue won't be full. Still, it will be plenty to give you a taste of life in prehistoric Crete.
Major Cretan Museums are Step-Free and Fun to Explore on Wheels
No matter which museum you visit in Crete, help is only a word away. All you have to do is politely ask the reception, and they will get you a guide to escort you in the lifts and through shortcuts around the rooms.
If you're into history, I recommend visiting the archaeological museums over the ancient sites since the latter are full of rocks and uneven surfaces.
For something different, join a wheelchair-accessible tour of the CretAquarium. You'll be amazed by the natural marvels and charming water creatures around you.
Finding Wheelchair-Friendly Accommodation in Crete is Easy
An essential aspect of what makes Crete suitable for disabled tourists is the accommodation options. Crete is blessed with hundreds of vacation rentals with infrastructure to accommodate guests with limited mobility.
Whether you are looking for a beach hotel, a high-end resort, or a city stay, Crete has you covered.
There's no doubt you'll receive exceptional services and help from the personnel of your accommodation, a common trait of Crete's legendary hospitality.
Finally, if you want to bring a guide dog, inform your host beforehand, and I'm sure they will be okay with that. They are accepted everywhere on the island.
Recommended Wheelchair Accessible Hotels in Crete
These are some of the hotels we recommend on the island:
ERIA RESORT for People with Special Abilities
Location: Maleme, Chania region.
The first wheelchair-accessible hotel in Crete, is located in Maleme, about 20 minutes from the center of Chania. It has been exclusively designed for guests with accessibility needs and it features a wellness centre, a heated pool, and a poolside bar-restaurant with Cretan cuisine.
The property also offers the following dedicated amenities and services:
Easily accessible and ample rooms
Therapeutic massages and physiotherapy sessions
Special buses for airport transfer and excursions
Visual aids: Tactile signs and Braille
Bathrooms with emergency cords
Lower bathroom sinks
Higher level toilets
Toilet with grab rails
Entire units wheelchair accessible
Upper floors accessible by elevator
Click here for availability or use the box below to check the prices on the dates you prefer.
---
Creta Maris Resort
Location: Hersonissos in the region of Heraklion.
Ideal location in the vibrant seaside resort of Hersonissos, just a few kilometers from the capital of the island, this hotel offers accessible stays right opposite the beach. It combines combines warm Cretan hospitality and accessible amenities in a green-oriented environment with exclusive 5-star services.
The property also offers the following dedicated amenities and services:
Sixteen swimming pools
Lower bathroom sinks
Higher level toilets
Toilets with grab rails
Wheelchair accessible rooms and common areas
Click here for availability or use the box below to check the prices on the dates you prefer.
---
Ibis Styles Heraklion Central
Location: Heraklion town, Heraklion region.
For travelers who want to stay in the city center, a more confortable location to check out the city's museums and exhibitions, this is a wheelchair accessible hotel we recommend in the capital of Crete.
The property also offers the following amenities and facilities for diabled guests:
Emergency cord in bathrooms
Lower bathroom sinks
Wheelchair accessible areas
Upper floors accessible by elevator
Special diet menus can be arranged on request
Click here for availability or use the box below to check the prices on the dates you prefer.
---
Grecotel Marine Palace & Aqua Park
Location: Seaside village of Panormos, Rethymnon region.
Located in the tranquil seaside village of Panormos, in the region of Rethymnon, this is another accessible hotel that's also a pet-friendly property. It offers units with air conditioning, TV and fridge, or kitchenette and a spa center is available.
The property also offers the following services and facilities for diabled guests:
Emergency cord in bathrooms
Wheelchair accessible areas
Entire units wheelchair accessible
Upper floors accessible by elevator
Pet-friendly property
Click here for availability or use the box below to check the prices on the dates you prefer.
---
Many Cretan Beaches Offer Independent Water Access Equipment
Swimming pools won't be your only option for a dip in Crete. A new Panhellenic project named SEATRAC offers an automatic ramp and chair that brings you safely into the water and is available on several beaches around the island.
If you haven't heard of the system before, think of a movable chair that slowly moves you into deep water. You use it with a remote controller, which you can find from a nearby venue, usually a cafe or a tavern.
The best news is that these services are entirely free of charge. And if you are a frequent visitor to such beaches, you can even ask for your own remote controller by calling +302610876000 or emailing [email protected].
Once you have the remote, approach the ramp and press the right button for two seconds, and the chair will return to its initial position. Then, align the wheelchair next to the seat and shift yourself to the center of the chair.
Press the left button for two seconds, and voila! The machine will slowly get you into deeper water where you can unload and swim.
GOOD TO KNOW: SEATRAC is composed of a fixed track mechanism in which a wheelchair can be moved in and out of the water. SEATRAC is environmentally friendly as it utilizes solar energy as its only power source.
You can currently find this system installed on the beaches of Agioi Apostoloi, Agios Onoufrios, and Marathi around Chania.
On the other hand, Heraklion or Hersonissos visitors will find it on the nearby coast of Ligaria. Finally, Plakias and Agia Galini will be your primary choices in the Rethymno region.
As you can see, wherever you are in Crete, Greece, wheelchair-accessible beaches are always within a few minutes drive.
And more often than not, they include additional amenities such as beach tracks, specialized restrooms, dedicated parking, and even shower facilities for people with mobility issues.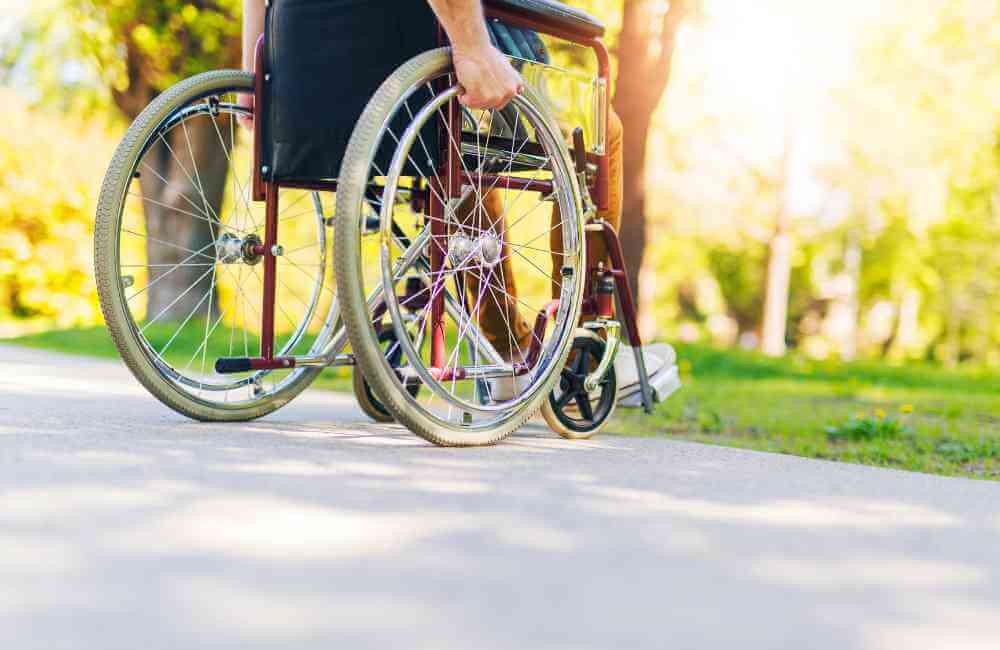 All in all, if you consider Greece your next destination, I urge you to give Crete a chance.
The island may not be fully accessible on wheelchairs, but considering the terrain and recent advancements, it can surprise you positively.
Crete for disabled tourists can and will be a blast. You only have to try.
Read more about Crete
🛌 Suggested Accommodation in Crete:
🗺️ More resources to book your trip to Crete
Written by Dimitrios Tsevremes
Passionate about travel, spirituality, and sports, I have lived in 5 countries and traveled to more places than I have counted. Writing, for me, is a way to express myself and my creativity. Whether I write for my blog or a freelancing gig, I always fall in love with the process and often lose my sense of time. If you want, you can check out more about me and my work here.
Pin This Travel Guide to Crete for People with Disabilities
---
You might also want to read these posts about Crete's regions:
---
About my blog: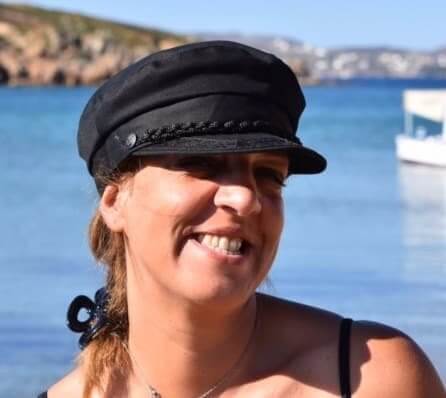 I moved to Crete in 2016. During these years, I learned much about the island.
In Crete, I juggle being a solo mom, hosting culinary tours, and writing for several travel blogs.
I've written for Greek Reporter, published travel guides about Greece, and had more glasses of frappe than any regular person could ever handle.