Whether you're planning your next holidays on Crete or simply preparing your own itinerary of Crete to tour the island, this is a fool-proof mini itinerary to better discover the beautiful region of Rethymnon. Let's see what you can see and do with 2 days in Rethymnon or more!
This article may have affiliate links to products and services that I use. If you make a purchase through these links, it might earn me a small commission at no extra cost to you.
Rethymnon city break: Perfect itinerary
Hundreds of tourists that visit Crete more than once in their lifetimes admit that Rethymnon is one of their most favorite regional units on the island, and it's capital, the most pretty. It's fair to say that Rethymnon is indeed a magnificent place to spend your holidays, whether you are into adventure, beach life or sightseeing, there's a lot you can do and see in the area.
On the other hand, those exploring Crete for the first time are eager to give every region a chance, devoting 2-3 days to discovering the region of Rethymnon is a great idea to get more than a glimpse of this unique Cretan area, full of traditions, wonderful landscapes, and a unique southern coast.
As I also did for the Chania and Heraklion itineraries, this itinerary starts with three must-sees for those who visit the region with an organized tour and have little free time available. Whether it's just a few hours or more than a couple of days, there's so much you can do! Take a look…
Just a few hours in Rethymnon… or more!
It's a few seasons already that you can also arrive at Rethymnon from other islands with a ferry, if that's your case, or if you are touring other cities but plan to spend a weekend in town, there are many things to do in Rethymnon. 
It's always a great idea to start by exploring the old town of Rethymnon, a maze of romantic cobblestone alleys, beautiful Venetian houses and a lovely Venetian port.
Other than that, in the region, there are beautiful beaches you can visit, both close to the city as well as on the Libyan sea coast, in the south of the island, and it's quite simple to visit them on a day trip even if you're in town only for 2 or 3 days.
If your trip to Crete includes only one day in Rethymnon, you can choose some of the ideas below to spend a great day in town.
How to use this itinerary guide to Rethymnon
A few hours in Rethymnon
Use this itinerary if you're planning a short visit to Rethymnon. If you stay in town for a couple of hours, while you're driving along the northern coast, head directly to the top attractions listed as Quick Tour of Rethymnon.
One day in Rethymnon
If you're staying in Rethymnon for a whole day, add some of the afternoon suggestions to your itinerary. Check my food suggestions as well both for a quick lunch or for dinner.
Two days or more days in Rethymnon
If you're spending two full days in Rethymnon, choose one of the alternative itineraries under What to do in Rethymnon in 2 or 3 days.
Those who wish to extend their stay can choose one more day trip idea for extra activities.
Don't forget to check the hotel recommendations and tips for public transportation.
A quick tour of Rethymnon
3 Things you can't miss in town
Choosing only 3 things to do in Rethymnon is not really simple. The city is full of stunning sights, museums, and churches that I'm sure you will enjoy visiting.
However, and since you are short of time, this list highlights what I believe is the very best in town. You can always check these 10 top things to do in Rethymnon to see and do more!
1. Walk to the Fortezza, Rethymnon's Venetian Fortress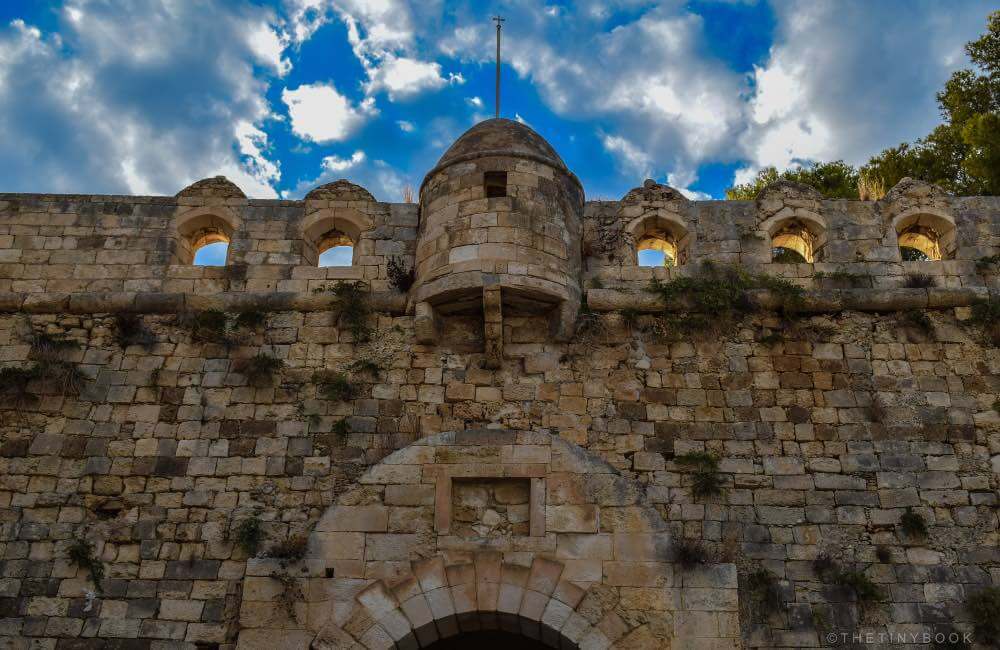 From the top of the Venetian fortress, you don't only get a magnificent insight into Crete's history, but also a fantastic view of the city's skyline as well. Begin your sightseeing experience of Rethymnon by walking towards the entrance of the Fortezza.
You can do so either departing from the local bust station, walking east right next to the sea (along Emmanouil Kefalogianni Ave.), or from the old town (walking up Katechaki Street) towards the sea. Both roads lead you to the Main (Eastern) Gate of the fortress.
If you have arrived to Rethymnon by car and have parked at the parking lot of the modern port, you will also need to walk along the sea, but towards the west, until you reach the signpost indicating you've arrived at the fortress.
INSIDER'S TIP: The road that leads to the gate of the fortress from the old town is quite steep. And although the seaside road is great to walk, the road that leads to the entrance, no matter where you're coming from, has very old and irregular cobblestones, quite slippery and difficult to walk on. Avoid heels at all costs and flip flops too, if you can. A nice pair of walking sandals or comfortable tennis shoes are the safest option to walk in the area.
Once inside the fortress, discover the former Cathedral of Agios Nikolaos that the Ottomans transformed into an impressive mosque (Sultan Ibrahim Han Mosque) with a unique domed ceiling visible from all over the city. Once inside, the hundreds of small tiles that cover the roof will leave you in awe.
Before the Ottoman rule, the church was a Catholic church, which clearly explains that the main purpose of the whole fortress was to protect the Venetian (therefore Catholic) population and not the Cretan (Orthodox) community.
Don't forget to visit the gunpowder magazines, the water tanks, and the different subterranean passages hidden inside the fortress. The architectural style and impressive walls built by the Venetians are truly worth a visit.
Timetable: Everyday 8 am – 7 pm (summer), 8.30 am – 16.15 pm (winter).
Ticket: €4 (€3 reduced: senior citizens, students, and other categories apply). Family pass €10.
GPS coordinates: Latitude N 35.372664 | Longitude E 24.471120
Nearest parking spots available near the fortress (unless it's a farmer's market day), at the bus station (arrive early), and in the new harbor.
2. Stroll along the Old Venetian Port of Rethymnon
From Rethymnon's Fortress, reach the seaside promenade and walk for about 10 minutes until you reach the Old Venetian Port.
Often compared to the other Venetian port of Crete, in Chania, this smaller harbor has a completely different style and character. Walk all the way to the old lighthouse and choose a table in one of the several seaside tavernas to enjoy a glass of fresh orange juice and soak in the views of the old port.
The old Venetian port was build in the 13th century and it was a trading port that the Venetians merchants used during their long rule of the island. Later on, when the Ottoman Empire conquered Crete, it was also used by the Turkish navy.
Rethymnon's Lighthouse
The Lighthouse located in the old Venetian port of Rethymnon is another Egyptian lighthouse, just like the lighthouse in Chania's old town. It's a nine-meer structure which stands on the old sea wall. For those interested in getting a closer look, they can walk along that wall to access the old faro
During the 180s, the Turkish handed the rule of the island to the Egyptian government and these built the present lighthouse, although many believe it actually stands on top of an older lighthouse built by the Venetians, just as in Chania.
3. Shop for local products in the old town of Rethymnon
There are endless artisan shops in the alleys of the old town where it's possible to buy anything from locally made crafts, to olive oil, raki or the sweeter version made with honey (rakomelo), but also cosmetic products, antiques, leather products, and musical instruments, to mention a few.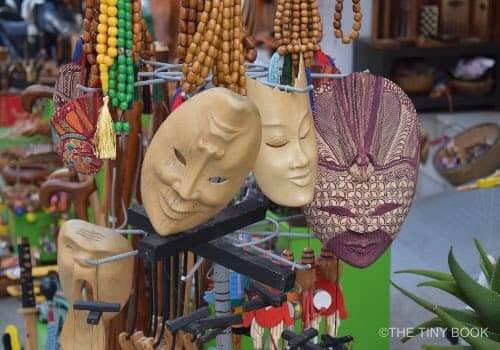 If you're lucky enough to visit the city on the days when the open public market is held, don't miss a visit. You will be able to discover the local tastes, including fresh vegetables, seasonal fruit, and a wide variety of cheeses produced in the region.
If you're looking for the perfect souvenir to take back home, check the different workshops in town. Painters, sculptors, and artisans sell jewelry, paintings, figures sculpted in wood, masks, and even glass lamps. There's also a wide variety of t-shirts and other locally made garments to choose from.
1 day in Rethymnon
The old town of Rethymnon is fairly small but there are so many things to do that usually just a morning in town is not enough. If you're willing to discover more of if you have a few more hours, it's not hard to come up with ideas about the things you can do in the afternoon. Before moving on, though, let's go for a quick lunch in town.
Lunch on the go
In order to make the most of your day in Rethymnon, it's a great idea to grab a quick lunch and keep walking and exploring. If that's the case, these are a few convenient options for a fast lunch. Here's where to eat a quick lunch in Rethymnon.
Mojo Burgers: For years one of Rethymnon's top places for freshly-made hamburgers with original ingredients (you can add to your sandwich virtually anything you want). Don't forget to write your own message on the wall once you're done with your meal. Mojo Burgers is near the new port of the city.
(Damvergi Street, old town).
Takis Place Beer – Restaurant: Right opposite Paralias Rethymnon (the city beach of Rethymnon), quick dishes and a great selection of beers. The restaurant also offers sunbeds on the beach with drinks included.
(Sofokli Venizelou 48, opposite the city beach of Rethymnon).
Gorgona: Also located on the main street facing the sea Gorgona offers delicious and abundant meat plates, souvlaki, and gyro dishes for convenient prices.
(Sofokli Venizelou 46, opposite the city beach of Rethymnon).

Kokkinos Bros: One of my favorite food joints in town when it comes to quick dishes, full of flavor and at very convenient prices. You can go for pizza, souvlaki, gyro, skepasti (double the size of a gyro!), apaki (curated pork) and – my favorite – their amazing selection of fried sikotaria (offals including liver and sweetbread), liver.
(17 Agn. Stratioti Square).
Katsarolaki: Another simple place with great traditional dishes, fast and friendly service, and budget prices.
(Mark. Portaliou 19 – in the modern city of Rethymnon).
Nikos Souvlaki: A favorite place in town for gyros (as well as other meat dishes), Nikos Souvlaki has been serving pita wraps for many years and, according to those returning, flavors can't help getting better and better. Very convenient prices too.
(Arkadiou 70, old town).
Three things to do in Rethymnon in the afternoon
4. Explore the Turkish past of Rethymnon
One thing that usually surprises visitors is the impressive amount of Turkish buildings still surviving in town. The old town skyline has characteristic tall minarets which have been recently refurbished and embellished. There are also mosques and the typical Turkish balconies made of wood, covering the Venetian facades of dozens of buildings.
If you have some extra time, visit the less Turkish hammams, some of them offering special beauty treatments in some very beautiful buildings. In town, you can find Crete's most vivid example of Ottoman architecture, so take some time to check the Turkish sights well worth exploring in the old town.
Mosques of Rethymnon
We've already mentioned the magnificent mosque located inside the premises of Rethymnon's Fortress, Sultan Ibrahim Han Mosque. This remains one of the most beautiful Turkish buildings in town with an impressive dome that can bee seen even from the distant highway.
Once the Franciscan church of the Holy Mary, Neratze Mosque is home to the tallest and most impressive minaret in town, dating back to 1890. The Ottoman rulers added impressive domes to the structure of the building converting it into one of the main mosques in town.
The structure now hosts the Municipal School of Music especially thanks to the stunning acoustic features of the building.
Once more mosque worth a visit is the former church of Agia Varvara transformed into Kara Moussa Pasha Mosque during the Ottoman rule of the island.
Although the building cannot be visited inside, it's located on an open garden and it's possible to appreciate the fine architecture of the building, as well as the water fountain and abandoned carved gravestones that lie in the gardens of the mosque.
5. Discover the Archaeological Museum of Rethymnon
The Archaeological Museum of Rethymnon is currently hosted in the fantastic church and former monastery of Saint Francis, in the old town, giving you the opportunity not only to admire the interesting collection of archaeological findings but also to discover one of the most beautiful buildings in the city, dating back to the Venetian times.
The collection is famous for a collection of Minoan funerary chests, known as Larnax, dating from different periods (from the Late Neolithic to the Proto-Minoan times). Other findings include tools, figurines, coins, weapons and helmets, magnificent Minoan jewelry, and ceramic collections too.
If you want to buy replicas you need to visit the Venetian Loggia, which also works as the museum shop. The Loggia, a fantastic building from the Venetian period, is a great place to visit for its refined architecture and the fantastic reconstruction work that has been carried out on the premises.
Archaeological Museum of Rethymnon
(4, Agiou Fragiskou Street, Church of Agios Fragiskos)
Opening hours: 10 am – 6 pm (Summer) | 8 am – 3 pm (Winter)
Ticket: 2€ (students 1€, children free) – Time needed to visit: About 2 hours.
6. Check a traditional pastry shop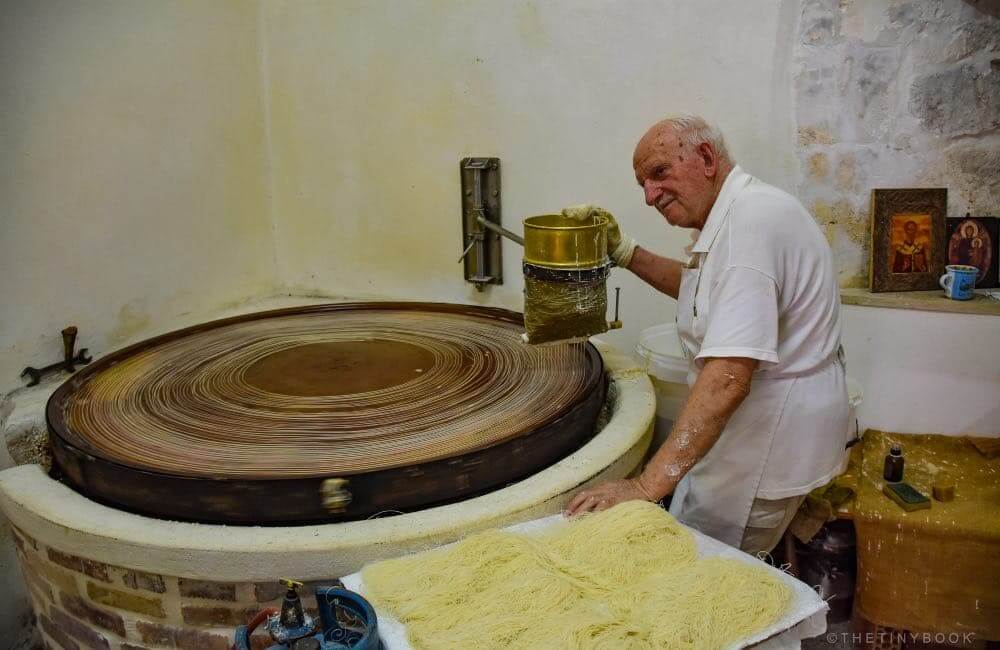 If you want to get a close-up look at the tastes and most authentic traditions of the island, visit the pastry workshop of Giorgos Hatziparaschos located in a beautiful old Venetian house, in the heart of the old town of Rethymnon.
Here, it's possible to meet Mr. Giorgos the last traditional phyllo master in the city. Every day, Mr. Giorgos with the help of his son and grandson prepares handmade kadaifi pastry and phyllo. A craft he has mastered since WWII.
When you visit, buy a small tray of his delicious baklava to taste on the go… and a few more to take with you as a sweet souvenir of the Old Town of Rethymnon.
Dinner in Rethymnon
Don't go very far away from the alleys of the old town to enjoy a dinner in one of Rethymnon's most famous restaurants.
Avli Lounge is set in a uniquely beautiful garden in a romantic Venetian villa right in the heart of the old town. Combining fresh local ingredients and a superb dose of creativity, Avli has been serving outstanding Cretan dishes for over 20 years.
Katerina and her dedicated staff also offer beautifully crafted cooking lessons for those who want to discover the secrets of the Cretan diet. The restaurant also boasts a unique wine list and a beautiful wine tasting room and cellar with glass floors exhibiting former Turkish hammam. Not far from the restaurant, visit Avli Raw Materials, a small boutique where they sell an array of Cretan products such as olive oil and sweets.
From their menu…
Try their Greek Degustation Menu with Greek wine pairing.
Avli is also well-known for its creative pies and local salads. A must-try? Their Sfakiano, a super dish made with very tender local lamb cooked with local herbs and baked potatoes.
>> Dial (+30) 2831 058250 to book a table at Avli (Xanthodidou 22, Old Town of Rethymnon) <<
Spend the night in Rethymnon
Do you want to drive around and be free to explore more? Check this step-by-step guide to driving in Crete.
Love this itinerary? Explore all the places to see in Rethymno and then plan your personal trip.
Fancy a good night's sleep after a tiring day in town? Check top-rated accommodation in Rethymno and book the perfect place to stay or discover the best Airbnbs in Rethymnon, Crete.
Rethymnon in 2-3 days
At first, I thought this itinerary as a 1 day in town + 1 day trip in the regional unit of Rethymnon, the perfect 2-day in Rethymnon trip. However, it's very common for people to devote more time to visit the area. So, if you have more time available, or if you have picked this town as a mini holiday destination, the following alternative ideas for day trips or itineraries are just perfect for your second, third… or even fourth day in Rethymnon.
Choose just one, two, or even all of them if you have more time. All these itineraries are flexible, so it's possible to combine them according to the things you want to see and do in Rethymnon.
More of Rethymnon city itinerary
Morning
If you enjoyed dinner in Avli, as previously recommended, go for their unique Cretan breakfast and then walk along the sea to reach the city beach if you're longing for a stay at the sea but don't feel like driving along the coast.
Locally known as Paralias Rethymnon, the beach is opposite a popular strip full of restaurants and tavernas. It's possible to rent a sunbed and spend the day in by the sea. Of course, this is not the best beach in the region, but it's a good option to spend just a few hours by the sea.
Afternoon
One can never get enough of the old traditional alleys of Rethymnon. If your first day in the city was not enough, spend some more time discovering the Venetian buildings and take advantage of this walk to taste some of the excellent pastries produced in the town.
One of my favorite places for a sweet treat is Gaias Gevsis, a small shop near Porta Guora at 17 Eth. Antistaseos Street, known for frying the best fresh loukoumades that they serve hot with a delicious honey syrup and any topping you wish. This little shop is a must for me and my kids every time I visit Rethymnon.
Ice Cream stop
Considered a hotspot in town, and a place where both locals and tourists meet, it's always a great idea to spend a few hours watching the city go by. After your sweet treat, reach the nearby church of Our Lady of the Angels for a visit.
Rethymnon for foodies itinerary
Morning
Plan a morning visit to the village of Skepasti and pay a visit to Klados Winery located in the area.
Not everyone is aware that the most famous grape variety from Crete, Vidiano, has its origins in the Rethymnon region.
This local winery produces just a few labels which you can sample while touring the vineyards of Klados winery.
To read more about this Rethymnon winery, you can read this article.
Afternoon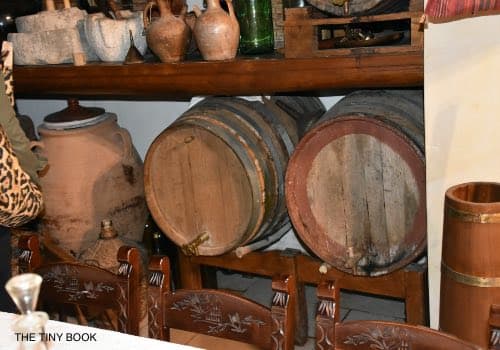 Drive inland to the mountain village of Asteri to discover the Folklore Museum established in the village, Poliou House.
Inside the museum, you will be able to explore the former way of living in Crete's houses, learn about the furniture used, the ways of cooking, and the tools used to work in the fields.
Yet, the most delicious thing you can do in Poliou House is to sit at one of its tables and enjoy dishes such as the meat stew with onions, the homemade raki and wines, and their unique spoon sweets made with fruit sourced locally.
Rethymnon itinerary for beach lovers
All-day trip to the South of Rethymnon
Set to the south of the region early in the morning to discover some of the best-known beaches in Crete.
Plakias is a small village located on the coast of the Libyan sea where visitors can choose one of the several beaches to spend their day.
Only 5 km away from Plakias, you can also visit the fantastic beach of Damnoni. I have included some of them in my article about the best nudist beaches in Crete since some of these shores are considered a paradise for naturism too.
The area is great place for subaquatic sports and there are several immersion schools in the area as well.
Plakias, Damnoni, and Rodakino are excellent places to relax since the three beaches are usually not very crowded. Instead, if you prefer a more vibrant atmosphere, more shops, and beach facilities, you can drive all the way to Agia Galini, a popular resort 61 km from the capital of the region.
Rethymnon adventurous itinerary
All-day trip: Alternative 1 – Amari
Driving all the way from the city center to the Valley of Amari to get a close-up view of the impressive Mount Psiloritis, the highest peak on Crete with its 2,456 meters.
>> You can read more about the Amari Valley in this article.
In the area, discover the different villages that surround the Amari Valley where you'll be able to experience the traditions of the island, talk with the friendly locals, and enjoy a unique lunch in any village taverna.
Take a few minutes to discover the small village of Thronos as well as the tiny Byzantine church with ancient frescoes. A walk in the valley will reward you with unique views of the island.
All-day trip: Alternative 2 – Patsos Gorge
As you probably know already, the island of Crete is famous for the high number of gorges that cross its three mountain ranges. In the region of Rethymnon, the beautiful Patsos Gorge, also known as Saint Anthony Gorge, is a great place for a day trip in the area.
Considered rather easy to hike, Patsos can be a great outdoor adventure for people of all ages. It's impressive lush landscape as well as the several natural water sources make it a fantastic place to explore in the area.
Rethymnon for families itinerary
Alternative 1: Triopetra
Depart early in the morning driving towards the south of the Rethymnon region.
Get on the road that passes through the village of Spili to reach any of these three beaches.
Choose the one that better adapts to your family beach style. Triopetra and Ligres beaches have rather easy access for smaller kids, while for Preveli you need to hike before getting to the coast, consider that if you're traveling with small kids.
Alternative 2: Ligres
Ligres is a fantastic and isolated beach, no more than 10 minutes away from the coast of Triopetra.
Both shores on the southern coast of Rethymnon can easily be seen in one day.
It's a great idea to reach the South early in the morning, spend a few hours swimming and exploring the rock formations in Triopetra beach, and then move to Ligres.
Here, enjoy a traditional and convenient lunch at the taverna overlooking the coast and devote the rest of the afternoon to explore the waterfalls of Ligres, swimming, and enjoying the sunset.
The nearby village of Spili is a fantastic place to visit on your way back to the city of Rethymnon.
Alternative 3: Preveli Beach
Undoubtedly, this is one of the most spectacular beaches in South Crete.
Preveli's main characteristic is the outstanding palm tree grove that borders the Megalos Potamos river crossing the Kourtaliotiko Gorge and ending right in the Libyan sea.
Thanks to the unique landscape, Preveli has a fantastic exotic feeling, it's also a great location for those who love taking pictures. The beach is not really organized, so it's a good idea to carry everything you need with you so as to spend the day.
If you want to spend a day at Preveli beach, it's is a good idea to also pay a visit to the nearby Preveli Monastery. For more information about this important religious center, check this article about Crete's most beautiful monasteries.
---
General information about Rethymnon
Rethymnon hotels: Where to stay
Some of my most memorable stays in Crete have been in the old town of Rethymnon. Avli Lounge is a combination of an all-suites hotel and restaurant, with a fantastic wine bar and cellar and a shop selling authentic Cretan products.
For an adult-only escape, a romantic getaway or a honeymoon, Pepi Boutique Hotel is one of the most romantic places in town, exclusive for adults.
If you prefer to stay in the modern city and are on a budget, check Archipelagos, it has a system of terraces connecting the rooms that allow you to see the old town and the Fortress.
>> For more where to stay ideas, check my where to stay in Rethymnon guide.
Renting a car and driving in Crete
When it comes to suggesting which companies to use for travel services in Crete, I like to suggest only places I've personally used. Including hotels and tours.
As far as car rental concerns, you might want to read this Guide to car rental & driving in Crete. I've written a post with all the information and practical tips you need when visiting Crete, car rental is obviously included.
How to reach the city of Rethymnon
If you've arrived at the airports of Heraklion or Chania, it's possible to reach Rethymnon with the public bus KTEL. Schedules are both online and at the stations. Here you can find additional information about traveling around the island with KTEL.
Heraklion – Rethymnon: 90 minutes (8,30€)
Chania – Rethymnon: 60 minutes (6,70€).
Arriving or departing by sea: The port of Rethymnon
The Port of Rethymno is near to the Old Venetian Harbor and a few steps away from the city center. Just a few ferries operate from this port of Rethymno and they mostly do so during the summer season.
Ports with a connection to the port of Rethymno: Piraeus (Athens), Rafina (Athens), Andros, Ios, Tinos, Milos, Mykonos, Santorini, Naxos, Paros, Heraklion (Crete)
Moving around by bus
Buses (KTEL bus company) connect the town of Rethymnon with all tourist places in the region, the most popular destinations include Bali and Panormos on the northern coast, Plakias, Preveli, and Agia Galini in the south. The service is reliable, the schedule has a good frequency, and the prices are quite convenient.
There are also busses connecting Rethymnon with other important centers in Crete, such as Chania and Heraklion.
Read more about Rethymnon & Crete
For a comprehensive practical guide to Crete, including tips for currency, health, transport, accommodation, and much more, read my Practical Tips for Holidays in Crete, it has all you need to plan a trip to the island.
Crete is a super kid-friendly island, you if you're traveling with the little ones you will find all the tips included in this Guide to Family Holidays in Crete super helpful, it's in fact a great starting point to plan your family holidays in Crete
If you plan to visit the southern beaches of Crete, including the Rethymnon ones, check my guide to the best beaches in South Crete.
Those planning to spend a few days in every important city of the island can take advantage of my Heraklion itinerary and my Chania itinerary. For more ideas, read the best 10 things to do in Rethymnon and the top 10 things to do in Agios Nikolaos.
Are you ready to explore Greece? It can be the trip of your lifetime. Get in touch if you need extra help to plan your itinerary. If you happen to also tour West Crete, check this guide. You'll find detailed info about where to go, what to see, where to eat, and more!
Want more? Join my Private Facebook Group to connect with like-minded travelers who love Crete as much as you do!
Coming to Crete any time soon? These resources will help you organize the trip!
Start by reading these helpful tips to plan a trip to Crete, which covers details such as when it's best to travel, what documents you need, or how to get a SIM card. Check family holidays in Crete if you travel with kids.

To visit Crete's heavenly beaches, check my guide to the best beaches in Crete. Discover what region is best to stay or check what things you can do in Crete.

For updated information about the island, join my private group on Facebook, or get my West Crete Guide!
Finally, make sure you've got everything you for a hassle-free trip!
I never move around Crete without my Osprey backpack, a sturdy, light, roomy, and super comfortable travel partner I just love. To visit villages, sites, and museums instead, I carry this little crossbody bag.

When driving around, I pack my Crete Michelin map and my Nikon D7200. In Summer I also carry good sunscreen lotion, the sun on the island can be pretty aggressive.

Airfares to Crete can change from one airline to the other, make sure to compare prices with a powerful search engine. Planes are fast, but nothing like the romantic experience of traveling by sea in Greece. Direct Ferries has great ticket deals to reach Crete from Athens or to visit other Greek islands.

If I need to book accommodation, I personally use different search engines. Booking.com
and Hotels.com are my go-to options.
Sometimes, the best way to make the most of your time on Crete is to join an organized tour. GetYourGuide has top-rated tours to save time and money. From cooking lessons to archaeological site tours, skip-the-line attractions, and airport transfer!

Do you have everything you need? Then you just have to get ready to discover Crete, Greece's most beautiful island!
These articles have been written thinking about you!
If you'd like to read more about other things you can do in Crete, you should also check this self-guided tour to visit Knossos as well as this unique Heraklion itinerary for 1 to 3 days in town. As you've probably heard, visiting the Knossos Palace is not always enough, so do include a trip to Heraklion's Archaeological Museum on the same day to get a more accurate picture of the Minoan Civilization.
Heraklion is also the region where you can discover a more recent past… so why not travel back to the 60s with a day trip to Matala beach? It's located on Heraklion's south coast which also boasts spectacular beaches facing the Libyan Sea. Families with kids will be happy to know that the capital of Crete has some stunning theme parks for children such as Labyrinth Park and the fascinating Dinosauria. Finally, if you're still in the planning stage of your trip, have some fun learning these fun and interesting facts about Crete, you'll discover many curious things you probably didn't know!
Which of the above things would you like to do in Rethymnon?
Let me know in the comments!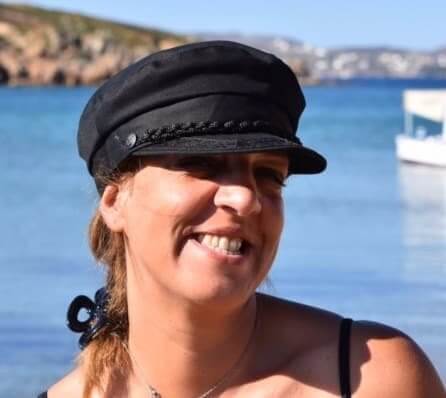 About the Author
Hola! I'm Gabi. Welcome to The Tiny Book – Crete Travel Blog! I moved to Crete to explore the island all year round. I love taking pictures and driving on the mountain roads of Crete. I'm a beach freak and on this island I've found heaven on earth!
---
You might also want to read:
---