Ready to spend a few days exploring the treasures of Heraklion? Heraklion is Crete's beautiful capital city and a gateway to ancient wonders, vibrant culture, and stunning natural beauty.
Heraklion is also one of the four regions of the island, featuring a rich history that dates back to the Minoan civilization, as well as cultural sites, idyllic beaches, bustling markets, and mouthwatering gastronomy.
The whole region promises travelers a captivating journey. So, if you're planning to spend 5 days in Heraklion, this comprehensive 5-day itinerary -designed just for you- is all you need!
---
Disclaimer: Posts include affiliate links to products or services. I might earn a commission if you make a purchase at no extra cost.
---
5 Days in Heraklion: Top Things to Do
Being both the capital of Crete and the capital of the region, Heraklion is an important city in Greece offering plenty of things to do, attractions, and entertainment.
The rest of the Heraklion region is also an interesting area to explore, with unique archaeological sites, some of the best wineries on the island, incredible villages, and some fantastic beaches, especially on the southern coast.
Rest assured that spending 5 days in Heraklion will be a great way to start your Crete adventure!
Heraklion Day 1: Historic Sites and Stunning Museums
Start your Heraklion journey by exploring the archaeological site of Knossos, located just a short drive away from the city center and also reachable by public bus.
This ancient Minoan palace, dating back to the Bronze Age, is steeped in myth and legend, offering a glimpse into the fascinating civilization that flourished here thousands of years ago.
INSIDER'S TIP: Ticket purchase lines at the Palace of Knossos can stretch back an hour or longer during busy periods. Beat the lines with this skip-the-line booking Knossos Entry Ticket & Optional Audio Guide.
After immersing yourself in Minoan history, head towards the city center and visit the renowned Heraklion Archaeological Museum, home to an extensive collection of artifacts from Crete's rich past.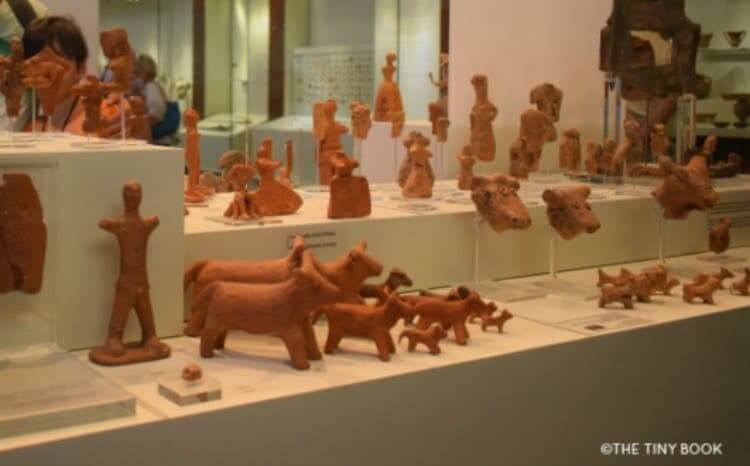 Here, you can admire the reconstructed Minoan frescoes, intricate pottery, and stunning objects that prove how advanced the Minoan civilization truly was.
Later in the afternoon, as you keep wandering the charming streets of Heraklion's old town, visit the Venetian Walls, the city's historical fortification that once protected the city from invaders.
Take a leisurely stroll along the walls, relishing in the panoramic views of the cityscape reflecting on the shimmering Mediterranean Sea.
End your day at the impressive Koules Fortress, a formidable Venetian bastion.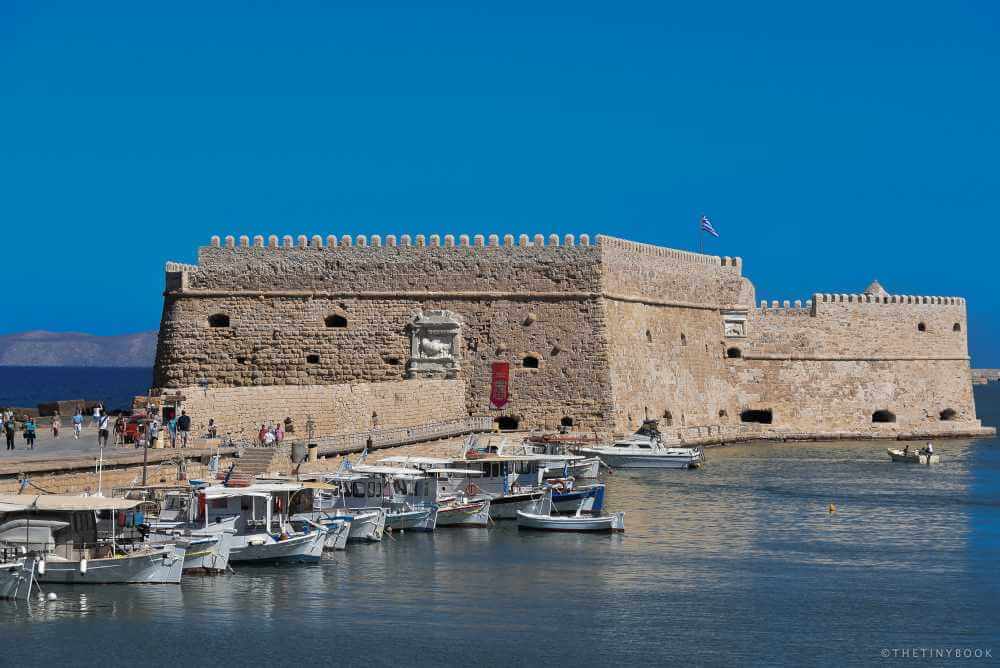 Climb to the top for panoramic views and marvel at the fortress's grand architecture and sturdy walls that have stood proudly on the city's harbor for centuries.
Heraklion Day 2: Cultural Immersion and Gastronomic Delights
Start your day by exploring the bustling public market on 1866 Street. Immerse in the enticing aromas of spices, freshly baked bread, and local produce.
Indulge your senses while wandering through vibrant stalls, interact with friendly vendors, and sample delectable Cretan delicacies.
Right after, make your way to the Historical Museum of Crete, another interesting exhibition in town. where you can delve deeper into the island's rich cultural heritage.
Marvel at the meticulously curated exhibits, from ancient civilizations to the Byzantine period and beyond, and learn about the spirit of Cretan resistance during the Ottoman occupation.
Next, treat your taste buds to an authentic Cretan culinary experience. Head to a local restaurant and savor traditional dishes such as dakos, succulent lamb with stamnagathi, and warm, rustic bread dipped in fragrant olive oil.
Accompany your meal with a glass of local wine and immerse yourself in the lively, friendly atmosphere of the Cretan dining experience.
If you're wondering where to find traditional food, you can find the best restaurants in Heraklion here, or you can simply head to O Tempelis (on Milatou Street) if you're longing for authentic, simple, delicious, and truly affordable food.
Heraklion Day 3: Nature Coastal Beauty
On the third day of your Heraklion exploration, you will go on an adventure through nature's wonders and visit one of the most iconic beaches in Crete.
However, to add a bit of spice to the trip, don't follow the traditional route.
Instead, head south to Kaloi Limenes and begin the day by joining a thrilling trek through Agiofarago Gorge, an awe-inspiring canyon, fairly easy to walk with steep cliffs and rich wildlife, offering a mesmerizing hiking experience.
Walk along the winding trail, marvel at the towering rock formations, hidden caves and a secret chapel, and enjoy the tranquil beauty of the surrounding landscape.
You can either end the hike at the beach of Agiofarago or get back to the car to explore one of Crete's most famous beaches: Matala.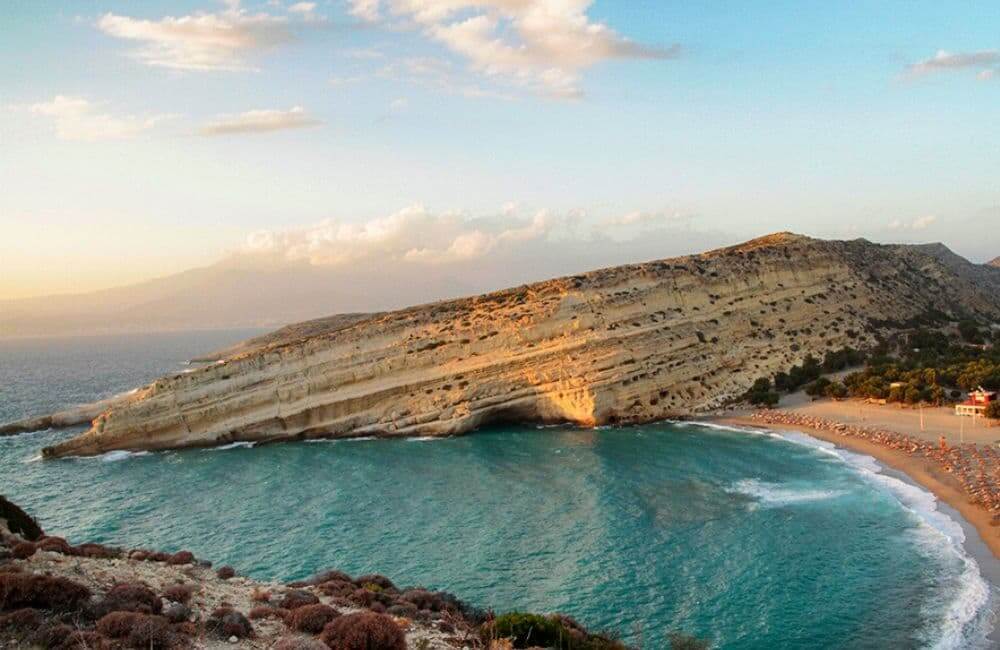 Matala Beach is a legendary shore on the south coast of Crete, located about 45 minutes from Agiofarago (20 km).
The beach gained fame during the 1960s and '70s as a haven for hippies who used the beach's iconic caves as shelter.
Once you arrive at the beach, bask in the golden sun, sink your toes in the warm sand, and take a refreshing dip in the crystal-clear waters of the Libyan Sea.
Enjoy a leisurely day, savor the laid-back vibes of Matala, and explore the local shops and cafes along the beach.
LOCALS KNOW: If Knossos was not enough, then head to the nearby Phaistos Palace and discover the stunning archaeological site where the Faistos Disc was discovered.
Heraklion Day 4: Explore Crete's Countryside
On day 4, immerse yourself in the serene beauty of Crete's countryside. Leave the hustle and bustle of the city behind as you venture into the picturesque rural landscapes surrounding Heraklion.
You will discover the enchanting olive groves, vineyards, and traditional Cretan villages that dot the countryside.
If you're wondering where to begin, I can suggest you venture towards the traditional village of Fodele or discover what life is all about in Krousonas to stroll through stone-paved alleys, where time seems to slow down.
Enjoy your time witnessing the simple yet rich way of life that has endured for centuries. Bask in the peaceful ambiance and engage with the locals to truly experience Crete's authentic lifestyle.
As you explore the countryside, make sure to taste the local produce and delicacies.
Savor the exquisite flavors of extra virgin oil, sample delicious local wines from the vineyards, and indulge in the mouthwatering traditional cuisine crafted from locally sourced ingredients.
In the afternoon, you can either head to the coastal settlement of Agia Pelagia for a quiet time at the beach or continue exploring inland and reach the breathtaking Zaros Lake.
The settlement and the lake are nestled amidst verdant hills and lush olive groves. Over here, you can take a leisurely walk along the shores of this serene lake, admiring the tranquil scenery and the reflections of the surrounding mountains on the water's surface.
Breathe in the fresh mountain air and let the peaceful vibe wash over you.
Heraklion Day 5: Farewell and Departure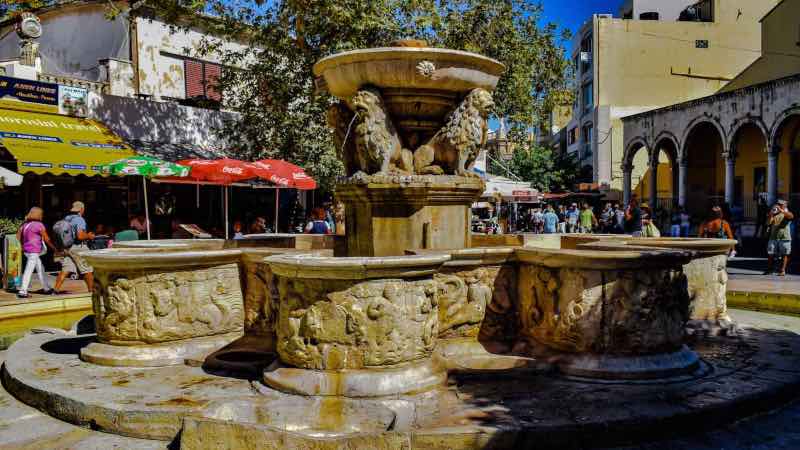 As your enchanting 5-day adventure in Heraklion comes to an end, take a moment to reflect on the incredible experiences and unforgettable memories you've made.
Therefore, before you depart, make the most of your remaining time by enjoying a leisurely breakfast at a local cafe, savoring the flavors and aromas that have now become familiar to your taste buds.
I absolutely recommend visiting Kirkor, in the central Liontaria Square, where they bake one of the most traditional sweets on the island, Bougatsa!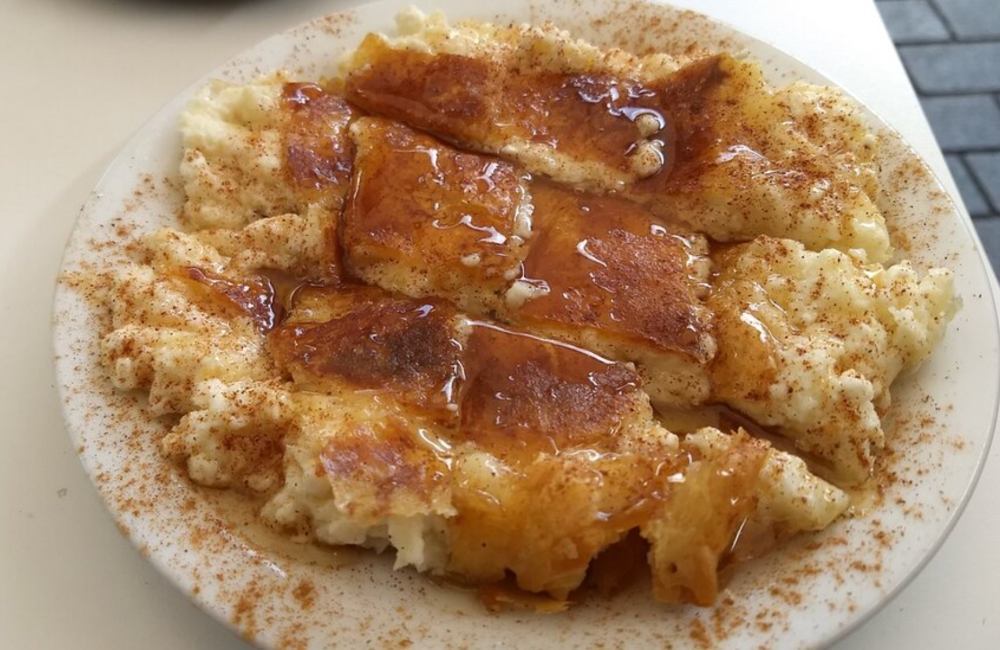 Then as you prepare to leave, take one last stroll through the vibrant city center, bidding farewell to the Venetian-era architecture, the aristocratic buildings on 25th of August Street with its gorgeous Loggia, and many charming shops ideal for souvenir-hunting.
Allow yourself to absorb the unique atmosphere of Heraklion one final time, embracing the warmth and hospitality that the city exudes.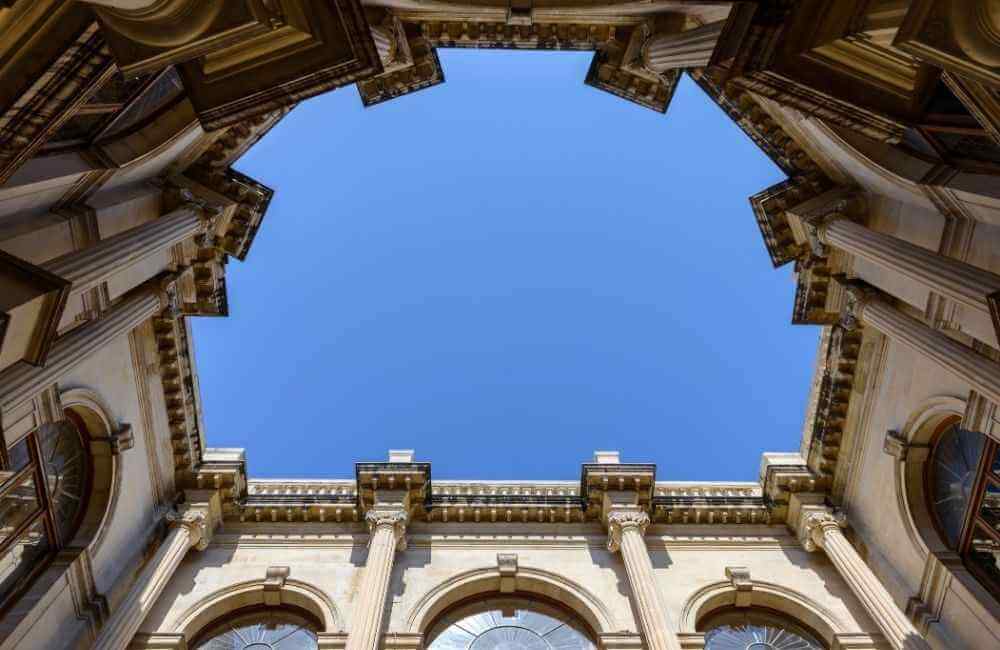 Remember to purchase souvenirs or keep mementos that capture the essence of your journey.
Whether it's a piece of Cretan pottery, a bottle of rich olive oil, a postcard of a breathtaking sunset, or even a purchased ticket from your favorite attraction, these treasures will serve as lasting reminders of the captivating moments you've experienced in Heraklion.
And as you leave this remarkable city behind, don't forget to take with you the spirit of adventure and the memories that will forever hold a special place in your heart.
Best Tours of Heraklion
Although driving around the region is easy and enjoyable, some travelers prefer to leave their driver's license back home and explore in a more relaxing way.
Organized tours are great for that and many of them can be really affordable offering excellent value for money.
These are some of the tours I recommend in the area of Heraklion:
Tips for Traveling to Heraklion
For a smooth and enjoyable journey to Heraklion, here are some essential tips to keep in mind:
Plan Ahead
Before embarking on your 5-day itinerary, research and plan your accommodation and transportation mode. It's key that you prepare a well-structured itinerary and set a budget that allows the kind of vacation you wish to enjoy.
Dress Comfortably
Be sure to bring comfortable shoes and lightweight clothing suitable for the Mediterranean climate. This guide to dressing for a visit to archaeological sites in Crete is a great starting point if you're planning to visit the many ancient ruins scattered around Heraklion.
Stay Hydrated
Carry a water bottle to stay hydrated throughout the day, especially during outdoor activities and hikes. Remember that temperatures tend to soar in the central hours of the day, so try to spend those hours in cooler places (beaches or mountains).
Embrace the Local Cuisine
Don't miss the opportunity to try authentic Cretan dishes and local delicacies. Explore local taverns and markets to savor the flavors of the region.
Respect the Culture
As you explore historic sites and interact with locals, remember to respect the local customs and traditions.
Carry Cash
While credit cards are widely accepted, it's good to have some cash on hand for small purchases and smoother transactions. Keep this guide to prices in Crete at hand for further reference.
Learn Basic Greek Phrases
Even though English is commonly spoken, learning a few basic Greek phrases will enhance your interactions and show respect for the local language.
Stay Mindful of the Environment
Help preserve the beauty of Heraklion by practicing responsible tourism, such as picking up after yourself and respecting the local flora and fauna.
Getting Around Heraklion
Getting around Heraklion is a breeze thanks to its well-connected transportation system.
The most convenient way to explore the city is on foot, as many of the main attractions are within walking distance. Parking in the city can be difficult during the peak months.
For longer journeys or to visit nearby destinations, opt for public transportation.
Buses run regularly and cover various routes, making it easy to access popular sites and neighboring towns. Taxis are also readily available, offering a more personalized and comfortable way to travel.
If you prefer more flexibility, consider renting a car to explore the region at your own pace. With its well-maintained roads and clear signposting, driving in Heraklion is a convenient option.
Which car rental service is the best to choose?
If you want to rent a car for your trip and look for the best service, then I am here to help you! Consider choosing Discover Cars, an international car rental booking service present worldwide. This way, you will find the best car for your trip wherever you are!
Where to Stay in Heraklion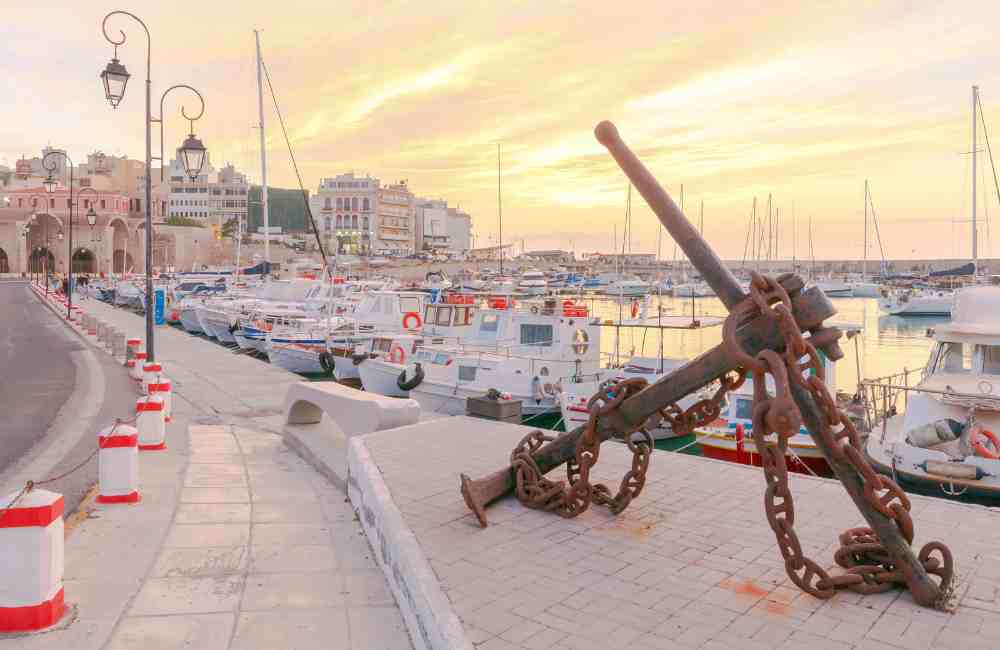 Heraklion offers a range of accommodation options, ensuring that every traveler can find their perfect stay.
For a luxurious experience, choose one of the city's upscale hotels, many of which are located close to the Koules and the waterfront, offering stunning views of the sea.
If you prefer a more budget-friendly option, consider staying in a rental home, a cozy guesthouse, or a boutique hotel in the city center, where you'll be immersed in the vibrant atmosphere and have easy access to Heraklion's major attractions.
For a more secluded and idyllic experience, venture outside the city and stay in a traditional village or a countryside retreat, where you can relax and unwind amidst the natural beauty of the surrounding landscapes.
These are some of the places I suggest checking out when looking for accommodation in the Heraklion region:
Final Thoughts about Spending 5 Days in Heraklion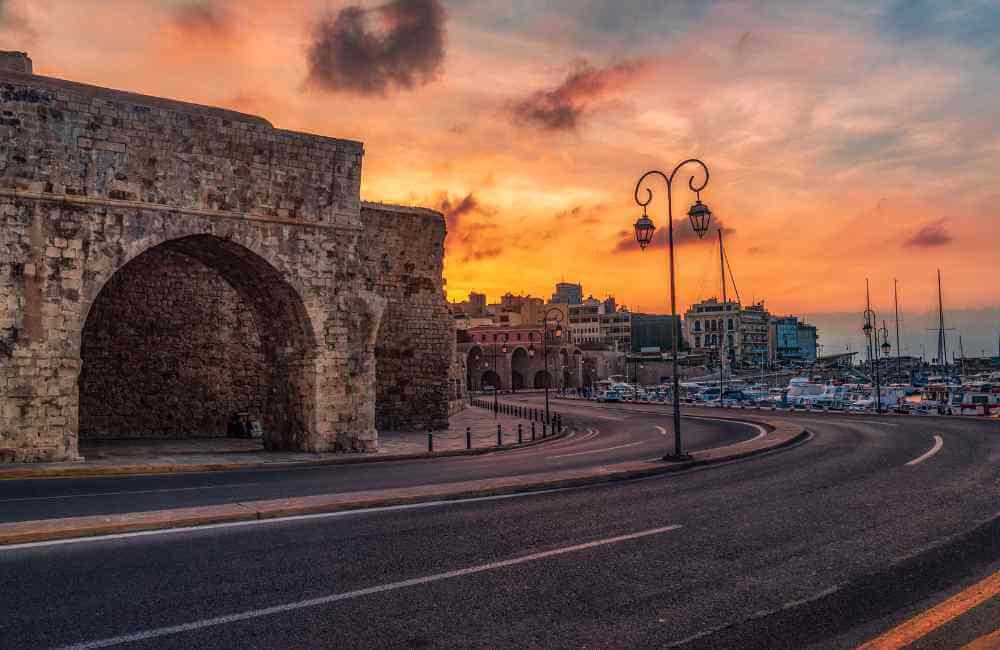 Exploring the treasures of Heraklion is an experience that will leave you with a deep appreciation for Crete's rich history, stunning landscapes, and vibrant culture.
So, follow this itinerary and let this charming city unveil its hidden gems as you create memories that will last a lifetime.
Are you planning to spend 5 days in Heraklion this season?
Read more about Heraklion
🛌 Suggested accommodation in Heraklion:
🗺️ More resources to book your trip to Crete:
Pin this Guide to Spend the Best 5 Days in Heraklion, Crete!
---
You might also want to read these posts about Crete's regions:
---
About my blog: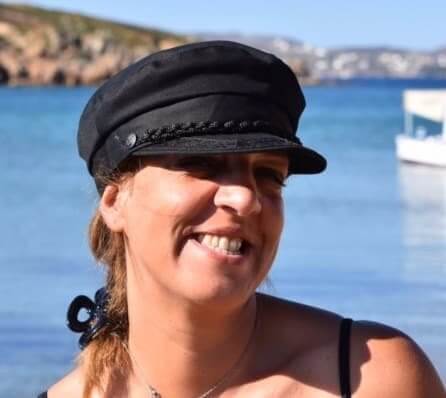 I moved to Crete in 2016. During these years, I learned much about the island.
In Crete, I juggle being a solo mom, hosting culinary tours, and writing for several travel blogs.
I've written for Greek Reporter, published travel guides about Greece, and had more glasses of frappe than any regular person could ever handle.