Feast your eyes on the best Heraklion restaurants that the capital of Crete has to offer. This list includes places with great food, kick-ass service, killer soundtracks, and most importantly the atmosphere of true Cretan hospitality.
Read more to discover where to eat in Heraklion.
---
Disclaimer: Posts include affiliate links to products or services. I might earn a commission if you make a purchase at no extra cost.
---
Where to Eat in Crete
The Most Delicious Restaurants in Heraklion
Heraklion, just like any other city on the island, is a perfect destination for foodies. No matter whether you're a foodie at heart traveling with tasteful experiences in mind or you're someone who just eats to survive!
There are delicious restaurants all over the city where you can sample the best examples of the super famous Cretan diet.
In random order, these are some of my favorite places to eat in Heraklion.
Kouzeineri
Location: Agiou Titou & Europis, Heraklion.
Enter the elegant and luxurious setting of this restaurant and experience the mouthwatering fragrance of a juicy steak!
Kouzeineri proudly calls itself the best steakhouse in the city and no wonder! Here, meat lovers will find their paradise.
Huge portions each beautifully served, pleasant lounge music, and quick service may conquer your heart…and stomach too. Kouzeineri is situated directly in the heart of the city and has reasonable prices.
Want to go with something special? I recommend trying their Lamb and Jazz featuring Cretan lamb in Cajun marinade.
Don't miss the opportunity to check out their wine list as their wine cellar conceals some of the best wines from all over the world.
Peskesi Restaurant
Location: Kapetan Haralampi 6-8, Heraklion.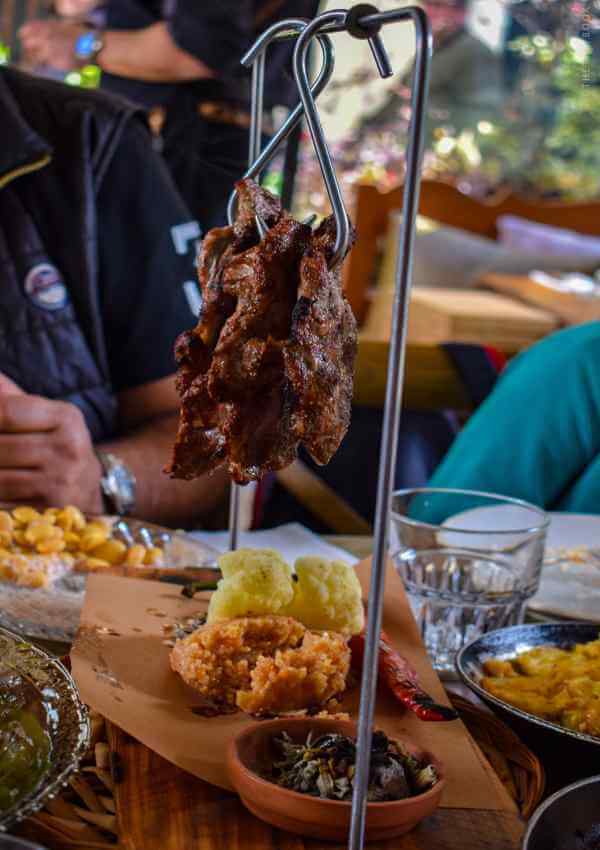 People come from all over the island… and the world to discover the authentic Cretan tastes in this traditional place!
Arguably the most famous of all Heraklion restaurants, here, you can experience authentic local traditions by trying some of the best examples of the Cretan Diet.
All the dishes are cooked with fresh, local ingredients. The place has a lovely rustic interior design and traditional music finishes the picture of an authentic Cretan experience.
Peskesi is super popular… who doesn't want to eat at Peskesi? So it is better to make a reservation beforehand.
When it comes to choices, do try their Sfakiano Lamb and dolmadakia! They also have a great choice of olive oil, so you can order an olive oil-tasting session too. And if you want to continue having a great time then order their signature cocktail VisitSitia with homemade raki and farm herbs.
Pagopoieion Creative Bar Restaurant
Location: Papagiamali 1, Agios Titos Square, Heraklion.
Great atmosphere for this former ice factory from the 50s, Pagopoieion is a café and restaurant where you can spend a great time any time of the day.
They specialize in traditional recipes with an ethnic touch and very original creations.
If you're looking for an informal brunch, check out the fine coffee blends and their delicious omelets. At night, instead, great music, unique dishes, and great wine. Try their burgers!
Amalia's Kitchen
Location: Arkoleon 3, Heraklion.
Not far from the Lions, Heraklion's most famous meeting point, this American-style restaurant brings together American, Mexican, and Greek cuisines. An interesting mix, right? And worth trying!
A friendly atmosphere and homemade food are just what you need to satisfy your appetite.
Fajitas and Tacos are a must-try as well as their handcrafted Margaritas!
The interior is also very pleasant and curious US memorabilia. Lovely music and great views can only guarantee you'll spend a great time here.
Alla kai Alla
Location: Kagiampi and Gramvousis, Heraklion.
Informal and accessible, with a great variety of creative dishes, and a truly friendly atmosphere, this place is located in the heart of town.
Among the dishes, you should try, check their variety of stuffed mushrooms, the mixed meat platter, fried zucchini balls, their stunning chili cheese spread, and other local delicacies.
Late at night, the place turns into a popular hangout venue, with great music and drinks too.
7 Thalasses
Location: Leoforos Irodotou 63, Nea Alikarnassos, Heraklion.
Not far from the city center, in the Nea Alikarnassos area, discover the pretty 7 Thalasses with its panoramic windows facing the gorgeous courtyard.
Sophisticated yet authentic, 7 Thalasses is another well-known Heraklion restaurant that serves super delicious dishes including red mullet and stunning pasta with lobster.
The wine list features the best local labels for you to choose from. When it comes to dessert, discover their amazing Sfakian pie.
Notré Gastronomy Best View Restaurant
Location: Plateia Eleftherias 29, Heraklion.
The name speaks for itself. In Notré Restaurant not only you can taste amazing food, but you will also have a breathtaking view over Heraklion!
The place is on the 5th floor of a historical building directly overlooking a central square and it's perfect for a great dining experience. Especially during sunset, the atmosphere is quite romantic.
The menu has a great choice and the presentation of each dish is just great.
The restaurant has a main hall with panoramic windows as well as a roof terrace. The terrace is named Toucan and is set in a tropical style. So I would go for the terrace!
Pay attention to their unusual Kinoa salad and juicy pork tenderloin, the psaronefri.
Check out also their wine cellar to find the best wine to suit your dish.
Ligo Krasi Ligo Thalassa
Location: Lochagou Ioanni Marineli Mitsotaki, Plateia 18 Agglon, Heraklion.
Another staple place to eat in Heraklion is this wonderful place often ranking among the top 5 restaurants in town. Located on the seafront of Heraklion, with great views of the port.
Among the main dishes, it's a good idea to go for the shrimp, their calamari, and the snails! If you're more for vegetarian choices, then do try their fried zucchini or the grilled mushrooms.
They also serve traditional Cretan and Greek dishes, including Greek salad and local lamb. Portions are big enough to share.
⛴️ Check out ferry ticket fees and schedules
O Tempelis
(One of the restaurants in Heraklion that I like the most!)
Location: Milatou 7, Heraklion.
If you want to remain on the traditional side of Cretan gastronomy, spending less but enjoying great food, try my personal favorite.
The Kafenio O Tempelis is on Milatou Street, an amazing pedestrian area where it's easy to get lost among the traditional tavernas.
O Tempelis serves delicious Greek tapas. My favorite dishes here are mushrooms saganaki, baked potatoes, and dakos. They also have great salads and fried fish.
Prices are super convenient and this is hands down one of my favorite spots in Heraklion.
Kastella
Location: Leof. Sofokli Venizelou 9, Heraklion.
If you are searching for a great place with fresh seafood and a gorgeous view of the sea, then this place is just for you!
The tavern is divided into two parts; a small but cozy place inside an old building and an open-air sitting area just across the road.
I always prefer the tent outside, as it is a perfect setting for a tasty lunch or a romantic dinner during sunset.
Fresh seafood is delivered daily from local fishermen, so nothing could be any better.
Don't know what to choose? Then go for a grilled fish platter and you will have a chance to taste the best of the best that the tavern has to offer.
Quiet music and the sea splashing right in front of you create a soothing atmosphere.
Parasties
Location: Chandakos 81, Heraklion.
Another fabulous place to eat in Heraklion is Parasties, serving insanely delicious food in huge portions, big enough to share.
The place is beautifully decorated and every detail is taken care of while the staff is really helpful.
The choice is wide and often nothing short of amazing. Do try their snails, the meat (including their smoked cuts), and the selection of salads.
It's a great place to go with kids as well. Their outside sitting area is perfect during our hot summers.
Ippokambos
Location: Leof. Sofokli Venizelou 3, Heraklion.
Another great place for a great fresh seafood experience. Step into a lovely building set in the style of a traditional Greek ouzeri or sit outside in the spacious tent by the sea.
They serve enormous portions so be careful when ordering.
If you are with friends, take into account their special homemade mezedes and the house wine.
As for the main plate choose the grilled calamari and saganaki shrimp… you'll love them!
The staff is always polite and ready to help you with the menu. Do believe me! You will want to come back here more than once!
Discover the best places to have breakfast in Heraklion.
Kiriakos
Location: Leoforos Dimokratias 53, Heraklion.
Well-earned fame and impeccable reputation for this family-run, traditional place a bit off the center of Heraklion.
Loved by locals and visitors alike, the restaurant takes pride in cooking the most traditional Cretan dishes with fresh ingredients.
Want to know what to try? Everything is simply mouthwatering, but don't miss the original octopus pilaf and the saganaki prawn drizzled with ouzo.
Vrakas Ouzeri
Location: I. Merineli 1, Heraklion.
Vrakas is a traditional ouzeri and restaurant in the center of Heraklion.
The place is known for great seafood dishes, delicious mezedes, and even a shot of raki to enjoy with company.
Ouzeri to Terzaki
Location: I. Marineli 17, Heraklion.
Old-school cuisine being served by different generations of the same family since the 1950s! What to eat?
Go for the well-known moussaka, or choose a variety of freshly made mezedes to enjoy with a bottle of beer or a glass of wine.
The staff and the owner of the place are really friendly, always ready to suggest the best dishes of the day.
Don't miss their fantastic warm loukoumades at the end of your meal.
Erganos Traditional Taverna
Location: Georgiou Georgiadou 5, Heraklion.
Looking for vegetarian dishes from the Cretan tradition? Then it's a great idea to visit this traditional taverna known for the friendly atmosphere and the variety of things to taste.
They do not just have a good selection of vegetarian options, but very good meat dishes too. Pies, dolmades, goat lamb… you name it!
Erganos is close to Nikos Kazantzakis Park, just minutes away from the center of Heraklion.
Herbs' Garden
Location: Epimenidou 15, Heraklion.
Another superb restaurant in Heraklion is on the rooftop area of the Lato Boutique Hotel. Elegant design in natural colors, comfortable sofas, and plenty of green all around.
The restaurant has a great terrace with a fabulous view over the harbor and the Venetian fortress.
Come here during the sunset and stay until the fortress is lightened at night. It's always a good idea to book beforehand since it's a really popular spot in the city.
The menu features a variety of Mediterranean and Greek dishes. All is freshly cooked and with tons of creativity.
Their seafood risotto is delicious and their lamb with wild greens (xorta) is simply superb! End your day with a glass of local wine marveling at the skyline of Heraklion.
Best Places to Eat in Heraklion on a Budget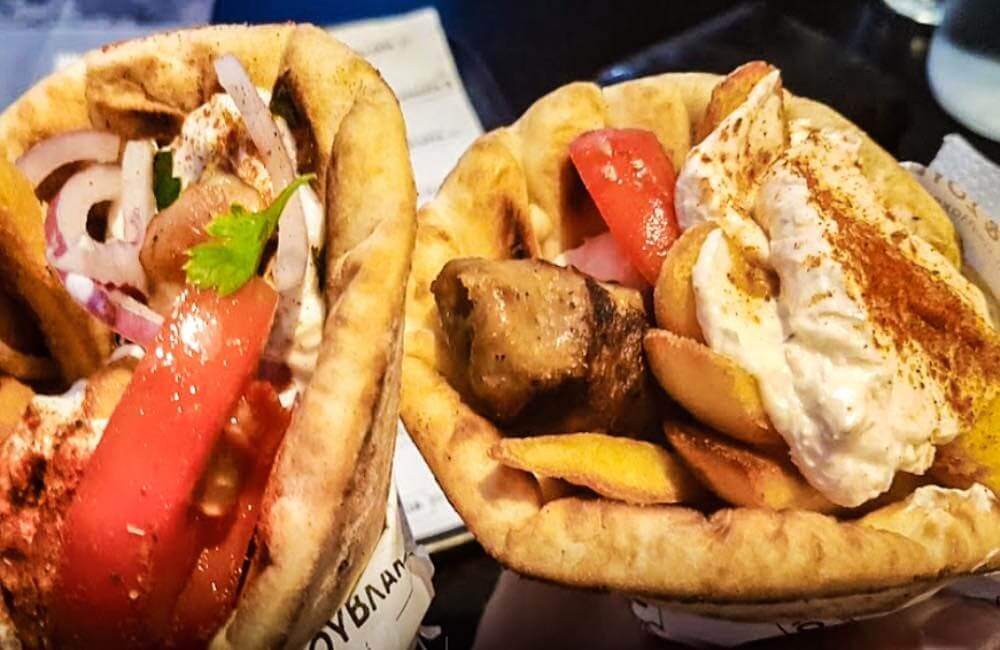 If you're traveling with a somewhat limited budget, don't miss these places for a quick and inexpensive lunch, a sweet snack in the afternoon with coffee, or a convenient dinner.
Krasas
Location: Stadious 78, Nea Alikarnassos, Heraklion.
Probably the place I love the most (and my kids too!) in town. I just couldn't live with a little bit of Krasas whenever I'm in Heraklion.
They have a stunning variety of meat sandwiches with any kind of bread you can think of. Their gyros wraps are huge and the fries are crunchy and delicious.
They also have salads and juicy burgers on the menu. The restaurant is in the center of town, right in Plateia Eleftherias.
Or, if you're about to board your plane, there's a second Krasás in Nea Alikarnassos close to the airport and a few more in town and Malia.
The prices are very convenient.
Hagiati
Location: Erotokritou 12, Heraklion.
Great homemade tastes for this cheap place to eat in Heraklion.
Simple dishes but well-cooked. Trust me, if you're traveling on a budget, you'll come back here more than once.
Among the specialties are smoked pork (apaki), fried seafood, salads, and stunningly delicious dolmades.
The Chickpea
Location: Meramvellou 9, Heraklion.
Are you a fan of falafel? Then this is your place in town! Best falafel ever… and hummus spread to die for!
An amazing selection of vegetarian and vegan dishes is the winning card of this small place. The Chickpea severs fresh and tasty dishes for very convenient prices.
Check out this guide to find out about the best hotels in Heraklion.
Kirkor
Location: Liontaria Square, Heraklion.
Not a restaurant but probably the most traditional place you can go to Heraklion for a bite. Kirkor has been serving the most delicious bougatsa pastry in Crete for almost a hundred years!
Kirkor's bougatsa is the star of their menu. It's a delicious phyllo pastry dessert (or breakfast, brunch, anything!) filled with custard or local sweet cheese and sprinkled with cinnamon and a generous drizzle of honey.
If you are a foodie at heart, don't overlook the best food tours on the island!
Best Places to Eat Around Heraklion
If you wish to get out of the city for some exceptional dining experience here is the list of the places you should check out. These are some of the best restaurants in the region.
Semeli Restaurant
Location: Xoudetsi, Heraklion.
Right in the heart of Heraklion's amazing wine region, this fantastic traditional Cretan restaurant serves delicious local dishes cooked by the expert hand of a young, enthusiastic chef.
The place is also a great stop for a coffee and a Cretan sweet while exploring the wineries in the area. Their lunch and dinner options are also great.
Do not miss tasty and tender meat cuts with fresh vegetables, just like the Cretan tradition wants!
Zorbas Tavern
Location: Main Beach, Agia Pelagia.
Zorbas Tavern is situated in the lovely fishing village of Agia Pelagia. This traditional tavern is literally on the beach and you definitely shouldn't miss it.
Its environment is slight and spacious and the interior design in traditional Greek style is all about the famous movie Zorba the Greek.
The restaurant is run by a family and the owner is just a charm! The menu is rich and has great vegetarian choices. My favorites are the platter of grilled vegetables with balsamic vinegar and the steamed mussels.
The Home
Location: Main beach road, Agia Pelagia.
This bright and colorful place is the perfect spot for tasty food and a cool atmosphere.
The menu doesn't offer very typical Greek dishes, but a mix from all around the world.
The staff is very friendly and will look after you until you leave. Try some of their homemade burritos and tortillas with vegetables and feta cheese.
Don't leave without sampling one of their signature cocktails as well… one of the best? Cherry Tree.
Taverna 1930
This enchanting family tavern serves delicious freshly cooked Cretan food. Here, everything is about friendly service and a homely atmosphere.
The menu varies according to the daily ingredients available, so it offers freshness at its best!
Try the old Cretan ways in the intimate garden and pick traditional dishes from their menu, including antichristo, (served each Saturday), meat so delicious and tender it just melts in your mouth.
The owner is always ready to help you with the choice or to adjust any dish to your taste. The tavern is located in a small side alley away from the rush and crowds, which is perfect for a relaxing dining experience.
Taverna Harakas
Location: Plateia Nymphon, Hersonissos.
Situated at a picturesque square in the center, this traditional tavern offers a great variety of homemade Cretan dishes.
Sit at a table decorated with fresh flowers under the shade of the trees and enjoy your meal while admiring the busy life of the square.
The attentive and friendly staff will help you choose the dish and will serve you in no time. When I am in town, I always come here for their amazing gyros plate, which is so huge that two people can't manage to finish!
The place plays traditional Greek music and, in the evenings, you can even witness Cretan dancing and even take part too!
Avli in Malia
Location: Agiou Ioannou 2, Malia.
You will find this marvelous tavern at the edge of the old town of Malia. Once you step inside you will travel back to the 18th century, when this beautiful building was built.
You can either sit inside within the old rocky walls decorated with working tools, outside in the colorful yard, or on the roof terrace drowning in the flowers. Anywhere you choose, you will have a wonderful time.
The menu presents traditional Greek and Cretan dishes. A suggestion? Start with their freshly baked bread, served with marinated olives.
Try their homemade cheeses and continue to the main course (the Salmon with strawberries is a must). Trust me, book a table!
The place is very popular and as soon as you try their food you will understand why!
Have you been to any of these Heraklion restaurants before?
Read more about Crete
🛌 Suggested accommodation in Heraklion:
🗺️ More resources to book your trip to Crete:
Pin this Super Useful Guide to the Best Heraklion Restaurants for Your Crete Holiday!
---
You might also want to read these posts about Crete's regions:
---
About my blog: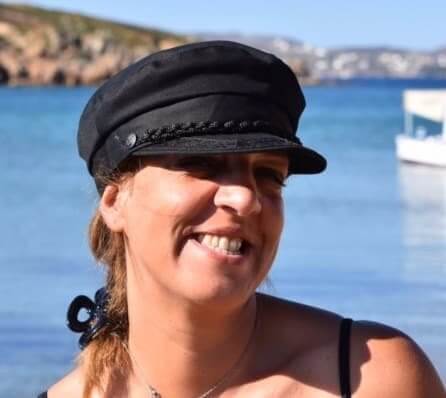 I moved to Crete in 2016. During these years, I learned much about the island.
In Crete, I juggle being a solo mom, hosting culinary tours, and writing for several travel blogs.
I've written for Greek Reporter, published travel guides about Greece, and had more glasses of frappe than any regular person could ever handle.