This highly-requested itinerary in East Crete takes you on a one-week trip in the Lasithi Region. Enjoy each of these 7 days in Crete exploring the beautiful coastal towns in the area, checking out the beaches, and being amazed by the magnificent archaeological sites.
Here is what to do with 7 days in Crete for a great time on the island!
---
Disclaimer: Posts include affiliate links to products or services. I might earn a commission if you make a purchase.
---
7 Days in Crete Exploring the East
1 Week in Crete: Exploring the Wonders of Eastern Crete
Choosing an itinerary in Crete can be challenging and straightforward at the same time. But as long as you know what you want, you are in for a treat. After all, there are hundreds of ways to plan a week in Crete.
Today, I'd like to take you on a journey to the less-visited unspoiled part of Eastern Crete, the Lasithi region.
So, here is a unique itinerary to spend 7 days in Crete and see things that only a few visitors are lucky enough to experience.
Day 1: Heraklion and Knossos
Easily accessible by sea or air, Heraklion is the ideal landing point to start your journey in the eastern half of Crete.
As the island's capital, it can be busy, but it's also a center of history, culture, and tradition. Let alone its youthful energy with hundreds of restaurants and bars inviting you to explore the local cuisine and tastes.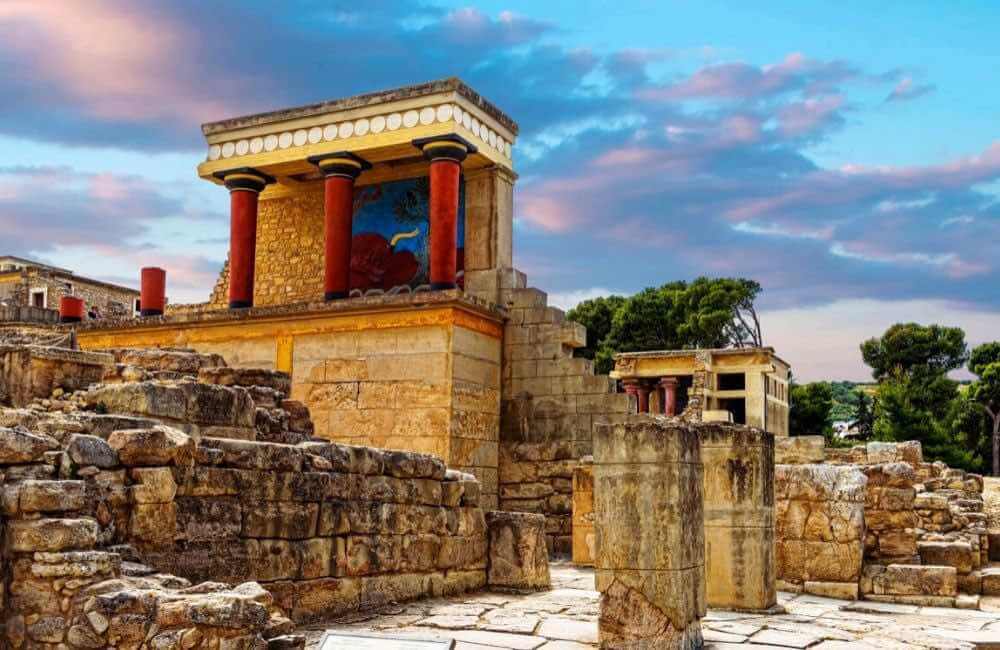 Above all, you can't go to Heraklion without visiting the renowned Palace of Knossos, only a few kilometers away.
We are talking about Europe's oldest city and home to the ancient civilization of Minoans, who lived here 4000 years ago. It is one of the best Crete ruins you will see!
To visit the site, you can always rely on an organized tour with comments and explanations from an official guide. These are the ones I recommend:
Day 2: Road Trip to Agios Nikolaos
On day two of this Crete itinerary, rent a car and hit the road for the remainder of your holidays. Head east towards Agios Nikolaos, and remember to enjoy the beauty of the natural landscape along the way.
This is a helpful guide that tells you everything you need to know to get from Heraklion to Agios, bookmark it and keep it at hand, it will be useful for the trip!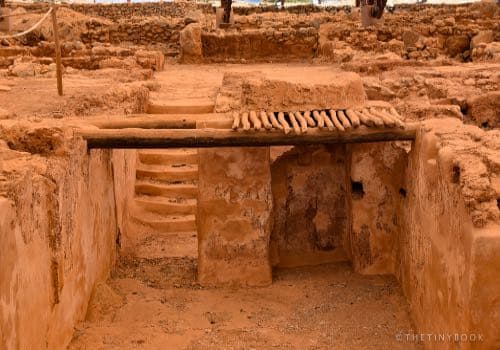 For example, I'd suggest you stop by the archaeological site of Malia Palace with its well-preserved Minoan walls and amazing huge vases used to store grain and olive oil in ancient times.
Another stop worth considering is the sixteenth-century Greek Monastery of Kremasta (also known as Kremaston) dedicated to Saints Michael and Gabriel in Neapolis.
Here you will be able to experience the warm hospitality of local nuns.
After about an hour's drive, you will reach the scenic seaside town of Agios Nikolaos. Prepare to spend the next three nights here exploring the area's charming bars, traditional restaurants, and upbeat beach life.
Although a tourist destination with plenty of things to do, Agios Nikolaos will enchant you with its colors and lively vibes, let alone the small lake connected to the sea, Lake Voulismeni.
Since you will be spending the next three nights in Agios, you should definitely check this accommodation guide to the area!
Which car rental service is the best to choose?
If you want to rent a car for your trip and look for the best service, I am here to help you! Consider choosing Discover Cars, an international car rental booking service present worldwide. This way, you will find the best car for your trip wherever you are!
Day 3: Elounda and Spinalonga
Only 10 kilometers west of Agios Nikolaos, Elounda is a quiet fishing village that has slowly become a modern summer resort.
Despite the recent hotel developments, the area has maintained its mellow and authentic vibes while the landscape is at its best.
Take the wild beach of Kolokitha, for example. Its soft white sand, calm crystal clear water, and captivating surroundings will make you fall in love with the bay in no time.
If you can, come here before noon when hundreds of tourists crowd the beach from incoming boats. Seriously, it's like somebody unleashing a nest of human-sized ants on the beach!
Another must-visit destination in the area is the notorious island of Spinalonga. After a short ferry ride, you'll have the chance to explore the islet's turbulent and touching history, which was the last leper colony to close in Greece.
And in case you need a break from all the images in your mind, the panoramic view of Crete's Dikti Mountain range will soothe your heart.
Day 4: Ierapetra and Voulisma Beach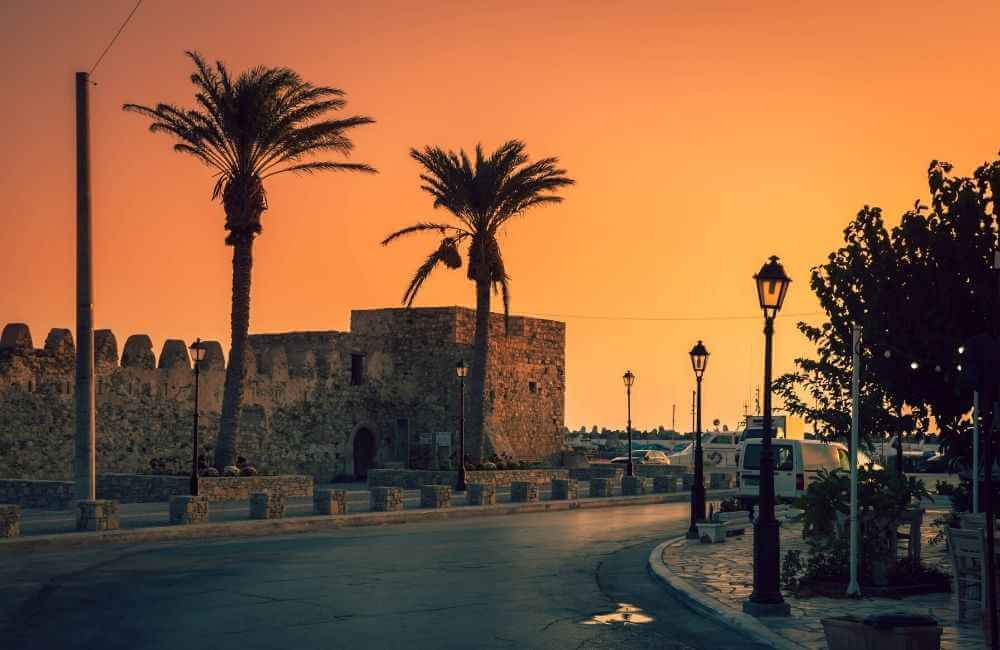 Day 4 of your Eastern Crete itinerary will find you on a short trip to the island's southern coast. After 40 minutes of driving, you will first stop at Ierapetra, a peaceful coastal town with a beautiful walking promenade full of tiny shops, bars, and restaurants.
Then, I suggest you drive westward along the road parallel to the Libyan Sea. It won't take much to see how the landscape differs from the north.
Even the shore and coastline are dramatically unique. If I were you, I would 100% stop in one of the remote pebble beaches and take a dip.
Sidonia is one such gorgeous southern Cretan beach with amazingly clear water and surroundings.
And in case you missed the sand, stop at Voulisma Beach on the way back to Agios Nikolaos.
Awarded with the Blue Flag, Voulisma is renowned for its white sand and calm turquoise waters, making it an ideal destination for families.
INSIDER'S TIP! If you have extra days to spend in the south, visit the fishing villages of Myrtos and Makrigialos, or venture into a once-in-a-lifetime experience visiting the uninhabited Chrissi Island, south of Ierapetra!
Day 5: Richtis Gorge and Sitia
After three nights in Agios Nikolaos, it is time to change accommodations and move to Sitia, 70 kilometers to the east. But before you arrive in this peaceful town of the Lasithi region, stop in Richtis Gorge on your way.
Imagine a scenic canyon with an easily accessible waterfall, rich wildlife, and a stream that leads to a wild beach of unparalleled beauty.
If you want to hike the entire gorge, reaching the coast will take around three hours, so plan accordingly. Alternatively, walking to the waterfall will give you a great taste of this canyon's unique natural beauty.
Once you reach Sitia and settle down, stroll in its picturesque alleys and streets; it is the ideal destination to unwind after exploring and hiking Richtis.
I'd also recommend visiting the town's archaeological museum to learn more about the area's rich history. It's one of the many museums you can visit in East Crete during your road trip!
Day 6: Toplou Monastery and Vai Beach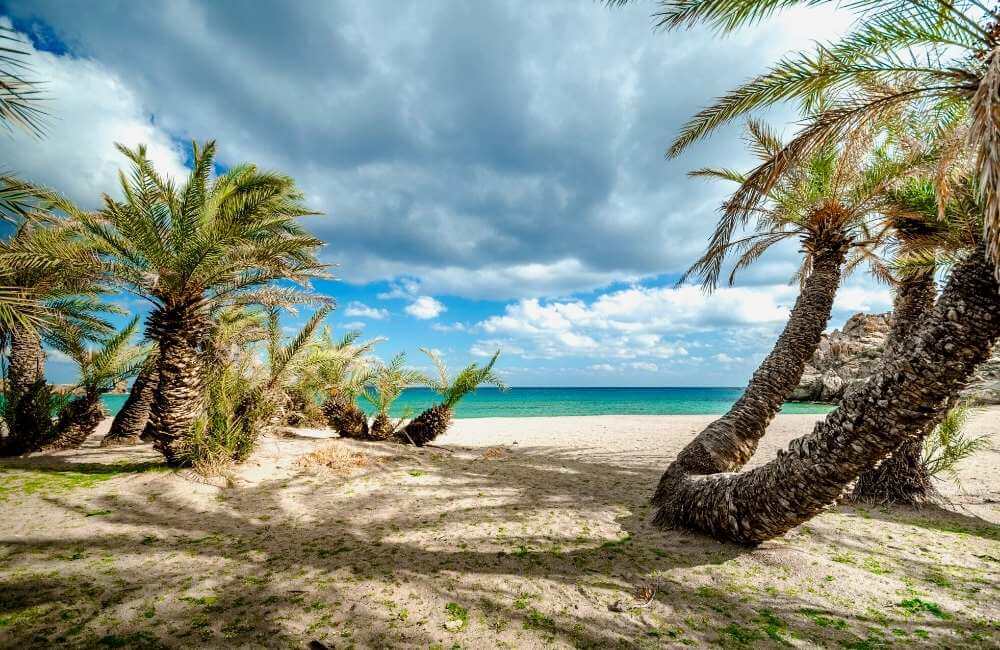 The next day, head further east for a road trip towards the exotic beach of Vai, 24 kilometers away. Think of palm trees decorating an otherwise rocky coastline that gives way to golden sand and crystal-clear waters.
It's the perfect spot for swimming, sunbathing, and simply soaking up the beauty of the surrounding landscape.
Before you return to Sitia, visit the charming stone monastery of Toplou.
You will get there driving one of the most stunning and solitary roads on the island, where you will easily feel like you're standing at the end of the world!
Once at the monastery, where you'll come across several potted plants and a local winery and shop selling tsikoudia, wine, and olive oil made by the monks.
Above all, the local museum will leave you in awe of the monastery's importance in the region and during the different wars and battles that took place in Crete.
Day 7: Day Trip to Vreiko Cave
Since you have a car rental from Heraklion, you must start the return journey by the last day. Thankfully, it's just a two-hour drive, so perfectly doable in one go.
But if you feel like driving an extra hour to see something different, I'd highly urge you to visit Vreiko Cave Pass. It's an hour south of Sitia and still two hours from Heraklion.
In the area, you can explore the cave. Its entrance leads you to a large chamber with magnificent stalagmites and stalactites that will truly surprise you.
Make sure to bring a flashlight, and I guarantee you'll love every part of exploring this unspoiled Cretan destination.
Instead, if you have been fascinated by the archaeological sites of Knossos and Malia, here you will find the ruins of the remarkable Minoan Palace of Zakros.
Want to visit Crete but don't want to drive? This guide to bus travel in Crete will help you understand how to navigate the island on public transport.
All in all, one week in Crete will give you a full taste of this island's beauty. But remember: it is just a taste, and no matter how many times you've been to Crete, there is always something more to discover, even in places you've already seen.
In short, take this itinerary as an inspiration and keep your eyes open; you'll keep falling in love with Crete. Are you ready to spend 7 fantastic days in Crete?
🛌 Suggested Accommodation in Lasithi:
🗺️ More resources to book your trip to Crete
Written by Dimitrios Tsevremes
Passionate about travel, spirituality, and sports, I have lived in 5 countries and traveled to more places than I have counted. Writing, for me, is a way to express myself and my creativity. Whether I write for my blog or a freelancing gig, I always fall in love with the process and often lose my sense of time. If you want, you can check out more about me and my work here.
Pin this Guide for an Amazing One Week in Crete!
---
You might also want to read these Crete-related articles:
---
About my blog: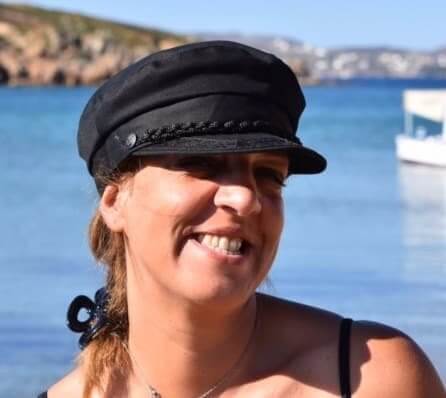 I moved to Crete in 2016. During these years, I learned much about the island.
In Crete, I juggle being a solo mom, hosting culinary tours, and writing for several travel blogs.
I've written for Greek Reporter, published travel guides about Greece, and had more glasses of frappe than any regular person could ever handle.