Eastern Crete is one of the most beautiful regions to stay on the island if you want to spend a relaxing vacation. The capital of Lasithi, Agios Nikolaos, is a beautiful coastal town with plenty of things to do. Agios Nikolaos is a great place to stay if you plan to visit the Lasithi Plateau, Chrissi Island, and the Palm Tree Beach of Vai. In this guide, you can find the best Agios Nikolaos Hotels for an amazing stay in Crete!
---
This site contains affiliate links to products and services. I may receive a commission for purchases made through these links.
---
Best Hotels in Agios Nikolaos
Where to Stay in the Capital of Lasithi, Crete
The small town of Agios Nikolaos, facing the stunning Mirabello Gulf, hosts endless places to stay for all kinds of budgets. It's possible to find superb accommodation without spending a fortune, but it is also possible to splurge choosing a fantastic luxury resort in the exclusive village of Elounda, just minutes away.
In the area, you can find anything from small and cozy boutique hotels to extremely convenient apartments and budget studios… The choice is generous and it might even be overwhelming if you've never visited before.
This guide is a helpful tool for you to compare some of the best hotels in Agios Nikolaos and to come up with the right choice. Just remember that it's always better to book early to take advantage of more convenient fees.
Best Hotels in Agios on a Budget
Crete has long been known as a convenient destination for cheap holidays, so getting to the island with a restricted budget is not only common, but it also allows you to find good accommodation deals. It's not really hard to great hotels in Agios Nikolaos (as in any other city in Crete) even if you need to stay within a very limited budget.
There are fantastic Agios Nikolaos hotels in town as well as in other nearby villages at quite convenient fees.
These are some of the best hotels where you can stay in Agios Nikolaos within a budget limit of €50-€60 per night.
Ammoudara Beach Hotel Apartments
Ammoudara Beach Hotel Apartments is located right on the beachfront of the Blue Flag Ammoudara Beach, only 3 km from Agios Nikolaos. It offers very comfortable family rooms so it can be a great deal for a holiday with kids in Lasithi.
The hotel offers a restaurant, coffee bar, and a small family pool too. Most reviews praise the location, close to one of the most family-friendly beaches in the area, the comfy facilities, and the tavern as well. It's a good place to stay if you're not looking for a luxury hotel, with every basic comfort you need.
AMOUDARA BEACH HOTEL OFFERS ROOMS FROM €45 PER NIGHT ON BOOKING.COM – BOOK HERE
Sgouros Hotel
Located in a great area, within only minutes from Lake Voulismeni, this hotel is in a privileged position facing Kitroplateia beach and still remaining quiet. According to the reviews, this hotel is a favorite place for couples and for those who do not want to rent a car to move around, you can walk to the center of town which is only 200 meters away.
Most suites and rooms offer a sea view as well as comfy private balconies for a relaxing afternoon drink. There's a breakfast buffet served every morning as well as a convenient internet corner.
THE HOTEL IS RATED 8.8 ON BOOKING.COM – BOOK HERE
Do you prefer the comfort of a vacation home?
>>Check these vacation homes in Lasithi, Crete<<
Pergola Hotel
Pergola Hotel is an affordable 2-star hotel, an incredibly convenient hotel in Agios Nikolaos. If you head to Booking.com and read the reviews, what will surprise you the most is that many travelers keep coming back year after year!
People often praise the views from the balconies, the large and comfy rooms, and the breakfast. Some people consider it a bit noisy, but it's a good place at a fair price.
PERGOLA HOTEL IS RATED 8.0 ON BOOKING.COM – BOOK HERE
Lena Apartments, Elounda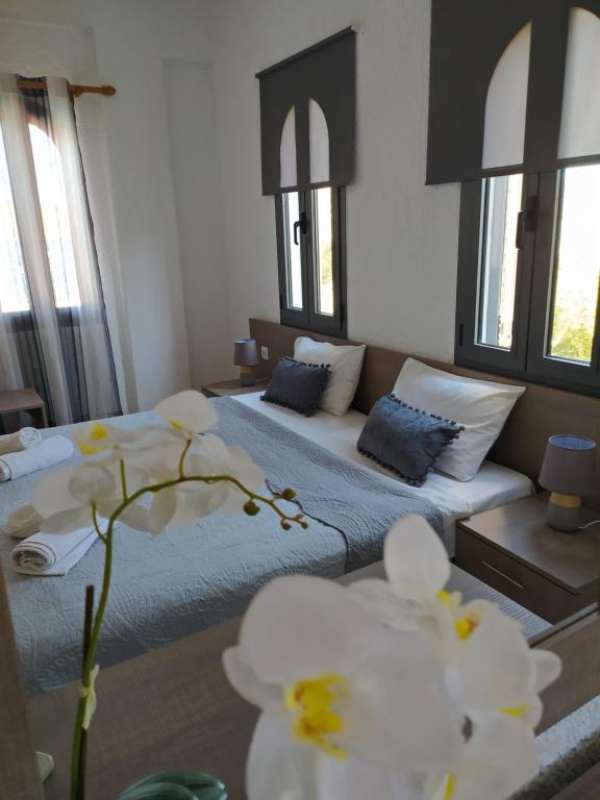 Elounda has earned the fame of being one of the most expensive areas to stay in Crete, and it's not far from the truth. However, if you book in advance, it's not going to be difficult to find a convenient place to stay in the village. Lena Apartments is one such place.
The apartments are in a good location featuring a small beach just over the road. There is also a pool facing the sea and the island of Spinalonga, while it's not far from most shops and restaurants in town.
The residence features a bar area, and the apartments have a small kitchenette handy if you're looking to save a few euros instead of eating out every night.
LENA APARTMENTS IS RATED 9.0 ON BOOKING.COM – BOOK HERE
Are you staying in Agios on a budget?
>>Check all the free things to do in Agios Nikolaos<<
Anemone Homes
Anemone Homes is another convenient place to stay not far from Agios Nikolaos, this time facing the magnificent beach of Voulisma, in Kalo Chorio, about 15 minutes from the heart of Agios.
The place is stylish and really comfortable both for families and couples. The balconies offer views over one of the most stunning views in the area, and every unit is well-equipped for a convenient vacation.
Most reviews place the comfort and facilities, the location, and the friendliness of the hosts.
ANEMONE HOMES IS A BUDGET HOTEL RATED 8.8 ON BOOKING.COM – CHECK AVAILABILITY HERE
Mid-Range Hotels in Agios Nikolaos
If you're wondering where to stay in Agios Nikolaos and you can count on a more flexible budget, the next section was written having you in mind! You'll certainly find the perfect place to stay down here.
These are my places of choice when it comes to a price range between €60 to €150 per night, both in the city as well as in some picturesque seaside villages nearby.
Mantraki Hotel Apartments
Guests love the simplicity, the comfort, and the homely feeling of a stay in this hotel. The place is a 3-star traditional family-run apartment complex in a very convenient location, quite close to the center of Agios Nikolaos. It's possible to find supermarkets, restaurants, and cafes nearby. The complex is just 100 m from the public sandy beach.
Most rooms open to a balcony featuring town or sea views, while some enjoy panoramic sea views. Every unit has a fully equipped kitchen and air conditioning.
Among other facilities, the hotel has a bar (usually serving welcome drinks), a lounge area with a huge TV, and table games for guests.
MANTRAKI HOTEL IS RATED 8.9 ON BOOKING – CHECK PRICES AND AVAILABILITY HERE
Du Lac
Du Lac is one of the most traditional hotels in town, overlooking the beautiful Lake Voulismeni. The property caters to travelers looking for great value for money. There is a wide variety of rooms and studios with private balconies and breathtaking lake views.
The hotel features modern decoration and amenities, including air conditioning and free wireless internet access all over the property.
Guests seem to enjoy the dishes served in the hotel's restaurant also with romantic lave views. The hotel is centrally located, close to most city beaches, shops, bars, and tavernas. There's also a gorgeous bar that both locals and visitors choose for an afternoon drink.
DU LAC IS RATED 8.6 ON BOOKING.COM – CHECK AVAILABILITY AND BOOK HERE
Naiades Marina Hotel
Another local favorite is Naiades Marina Hotel, with a great position, only 20 meters from Ammos Beach and just a hundred meters from Agios Nikolaos' Marina. The property is just 300 meters from the port and 500 meters from Lake Voulismeni, so if you're not renting a car to move around in town, do consider a stay here!
Rooms feature balconies with gorgeous views, and comfort features including a kettle for your morning coffee, and a safety deposit box in each room. Guests can enjoy the shared beautiful terrace and the pool, as well as continental breakfast every morning.
A continental breakfast is available every morning at the property. This hotel is real value for money and it's located in a great area in town. If you prefer a stay closer to the unique Almyros beach, then check their sister property, Naiades Almiros River Hotel
NAIADES MARINA HOTEL IS RATED 8.6 ON BOOKING.COM – CHECK REVIEWS AND BOOK HERE
Meliti Hotel (Adults Only)
Gorgeous hotel, stunning views, clean facilities… these are some of the frequent comments you'll find when reading the reviews of this fantastic property close to Havania beach, in Agios Nikolaos.
The place overlooks the Gulf of Mirabello and features a fantastic infinity pool. All rooms are air-conditioned and have furnished balconies with views of the Cretan Sea.
All accommodation is bright, simple, and classy, with modern facilities and stylish decoration. The hotel's restaurant serves breakfast and a buffet dinner with fresh fish, local meats, and salads. Drinks and coffee are served at the pool bar as well. There's also a lounge with a TV and DVD player while guests can also play billiards and table tennis or a game of darts.
One great feature? The hotel is just 6 km from Elounda.
MELITI HOTEL IS RATED 8.4 ON BOOKING.COM – CHECK MORE PHOTOS AND BOOK HERE
Hotel Port 7
"Excellent design and attention to detail, great location, kind and very helpful owners, very clean and stylish".
"The room was spacious with an amazing view of the sea, very clean and stylish. Perfect location, near to all attractions. The staff was very nice and helpful".
These are just some of the wonderful reviews this hotel has earned over the years. Hotel Port 7 is located right at the entrance of Agios Nikolaos' port and 100 meters from Kitroplatia Beach, close to bars, restaurants, tavernas, and shops. It has rooms with direct views of Mirabello Bay and Voulismeni Lake.
All rooms feature air conditioning, a smart TV, and a minibar, while some are also fitted with fully equipped kitchenettes or an outdoor hot tub. Guests can start their day with breakfast while taking in views of the harbor. The on-site restaurant serves Mediterranean dishes and cocktails are also served all through the day.
In case you're renting a car, remember that there's a free public parking area 100 meters from the hotel.
HOTEL PORT 7 IS RATED 9.6 ON BOOKING.COM – CHECK IT HERE
Luxury Hotels in Agios Nikolaos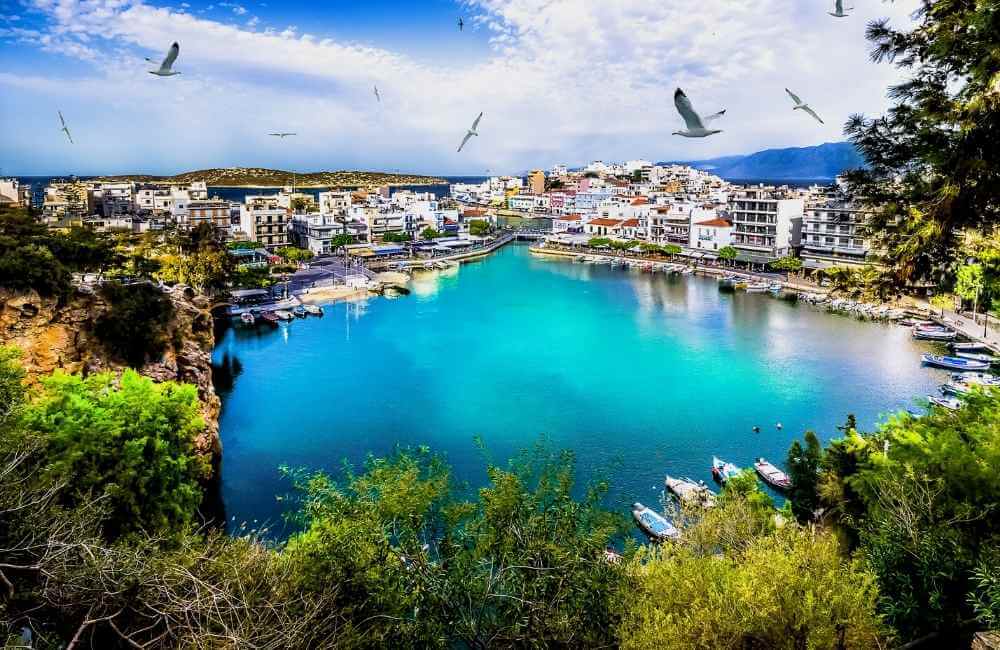 There are amazing and exclusive beachfront hotels along Agios Nikolaos coast. They face the calm waters of Mirabello Bay, and have every top-class feature for an upscale stay in the area.
A stay in any of these beautiful venues starts from €160 per night, and since they are really requested, finding available rooms is not as easy as you could think. If you want to spend the holiday of a lifetime in Agios, then check these one-of-a-kind properties, you won't regret it!
Minos Palace Hotel & Suites – Adults Only
Excellent location, top-class facilities, warm hospitality are just a few of the features that make this one of the best hotels in Agios Nikolaos. The property features magnificent sea views from a rocky headland above Aghios Nikolaos Bay, only 2 km from the town center.
Among the facilities that guests love, the saltwater swimming pool and the hotel's private beach, where it's possible to practice various water sports.
For ultimate relaxation, treat yourself with some time at the spa or unwind with a gentle stroll through landscaped gardens before dinner and drinks in the evening.
Some rooms have a jacuzzi and there's also a gorgeous swimming pool on the patio.
MINOS PALACE IS RATED 8.9 ON BOOKING.COM – BOOK HERE
Candia Park Village
Traveling with kids? Relax, they will love this hotel! Candia Park Village boasts waterfront, 4-star accommodation overlooking the Mirabello Bay. The property features 3 pools, 2 private beaches with sun beds and umbrellas, and a children's club.
The rooms and suites are spacious and decorated with a traditional touch, and include a well-equipped kitchenette with a dining area, satellite TV, and furnished balconies with sea or garden views.
Guests can relax by the pools, including a children's pool and a hot tub. If you're into an active vacation, go for tennis, basketball, diving, or windsurfing. The on-site restaurant serves local and international dishes, while there's also an outdoor Fili taverna serving Cretan cuisine right by the sea.
Among other original facilities, the village Candia has 2 bars and a traditional Greek coffee house.
CANDIA PARK VILLAGE IS RATED 9.0 ON BOOKING.COM – BOOK HERE
Halcyon Panorama Villas
If you prefer the privacy of a villa, then check this stunning place in Agios Nikolaos, near Havania Beach. Among the things guests like there's free parking space and beautiful terrace with barbecue facilities, facing the sea.
The air-conditioned units feature a desk, a living room, an equipped kitchen, a patio, and views over the pool.
Guests can swim in the outdoor swimming pool, go hiking or relax in the garden after a day at the beach or shopping in Agios.
HALCYON PANORAMA VILLAS FROM €160/NIGHT – BOOK BOOKING.COM
Casa Porto Boutique Hotel – Adults Only
One of the newest properties in town, this hotel has already earned top reviews on Booking.com. Situated in Agios Nikolaos, 2.4 km from Havania Beach, Casa Porto Boutique Hotel offers free parking, an on-site restaurant, a bar, and a terrace.
The property is about 500 meters from the Archaeological Museum of Agios Nikolaos and quite close to Voulismeni Lake. The hotel has an airport transfer service for guests too.
Rooms and suites come with a desk, a flat-screen TV, air conditioning, and a wardrobe. Every morning, guests at the accommodation can enjoy a buffet breakfast.
CASA PORTO IS RATED 9.9 ON BOOKING.COM – READ REVIEWS AND BOOK HERE
Looking for the most amazing resorts in Agios?
>>Check the Lasithi section of this article featuring Top Luxury Stays in Crete<<
Luxury Hotels and Villas in Elounda
These exclusive hotels also belong to a higher price range but are not in Agios, but in one of the best-known seaside resorts in Crete, Elounda.
The area is in a privileged position along the Gulf of Mirabello, and it is mostly known for some of the most stunning top-class resorts and hotels all over Greece. They might be a bit overpriced for most travelers' budgets, but they're worth discovering and… why not? Start daydreaming!
Blue Palace Elounda, a Luxury Collection Resort, Crete
"The most friendly, quality service I've ever experienced. The attention to detail is exceptional and the entire staff makes you feel special." Who wouldn't be curious about this hotel with such a review?
Righ on the coast of Elounda, this 5-star hotel combines luxurious accommodation with award-winning cuisine and a state-of-the-art spa, featuring infinity pools, a water sports center, and 2 tennis courts.
Choose among the elegant suites and bungalows with a private pool facing Spinalonga. This dreamy resort also features indoor pools, 24 treatment rooms, 2 hammams, saunas, and hot tubs. A fitness center and a beauty salon.
There are different gastronomic options to enjoy, including Cretan, Italian, Asian, and Greek contemporary cuisine. There's a Moroccan-style bar, a pool bar, and a beach bar serving exotic cocktails and finger food with spectacular views across the Cretan Sea.
BLUE PALACE IS RATED 9.3 ON BOOKING.COM – READ REVIEWS AND BOOK HERE
Elounda Mare Relais & Châteaux Hotel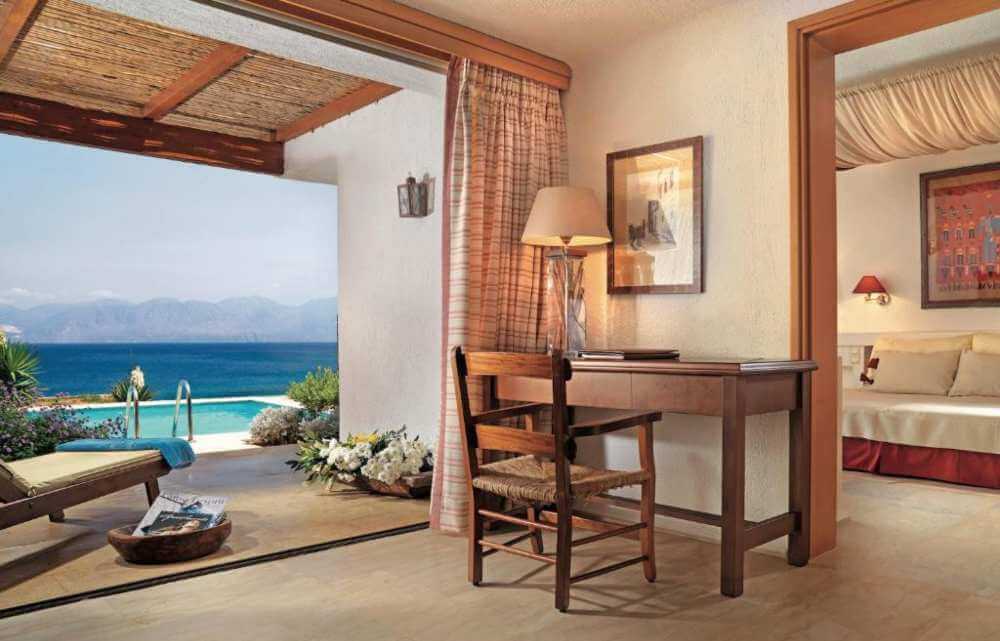 Elounda Mare Relais & Châteaux Hotel is a top hotel near Agios Nikolaos with spectacular views over the Mirabello Bay. It has top-quality restaurants and a variety of leisure activities.
Rooms and suites are spacious and elegantly decorated in soft tones creating a serene atmosphere. The bungalows are surrounded by bougainvillea-filled courtyards and include private swimming pools.
Guests love the Six Senses Spa including a hammam and a sauna, massage therapies, ayurveda aromatherapy, and more.
There is a large outdoor pool, as well as a private sandy, Blue Flag beach. The Sea Sports Centre offers water skiing and scuba diving lessons.
When it comes to gastronomy, every day, a rich buffet breakfast is served at the Deck restaurant while the Yacht Club offers fish specialties by the beach. There is a restaurant serving Cretan gourmet cuisine and beach bar as well.
ELOUNDA MARE IS RATED 9.2 ON BOOKING.COM – BOOK HERE!
Best Hotels Near Agios Nikolaos
There are several other places to check near Agios Nikolaos, some of them ideal for travelers looking for a quieter lifestyle and a more tranquil atmosphere.
In this section you will find my top-favorite hotels in the best areas nearby.
Voulisma – Istron Bay Hotel
One of the most frequented seaside resorts in the region is Istron, featuring the imposing Voulisma Beach. This property is a great pick in the area.
The 5-star Istron Bay Hotel offers sea-view suites and overlooking the beautiful beaches of Istron. The hotel has a great swimming pool, 3 restaurants, and 2 bars as well.
Istron Bay rooms and apartments are tastefully furnished and have a private balcony. The property can arrange for outdoor activities, such as canoeing, waterskiing, and windsurfing. It also features an on-site diving school and a tennis court.
An Italian animation team provides a number of shows for guests including yoga and aqua gymnastics.
ISTRON BAY HOTEL IS RATED 8.3 ON BOOKING.COM – CHECK REVIEWS AND BOOK HERE
Looking for a place to stay in the Lasithi Plateau?
>>Check what to do and where to stay here<<
Kritsa – Tsiboulas Cretan Cottage
Experience the uniqueness of Kritsa, a traditional mountain village close to Agios Nikolaos, but still quite isolated and quiet, far enough from the city to enjoy a calm stay in Crete.
This tastefully decorated apartment has earned many great reviews which praise the hospitality of the owners, the clean and cozy facilities, the well-equipped premises, and the stunning location.
The apartment features a bedroom, a living room, a comfy kitchen with a dining area, and a washing machine. The apartment is just 11 km from Agios Nikolaos, and minutes from the Byzantine Church of Panagia Kera.
TSIBOULAS CRETAN COTTAGE IS RATED 9.6 ON BOOKING.COM – CHECK IT HERE
Other Places to Stay in Lasithi
You will find amazing spots to stay all over Lasithi, either you love calm mountain villages or quaint fishing villages, the region features a unique variety of landscapes and hidden gems worth driving around for days…
If you want to discover the area and still don't know where to stay in Lasithi, these are some of my favorite villages on the northern coast, Plaka, Tholos, and Mochlos, all of them ideal for a vacation off the beaten path. You can read more about those in the next section of this article.
Sitia is Crete's easternmost city and the place really deserves a whole article on its own, but if you want to check one of the prettiest hotels in the area, Sitia Beach, then you should head here.
Ierapetra is one more place where you can stay in Lasithi. It's an important coastal town, ideal to board a ferry and reach the spectacular Chrissi Island.
There are quite a few things to see and do in Ierapetra, and although the place is not as busy as the cities on the northern coast, it can get quite busy during the high season. If you feel this is the kind of town you're looking for, check the beautiful Enorme Santanna Beach Hotel, rated 9.2 on Booking.com.
Want to see more of the South?
>>Check this guide to driving on Crete<<
Best Hotels in Agios Nikolaos by the Sea
Are you dreaming of waking up to the sound of the waves on a tranquil beach? Check these areas in Rethymnon
Plaka
Not far from the more sophisticated Elounda, and about 20 minutes from Agios Nikolaos, the small fishing villages of Plakas is a great place to stay.
The village, which somehow has managed to keep an off-the-beaten-track atmosphere is located right opposite Spinalonga Island, one of the many must-visit places on the island.
There's not much to do in Plaka and I personally think this is what makes it a charming place for holidays. There are bars and traditional tavernas, some souvenir shops, and a picturesque pebble beach with pristine shallow waters. Plaka is a good option to savor a quiet pace of life on the island, and these are two of my favorite places to stay there.
Sea Side Junior Suite Elounda Plaka: This rental home right by the sea is nothing but a dream coming true, a whole house next to the pristine waters of the Sea of Crete.
The house is only 80 meters from the beach and features all the comforts for a perfect vacation.
Cayo Exclusive Resort & Spa: Top accommodation choice facing the bay, this unique place features every luxury you could imagine and more!
You can enjoy a restaurant, an outdoor pool, a bar, and a shared lounge. The property offers car hire and features a beautiful garden and a sun terrace.
Places to Stay in Mochlos
The fishing village of Mochlos is on the Mirabello Gulf coast, not far from Agios Nikolaos, but also Ierapetra (in the south) and Sitia are quite easy to reach from Mochlos.
Right opposite Mochlos's small beach there's an island where archaeologists have unearthed important ancient findings, including a Minoan cemetery. The peaceful fishing village is a great place to stay if you want to unwind and disconnect. This is my top pick in the area:
Chez Cécile Home: This guest house offers beautiful rooms with private balconies and a patio with garden views.
Guest rooms are equipped with air conditioning, a fridge, a toaster, a coffee machine, and a desk.
The hotel is a fantastic choice for a truly relaxing time in Lasithi.
Besides, this place has fantastic reviews, and it's usually difficult to find availability, so go ahead and book if you find a unit on the dates of your trip.
Places to Stay in Tholos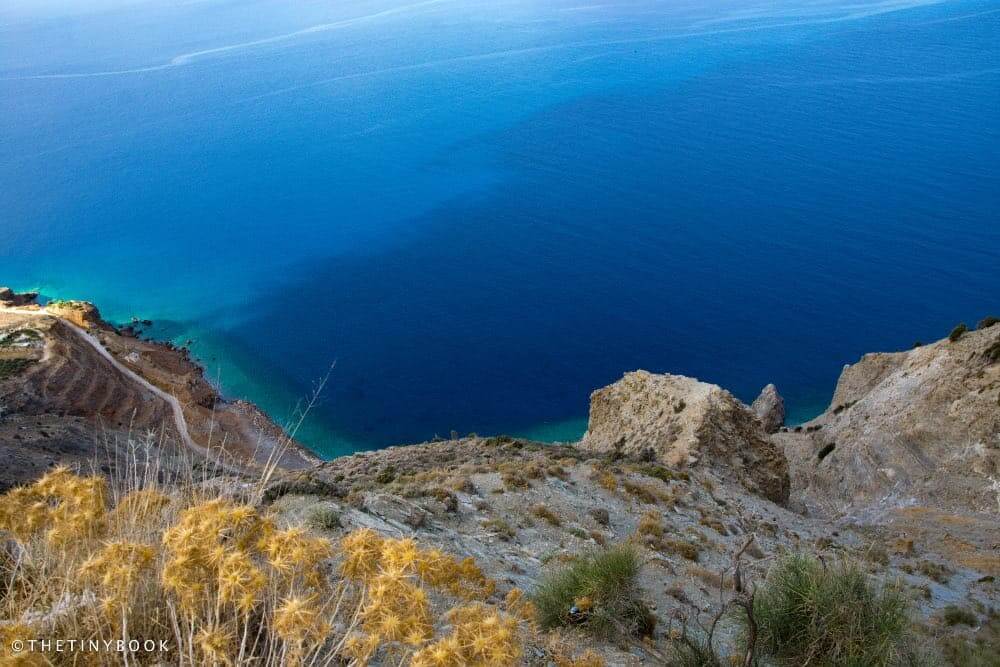 Tholos is a rather unknown village east of Agios Nikolaos, ideal for a very quiet vacation. There's not much to do in the area, other than visiting the nearby olive groves in Kavousi, which hosts one of the oldest olive trees in the world.
Tholos, however, is home to an amazing beach with just partial organization, perfect if you want to avoid the crowds. If you want to experience life in this area, then check this hotel in Tholos.
Tholos Rooms: Really convenient prices, well-rated, and ideal for a vacation in a completely peaceful place, Tholos Rooms has all you need for a comfy stay.
The hotel features a restaurant, a bar, a shared lounge, and a garden. Kids can take advantage of a kids' club, and a playground.
There's free private parking and a bike hire service in case you want to explore more of the area. The accommodation also offers a choice between continental or buffet breakfast.
I hope this guide will be of help when it's time for you to choose among the best hotels in Agios Nikolaos.
You can go for a place in the city center, a place near the port, a stylish hotel in Elounda, and more… You can also stay in one of the amazing nearby beach resorts. In any case, you can be certain that there's a lot to do in the region to have a great time in Crete.
---
Have you made up your mind yet? Do you already know where to stay in Agios Nikolaos?
Let me know in the comments below!
---
Coming to Crete any time soon?
These resources will help you organize the trip!
Start by reading these helpful tips to plan a trip to Crete or check family holidays in Crete if you travel with kids. To visit Crete's heavenly beaches, check my guide to the best beaches. Discover what region is best to stay in or check what to do in Crete.
Get in touch if you need extra help to plan your trip. If you want to tour West Crete, check my guide. Want more? Join my Private Facebook Group to connect with like-minded travelers who love Crete as much as you do!
Make sure you've got everything for a hassle-free trip!
I never move around Crete without my Osprey backpack, a sturdy but light travel partner I just love. For short trips, I carry this little crossbody bag. If I'm driving around, I pack my Michelin map and my Nikon.
When it comes to plane tickets, compare prices with a powerful search engine. However, nothing beats traveling by sea in Greece. With Ferry Hopper, you can book in advance at the lowest price.
For accommodation, I personally use Booking.com and Airbnb.
Traveling to remote places is easier with Discover Cars. Other times, I join organized tours with GetYourGuide, which features anything from cooking lessons to airport transfer!
Read more:
Your Picture-Perfect Day Trip to Chrissi Island, Crete!
Unforgettable Day Trip to the Lasithi Plateau, Crete
Most Stunning Beaches in East Crete: Complete Insider's Guide
Super Helpful Visit Guide to Plan a Trip to Spinalonga Island in Crete!
Amazing Things to Do in Agios Nikolaos During Your Trip to Crete
Don't Leave without Pinning! Pin this Guide to the Best Hotels in Agios Nikolaos For Your Next Trip to Crete!
About the author of this blog: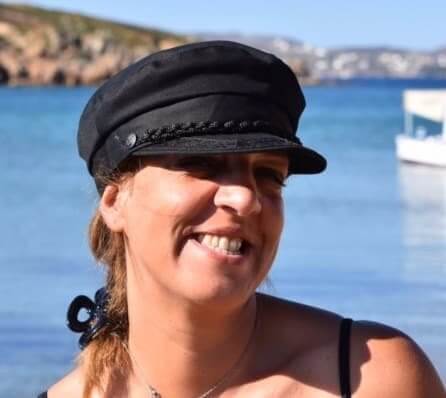 Gabi has been living in Crete for the last five years. Here, she juggles being a solo mom, hosting culinary tours in the summer, translating, and working as a tech advisor.
She's written for Greek Reporter, published two travel guides about Greece, and had more glasses of frappe than any regular person would be able to handle.
---
You might also want to read:
---