If you're planning a holiday in Crete and wish to see a bit of every corner of the island, it's a good idea to devote a few days to the region of Lasithi, in East Crete.
Over there, it's a good idea to choose the city of Agios Nikolaos as your base to explore along the coast and through the mountains to get a close-up view of the region.
Down below is my own fool-proof itinerary for a short stay in Agios to help you decide what to do in this coastal town… so, with no further, ado, check everything you can do, see, and discover during 2 days in Agios Nikolaos Crete… or more!
---
Disclaimer: Posts include affiliate links to products or services. I might earn a commission if you make a purchase, at no extra cost to you.
---
Short Stay in Crete: 2 Days in Agios Nikolaos Crete,
A Great City Break
The east of Crete is a somewhat undervalued region that many tourists overlook when planning their days on Crete. And still, it guards unique secret places and uncountable homegrown Cretan traditions.
If you've made some time to see the region, or if you're touring with an organized tour, you'll probably have a few hours to spend in Agios Nikolaos, the most visited city in the area.
Let's check this list and discover what you can do with just a few hours in Agios Nikolaos, Lasithi's main town.
Just a few hours in Agios Nikolaos… or more!
Spending a couple of days in Agios Nikolaos is not a bad idea when devoting one or two weeks to the entire island.
Even just a weekend in the small town of Agios (as locals call it) would allow you to explore beyond the city boundaries to venture into the mountains or discover the gorgeous seaside villages in the region.
Starting from Agios Nikolaos, there's no way you miss a stroll in the area of Lake Voulismeni, a central point in town. The curious lake is connected to the Sea of Crete through a narrow passage.
Moving away from the center of Agios, you can discover some of the local beaches, but also the international nearby resort of Elounda, and the fishing village of Plaka.
With good timing and a bit of extra organization, you can manage to fit all these in one long morning in Agios Nikolaos.
If you're also spending the rest of the afternoon in town, board a boat to check the former leper colony of Spinalonga, the city center, the pedestrian roads, and the beautiful churches, or pick one of the following ideas to enjoy the best of eastern Crete.
How to Use this Itinerary Guide to 2 Days in Agios Nikolaos Crete
This guide considers the city of Agios Nikolaos as your base in Lasithi. However, it's not hard to modify it if you're staying in other Lasithi towns, such as Ierapetra or Sitia.
A few hours in Agios Nikolaos
I have designed an itinerary for just a few hours in town. If your visit is a short one, head directly to the places listed under Quick Tour of Agios Nikolaos.
One day in In Agios Nikolaos
Some of my afternoon suggestions work well if you plan to spend the whole day in the city. Don't forget to read which are the best places you can pick both for lunch and dinner.
Two days or more days in Agios Nikolaos, explore the rest of Lasithi
If you're in Agios Nikolaos for two full days, choose an alternative itinerary in the section What to do in Lasithi in 2 or 3 days.
If you fall in love with the region and want to stay and keep exploring, simply chose another day trip and add it to your itinerary. The more day trips you add, the more ideas you have to extend your stay and have things to do for more than a week!
To organize even better your trip, check also the suggestions in Hotels in Agios Nikolaos Crete as well as the rest of the travel tips for Lasithi.
A Quick Tour of Agios Nikolaos
3 Things Not to Miss in Town
The city of Agios Nikolaos is not as big as other inhabited centers in Crete, it's quite easy to see a lot of it even when you're not spending a lot of time in town.
Here are a few of the things you shouldn't miss in Agios Nikolaos.
However, if you are curious and want to discover more, check out these 10 best things to do in Agios Nikolaos.
1. Discover Lake Voulismeni and the center of town
Considered the beating heart of Agios, Lake Voulismeni is the place where both locals and visitors gather at any time of the day.
Choose a traditional bar or a trendy café by the lake and enjoy a few hours relaxing and soaking in the city views.
Then, take a stroll along the pedestrian roads of Agios Nikolaos, listen to street musicians, or shop for souvenirs and local crafts.
Later on, you reach the seaside and visit the sculptures that stand right in front of the sea, they are typical spots to take a memory picture of your visit to the town.
You can either stop for a drink in one of the many seaside cafés or go for a swim at the city beach, Kitroplateia.
INSIDER'S TIP: The best place for dinner in Agios is located right by the lake. Karnagio is a famous stop where you usually need to wait in line to be seated. They serve stunning local dishes with a very personal touch. My advice? Order a dish of Hot dakos and a round of Cretan meze!
2. Drive to Elounda
Get in your car (or hop on the city bus) and head to Elounda. It will take you no more than 20 minutes to discover one of the most exclusive resorts on the island.
Elounda is a very popular place to stay in Crete, thousands of tourists choose it every year because it's home to some of the most luxurious hotels on the island.
But that is not the only reason: Elounda stands in a privileged position, facing the tranquil Bay of Mirabello, where waters tend to be so calm and quiet that it is often compared to a lake.
Once in Elounda, you can discover the nearby Sunken City of Olous, if you're interested in the Minoan past of the island
The Kolokitha Peninsula and the Sunken City of Olous
To reach the beach of Agios Loukas in the area known as Kolokitha Peninsula (or also Spinalonga peninsula), you have to drive the man-made road over the ancient sunken city of Olous.
Olous (also Olus) was an ancient Dorian city that today lies underwater. It's visible on both sides of the isthmus connecting the peninsula of Spinalonga to the mainland in Elounda.
According to different studies, the city might have sunk due to a shift caused by an earthquake during the second century AD. Underwater research has revealed the rest of the submerged linear buildings and roads.
Other studies have also revealed the remains of a Hellenistic defensive wall and tower, probably a fortification. Ancient texts found within the ruins link Olous with the ancient cities of Knossos and even with the island of Rhodes.
During the Venetian period, there used to be a large salt pan complex in the area of Olous, however, most of the materials from the ancient city were reused during the construction of the fortress in Spinalonga.
After exploring Olous (either on foot or with scuba diving equipment), continue your way to Agios Loukas (about 10 minutes by car on a very narrow dirt road, be careful!).
This is one of the most beautiful beaches in the area, you can spend some time over here before making your way back to Elounda.
Epano Elounda
If you have some extra time and like to discover hidden places, climb up to the traditional village of Epano Elounda.
It is a good idea to climb up with your photography equipment to take a few snapshots of this solitary, quaint little village which was used as a filming set for one of the most successful TV series ever broadcasted in Greece, To Nisi (The Island), telling the story of Spinalonga, the Leper Colony island.
Remember: If you have made up your mind to visit also Spinalonga, you can either board a boat in the port of Elounda or move on to Plaka, about 10 minutes from Elounda. Here, at the small harbor, it's possible to hire a boat. The ride is no more than ten minutes.
3. The Fishing Village of Plaka
When in Plaka, take a stroll along the cobblestoned alleys, or stop for lunch in one of the few seaside tavernas. Fresh fish here is delicious.
Traveling from Plaka to Spinalonga by boat is a great idea if you want to experience (at least for a short while) the same way that people used to sail to Spinalong in the past.
Visiting Spinalonga
It wouldn't be realistic when it comes to time management, especially during summer when tons of tourists flock to the area, to expect to fit a visit to Agios, Elounda, Olous, Plaka, and Spinalonga in just one morning. That is why I've added a visit to Elounda in the next section. But if you only have one morning in the area, you can choose one of the following ideas:
Agios Nikolaos – Elounda – Olous – Kolokitha
Agios Nikolaos – Elounda (and Pano Elounda) – Plaka
Spinalonga, Plaka, Elounda, Olous

>> This is the itinerary I recommend, get up early and head to Elounda to board a boat to Spinalonga, once you're back from the leper island, you can devote the rest of the morning to visit Plaka, Elounda and Olous, once you're done with them and if there is more time available, head back to Agios Nikolaos to visit the town.
1 Day in Agios Nikolaos
An afternoon in the area can be full of surprises.
Once you've visited Plaka and Elounda, the best thing you can do is board a boat to discover the past of the magnificent Spinalonga Island (see above) which worked as a Leprosary until 1957. But first, have a fish lunch by the sea.
Lunch in Plaka
If you're not in the mood for sitting and waiting to be served, but just want to grab a bite on the go and keep exploring, just settle for a quick meal.
The quaint, little harbor of the village is the perfect place to taste the local mezes or small dishes made from the fresh catch of the day.
Let's Start by Getting Ready for Crete!
RESOURCES TO BOOK YOUR TRIP:
Book your flight: I use Skyscanner to compare prices before booking a plane ticket.
Book your ferry: When ferries are more convenient than air travel, I use Ferryhopper.
Book your accommodation: I've tried many different platforms for accommodation, but none of them beats the advantages of Booking.com.
Book your car: The best way to find an affordable car to rent is to use a powerful search engine that compares all the rental companies in the market. I use Discover Cars.
Book your tours: Live unforgettable adventures and cultural experiences with Get Your Guide. For instance, you can Visit Elafonisi, discover Balos Beach, hike Samaria, or explore Knossos.
Don't forget travel insurance: Things can go wrong at times, but travel insurance will protect you against illness, injury, theft, and cancellations. I recommend Safety Wing for peace of mind.
Things to Do in the Afternoon
4. Explore Spinalonga Island
If you've made it from Agios to Elounda or Plaka, do not miss the Spinalonga island experience.
This famous landmark in Crete is an important archaeological site as well as the last standing leper colony in the country, active until the 1950s.
You can read more and take essential notes to prepare for the visit in this Spinalonga Island guide to visit.
Quick facts about Spinalonga:
Spinalonga is a small island located on the northeastern coast of Crete, right in front of Elounda. The island's tragic past and rich history fascinate everyone who visits.
Spinalonga inspired author Victoria Hislop to write The Island, a best-seller since its publication, also transformed into a TV series, the most successful one even aired on Greek TV.
The islet is 67 km from Heraklion, 15,5 km from Agios Nikolaos, 4,8 km from Elounda, and 800 m (5 to 10-minute boat trip) from Plaka.
The official name of the island is not Spinalonga, but Kalydon.
Spinalonga is a fortified island that you can visit in about one hour.
The islet was probably an area protecting the port of the ancient city of Olous also known as Olounda (modern Elounda).
The bastion of Spinalonga dates from 1579, it was built by the Venetians.
The best-known part of the history of the island starts back in 1903, with the establishment of a leper colony which was active until 1957.
Since a cure for leprosy had not been found, the affected ones were sent to live on the islet, thus cutting off any contact with the rest of the world.
Initially, patients arrived from Crete, but after the unification with Greece (1913), the island also received patients from the mainland. Later on, Spinalonga was classified as an International Hospital for Leprosy.
The area has been a protected archaeological area since the 1970s. Today, it's possible to visit the colony but also the museum that exposes different artifacts from the different periods of the history of Spinalonga.
Opening Hours:
– From April 1st until October 31st, 08:30-20:00, daily
– According to the official website, Spinalonga is closed in winter (from Nov. 1st to Mar. 31st) but opens on weekends with good weather conditions. For more accurate information call +30 28410 22462 / 28361 or check this site.
Entrance Fee:
Full ticket € 8.00, reduced € 4.00. This fee is paid on the island and has no relation with the boat ticket.
Boats:
The first boats of the day depart from Plaka at around 9.00. The first departures from Elounda are from 9.30 to 10.00 in the morning.
5. Back in Agios Nikolaos, check the Folklore Museum
The collection includes authentic items of Cretan art, reflecting the island's old traditional life.
The exhibit mainly consists of traditional textile handmade items, with incredible embroidery and designs. You will also see holy icons, wooden artifacts, and manuscripts.
Folklore Museum of Agios Nikolaos (1, Konstantinou Palaiologou Street)
Opening hours: Mon-Sat 2 pm – 6.30 pm
Dinner in town
Head back to Agios Nikolaos for a succulent dinner, after all, you must be starving after all the exploring! These are my top recommendations for dinner in town:
Karnagio (Kon/nou Paleologou 24, Ag. Nikolaos) – My favorite restaurant in town, it's located right next to the lake and it's a good idea to reserve a table in advance as it's always packed full.
Al Dente (Akti Nearchou 3, Ag. Nikolaos) – Not the traditional Cretan cuisine, but more international and accommodating. I definitely liked eating here, great for kids too.
Ble Katsarolakia (Koundourou 8, Ag. Nikolaos) – More refined and ideal for a special evening. Choose a table facing the lake for a romantic vibe.
Spend the night in Agios Nikolaos
STAY SOME MORE TIME…
Lasithi in 2-3 Days
This itinerary was originally thought of as 1 day in town + 1 day trip in the Lasithi region, the perfect 2-day in Agios and Lasithi trip.
However, if your stay lasts a few more days, or if you have picked this town as a mini holiday destination, any of the following alternative itineraries could be perfect for your second, third… or even fourth day in Agios Nikolaos.
Choose one of the following days if you have limited time available, or pick them all if you're staying in Agios Nikolaos a bit more. These itineraries are flexible and can be combined as you prefer.
Besides, if you rent your car and drive around the east coast of Crete, you won't be sorry, it will allow you to stop any time you wish, see more, and enjoy your time more smartly!
Best hotels in Lasithi
Affordable: Porto Maltese and Katia Apartment in town.
Mid-range: Ostria Apartments in Ammoudara or Villa Olga.
Luxury: Elounda Peninsula in Elounda and Miramare Resort in Agios.
Check also Rental Homes in Agios Nikolaos and Best Elounda Resorts.
IN-TOWN ITINERARY
nearby and city beaches – Agios Nikolaos stairs – dinner
Morning
Start the day with a Cretan breakfast at Kimzu Sea Lounge (44 Anapafseos St).
Then, walk towards the center of town and explore the amazing street art that decorates some of the stairs that populate Agios Nikolos.
Afternoon (1st stop)
Afternoon (2nd stop)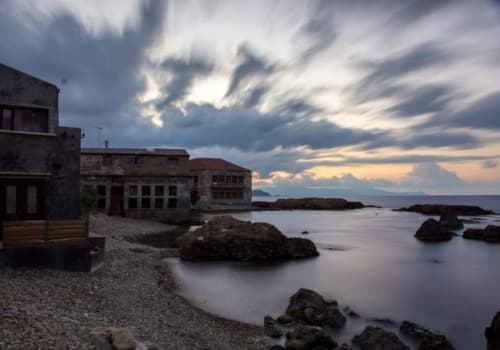 Head back to Agios and spend the rest of the afternoon exploring the shopping area in town.
Everything from bags and shoes, to exclusive pieces of jewelry, can be found in different boutiques along Koundouou street and 25th March street.
Alternatively, pick one of the many museums in the region to spend an entertaining afternoon fueled by discovery and curious facts!
Evening
One of the best places for seafood in town is Pelagos (Stratigou Koraka 11, Ag. Nikolaos). This restaurant is located in a beautiful building and a bit off the lake area. Completely vegan-vegetarian friendly and with interesting seafood dishes (to share!).
After dinner, enjoy a walk back to town and stop for a cocktail at Peripou, right on Agios' main street.
---
FOODIE ITINERARY
city restaurants – mountains – olive oil
Morning
It's a great idea to start your day with a visit to an Olive Oil production center. Vassilakis Estate is a family-owned factory that produces high-quality olive oil. They are very passionate about what they do and always welcome visitors willing to get familiar with olive oil making.
Their Friendly Olive Tour will take you on a one-hour journey to learn the secrets of processing olives. By the end of the tour, you'll also sample the exquisite extra virgin olive oil they produce.
They are located in Neapolis Gerania, Neapoli (Lasithi)
Afternoon
Reach the area of Kritsa and visit this gorgeous mountain village. In town, you can check different museums and stop for a succulent lunch in one of the many tavernas located on the main square (all of them are unique!)
My favorite? Platanos is a picturesque tavern in a green environment. The outdoor seating area is full of trees and offers a nice view of the main street.
When visiting Kritsa, don't forget to stop by the amazing Byzantine church of Panagia Kera, one of the most important religious centers in Crete with well-preserved ancient frescos.
Evening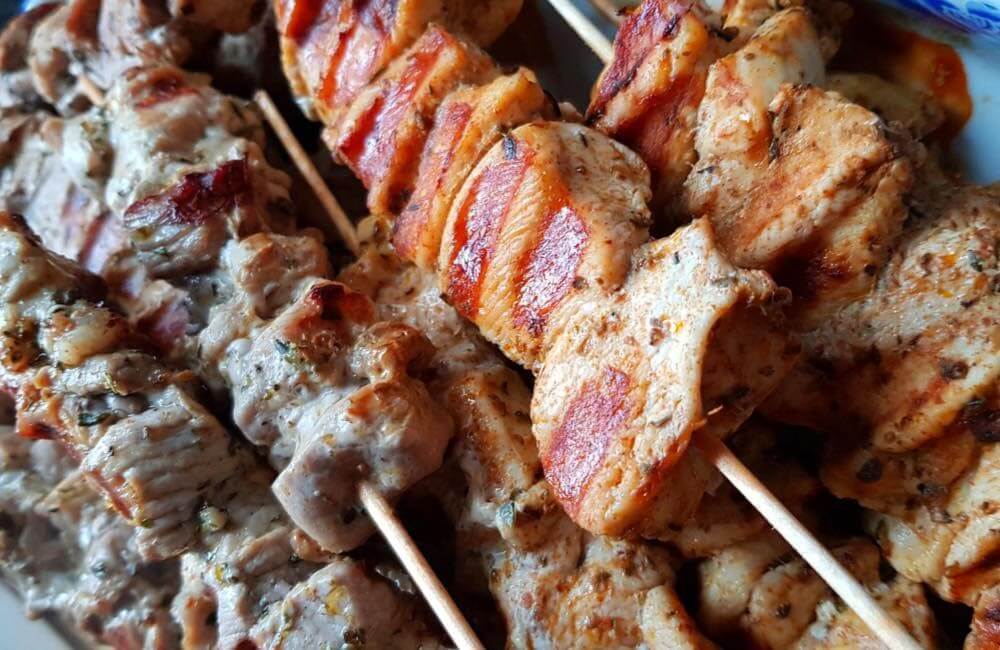 Get back on the road and reach the nearby village of Latsida to have dinner at Miliaras Taverna (Agios Antonios road, Latsidas-Lasithi).
According to the legend, there is a taverna in town serving one of the best souvlaki on the island! I've tried them, and they are quite good. The place is quite affordable too and portions are huge!
BEACH LOVER ITINERARY
Morning
Afternoon – Evening
It's not impossible to squeeze in another great beach today, and this one is Tholos. Located about 20 minutes from Voulisma, this is a solitary shore with a few tamarisks providing shade and a cozy beach tavern for drinks and snacks.
The sea is incredibly clear, and you will certainly spend a very relaxing time.
Not far from Tholos, you can also explore the ancient olive tree in Kavousi, and then get back on the road to Agios
PANORAMIC ITINERARY
scenes – mountains – adventure
All-day trip Alternative 1: LASITHI PLATEAU
Drive all the way to the starting point of the Lasithi Plateau and spend a day driving along this unique circuit with incredible landscapes.
Along the way, you can stop and explore small mountain villages, eat traditional food, and even pick from apple and pear trees.
For a more exciting experience, make a stop at the Psychro village to access the imposing Dikteon Andron, known also as the Cave of Zeus.
All-day trip Alternative 2: RICHTIS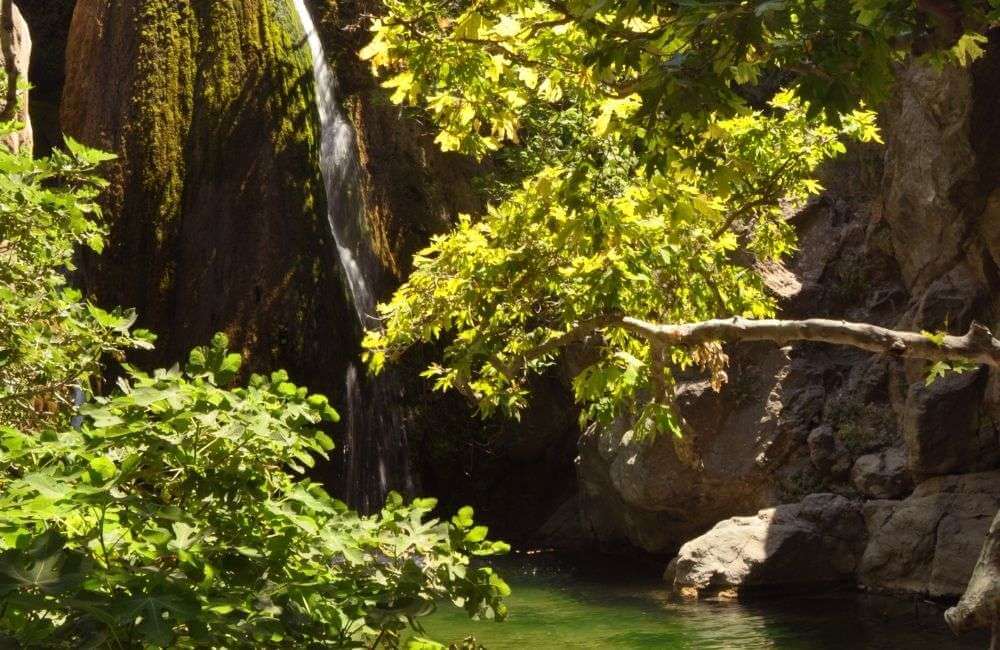 If you want to avoid the mountains and prefer to drive along the coastal road, set up early from Agios towards the east, driving on the Agios Nikolaos-Lasithi road.
It will take you about an hour and 15 minutes to reach the village of Exo Mouliana, where you will find the entrance to Richtis Gorge.
Exploring the gorge is really rewarding, the hike can take from 2 to 4 hours. At the end of the path, you will find a waterfall as well as a solitary beach to take a refreshing swim after the hike.
For more adventurous ideas, check out the best day trips from Agios here.
FAMILY ITINERARY
beach – archaeological site
Morning
Start early in the morning and head to Sitia, the easternmost city on the island. Once in the area, drive a bit more towards the south to visit Zakros.
If you have small kids in tow, the earlier you arrive the better if you want to avoid extreme temperatures.
Here all the family can explore the Minoan Site of Zakros, one of the four Minoan palaces in Crete. Right after, you can have a fresh lunch at a seaside taverna, or drive back north to visit another great Lasithi beach…
Afternoon
Kids love archaeological sites but they also love to swim and play with the sand. About 35 km from Zakros (towards the northern coast), it's possible to spend the afternoon on one of the most popular beaches in Crete, Vai Beach.
Other than being safe and wide, the beach hosts the most important palm grove in Europe, so finding protection against the Cretan sun won't be a problem.
Evening
Drive back to Agios, get on the road early as the trip can be long and tiring. Once in town, check one of the many restaurants by the lake or enjoy an ice cream cone or a delicious chocolate crepe at O Crepas (Akti Stilianou, Agios Nikolaos).
If you want to know about other places to eat in the region, then check this guide, it also includes restaurants and tavernas in Sitia, not far from Vai Beach.
General information about Lasithi
Lasithi Crete hotels: Where to stay
I have two favorite hotels in Lasithi, Chania, St. Nicolas Bay Resort Hotel and Villas is one of them, the other one is Minos Beach Art Hotel.
You can also read this guide about accommodation in Crete if you're still uncertain about where to stay on the island (the guide comes with a bonus 2-week itinerary too!).
Renting a car and driving in Crete
I always recommend companies that I personally use and hotels that I know either due to my job on the island or because I've personally stayed there.
When it comes to car rental, I've many times recommended this company since it's really good value for money. They have great prices, crystal clear conditions, and brand-new cars.
How to reach Agios Nikolaos from Heraklion Airport
There is no airport in Agios Nikolaos, chances are that you will be arriving in Heraklion.
The airport of Heraklion is 59.8 km from Agios Nikolaos, which means that a trip from Heraklion Airport to Agios is about an hour. The local city bus company of Heraklion (KTEL) connects both towns with a regular bus service.
Arriving or departing by sea: The port of Heraklion
The Port of Heraklion serves not only the capital of Crete but also different nearby towns, Agios Nikolaos is one of them.
The port receives daily arrivals from Athens and other islands. If you're on a cruise ship, it's good to know that a few of these massive ships dock at the port of Agios Nikolaos during the high season. Plan in advance to make the most of your day and calculate road times too.
Read more about Agios, the rest of Lasithi & Crete
For an extended guide of Crete, with suggestions regarding currency, health, transport, accommodation, and much more, read my Practical Tips for Holidays in Crete, it includes everything you need to know about a trip to the island.
If you are traveling with kids, you probably already know that Crete is a super family-friendly destination.
Take advantage of all the tips included in this Guide to Family Holidays in Crete – the perfect starting point to plan a family trip on the island.
If you plan to visit Spinalonga, check out my dedicated guide to visit the Leper colony.
If you're spending a couple of days in each of Crete's cities, why not check my Heraklion itinerary as well my Rethymnon itinerary and this super useful Chania itinerary?
Are you planning to do any of these things during your short stay in Agios Nikolaos?
Let me know in the comments below!
You might also be interested in reading these articles:
– Amazing Things to Do in Agios Nikolaos, Crete
– More than 35 Fun & Interesting Facts about Crete that will Surprise You!
– Elafonisi Beach Crete: The Best Beach on the Island
– Top tours, day trips, and excursions from Heraklion
– Top Nudist Beaches in Crete: Complete Insider's Guide
You've Got to Pin this Guide to the Best Things to Do if you Spend 2 Days in Agios Nikolaos Crete!
About the author of this blog: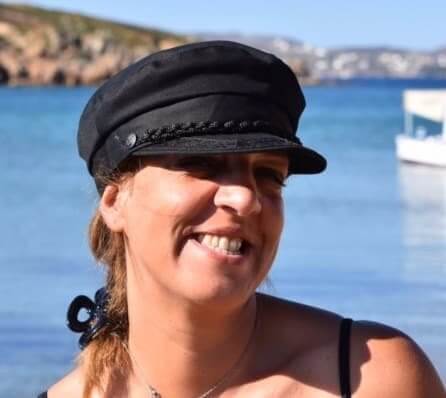 Gabi has been living in Crete for the last five years. On the island, she juggles being a solo mom, hosting culinary tours in summer, translating, and freelance writing.
She's written for Greek Reporter, published several travel guides about Greece, and had more glasses of frappe than any regular person would be able to handle.
COMING TO CRETE SOON?
Get in touch and let me know!