The island of Crete, in the southern area of the Mediterranean, is a great destination for family holidays. Kids of every age can enjoy the wonderful variety of beaches on the island. Due to Crete's varied coastal landscape, you'll be able to find bays that are as calm as lagoons, virtually waveless, and never hit by strong winds or currents. On the beaches of Crete, your kid will be able to create castles of soft sand, discover the submarine wonders with a pair of goggles, or play pirates on their own private islet. Read on to discover Crete's most kid-friendly shores.
This article may have affiliate links to products and services that I use. If you make a purchase through these links, it might earn me a small commission at no extra cost to you.
Best beaches for children in the region of Chania
We've often discussed on the blog the best beaches in the Chania region, I've even dedicated a whole article to unveil over 30 stunning shores on the western coast of the island. But, how many of them are especially safe for children? Let's take a look at the top kid-friendly beaches of Chania, Crete.
Pink sand beach of Elafonisi
Region: Chania (South coast)
Latitude: N 35.269391 Longitude: E 23.531477
Crete's most popular beach is Elafonisi. Famous for the pink sand shore, the islet of Elafonisi is about 70 km south of Chania, in the west of Crete.
The beach is well oganized, the sea shallow and clean. It's a safe, wide bay, great place for families with kids. Check this super detailed guide to visit Elafonisi.
Frangokastello Beach
Region: Chania (South coast)
Latitude: N 35.181586 Longitude: E 24.231458
Frangokastello is an organized sandy beach on the southern coast of Chania. Kids love the Venetian castle standing right opposite the beach.
This shore is a favorite among families for its shallow waters and soft sand, however, it's an open bay which can be windy at times.
Frangokastellos is great for young adventurers and explorers, both on land and under the sea.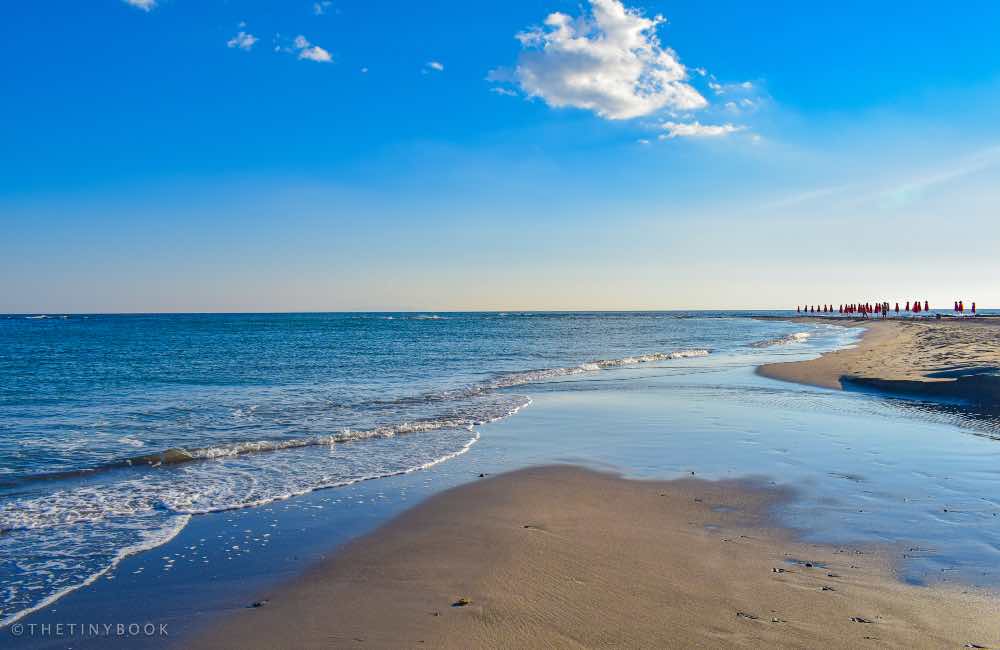 Stavros Beach
Region: Chania (Cape Akrotiri)
Latitude: N 35.591 | Longitude: E 24.0957
A shallow sea and fine golden sand combine on the beach of Stavros, making it a great place for family holidays.
The beach is very well organized, and there are no waves or currents, which make it the best beach in the area when the weather is windy. It's a laid-back village and resort, ideal for families.
You can also read about Stavros beach in the best beaches of Akrotiri and the best beaches of West Crete.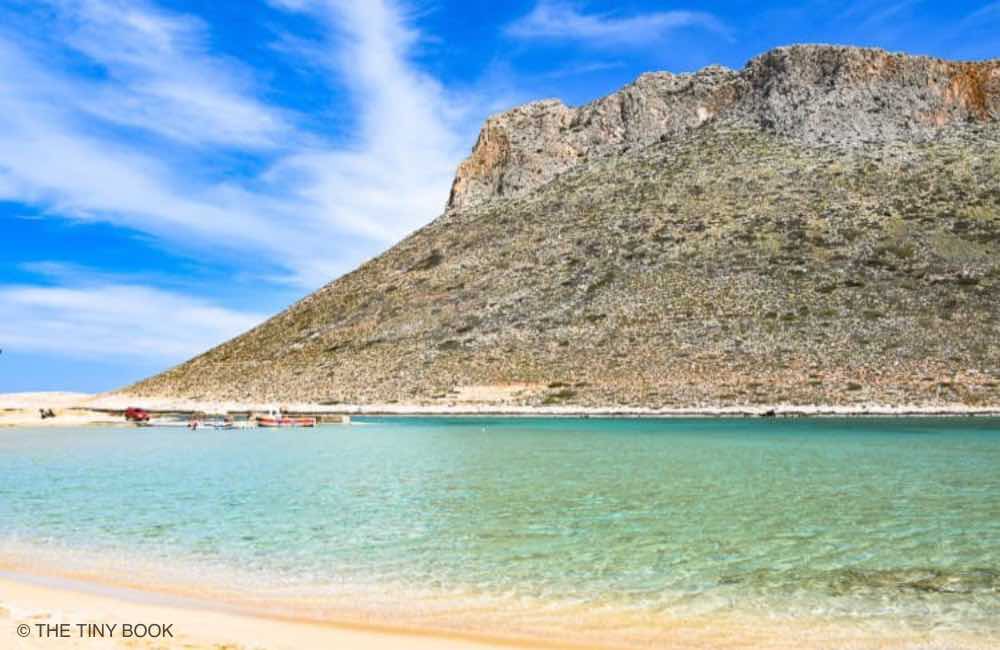 Georgioupolis Beach
Region: Chania (Apokoronas)
Latitude: N 35.361922 Longitude: E 24.261377
The small, laid-back resort of Georgioupolis has every ingredient to make it to the list of kid-friendly beaches in Crete.
There's a well-organized beach with shallow waters and soft sand. In the village, it's possible to find several tavernas and cafes around the main square and along the coast.
Georgioupolis attracts many visitors from all over Europe during the Summer, especially families with small children. The village is also conveniently close to the city of Chania.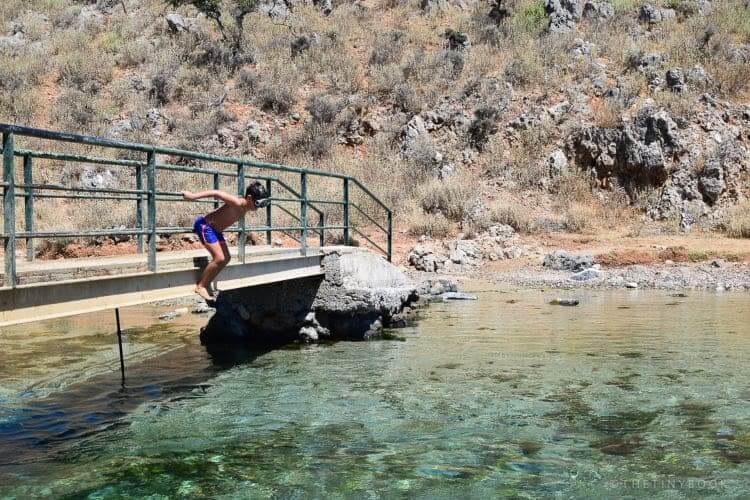 Best beaches for kids in the region of Rethymnon
Triopetra Beach
Region: Rethymnon (North coast)
Latitude: N 35.119377 Longitude: E 24.547915
This wide, tranquil beach is about 52 km south of the city of Rethymnon. Triopetra is a beautiful beach with small pebbles, fully organized and with ample spaces that usually make it look empty even in the high season.
On this beach, the children will love to explore the three imposing rocks that stand right next to se sea.
There are a few tavernas on the beach serving cold drinks and meals. It's possible to rent sunbeds and umbrellas too.
Bali Beach
Region: Rethymnon (North coast)
Latitude: N 35.414032 Longitude: E 24.782996
The bays of Bali are a popular beach choice on the island of Crete so it's not odd to find it crowded.
Some of Bali's bays are narrow and well protected from the northern winds, a feature that makes it stand out from the rest of the beaches on the north of Rethymnon, that usually have a quite rough sea.
Organization, fine sand and pristine water, plus good tourist facilities make Bali another good place for family-friendly holidays in Crete
Agia Galini
Region: Rethymnon (South coast)
Latitude: N 35.090157 Longitude: E 24.69644
Agia Galini is a nice coastal town on the southern coast of Rethymnon extremely popular among tourists from all over Europe.
There are a lot of hotels and other facilities that make it a great place for family holidays.
There are several kid-friendly beaches in the area, as well as many other beaches to check nearby, such as Kalamaki, Damnoni, and Plakias. Agia Galini is a great starting point to visit the southern beaches of Crete.
Village and port of Agia Galini (Source: Pappou CC BY-SA 3.0).
Best kid-friendly beaches in Heraklion
Ligaria Beach
Region: Heraklion (North coast)
Latitude: N 35.399204 Longitude: E 24.026512
Ligaria or Lygaria is a beach located on the northern coast of Heraklion, 21 km west of the city, and very close to the beach of Agia Pelagia.
The bay is wide and the sea very clean, although it can be wavy at times due to the northern winds. In this case, seek refuge on the western side of the bay.
Although the beach is quite shallow for the first meters, the sea deepens suddenly, as for instance on the coast of Matala.
It's always better for kids to enter the sea with an adult so as to understand how safe it is according to their swimming skills.
Hersonissos Beach
Region: Heraklion (North coast)
Latitude: N 35.307837 Longitude: E 25.37114
Not all the coast of Hersonissos is among my favorite beaches for kids on Crete, however the area known as Sarandari Coves can be a tranquil spot for families, with its shallow shore and crystal clear waters.
The seaside resort also offers all kinds of entertainment for children, a good reason to include this beach in any list of kid-friendly beaches of Crete.
Stalida Beach
Region: Heraklion (North coast)
Latitude: N 35.292725 Longitude: E 25.432898
The quiet and safe cost of Stalida (also Stalis) is favorite among families spending their holidays in Crete.
The resort is half-way between Hersonissos and Malia, less than 20 km from Heraklion.
The beach is sandy and organized and there's a good choice of places to eat and stay along the coastal road of Stalida.
Malia Beach
Region: Heraklion (North coast)
Latitude: N 35.298014 Longitude: E 25.494903
Although a bit noisy and chaotic, Malia remains one of the most popular resorts and beaches in Crete as it's just 35 km east of the island's capital, Heraklion.
The wide beach continues until the also friendly resort of Stalis (or Stalida), a much better choice for family-friendly holidays in Crete.
Family-friendly beaches in Lasithi
Almyros Beach
Region: Lasithi (North coast)
Latitude: N 35.19106 Longitude: E 25.71524
Almyros is a fantastic child-friendly beach in the region of Lasithi (and one of my personal favorites).
The bay is long and wside, safe for children, and the sea clear, calm, and shallow.
A key feature of the beach is the small stream that flows to the sea, whih kids usually love to explore.
When we visited the area, we stayed here.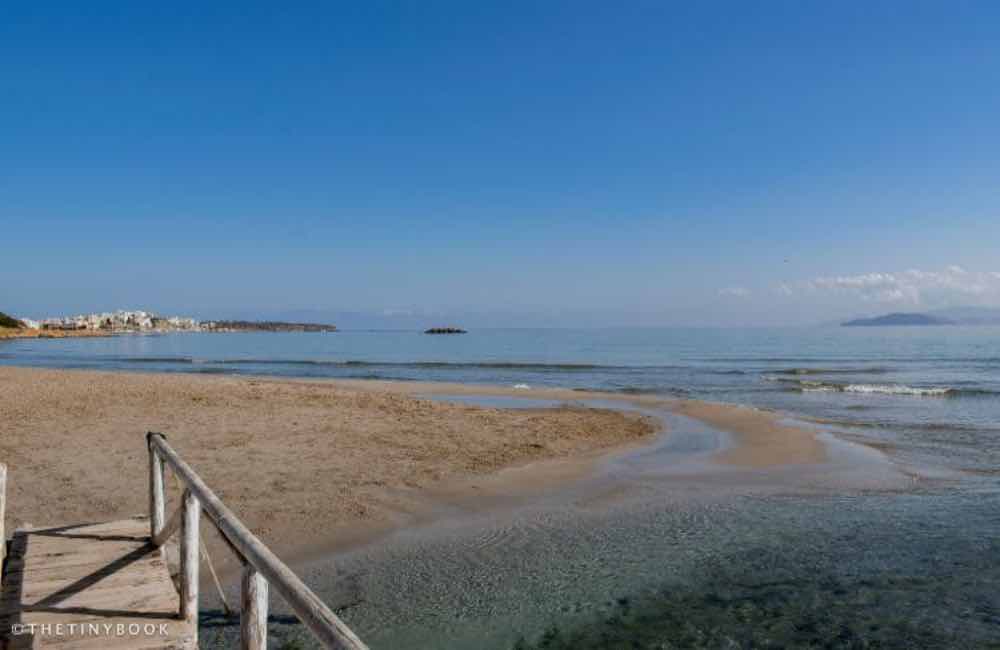 Voulisma Beach
Region: Lasithi (North coast)
Latitude: N 35.125594 Longitude: E 25.746135
One of Crete's preferred beaches, Voulisma lies on the northern coast of Lasithi, facing the beautiful Gulf of Mirabello, just a few minutes from Agios Nikolaos.
The long bay is well organized, it has white sand and the waters are crystal and shallow, and it's absolutely beautiful when there's no wind.
The place is usually busy in summer, but it can be perfect for those traveling in more tranquil months (at the beginning or at the end of the season).
Vai Beach
Region: Lasithi (East coast)
Latitude: N 35.254528 Longitude: E 26.265406
Although it's usually crowded as it's one of Crete's most popular beaches, Vai is located on a wide bay on the eastern area of the island.
The beach is very wide and has soft golden sand as well as a huge palm tree forest, one of the biggest in Europe.
The bay is calm and the sea clean and shallow. Te beach is, in fact, ideal for family-friendly holidays, especially if you visit in early June and early September.
Myrtos Beach
Region: Lasithi (South coast)
Latitude: N 35.004495 Longitude: E 25.585051
Located in the region of Lasithi, Myrtos is a village with a fantastic beach in a well-protected bay.
The area is peaceful and laid-back although the small village has every facility you might need for a family holiday in the south of Crete.
The sea is calm and not particularly hit by strong winds. The sand is dark and mixed with small pebbles. The beach is organized, and it's possible to rent an umbrella, eat in any of the beach tavernas, and enjoy a lifeguard service.
Which one is your favorite kid-friendly beach?
Let me know in the comments below!
ARE YOU LOOKING FOR MORE INFO ABOUT CRETE?
Go back to the complete destination guide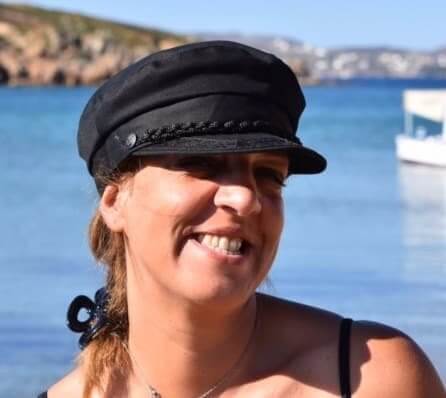 About the Author
Hola! I'm Gabi. Welcome to The Tiny Book – Crete Travel Blog! I moved to Crete to explore the island all year round. I love taking pictures and driving on the mountain roads of Crete. I'm a beach freak and on this island I've found heaven on earth!
Last updated on