If you're planning a visit to Agios Nikolaos, in East Crete, you might be wondering which is the best place to stay in town. We recently spent 5 wonderful days in Porto Maltese Boutique Estate, a stunning family-run accommodation in Agios Nikolaos with superb views of Lake Voulismeni.
If you're still uncertain of which hotel to pick, this review will help you make up your mind when it's time to book.
---
Disclaimer: Posts include affiliate links to products or services. I might earn a commission if you make a purchase, at no extra cost.
---
Review
This is a sponsored post. I was a guest for a 5-days stay at Porto Maltese Boutique Estate, yet all opinions remain, as usual, my own and unbiased. A heartfelt thank you to all the management and staff for the care and service.
Choosing a Hotel in Agios
Why Porto Maltese Boutique Estate
Take these things into account when booking your stay at Porto Maltese Boutique Hotel, and anywhere else…
Hospitality
We arrived at Porto Maltese after a 4-hour drive from Chania, with several stops on the road for pictures so we were tired and in need of a shower, a rest, and a bite.
The friendly staff of the hotel, aware of our long trip, made the check-in process super easy. We were welcomed with a nice refreshing glass of homemade lemonade, coffee, and refreshing wipes.
Rooms at Porto Maltese Boutique Estate
We had a very comfortable two-level family room, the kid's bedroom upstairs, while our bedroom had its own patio where we would normally sit to have our morning coffee and freshly-baked pastries.
The room also had a sitting area and a wide wardrobe, as well as a very comfortable bathroom.
My favorite time of the day was coming back from our long trips in the area, sitting under the trees in the yard, and enjoying a good cup of espresso.
Another detail I adored is that both in the rooms and in the common areas there are plenty of books for guests to choose from and pick to read during their stay.
You might enjoy: 10 Amazing Things to Do in Agios Nikolaos.
Lake View
Porto Maltese Boutique Estate directly faces the lake and the sea, but being a few steps up from the road, it's not really noisy.
Waking up in the morning to the magnificent view of Lake Voulismeni was one of the highlights of our holiday in Agios Nikolaos. J
ust having to cross the street to get to a restaurant was priceless when we were really tired late at night.
Porto Maltese Boutique Hotel's Central Location
One of the best features of the hotel is its central but at the same time quiet location.
Everything is just a few meters away, the center and the pedestrian streets, but also the lake and the beaches. Parking is not easy in Agios Nikolaos since roads are narrow and very steep.
For us, however, it was always possible to find a parking spot at the rear entrance of the hotel
Why we Stayed in Porto Maltese
Porto Maltese is a small boutique hotel, run by a local family. They really know their city and can suggest great things to do during your stay. I felt really cared for by Giorgos, his wife, and his father.
They were always asking how they could make our stay even better. I'm sure this is not the last time we visit Agios, and I'm certain that my next stay will also be at Porto Maltese Boutique Estate.
If you want to stay at Porto Maltese Boutique Estate in Agios, click here for more information and the latest prices.
And When in Agios Nikolaos… Discover More of Lasithi
If you're looking for great things to do in the region of Lasithi, check my restaurant guide to the best places to eat in Agios Nikolaos.
You can also read this guide to spend a day touring the Lasithi Plateau.

Remember to check these insights about the Cave of Zeus and more things to see in the area and everything about a day trip to Chrissi island.
Want to check more hotels in the area? Check the best hotels in Agios Nikolaos and the best hotels in Elounda.
RESOURCES TO BOOK YOUR TRIP TO CRETE:
FLIGHTS: Use Skyscanner to compare prices before booking a plane ticket.
FERRIES: Check out Ferryhopper for convenient ferry tickets.
ACCOMMODATION: Look for hotels and rental homes on Booking.com.
PRIVATE TRANSFER: Welcome Pickups offers local English-speaking drivers, flight monitoring, and a very convenient (flat) pre-paid fee
CAR RENTAL: Use Discover Cars to find an affordable car to rent.
TOURS: Live unforgettable adventures and cultural experiences with Get Your Guide.
INSURANCE: If things go wrong, you'll get coverage against illness, injury, theft, and cancellations. I recommend Safety Wing for peace of mind.
Would you like to stay at the Porto Maltese Boutique Estate in Agios?
Let me know in the comments below!
You might also want to read these other articles about Agios Nikolaos and the Lasithi Region:
– Super Helpful Visit Guide to Plan a Trip to Spinalonga Island in Crete! – A visit guide to Spinalonga Island.
– Fantastic Day Trips From Agios Nikolaos: Best Activities in Lasithi, Crete – A guide to the best excursions and day trips that you can take to discover the Lasithi region in Crete.
– How to Spend 3 Weeks in Crete – A tested itinerary for 3 (and also 2) weeks in Crete.
– How to Get from Heraklion to Agios Nikolaos (and from Agios to Heraklion) the Easy Way! – A driving guide to reach Agios Nikolaos after landing (or docking) in Heraklion.
– Best Luxury Resorts in Crete – A complete list of 5 and 4-star resorts in every region of Crete.
Pin Now! Where to Stay in Agios Nikolaos For Your Crete Adventure!
About the author of this blog: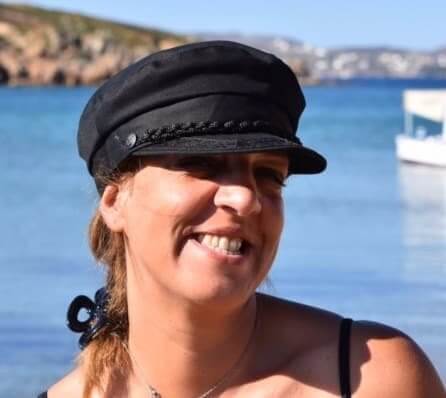 Gabi has been living in Crete for the last six years. On the island, she juggles being a solo mom, hosting culinary tours in summer, translating, and freelance writing for several travel blogs.
She's written for Greek Reporter, published several travel guides about Greece, and had more glasses of frappe than any regular person could ever handle.
COMING TO CRETE SOON?
Get in touch and let me know!