Are you planning a holiday in Crete? In this post, you will learn everything you need to know to reach the island. Discover how to get to Crete! Are you coming from the U.S.? Or from Europe? Is it better to travel to Crete by plane? Or is the ferry the best option? Here, you can check all these details and more!
---
Disclaimer: Posts include affiliate links to products or services. I might earn a commission if you make a purchase, at no extra cost to you.
---
Let's Start by Getting Ready for Crete!
RESOURCES TO BOOK YOUR TRIP:
Book your flight: I use Skyscanner to compare prices before booking a plane ticket.
Book your ferry: When ferries are more convenient than air travel, I use Ferryhopper.
Book your accommodation: I've tried many different platforms for accommodation, but none of them beats the advantages of Booking.com.
Book your car: The best way to find an affordable car to rent is to use a powerful search engine that compares all the rental companies in the market. I use Discover Cars.
Book your tours: Live unforgettable adventures and cultural experiences with Get Your Guide. For instance, you can Visit Elafonisi, discover Balos Beach, hike Samaria, or explore Knossos.
Don't forget travel insurance: Things can go wrong at times, but travel insurance will protect you against illness, injury, theft, and cancellations. I recommend Safety Wing for peace of mind.
A quick guide to the best hotels in Crete
Budget: So Young Hostel in Heraklio, Cocoon City Hostel in Chania, Matthias Hotel Apartments in Rethymnon, and Villa Galini in Agios Nikolaos.
Mid-range: Capsis Astoria Heraklion in Heraklion, Porto Antico in Chania, Archipelagos Hotel in Rethymnon, or Hotel Port 7 in Agios Nikolaos.
Luxury: Galaxy Iraklio Hotel in Heraklion, Hotel OFF in Chania, Avli Lounge in Rethymnon, or Minos Beach Art Hotel in Agios Nikolaos.
Check more: Where to stay in Crete.
Frequently Asked Questions about Traveling to Crete
Where do you fly into to get to Crete?
There are two main airports in Crete, one in the capital of the island, Heraklion International Airport Nikos Kazantzakis, and the other in the western region of Crete, Chania International Airport Ioannis Daskalogiannis. A third airport in the region of Lasithi, eastern Crete, mostly receives domestic flights from some Greek islands, but here flights are less frequent.
How long is the ferry ride from Athens to Crete?
A ferry trip from Athens either to the port of Heraklion or the port of Chania takes from 8 to 9 hours. This night route is operated by two different ferry lines and in the summer season, ferries can also depart during the daytime. Anek Lines runs 7 times a week while Minoan Lines offers 11 trips a week.
Can you fly direct to Crete?
Heraklion Airport is the second most important airport in Greece. Heraklion receives non-stop passenger flights from 111 destinations in 27 countries as well as several domestic flights.
At present, there are 7 domestic flights from Heraklion (Crete).
Chania Airport receives non-stop passenger flights from 54 destinations in 20 countries as well as domestic flights to Athens and Thessaloniki.
The only intercontinental flights operating from Heraklion are between Heraklion and the Middle-East (seasonal route to Tel Aviv and Kutaisi) and between Heraklion and Central Asia (seasonal route to Yekaterinburg).
Currently, there are no direct flights between Heraklion or Chania (Crete) and the United States, Canada, Southern America, Central America, the Caribbean, Africa, Southern Asia, Eastern Asia, China, Japan, or Oceania. Passengers coming from those areas need to fly to Athens first.
What airlines fly direct to Crete?
Some of the most popular airlines flying to Crete are Aegean Airlines & Olympic, British Airways, Lufthansa, Iberia, Finnair, Norwegian Air, SWISS, Brussels Airlines flights, and SAS.
Low-cost and charter companies flying to Crete are EasyJet, Ellinair, Ryanair, Volotea, Jet2, Corendon Airlines, TUI Fly, and Eurowings.

Remember: All schedules are subject to constant change from season to season. This guide is regularly updated but you should always check the details of your flight with your carrier or the agency in charge of organizing your trip to Crete.
Traveling to / From Crete by Air
Choose the Right Airport to Travel Get to Crete
Since Crete is quite a big island, you will need to decide which parts of the island you want to see. This itinerary can help you decide what places to visit. Instead, this guide helps you decide where it's better to stay in Crete.
Heraklion Airport
If you've made up your mind to visit East Crete (Lasithi Region), Heraklion, or Rethymnon, it's more convenient to fly to Heraklion. Bear in mind that this is one of the busiest airports in Greece and the one receiving most flights landing on Crete.
Heraklion's airport is 60 km from Agios Nikolaos, 93 km from Ierapetra, and 81 km from Rethymnon.
The international airport of Heraklion (HER) is only 5 km from the center of town. The trip by bus can last from 10 to 20 minutes, depending on the traffic. Check here to learn how to reach the airport of Heraklion from the city center.
Chania Airport
For those planning to explore West Crete and to stay in the region of Chania, the international airport of Chania is the best option. This airport can also be a good choice if you're staying in Rethymnon, 44 km away.
Chania International Airport (CHQ) is 14 km from the center of town. It takes 15 minutes to reach the city center by car, and about half an hour by bus.
Flying to Athens – Connections to Crete
Several daily flights connect Athens to Crete all year round. The number and frequency of flights increase in summer. Most flights coming from countries outside the European Union arrive in Athens.
From here, it's possible to get to Crete either by boat or taking another flight. A flight Athens-Crete never lasts more than 50 minutes (usually, though, the flying time is just half an hour).
Flights from Athens
At least three daily flights connect Athens to Heraklion and Chania in Crete. Frequencies increase during the high season.
The airlines that fly to Heraklion are Aegean Airlines, Ellinair, Volotea, Sky Express and RyanAir. Aegean Airlines and Olympic fly daily to Chania. There are also seasonal flights with EasyJet.
Athens International Airport Eleftherios Venizelos (ATH) is a bit more than 31 km from the center of Athens. If you plan to stay in Athens for a day or two, both the bus or the metro can take you to the center of town.
The bus is the cheapest option (bus X95, €6 one way), but getting to Athens can take up to an hour, sometimes more, due to the traffic. The metro rides every 30 minutes and the ticket is €10 one way. It takes 40 minutes to reach the center of Athens by metro.
>> Check this Athens itinerary for 2-3 days <<
Flying from Other Areas in Greece
Flights Thessaloniki-Crete
It takes 1 hour and 15 minutes to fly between Thessaloniki and Crete. The flying time is the same for Chania and Heraklion.
Aegean Airlines, Astra Airlines, Olympic Air, and Ellinair offer flights to Heraklion from Thessaloniki (Macedonia International Airport – SKG). There are about 4-6 daily flights, with more options during the weekend.
Ryanair, Aegean Airlines, and Olympic Air cover the route Chania-Thessaloniki with 1-2 flights per day. Not all these airlines fly every day, but there's at least one flight available daily.
Flying from The Dodecanese
There's one daily flight connecting Rhodes International Airpot Diagoras (RHO)and Heraklion. Some seasonal flights connect Sitia (JSH) to Rhodes and Karpathos (operated by the Cretan airline Sky Express).
Flights to Crete from Europe
There are frequent direct flights to Crete from most European cities during the high season while the quantity of available daily flights is reduced during winter.
Several low-cost companies fly to Crete in summer, as well as many charter flights, arriving both at Chania and Heraklion.
To reach Heraklion, UK travelers can board a flight in Belfast, Birmingham, Cardiff, East Midlands, Gatwick, Glasgow, Leeds Bradford, Luton, Manchester, Newcastle, and Stanstead. If you want to land in Chania, instead, you can t fly from Birmingham, Bristol, East Midlands, Gatwick, Leeds Bradford, Luton, Manchester, and Newcastle.
Travelers from France can fly from Paris, Lyon, and Bordeaux.
Those flying from Italy can board a plane from Bergamo, Milan, Napoli, and Rome, among other cities.
These are some of the companies that fly to Crete from the rest of Europe:
Aegean Airlines, Aeroflot, Air Dolomiti, Air Baltic, Alitalia, Astra Airlines, Austrian Airlines, Brussel Airlines,
Corendon, Dutch Airlines, Easy Jet, Ellinair, Finnair, Iberia Express, Jet2.com, Laudamotion, Lufthansa, Norwegian Air Shuttle, Ryanair, Sky Express, Smart Wings, Swiss International Air Lines, Transavia, TUI Airways, Ural Airlines, Volotea, Vueling, Wizz Air.
Flights to Crete from the U.S., Canada, Australia, and Other Countries
There are no direct flights between Canada, Australia, or the U.S to the Greek islands. So, it's necessary to book a flight to any European city. People coming from the USA, Canada, New Zealand, Australia, South America, Japan, or South Africa need to reach Athens in order to travel to Crete. There are direct flights from Israel in summer.
The best way to save some money is to book the cheapest flight to any city in Europe. Usually, there are good airfares for London. Next, buy a ticket to Crete with a budget airline. Other cities you can fly into including Amsterdam, Brussels, Düsseldorf, Frankfurt, London, Milan, Munich, Vienna, and Zurich. In winter months, you need to fly to Athens first, check budget airlines like Ryanair and Easy Jet to Athens.
>> You can find convenient fees for flights in Jet.radar.com <<
Traveling To / From Crete By Sea
My favorite way to get to Crete is by sea. Summer in Greece is often very much related to sailing to reach the islands. If you're flying to Athens, you can take the ferry from Piraeus port, about half an hour from the center of Athens.
Trips from Piraeus to Heraklion or Chania take from 7 to 9 hours. It's an overnight journey that usually reaches the destination between 5.30 and 6.30 in the morning. It's necessary to buy your ticket in advance.
How To Get To Piraeus Port
You can choose to take the public bus, the metro line or a taxi from Athens International Airport to Piraeus. The ticket for the bus ride is €6, but the trip takes about an hour.
Remember: At Piraeus, the departure gate for ferries traveling to Crete is E2.
Ferry Travel to Crete
It's a good idea to reach the port early and board with plenty of time, especially if you didn't book a cabin.
This way you will secure a comfortable place to sit. If you wish it's possible to board the ferry up to 2 hours before the departure time.
Ferries traveling to Crete are large vessels that can also carry quite big vehicles. Trucks load goods on the ferry until the last minute.
As the departure time gets closer, there's quite a rush as everyone is in a hurry to board! If you arrive early, you'll avoid the crazy hassle!
Check ferry tickets to Greece here!
Spending the Night Onboard
When buying your ticket, you can book a deluxe cabin or a first-class cabin. Accommodation is usually 2, 3, or 4 beds. Those traveling alone can pay an extra fee (usually 50 % extra) so as not to share your cabin. All cabins feature a shower and a toilet.
You can also travel on the main deck (either indoor or outdoor). This way, prices are more convenient and you can get a comfortable place to sit the earlier you board. You can watch TV and enjoy a drink or a snack at the bar any time you want.
Ferries also feature self-service and a la carte restaurants and meals usually have quite convenient fees.
Luggage
Big suitcases or heavy luggage need to be stored in a luggage area on the car deck. It's always a good idea to keep with you a small carry-on with what you need for the night.
But no more than that! Ferries have lots of narrow stairs and lugging heavy bags is not really a good idea.
Ports in Crete
Ports operating on Crete are Kastelli-Kissamos, Chania, Rethymnon, Heraklion, Agios Nikolaos, and Sitia.
There are at least two daily departures from Pireaus to the Port of Heraklion. In summer there can be up to 4 departures daily.
There is at least one daily departure from Piraeus to the Port of Chania. Summer routes increase the frequency to up to 2 ferries daily.
Ferry Companies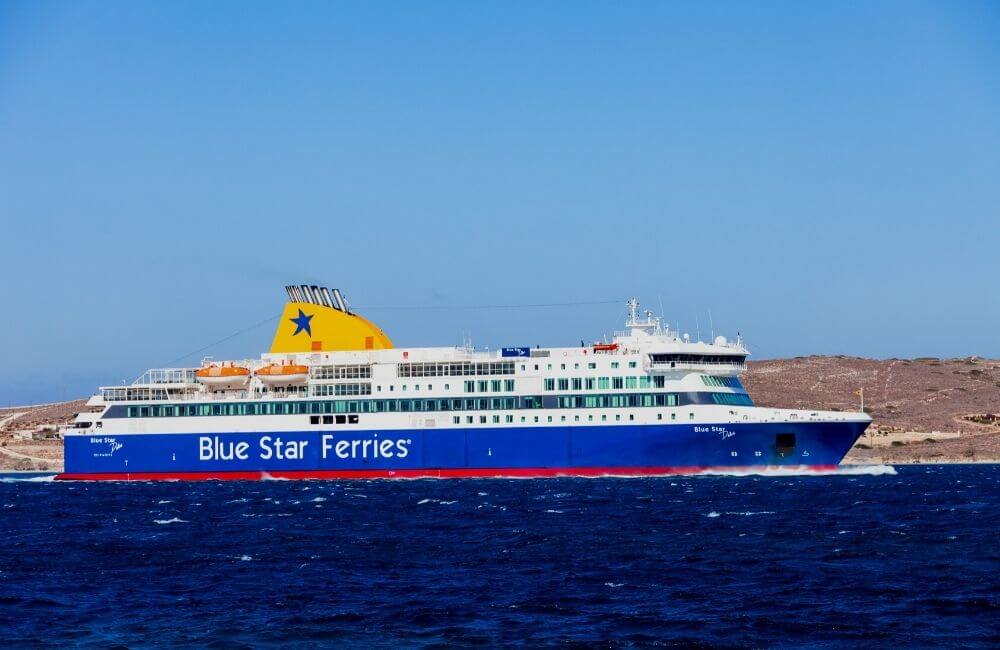 Minoan Lines: available vessels are Festos Palace and the highspeed Knossos Palace (Minoan Lines).
Anek Superfast: this line operates the wonderful Venizelos Vessel as well as the Olympic Champion. Anek Ferries also operates a car ferry from Sitia to Karpathos once a week. The journey takes about 5 hours.
Ferries from Italy
It's possible to reach Greece from Italy. There are ferries that travel from the cities of Trieste, Venice, Ancona, Bari, and Brindisi.
Their ports of arrival are Corfu, Igoumenitsa, and Patra. The companies operating these routes are Superfast Ferries, Minoan Lines, Anek Lines, Medlink, Bluestar Ferries, Hellenic Mediterranean Lines.
Ferries from Thessaloniki
Although this is not the most comfortable route, there are ferries that travel from Thessaloniki to Heraklion via the following islands:
Skiathos, Skopelos, Alonissos, Tinos, Mykonos, Paros, Naxos, Ios, Santorini.
How to Get from Santorini to Crete
You can travel from the heart of the Cyclades to Crete. In fact, there are ferry routes that allow for island-hopping if you want to visit other islands. In summer, Lane Lines cover the route Milos-Thira (Santorini)-Crete.
Read more about traveling to Santorini.
There are summer routes available connecting Santorini to Chania, Heraklion, and Rethymnon via fast ferries. The companies you can check are Sea Jets and Hellenic Seaways.
---
Which way will you travel to Crete?
Let me know in the comments below!
---
Pin This Guide to Learn How to travel to Crete for Your Next Greece Adventure!
About the author of this blog: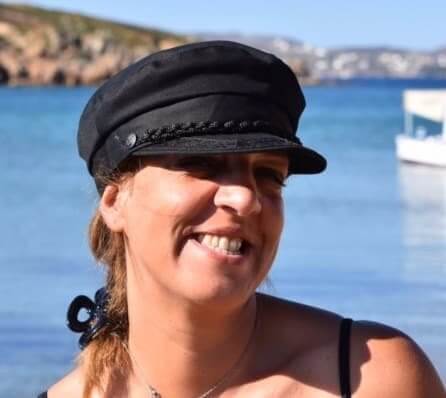 Gabi has been living in Crete for the last five years. On the island, she juggles being a solo mom, hosting culinary tours in summer, translating, and freelance writing.
She's written for Greek Reporter, published several travel guides about Greece, and had more glasses of frappe than any regular person would be able to handle.
---
You might also want to read:
---