This page gathers all the essential resources you need to plan a hassle-free trip to Crete, to enjoy your holidays free of any worry, and to have the time of your life on the island! These are the resources I usually use myself and recommend to family and friends that come to visit me on the island!
Basic resources to plan a trip to Crete
Let's face it, the planning phase of your trip can be an exciting moment. You're getting ready to discover a new destination… or to go back to the island you love! Whatever your case is, there's always a lot to take care of and it can sometimes be overwhelming.
For that reason, I've prepared this page where I've gathered all the useful resources, a handy guide for you to have all the resources you need in one place. From gathering all the necessary information and details, to booking your flight, choosing the hotel of your dreams, renting a car, and even packing your bags!
I haven't forgotten about alternative ways to travel, such as by bike or getting a transfer! And I've also included different options for travel insurance as well as to get your money back in case your flight is delayed or even canceled.
As always, I have used and tested myself the resources I recommend, and on this page, you'll find only those providing great service and excellent value for money. Please do not hesitate to get in touch if you want customized suggestions!
Let's start planning…
A trip to Crete can be the journey of a lifetime with the right resources. There are tons of great books and travel guides that will help you decide how long to stay, where to stay, what to do. I've even written a couple myself!
If you're looking for online info, then head directly to my Crete Page, with links to every useful guide and article about the island. I've also written a bunch of Practical Guides and Guides to Crete's Beaches divided by region and interests. If you're looking for specific things to do in each region, then check these:
---
Maps, books, digital travel guides!
To discover the rest of the island, always bring with you a good travel guide to Crete! The best Crete Travel Guide I've found so far is the one published by Lonely Planet. It has all the information you need without being overwhelming. There's a Kindle version too.
However, if you're after even more information, The Rough Guide to Crete is a good resource to read at home before your trip. If still want to travel with it, but you find it's too heavy for your backpack, consider getting the Kindle version, usually cheaper and equally practical.
Top 10 Crete is a pocket travel guide that covers all the island's major sights and attractions in easy-to-use "top 10" lists. It's somewhat limited but it's definitely the one I suggest for a short trip to the island.
I love maps and despite having a GPS device, I often pack my old, treasured Michelin Map of Crete. There's absolutely no better map of Crete to carry with you. It's super easy to read, complete, and inexpensive. A must for old school drivers, just like me!
---
Booking your flight
Airfares to Crete can vary immensely from one airline to the other. The best way to get a fair deal is to compare, compare, compare… and then book!
Not clear yet? Make sure you always compare ticket prices with a powerful search engine. These are the services I trust myself. After a couple of not-great experiences using a very famous company, I've settled with these two:
---
Traveling by sea? Check ferries
Getting to Crete can be really comfortable with an airplane, but nothing beats the romantic experience of traveling by sea. However, booking a ferry ticket can be a nightmare! Search engines are usually not clear and it's hard to find the routes you're looking for.
---
Book a hotel
Booking the right accommodation can make the difference between a great experience and a holiday from hell. Choose wisely! I always suggest reading as many reviews possible before booking a place to stay! Read the small print, find the right deals, and always check the no-show & refund policy in case you need to cancel your trip.
Search engines help you find the best fees and compare what other travelers have to say. There are plenty of alternatives on the market and different programs you can go for.
---
My favorite… Airbnb
Nothing beats the comfort of your own home when you're traveling with the family and if you have kids. It gives you the flexibility to enjoy your own meals (great with toddlers), to have your personal schedule, and to enjoy the same freedom you can have back home.
Airbnb is an awesome resource for groups of friends, allowing everyone to save and share expenses… and it's also great to book that perfect romantic accommodation when traveling with your partner.
Looking for an alternative?
I meet several travelers every year when I host my gastronomic tours in Chania. Many of them have over and over recommended the services and convenience Home Away, especially when it comes to travelers from the UK.
---
Get a car to move around
Road trips in Crete are the most authentic way to explore the island. Find the cheapest rental car using a good car rental search engine. There are hundreds of them and it can sometimes be hard to understand which one is more convenient. These are the ones I trust:
Looking for a transfer service or a taxi? Check these services if you don't really feel like driving on Crete.
---
Don't travel without insurance!
Greece, and especially Crete, is a fairly safe destination, however, I'm sure you know that it's always better to travel with an insurance policy for complete peace of mind.
---
Check organized tours & activities
Sometimes, the best way to get to know a place better and make the most of your time on Crete is to join an organized tour, especially when you have limited time available and a long list of things you want to see!
I personally host my tours with Airbnb Experiences and I'm delighted with it. But there are many other options for you to book great tours on the island. Both Viator (a TripAdvisor company) and GetYourGuide have a great selection of proposals that help you save time and money. From cooking lessons to archaeological site tours, skip-the-line attractions, and even airport transfer!
Compare activities in Crete:
---
Other services you should not forget to bookmark
---
More essentials… that you already know I love!
I never move around the island with any of these… my Osprey backpack has been the most loyal travel partner over the last 5 years. It's sturdy, light, roomy, and super comfortable! I just love it. To visit the old town, archaeological sites, and museums, this little crossbody bag is always around.
When driving around Crete, I always carry my Nikon D7200, I'm lost without any of them. In summer I also have with me a good sunscreen lotion, the sun on the island can be pretty aggressive.
---
More info
For detailed info, head to my post with helpful tips to plan a trip to Crete, which goes over every detail you need to know, from when it's best to travel to what documents you need, or how to get a SIM card. You can also check my post to plan a Crete trip with kids!
Probably, you're also planning to spend some time at the beach on the island. Check my guide to the best beaches in Crete to choose the one you like the most. Read this article to decide what area suits best to stay in Crete, or check this post is you still don't know all the things you can do in Crete.
Finally, to have updated information about the island, join my private group on Facebook about Crete and download a copy of my West Crete Travel Guide to have it always with you on the island.
---
When shall we see you in Crete?
Let me know in the comments below!
---
Travel Plans for Crete?
More Resources to Organize Your Trip!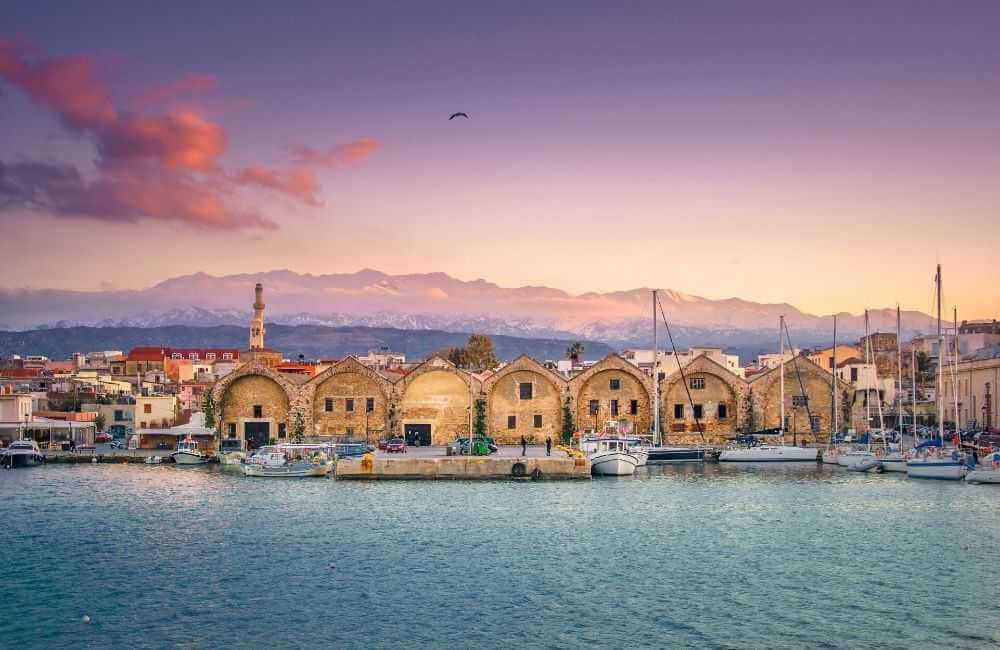 Start by heading right to my tips to plan a trip to Crete for in-depth details you need to know about Greece. You can also check my post to better know what to pack for a trip to the island or read this info to visit Crete with children!
Get in touch if you need extra help to plan your trip. If you want to tour West Crete, check my guide. Want more? Join my Private Facebook Group to connect with like-minded travelers who love Crete as much as you do!
Make Sure You've Got Everything For a Hassle-Free Vacation!
I never move around the islands without my Osprey backpack, a sturdy but light travel partner I just love. For short trips, I carry this little crossbody bag. If I drive, I pack my Nikon D7200 and a good travel guide: Lonely Planet's Best of Greece & the Greek Islands.
When it comes to plane tickets, compare prices with a powerful search engine. However, nothing beats traveling by sea in Greece. With Ferry Hopper, you can book in advance at the lowest price.
For accommodation, I use Booking.com. Traveling to remote places is easier with Discover Cars. Other times, I join organized tours with GetYourGuide, which features anything from cooking lessons to airport transfer!
Get in touch and let me know!
Read more:
Great things to do in Rethymnon at night
Amazing things to do in Chania
Top Things to do in Agios Nikolaos
Comfortable Airbnbs in Heraklion
Stunning Beaches in East Crete
---
You might also want to read:
---