Eco hotels are on the rise, they help protect the environment while offering state-of-the-art comfort and hi-tech features. So… if you're looking for a different kind of stay in Crete, choose an Eco-Friendly Hote! Travelers all around the world are constantly (and increasingly) looking for accommodation that supports sustainable tourism and are eco-friendly, there is such a place to stay in Heraklion, the Olive Green Hotel.
---
Disclaimer: Posts include affiliate links to products or services. I might earn a commission if you make a purchase, at no extra cost.
---
Review
This is a sponsored post. I was three times a guest at the Olive Green Hotel, yet all opinions remain, as usual, my own and unbiased. A heartfelt thank you to all the management and staff for the care and service.
Sustainable Tourism in Crete: Why Olive Green Hotel?
The importance of sustainable tourism is not something that only matters to travelers. Hoteliers have also understood the importance of environmental conservation and of maximizing natural resources. In Crete, you can enjoy a full green experience in the premises of Olive Green Hotel, in the capital of the island.
Eco-Friendly Heraklion: Olive Green Hotel
In the heart of the Cretan capital city, Heraklion, there's a brand new hotel that stands out with its sustainable concept. As the managers explained, the words in its name are at the core of the hotel's philosophy.
Traditionally, Olive stands as a symbol of eternity, tranquility, and prosperity, being an important part of the island's identity. The color Green stands for the ecological character of the hotel which is implementing international sustainability criteria. Olive Green is an intelligent proposal for the modern traveler.
An eco-friendly structure offers the best of both the modern and the traditional worlds. State-of-the-art infrastructure comes hand in hand with the authentic flavor of the Cretan culture.
Why You Should Choose the Olive Green Hotel and its Eco-Friendly Values
The Olive Green Hotel has been designed with three concepts in mind:
Contemporary high-tech luxury,
Cretan traditions,
Respect for the environment.
A combination that proves a winning idea in every aspect. This is a 100 % eco-friendly building, working in perfect alignment with natural landscapes all around the area. Staying in such accommodation you will be helping promote a philosophy of care and respect for our Natural resources.
Eco Values at the Olive Green Hotel
Olive Green Hotel complies with every new environmental regulation, leading the way in matters such as green technology, water, waste handling, and renewable sources of energy. Cost-saving initiatives such as solar panels, water management systems, and environmentally friendly materials make the hotel self-sufficient when it comes to power generation.
By staying in Olive Green you will be part of an important project without disregarding top-class comfort for a minute. This structure is setting the standards for sustainable lodging in Crete and is welcoming guests to be part of this new idea. During our stay, we were able to enjoy the difference.
Everything is inspired by nature: relaxing colors, light materials, and a touch of Cretan flavors welcomed us to live a completely different experience.
Everything looks refreshing and inspiring. Rooms are extremely modern and facilities are smart, thought for you to relax and enjoy every single detail.
Technological advances allow you to connect with the world. There's a tablet on your bedside table that helps you fully control all the features in your room.
You can turn on the TV, the air conditioning and even lights. It's also possible to use it to order room service or update your social media status!
For more sophistication, choose more comfort from the in-house pillow menu. Complimentary welcome presents, such as delightful boxes of local sweets, a bottle of local raki, olive oil, and Cretan rusks are a chic touch that will put you in the right mood.
Personal Touches
We shared communicating rooms with our kids, and it was comforting at its best. Every single detail was simply perfect. The children were happy to have an iPad to play with but they also enjoyed dedicated treats and treatment the Olive Green reserves to kids.
Federico was delighted to discover that, even if he was falling asleep down at the restaurant of the hotel because it was late, he was not going to miss the dessert as it was promptly served in his room, courtesy of the very accommodating staff.
Wake Up with a Smile: Liotrivi Breakfast Room
This urban chic area, made of brick, iron, and wood is a welcoming environment to kickstart your day in the right mood. The colors are warm and soothing, and the delicacies you will find on the many tables the buffet displays are more than inviting. Everything is local, authentic, and traditional.
The finest ingredients combined with the exclusive use of top-quality olive oil. Nothing is processed, as the hotel cook explained to us, bread, cakes, pastries, and pies… all are hand-made from scratch. As a result, all you get is genuine flavors, indigenous tastes, and a lot of original ideas.
Olives and Olive Oil have a special place at the Liotrivi. They are not only part of the area dècor, but it is also possible to enjoy olive oil demonstrations and tasting on some mornings (ask at the Reception).
Morning Sweets
In my opinion, the corner dedicated to spoon sweets and homemade marmalades deserve a special paragraph. Every fruit that you can think of has been put into a jar with amazing skill.
Flavors are enhanced with a touch of mastery ad the Olive Green Hotel, and they can be enjoyed both alone, with an incredibly creamy local yogurt, or on top of a variety of local bread and pastries.
Heraklion City Break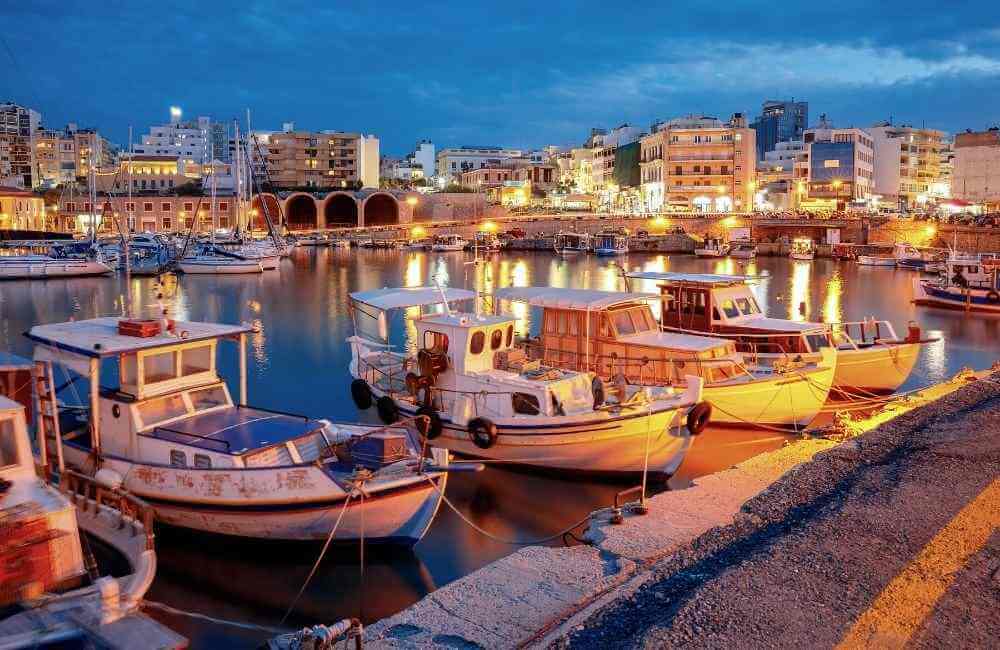 It's true that one normally chooses Crete for its amazing beaches, and who wouldn't? It's an impressive place to be for the Summer holidays. Still, I think there's so much more to the island we shouldn't miss and Heraklion is one of those places. The city has so much to offer, from museums to cultural events, to vibrant city nightlife.
Parks, shops but also impressive buildings and stunning examples of architectural styles that vary from Venetian to Ottoman… and more. If you choose Heraklion for a city break, you are giving the island a new status it deserves. Do not just choose Crete for its seaside. There's plenty of choice for everyone.
The list of places to visit, just in town, is very extensive. For instance, the magnificent Archaeological Museum of Heraklion, which has been classified as one of the best museums in the world, is just a few steps away from the Olive Green Hotel.
Yet, there's more to see… The Historical Museum of Crete, the Natural History Museum, the Heraklion Museum of Visual Arts (METH), and many more Heraklion museums, the Venetian Walls, the Tomb of Kazantzakis, and, why not? Sip a cocktail in the trendy area of Morosini Fountain.
Olive Green Hotel is in Meramvelou & 22 Indomenos St. Heraklion, Crete. If you want to stay at the Olive, click here for more information and the latest prices.

Have you ever stayed at an eco-friendly hotel? Let me know in the comments below!
You might also want to read these other articles about Heraklion and the surrounding area:
– Fun Festivals in Heraklion: Events in Crete that You Shouldn't Miss! – A guide to all the celebrations and special events in the region of Heraklion.
– The Best Things to Do in Heraklion with Children for a Super Vacation in Crete! – A visit guide to Heraklion for the family.
– How to Spend 3 Weeks in Crete – A tested itinerary for 3 (and also 2) weeks in Crete.
– Where to Park in Heraklion: All the Best Heraklion Parking Spots for a Worry-Free Visit! – A complete guide to the most comfortable parking spots in the capital of Crete.
– Wine Tasting Crete: The Most Exhilarating Wineries in Heraklion – A complete list of the wineries you should visit in the region of Heraklion.
RESOURCES TO BOOK YOUR TRIP TO CRETE:
FLIGHTS: Use Skyscanner to compare prices before booking a plane ticket.
FERRIES: Check out Ferryhopper for convenient ferry tickets.
ACCOMMODATION: Look for hotels and rental homes on Booking.com.
PRIVATE TRANSFER: Welcome Pickups offers local English-speaking drivers, flight monitoring, and a very convenient (flat) pre-paid fee
CAR RENTAL: Use Discover Cars to find an affordable car to rent.
TOURS: Live unforgettable adventures and cultural experiences with Get Your Guide.
INSURANCE: If things go wrong, you'll get coverage against illness, injury, theft, and cancellations. I recommend Safety Wing for peace of mind.
This Deserves a Pin!
Pin this Review to Heraklion's Olive Green Hotel for Your Next Trip to Crete!
About the author of this blog: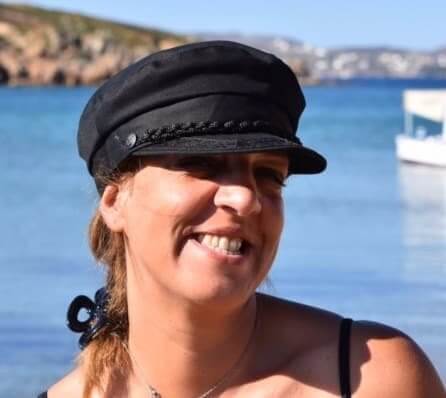 Gabi has been living in Crete for the last six years. On the island, she juggles being a solo mom, hosting culinary tours in summer, translating, and freelance writing for several travel blogs.
She's written for Greek Reporter, published several travel guides about Greece, and had more glasses of frappe than any regular person could ever handle.
COMING TO CRETE SOON?
Get in touch and let me know!