The island of Crete is at its best in September! The weather is simply perfect, there are no rains, the temperatures are high but it gets milder at night and extremely pleasant. September is also the best month to enjoy the sea temperature. After months under the Cretan sun, the water is warm for those long swimming sessions. Read on to discover all the fantastic things to do in Crete in September.
---
Disclaimer: Posts include affiliate links to products or services. I might earn a commission if you make a purchase, at no extra cost.
---
RESOURCES TO BOOK YOUR TRIP TO CRETE:
FLIGHTS: Use Skyscanner to compare prices before booking a plane ticket.
FERRIES: Check out Ferryhopper for convenient ferry tickets.
ACCOMMODATION: Look for hotels and rental homes on Booking.com.
PRIVATE TRANSFER: Welcome Pickups offers local English-speaking drivers, flight monitoring, and a very convenient (flat) pre-paid fee
CAR RENTAL: Use Discover Cars to find an affordable car to rent.
TOURS: Live unforgettable adventures and cultural experiences with Get Your Guide.
INSURANCE: If things go wrong, you'll get coverage against illness, injury, theft, and cancellations. I recommend Safety Wing for peace of mind.
A quick guide to the best hotels in Crete
Budget: So Young Hostel in Heraklio, Cocoon City Hostel in Chania, Matthias Hotel Apartments in Rethymnon, and Villa Galini in Agios Nikolaos.
Mid-range: Capsis Astoria Heraklion in Heraklion, Porto Antico in Chania, Archipelagos Hotel in Rethymnon, or Hotel Port 7 in Agios Nikolaos.
Luxury: Galaxy Iraklio Hotel in Heraklion, Hotel OFF in Chania, Avli Lounge in Rethymnon, or Minos Beach Art Hotel in Agios Nikolaos.
Check more: Where to stay in Crete.
Why You Should Travel to Crete in September
The biggest Greek island of all enjoys a fantastic position in the southern portion of the Mediterranean. September marks the end of summer in the rest of Europe, with cloudier skies and colder temperatures.
However, September in Crete is still summer!
It's certainly true that you won't find the scorching heat that's typical of August, but the temperatures are high, and going to the beach or enjoying outdoor adventures is a common thing to do on the island.
What's the Weather Like in Crete in September
Located quite south off the coast of mainland Greece, and even rather close to the northern coast of Africa, the weather in Crete is warm and dry in September.
Officially, September marks the end of our hot summers. However, on the island, days are still rather long and very warm.
The sun is still enough to give you a fantastic suntan, but be careful. The sun is still quite strong and if you don't use any USV protection, it could turn into a painful experience.
At night, temperatures go down a bit making it absolutely pleasant, for instance, It's possible to dine out by the sea without the need for a jacket.
Crete Weather in September
During September, temperatures don't usually climb above 30°C (86°F). The cooler evenings are welcomed relief. It's also possible to have a few showers, very needed after our extremely hot summers, but they don't usually last for more than a few hours.
All these make the island more enjoyable during September than in July or August.
A long, scorching summer with frequent heatwaves has just gone by, so sea temperatures remain quite high and super pleasant (about 25°C / 77°F).
This makes our sea perfect for families with small kids who are being introduced to the sea for the first time!
In the mountain areas of Crete, the temperatures can be a bit cooler than by the sea.
Remember that the southern coast is directly affected by the North African climate, so it's even warmer and dry.
Check ferry tickets to Greece here!
>>You can check the average temperatures here<<
Does it Rain in Crete in September?
There can be a couple of occasional showers in September but rain is not a typical feature of Crete's weather during autumn. You might encounter a light shower that will be gone after just a few hours.
This exceptional rain is more common in western Crete.
Crete Holidays in September
Crete is one of the most popular European summer destinations also for its long summer.
Although many tourists choose to spend their holidays in Crete during this month, crowds show a small decline as many children go back to school in September all over Europe, and families don't travel that much.
September is a great month for older couples, families with small kids, and young adults with a more limited budget. As a matter of fact, prices for flights, car rental, and accommodation start going down.
It's also quite easy to get hold of a discounted package holiday.
Flight schedules to the island can see a reduction towards the end of September, but most companies (even low-cost ones), travel to Crete regularly well into October.
Basic Info About Crete
Crete is a Greek island located in the southern part of the Aegean sea. It's Greece's largest and the fifth-biggest island in the Mediterranean.
The northern coast faces the Sea of Crete while the southern side of the island is bathed by the Libyan sea.
What's the Landscape Like in Crete?
A large part of Crete's landscape is made of high mountains and very rugged terrain, there are deep and long gorges, plateaus, and caves, but also soft valleys, rivers, lakes, and some of the most spectacular beaches in the Mediterranean.
Crete is divided into four different Prefectures, from east to west they are Lasithi, Heraklion Rethymno, and Chania.
The capital is Heraklion, followed in importance by the cities of Chania, Rethymno, and Agios Nikolaos.
Crete is a mountainous island, different mountain ranges divide the land into two very different areas, the more developed north coast, and a pretty isolated southern portion.
Its widest point is 60 km, while it's only 12 km wide at its narrowest. Driving from the west coast to the extreme east can take from 4 to up to 6 hours.
>> Check here all the ways you have to reach the island of Crete <<
What to Pack for Crete in September
Summer is still in its full swing during most of the month. Days are long and quite hot, while on most nights it's just a bit cooler.
All in all, you will need the same clothes you would pack for a summer holiday, just add a light jumper or jacket, and a raincoat as you might find the occasional shower
Expect to go to the beach a lot, or to do quite a few outdoor activities, pack a couple of swimming suits, flip flops, sunscreen, and a hat.
Swimming shoes turn out useful when visiting pebbled beaches while these particular hiking sandals are not only ideal to explore the mountains or for long walks, but they will turn out to be a must… for all your trips!
Add a couple of nice summer dresses and flat sandals for nights out. Men could be just fine wearing short pants and a t-shirt.
Don't forget a sarong which can double up as a cover-up for the beach as well as to visit churches and monasteries.
Be ready for your trip!
>>Check this Crete Packing Guide perfect for any month of the year<<
Best things to Do in September in Crete
These are only a few of my favorite things to do in Crete in September, take a look…
Going to the Beach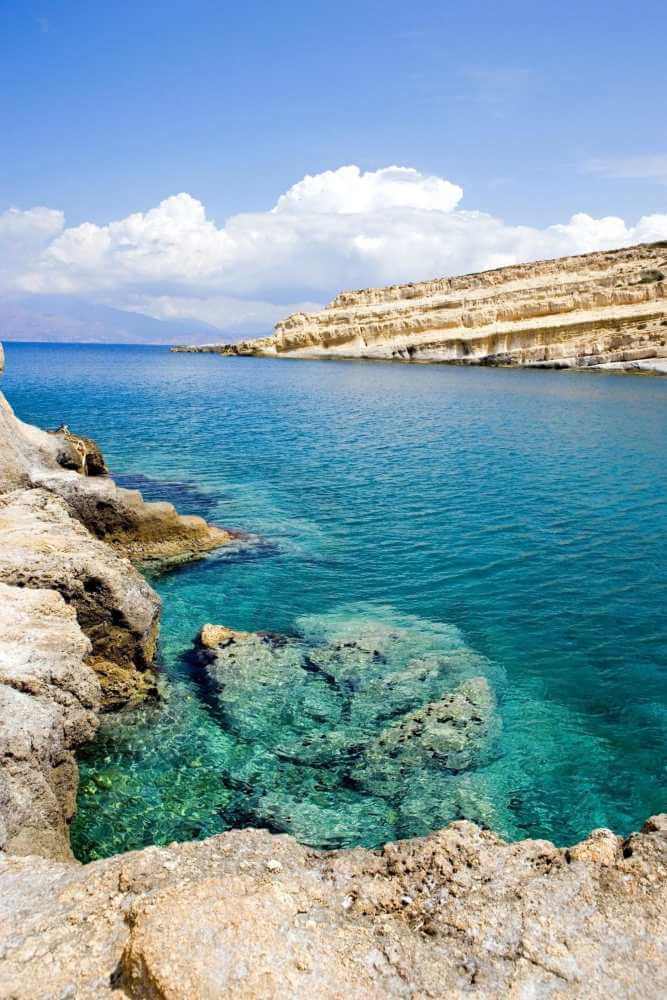 Going to the beach remains one of the top and most popular things to do in Crete in September.
You can explore lesser-known coasts if you choose beaches in the south, or you can try popular places such as Balos or Elafonisi.
These will be crowded, just not overcrowded as they usually are in August.
The remote eastern coast is a great area to reach in September, the temperatures are usually higher than in the rest of Crete, and it virtually never rains in September.
Choosing the cities of Sitia, Ierapetra, and even Agios Nikolaos allows you to explore endless hidden beaches completely disregarded by tourists.
Experiencing the Mountains
Taking a trip to the mountains, or even deciding to book accommodation far from the coast, is a great way to experience a different, less touristic, holiday.
It's also a great idea to stay in a traditional village. It will give you a whole different perspective and it can prove a very relaxing getaway.
There are several mountain ranges in every region of the island. There are valleys, plateaus, gorges, and well-marked paths that you can follow.
A mountain walk is an opportunity to get close-ups of the local plants, herbs, and flowers.
This unique tour (which is truly fantastic!) introduces you to Crete's unique seven villages in the Apokorona area to discover how local producers make cheese, tsikoudia, and more.
Visiting a Museum
There are several great museums to visit on the island and, of course, they are less crowded during September than at the peak of summer.
You can explore the more traditional Archaeological Museum of Heraklion as well as the Museum of Natural History, or you can pay a visit to less traditional museums, such as Lychnostatis Open Air Museum in Hersonissos, or the fantastic Homo Sapiens Museum close to the Lasithi Plateau.
There are hundreds of other interesting museums even in small villages as well as several archaeological museums in Chania, Rethymnon, Sitia, Agios Nikolaos, Kissamos, and Ierapetra.
There are different ecclesiastic museums, some of them inside different monasteries, or you can pick the interesting war museum in Askifou Plateau or the unique Maritime Museum in Chania.
Are you a fan of museums?
>>Check the best museums in Heraklion as well as the best ones in Rethymnon<<
Discovering the Archaeological Sites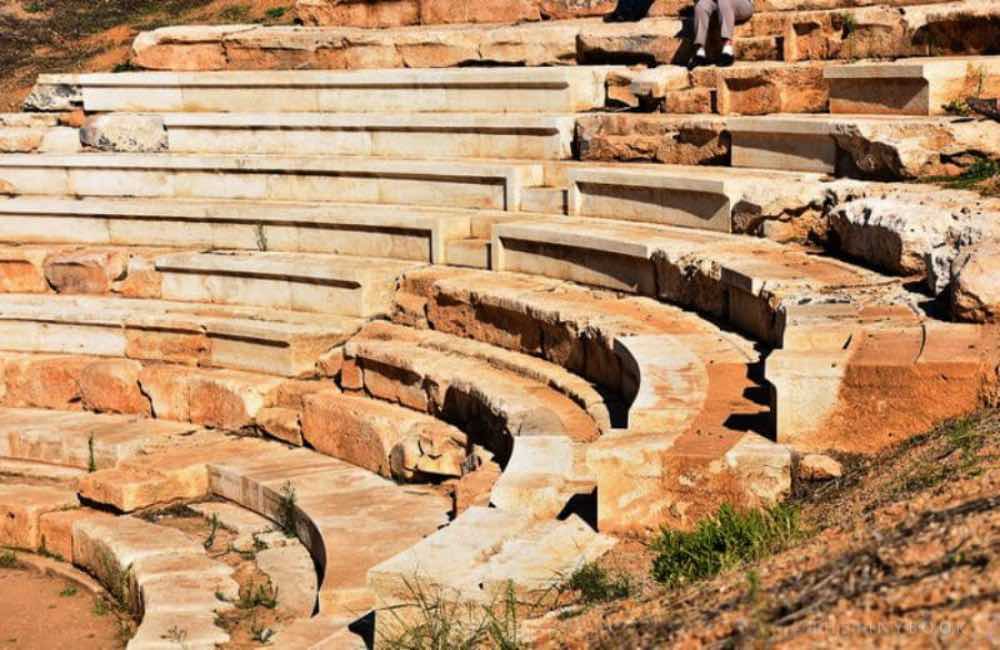 Cradle of the Minoan Civilization, the island is home to some of the most stunning archaeological sites in Greece. Your choice starts with the Minoan Palace of Knossos but you can also pick to visit other former Minoan palaces, such as Phaistos, Malia, or Kato Zakros.
Other archaeological sites worth a visit scattered on Crete include the important Lato, close to Agios Nikolaos.
The flourishing city-state in the Dorian period was probably a rival to the city of Olous. Olous is today a sunken settlement, in the area of Elounda.
In the region of Rethymnon, the ancient site of Eleftherna is also worth a stop, while its small museum is one of the most modern on the island.
It doesn't really matter where on the island you decide to stay, you will find unique ancient ruins in every area of Crete. This article includes some of the most important ones.
Giving a Try to Water Sports
Believe it or not, the island is windier in August than in September, something that we really appreciate as the wind helps mitigate the scorching temperatures. However, there are several places where the wind still blows and are perfect to try water sports.
One of those places is the beach of Falasarna, facing the west.
In the area, you can try different activities for which the wind is simply a blessing, including surf and windsurfing.
Stand Up Paddleboard (SUP) has become truly popular and it can be enjoyed all over the island, especially in smaller bays where the wind is not an issue.
Popular places for SUP are the Akrotiri peninsula in Chania and Agia Pelagia in Heraklion.
However, always ask around, there are more and more places offering SUP experiences all over Crete.
Joining an Organized Tour of Crete in September
There are hundreds of tours you can join when visiting Crete, some of them extremely popular, others lesser-known but still full of value.
It's not easy to suggest which one you should choose, there are different factors to take into account when recommending such activities, including your budget, the place where you're staying, and the kind of activity you're interested in.
These are some of Crete's top-rated tours, featuring visits to classic landmarks and beautiful beaches and cities:
Safari in the mountains: Don't just choose any Safari… go for a professional company offering the safest and newest cars and the most experienced drivers.
Day trip to Elafonisi: Reaching Elafonisi is a common day trip from Chania, especially when you rent your own car. Those coming all the way from Rethymnon or even Heraklion might enjoy a guided tour with a diver.
Embarking on a Road Trip
Driving in Crete is one of the best experiences you can pick for an unforgettable vacation. It was the way we used to tour the island before we moved here and, for me, it remains the most exciting kind of trip.
Crete is the perfect road trip destination, offering a safe highway for less-experienced divers, as well as some of the most breathtaking mountain roads for intrepid adventurers.
Since road tripping in Crete is what I love doing the most, I've written the following guides to help you plan a road trip, prepare an itinerary, and to pack the right things in your car: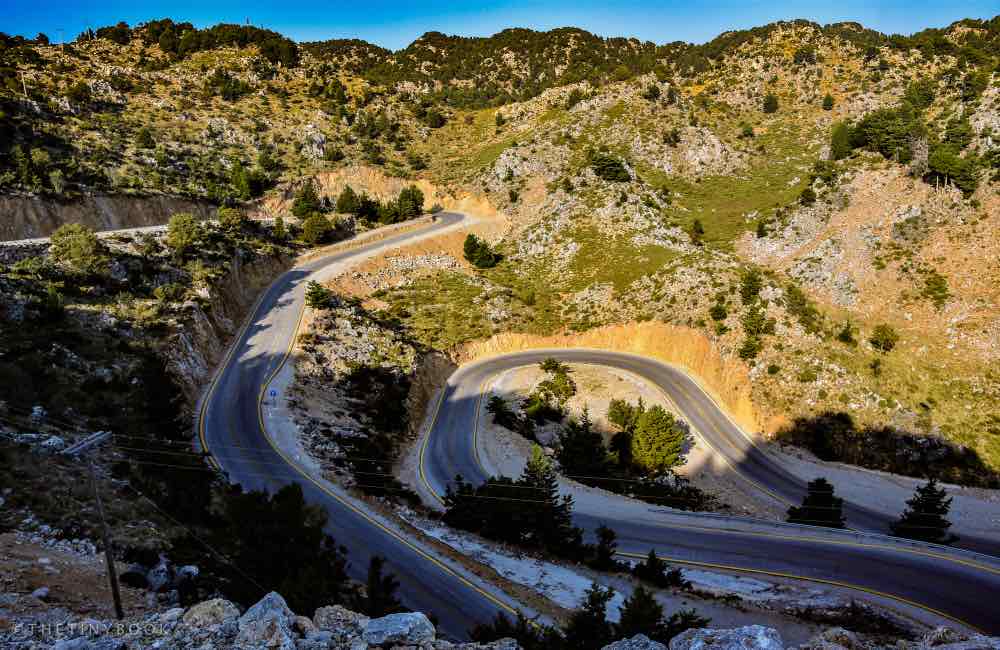 Trying your Hand at the Local Cuisine
The local gastronomy of Crete, based on the tasty Cretan and Mediterranean diets, is among the main reasons to explore the island.
Local flavors, genuine ingredients, and seasonal products guarantee a result full of flavors, always fresh, and incredibly healthy.
Replicating the recipes of the Cretan table once back home is one of the best souvenirs you can invest in when visiting Crete.
Check this unique cooking class in Rethymnon or go for this convenient lesson in the mountains of Chania.
September is a great month to discover herbs and wild greens. And it's even better to participate in the grape harvest.
The island boasts some fantastic wines, and visiting a winery with a local sommelier can be one of the highlights of your trip.
Accommodation in Crete
I've written several accommodation guides to the island, both for hotels and rental homes.
Head here first, if you want to understand which area in Crete is best for your holiday style.
You can check all the Vacation Homes Guides to book your home in Chania, Rethymnon, Lasithi, in the area near Elafonisi, and even on Gavdos island.
If you prefer hotels and resorts, check these accommodation guides to Chania, Heraklion, Agios Nikolaos, and Rethymnon.
---
Would you like to visit Crete in September?
Let me know in the comments below!
---
Read more:
How to Spend 3 Fantastic Weeks on the Road in Crete
Top things to do in Matala
Mouthwatering Street Food you Need to Taste in Chania, Crete
Comfortable Airbnbs and Rental HOmes in Heraklion
Where to Stay in Rethymnon: Great Accommodation Guide
Hey! Don't Leave without Pinning! Pin these Picture-Perfect Things to Do in Crete in September for Your Next Trip!
About the author of this blog: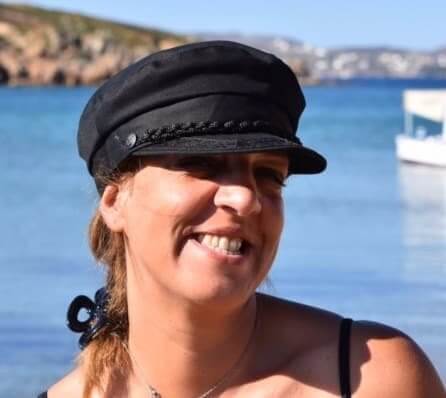 Gabi has been living in Crete for the last six years. On the island, she juggles being a solo mom, hosting culinary tours in summer, translating, and freelance writing for several travel blogs.
She's written for Greek Reporter, published several travel guides about Greece, and had more glasses of frappe than any regular person could ever handle.
COMING TO CRETE SOON?
Get in touch and let me know!
---
You might also want to read:
---