Explore the history and culture of the Rethymnon region through its collection of museums.
You will find the most amazing discoveries throughout history, learn the unbelievable things that happened in this area, and spend a great time immersed in the atmosphere of myths and legends as well as the cultural heritage of Rethymnon.
---
Disclaimer: Posts include affiliate links to products or services. I might earn a commission if you make a purchase.
---
Museums in Rethymnon, Crete
Check the Best Museums in Rethymnon
If you want to explore Crete's many stories and legends, its history, and its past, it's a good idea to spend a few hours in one of the many museums spread all over the island.
If you've already visited Crete's capital, you've certainly heard about the Archaeological Museum of Heraklion, one of the most important exhibitions of Minoan art all over the world. However, there are also beautiful museums you can visit in other regions.
The region of Rethymnon has a small but interesting collection of museums, galleries, and exhibitions of immense value which you should not skip during your trip. Take a look…
Archeological Museum of Rethymnon
Let's start with the main and probably most important museum in town – the Archeological Museum of Rethymnon.
This museum presents a great collection of exhibits chronologically displayed from the Neolithic to the Late Roman period.
The place gives a great opportunity to learn about the history of the whole region as the collections include findings from caves and ancient sites from all over the Rethymnon area.
The museum is located in the church of St. Francis, in the heart of the Old Town so you definitely won't miss it.
The entrance ticket is €2. The museum is open daily, from 10 am to 6 pm in summer, and from 8 am to 3 pm in winter. On Mondays, it's closed.
Location: St. Francis Church – 4 Agiou Fragiskou Street.
Paleontological Museum of Rethymnon
This small museum is worth a visit, especially if you are a fan of fossils and the prehistoric era.
The museum is located in the beautiful Mastabas building, in Veli Pasha Mosque. Here, you will find real-size reproductions of endemic Cretan animals, including dwarf elephants, polymorphic deers, and pygmy hippos.
You can also discover some interesting and unknown facts about Greek myths and stories. The museum hosts educational events and sessions both for adults and children.
The entrance is €3. In summer, the museum is open from 9 am to 3 pm from Mondays to Saturdays. During winter, it's open from 9 am to 3 pm on Tuesdays, Thursdays, and Saturdays.
Location: Corner of Satha & Markellou Street.
Museum of Contemporary Art of Crete
The Museum of Contemporary Art of Crete has a vast collection of Modern Greek Art from the 1950s to the present. It includes spectacular pieces of Geometric, and Abstract art as well as neoexpressionism. There is also a section devoted to Digital and Conceptual art.
Inside the museum, don't miss the exclusive works of Rethymnon's pride Lefteris Kanakakis. The permanent collection attracts visitors from all over the world.
Some exceptional temporary exhibitions are held in this museum too. The guided tours specially designed for adults, children, and youngsters guarantee an entertaining visit. The admission ticket is €3.
Opening hours:
Summer:
Tue – Fri: 9 am – 1 pm & 7 pm – 10 pm.
Sat – Sun: 10 am – 3 pm.
Winter:
Tue – Fri: 9 am – 2 pm, Wed: 9 am – 2 pm & 6 pm – 9 pm, Sat – Sun 10 am – 3 pm
Closed on Mondays.
Location: 32 Mesologhiou Street.
Historical and Folk-Art Museum of Rethymnon
This is a small, yet very interesting museum dedicated to the history of the area of Rethymnon, as well as the whole island. The museum features different collections from the early ages to the 20th century.
Exhibitions mostly feature collections of tools related to farming and traditional professions. There's also an important section dedicated to folklore art and musical instruments.
For those interested in the most recent events, there is also a fascinating section dedicated to the Cretan wars, such as the resistance during WW2 and the Battle of Arkadi. The museum is housed in a renovated Venetian mansion.
The entrance fee is €4.
The museum is open from Monday to Saturday, from 10 am to 3 pm.
Location: 30 M. Vernardou Street.
Stagakis Cretan Lyra Workshop and Museum
If you wish to be revealed the secrets of traditional Cretan musical instruments then this place is just for you.
For three generations, the Stagakis family has built its reputation as the best Cretan Lyra craftsmen. In the workshop, there is a little museum section where you can learn the history of crafting this unique musical instrument.
The owner will gladly tell you different stories and show you several musical instruments and even show you how to play them.
Kids love this place as they are warmly welcomed by the owner who lets them try some of the musical instruments. You can also witness the process of creating a Cretan Lyra.
There is no entrance fee. The shop is usually open in the morning (from 10 am to 4 pm), but it's sometimes also open in the evening from 6 pm to 9 pm (Tue, Thur, Fri).
Location: Giannari 45.
Military Museum of Chromonastiri
In the picturesque small village of Chromonastiri, just 10 km outside of Rethymnon, you will find a great military museum dedicated to the history of the various wars and battles that took place on Crete from the Venetian era to WWWII.
The exhibits include excellent examples of weapons, ammunition, and military equipment as well as a huge collection of historic photos. In the yard, you will find perfectly preserved military vehicles.
The museum is housed in a beautiful Venetian villa, that once belonged to a noble family and which was later on granted to the Greek Army.
The entrance fee is €3. The museum is open from Tue to Fri, from 9 am to 5 pm. On Sundays, it's open from 10 am to 2 pm.
Location: Central Square, Chromonastiri village.
Museum of Ancient Eleftherna
Eleftherna (also Eleutherna) was one of the most important cities in ancient Crete.
The spectacular Museum of Ancient Eleftherna houses the artifacts found during the excavation works of the nearby archaeological site of Eleftherna city.
Here, you'll find amazing antiques from the Geometric and Archaic periods and learn about the mysterious history of Eleftherna.
Do pay attention to the interactive videos, holograms, and movies that show you why the ancient city of Eleutherna was so important.
An interesting thing to notice, some artifacts found in Eleftherna are related to events described by Homer in The Iliad and The Odyssey.
The admission ticket is €2. The museum is open from Mon to Sun, from 8.30 am to 3.30 pm. It's closed on Tuesdays.
Location: Epar. Od. Aggelianon-Elefthernas 123, Eleftherna
Folk Museum of Spili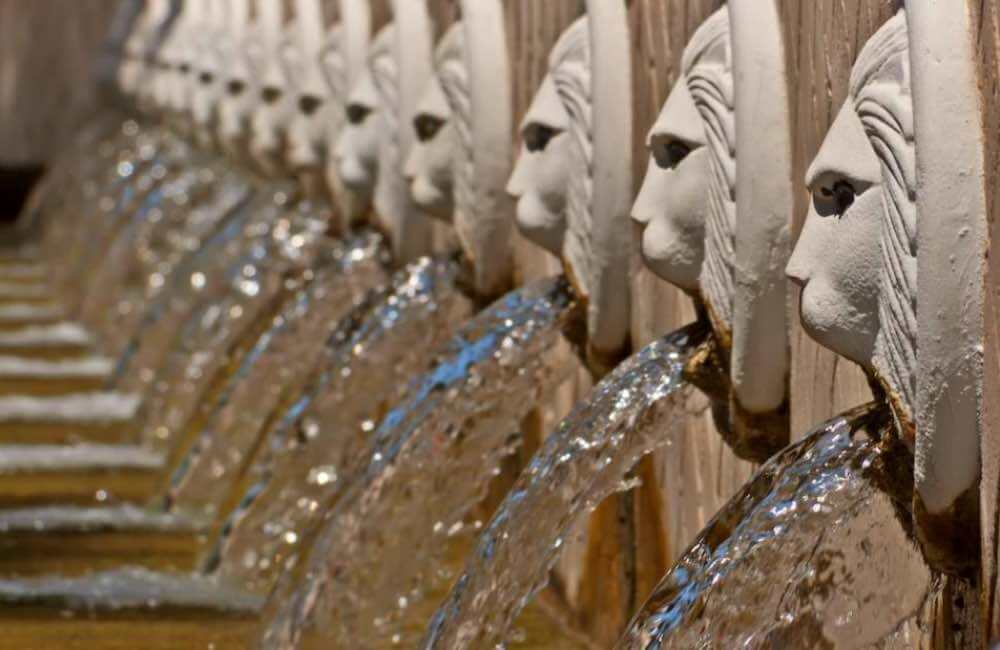 Located in the marvelous mountain village of Spili, this museum will make you travel back at least 200 years.
See what a traditional Cretan kitchen would look like, step into a shoemaker's workshop, discover how traditional colorful carpets were made, and enjoy the atmosphere of old Cretan times.
The entrance is free. The Folk Museum of Spili opens every day from 10 am to 6 pm.
Location: Agiou Charalampous, Spili.
Arkadi Monastery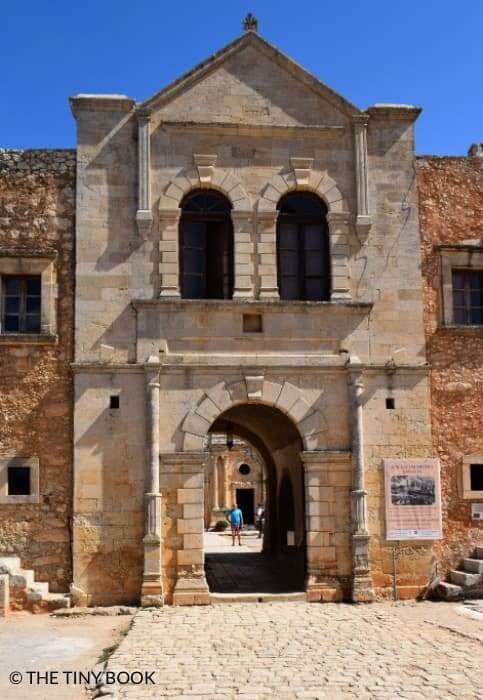 Arkadi Monastery is not only a holy place but also a remarkable historical monument housing a small but interesting museum. You can visit the monastery and wander around its rooms and cells discovering how everyday life is for its inhabitants.
Inside the complex, there is also a museum showcasing precious, holy relics and icons. A separate room is dedicated to the Battle of Arkadi, an armed fight that was written in the history of Crete as a symbol of braveness, self-sacrifice, and unbelievable courage.
The admission is 2 Euros.
Opening hours in winter: Mon-Sat from 9 am to 5 pm. Sundays from 10 am to 5 pm.
In summer: Mon-Sat: from 9 am to 2 pm. Sunday: 10 am – 8 pm.
Location: Arkadi.
Preveli Monastery Museum
The Monastery of Preveli is one of the most significant religious centers in the Rethymnon area. It's set in a place of breathtaking natural beauty.
Inside the monastery, there is a museum where you can find an impressive collection of spiritual relics, including clerical vestments embroidered with gold and precious icons from the 17th century.
The monks that live there will gladly give you a small tour if they are free from their duties.
The entrance is €2.5 (free in winter).
The monastery is open daily from 8 am to 1.30 pm and from 4 pm to 7 pm.
Location: Piso Moni Preveli
Museum of Wooden Sculpture, Axos
In the traditional village of Axos, you will find the unique Museum of Wooden Sculpture.
Here you can have a guided tour from the owner and artist Georgios Koutantos, who will tell you the stories that lie behind every sculpture, all of them handmade and life-sized.
The artist gets inspiration from everyday life, but also from Crete's and Greece's traditions and myths. This is a perfect stop-by if you are discovering the mountain villages of Rethymnon.
The entrance fee is €4. The museum is open daily from 8 am to 9 pm.
Location: Axos village.
Useful Tips for Your Visit
Children and students usually have a reduced ticket, you just need to show a valid document that shows your age.
Free admissions days (in most museums) are March 6th, April 18th, May 18th, the last weekend of September, and during national holidays.
Opening hours and entrance fees are subject to change, so please check in advance at the official website of the museum or from locals.
Don't be shy to talk to the owners of small museums.
⛴️ Check out ferry ticket fees and schedules
They are always ready to share their knowledge, give you a nice souvenir, or even allow you to enter for free in the lower season.
Have you been to any of these Rethymnon museums?
Read more about Crete
🛌 Suggested Accommodation in Rethymnon:
🗺️ More resources to book your trip to Crete
Pin This Great Guide About What Museums to Visit in Rethymnon for Your Next Holiday in Crete!
---
You might also want to read these posts about Crete's regions:
---
About my blog: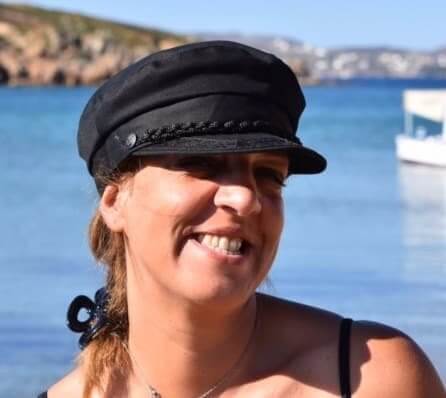 I moved to Crete in 2016. During these years, I learned much about the island.
In Crete, I juggle being a solo mom, hosting culinary tours, and writing for several travel media.
I've written for Greek Reporter, published travel guides about Greece, co-authored DK Eyewitness Top 10 Crete, and had more glasses of frappe than any regular person could ever handle.