Bali is a small coastal village located on the island of Crete and a popular destination among travelers choosing Crete for their summer holidays.
In this article, I will tell you everything you need to know about Bali if you plan to spend time in this enchanting village in the Rethymno region.
---
Disclaimer: Posts include affiliate links to products or services. I might earn a commission if you make a purchase at no extra cost.
---
Things to Do in Bali Crete
Basic Things to Know about Bali
Bali is a tranquil, laid-back village on the northern coast of the region of Rethymnon and a wonderful place for a vacation on the island.
It features several sandy beaches well-suited for swimming, sunbathing, and water sports.
Since Bali is located on a bay, the waters are generally calm and clear, making it ideal for families. The main beach in Bali is Livadi but other smaller coves and bays are located nearby.
Bali is not just about natural beauty and gorgeous landscapes, the village also offers good places to stay, fantastic restaurants, and Cretan tavernas, and there are many things to do nearby if you enjoy taking small day trips and driving to explore the region.
Where is Bali
Located on the northern coast of the island and belongs to the region of Rethymnon.
It's about 30 kilometers east of Rethymno town and its most distinctive traits of the popular tourist destination are the picturesque beaches scattered along different bays and the surrounding rugged cliffs with stunning views of the Cretan Sea.
Bali stands halfway between Rethymnon town and Heraklion, for that reason, the village serves as a convenient base to explore several areas on the island, including the southern coast.
From Bali, you can easily reach the old town of Rethymnon but also the Archaeological Site of Knossos and – if you're willing to drive a bit more, even some of the best beaches on the west coast of the island.
How to Get to Bali, Rethymnon
You can get to Bali from nearby Rethymnon town, from West Crete (Chania) or Heraklion by car, bus, or private transfer.
Rethymnon is the closest major city to Bali, and it is approximately 35 kilometers to the east. The long-distance bus that connects Rethymnon to Heraklion is a good and quite fast option to get to Bali. The main bus stop is outside of Bali village, on the National Road.
From here, you can easily call a taxi (if you're carrying luggage) to get to the center of the village or you can ask for transfer services from your hotel.
To get to Bali from Chania, Crete, you have a few transportation options:
You can get to Bali from Chania by car (about 50 km), the journey is about 90 minutes via the national road (E75). It's a beautiful scenic ride along the northern coast of the island.
It's also possible to get to Bali by bus from Chania. You can take a bus from the main bus station in Chania (KTEL) to Heraklion and get off at Bali, or take the bust to Rethymnon, and then, at the Rethymnon Bus Station – you can either take the bus to Heraklion and stop in Bali or transfer to a local bus that stops in Bali.
Finally, it's also possible to book a private transfer service from Chania to Bali.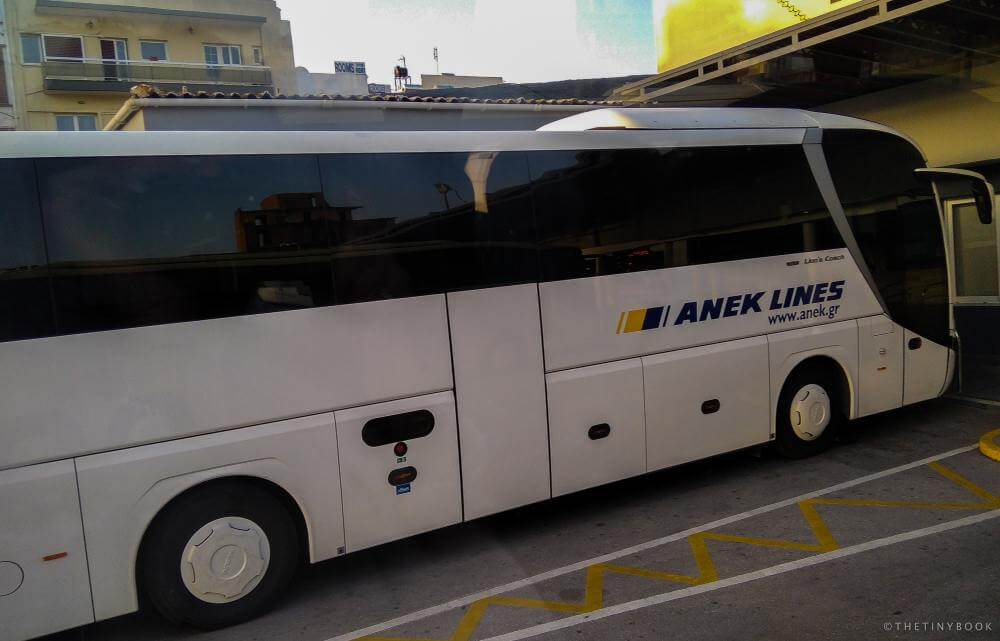 Getting to Bali from Heraklion:
The most convenient way to reach Bali from Heraklion is by car. Follow the national road (E75) towards Rethymnon. After approximately 46 kilometers, take the exit for Bali. The journey takes around 45 minutes to 1 hour.
There are also bus services that connect Heraklion with Bali. You can take a bus from the main bus station in Heraklion (KTEL) to Rethymnon.
Besides, the long-distance bus from Heraklion to Chania makes a stop near Bali on the main road. The bus typically follows the national highway (E75) and stops at designated points along the way, including a stop near Bali. So, if you take the long-distance bus from Heraklion to Chania, you can request to be dropped off at the stop near Bali. From there, you can make your way to the village of Bali by foot or taxi.
Best Things to Do in Bali, Crete
In no particular order, here are some things you can do in Bali.
Go to the Beach
One of the main reasons why people choose to stay in Bali is the collection of gorgeous beaches and quiet bays around the area.
And, of course, you can spend your days relaxing on the sand or swimming in crystal-clear, often shallow waters.
In Bali, it's also possible to engage in water sports like include snorkeling – which is quite popular – but also diving and windsurfing.
Livadi Beach is the main beach in Bali, but you can also explore other nearby beaches like Varkotopos and Limani. You will find a list of the most beautiful beaches in Bali down below.
Boat Trips around Bali's Coast
There are several private companies in the main village that offer boat trips to explore the coastline and the small hidden coves.
Many boat tours depart from Bali and offer the opportunity to discover secluded beaches, swim in remote bays, and enjoy the scenic views of the Cretan Sea.
Water Sports
If you're seeking some adventure, there are plenty of sea adventures that await in Bali. For instance, you can try your hand at jet skiing, kayaking, paddleboarding (a favorite among families), and banana boat rides.
Equipment rentals and water sports centers are available along the beaches as well as on the main road of the village.
Explore Nearby Cave Melidoni
There are several caves in the vicinity of Bali that you can visit. The most famous is Melidoni Cave, which has historical and archaeological importance. The place is one of the most visited sites in the area.
Also known as Gerontospilios, the cave is a significant archaeological and historical site located about one km outside the village of Melidoni, about 10 km east of Bali, nestled in the countryside.
Considered a natural marvel, it has huge stalactite and stalagmite formations adorning its chambers. The main chamber is about 20 meters high.
The cave's history spans thousands of years: It was used as a place of worship and it's also associated with the mythological Talos, a giant bronze automaton that was thought to protect the island.
Besides, different archaeological excavations have revealed significant finds, including pottery, tools, and animal bones, from the Neolithic period and the Minoan civilization.
The cave has a vital significance in the recent history of the island since during the Cretan Revolution (1824) against the Ottoman Rule, about 370 villagers who had sought refuge in the cave were trapped by the Turkish inside the chambers and died.
Visit the Old Town of Rethymno
As I've already mentioned, Rethymnon City is within easy reach from Bali, driving west along the National Road, for that reason, a day trip to Rethymnon's Old Venetian Town and Ancient Harbor is nothing but a great idea.
The small old town includes a wide pedestrian area with narrow cobblestone alleys and ancient Venetian and Turkish houses.
It is also possible to visit the Venetian Fortezza, the Lighthouse, and some museums, such as the Archaeological Museum of Rethymnon or the Historical and Folklore Museum of Rethymnon (you can check out all Rethymnon's museums here).
Hiking in Bali
The area surrounding Bali is known for its natural beauty. You can go hiking along the coastal paths and explore the nearby hills and mountains.
The landscape offers breathtaking views and opportunities to discover local flora and fauna.
For instance, it's possible to climb Mount Kouloukonas (1076 meters asl), the hike is short but also quite steep and difficult. Certified alpine guides at several of the village's tour offices can offer more insight.
Monastery of Agios Ioannis Prodromos
Located on a hillside overlooking the village of Bali, the Monastery of Agios Ioannis (Saint John) is a significant religious site worth a visit during your time in Bali.
From the patio of the monastery, the views of the bay down below are simply amazing.
The monastery is located in the village of Attali (it is also known as Attali Monastery) and it was built back in the seventeenth century.
According to what locals confirm, this area of Crete remained quite isolated during the past until 1970, when the new national road was built.
For that reason, the area surrounding Bali is home to many other religious centers, monasteries, caves, and a lot more.
This particular place is a male monastery that develops on two different levels, and it has an old mill, a pottery workshop, and the monks' bakery.
The refectory features beautiful frescoes while the patio with stone arches and plenty of flowers is one of the most picturesque parts of the building.
Which car rental service is the best to choose?
If you want to rent a car for your trip and look for the best service, then I am here to help you! Consider choosing Discover Cars, an international car rental booking service present worldwide. This way, you will find the best car for your trip wherever you are!
Best Beaches in Bali Crete
The main reason to stay a few days in Bali is the beach, of course, and each cove in Bali has its own unique features and appeal.
Since the village spreads along a hilly coast, going from one beach to the next can be hard if you do not have a car. The local Bali tourist train can be a good alternative to moving around. These are the top beaches in Bali.
Bali Beach or Limani Beach
The main beach of Bali is located in the village itself. It is a sheltered bay with calm and shallow waters, suitable for swimming and snorkeling. This is the old port beach, in fact, Limani means port in Greek.
The beach is well-organized with sun loungers, umbrellas, and water sports facilities. There are also tavernas and beach bars nearby where you can relax and enjoy refreshments.
Livadi Beach
The most popular (and often crowded) beach west of Bali is Livadi, a sandy cove surrounded by green, lush cliffs.
Despite being so popular, the beach is quite peaceful, ideal for sunbathing and long swimming sessions. There are sunbeds and umbrellas available for rent as well as a few snack bars.
If you're looking for some privacy and seclusion, then head to the eastern extreme of the beach to enjoy the small beach of Vlychi Nero, where there're no organized structures.
Varkotopos Beach
Another beautiful bay, perfect for families (less windy than Livadi), Varkopotos Beach is a small, sandy shore at the foot of a steep hill. Although the beach is quite small, it's a nice sandy and shallow spot for small kids.
Over here, it's also possible to rent umbrellas to spend a long day by the sea. There are a couple of beach bars in the area as well.
Next to this Varkotopos (towards the east, after the rock pictured in the photo), you can also visit the small Kouskouras Beach.
Karavostasi
Also known as Evita Bay, this is Bali's most beautiful beach and the one most people prefer for its stunning landscapes. Karavostasi is a sandy shore located to the west of Bali, with crystal-clear waters and a peaceful atmosphere.
The beach is accessible via a short hike down a path, which adds to its secluded charm, however, you will find a few umbrellas to rent (or you can also choose to seek refuge under the shadow of the trees on both sides of the bay.
Day Trips and Excursions from Bali, Crete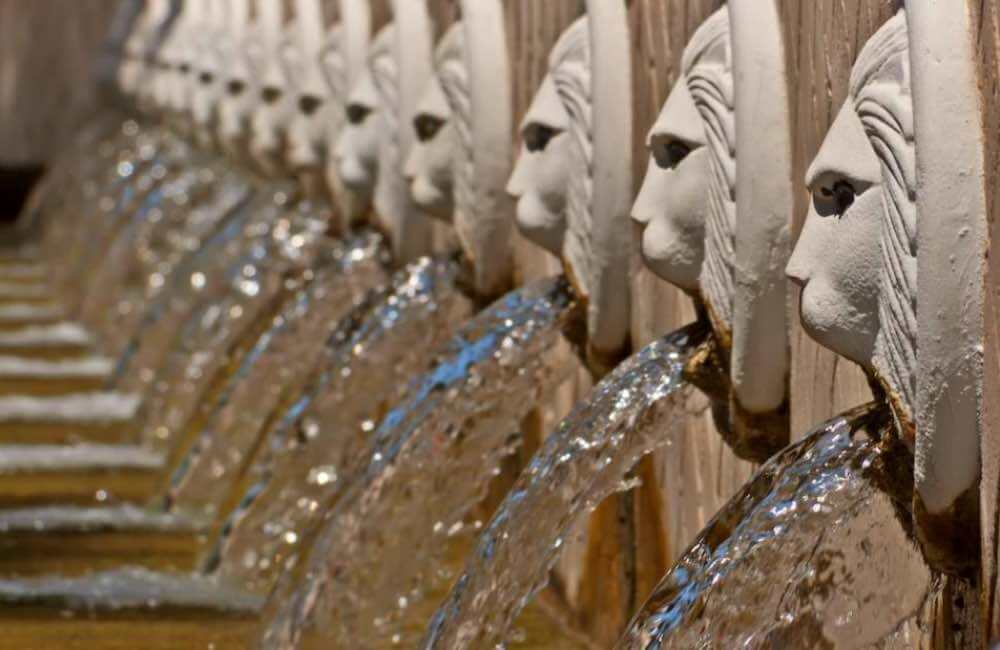 Located on the northern coast within the Rethymnon region, it's easy to access several villages and other interesting places, these are some of the places you cannot miss if you're spending time in Bali.
Ancient Eleftherna: This is an important archaeological site with a history dating back over 4,000 years. The site includes remains from different periods, including Minoan, Geometric, Archaic, Hellenistic, and Roman. You can explore the ruins of ancient buildings, tombs, and cemeteries as well as visit the small but incredibly modern museum of Elefterna. You can read more in this article about what archaeological sites to visit in Crete. Eleftherna is about 15 km from Bali.
Arkadi Monastery: One of the most important monasteries on the island, Arkadi played a prominent role in the Cretan resistance against the Ottomans in the 19th century. The monastery houses a magnificent Baroque church and a small museum. The monastery is about 30 km from Bali.
Margarites Village: The traditional village of Margarites is famous for its pottery craftsmanship. The village is located inland from Bali and offers a chance to witness traditional pottery making and even try your hand at pottery under the guidance of skilled artisans.
Spili Village: Spili is a picturesque mountain village located south of Rethymnon and is easily reachable from Bali. Its main attraction is the central square adorned with lion-head fountains. From the mouth of the lions, water flows continuously coming from a nearby mountain spring.
Preveli Beach: For a scenic beach day, consider Preveli Beach. Located on the southern coast of Rethymnon, the beach features coarse sand, incredible palm trees, and a river that flows into the sea! And if you're interested in historic sites, Preveli Monastery is not far from the beach, and it's one of the essential monasteries that helped Crete forge its independence.
Where to Eat in Bali, Crete
You will have no issue finding dining options serving both delicious Cretan cuisine and international dishes. There are many tavernas, restaurants, and seaside eateries in Bali to taste the local culinary delights. I recommend these places:
Taverna Psaropoula: One of the most popular places to eat in Bali, here you will find Greek and Cretan dishes, and abundant fresh seafood, including octopus and squid. There's also outdoor seating with sea views. Check out the website and the reviews here.
Taverna Karavostasi: Excellent place for dinner in Bali offering not just amazing fish and fresh seafood but also traditional Cretan cuisine and plenty of vegetarian options as well. Check out the website and the reviews here.
Breakfast and Bakeries in Bali:
Baboo Lounge Beach Bar: There is nothing like starting the day in this beautiful beach bar on Livadi. They serve abundant breakfasts and offer light lunches, snacks, and drinks during the day. Sip your coffee or overlooking the beach. Check out the website and the reviews here.
Bali Coffee and Sweets: Bar and bakery that's often praised for its quality coffee, especially its cappuccinos. Vegan options are also available. Check out the website and the reviews here.
Best Areas to Stay in Bali
Although the village is quite small, there are a few different areas to can stay in Bali, and the different options would suit different preferences and budgets. You can pick a place to stay in any of these areas of the village.
Center of the Village
Staying in the village center gives you easy access to all the amenities and services available in Bali. The village boasts several hotels, apartments, and guesthouses within walking distance of the beach, as well as restaurants, cafeterias, and a few souvenir shops.
There are banks and ATMs, pharmacies, and supermarkets. This is a convenient area if you travel with small kids or you don't plan to rent a car to move around.
Livadi Beach
Livadi is the main beach in Bali, therefore offering a varied choice of accommodations along the coast. Staying in this area gives you quick access to the sea and some incredible views as well. Along the coast of Livadi, you'll find hotels, resorts, and self-catering apartments.
Panorama
As its name suggests, this is the place to go for panoramic views of the Cretan Sea. This is a very peaceful neighborhood that stands on the hillside above Bali.
From here, you will enjoy the breathtaking vistas of the coast as most hotels and studios have terraces or balconies.
Limani
Located east of Bali, Limani is a quiet neighborhood that features a lovely beach and a few accommodation options. The place is a suitable choice if you're looking for a more secluded and laid-back atmosphere.
Varkotopos
When picking a place to stay in Bali, our choice fell on this quiet area of Bali, slightly to the west of the village Over here, most accommodations offer beautiful views of the sea, the mountains, and the surrounding countryside.
Where to Stay in Bali
These are some of the most popular hotels in the area of Bali, Crete, boasting great reviews from past guests.
Nostos Beach Boutique Hotel: Located just a few steps from the beach, the hotel offers a swimming pool with a bar and rooms with large balconies overlooking the sea. There's also direct access to the beach via a safe pedestrian pathway. The hotel offers also breakfast, snacks, and cocktails. Ideal for family, Nostos features a playroom with toys, board games, and activities for children and adults.
Click here for more information and to get the latest prices.
Our Stay in Varkotopos, Bali
You can also consider the place where we stayed near Bali, in the village of Varkotopos, located about a 5-minute drive from the center of Bali (less than 3 km) We wanted to enjoy a place far from the village and closer to the mountains.
And even when we often prefer simple accommodation with basic services, this time we wanted to enjoy a different weekend, with all-inclusive services, and spa treatments.
We chose the Filion Suites Resort & Spa and we stayed in one of the detached villas instead of in the main hotel complex. The resort features two restaurants, several swimming pools, a mini market, and shop, a spa with massage treatments, and
Our villa had a private pool and a garden, the house included four bedrooms and four bathrooms, a comfortable and well-equipped kitchen (that we never used), and a comfy living room with TV and games for the kids. There was also free parking and a fitness center available.
Click here for more information and to get the latest prices.
Read more about Crete's Villages
🛌 Suggested Accommodation in Crete:
🗺️ More resources to book your trip to Crete
Pin this Complete Guide to Visit Bali, Crete!
---
You might also want to read about these other places in the Rethymnon region:
---
About my blog: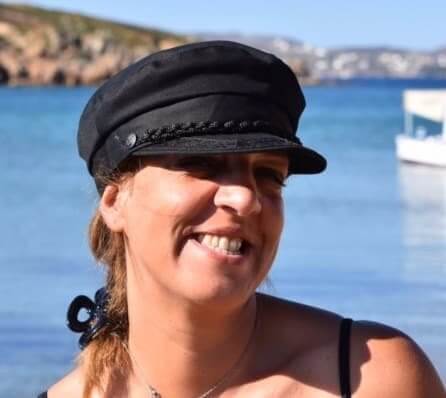 I moved to Crete in 2016. During these years, I learned much about the island.
In Crete, I juggle being a solo mom, hosting culinary tours, and writing for several travel blogs.
I've written for Greek Reporter, published travel guides about Greece, and had more glasses of frappe than any regular person could ever handle.