If you're seeking an exciting family holiday destination in the stunning Greek islands, look no further! With its beautiful landscapes, rich history, and vibrant culture, Syros is an incredible destination for families with kids.
So, join us as we delve into a world of exciting experiences that will create lasting memories for your family on this captivating island.
---
Disclaimer: Posts include affiliate links to products or services. I might earn a commission if you make a purchase.
---
Fun Activities to Do in Syros With Kids
ARE YOU PLANNING YOUR TRIP TO SYROS LAST MINUTE?
Be sure to book accommodation in Syros ahead of time to ensure availability!
🛌 Top picks for places to stay in Syros:
– Grammata Suites (this is the place where I stayed in Syros. I thoroughly recommend it for its comfort and super convenient location in the heart of Ermoupoli.)
– Ventoura Studios & Apartments (in the center of Galissas with a hot tub, family-friendly, and supper affordable!)
🚗 Looking for the best way to get around Syros? Check rental car rates for Syros now or discover convenient rates at a local car rental company!
💳 Use WISE as a digital card and top-up from the app no matter where you are. Wise is one of the best cards for overseas travel!
What to Do in Syros with Children
Located in the heart of the Cyclades islands, the island offers a range of activities, from educational visits to museums and aquariums to exciting beach adventures and outdoor explorations that will keep children entertained, engaged, and enthralled.
Walk the Pedestrian Streets in Ermoupoli
Taking a leisurely stroll through the enchanting streets of Ermoupoli, the lively capital of Syros, is a must-do activity for families visiting the island.
Besides, the pedestrianized area of the city makes it a safe environment for kids to move around.
As you wander through the town, you'll be mesmerized by the stunning neoclassical architecture, vibrant colors, and charming alleyways, while kids will enjoy exploring the bustling area.
Over here, they can browse unique shops and sample local treats or simply play and run in the peaceful Miaouli Square.
Furthermore, you can stop at cozy cafes and indulge in delicious local delicacies along the way, including a kid's favorite: loukoumia!
So, with its welcoming atmosphere and numerous child-friendly spots to discover, a stroll in Ermoupoli promises a lovely experience that will fascinate both kids and adults, leaving you with fond memories of Syros.
Discover Syros' Museums
The island's museums offer a captivating journey through time for families seeking to immerse in Syros' history and culture.
Start by visiting the Industrial Museum of Ermoupoli, where kids can learn about the island's industrial past. From shipbuilding to the textile industry, this museum showcases the creativity and craftsmanship that shaped Syros.
Inside the museum, kids will be amazed by the collection of tools, equipment, and machinery showcasing different local activities, from loukoumi workshops to textile, tanning, printing, and glass workshops, including the first legendary electric car, Enfield 8000, built in Greece.
Industrial Museum of Ermoupoli – Visiting Hours:
Mon, Tue, Thu, Fri, Sat: from 10 am to 3 pm
Sun: from 10 am to 2 pm
Closing day: Sunday
Next, head to the Archaeological Museum, which houses a collection of artifacts uncovering the island's ancient past. Children can marvel at ancient pottery, sculptures, and other archaeological finds, awakening their curiosity about the island's historical heritage.
In particular, Syros' Archaeological Museum is one of Greece's oldest museums, housed inside Ermoupolis City Hall.
Archaeological Museum of Syros – Visiting Hours:
Mon, Wed, Thur: from 9 am to 4 pm
Fri, Sat, Sun: from 9 am to 9 pm
Closing day: Tuesday
These museums provide interactive and educational experiences, allowing kids to engage with the island's history in a fun way and to learn together as a family to spark a passion for knowledge.
Enjoy a Movie in an Open-Air Cinema
There is nothing like a visit to an open-air cinema to make the best of pleasantly warm nights on the Cyclades. This is a super family-friendly experience that will make everyone happy.
Pick the table where you want to sit at and feel like a local while you enjoy a generous serving of popcorn at Syros' open-air movie theater. Most movies are played in original language, so pick whatever you want to watch and have fun!
Visit the Aquarium in Kini
Located in Kini, Syros, the island's Aquarium is a must-visit spot for families with curious kids. This fascinating attraction offers a unique opportunity for children to explore the wonders of the underwater world.
The aquarium features a variety of marine species ranging from colorful tropical fish to jellyfish. Furthermore, through informative exhibits and interactive displays, kids can learn about different habitats, marine ecosystems, and the importance of conservation.
If you choose to visit the Aquarium, you can also check out exhibits of traditional boats, fishing gear, and marine organisms hosted on the same site.
In other words, with its educational yet captivating atmosphere, the Syros Aquarium promises an enjoyable and enriching experience for children that will spark their curiosity and nurture a love for the ocean.
Please note that visiting hours and closing times can change depending on the season. Always check out this info online before heading to the premises.
Spend a Day at Galissas Beach
If you're on any Greek island, you shouldn't miss the opportunity to spend a family day at the beach. In Syros, Galissas Beach is one of the best destinations, offering delightful experiences for families.
Located on the island's west side, Galissa Beach is a sandy beach offering a safe and clean environment for kids to enjoy. The calm and shallow waters make it ideal for young children to splash around and swim.
Furthermore, parents can relax on sun loungers and soak up the sun while keeping an eye on their little ones. Kids can build sandcastles, play beach volleyball, or simply run along the shore.
Also, there are water sports facilities for more adventurous family activities like paddle boarding or kayaking.
Therefore, with its family-friendly atmosphere, picturesque surroundings, and many tourist amenities, including delicious restaurants, Galissas Beach is perfect for a fun-filled day of sun, sand, and laughter.
Try Water Sports at Syros Beaches
If you prefer a beach day with a bit of excitement and adventure, you can pick one of the fantastic beaches on the island.
For instance, Agathopes Beach is the perfect destination that offers a serene and family-friendly environment and a wide array of water sports activities for kids and adults alike.
Overall, on Syros' beaches, you will find virtually any entertaining activity, from jet skiing to paddleboarding; there are plenty of options to get the whole family out on the water and enjoy some adrenaline-pumping fun.
For instance, kids can try their hand at windsurfing or take a thrilling ride on a banana boat, creating memories that will last a lifetime.
So, grab your swimsuits, gather the family, and prepare for an unforgettable day of water sports by the sea.
Looking for an unforgettable diving experience with the whole family? Check out Salt Water Divers in Syros!
Visit the Vaporia Neighborhood
The Vaporia neighborhood is a charming area in Ermoupoli, offering a picturesque setting with its elegant mansions and stunning sea views.
Walking along the narrow alleyways, kids can marvel at the colorful facades and intricate architecture that adorn the buildings.
Additionally, you can take a moment to sit by the waterfront and enjoy the gentle sea breeze while gazing out at the sparkling Aegean Sea and enjoying delicious ice cream. Alternatively, head to the waterfront and have fun with the dozens of ducks that live by the sea!
So, in general, the Vaporia neighborhood provides a serene escape from the bustling streets, allowing families to relax and appreciate the beauty of Syros together.
Don't forget to bring a camera to capture precious family moments against the backdrop of this charming neighborhood!
Go Hiking to Ano Syros
Embarking on a hiking adventure up to Ano Syros, the upper town overlooking Ermoupoli, is a fantastic way for families to appreciate the natural beauty of Syros.
The hike offers panoramic views of the island's nature and seascapes that children will undoubtedly love. Once at the top, all the family will enjoy breathtaking views overlooking the sparkling Aegean Sea.
The cobbled streets and traditional houses of Ano Syros add to the charm of the hike, offering glimpses into the island's rich history and culture.
Ano Syros is also home to quaint cafes and small shops, providing a well-deserved rest and an opportunity to taste local treats.
Pro tip: Kids who love animals will find an endless collection of cats wandering the alleys of Ano Syros!
So, as the hike is suitable for all ages, Ano Syros promises an unforgettable experience filled with exploration and adventure.
Join a Boat Tour to a Nearby Island
Joining a boat tour to a nearby island is an exhilarating adventure that should not be missed when visiting Syros with kids.
Whether it's a trip to the vibrant island of Mykonos, the culturally rich Tinos, or the historical Delos Island, a boat tour offers a unique opportunity to explore the wonders of the Aegean Sea.
Kids will be thrilled as they board the boat and set sail, feeling the sea breeze on their faces and observing the stunning coastal landscapes.
Along the way, they can spot marine life and maybe even catch a glimpse of dolphins playing in the waves.
Then, once you arrive at the destination, you can immerse in the local culture, explore charming villages, and enjoy delicious island cuisine.
As you take the boat tour back to Syros, you can have a peaceful and relaxing journey, offering breathtaking views of the islands and the open sea.
Enjoy a performance at the Apollo Theater
Immerse your family in the world of arts and entertainment by attending a performance at the historic Apollo Theatre in Syros.
This magnificent venue, known for its stunning architecture and acoustics, offers a range of theatrical performances and concerts suitable for all ages.
From mesmerizing plays to captivating musical performances, kids will be fascinated by the local talented actors and musicians on the stage.
Furthermore, the unique setting of the Apollo Theatre creates a memorable experience, allowing children to immerse themselves in the magic of live performances up close.
Kids will also love visiting the theater during the times when there's no play. It features a small but interesting exhibition, and kids will undoubtedly enjoy looking at the mesmerizing ceiling at the Apollo.
Therefore, this iconic cultural hub in Syros offers a fantastic opportunity to expose kids to the arts, fostering their creativity and igniting a passion for the stage.
So get ready to enjoy an enchanting show at the Apollo Theatre, where the world of performing arts comes alive for the entire family.
Go on a Horse Riding Adventure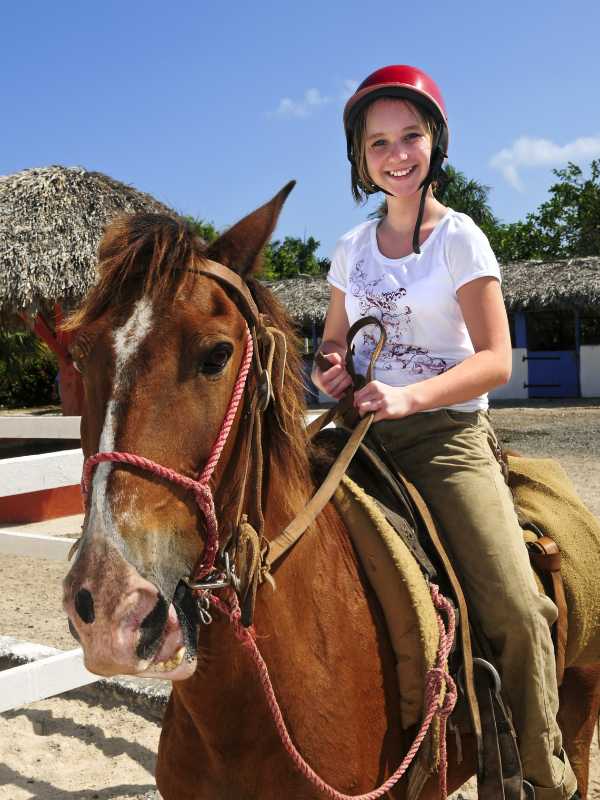 Join a horse riding adventure, a must-do exciting activity for families in Syros to explore the island's breathtaking landscapes and picturesque paths and to create cherished family memories along the way.
With various horse riding tours available, families can choose the duration and difficulty level that best suits their preferences.
Friendly and well-trained horses will accompany you as you venture through hidden trails, lush countryside, and even beautiful beaches.
This is an excellent activity to let children embrace the opportunity to interact with these magnificent animals and connect with nature while parents can relax and enjoy the stunning views.
In conclusion, the island of Syros offers many engaging and enjoyable activities for families with kids.
With its family-friendly atmosphere, welcoming locals, and stunning natural beauty, Syros is undoubtedly a destination that caters to the needs and interests of children of all ages.
So, pack your bags and prepare for an incredible family getaway to Syros!
Read more about Syros
🛌 Suggested Accommodation in Syros:
🗺️ More resources to book your trip to Syros:
Things to Do in Syros with Kids! Pin it Now!
About my blog: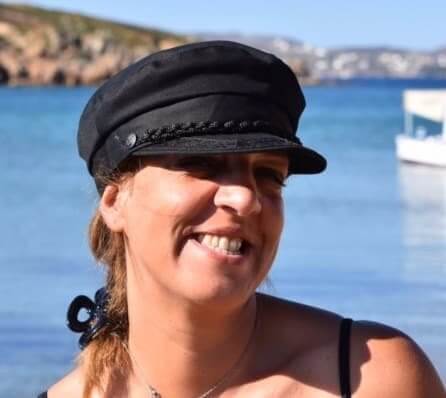 I moved to Crete in 2016. During these years, I learned much about the island.
In Crete, I juggle being a solo mom, hosting culinary tours, and writing for several travel media.
I've written for Greek Reporter, published travel guides about Greece, co-authored DK Eyewitness Top 10 Crete, and had more glasses of frappe than any regular person could ever handle.