Do you want to hike from Agia Roumeli to Loutro? Beware, this long walk, although spectacular, requires some thorough planning. Here's all you need to know about the Agia Roumeli to Loutro hike.
---
Disclaimer: Posts include affiliate links to products or services. I might earn a commission if you make a purchase.
---
Agia Roumeli to Loutro Walk – E4 Path in Crete
Tips to Hike from Agia Roumeli to Loutro
Are you ready for one of the most awe-inspiring experiences in Crete?
If you're planning to walk along the coastal portion of the E4 path that goes through Crete and, in particular, want to hike from Agia Roumeli to Loutro or even further, reaching Glyka Nera Beach and Chora Sfakion, you are in for a treat!
You will be taking a glimpse of some of the most fantastic landscapes on the southern coast of Crete, right next to the Libyan Sea.
We tried and tested this route a few weeks ago, and now we bring you all the tips you must remember to venture along this path gorgeous Cretan path. Ready? Let's hike!
1. Get your Camera Ready for Insane Footage
Throughout the walk, the terrain will keep changing between beach and rocks. What will stay fixed, though, is the captivating setting of the Libyan Sea on your right and the vast mountains on the left.
Twice, you'll come across two canyon openings: Agios Ioannis and Aradena Gorge. Yet, throughout the journey, you cannot but fall in love with the surroundings.
You'll be in a filmography paradise, and capturing the moments with your phone will be a highlight of the trip!
However, of all the sections of the hike, one stands out. Think of pine trees and lush vegetation surrounding a tiny path on a hill 70 meters above a secluded sandy beach. Scenic, right?
I'm talking about the Beach of Agios Pavlos, one of the few shaded sections of the hike and the most fascinating if you ask me.
Another stellar location is the rocky terrain between Marmara Beach and Likos settlement.
Climbing the hill might be a bit scary for those afraid of heights, but if you take your time, you'll be safe and have enough time to embrace the dramatic views.
2. Pack your Swimsuit for Super Chilled Dips into the Libyan Sea
What's better than a hike in nature? Obviously, it's a hike in nature with access to swimming spots! And you've got it all on the walk from Agia Roumeli to Loutro.
Throughout the hike, you'll have plenty of chances to enter the ocean through a pebble beach or a sandy section.
And you'll soon notice that the water is way colder than elsewhere in Crete. The reason?
It's all about the underground water flowing from the mountains, especially near the exits of the two gorges.
3. Bring Lots of Water and Visit the Taverns on the Way for Cretan Snacks!
The night before your hike, look at the weather forecast and decide how much water you'll need. Then, bring double the amount you thought.
The weather in Crete is hot, and the hike demanding, so you better be safe than sorry.
As for food and snacks, don't worry. After two hours of walking, you'll pass by a tavern in Agios Pavlos Beach.
There, you can sit on a shaded lovely terrace overlooking the beach and the Libyan Sea. There's no better setting to enjoy a meal or savor freshly squeezed orange juice. You'll be spoiled!
You'll find several other taverns a few kilometers before your final destination, including the famous Dialeskari restaurant by Marmara Beach.
Then, the official E4 path to Loutro will make you walk through the terraces of two more restaurants! In short, there'll be no shortage of food on this hike.
4. Prepare for a Serious Workout: The Hike is More Demanding Than it Looks
You're probably thinking of this coastal hike as a flat path. Maybe you even chose this route because you feel it's easier than hiking a gorge. But you need to reconsider.
The elevation gain may be only 384 meters spread over 14.2 kilometers, but the terrain is demanding to hike. Why? It boils down to the sandy sections, where you must essentially walk on the beach.
If you're like me, you may find yourself getting off the path and walking on top of the pebble section of the beach.
The traction will be much better, although pebbles bring a different level of challenge into the endeavor. It's a hard choice, and both alternatives aren't attractive.
Thankfully, those sandy sections give way to solid ground after the church of St Paul and the nearby tavern.
5. Bring a Hat and Tons of Sunscreen: The Sun is Not Your Friend
If the tricky terrain was not reason enough to make this hike challenging, there comes the sun to make things more fun. Sorry, I meant more fun for those after a challenge.
If you're looking for a casual walk by the ocean, this hike is not for you. You could easily walk the shorter path from Loutro village to Marmara Beach.
It's a popular section of the hike, and you can use a taxi boat on Marmara Beach to get back to Loutro.
We did the hike in late September, and it was scorching hot! The shaded areas are so few that they take less than 5% of the path.
Even worse, because the entire route from Agia Roumeli to Sfakia is on the southern coastline of Crete, the sun is almost always on your face from the oceanside.
I kept my hat turned slightly to the right throughout the five-hour-long walk. Around halfway, I used my beach towel, more like an umbrella, as extra protection.
Honestly, now that I think about it, I'd consider bringing an actual umbrella, no matter how ridiculous I'd look.
To avoid such complex decisions, come here as early in the morning as you can.
Of course, that's easier said than done since the first ferry from Paleochora or Sfakia to Agia Roumeli is usually after 9 a.m. The solution? Sleep a night in Agia Roumeli!
Accommodation in Agia Roumeli:
6. Wear a Good Pair of Sneakers or Hiking Shoes, Preferably with Lots of Foam
Since almost a third of the route goes through sand, choosing the right sportswear is not straightforward. For example, a sneaker would do better at the tricky, sandy sections but wouldn't perform as well in the rocky parts.
After all, to get from Agia Roumeli to Chora Sfakion, you'd have to cross several hills and walk on rocky terrain for the better part of the hike.
Personally, I was glad to bring my Hoka sneakers, which were tall enough to keep any grain of sand at bay. Alas to Hoka's insane amount of foam!
7. Mark the Hike as a Full-Day Activity in Your Calendar
Planning to walk from Agia Roumeli to Loutro might be more demanding than another hike. And it's because both locations can only be reached on foot or by ferry since there are no roads for vehicles.
So, look in advance at the ferry schedule, and remember you can get to Agia Roumeli from Chora Sfakion or Paleochora.
Once you reach Agia Roumeli to begin your hike, prepare to walk for about 5 to 8 hours. Regardless of your physical condition, I'm sure your body will take a toll, so all you want to do after is rest.
In short, plan nothing else than the hike for the day.
To enjoy the walk best and avoid further driving or moving, spend a night in Loutro or Agia Roumeli. You could arrange the sleepover either on the day of your hike or on the night before.
Accommodation in Loutro:
Both villages are remarkable destinations, and they're worth more than a few hours of your vacation.
No matter how you do the walk in the end, I'm sure the memories of the adventure will escort you for a lifetime!
Read about activities in Loutro and check out this guide to Agia Roumeli to know where it would be best to spend the night.
Read more about Hiking in Crete
🛌 Suggested Accommodation in Crete:
🗺️ More resources to book your trip to Crete
Written by Dimitrios Tsevremes
Passionate about travel, spirituality, and sports, I have lived in 5 countries and traveled to more places than I have counted. Writing, for me, is a way to express myself and my creativity. Whether I write for my blog or a freelancing gig, I always fall in love with the process and often lose my sense of time. If you want, you can check out more about me and my work here.
Pin it! Hiking from Agia Roumeli to Loutro, Crete!
---
You might also want to read these posts about Crete's regions:
---
About my blog: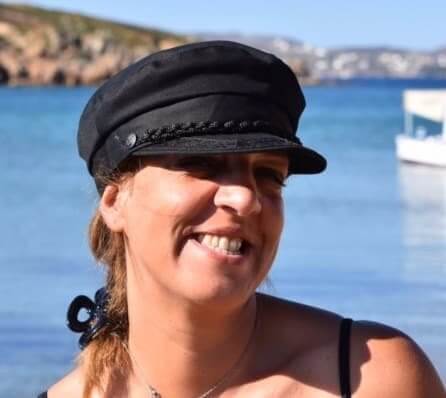 I moved to Crete in 2016. During these years, I learned much about the island.
In Crete, I juggle being a solo mom, hosting culinary tours, and writing for several travel media.
I've written for Greek Reporter, published travel guides about Greece, co-authored DK Eyewitness Top 10 Crete, and had more glasses of frappe than any regular person could ever handle.