Are you planning to venture into one of Crete's most popular canyons? The Imbros Gorge hike, in Chania region, is far easier and shorter than the better-known Samaria Gorge hike. Imbros Gorge is perfect if it's your first hike, if you're not in top shape, you smoke, or have kind of weak knees …just like me!

If you walk from Imbros to Komitades (from north to south), there is almost no elevation gain, which makes the journey even easier. Imbros is an ideal walk for families with kids too, and since it's mostly under the shade, it can be a good outdoor adventure even in mid-summer. We hiked the Imbros Gorge in August, and we loved it!
---
Disclaimer: Posts include affiliate links to products or services. I might earn a commission if you make a purchase, at no extra cost to you.
---
Imbros Gorge Crete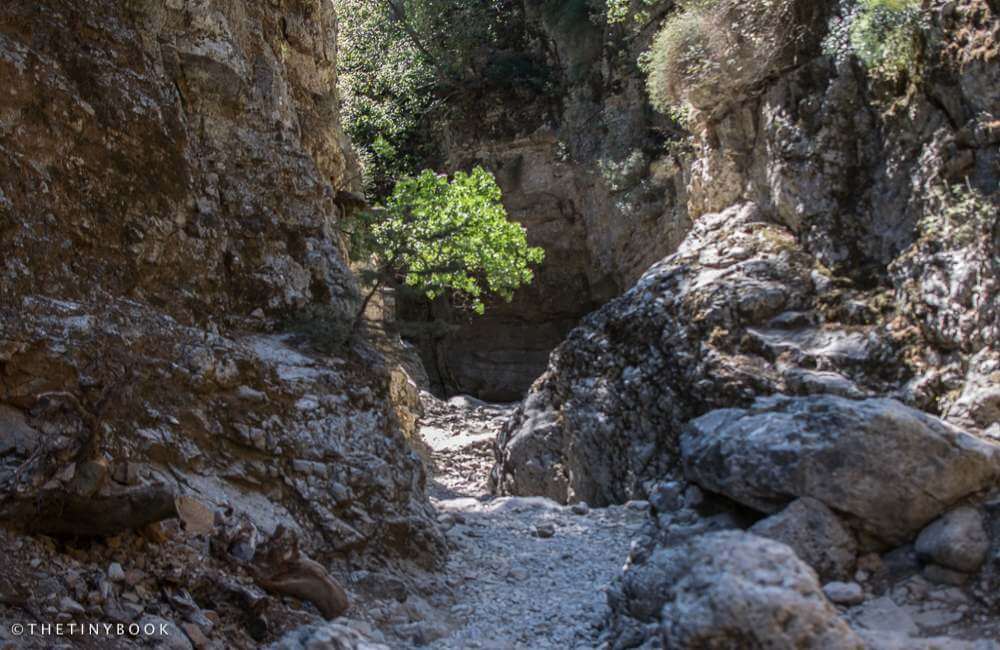 Often described as an easy hike, this does not really mean that the nature in Imbros will be less spectacular than what you might see in other gorges in Crete!
The following details will certainly be a good guide for you to start planning your walk along Imbros.
Let's Start by Getting Ready for Crete!
RESOURCES TO BOOK YOUR TRIP:
Book your flight: I use Skyscanner to compare prices before booking a plane ticket.
Book your ferry: When ferries are more convenient than air travel, I use Ferryhopper.
Book your accommodation: I've tried many different platforms for accommodation, but none of them beats the advantages of Booking.com.
Book your car: The best way to find an affordable car to rent is to use a powerful search engine that compares all the rental companies in the market. I use Discover Cars.
Book your tours: Live unforgettable adventures and cultural experiences with Get Your Guide. For instance, you can Visit Elafonisi, discover Balos Beach, hike Samaria, or explore Knossos.
Don't forget travel insurance: Things can go wrong at times, but travel insurance will protect you against illness, injury, theft, and cancellations. I recommend Safety Wing for peace of mind.
Technical Details you Need to Know Before Hiking Imbros Gorge
Difficulty: easy hike.
Duration: from 2.30 to 4 hours, depending on your pace.
Length: 8 km.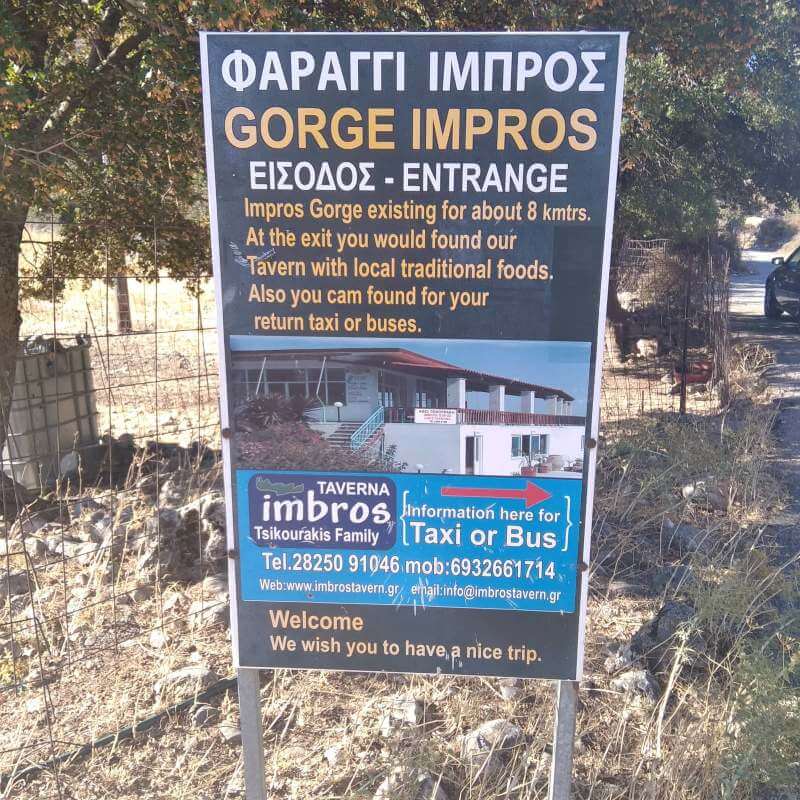 Elevation gain: from Komitades to Imbros you will be climbing the gorge, with a total elevation gain of about 650 meters.
Starting from Komitades allows you to beat the crowds, however, descending (from Imbros to Komitades) is easier if this is your first hike.
Terrain: clear path, river bed, lots of pebbles. It can get slippery in some places.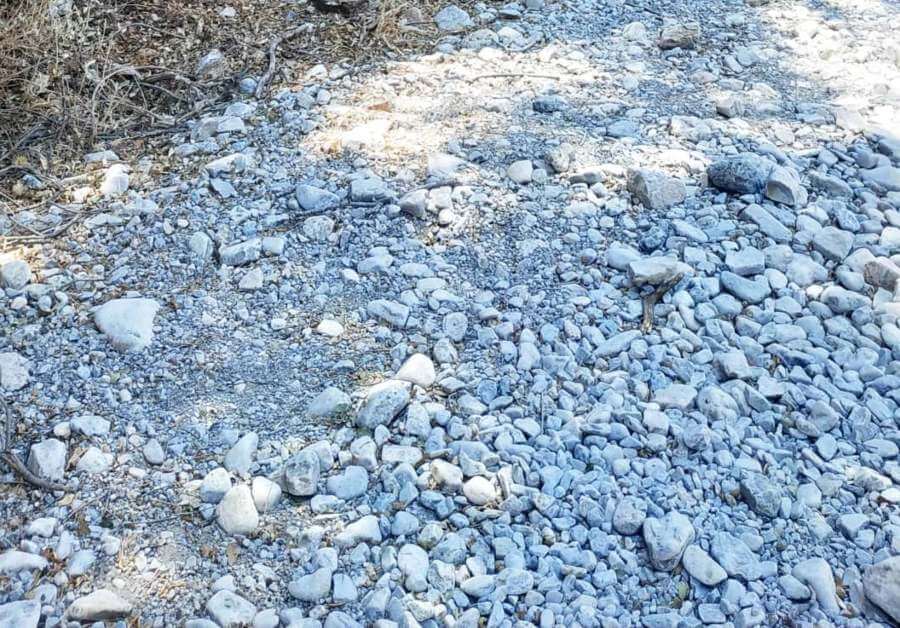 Water: often there is no water available, especially in the summer months. There is one kiosk inside the gorge (at about km 4) and one at the end (right before Komitades village).
Here, you can take the bus or pick-up track to go back to Imbros. Tavernas at the entrance (Imbros village) sell water too.
Facilities entrance-exit: Parking, tavernas, and other food/snack/coffee/drinks available. Public restrooms.
Bus: The bus stop for Chania is at the entrance of the gorge (Imbros village).
Hiking from Imbros Village to Komitades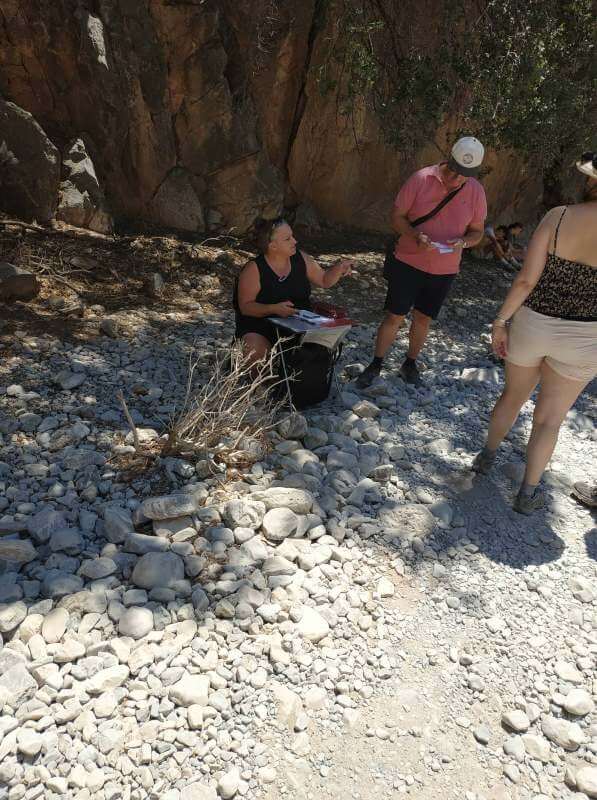 This is the classic road that most walkers choose when taking up the Imbros Gorge adventure.
There are two different entrances along the main road in Imbros (impossible to miss any of them, they are just meters away from each other), and you can access the path from any of them.
After a few hundred meters (about 10 minutes), you will find the ticket booth (the ticket is €2.50).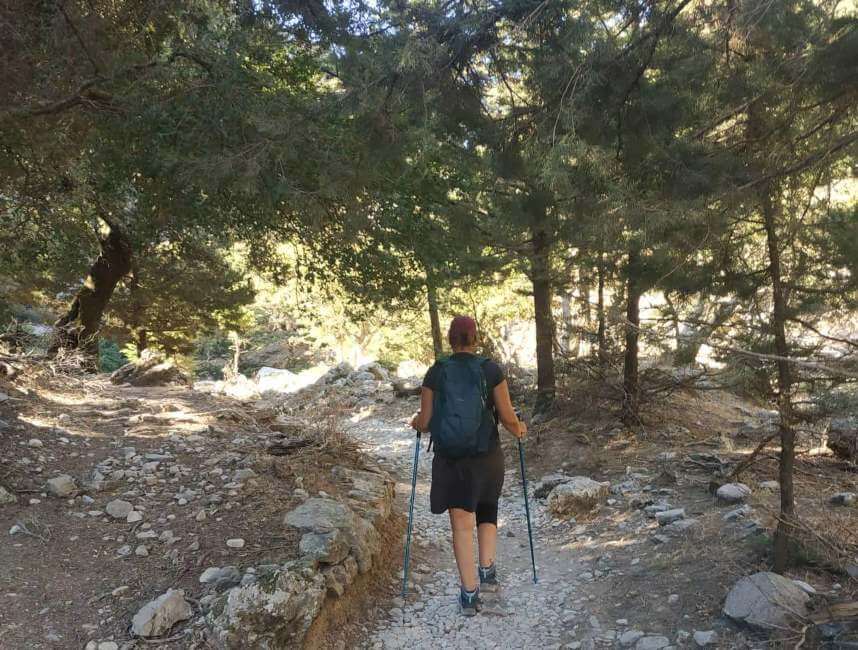 If you start your hike too early, chances are that the booth is closed. Do not worry, by the time you reach the exit, there will be someone in charge of controlling the tickets, so you will be charged there.
Many seasoned hikers consider this a very easy hike and do the hike back and forth (a total of 16 km).
If that's your case, keep the ticket for the final control at the exit.
Getting to the Imbros Entrance by Car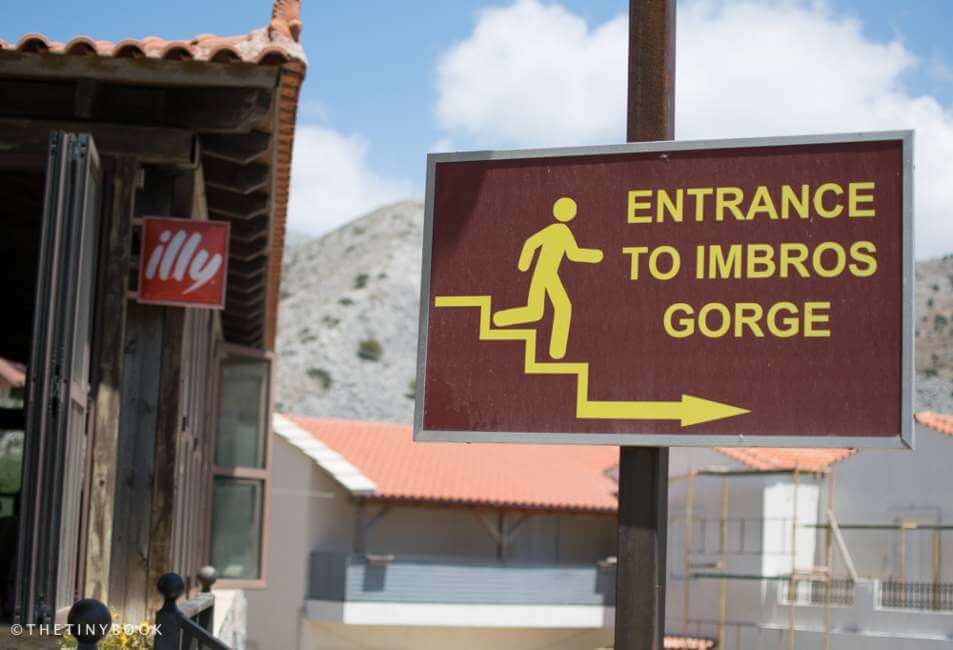 If you're coming from Chania, you need to take the National Road in the direction of Heraklion and exit in Vrysses.
Once there, you will start driving your way through the White Mountains, past the magnificent Askifou Plateau until you each Imbros.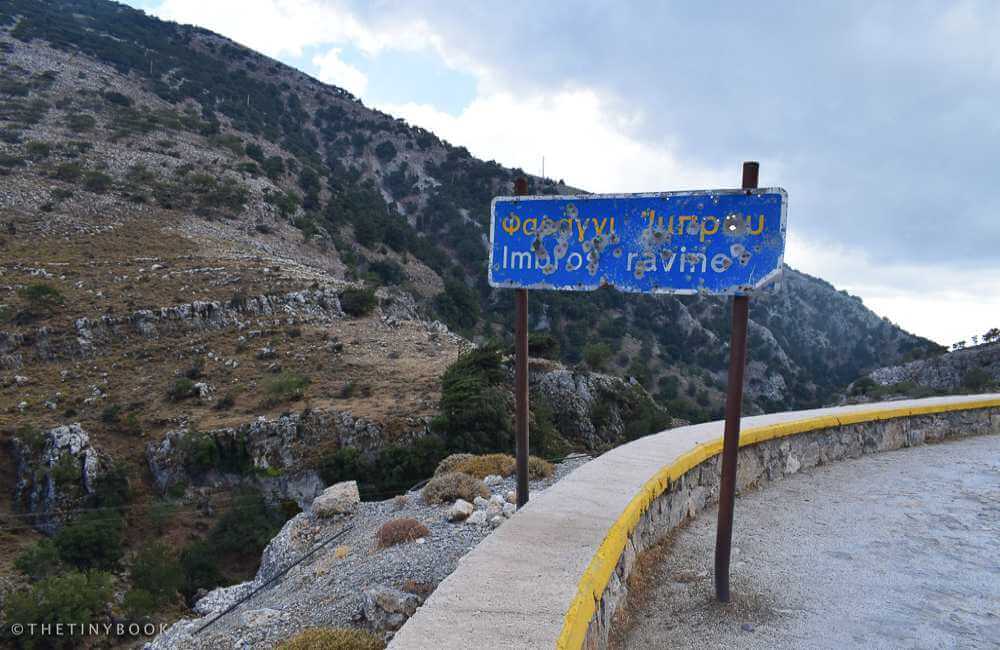 The road is winding, but not extremely narrow or dangerous, and there are incredible landscapes all along the way.
If you like traditional Cretan food, stop for a bougatsa or other bakery products at any of the coffee shops along the way.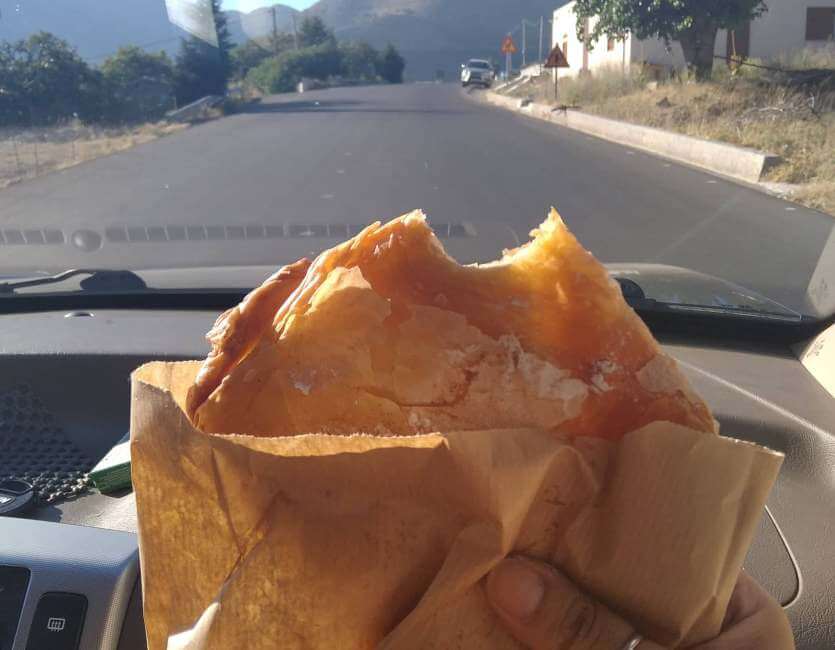 Those coming from Rethymnon (or Heraklion) need to take the National Road as well, but driving in the direction of Chania, and also take the same exit at the village of Vrysses.
Don't feel like doing Imbros on your own? Join an organized excursion with a local guide, they also offer pick-up and drop-off services.
This is an affordable option with good reviews with the option to depart from Rethymnon or Chania.
If you want to also discover the rest of the south, and explore the villages of Imbros, Chora Sfakion, and the beach in Frangokastello, then this private tour offers all that and more!
Getting to Imbros by Bus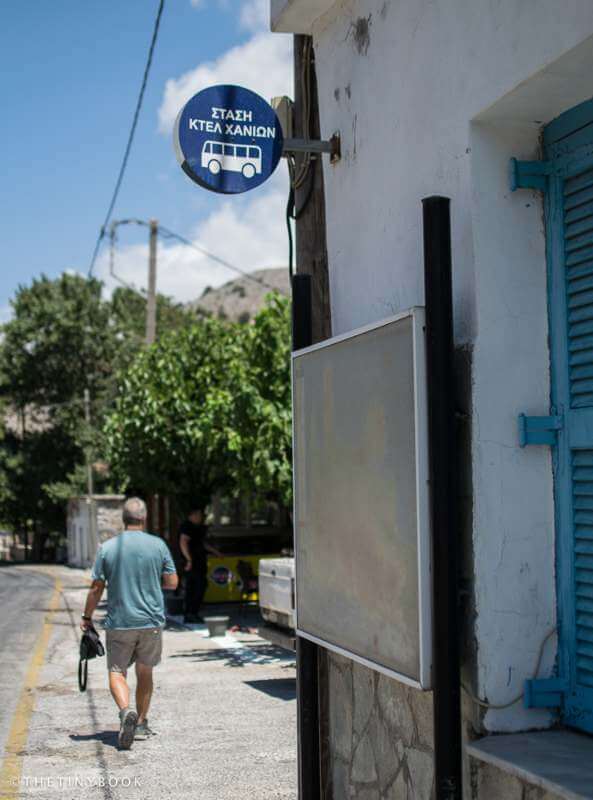 The bus stop for Chania is at the entrance of the gorge (Imbros village), there are at least four daily buses (summer) that from the Central Bus Station in Chania.
These cover the route Chania-Chora Sfakion. This bus stops at Imbros.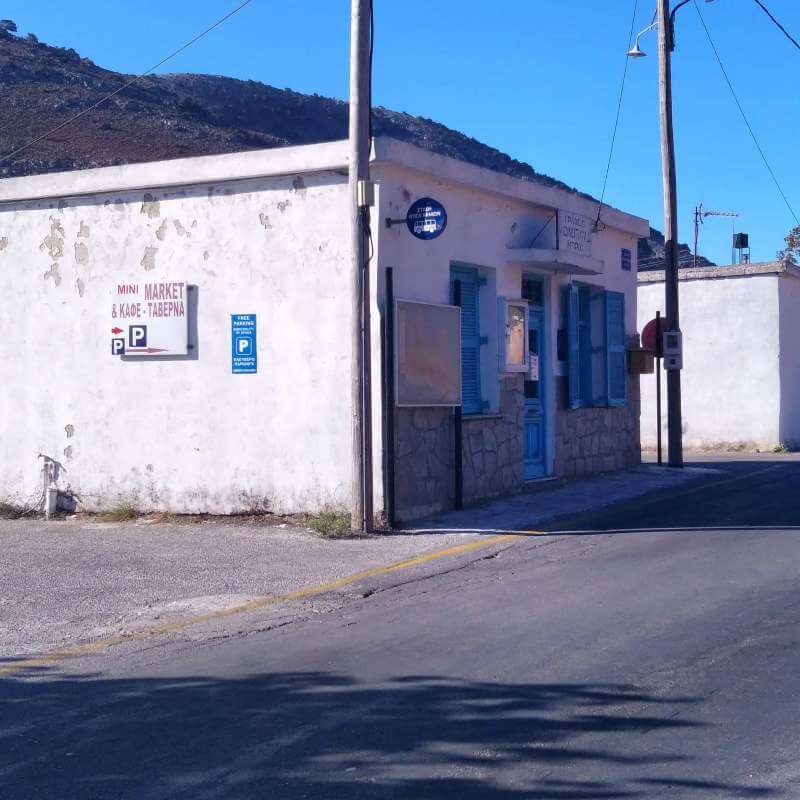 Timetable – Buses Departing from Chania to Chora Sfakion: 7:00, 11:00, 14:00, and 16:00. Buses coming back to Chania depart from Chora Sfakion at 7:00, 11:00, 13:30, and 18:30. The ticket is €7.40.
How Long Does it Take to Hike Imbros?
It all depends, of course. Although you might find a lot of online guides that tell you it will only take you 2.5 hours to complete the path, the story can be quite different.
If you just want to have the memory of pebbles from this adventure (because let's face it, you will be mostly looking where you put your feet), then yes, it can take you about 2 hours to cross the gorge.
However, what's the point of getting to the other side having no idea of what the landscape looked like…?
I took my time. It's true that I have a very bad knee and this prevents me from walking very fast on such terrain (I'll talk about post-hike pains later on).
However, I also stopped to observe the landscape, take pictures (quite a lot), drink, and yes… I even sat a few times to catch my breath, especially when it was closer to midday.
Right in the middle of the hike, there is a small kiosk where you can also sit for a rest and a cold drink.
In all, it took me 3 hours and 45 minutes to cross Imbros, with several stops included. If your knee is not as bad as mine, you can do it in less time.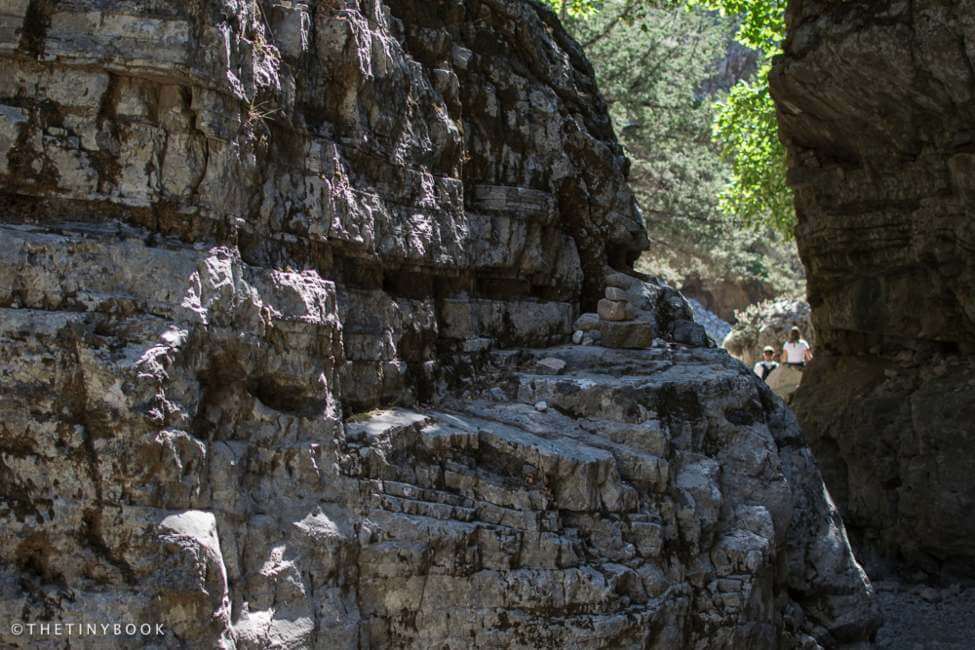 Besides, I was lucky enough to walk this gorge with a forestry engineer who worked for years in Imbros' biggest sister gorge, Samaria.
So I took every opportunity to listen, learn, and ask a lot of questions. I loved checking the flora and spotting a few goats on the way as well.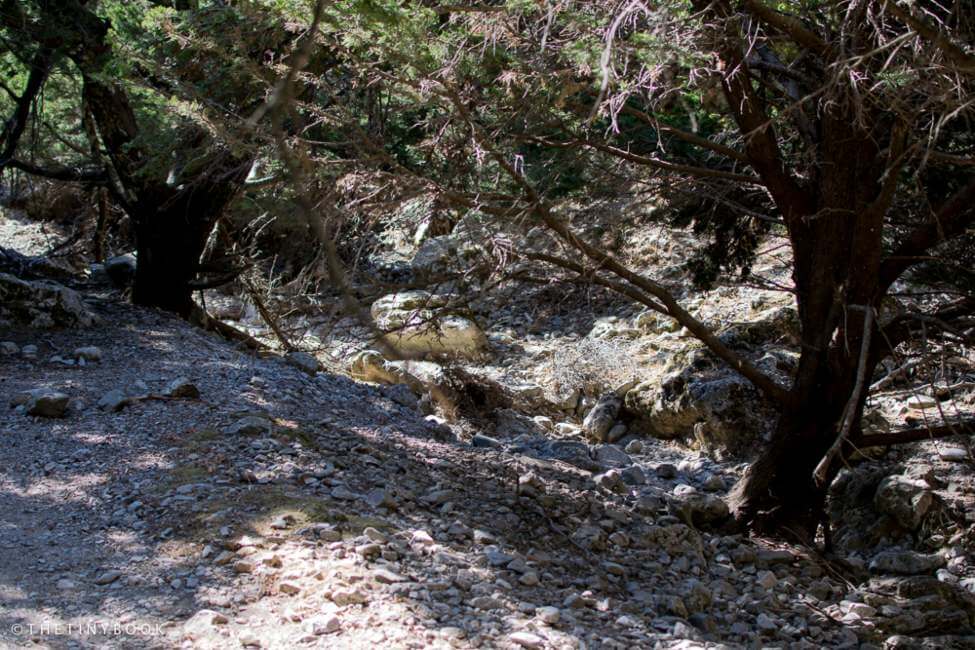 We were passed a few times by faster walkers, and we kindly moved away to the sides of the path. However, and more often than I expected, we were passed by many very fast walkers, who looked like they were racing their way through Imbros. Don't be that guy, enjoy the island!
Do I Need Special Equipment to Hike Imbros Gorge?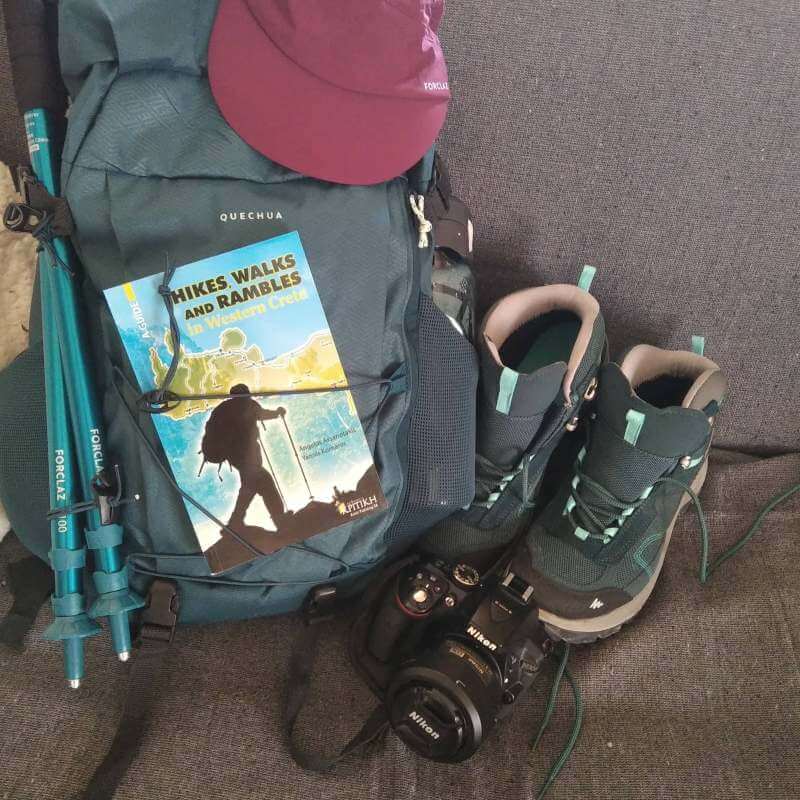 Again, it's up to you. I've seen really few hikers carrying walking poles (less than five counting us). However, I personally wouldn't have found the hike as easy, safe, or comfortable without them.
My walking partner carried only one, I used the two of them for a good part of the path.
My poles come from Decathlon. They were light, very resistant, and very affordable as well. I do not hike every week, so it made no sense to buy expensive poles for me.
I got these, and I recommend them to any occasional hiker out there that might need some extra support.
Shoes are another story. I paid special attention and spotted lots of people with regular tennis shoes, especially young people and kids.
However, most older hikers (like me) wore hiking boots. Mine was a mid-range pair from Decathlon as well, which honestly made the day a lot easier.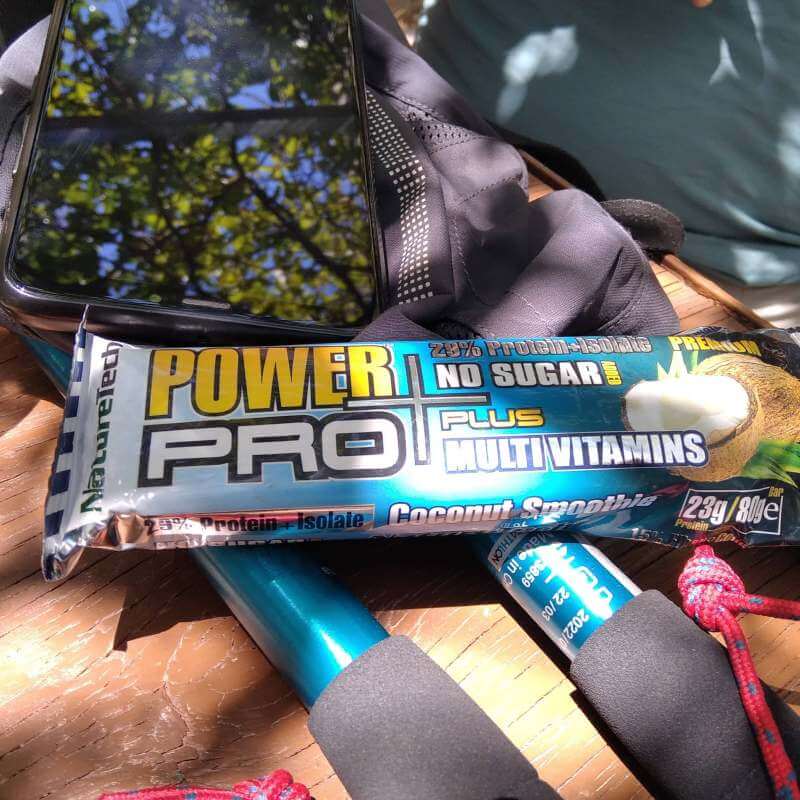 I carried a small backpack (30 liters) with a water bottle, a few cereal bars, a very light hat, my camera and phone (coverage is really bad, as expected in the mountains), and some other basics, such as ibuprofen and band-aids, I did not need the latter.
But my true lifesaver was a reinforced knee brace. I wore it after a few hundred meters into the hike and it was what prevented my knee from hurting badly in the next days.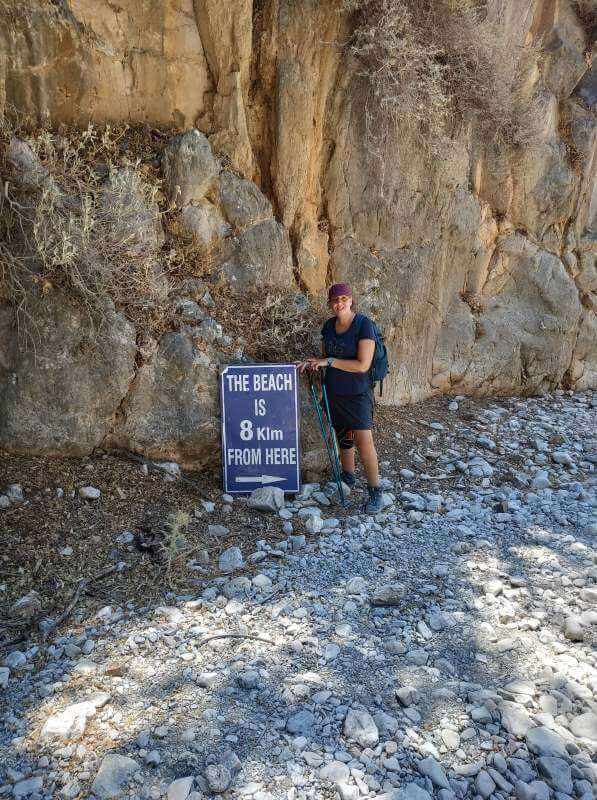 If you're planning to swim after the hike, either in Frangokastello or Chora Sfakion, carry a swimming suit and a light towel.
You might also want to check out my guide to the best hikes in Crete!
What's Imbros Like?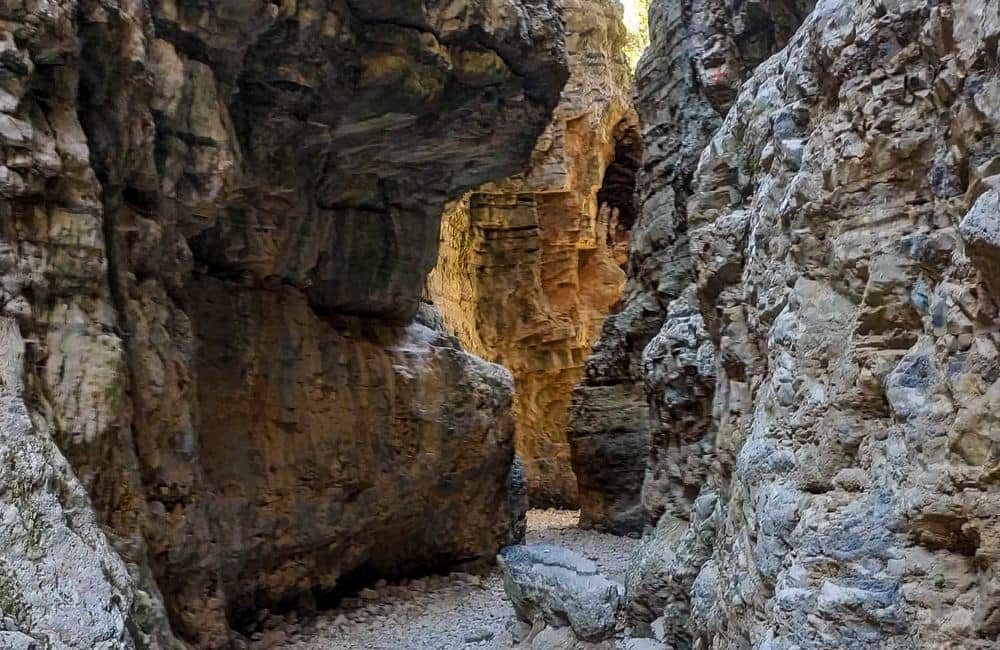 During the first part of the path, from the village of Imbros until the Kato Vothones peak (891 m), let's say for the first 4 km of the path, the road is quite straight.
However, the second part of the road until the exit is very bendy and more exposed to the sun.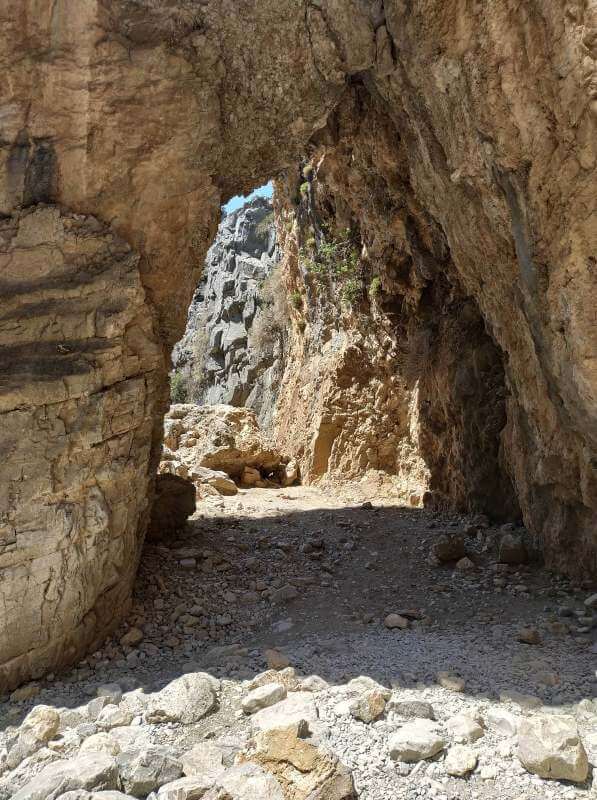 Keep in mind that we hiked in August, however, during the first hour and a half, most of the path was not hit by the direct sun, which made the experience easier.
I believe that hiking in late May, September, and October might be even better.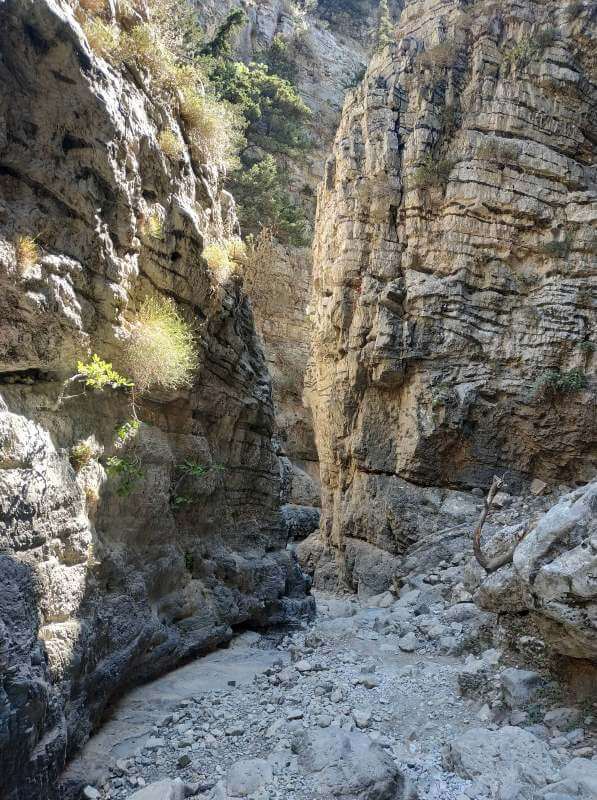 Along the way, there are amazing sights to look for, including one spectacular arch, fairly close to the exit, which will take your breath away.
The narrowest part of the gorge, which is about 1.5 meters is quite spectacular.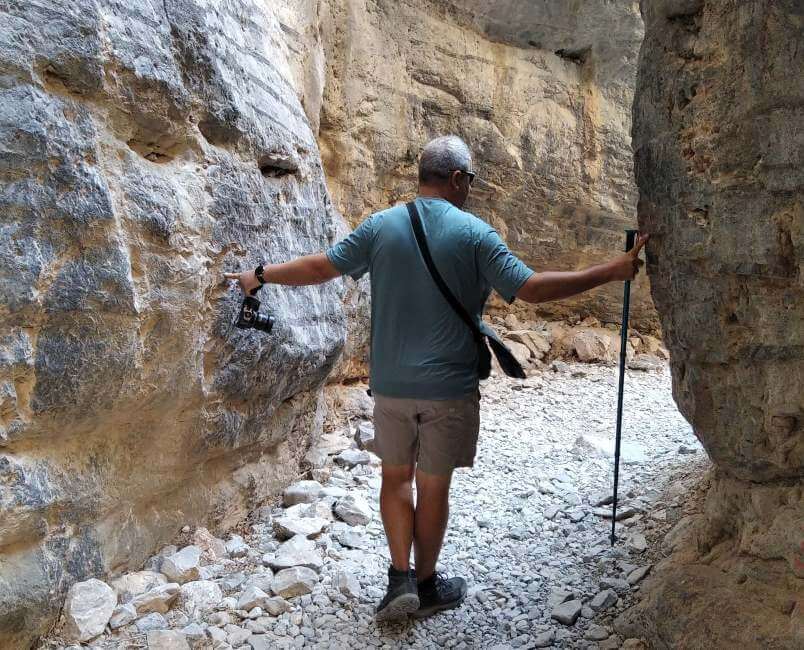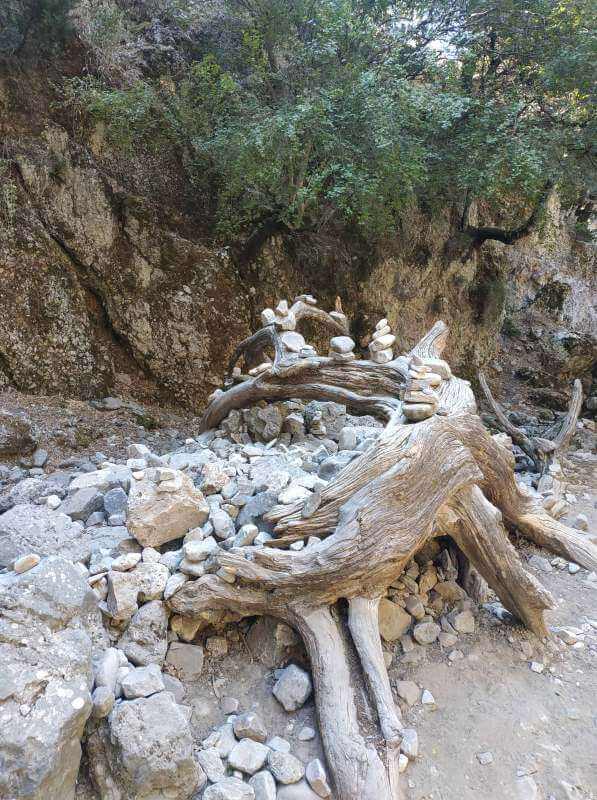 Another magnificent view is almost at the end when after a quick bend you suddenly spot the Libyan Sea.
If you're tired, at this point you will feel much better, and getting to the exit of Imbros Gorge will feel like a breeze!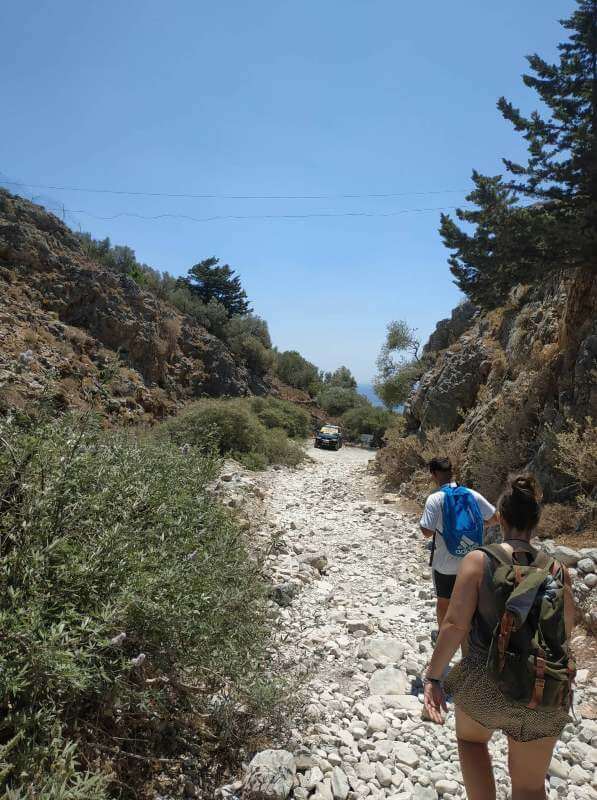 When to Hike Imbros
The official information says that the path is open all year round, however, winters in the area can be rainy and snowy, and getting there can be a challenge. If you plan to visit in winter, avoid hiking after heavy rains.
Summer is not as bad as you may think if you start walking early in the day, we started walking at 9.00, but that's because we couldn't resist stopping for coffee and bougatsa along the way.
You can set out at 8.00 to avoid most of the midday heat. As usual, the best months are less hot ones.
Heading Back to Civilization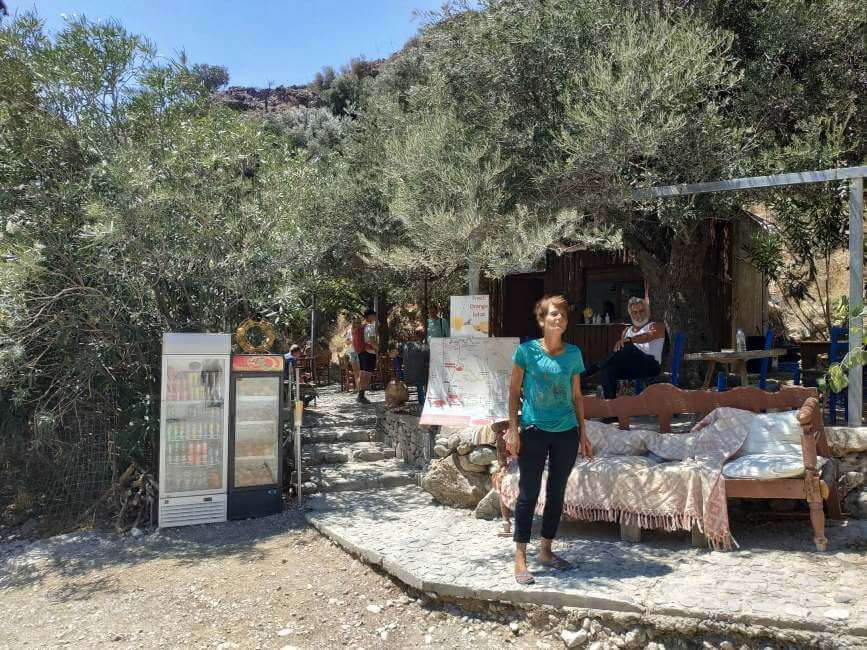 Once you reach the last snack stop in the gorge (there're just two of them) you can choose to have a drink and a snack while you wait for the bus to take you back to the entrance of Imbros (the ticket is €5).
You can also go back with a private truck, and the fee for that is €30.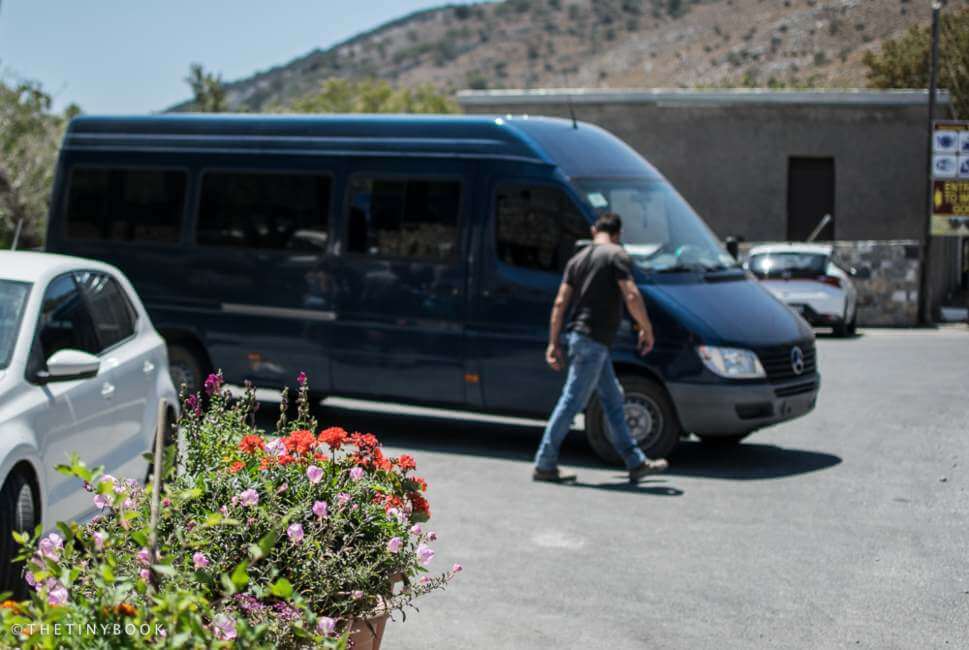 Some real enthusiasts of walking prefer to continue on foot to Komitades. And some even hire a taxi that will be waiting for them in one of the many tavernas in Komitades, where it is also possible to hire transport back to Imbros village.
It can take about 25 minutes to get from the exit of the gorge to the village on foot.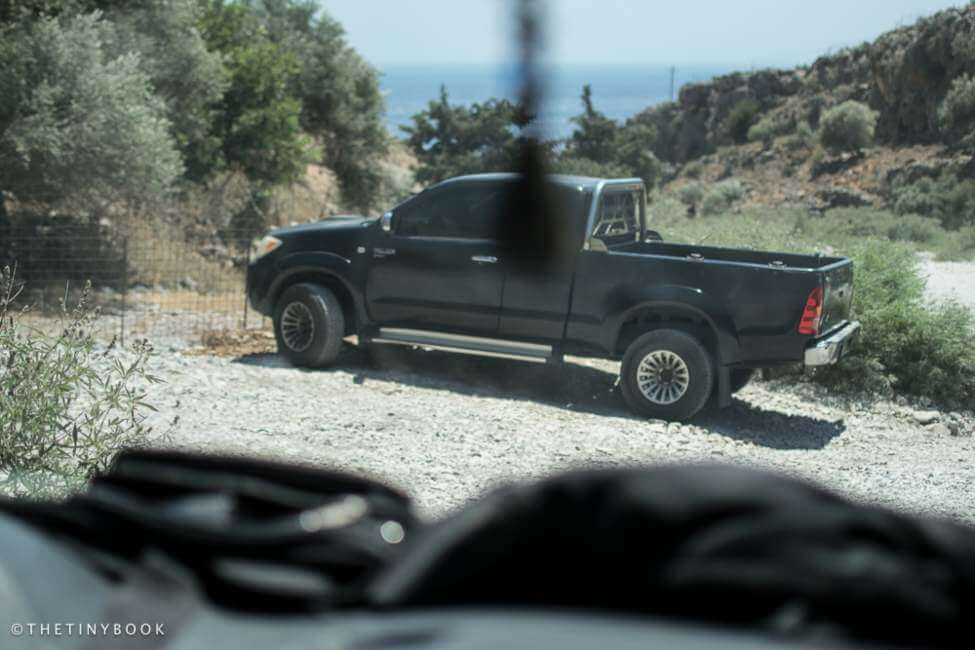 We opted for the bus (which was quite an experience in itself, especially considering the state of the dirt roads leaving the gorge…)
From the chuckles I heard, I firmly believe that the whole bus heard my cussing when the bus made a few turns into what looked like no road whatsoever!
After all, Mark Twain once said that "under certain circumstances, profanity provides a relief denied even to prayer."
I was sitting in the front, next to the driver. This did not make the experience any more relaxing!
But it was not that bad! After 20 more minutes, we were back at Imbros village.
After taking off our boots and wearing a more comfortable pair of flip-flops, we enjoyed a rewarding Sfakian lunch, made of dakos, tsigariasto, and sfakiani pita (don't know what these are? Check out my Cretan food post to find out!).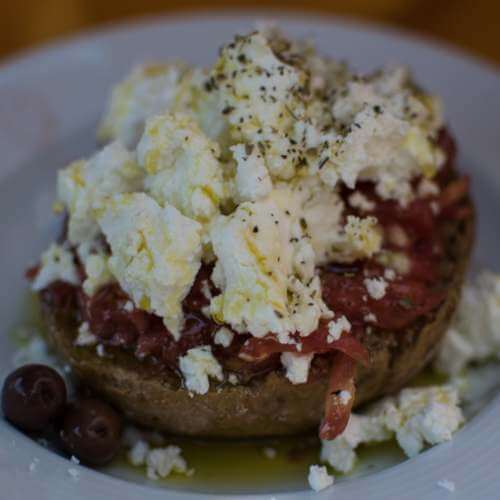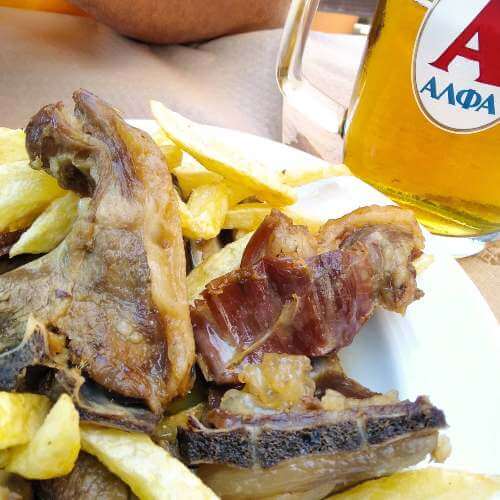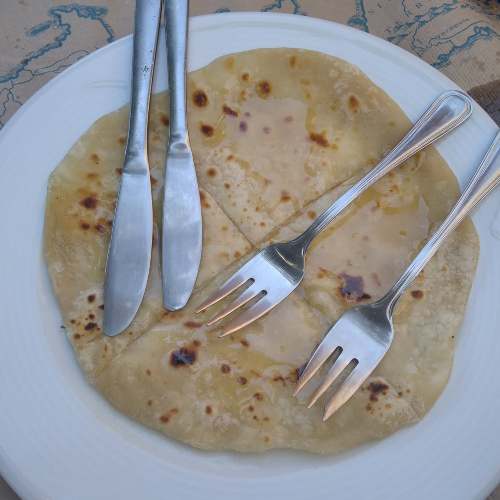 The Aftermath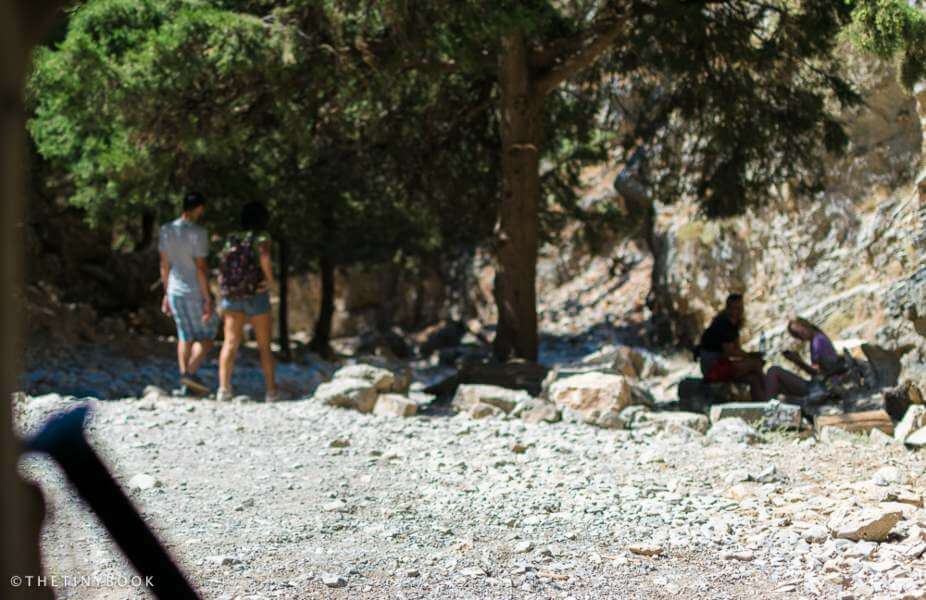 Many people asked me about how my legs were on the following days, especially because I'm not really into sports.
I was surprised to find out I felt just some slight pain in my leg muscles (mostly when walking down the stairs). I did take two pills of ibuprofen as soon as I got on the bus.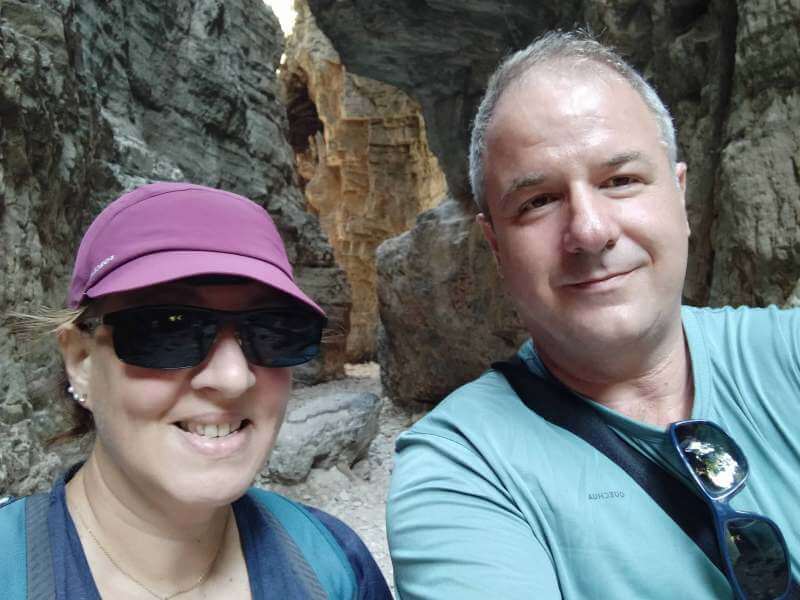 My knee was doing great, I felt just a little pain in my ankle due to a minor twist at the beginning of the road. Had I not been wearing boots, that could have been bad.
And yes, this "minor accident" was all my fault because I thought that using the poles was not necessary.
From then on – and for the rest of the road – poles in hand, avoiding as many slippery rocks as I could.
Are you planning to hike Imbros Gorge?
Let me know in the comments below!
You might also want to read these other articles about Crete:
More info for your Crete trip
Best Hotels in Chania
Affordable: Aelia Apartments or Polixeny's Suites in the old town.
Mid-range: Elia Estia in the old town and Civitel Akali Hotel in the new town.
Luxury: Casa Delfino in the old town or Domes Noruz by the sea.
Check also Chania Accommodation Guide and Boutique Hotels in Chania.
Pin this Guide to the Imbros Gorge Walk for your Next Adventures in Crete!
About the author of this blog: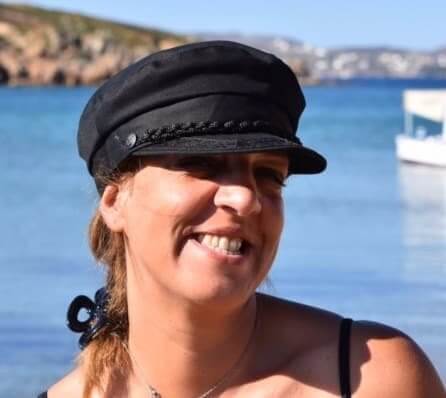 Gabi has been living in Crete for the last five years. On the island, she juggles being a solo mom, hosting culinary tours in summer, translating, and freelance writing.
She's written for Greek Reporter, published several travel guides about Greece, and had more glasses of frappe than any regular person would be able to handle.
COMING TO CRETE SOON?
Get in touch and let me know!