Are you looking for an alternative Greek island holiday away from the crowds but with as much beauty, historical significance, and diverse cultural experience as other famous islands? Then you're in the right place!
Syros may not be the first island you consider when planning the ultimate Greek island holiday. Still, this hidden gem in the heart of the Aegean Sea offers gorgeous beaches, stunning historical and cultural landscapes, and a glimpse of the authentic Greek island lifestyle.
So, let's delve into why Syros Island should be at the top of your travel bucket list for your next holiday in Greece.
---
Disclaimer: Posts include affiliate links to products or services. I might earn a commission if you make a purchase.
---
Top Reasons to Visit Syros
ARE YOU PLANNING YOUR TRIP TO SYROS LAST MINUTE?
Be sure to book accommodation in Syros ahead of time to ensure availability!
🛌 Top picks for places to stay in Syros:
– Grammata Suites (this is the place where I stayed in Syros. I thoroughly recommend it for its comfort and super convenient location in the heart of Ermoupoli.)
– Ventoura Studios & Apartments (in the center of Galissas with a hot tub, family-friendly, and supper affordable!)
🚗 Looking for the best way to get around Syros? Check rental car rates for Syros now or discover convenient rates at a local car rental company!
💳 Use WISE as a digital card and top-up from the app no matter where you are. Wise is one of the best cards for overseas travel!
Why You Should Visit Syros
Ready to discover why booking a trip to Syros is a great idea?
Look at my top reasons to visit Syros and discover an island that can offer everything you expect from a holiday in Greece!
Syros Holds Historical and Cultural Significance
Ermoupoli, the capital of Syros, is, in fact, also the Cyclades group's capital, home to the famous islands Mykonos and Santorini. Therefore, the island holds tremendous historical and cultural significance.
For instance, Syros is known for its part in mythology since it is named after the ancient ruler Syrus, a son of Apollo.
The island has also seen influences from various civilizations, ranging from the Phoenicians and Byzantines to the Venetians and Ottomans.
Thus, today, Syros' architecture, art, religion, and traditions are a blend of various cultures.
Specifically, as you explore the island, you can marvel at stunning neoclassical mansions, impressive churches, and charming narrow alleys with whitewashed houses.
So, undoubtedly, Syros will transport you back in time and immerse you into its fascinating past.
Syros Town, Ermoupoli, is a Lively Capital
One of the captivating highlights of Syros and a must-visit destination is the island's stunning capital town, Ermoupoli.
The town is known for its unmatched, diverse beauty of neoclassical elegance and traditional charm. Specifically, it features grand, pastel-colored mansions, picturesque squares with marble floors, and enchanting cobblestone streets.
While strolling through the town, you can immerse yourself in a world of architectural wonders, such as the impressive Town Hall and the striking church of Agios Nikolaos.
Additionally, Ermoupoli boasts vibrant cultural landmarks, such as the renowned Apollo Theater, art galleries, and exhibitions, showcasing the island's creative spirit.
So, Ermoupoli is the perfect destination to explore stunning historical sites and indulge in local delicacies at tavernas or trendy bars on the seaside promenade.
…Or take in incredible panoramic sea views.
Ano Syros is Simply Gorgeous
Have you ever fancied how the picturesque Santorini settlement of Oia would have been way before the massive arrival of tourism?
Head to Ano Syros, and you will undoubtedly glimpse that kind of Cycladic island flair, minus the modern vibes.
Ano Syros is an incredible whitewashed settlement on top of a hill overlooking the coastal town of Ermoupoli, a place still inhabited by locals.
Syros is less flashy than other Cycladic settlements, which has helped maintain a kind of candid authenticity.
You will undoubtedly find a couple of music bars where to stop for a drink and admire the coast views, but the settlement has an off-track atmosphere you will hardly find on any other more popular Greek island.
Ano Syros remains a postcard-like gem where you can try your hand at photography or marvel at the narrow alleys and small courtyards where bougainvillea and dozens of cats will produce a perfect photo scene!
Syros Features Stunning Beaches
We all know how stunning Greece's beaches are, so it's no wonder Syros' beaches are an excellent reason to make you want to visit the island.
Syros features a variety of pristine and picturesque beaches catering to all preferences. You will find your perfect spot, whether you seek a secluded cove or a sandy beach with a lively ambiance.
The island's beaches, such as Galissas, Vari, and Azolimnos, boast crystal-clear turquoise waters and golden, fine sand, perfect for a beach day for families.
On the other hand, Foinikas and Kini offer excellent opportunities for water sports like windsurfing and paddle boarding for adventure seekers.
Beyond their natural beauty, many of these beaches feature beachside tavernas and cafes, allowing you to taste the local gastronomy while enjoying the serene coastal views.
You can Indulge in Delicious and Fresh Cuisine
Visiting Greece will surely take you on a gastronomic journey. So, be sure Syros is also a foodie's paradise with enticing, delicious, and fresh cuisine.
From traditional tavernas to modern restaurants, the island offers various dining experiences with the best Greek flavors.
However, Syros is specifically renowned for its seafood delicacies, with the freshest catches of the day transformed into mouthwatering dishes like grilled octopus, sea bass, and sardines cooked in dozens of fancy ways.
Still, meat lovers will also be delighted by the island's succulent souvlaki, sausages, and slow-cooked lamb dishes.
Don't forget to try the island's savory local specialties, such as loukoumi, a traditional gelatinous sweet, mastelo, a unique local cheese, and halvadopita. This special nougat treat has been made on the island for centuries.
Additionally, accompany your meal with a glass of locally produced Syros wine or refreshing ouzo for a dining experience like no other.
Syros is Close to Delos Island
Delos Islands is a small island and a fantastic destination for history lovers. Furthermore, it is just a short boat ride from Syros, making it a perfect day trip destination and a compelling reason to visit Syros.
Delos is an archaeological treasure, captivating visitors with its ancient ruins and historical significance.
The island was one of the most important sacred sites in Ancient Greece since it was believed to be the birthplace of the Greek god Apollo and his twin sister, goddess Artemis.
Today, you can explore the UNESCO World Heritage Site of well-preserved ancient temples, marble statues, and intricate mosaics to get a glimpse into the island's rich past and immerse yourself in the awe-inspiring history and mythology of the region.
You can Immerse in an Authentic Greek Island Lifestyle
Syros may not be the most famous Cycladic island, but it still experiences a more authentic Greek island lifestyle.
Unlike the more touristy destinations, Syros retains its genuine charm and traditional way of life.
So, as you explore the island's towns and villages, you can witness locals going about their daily routines, giving you a glimpse into their warm and welcoming community.
Furthermore, Syros is known for its vibrant festivals, such as the Syrianopato Festival in June, where you can immerse yourself in colorful traditions and lively celebrations and learn about Syros' traditional dance.
The island's bustling streets, markets, and family-owned tavernas serve delectable dishes made with fresh, locally sourced ingredients, allowing you to savor the authentic flavors of Greek cuisine and learn about the Syros' culture through its tastes.
You can Experience the Vibrant Syros Carnival
One of the most exhilarating reasons to visit Syros Island is to experience its vibrant carnival. Known as the Apokries, this annual celebration brings the island to life with an explosion of colors, music, and revelry.
The streets of Ermoupoli become a stage for spectacular parades, where locals and visitors dress up in extravagant costumes and masks, transforming the town into a whimsical spectacle.
But even if you don't join the parade, the carnival is a time of joy and merriment, with traditional dances, live music, and lively parties that continue well into the night.
So, you can visit in winter and join in on the festivities, dance to the traditional rhythms, and indulge in delicious street food and local treats.
Syros has Plenty of Outdoor Activities
If you are looking for exciting outdoor activities, Syros offers plenty of fascinating activities. With its diverse landscape, you can enjoy hiking, cycling, and exploring its natural wonders.
Specifically, you can discover hidden trails that lead to breathtaking viewpoints, where you can admire the island's rugged coastline and lush valleys.
You can also venture into the island's enchanting countryside, dotted with picturesque villages and olive groves, for a tranquil and immersive experience.
Syros is also ideal for water activities like snorkeling, diving, and paddleboarding.
So, in other words, Syros promises outdoor activities that will thrill and rejuvenate your senses, making it an ideal destination for those seeking an active and nature-filled vacation.
Syros is at an Accessible and Convenient Location
One of the distinct advantages of visiting Syros Island is its accessible and convenient location. Situated in the heart of the Cyclades archipelago, Syros is a central hub for transportation.
Located just a short 2-hour ferry ride from Athens, Syros can be a convenient place to visit if you're spending just a few days in Athens and still want to taste a slice of Cycladic island life.
Syros is well-connected by ferry services to other Greek islands, making it an easily accessible retreat. Additionally, the island has its airport, with direct flights connecting to Athens and nearby islands.
This convenience allows travelers to include Syros in their Greek island-hopping itineraries or make it a convenient starting point for further exploration.
So, with its accessible location and efficient transportation options, Syros allows travelers to embark on a hassle-free journey and effortlessly enjoy all the marvels the island has to offer.
In conclusion, Syros Island, Greece, offers a multitude of compelling reasons why it should be at the top of your travel bucket list.
From its rich historical and cultural significance to its stunning beaches and outdoor activities, Syros has something to offer every type of traveler.
Whether you're seeking a relaxing beach holiday, an adventure in nature, or an immersion in authentic Greek island life, Syros is a fantastic destination.
With its convenient location and accessible transportation, exploring Syros and the surrounding Cycladic islands becomes a seamless and enjoyable experience.
So, pack your bags, immerse yourself in the beauty of Ermoupoli and Ano Syros, soak up the sun on the breathtaking beaches, indulge in delicious cuisine, and enjoy a memorable holiday on this hidden gem of the Aegean Sea.
My Syros experience was kindly sponsored by Syros Municipality. All opinions are my own and remain unbiased.
Read more about Greece
🛌 Suggested Accommodation in Syros:
🗺️ More resources to book your trip to Syros:
Pin it! Unbeatable Reasons to Visit Syros, Greece!
About my blog: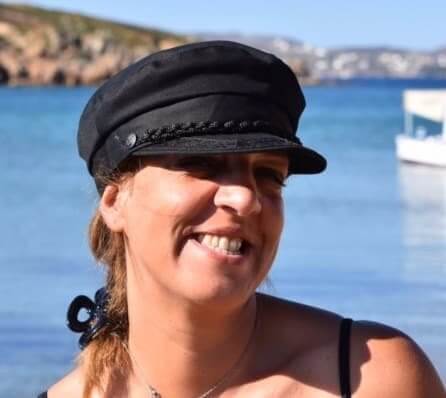 I moved to Crete in 2016. During these years, I learned much about the island.
In Crete, I juggle being a solo mom, hosting culinary tours, and writing for several travel media.
I've written for Greek Reporter, published travel guides about Greece, co-authored DK Eyewitness Top 10 Crete, and had more glasses of frappe than any regular person could ever handle.