Thassos is the hidden gem of the northern Aegean. Although known to locals and tourists from the Balkans, the island is relatively unknown to Europe. If you ever wanted to visit an off-the-beaten-path destination that will surprise you with its beauty, look no further than Thassos. And the best part is that the island is easily reachable due to its proximity to the mainland. Here, you will learn all you need to know to get to Thassos, Greece.
---
Disclaimer: Posts include affiliate links leading you to products or services, I might earn a small commission if you make a purchase. This has no extra cost to you but allows me to continue writing articles that are helpful for your travels. I only recommend things I use myself or that I believe will deliver value to you. 
---
General Information About Thassos
Thasos is located in the North Aegean Sea, sixteen miles from the city of Kavala and six miles from the seaside port of Keramoti in the mainland. The summer here is shorter than in other Greek islands, although the weather stays pleasant for almost half the year.
What you will love the most about Thassos will be its natural beauty. Olive and pine trees decorate mountains and shores alike. Whether you are looking for a place to escape and relax, or you want to stay active with activities and things to do, Thassos would be the best fit.
How to Get to Thassos by Ferry
Thassos has two ports that connect the island with the mainland. One is the settlement of Skala Prinos with ferries to Kavala, and another is the capital town of Limenas with daily connections to Keramoti. Both routes operate year-round, with expanded itineraries from May to October.
Check ferry tickets to Greece here!
The ferry from Kavala takes one and a half hours, whereas Keramoti is just a twenty-five-minute ferry from Limenas.
As a result, most travelers, especially those coming with a car, prefer the port from Keramoti. The connections there are also more frequent. At the peak of summer, ferries cross to the mainland as often as every fifteen minutes.
The ferry from Kavala takes one and a half hours, whereas Keramoti is just a twenty-five-minute ferry from Limenas. As a result, most travelers, especially those coming with a car, prefer the port from Keramoti.
The connections there are also more frequent. At the peak of summer, ferries cross to the mainland as often as every fifteen minutes.
Can you Fly to Thassos? Getting to Thassos by Plane
Although the island of Thassos has no commercial airport, you can still fly less than fifteen kilometers from the coast of Thassos. The Kavala Airport, named Alexander the Great, is thirty kilometers away from Kavala and ten kilometers from Keramoti.
Apart from the domestic and frequent flights to Athens, the airport also features several international flights, mainly to European countries. As a result, you can fly here, take a ten-minute taxi to the port of Keramoti, and be in Thassos within one hour from landing.
How to Get to Thassos from Thessaloniki
The easiest way to get to Thasos from Thessaloniki is to drive to Kavala or Keramoti. Once you land at Thessaloniki airport, rent a car, and head off for Thassos. It will take you two hours to reach Kavala and an extra thirty minutes to get to Keramoti, which would be the preferred choice if you do not mind driving the extra miles.
If renting a car is not an option, worry not. There are busses from Thessaloniki to Kavala almost every hour. If you are at the airport, take the city bus on lines 01N or 01X and reach the bus terminal. From there, a fifteen-euro ticket will grant you passage to Kavala in less than two and a half hours.
If you reach Kavala late in the afternoon and find no scheduled ferry to Thassos, you still have the option to get to the island on the same day. Ferries from Keramoti go as late as 11 pm, so you can take another bus or taxi from Kavala to Keramoti. Alternatively, it is worth spending a night at Kavala and enjoying the views of the island as you head there early in the morning.
Another way to get from Thessaloniki to Thassos is by taxi. There are taxi drivers who make these routes daily. And if you find someone to share the cab with you, you can spread the cost and avoid the hustle of getting on and off buses.
Last-minute plans for Greece?
Get there: Use Ferryhopper to book your tickets.
Stay: Find great accommodation deals on Booking.com.
Move around: Compare car rental prices with Discover Cars.
Tours: Check the most popular places with GetYourGuide.
Read more: Pack the Lonely Planet Guide to Greece or get a copy of my digital guide to Santorini.
How to Get to Thassos from Athens
Getting from Athens to Thassos is easier than you may imagine. In summer, you can often find up to two daily flights with the Kavala Airport. There is usually one flight in the morning and one late in the evening. So, regardless of when you land in Athens, you can always catch a same-day flight to Kavala.
Another way to reach Thassos from Athens is to use public transport. You can opt for a direct overnight bus to Kavala or even take the train to Thessaloniki as a stopover to Thassos. The options are plenty, but none beat the convenience and speed that a flight offers. Remember that Athens is almost half a country away from Thassos.
How to Get to Thassos from the UK
The most popular way to get from the UK to Thassos is to get a flight to Thessaloniki. London has more than a few connections with Thessaloniki per week. And in summer, the number of flights goes up. The other option would be to first reach Athens and then travel to Thassos.
The good news is that TUI Airways operates seasonal flights from Manchester, London-Gatwick, and Birmingham to the international airport of Kavala. Keep an eye on any announcement from TUI, or feel free to frequently check with your preferred flight search engine. You never know when the next opportunity for a great deal will come.
Traveling to Thassos from Other Greek Islands
The only connections to Thassos are from the ports of Kavala and Keramoti. Due to its proximity to the mainland and distance from other Greek islands, Thassos ferries only go to the mainland. But worry not. If you are in Samothraki, you can catch a ferry to the city of Alexandroupoli and then take a bus or taxi to Keramoti.
The islands of the North East Aegean connect with Kavala with a line that passes through the islands one after the other. Starting from Ikaria and Samos, the ferry gets to Kavala after three stops in the islands of Chios, Mitilini, and Lesvos, in that order. And once in Kavala, Thassos is only a one-and-a-half-hour ferry away.
Ferry Routes from Thassos to Other Greek Islands
If you want to travel from Thassos to other Greek islands, you will follow the reverse order. First, reach the port of Kavala and catch the other ferry line to the rest of the North Aegean islands. Or take a taxi to Alexandroupoli if you want to discover the even more isolated island of Samothraki.
If you want to head to the Sporades island, travel to Thessaloniki, and grab a ferry to Skiathos, Skopelos, and Alonissos. The same ferry will also lead you to Athens, and from there, the heart of the Aegean will be on your feet.
Moving Around in Thassos
The best way to discover the hidden beauties of Thassos is to have your car. Nothing beats the freedom and convenience that a vehicle can offer. However, this is not a requirement to relax and enjoy your time in a specific village. For example, if you land in Limenas, you can stay there for a week and never feel the need to explore the rest of the island.
Even if you want to move around the island, some buses go in both directions. Remember, the main road of Thassos is essentially a circle that goes around the island and follows its coastline. Alternatively, you can always call a taxi and get where you want at reasonable pricing. In that case, agree on the price beforehand, just to be on the safe side and avoid overcharging.
No matter the vehicle you use to get around the island, you will notice that the roads are well maintained and wide. The locals take pride in the top quality of their streets, especially when compared to other Greek islands. And the best thing would be the views you will have while driving. There is nothing like driving on the side of cliffs full of pine trees only meters away from the Aegean.
Rent Your Own Vehicle in Thassos
There is no doubt that the most convenient way to discover Thassos is having your own vehicle. It is no wonder that most tourists, who usually come from the Balkans, travel in their cars. The villages, sites, and beaches are simply too far apart from each other to explore them all on foot.
However, even if you do not bring your car, you can still rent one on the island. Whether you land in Prinos or Limenas, you will find several car rental companies on the port. The process is straightforward, and they will not ask for much. Make sure you have your driving license and your documentation, and within a matter of minutes, you can be on the roads. 
>> If you prefer to rent a car before your trip, check several different alternatives with
a trustworthy car rental search engine!
All in all, Thassos is an island you can easily reach from mainland Greece. Despite the proximity and quick access, the scenery changes so dramatically that it will make you feel like you are in another world. In other words, Thasos is a perfect place in the Aegean to relax, explore, and embrace its raw beauty. All within minutes from mainland Greece.
Featured author: this article is part of the extensive Thassos Island Series, written and curated by our Thassian writer, Dimitrios Tsevremes.
---
Did you know that you could get to Thassos this easily?
Let me know in the comments below!
---
Travel Plans for Greece?
More Resources to Organize Your Trip!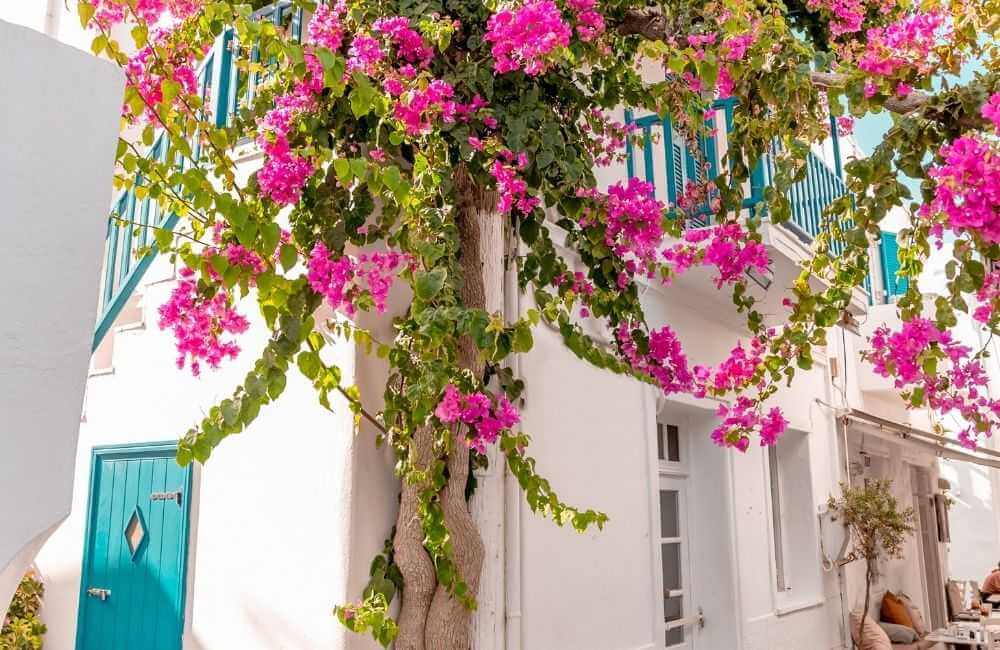 Start by heading right to my Greece travel guide for in-depth details you need to know about Greece. You can also check my post to plan a trip to Greece with children!
Get in touch if you need extra help to plan your trip. If you want to tour West Crete, check my guide. Want more? Join my Private Facebook Group to connect with like-minded travelers who love Crete as much as you do!
Make Sure You've Got Everything For a Hassle-Free Vacation!
Without my Osprey backpack, I never move around the islands…it's a sturdy but light travel partner I just love. For short trips, I carry this crossbody bag. If I drive, I pack my Nikon D7200 and a good travel guide! Lonely Planet's Best of Greece & the Greek Islands.
When it comes to plane tickets, compare prices with a powerful search engine. However, nothing beats traveling by sea in Greece. With Ferry Hopper, you can book in advance at the lowest price.
For accommodation, I use Booking.com.
Traveling to remote places is easier with Discover Cars. Other times, I join organized tours with GetYourGuide, which features anything from cooking lessons to airport transfer!
COMING TO CRETE SOON?
Get in touch and let me know!
This Belongs to a Board! Pin This Guide to Better Know How to Thassos Island for Your Next Trip to Greece!
---
Written by Dimitrios Tsevremes
Passionate about travel, spirituality, and sports, I have lived in 5 countries and traveled to more places than I have counted. Writing for me is a way to express myself and my creativity. Whether I write for my blog or a freelancing gig, I always fall in love with the process and often lose my sense of time. If you want, you can check out more about me and my work here.
You might also want to read:
---
About the author of this blog: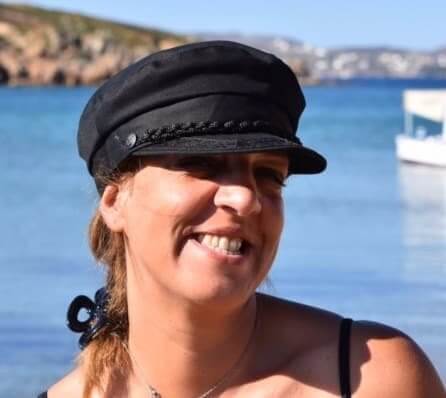 Gabi has been living in Crete for the last five years. Here, she juggles being a solo mom, hosting culinary tours in the summer, translating, and writing for The Tiny Book and her other blogs.
She's written for Greek Reporter, published three travel guides about Greece, and had more glasses of frappe than any regular person would be able to handle.