Not sure where to go between Crete and Corfu? Crete and Corfu are two of the most popular destinations in Europe, however, the only similarities they share is that they are both large Greek Islands – with Crete being the largest of all. On both, the islanders speak Greek and, of course, the food on both Crete and Corfu is fantastic!
---
Disclaimer: Posts include affiliate links to products or services. I might earn a commission if you make a purchase.
---
Crete or Corfu: Where To Go Next?
Crete and Corfu are situated on opposite sides of the Greek mainland and while both are mountainous, Corfu is a lush, green island while Crete is more barren with wide-open spaces and distinctive maquis vegetation.
Both islands are fun to explore with lovely hotels, beautiful beaches, excellent cuisine, and a warm, friendly welcome waiting for all visitors from the islanders.
Here we give you their main differences so that you can decide which island would suit you best.
Crete vs. Corfu: Location
Crete is situated in the Mediterranean and lies just south of the Cyclades group of Greek islands.
The island has two international airports at Heraklion and Chania and there are also two important seaports, one in Heraklion and one in Chania.
Corfu lies in the Ionian Sea and is one of the most important islands in the region.
Its international airport is located less than five kilometers from Corfu Old Town.
Crete or Corfu? How Long to Stay
If you're looking for an island that can be enjoyed in 3-5 days, Corfu is perfect.
On the other hand, exploring Crete will take a minimum of one week because of the size of the island and the fact that many of the journeys between towns can take several hours.
If you are an archaeological buff, there are so many interesting places to visit in Crete, including numerous archaeological sites.
Corfu vs. Crete: Is it Easy to Get Around?
The easiest way to get around both islands is to hire a car, but don't limit yourself to four wheels.
It is also fun to hire a boat for excursions to smaller nearby islets or to sail along the coast.
Crete has a good bus network but because of the size of the island and its many mountain ranges, travel times can be too long to use buses for day trips.
Corfu also has a good bus network which is ideal for sightseeing.
In fact, in Corfu distances are shorter — for example, the journey from the northern to the southern coast of the island takes just two hours, which is less than half of the time it takes for the same journey (east to west) in Crete.
Which car rental service is the best to choose?
If you want to rent a car for your trip and look for the best service, I am here to help you! Consider choosing Discover Cars, an international car rental booking service present worldwide. This way, you will find the best car for your trip wherever you are!
The Beaches and the Coastline on Crete and Corfu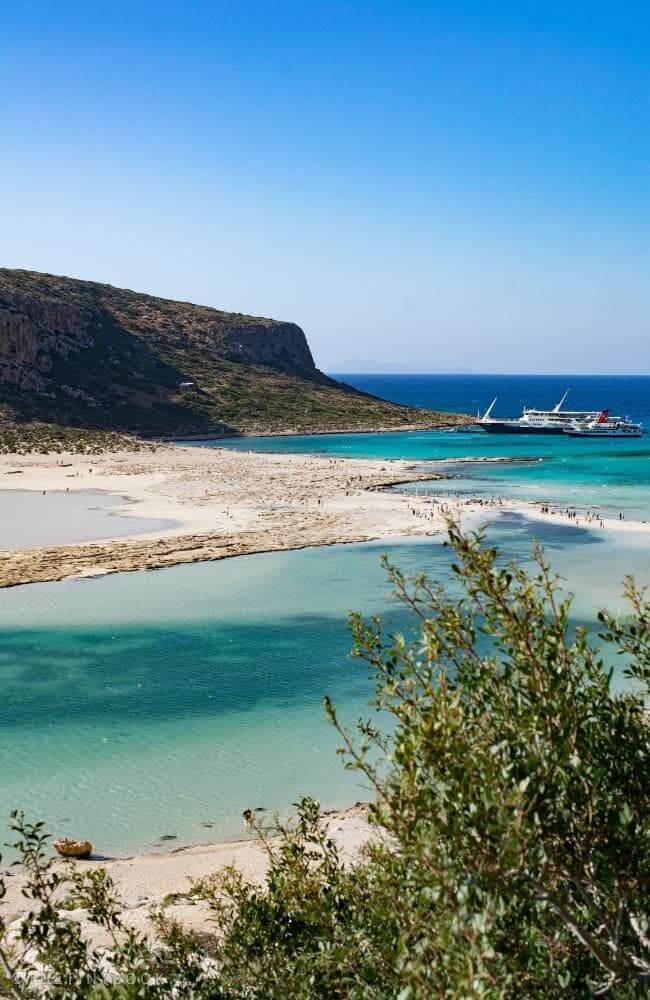 Crete has a very varied coastline with some pretty fishing villages such as Elounda or Mochlos in the east.
The island also has two of the most beautiful beaches in the whole of Greece: Balos and Elafonisi. Balos, which is just a few miles from Gramvousa island features a gorgeous lagoon with the clearest blue water you have ever seen.
Elafonisi Beach is situated just 90 minutes from Chania and is a stunning beach with fine pink sand.
Many famous beaches are located on the southern coast of the island, for instance, Frangokastelo and Glyka Nera (Sweetwater Beach, near Loutro, another stunning fishing village), but there are numerous other beaches strung along the coast.
Corfu is also an island with a breathtaking coastline featuring some beautiful beaches and enchanting islets too.
One of the most popular beaches in Corfu is Paleokastritsa, an ideal spot for snorkeling. Here, you can also rent a boat to visit other little hidden coves with stunning landscapes. Sidari and Kassiopi are also popular choices.
On the southern coast of Corfu, there are many famous sunbathing spots, for example, Chalikounas and Issos, with long stretches of golden sand.
Towns and Villages to Visit
Both islands feature dozens of traditional towns and villages, places where time seems to almost stand still.
When it comes to big cities, Chania and Rethymnon are two of the prettiest towns in Crete. Chania has a beautiful Venetian harbor, a beautiful old lighthouse, and numerous alleyways with old Turkish houses.
Rethymnon, instead, is the third-largest town on the island, it features charming cobbled streets and homes with colorful facades.
In Corfu, the Venetian influence can also be seen in the architecture of Corfu Old Town with its two impressive fortresses facing the sea.
Another interesting mountain settlement is Pelekas, offering stunning views of the whole coast.
Around the island's coast, there are numerous coastal villages with traditional tavernas, ideal for enjoying a drink as the sun sets.
Top Places to Visit in Crete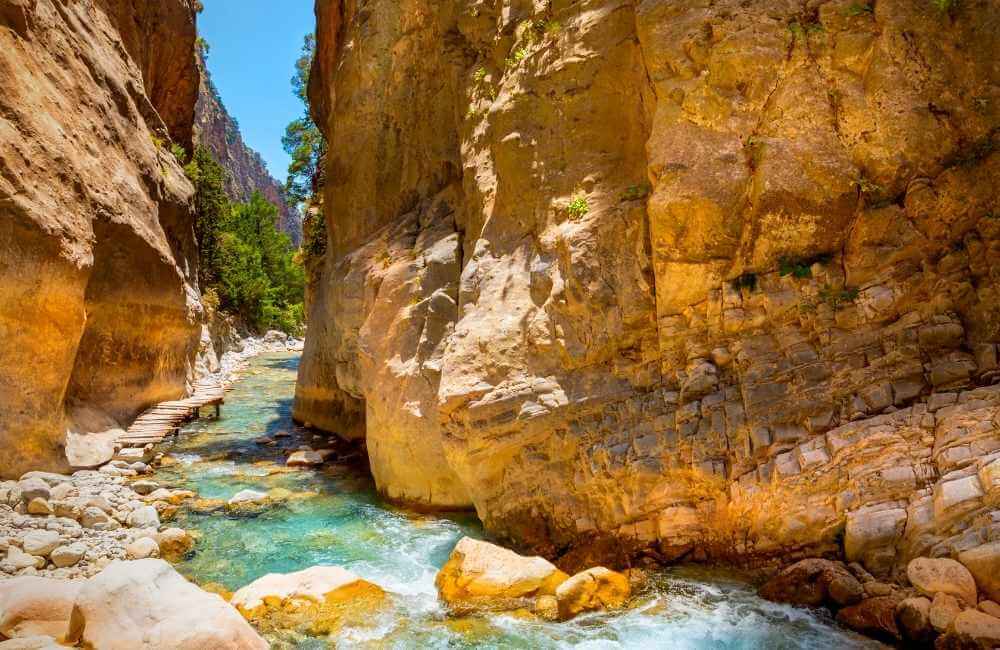 Knossos: This is one of the most famous archaeological sites in Greece, considered to have been an important city during the Minoan times. Read more.
Phaistos: The second-largest Minoan palace on the island that stands in a dramatic position on a hill overlooking the Messara plain in central Crete.
Heraklion Archaeological Museum: One of the most important museums in Europe, housing the largest known collection of Minoan artifacts.
Samaria Gorge: This is a stunning 13-kilometer-long canyon (often listed as the longest in Europe) with a spectacular path through rocks that soar into the sky. You can join a trekking group to visit while you make new friends in Crete.
Along the hike, you might spot unique trees such as the ambelitsa, and a famous local animal, the agrimi (also known as kri-kri, although this is not its real name).
The agrimi is an endemic wild goat that mostly lives in this gorge and in the uninhabited island of Theodorou, just off the coast of Chania.
Lake Voulismeni: Located in the Lasithi region, this is a beautiful lake once believed to be bottomless and is situated in the eastern town of Agios Nikolaos, connected to the sea.
Spinalonga: One of the most fascinating places to check out in Crete, this island is just off the coast near Plaka, an important archaeological site that once worked as a leper colony, you can read more here.
Top Places to Visit in Corfu
Mount Pantokrator: This is Corfu's highest peak (906 meters a.s.l.) and from the top, you can relax and enjoy the most amazing views of the Greek mainland, other Ionian Islands, Albania, and Salento the so-called heel of Italy.
Canal d'Amour: Located near Sidari, this is a long, rectangular creek with white walls made of sandstone of breathtaking beauty.
There is a tunnel that has been carved through the rock by the waves and local legend tells that any couple who swims through the tunnel and the length of the creek will marry.
Vlacherna Monastery: Featured on many postcards and famous images of Corfu, this religious building sits on an islet at the end of a narrow jetty at the Kanoni Peninsula.
Spianada Square: This is the largest square in Greece and is an entertaining place to visit as you will find local teams enjoying a cricket match (the game was introduced to the island by the British).
The Liston is its elegant arched promenade with endless coffee shops for sitting and spending some time people-watching.
You might also want to read: Best Things to Do in Corfu for a Great Adventure in Greece.
Sports for Everyone
Should you choose Crete or Corfu for sports? Both islands offer an array of water sports including snorkeling, windsurfing, water skiing, and paragliding.
There is the opportunity to rent your own bor to learn how to sail and there are mountain bikes and pony treks to get off the beaten track.
Greek Food: Which is Better, Crete or Corfu?
Great food is always high on any vacation wishlist. Whether you choose Crete or Corfu you will be delighted with the huge variety of traditional Greek dishes you can enjoy on both islands!
Delicious pastries and cups of Greek coffee can be enjoyed throughout the day too while main dishes include village-style salads (horiatiki), different meat cuts cooked over charcoal, and baked comfort food, such as moussaka or gemista are all widely available.
The best way to enjoy a variety of different dishes is to order a mezé platter which is like a tasting menu to share and consists of several traditional bites.
Cretan Food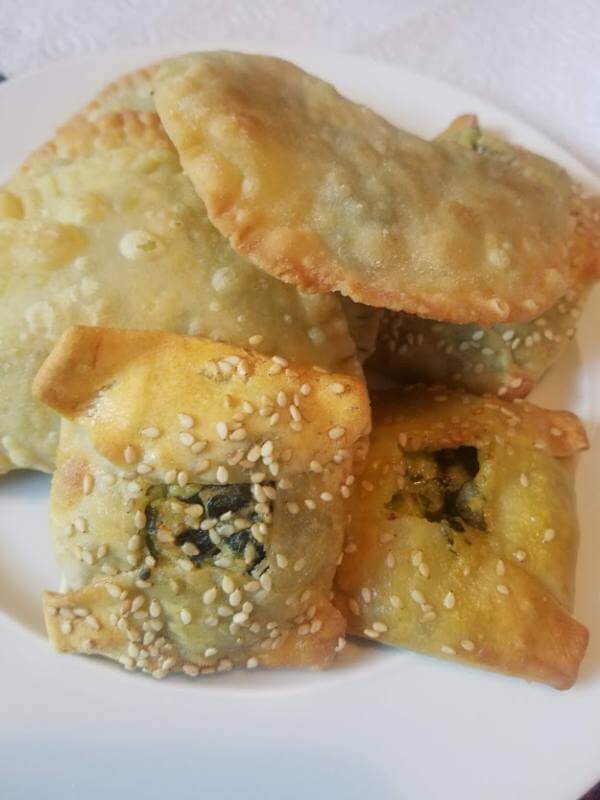 If you are holidaying in Crete, you must sample the local food. One of the best dishes you can try is Dakos, a large barley rusk that is softened with olive oil and topped with chopped tomatoes, capers, and crumbled feta or local myzithra cheese.
Kaltsounia are the local cheese pies while there are also many different kinds of cheese to sample, often made in mountain villages.
There are meat specialties too including smoked pork (apaki) or fried snails, also known as chochlioi boubouristi.
The island also produces excellent wine, tsikoudia which is the local spirit made from grapes but not aniseed.
Corfiot Food
Interestingly, foods found in Corfu have an Italian twist due to the Venetian rule of Corfu which lasted hundreds of years.
Corfiot cuisine is also distinctive as wine, garlic, and spices, like cloves, allspice, and cinnamon are regularly used.
Pastitsada is a really popular dish made of beef cooked in a thick tomato sauce with red wine and served on a bed of pasta.
Sofrito is another delicious island specialty often made of veal in white wine with plenty of garlic. Another traditional delicacy is fish Bianco, fish simmered in white wine and served on a bed of potatoes.
Looking for a more popular bite? Then check out nouboulo, which tastes a little like Italian prosciutto and is made with pork loin.
Wine production is more important in Crete than in Corfu, however, Greek wines are plentiful. Finally, there is also kumquat!
This bizarre fruit was brought to Corfu from China and it now grows abundantly in many regions. Today, this orange treat is used to produce jam, spoon sweets, and – of course – Corfu's famous kumquat liqueur.
Crete or Corfu for Family Holidays
If you have small children, Corfu is the recommended choice. Corfu is smaller in size so there are many day trips to enjoy within just a one-hour distance from your hotel, no matter where you're staying.
Crete, on the other hand, is much larger and journeys take longer.
Crete is better suited to teenage children, especially those interested in archaeology, water sports, and mountain biking.
Corfu or Crete: Which is Best for Island Hopping?
Island hopping by boat is a popular way to explore several islands in one holiday and Crete is the perfect location for those planning to island-hop to Santorini (two hours by boat), Paros, and Naxos (3.5 hours by boat).
In Corfu, you can cruise over to nearby Antipaxos and Paxos, or sail to Sivota.
There is also an excellent ferry service to Sarandë in Albania and It is possible to travel to Italy.
Crete and Corfu both have so much to offer as holiday destinations including more unusual activities such as olive oil tasting and cookery courses. In fIt be difficult to decide – even after research – which is the best destination for you! So, have you made up your mind? Are you visiting Crete or Corfu this year?
Read more about Greece
PLANNING A LAST-MINUTE TRIP TO GREECE?
Be sure to book accommodation and tours in Greece ahead of time to ensure availability!
🛥️ Book ferry tickets with Ferryhopper.
🛌 Find hotel deals on Booking.com.
🚘 Compare car rental prices with Discover Cars.
💳 In need of money? Use WISE as a digital card and top-up from the app.
🛌 Suggested Accommodation in Crete:
🗺️ More resources to book your trip to Crete
Pin it Now and Read it Later!
Choosing between Crete and Corfu for your Greek Vacation
---
You might also want to read these posts about Crete's regions:
---
About my blog: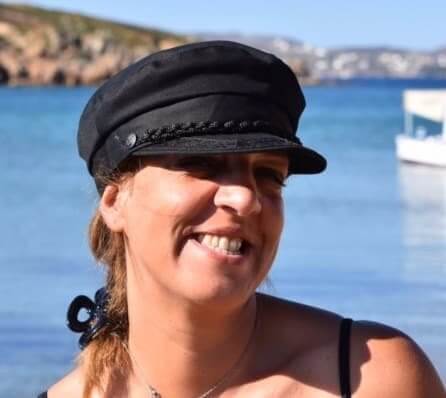 I moved to Crete in 2016. During these years, I learned much about the island.
In Crete, I juggle being a solo mom, hosting culinary tours, and writing for several travel media.
I've written for Greek Reporter, published travel guides about Greece, co-authored DK Eyewitness Top 10 Crete, and had more glasses of frappe than any regular person could ever handle.