Situated in a gorgeous location facing the Sea of Crete and only steps from the old town of Chania, The Five brings a polished twist to the Cretan culinary scene. A refined, seasonal menu, bursting in color and originality together with a curated selection of wines and creative cocktails… everything right in front of the most magnetic sunsets you could imagine… Do you need anything more? Let me introduce you to a true local gem: The Five, a special place ranking high among the best restaurants in Chania!
---
Disclaimer: Posts include affiliate links to products or services. I might earn a commission if you make a purchase, at no extra cost to you.
---
The Five Restaurant Chania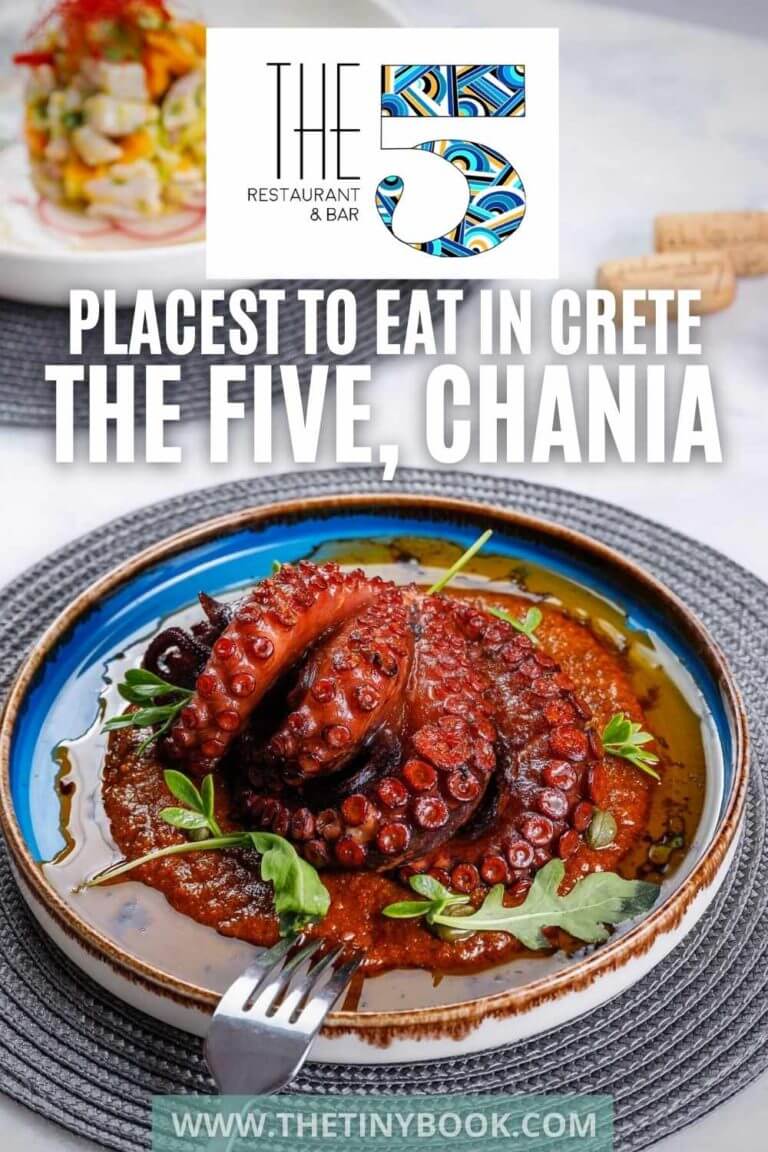 The Five, Chania – Review
Having opened its doors back in 2019, The Five Restaurant Chania has quickly made waves in the local restaurant scene. Featuring a fresh and super unique menu, with roots in the traditional products of Crete and the rest of the country, dishes conquer you with color, taste, and creativity.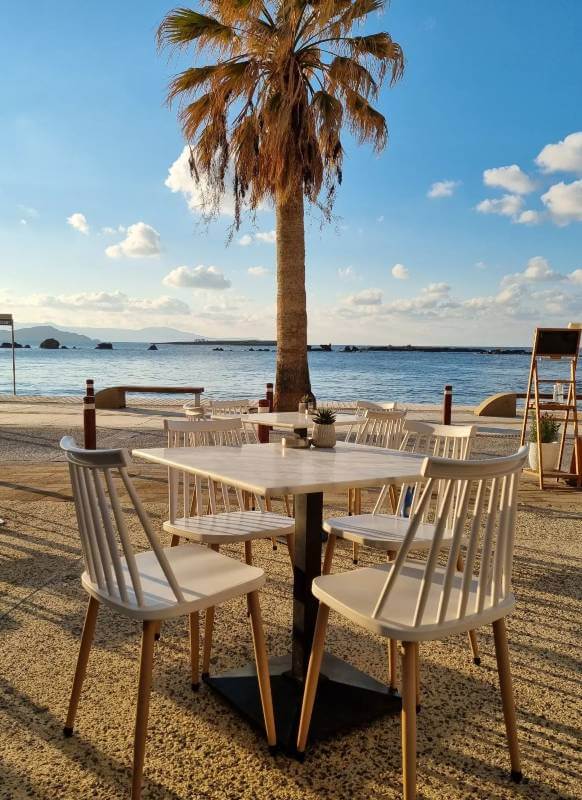 Although their menu slightly varies while seasons change, there are staples that you cannot overlook, including the crispy fried potatoes cooked with their skin and sprinkled with sea salt and oregano, a tasty taramosalata (an incredibly creamy dip made with cured fish roe).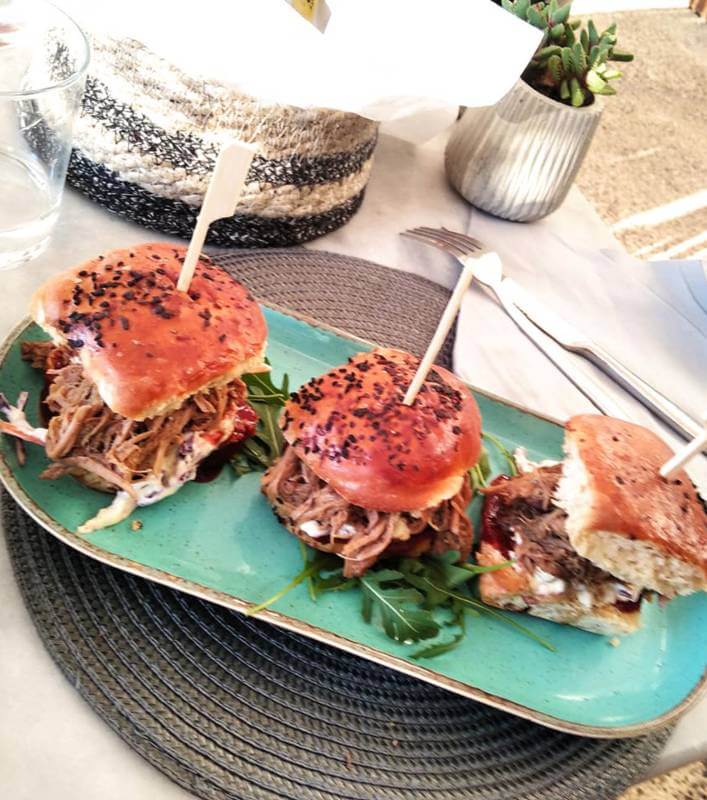 Want to try an outstanding dish? Go for the surreal trio of pulled pork sliders with homemade challah bread buns and coleslaw.
Rooting the Beetroot
The Five Chania has created an original carpaccio made with grilled beetroot served with a poached brunoise of root vegetables, a tantalizing cauliflower puree, crushed walnuts, and garlic oil.
My experience? It lasts seconds on the plate, literally seconds!
Thalassina – Seafood
With its incredible location just opposite the beach, nothing comes as natural as ordering a selection of seafood. My suggestion? Their octopus, in any version.
Whether it is the grilled octopus with sundried tomato pesto or the octopus meze with fava, you'll have a winner at the table. Do not forget to explore their ceviche (yummy!) and, if you come in autumn, their shrimp ravioli are nothing short of tempting.
Cretan Pasta? Yes, Please!
Have you ever heard of skiufichta noodles? They master this dish with an Italian-inspired carbonara sauce revisited with Cretan ingredients, including local smoked pork (apaki), baby arugula, and a generous portion of Anthotyro cheese.
For Small Humans
There's also a kid's menu that, trust me, is to die for. Kids will find comfort dishes they know everything about but made with passion, and with no trace of bland flavors. These include chicken meatballs and a selection of pasta. But if you're kids are bold enough to taste the menu created for "bigger humans", they won't regret it!
Oh, the Sweetness of Kerasma
The Five Chania has a creative selection of desserts to end up the experience. And no matter how luscious their sweets can be, nothing beats the simple creativity of their kerasma… Have you heard about kerasma before? Let me tell you about it.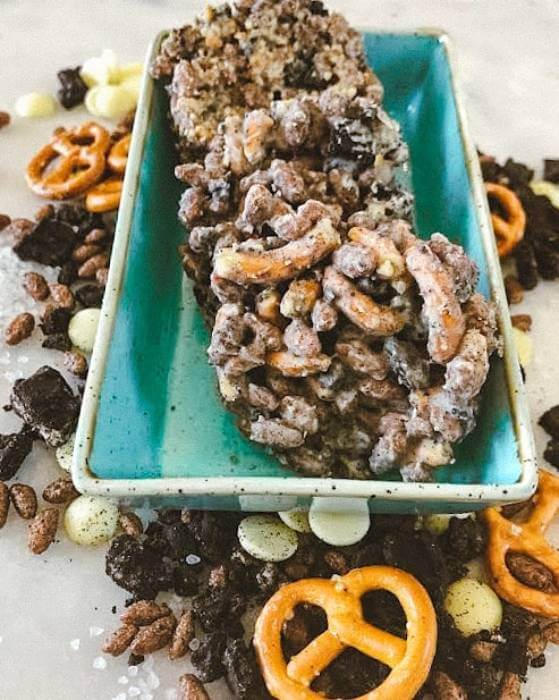 Kerasma is a common tradition all over Greece, but especially treasured in Crete, it is a small dish with a sweet bite, either fruit, yogurt with honey, or a small dessert often served with a small shot of tsikoudia, the traditional Cretan spirit also known as raki, after the meal (when you've ordered the bill, normally), and for free.
Almost every restaurant or tavern on the island serves its own kerasma at the end of the mean, but The Five has taken the tradition to the next level, offering these no-named simple bars made of just 5 ingredients: White chocolate, Pretzels, Rice cereal, Oreo cookies, Salt… They deserve a standing ovation!
The Five Experience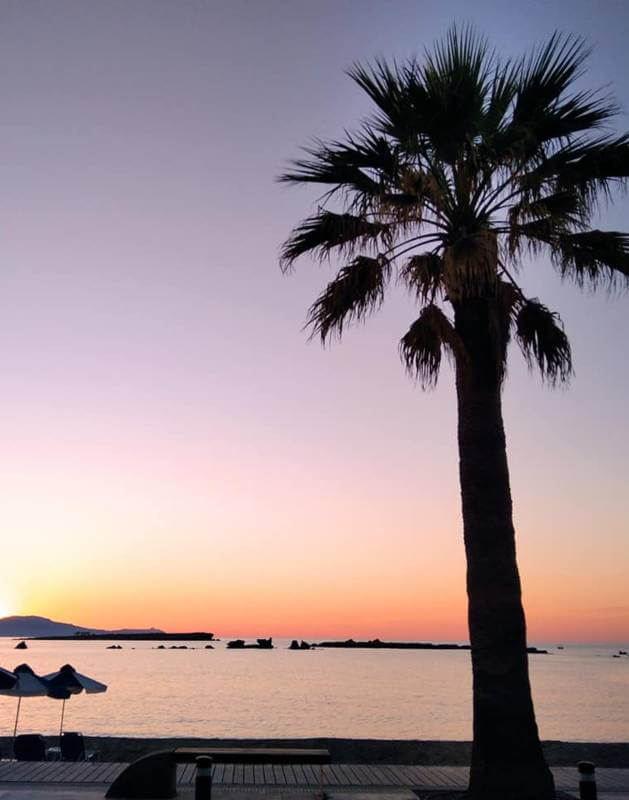 The idea behind the name? The five basic tastes — sweet, sour, salty, bitter, and umami — all of them send us a message that our taste buds decode not just to offer us pleasure, but also to tell us something about what we put into our mouth, so we can decide whether we should eat that…
The experience goes far beyond at The Five. The place appeals to all of your senses, from the stunning visuals of the seaside to the specially chosen aromas of their exclusive wine list and original cocktails.
As they state on their website, "This mission is simple: serve delicious, affordable food that guests will want to return to week after week." And I believe they have accomplished a lot more.
Kleopatra and Nikos, a young, enthusiastic, convivial couple will welcome you with a smile to the colorful vibe of The Five, take a few minutes to talk to them to learn more about their food ideas!
If you're around in Chania and have no idea where to go for brunch or dinner, or just to grab a bite and an original cocktail, check them out. You won't be disappointed.
The Five is at 15 Akti Papanikoli,
on the waterfront of Nea Chora, only 5 minutes from the Lighthouse of Chania.
Best Hotels in Chania
Affordable: Aelia Apartments or Polixeny's Suites in the old town.
Mid-range: Elia Estia in the old town and Civitel Akali Hotel in the new town.
Luxury: Casa Delfino in the old town or Domes Noruz by the sea.
Check also Chania Accommodation Guide and Boutique Hotels in Chania.
Let's Start by Getting Ready for Crete!
RESOURCES TO BOOK YOUR TRIP:
Book your flight: I use Skyscanner to compare prices before booking a plane ticket.
Book your ferry: When ferries are more convenient than air travel, I use Ferryhopper.
Book your accommodation: I've tried many different platforms for accommodation, but none of them beats the advantages of Booking.com.
Book your car: The best way to find an affordable car to rent is to use a powerful search engine that compares all the rental companies in the market. I use Discover Cars.
Book your tours: Live unforgettable adventures and cultural experiences with Get Your Guide. For instance, you can Visit Elafonisi, discover Balos Beach, hike Samaria, or explore Knossos.
Don't forget travel insurance: Things can go wrong at times, but travel insurance will protect you against illness, injury, theft, and cancellations. I recommend Safety Wing for peace of mind.
Chania City Break
Chania is a must-visit region in Crete… Hosting some of the most amazing beaches on the island, it also offers plenty of opportunities to find just the right entertainment. Whether it is one of the many coffee shops of the old town, one of its incredible restaurants, laid-back bars, or exciting places to visit for night fun… there are tons of places you can discover in town.
Still, I think there's so much more that you shouldn't miss in this region. Home to incredible hikes, and a dozen of water sports and seaside experiences, but also museums, and special areas to discover.
Parks, shops, impressive buildings, stunning examples of architecture, archaeological sites, and much more… there is a little bit for everyone in the Chania region.
Best Hotels in Chania
Affordable: Aelia Apartments or Polixeny's Suites in the old town.
Mid-range: Elia Estia in the old town and Civitel Akali Hotel in the new town.
Luxury: Casa Delfino in the old town or Domes Noruz by the sea.
Check also Chania Accommodation Guide and Boutique Hotels in Chania.
---
Wouldn't you love to try the dishes at The Five Restaurant Chania?
Let me know in the comments below!
You might also want to read these articles:
– Top Things to Do in Kissamos for a Relaxing Vacation in Crete – A guide to the best things to do in Kissamos.
– How Many Days in Crete? – A guide to discovering how much time you *Really* need on the island!
– Best Places to Stay in Crete – An insider's guide to where to stay on the island
– Chania or Rethymnon: Which Cretan City You Should Visit? – A guide to the best things to do in both Cretan cities.
– Beach Resorts in Crete: Wake Up With Your Feet on the Sand! – A guide to the best seaside hotels on the island.
This Deserves a Pin!
Pin this Review to The Five – Chania for Your Next Trip to Crete!
About the author of this blog: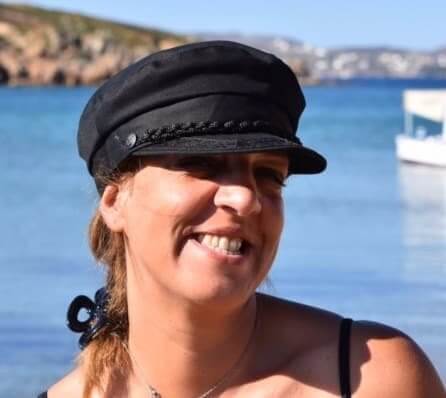 Gabi has been living in Crete for the last five years. On the island, she juggles being a solo mom, hosting culinary tours in summer, translating, and freelance writing.
She's written for Greek Reporter, published several travel guides about Greece, and had more glasses of frappe than any regular person would be able to handle.
---
COMING TO CRETE SOON?
Get in touch and let me know!