Crete is just so romantic! It has magnificent mountains and superb beaches. Enjoying the beautiful sunsets together is special and dinner for two in a local taverna is fun. Crete is a great location for young couples who enjoy action-packed holidays. Are you already planning your romantic breakaway? Start by learning which are the best places to stay in Crete for young couples!
---
Disclaimer: Posts include affiliate links to products or services. I might earn a commission if you make a purchase.
---
Best Places to Stay in Crete for Young Couples
Discover together the island's rich archaeological treasures, have a blast practicing water sports, and bond even more overtaking the challenge of hiking through Samaria Gorge.
A land made of dreamy landscapes, Crete is an awesome destination for a romantic holiday.
Choose a boutique hotel in Chania or the Old Town of Rethymnon. Some of them have rooftop jacuzzis, in-suite hammams, and super restoring spa treatments, a real must after the hassle of organizing a wedding.
Several places have become traditional destinations for a honeymoon in Crete. These are some of them.
Where to Stay in Chania for Romantic Couples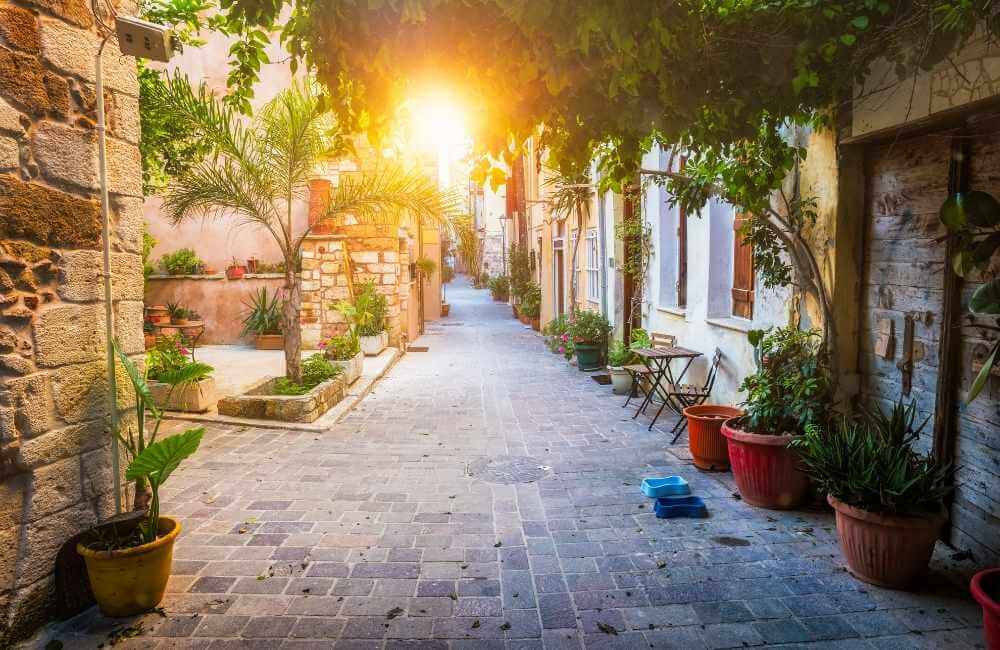 Nothing beats the magnificent sunset hour in Chania's Old Town when the skies are red behind the lighthouse, and the harbor turns warm and pink.
The picturesque old town of Chania has numerous winding alleys and impressive architecture as well as a pretty Venetian harbor.
It is fun to take a stroll together and enjoy a morning coffee in the sunshine or, at the other end of the day, to walk along the harbor before enjoying a sundowner while watching the evening sky turn burnished shades of gold.
Casa Delfino Hotel & Spa
For young couples who want a stay in the romantic old town
Casa Delfino Hotel and Spa – This beautiful hotel is situated in a seventeenth-century Venetian mansion in the heart of the old town. It's just a three-minute walk from the sea and less than 10 minutes from the nearest beach.
This is one of the best hotels for young couples as it has spacious suites and guest rooms with plenty of modern comforts including free Wi-Fi and marble bathrooms.
The buffet breakfast is excellent and the staff is welcoming. For those who enjoy relaxing in a spa, the hotel has a marble steam room and an extra-large tub.
On-site there are a sun deck, terrace, and garden for relaxing moments. The hotel offers an airport shuttle as well (at an additional charge).
Casa Delfino offers a variety of top-quality guest rooms and suites.
Click here for more information and the latest prices.
Alexis Hotel
For young couples on a budget
Alexis Hotel – This delightful family-run hotel overlooks both the town and the sea and is an ideal place for those on a budget.
The Alexis stands just a ten-minute walk from the beautiful beach of Nea Chora and Chrissi Akti, and a few more minutes from Agioi Apostoli, just over a mile from the center of Chania.
This hotel has comfortable air-conditioned rooms with balconies offering either sea or mountain views. And each guest room has a mini-fridge and free Wi-Fi.
The hotel's Theodosi Restaurant (one of my favorite restaurants near the center) offers a buffet breakfast and a wonderful array of traditional Cretan dishes for dinner – all made from fresh local produce.
Dinner is served on a patio with lovely views. Staff is happy to arrange wine tasting, Cretan cooking lessons, excursions, village tours, and dancing lessons.
There is a regular shuttle bus into town as well.
Click here for more information and to get the latest prices.
Joanna's Place
For young couples that want to discover the south of Chania
Joanna's Place – Situated close to the town beach in Paleochora, Joanna's Place offers simple but bright and spacious studios and apartments set in pretty gardens that stretch down to the sea.
It also features a small private pebble beach.
The place is tranquil and relaxing, perfect to spend time enjoying each other's company in this glorious corner of south Crete.
Each unit has a bedroom, bathroom, kitchenette, and dining area and a private balcony with panoramic views over the Libyan Sea.
Close by, you will find some of the town's best restaurants and water sports facilities for snorkeling and windsurfing. Besides, there is plenty of good hiking in the area.
Chania lies just 22km away. And if you want to share an even more romantic experience, the stunning rose-colored sands of Elafonisi Beach can easily be reached by boat or hire car.
And once there… why not try a dreamy self-made picnic on the sand after sunset?
Click here for more information and to get the latest prices.
You might also want to read The Most Romantic Things to Do in Crete.
Extra Bonus in Chania Region: Elafonisi
I know I've talked about this beach a lot… That's because Elafonisi is also one of the most romantic corners of Crete.
It can be isolated and wild in May or October, ideal for a romantic walk by the sea. Why not try a dreamy self-made picnic on the sand after sunset?
You can create beautiful and unique memories with your significant other. If you're an adventurous couple, hike to reach Kedrodasos, another — even more isolated — shore, for romantic swims and some alone-time soaking under the Cretan sun.
Where to Stay in Rethymnon for Young Couples
Rethymnon is a popular romantic destination and place for local couples to marry.
The old town gathers a beautiful collection of Venetian buildings, walls, and an ancient fortress, but also churches, mosques, and other historic buildings as well as winding passageways with pretty arches.
The town's old Venetian harbor is perfect for a romantic stroll and Fortezza, the Venetian fortress has stunning views over the ocean.
Melrose Hotel Rethymno
For young couples looking for a modern vibe
Melrose Hotel Rethymno – Sitting just 71 meters from the beach, this attractive hotel is the perfect place to relax with your better half.
Each comfortable guest room features a private balcony or terrace, individual air-conditioning, satellite TV, refrigerator plus coffee and tea-making facilities.
The Melrose Hotel has a swimming pool and restaurant which is open throughout the day.
The front desk is open 24 hours a day and there you can book car hire, boat trips, and excursion tickets.
The hotel is just a short stroll from the center of Rethymnon and all its shops and tavernas.
Click here for more information and to get the latest prices.
Barbara Studios
For couples looking for a tranquil getaway
Barbara Studios – Tucked away in a tranquil, romantic alley, Barbara Studios is set in a seventeenth-century Venetian building in the heart of the Old Town of Rethymnon It is conveniently located just 50 meters from the harbor.
There are both studios and apartments all of them traditionally furnished for both of you to choose from. with a kitchenette and fridge.
Facilities include a kitchenette and a fridge, a private bathroom, TV, and air conditioning, and some units have a balcony overlooking the courtyard or a side view of the sea.
Within a short walk, there is the local sandy beach, a supermarket, and the local bus station.
If you are fascinated by the island's archaeology, the town's archaeological museum is within easy walking distance.
Click here for more information and to get the latest prices.
Pepi Boutique Hotel (Adults Only)
For young couples looking for luxury
Pepi Boutique Hotel – One of my favorite places to stay in the old town of Rethymnon, this is place is on a tranquil but central alley.
Here, silence and relaxation are two of the words that could best define a stay in this boutique hotel.
The garden with the pool is one of my favorite features of this venue.
The area is an oasis in the middle of the town where you can spend hours enjoying a drink, reading a book, and in total peace…
You won't regret a stay here, especially when it comes to tasting their morning breakfast! Another key feature is its location in town, just a few minutes from the city beach.
It's also close to shops, museums, bars, and restaurants.
Click here for more information and the latest prices.
You might also enjoy reading: The Best Things to Do in Rethymnon.
Places to Stay in Heraklion for Young Couples
Situated on the island's north coast, Heraklion is a fantastic place to visit as it was once the port of Knossos, home to the Minoans, Europe's oldest civilization (2700 BC -1450 BC).
Knossos Palace and Phaistos Palace are both amazing places to visit.
Today, Heraklion is the island's main city and has so much to offer including beautiful beaches such as Agia Pelagia and main attractions such as an aquarium and fun water parks.
Casa Blu Boutique Hotel
For young couples looking for a fun escape in Hersonissos
Casa Blu Boutique Hotel – This attractive adults-only boutique hotel is situated just outside Heraklion in Hersonissos.
The hotel is about a 15-minute walk from both Limenas Hersonissos Beach and Glaros Beach but has its own gorgeous seasonal outdoor pool.
The rooms are spacious and comfortable with air-conditioning, a desk, and a flat-screen TV. Some of the guest rooms have a private balcony.
A fully English/Irish breakfast is served every morning.
The hotel has a 24-hour front desk with helpful staff to answer your questions. Casa Blu Boutique Hotel is 1.8 km from Aquaworld Aquarium and 3.4 km from Lichnostatis Folk Museum.
The hotel has a paid shuttle service to Heraklion Airport.
Click here for more information and to get the latest prices.
Ideos City Terrazza β
For couples after a cozy refuge in the capital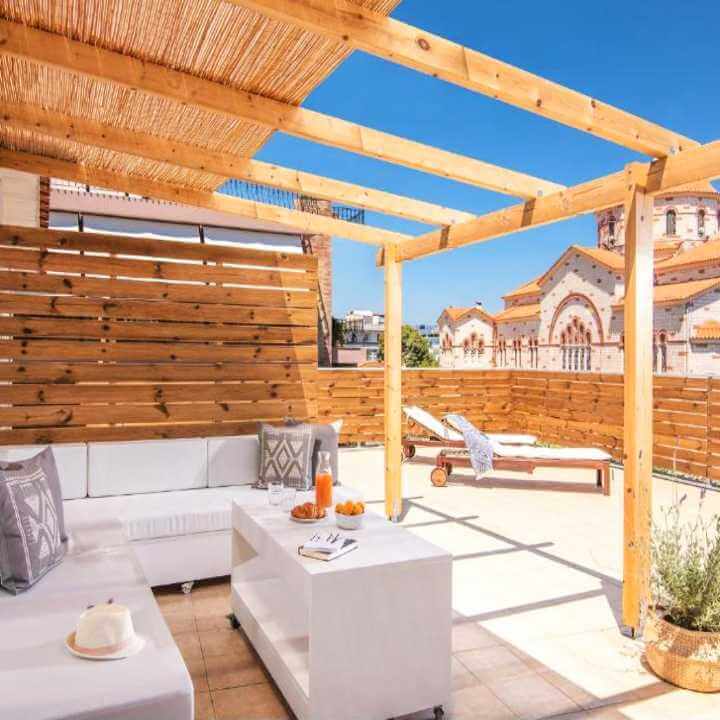 Ideos City Terrazza β – This beautiful modern penthouse apartment is situated in Heraklion, just a 13-minute walk from the city's Venetian walls and 2.4km from Amoudara Beach.
The apartment is on the second floor and is accessible by stairs. It is light, bright, and well-equipped for comfortable living. It also has a gorgeous balcony overlooking the domes of a city church.
The apartment has a seating area, a kitchen, cable television, and free Wi-Fi.
Close by there is a supermarket, bakery, restaurants, bus stop, and taxi station.
All the city's main attractions are within easy reach including Heraklion Archaeological Museum and other museums, art galleries, and the old harbor.
Click here for more information and to get the latest prices.
Athina Secret Apartments (Adults only)
For a romantic stay in the heart of the center
Athina Secret Apartments – Delightfully private but conveniently placed within comfortable walking distance of most places of interest, including Lions Square the harbor, and the Loggia.
The apartments have a fully equipped kitchenette with a fridge, flat-screen TV, and a private bathroom.
They also feature a private balcony and there is also a shared terrace and garden.
Heraklion International Airport is just four kilometers away and a paid shuttle service is available.
Click here for more information and to get the latest prices.
You might also want to read: The Best Beaches in Heraklion.
Romantic Places to Stay in Lasithi for Young Couples
One of Crete's most romantic landscapes is Elounda, on the Gulf of Mirabello, in Lasithi. A walk by the seaside, barefoot, and at sunset is as inspiring as it can get in this area of Crete.
In the same area, Other great local beaches include Voulisma and Kolokytha, a very special beach – known for its amazing turquoise waters.
Of course, Elounda is not the only romantic place in Lasithi. Agios Nikolaos, facing the same Mirabello Gulf, is the capital town of the Lasithi region standing on the coast of eastern Crete.
There is plenty to see there including Lake Voulismeni which is a freshwater lake in the middle of the town.
There are a few interesting museums and the Spirit of the Steps which is a contemporary art project.
Ierapetra is another Lasithi town located on the southern coast and it is also a unique spot for a romantic escape.
The whole coast of the region has beautiful sheltered beaches and crystal clear waters and is perfect for couples.
Elounda Heights (Adults Only)
To enjoy the exclusive and romantic atmosphere of Elounda (at a quite affordable fee)
Elounda Heights – Overlooking the beautiful Mirabello Bay and the Venetian Fortress on the island of Spinalonga is Elounda Heights.
The property offers its guests a selection of studios and one-bedroom apartments.
The rooms are light and attractive with a well-equipped kitchenette with a refrigerator and coffee-making facilities.
The guestrooms also have a lovely private balcony with panoramic views of the sea and mountains.
There is a pool bar where drinks and lunch can be enjoyed and there is a fitness center as well.
Activities from this spot include boat trips out to Spinalonga – once a leper island – and excursions into Agios Nikolaos.
Click here for more information and to get the latest prices.
Blue Paradise
For a romantic stay in the isolated south of Lasithi
Blue Paradise – This gorgeous property is situated just one minute from a small, quiet beach and a 15-minute walk from the stunning beach and village of Agia Fotia.
The one-bedroomed house stands overlooking a small bay with crystal waters. Inside there is an attractive bedroom and bathroom and a fully equipped kitchen with a microwave, fridge, and coffee machine.
Guests can enjoy some time outside, having a coffee or a romantic dinner at the furnished terrace. This is the perfect place for those who want to leave hustle and bustle behind.
And for those into more active holidays, hiking and fishing are some of the popular local pursuits.
Click here for more information and to check the latest prices.
You might also want to read: A picture-perfect day trip to Chrissi Island (from Ierapetra).
Halcyon Panorama Villas
For a romantic stay near the lake
Halcyon Panorama Villas – If you prefer the privacy of a villa, then check out this stunning place in Agios Nikolaos, near Havania Beach.
Among the things guests like there's free parking space and a beautiful terrace with barbecue facilities, facing the sea.
The air-conditioned units feature a desk, a living room, an equipped kitchen, a patio, and views over the pool.
Guests can swim in the outdoor swimming pool, go hiking or relax in the garden after a day at the beach or shopping in Agios.
Click here for more information and to check the latest prices.
Looking for More? Embark on a Romantic Day Trip to Santorini!
Yes, Santorini is not Crete, and yes, a day trip usually implies missing Santorini's romantic sunset.
However, a day trip to Santorini can be a superb romantic escape if you're on a budget and cannot afford a whole week or a honeymoon in Santorini.
Several companies sell one-day trips to Santorini from Crete, and some of these packages are real value for money.
Some of them depart from Agios Nikolaos (comfortable if you're staying in Elounda) or from Heraklion.
There are also departures from the port of Rethymnon. Other tours include the transfer to Rethymno's port from Chania.
Still, if your budget limits you a bit, you can easily book a ferry ticket from Heraklion (in Summer, also from Rethymnon), and enjoy your self-made romantic Santorini escape.
From April until late September, both Minoan Lines and Sea Jet Ferries have daily departures from Heraklion.
Sea Jet also departs from Rethymnon as of April 18th, 2020, on Tuesdays and Saturdays. You can also contact a ferry ticket company to take care of all your ferry tickets in Greece. Have you made up your mind? Which will be your next romantic place to stay in Crete?
Read more about Crete
Pin This Guide to the Most Romantic Places to Stay in Crete for Young Couples!
---
You might also want to find out more about Crete by checking out these posts:
---
About my blog: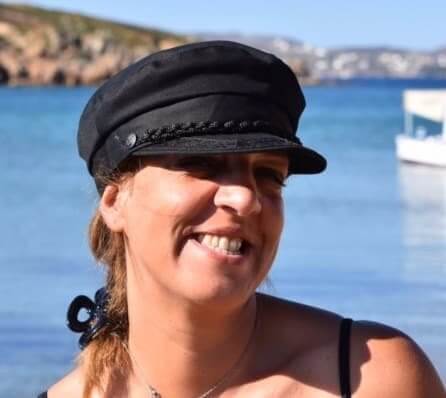 I moved to Crete in 2016. During these years, I learned much about the island.
In Crete, I juggle being a solo mom, hosting culinary tours, and writing for several travel blogs.
I've written for Greek Reporter, published travel guides about Greece, and had more glasses of frappe than any regular person could ever handle.