Collaboration post
One of the most beloved Greek islands, Corfu, is a unique destination for your holidays. The island has one of the most colorful coasts in Greece, with stunning emerald waters and a lush landscape.
Use this guide to plan your magical holidays in Corfu, discover everything about the island, and choose the best things to see and do.
---
Disclaimer: Posts include affiliate links to products or services. I might earn a commission if you make a purchase at no extra cost.
---
Top Things to Do in Corfu, Greece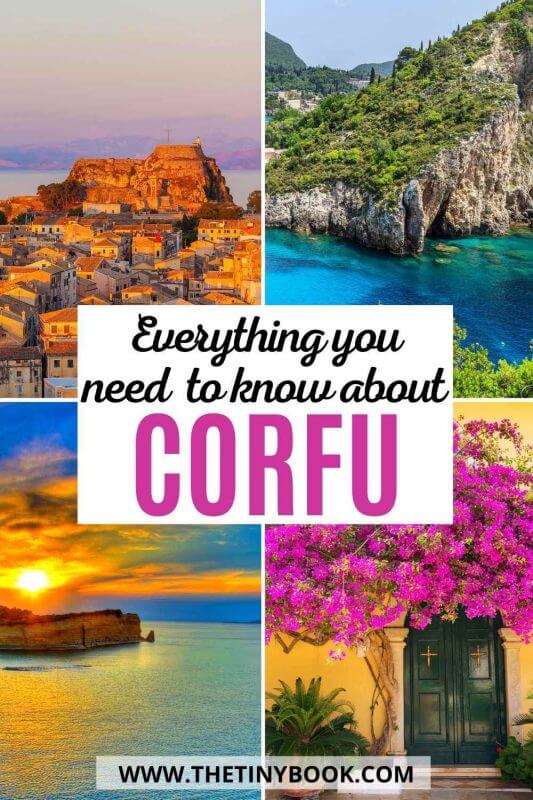 🛌 Suggested Hotels in Corfu:
Where to Stay in Corfu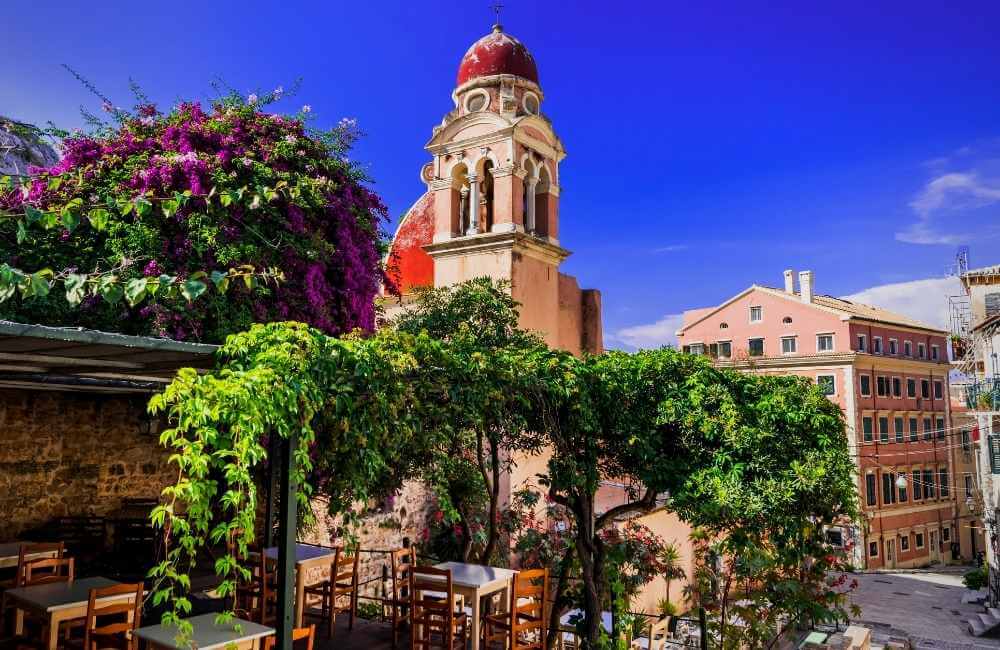 Corfu is a very popular Greek island receiving tourists all year round.
There are a lot of hotels, B&Bs, studios, and homes to rent for a stay on the island.
There are great places for all budgets and you can even get great fees for luxury accommodation off-season or booking early.
Budget stays usually range between €35 to €55 per night. Mid-rage accommodation goes from €60 to €90 euros per night, usually also including a rich breakfast.
Luxury usually means a stay for more than €100 per night. For a great stay on the island, I suggest you check these hotels.
Holidays in Corfu: Everything You Need to Know
Corfu is one of the most popular tourist destinations in Greece, and it's not hard to see why.
The second-largest Ionian island boasts beautiful landscapes with far more greenery than many other Greek islands.
The northern part of Corfu is mountainous and offers spectacular views to hikers. But even if you prefer to relax by the sea the gorgeous beaches of Corfu will invite you to spend hours in the sand.
As if that weren't enough, the capital Corfu has a picturesque old town, plenty of restaurants, as well as museums and other things to see and do.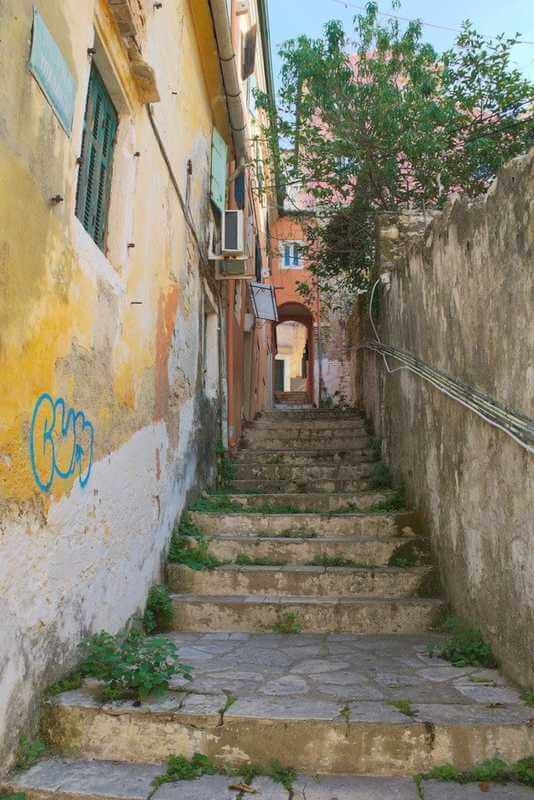 But what is most interesting about Corfu, or Kerkyra, as it is known in Greek, is the Italian influence you can find on the island.
Corfu was under Venetian rule for centuries, and when you stroll through Corfu Town the colorful facades of the houses will often make you feel like you're exploring an Italian town.
So to help you make the most of your stay on this stunning Greek island read on for the ultimate guide to visiting Corfu.
When is the Best Time of the Year to Go to Corfu
Corfu is an island you can really visit any time of the year because it has a fairly large population that constantly lives there.
As opposed to other Greek islands, life on Corfu doesn't only focus on tourism so you won't have to worry about getting bored.
In fact, you could visit Corfu Town even in the winter and be pleasantly surprised.
Of course, if you are planning to go to the beach you should book your trip for the summer.
But note that July and August can get quite hot on the island, and it's more humid than other Greek islands.
As the main tourist season for local tourists, summer is also the most expensive time to travel to Corfu.
A surprisingly great time to visit Corfu is around Greek Easter as the island's Easter customs differ significantly from those in the rest of Greece.
Aside from lots of music and church events, people throw pots from their balconies and windows!
How to Get Around in Corfu
The most common method of getting around Corfu is definitely by car.
There is a pretty good network of roads, and they are generally in good condition by Greek standards.
A car will also allow you to reach some very beautiful beaches that are less crowded than some of the major ones.
Another huge advantage of renting a car is that you can pack all your beach essentials and food for your trips.
The disadvantage is that parking can be difficult to find at some of the more popular beaches and sights.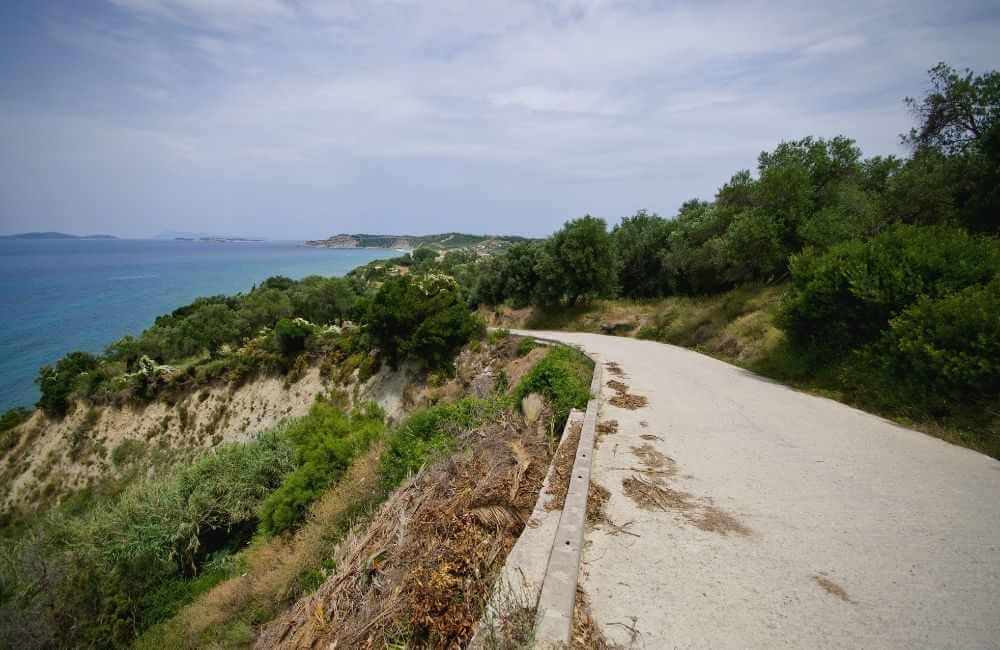 A popular alternative to cars in recent years has been ATVs. But keep in mind that in the summer these don't provide any shelter from the sun.
Driving long distances with them can be a lot more exhausting than in an air-conditioned car! If you still want to give it a try, check the prices here.
Scooters are a cheaper option to get around Corfu, but again, they cannot protect you from the sun, and long distances might be uncomfortable to drive.
For those who don't drive the Corfu bus system can be an efficient way to get around the island.
While it cannot take you to very remote places it's absolutely sufficient for seeing all the main sights, villages, and popular beaches!
Which car rental service is the best to choose?
If you want to rent a car for your trip and look for the best service, then I am here to help you! Consider choosing Discover Cars, an international car rental booking service present all over the world. This way, you will find the best car for your trip wherever you are!
Top-rated tours in Corfu
Guided Walking Tour and Local Food Tastings
Corfu – Ghost stories and legends
Parga, Sivota, and Blue Lagoon Full-Day Boat Cruise
Antipaxos & Paxos Blue Caves Boat Cruise
Transfer and passes: Private Minivan Airport Transfer
Best Areas to Book Accommodation in Corfu
Your interests and your transportation means should decide where in Corfu you look for accommodation. There are hotels and Airbnbs all over the island.
If you want to do more than just experience the beaches, Corfu Town might be ideal for you.
This is my selection of pretty holiday homes on Corfu island
The capital is located very centrally on the east coast of the island, so you can explore all parts of the island from here.
Staying in Corfu Town will also allow you to take advantage of public transport options.
While a car will help you get to more remote beaches, it is entirely possible to have a good time on Corfu without your own vehicle.
If you want to relax in the less busy parts of Corfu the southern part of the west coast might be ideal for you.
Here, you can still find empty beaches in the height of the summer (provided that you have a car/scooter).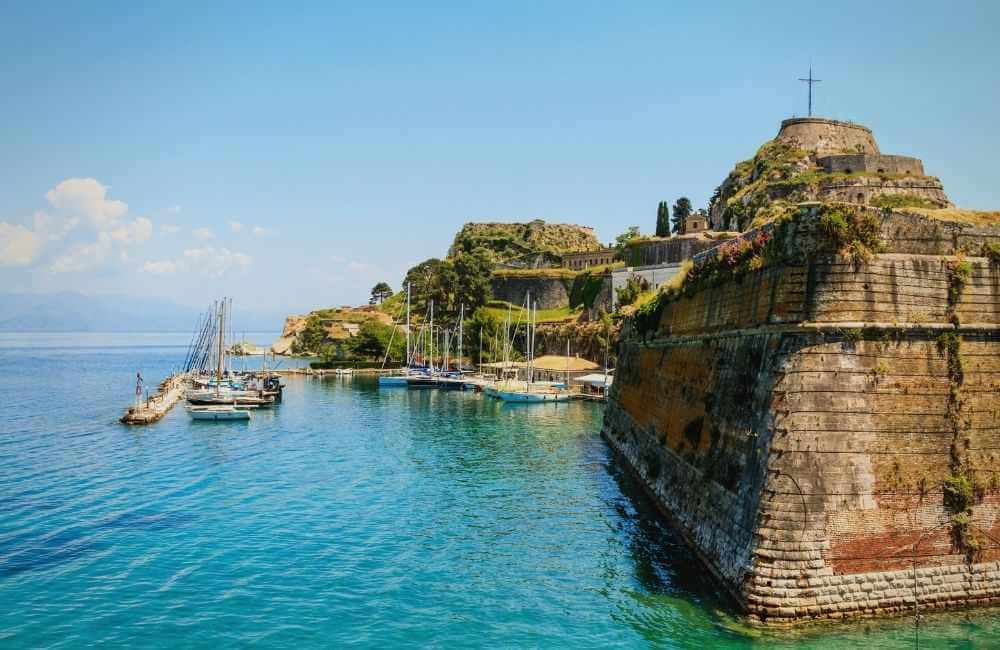 The southern tip and particularly the southeastern part of the island is a favorite among families with children. The beaches receive fewer winds and don't attract the party crowd.
The northern part of Corfu is perhaps the most popular part of the island. This is where you have the mountains, the lush greenery, and some of the most stunning beaches.
However, accommodation is generally more expensive here, and the beaches can get quite crowded.
Top Things to See and Do in Corfu
In no particular order of importance (or beauty!), these are some of my favorite things to do in Corfu, Greece…
Tour the Achilleion
Austrian Empress Elisabeth, known as Sisi, had this palace built in 1890, a year after her son's death.
The summer residence in the village of Gastouri revolves around the mythical Greek hero Achilles (hence the name).
The Achilleion functions as a museum and can get quite busy during the summer months, but be sure not to miss it on your trip to Greece.
Check ferry availability and book your ticket here!
The sculptures and paintings in the palace clearly speak of Sisi's love for Greek mythology and culture, but the best thing to see is the statue of Achilles in the garden.
From here, you also have a fabulous view of the island.
This tour is great value for money, it allows you to check out three of the most popular sights of Corfu on a private tour: The Achilleon Palace, Mouse Island, and Corfu Town.
Head to the Best Beaches in Corfu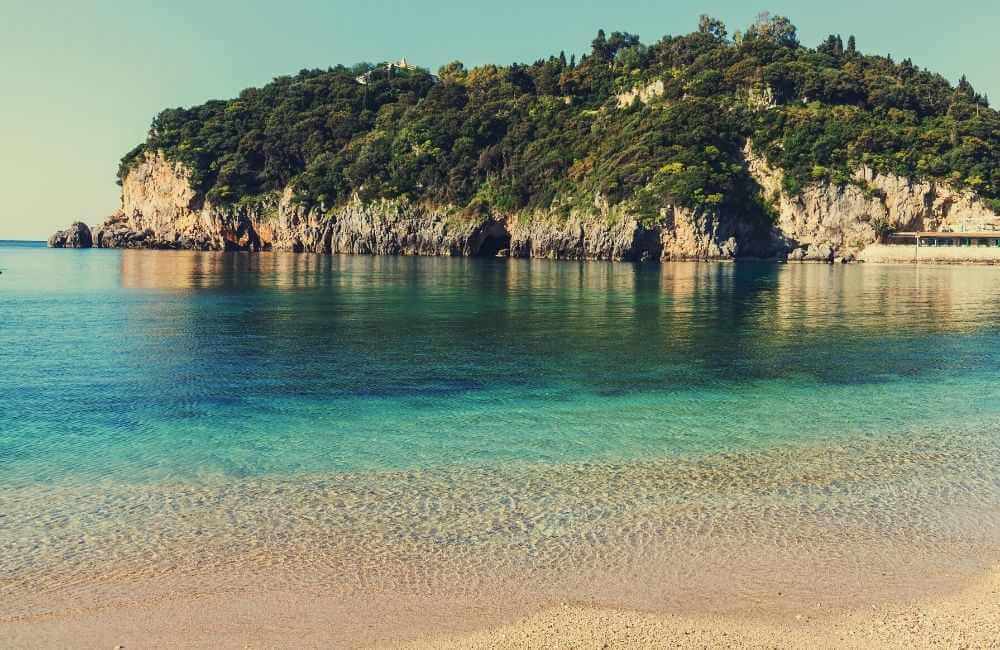 Although there is much more to see in Corfu than its beaches they are in fact some of the most gorgeous beaches you will find in Greece.
As a general rule, the beaches in the south are popular with families, especially in the southeast, as the eastern side of the island is far less windy due to its proximity to the mainland.
The beaches in the north are surrounded by lush greenery making you wonder whether you are in Asia or Europe!
If you get around Corfu by car you can find very quiet beaches with few other tourists.
Some of the best beaches in Corfu are Marathias Beach, Halikounas, Issos, Prasoudi, and Palaiokastritsa. But more on those later!
Stroll Through the Old Town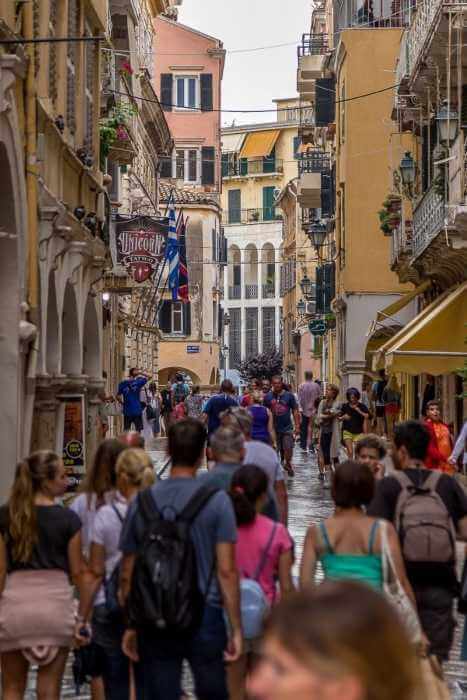 Corfu's old town is a UNESCO World Heritage site and will make you fall in love with its colorful houses.
The advantage of traveling to a bigger island like Corfu is that you can experience more of the everyday island life year-round.
While many islands are almost empty off-season, Corfu has a university and as such a very active life that doesn't revolve around tourism.
At the heart of the old town lies the old Jewish quarter with a small synagogue.
And although many of Corfu's Jews were deported during World War II there is a small but proud community to this day.
Corfu's old town is also where the Venetian influence on the island is most visible, and when you show people pictures from there they will almost certainly ask you if you traveled to Italy.
Plus, Corfu is known as a very musical town, and in the summer you will see a free concert almost every day.
Whether it's a group of children practicing for a performance or a small band playing their own songs, the alleys of Corfu's old town are a delight for the ears.
On top of that, Corfu has several marching bands which is quite a unique characteristic in Greece.
Exploring the old alleys of Venetian Corfu is truly easy. However, if you also want to learn about the history and the legends of this magnificent town, booking a good walking tour led by a local can make all the difference.
Visit Hlomos Village
This beautiful mountain village in the south of Corfu offers beautiful views of both coasts and is an amazing place to watch the sunset!
To reach Hlomos you have to drive up a very steep road into the mountains, but it's absolutely worth it.
It's not a village that gets a lot of visitors so you will most likely spend your time mainly with the local population.
The architecture of the houses around the main square shows its Venetian influence with colorful facades. A lovely village for a stroll on a summer evening.
Take In the Views from Kaiser's Throne
Kaiser's Throne in Pelekas village has some of the best views on the entire island!
And despite the fabulous panorama it provides, it's not as busy as one would think.
Of course, the views make it another excellent spot to watch the sunset (or sunrise if you manage to wake up early!).
It's also a great spot for stargazing and was, in fact, used as an observatory for German Emperor Wilhelm II who spent his summers in Corfu.
Discover the Best 7 Beaches in Corfu
No matter how many amazing things you can see in Corfu, the vast majority of people traveling to a Greek island want to spend at least some time on beautiful beaches! In Corfu, this is extremely easy as there's a huge variety of beaches for all tastes.
Whether you want to party, see a romantic sunset, let your children enjoy the Mediterranean Sea, relax by yourself, or surf or do other water sports, all of that and more is possible on Corfu's beaches.
These are some of the best beaches on the island.
Palaiokastritsa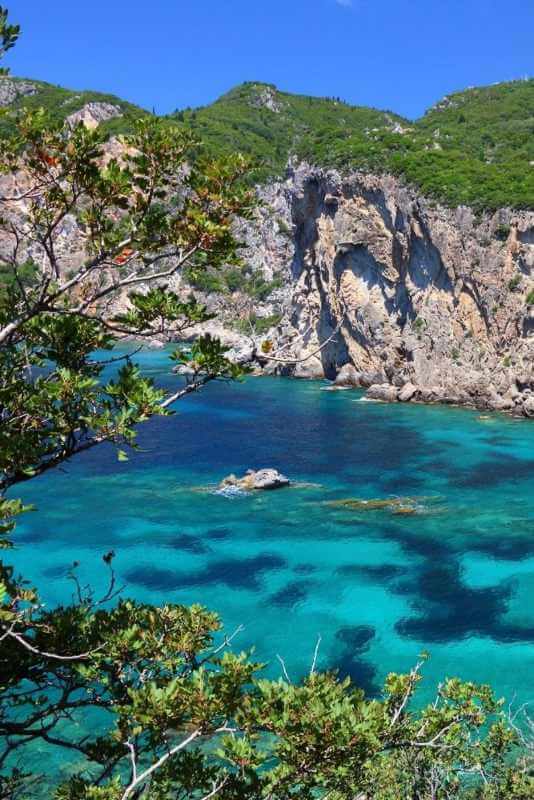 Undoubtedly, the most famous beaches in Corfu are the breathtaking beaches along the bays of Palaiokastritsa in the northwest of the island.
The abundant vegetation on the cliffs makes for spectacular views, and while the beaches do get crowded during the high season, you will understand why as soon as you arrive.
If you don't feel like driving there, this private tour combines a morning in the nearby Holy Monastery of the Virgin Mary and a free afternoon at this beach.
Marathias Beach
This large, sandy beach is located in the southwestern part of Corfu and has been awarded a Blue Flag award for its clean waters.
It's an organized beach with everything you may need, from loungers, to umbrellas, and music.
The most appealing thing about Marathias Beach is certainly the sand's orangy golden tone. If you walk south from the organized beach you reach a quieter section of the beach.
Issos Beach
Just a 15-minute drive from Marathias Beach you can find Issos Beach, a long, organized yet quiet beach that is perfect for taking in the sun and sea.
In the evenings, it can be almost empty and the sun creates a gorgeous light over the sand dunes.
Halikounas Beach
Another few kilometers north of Issos you will see Halikounas beach.
Curiously, the two beaches are mainly separated by the impressive Korission Lagoon, so it's not easy to walk directly from Issos to Halikounas.
Halikounas Beach is highly popular with wind and kite surfers, and although it's one of the most beautiful beaches in Corfu it's never really crowded even in the summer.
Kalami Beach
While many people prefer sandy beaches there are quite a few who like pebbles simply because you and your beach items don't get covered in sand!
One of Corfu's best pebble beaches is Kalami Beach on the northeast of the island.
The pristine waters are very calm due to the proximity to the Albanian coast making this a fantastic beach for families with children.
Prasoudi Beach
Prasoudi Beach is a little bit difficult to get to, but the journey through the olive groves is absolutely worth it.
The beach is quite small but never crowded, and the views are excellent as the beach is right below the cliffs.
The water is very clean and warm, and you will not want to leave this beach!
What Souvenirs to Buy in Corfu
Before you have to leave Corfu you will want to purchase something to take home with you.
Something to remind you of this beautiful Ionian island, its beaches, mountains, and lovely capital.
Of course, the typical souvenirs such as magnets or key chains are for sale in Corfu as well, but there are some special products on the island that you cannot easily find elsewhere.
Corfiot Sweets
You may not think of Corfu when you think of sweets, but Corfu Town is home to Rosy's Bakery where you can find the best baklava in Greece (a US travel show even filmed there!).
The best part is that Rosy also has vegan baklava and sweets making her bakery one of the best options for vegans in Corfu.
Because if you check this detailed vegan guide to Greece you will see that baklava is not usually vegan. Once you've tried a piece you'll definitely want to take a box home with you.
Kumquat Products
Corfu's most interesting local ingredient is the kumquat fruit, a citrus fruit that is used in the preparation of sweets (Rosy also makes kumquat sweets) as well as liqueurs.
But be sure to try it before you buy it in case it's not to your liking. If you want to learn more about Kumquat, head here.
Olive Oil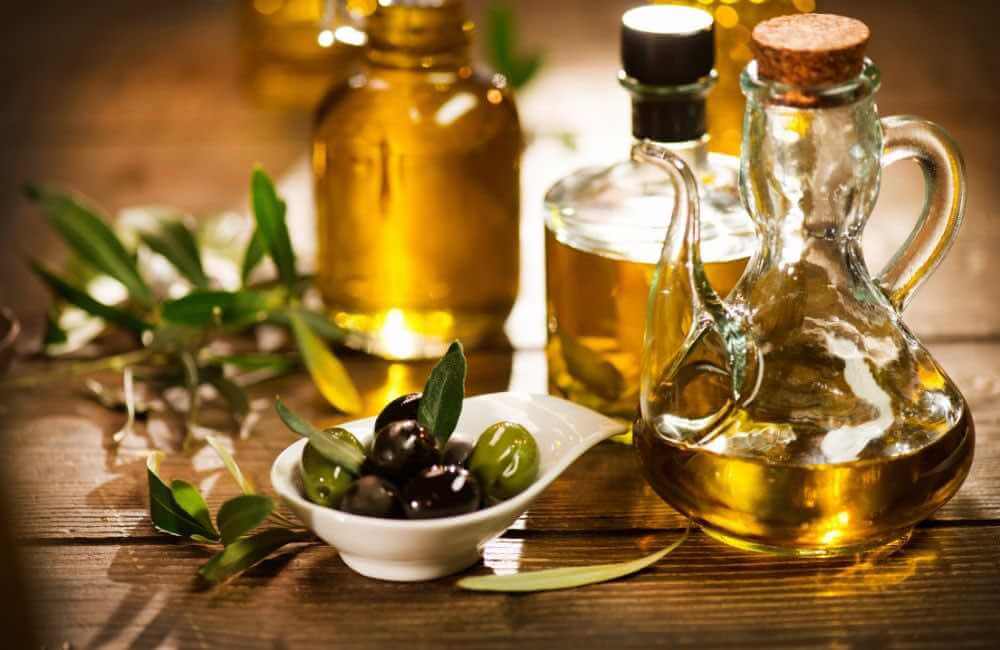 There is no doubt that the olive oil in Corfu is of exceptional quality so you should definitely consider taking a bottle or two home with you.
That way you can recreate some of the Greek dishes that you tried in Corfu and keep that typical flavor.
Olive Soap
Corfu Town is also home to one of the last manual soap factories in Europe.
Patounis Soap Factory is a family-owned factory that offers guided tours and sells different types of olive soap. Only the purest ingredients are used in their products, so stock up on their soaps.
Your skin will thank you for it.
So with all these amazing things to see, do, and buy on Corfu, what are you waiting for? Book your trip to Corfu now!
Are you planning your next holidays in Corfu? Let me know in the comments below!
Read more about Corfu
Pin this Guide to Remember What to Do in Corfu For Your Next Holiday in Greece
About the Author: Nina is a travel content creator who has traveled to more than 20 countries on three continents. Born and raised in Germany, she loves exploring the world through vegan food. She is the voice behind Lemons and Luggage, a travel blog dedicated to vegan and responsible travel. You can follow Nina on Instagram and Facebook.
---
You might also want to read these travel posts:
---
About my blog: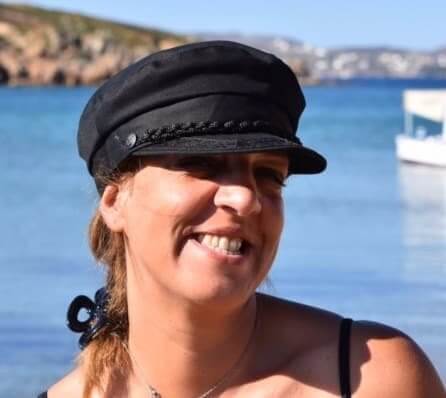 I moved to Crete in 2016. During these years, I learned much about the island.
In Crete, I juggle being a solo mom, hosting culinary tours, and writing for several travel blogs.
I've written for Greek Reporter, published travel guides about Greece, and had more glasses of frappe than any regular person could ever handle.