Does everyone know that Crete is a great place to visit all year round? Of course, with its kilometers of amazing beaches, it makes the perfect summer destination, no doubt about it. However, the island can be a fantastic place to escape from the gloomy winter of northern Europe… want to know why? Read on to discover the most powerful reasons to visit Crete in winter!
---
Disclaimer: Posts include affiliate links to products or services. I might earn a commission if you make a purchase.
---
Things You Didn't Know About Crete During Winter
If you are a regular to the island, you might even recognize its landscapes during the colder months, and that alone will be a reason to love Crete in winter.
As a personal experience, let me confess… Before moving to the island, I had never seen Crete in winter.
Imagine how it came to me as a surprise when I found out that I had chosen one of the coldest winters that the island ever saw to move to Crete!
One of the reasons I moved to Crete was to escape the cold Italian winters that I had been enduring for over twenty years. Milan can get pretty cold and snowy… and – in case you didn't know, I despise cold weather!
It was amazing to find snow in the town of Chania during my first month on the island. But locals assured me, and then I learned from experience, that is not the usual thing.
It does snow high in the mountains, but yes, I never saw snow again in the city… 5 years and counting!
What is Winter in Crete Really Like?
To be honest and fair, we never know what the upcoming winter will be like in Crete, and that is the real answer.
Some people like to say that when we have a very hot summer we are up to a very cold winter. And that has not been the case every year so far.
Others claim that humid weather will bring a rainy winter, and again, it hasn't always been like that.
I haven't been on the island that long, but I can say that I've seen a different winter every single year.
I have even put summer clothes away in October, after the first winds and rains, to then find myself desperately looking for a tank top to wear on Christmas morning… Exactly, right at the end of December!
So far, in only 6 years, I have experienced:
Short but extremely cold winters with snow on the coast.
Hot winters in which you do not even need to turn on the heating, with days when you can swim in the sea. In that kind of weather, you can expect temperatures to drop from one day to the other, but not always!
(See? Crazy winter weather!)
Mild winters with drizzle, light rain, heavy rain, and even floods.
Crazy winters, often terribly windy, alternating sunny and cloudy hours on the same day, and with temperatures jumping from 25°C to 8°C in a question of hours…
You really never know. Really never!
Here, is a collection of photos from my winters in Crete during the last 5 years, check the clothes, the weather… and you tell me about it.
So, Why Should You Come to Crete in Winter, Then?
Here are some, but not all, of the reasons to visit Crete in winter…
To Experience a Different Landscape on the Beach
I don't say you will be able to swim, I have rarely done so myself (but remember, I do hate cold weather with passion, so don't take me as an example), but my kids have. No trace of cold or fever after.
And many people do. Mostly those who trade their colder European homes for a winter on the island.
Crete does see a big number of tourists and semi-permanent residents who spend the winter here instead of in their homelands (aka England, Belgium, and Germany, to name a few).
They say that the secret to swimming in winter is to keep in mind the outer temperature and convert that number to the minutes you will swim.
For instance, if it is 10 degrees outside, then you should stay in the sea for 10 minutes only. Of course, you can go back for another 10 minutes a while later.
I've heard this suggestion a lot, and I cannot say whether it is true or not. What I do know and this comes from my own experience, is that when you are in the water your must move: kick, turn, jump, and swim.
Well, at least I would never be able to just float at sea in winter, but yes, I can easily go for a picnic on the sand and even wear a bikini!
To Taste Crete's Amazing Wines
Everything starts at the end of summer when the harvest begins in every winery on the island.
In winter, it is time to open some of those new bottles and taste Cretan Wines.
The wine season begins – kind of officially – during mid-November, with Wine Tourism Day, when virtually all wineries in Crete open their doors for a weekend of wine tasting and wine learning.
The amazing experience continues with the Oinotika Wine Fair, held both in Chania and Heraklion anywhere from January to the end of February.
There is also the Cretan Wine Fair in Athens too, but that's another story!
Check the top wineries in Heraklion, Crete, that you can also visit in winter!
Because in Crete, Prices Go Down in Winter
In winter, prices tend to go down, except for the prices for heating, but that's an issue for us locals (don't get me started on this). You won't have that problem, so no worries here.
Many hotels on the island close their doors until the following season, although some of them stay open all year round, and many are nothing but perfect winter refuges, such as the Milia Mountain Retreat in the White Mountains or this unique (and huge) mountain resort near the Psiloritis, in Rethymnon – nothing short of perfect for a different Christmas!
Several hotels are also open in winter in the old towns, because, let's face it, Crete's historic centers are truly beautiful, empty, and not that cold.
And accommodation prices do go down by a lot.
Also, the cold season is a good moment to book your summer hotel, prices are more convenient and you will certainly find that sea view suite available in December!
🛌 Suggested Accommodation in Crete:
🗺️ More resources to book your trip to Crete
Prices are also discounted for attractions during winter in Crete. In most archaeological sites and museums, you will get a cheaper fee by default.
In fact, in many of these places, they won't even bother asking if you are a resident or not.
If you like shopping, then you can be in luck. Although some tourist shops indeed close during winter, others do remain open and they are eager to sell because — as you might have already guessed, sales are down in winter.
So, in most cases, you won't even need to ask for a discount, they will offer it without you even bargaining.
To Enjoy Water Sports!
If you are into surfing, kite surfing, or even sailing, Crete has great opportunities.
The waves during winter are incredibly high in places where those sports are traditionally popular also in summer (such as Falasarna), and there is nobody around. Peace, relaxation, and an active winter… Perfect!
Sailing is also a thing that you can see around a lot. During sunny days, it is not uncommon to spot sailing boats on the bay of Chania, or in the port of Heraklion.
You can enjoy some excellent sailing conditions provided northern winds are not particularly furious.
Stating the Obvious: To Experience Christmas in Crete
The same as I do not like winter, Christmas is not my favorite time of the year, neither in Crete nor anywhere else on the planet.
And although I have come to make peace with the holidays during the last years, I still do not get excited about all that Christmassy merriness… Yet, I admit that the island has made it more tolerable.
Since Christmas is not the most heartfelt celebration in Greece, coming a close second after Easter, it is easy to pretend that Christmas does not even happen. You just need to know where to go.
Seek refuge in a lost mountain village, and the game will almost be done.
And, in the same kind of opposite way, if you allow the contradiction, it is still possible to discover a true Christmas spirit (commercial traps and all) on the island.
There will be Christmas trees, Christmas boats, and Christmas food everywhere… And I've written a bit about it too.
So there you go, if you like Christmas, you can find a different, yet familiar Christmas spirit. If you don't, you can easily forget about it if you look for the right corner where to stay.
To Drink Raki in a Different Way
Winter is also the time for Rakokazana… the unique Cretan celebration that takes place during November and sometimes even December when the new tsikoudia (or raki) is distilled and tasted in endless celebrations.
Tasting raki at a rakokazana is not like having a shot of raki after a light summer meal in the local taverna. This is the real deal.
Expect to drink a lot, eat a lot, and probably leave drunk and need someone else to drive you back home.
The raki you will taste at a rakokazana is more often than not protoraki, something I discussed in my article about raki.
Protoraki is the first tsikoudia that is produced and it has not yet been diluted, so it is extremely high in alcohol volume and pretty likely to blow your mind (and liver) away.
A shot of protoraki will have your throat burning for hours, And you won't feel cold even if it's snowing. Plus, you will make friends, learn about a very unique local tradition, and probably even end up dancing a Pentozali and singing in Greek without knowing a word of it…
And that's the beauty of rakokazana!
PRO TIP
If you do not like spirits, during winter, hot chocolate is a traditional drink in many local bars and cafeterias. No matter whether it is a posh coffee shop in Chania (there are so many!), a traditional cafeteria in Rethymnon, an old kafenio in Lasithi, or a bar in Heraklion, hot chocolate is the way to go.
Looking for alternatives? Yes! A cup of dense Greek coffee, or a hot Malotira tea from the White Mountains. Divine!
Crete in Winter is a Must For More Obvious Reasons Too!
We all know that winter in Crete is something different. It is cold, but not so much, and this lets you do many things that it is a pain in the neck to do in summer.
You won't sweat profusely because it will not be too hot. Hiking, walking, and visiting open-air attractions can be more bearable than under the summer sun.
You won't spend endless time waiting in line
Prices are lower and places are emptier, there are no crowds, so exploring famous sites, such as Knossos, can be fun and pleasant.
Locals are kinder and have more time to talk with you and share their local knowledge…
Water is back on the island after the rains start at the end of October or November, Crete is now green and the landscape lush, with no burned grass and bushes from the sun nor barren scenes. Many of the higher peaks are covered in snow (generally from December) making everything magical, and much more beautiful.
How to Get to Crete in Winter
Although every year we hope for a change, it looks like the local government believes that it is possible to promote winter in Crete without flights and a serious lack of infrastructure (yes, don't get me started on that either!). Anyway…
This means that getting to Crete in winter is not the easiest thing to do. But hey, it is not impossible, Amen to that!
✈️ Find cheap flights with Skyscanner.
Currently, there are no direct international winter flights to Crete, which means that those coming from the rest of Europe and even the rest of the world, will have to land in Athens (or Thessaloniki) first, and then fly to Heraklion or Chania.
Heraklion, being the capital of Crete, offers more choices for frequency and airlines arriving on the island. In general, prices are ok, not as convenient as a charter flight in summer, but also not so expensive since not everyone visits Crete in winter. Of course, expect prices to go up – by a lot – around Christmas.
⛴️ Check out ferry ticket fees and schedules
As an alternative, you can board a ferry boat in Athens, at the port of Piraeus, and sail all night to wake up in Chania or Heraklion.
This is a daily route, unless, of course, crazy winds hit the Aegean (it happens at least once or twice every winter) and your ship won't depart. You will be put on the next ship at no extra cost, so no worries.
What to Pack for Crete in Winter
I've written a very extensive packing list for Crete which also covers the cold season, so you can take a look at it and get some inspiration from it.
As a general rule, think in onion terms and you'll be fine. Layers are key!
Layers made of natural materials, such as cotton and wool will keep you warm and help you avoid sweating from too much layering (don't you hate when that happens?).
Remember to add clothes that dry easily, in case you get caught in the rain.
Also, add a light raincoat, and a packable jacket if you do not plan to go to the mountains, it will be light but enough for the city, to visit a winery, a museum, a monastery, or an archaeological site.
I wear something like this down jacket and it is often enough (here is the men's version of it). And I love it! Easy to roll, pack, compress, and forget at the bottom of your backpack, but always there in case of need, and weightless.
Pack a heavier jacket if you are thinking of exploring the White Mountains, hiking the Psiloritis, or visiting the Lasithi Plateau.
Pack a pair or two of leggings, which are great to use as an extra layer under regular pants if the weather gets very cold.
Add a fleece or a hoodie, long and short sleeve t-shirts (because yes, you will need both), and as many pairs of socks as you want.
LOCALS KNOW:
You can leave the house or hotel room in the morning with two sweaters on and feel cold, but as soon as the sun goes up and heats a bit, you will find yourself in trouble. Always wearing a short-sleeve t-shirt is a lesson that I still have to learn, but I'm getting there. Be smart, and don't follow my example: Wear-that-short-sleeve-tee!
Add a pair of trekking shoes that are waterproof or ankle boots for the city. A hat, gloves, and scarf are a must trio if you suffer from cold weather.
Don't forget a cozy pajama since heating is not always enough in older hotels and houses. Do pack a pair of shorts, a swimming suit, and flip-flops, because you might need them.
And please, don't be like my kids, wearing shorts and a tank top in the middle of December, no matter how cold it is outside… Can you think of more reasons to visit Crete in Winter?
Read more Crete Travel Blogs
🛌 Suggested Accommodation in Crete:
🗺️ More resources to book your trip to Crete
Pin These Top Reasons to Visit Crete During Winter!
---
You might also want to read these posts about Crete's regions:
---
About my blog: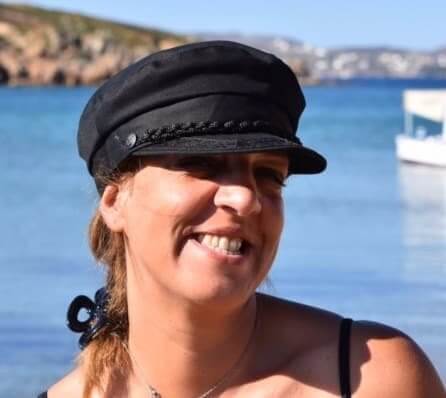 I moved to Crete in 2016. During these years, I learned much about the island.
In Crete, I juggle being a solo mom, hosting culinary tours, and writing for several travel blogs.
I've written for Greek Reporter, published travel guides about Greece, and had more glasses of frappe than any regular person could ever handle.