Looking for the best beaches in Thassos? Or do you plan to visit the island and want to know how Thassos beaches look? Either way, you will find this article helpful for your next Greek adventure! Keep reading to discover the best beaches in Thassos.
---
Disclaimer: Posts include affiliate links to products or services. I might earn a commission if you make a purchase, at no extra cost.
---
Discover the Best Beaches in Thassos
In no particular order, these are some of the best beaches that you will be able to discover and enjoy on Thassos island, take a good look and pick the one you prefer!
Paradise Beach
One of the best beaches in Thasos is no other than Paradise Beach, between the low-key village of Kinira and the archaeological site of Alikes.
As the name suggests, the location and scenery are breathtaking. Imagine pine trees almost touching the water and surrounding the golden sand and shallow waters. Welcome to Paradise.
The view behind the beach is as spectacular as the one in front. After all, there is a small private islet less than a kilometer in front of the beach.
If you are up for an adventure, rent a kayak and explore the islet or the coastline with the spectacular rock formations. Alternatively, relax on a sunbed and enjoy a drink or two in the two beach bars.
Golden Beach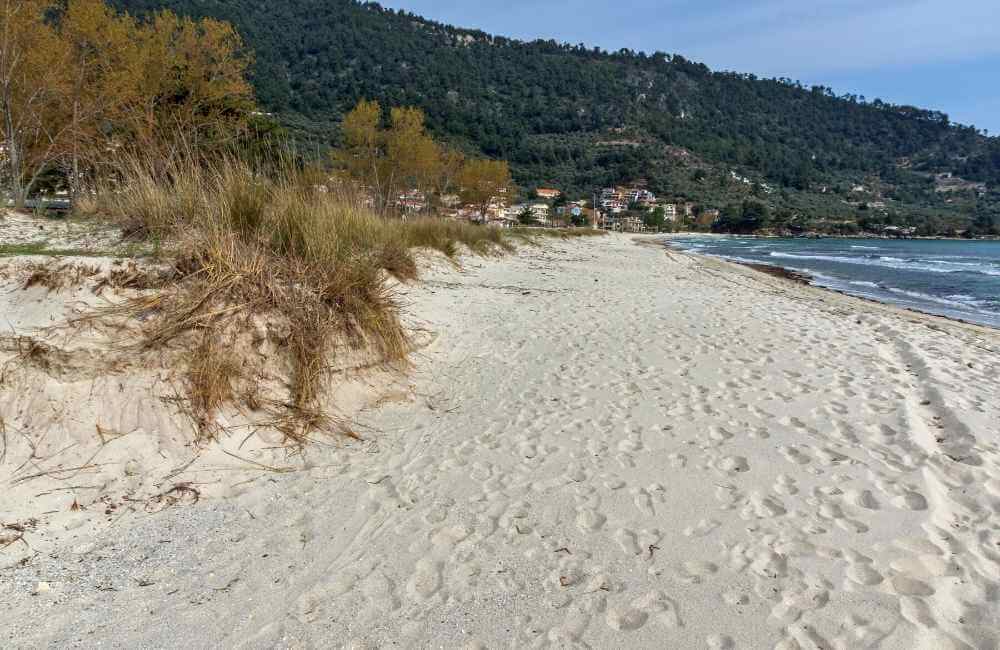 A few kilometers north of Paradise, Golden Beach is a two-kilometer stretch of golden sand that surrounds the modern village of Skala Potamia.
Throughout its length, you will find anything from traditional taverns and beach bars to high-end resorts and stores of any kind. More than half of the beach is full of sunbeds and umbrellas.
And still, it can get crowded.
There are so many hotels and other accommodation options in Skala Potamia that the beach always seems full. And if you factor in the popularity of the area all over the island, you get an idea of why tourists and locals come here in huge numbers.
There is no better feeling than getting straight from the water to the restaurant just next to your sunbed.
Saliara Beach or Marble Beach
Not every Thassos beach has sand. Pebble beaches are a handy alternative for those who want to avoid moving sand to their cars and hotel rooms.
But, no matter your preference, when you are in Thassos, you have to visit Saliara Beach. It is one of the most unique beaches in northern Greece. All because of its small white pebbles that almost resemble large grains of sand.
Although it is a tiny beach that gets crowded fast, you can find anything in the beach bar. And next to the bar, you will find one of the modern marble excavation sites in Thassos.
The clarity of the water very much depends on the marble elements that find their way to the sea. The only downside is the challenging access to Marble Beach, as the dirt road there will leave your car white from marble. Yet, you won't regret it a bit.
La Skala Beach
For a taste of luxury and comfort, make sure to spend an entire afternoon or day at the beach resort of La Skala.
A relatively new addition to Thassos attractions, La Skala promises king-like services and quality drinks. Choose the seat of your preference, and allow yourself the luxuries of a modern Greek beach bar.
And in case you feel any urge to get off the lazy mood, the bar organizes water sports and jet ski rentals.
Once you are done, head to the adjacent restaurant and taste some of the most delicious and gourmet meals you can have on the island, all without waking more than a few meters.
Of course, all these services come with a heavier toll on your wallet, but rest assured that La Skala is worth every penny.
Pachis Beach
A few kilometers west of La Skala, Pachis Beach is an ideal location for those that value exceptional services, clean water, and tasty food… This is one more of our favorite beaches in Thassos.
Although there are many luxury hotels and apartments in the area, the beach bars and restaurants keep pricing low and attract thousands of tourists daily for their quality drinks and meals.
Your kids will love the sea in Pachis. The waters are crystal-clear, calm, and shallow, ideal for snorkeling and family activities.
Or you can just lie down on a sunbed and let the children play where the waves touch the sand. At last, the relaxation and quality time you deserve.
Last-minute plans for Greece?
– Use Ferryhopper to book your tickets.
– Find accommodation deals on Booking.com.
– Compare car rental prices with Discover Cars.
– Visit popular places with GetYourGuide.
Arriba Beach
While in Greece, you may get sunburnt if you don't pay attention or doze off for a bit while sunbathing. That is normal and part of the experience. But what if you want to avoid the sun altogether and still go to a beach. Thassos has you covered.
Arriba Beach in Skala Rachoni is the perfect spot for those looking for a shady beach.
The large pine trees will give you the impression you are in the middle of a forest. Yet, you stand on a sandy beach, and the beach bar is just behind you. Read, listen to music, and enjoy the scenery. All in the natural shade of dense pine trees. You will love every part of it.
Skala Kallirachi Beach
If you are looking for a low-key beach with minimal organization, in the middle of a traditional fishing village, look no further than Skala Kallirachi.
The beach here is sandy and offers a great view of the nearby port with the many fishing boats coming and going.
The water is clear and ideal for snorkeling, especially if you head southwards, where the sand gives way to pebbles and rich underwater life. Ideally, come here in the afternoon, relax at the beach, watch the sunset and then take a stroll at the biggest port on the island of Thassos. This is an experience you do not want to miss.
Klisma Beach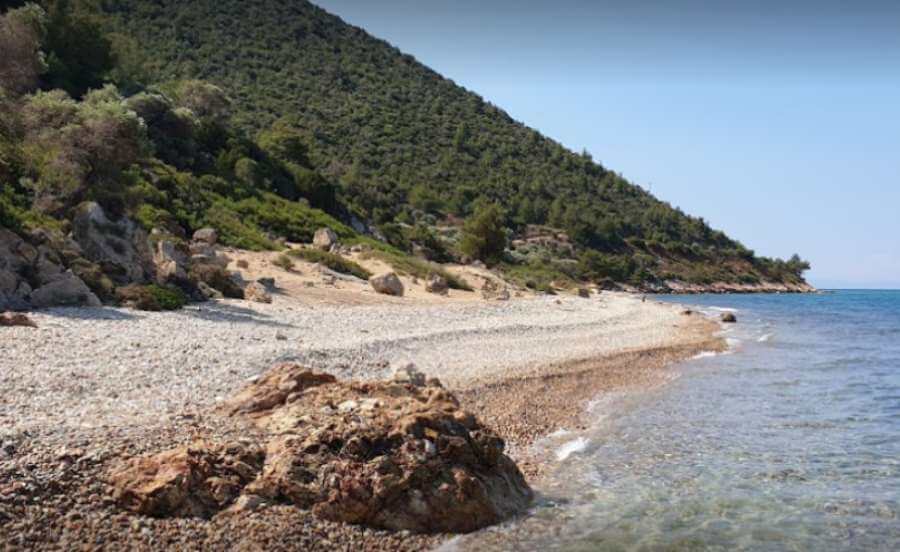 Another off-the-beaten-path beach worth discovering is no other than Klisma Beach. This time, the small pebbles occupy most of the beach but give way to sand once you walk one or two meters into the water, at waist level.
That is the reason locals prefer this beach over other nearby sandy alternatives.
The water is crystal clear, the surrounding is magnificent, and the views breathtaking. Let alone that the sunset here is one of the best on the island.
And in case you get any hungry, there are two traditional restaurants just around the corner. Their reputation as quality tavernas precedes them, making them a must-stop in your Thassos itinerary.
Platanes Beach
Another supreme location for watching the sunset from a sandy beach is the traditional village of Skala Maries. There, Platanes Beach offers a great view of the Aegean.
The sunsets behind the Paggaio mountains on the mainland create breathtaking scenery you will long remember.
Platanes beach has a bar that serves coffee, drinks, and fast food. But in case you prefer lying in bed, there is plenty of space to lay your towel and enjoy every moment at peace.
And if you have kids, there is another reason to be at Platanes as there you will find an organized water playground open to everyone.
Atspas Beach
On the other side of the seaside village of Maries, Atspas Beach is a small enclave of sand that leads to a narrow gulf.
Thanks to the mountains and trees surrounding the beach from either side, the waters are always calm and make for a great snorkeling experience.
Many yachts and tourist boats stop over in Atspas Beach to take in the views of this picturesque bay. You can also reach the beach by land, although you have to walk down almost a hundred steps to get to the area with sunbeds and umbrellas.
Yet, it is more than worth the effort. Don't forget there is a beach bar here to cater to your every need.
Tripiti Beach
On the southern part of Thassos, Tripiti Beach is a popular spot for tourists and locals alike. Its white sand and crystal clear water make Tripiti ideal for families and couples. A large portion of the beach offers sunbed options from the nearby hotel and bars, while there is plenty of space left to play around.
What you will love the most about Tripiti is no other than its spectacular cave. Imagine the water coming through an opening in the rocks and finding a way to a mini sandy beach.
You can even swim all the way and reach the main beach with all the sunbeds and facilities. It will be one of the best experiences you will have in Thassos.
Potos Beach
One of the busiest villages of Thassos, Potos is home to a vibrant and cosmopolitan beach that will amaze you with its beauty and liveliness.
The beach bars are packed next to each other and create an atmosphere that will remind you of the vibrant beaches in Mykonos or Santorini.
The beach is almost always crowded and full of sunbeds. After all, the village of Potos is a major tourist destination thanks to the many hotels and apartments.
It is so organized that you will find anything on the beach. Think of massage sessions, bars to enjoy delicate cocktails or even the opportunity for an adrenaline rush with water sports activities.
Psili Ammos Beach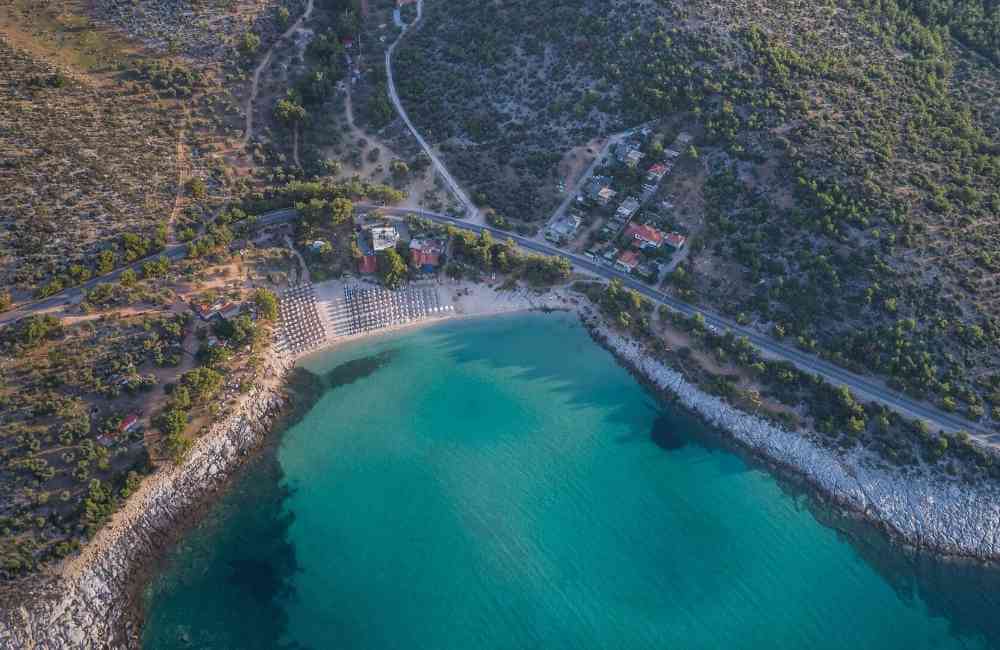 Not far from Potos, you will find one of the most beautiful beaches on the island: Psili Ammos Beach. Thassos is home to spectacular beaches, but none is as unique as Psili Ammos.
Standing in the middle of a tiny bay and overlooking the small islet of Panagia, the beach will leave you in awe of its beauty.
Preferred by families and couples alike, Psili Ammos offers something for everyone.
The kids will enjoy the calm waters and sandy beach, while the youth will love the loud and upbeat music near the beach bar. The bar often organizes beach parties that start late in the afternoon and last until the early morning hours.
Aliki Beach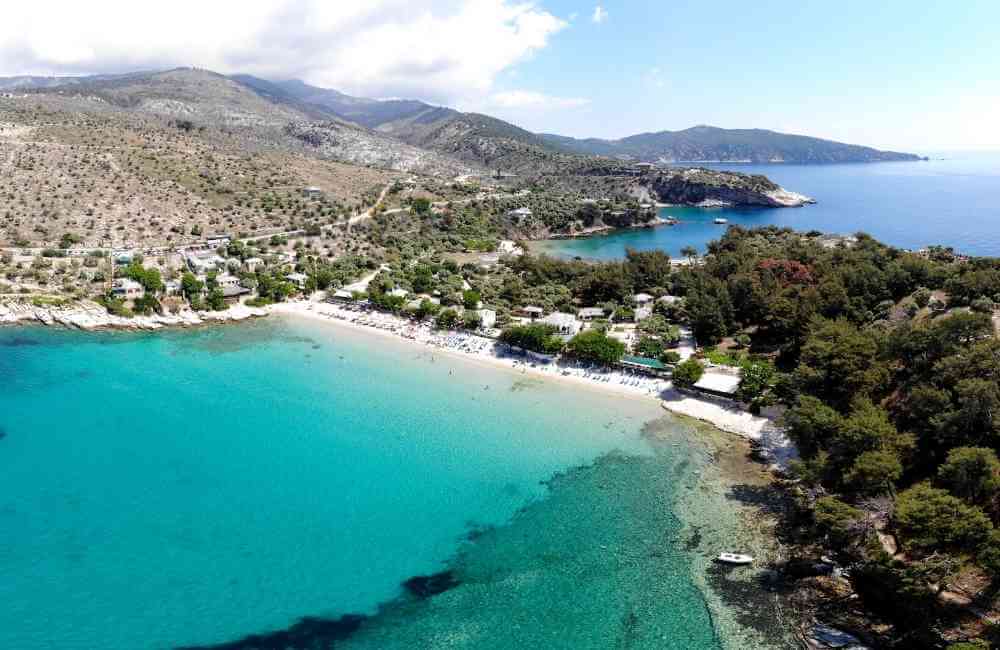 Right next to the archaeological site of Alikes, Aliki Beach is a quiet spot, ideal for families and couples seeking peace.
Although the water is a bit saltier than the other parts of the island, you will love swimming around and embracing the majestic scenery all around.
The best part of Aliki Beach is no other than the archeological site next door. The site starts when the beach ends and invites you for a short but entertaining walk.
And when you return, make sure to dine in one of the many traditional taverns by the water on Aliki Beach.
All in all, Thassos beaches will amaze you with their beauty and uniqueness. While you will love all of them, make sure to not rush and take your time with every beach.
No matter where you go, one thing is certain: once you visit a beach in Thassos, you will want to come back in no time.
Featured author: this article is part of the extensive Thassos Island Series, written and curated by our Thassian writer, Dimitrios Tsevremes.
---
Did you know these Thassos beaches?
Let me know in the comments below!
---
This Belongs to a Board! Pin This Guide to the Best Beaches in Thassos, Greece!
---
Written by Dimitrios Tsevremes
Passionate about travel, spirituality, and sports, I have lived in 5 countries and traveled to more places than I have counted. Writing for me is a way to express myself and my creativity. Whether I write for my blog or a freelancing gig, I always fall in love with the process and often lose my sense of time. If you want, you can check out more about me and my work here.
You might also want to read:
---
Find cheap flights with Skyscanner.
About the author of this blog: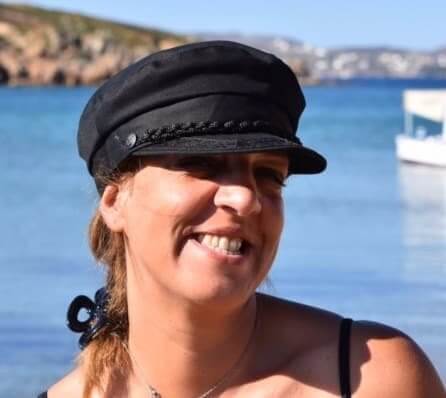 Gabi has been living in Crete for the last six years. On the island, she juggles being a solo mom, hosting culinary tours in summer, translating, and freelance writing for several travel blogs.
She's written for Greek Reporter, published several travel guides about Greece, and had more glasses of frappe than any regular person could ever handle.
COMING TO CRETE SOON?
Get in touch and let me know!