Lipsi is one of those tiny, sometimes forgotten, islands on the list of Greek destinations. For many, more popular islands have become too crowded or too expensive. But there are lesser-known places to discover, and Lipsi is one of them. Would you like to give this island a chance? Discover with me the best things to do in Lipsi, Greece
---
Disclaimer: Posts include affiliate links to products or services. I might earn a commission if you make a purchase.
---
Best Things to Do in Lipsi
PLANNING A LAST-MINUTE TRIP TO GREECE?
Be sure to book accommodation and tours in Greece ahead of time to ensure availability!
🛥️ Book ferry tickets with Ferryhopper.
🛌 Find hotel deals on Booking.com.
🚘 Compare car rental prices with Discover Cars.
💳 In need of money? Use WISE as a digital card and top-up from the app.
With no direct daily connection to mainland Greece, other islands such as Patmos, Leros, Rhodes, Kalymnos, and Kos are the best gates to Lipsi. If you depart from Patmos, it will be easy to reach Lipsi in a short time. Quietness, few ferry connections, and great food are some of the reasons proving that Lipsi is a great day-trip idea, let's check what are the most relaxing things to do in Lipsi.
General Information About Lipsi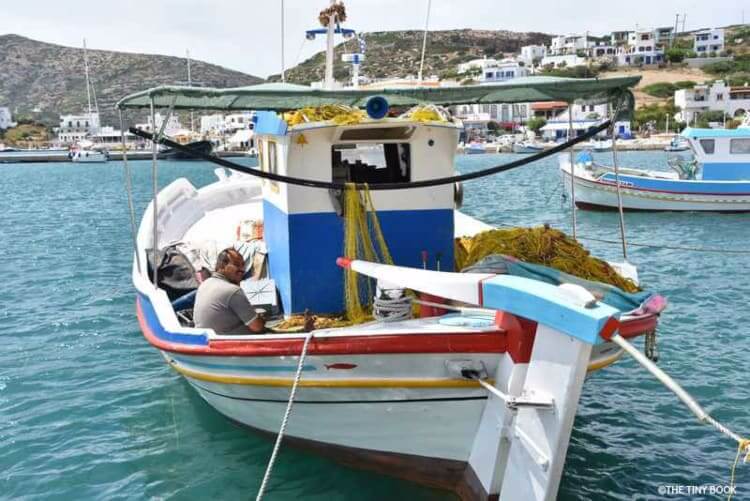 Lipsi is a cluster of islets located in southeastern Aegean, east of Patmos and north of Leros. Their collective name comes from the largest island Lipsi (also Lipso), a territory made of two comprised landmasses joined by a narrow neck. The landscape is made of low hills and valleys. Its rocky coastline is regularly interrupted by shallow bays.
There are almost no cars and few roads on Lipsi. Life on the island develops along the pedestrian waterfront area, with a quaint fishing port where very colorful boats move to the rhythm of soft waves. This unique settlement, also known as Chorio, boasts simple taverns, interesting ouzeries, and traditional fish restaurants where locals and visitors gather for long chats, a few drinks, and live music.
The beaches of Lipsi are of unique beauty, and some of them are rather solitary. Being the island so small, it's also quite easy to cover most distances on foot or with a bike.
The island is ideal for a romantic holiday, for those in search of peaceful seaside spots, or even for families with children. The island is completely safe, and delicious local food completes the attractive landscape of Lipsi.
Best Places to See in the Chora of Lipsi
Even being so small, there is an impressive amount of churches, monasteries and small chapels all over the island. Many locals often claim that every family of Lipsi could have a church of its own.
All of them are worth a visit, either because they are located in dramatically beautiful settings or because they treasure valuable icons and hide religious legends.
If you are short of time, though, try a visit to the church of Koimisis tis Theotokou. It's on the bay that dominates the area of the port and is surrounded by a greenish landscape. Several natural springs spread all over the area.
A hike through the hills of Lipsi will take you to Koimisis tis Theokou, an austere, Byzantine structure, probably built between the 7th or 8th Century AC. Here you can see a holy icon of the Virgin, reputed to be miraculous and with a bizarre motif, depicting the Holy Virgin holding a crucified Jesus.
In town, it's also possible to find the Archaeological Collection of Lipsi. It exhibits clay artifacts and ancient inscriptions on columns, dating back to the Classical, Hellenistic and Christian periods. Excursions to nearby islets and inland hikes lead visitors to experience the most idyllic natural scenarios.
Visit the Best Beaches in Lipsi
Once on the island, don't miss some of the beaches. Most of them are within a short walk from the port or if not, close enough so as to arrive with a taxi or renting a motorcycle.
Kampos Beach
The beach of Kampos is about 10 minutes on foot from the port. Many consider it one of the most beautiful sandy shores on Lipsi. The clear and shallow waters attract mostly families.
Trees offer the much-desired shade during the hottest months of summer. It's quite a wild place, yet many visitors choose the area for its convenient location and calm atmosphere.
Platis Gialos Beach
We loved the seaside area of Platis Gialos. It might be the most famous spot, yet that doesn't mean it's crowded. Being about 6 km from the port, not everyone finds it accessible (though it is!).
A very convenient tavern is the only organized structure you'll find.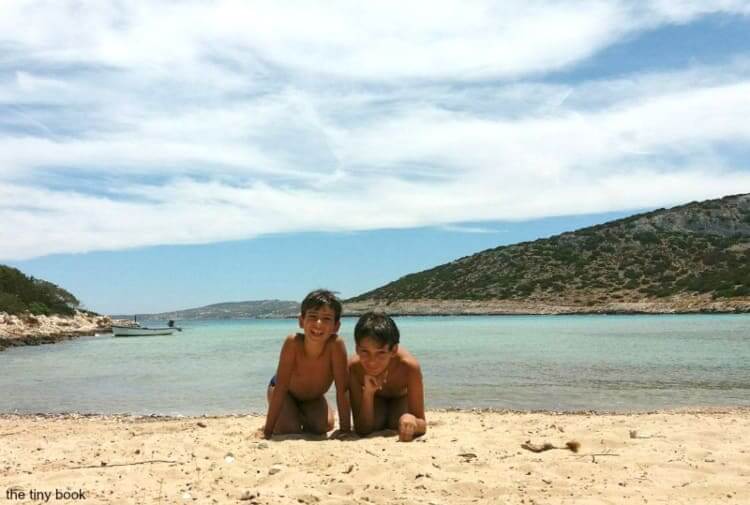 No sunbeds nor umbrellas, but the most pristine waters, wild ducks, and tricky sand mixed to pebbles that turn into the finest surface once you're in the water.
A must-see in Platis Gialos is the church of Agios Konstantinos, not always open but with a façade picturesque enough for pictures.
Other Beaches in Lipsi
Moving to the south, Tourkomnima is a pebble beach with very clear water. A rather lonely area across from a small chapel on top of the rocks that adds a romantic touch to the landscape.
Not far, Hoxlakoura is the largest beach on the island. The location has white stones and (… again!) the water is crystal clear.
If you're still not tired of wandering around, give Lientou a try. With postcard-like turquoise waters, the shore is protected from the winds, making it also a favorite for families.
Where to Eat on Lipsi island
Despite being really a small island, there are a few good tavernas and ouzeries where you can have a fantastic gastronomic experience when visiting the island, In no particular order, these are some of the best places where to eat in Lipsi.
Tavernas and Local Restaurants
Two of my favorite places include Pefko, a tavern that displays genuine local gastronomy at very affordable prices. They serve excellent yet simple dishes, mostly fish and fresh seafood.
They also propose an extensive variety of salads and the regular dishes of the Greek tradition. A place you can't miss is Yiannis, a restaurant facing the bay.
Yiannis offers not only great local dishes but also a magnificent view of colorful fishing boats. Ask for the dish of the day for a quick option.
Ouzeries
At the seaside, you can also find different ouzeries. In these traditional types of Greek tavern the local drink, Ouzo, is a popular option.
Ouzeries also serve different kinds of meze or small dishes with mouth-watering ingredients. In many places, they are so rich and abundant so as to replace your meal.
A popular choice that perfectly pairs with your glass of ouzo is the octopus, delicious in fresh in salads. One of the best places to try octopus is right in front of the sea. Stis Vasos tou Asprakis, or simply Aspraki, is a popular place. There, we enjoyed excellent ouzo, fresh seafood, live music, and a friendly atmosphere.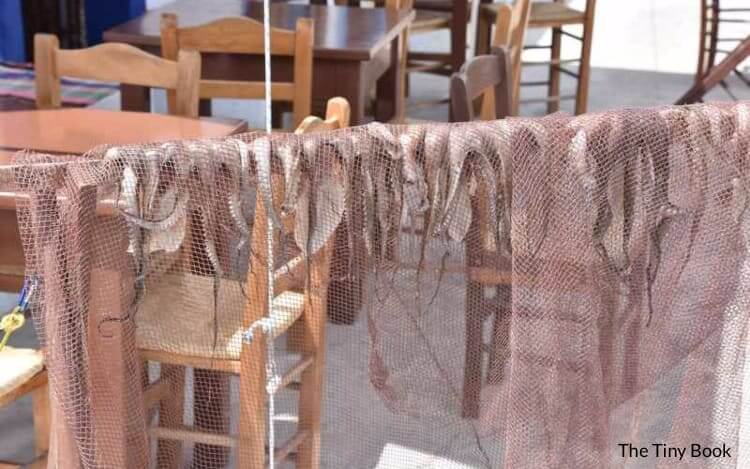 Other local specialties include cheese and pan-fried pies. Popular dishes are also lentil keftedes, kalamari with dark rice and cheese in oil. Thyme honey, dried figs, and spoon preserves from local fruit are delicious bites to try for breakfast or after a meal.
Where to Stay in Lipsi
These are three of my favorite rental homes in Lipsi, check them out:
Aegean Muses
Details:
Hosts: Up to 5 people
Pets: Ask at the property
Paradise Studios
Details:
Hosts: Up to 5 people
Pets: Yes
---
Would you like to visit Lipsi?
Let me know in the comments below!
---
This Belongs to a Board! Pin These Things to Do in Lips for our Adventures!
About my blog: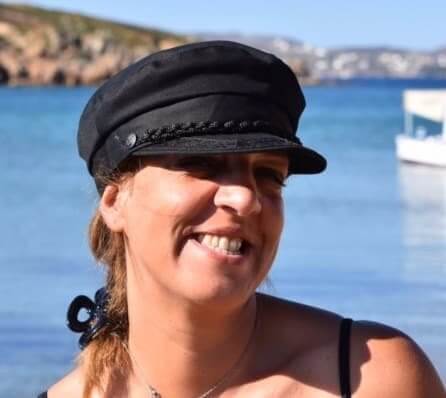 I moved to Crete in 2016. During these years, I learned much about the island.
In Crete, I juggle being a solo mom, hosting culinary tours, and writing for several travel blogs.
I've written for Greek Reporter, published travel guides about Greece, and had more glasses of frappe than any regular person could ever handle.
---
You might also want to read:
---