When visiting Heraklion, don't miss a visit to the archaeological site of Knossos. The Palace, about 10 km from the city, is a great experience for those interested in Ancient Civilizations. But Knossos isn't enough without a stop at the Archaeological Museum of Heraklion. However, what happens when you've got small kids? To make this visit a full-immersion experience, start with a didactic approach. It will prepare kids to visit both the Palace and the Museum. There's an interactive way to introduce them to the wonders of the Minoan civilization: the Labyrinth Park in Heraklion, full of interesting cultural ideas that it gets kids asking for you to take them back.
About Labyrinth Park
The Labyrinth Theme Park is a destination park with activities available for all the family and attractions for all ages. There's a basic entrance fee and then you decide the itinerary for the day. As the name suggests, the main idea of the park is developed about the Labyrinth.
The Minoan labyrinth allows you to really get lost and spend some time trying to discover secret rooms and mysteries (you must get the stamps from every room so as to get your Labyrinth diploma sealed) belonging to the Greek mythology.
Since we had already visited both the Museum in Heraklion and the Palace of Knossos, we combined the Labyrinth park with a visit to the Archaeological Site of Malia, just a few minutes away… and it worked great!
Many labyrinths, golf, and animals
After completing the maze, we all got stamps for Mini Golf. There is also a Cretan Stone Labyrinth. Probably the maze I found most stimulating, not because of the way it develops, but for all the hints of ideas to ponder while walking the maze. It boosts your self-confidence and teaches you more than one lesson.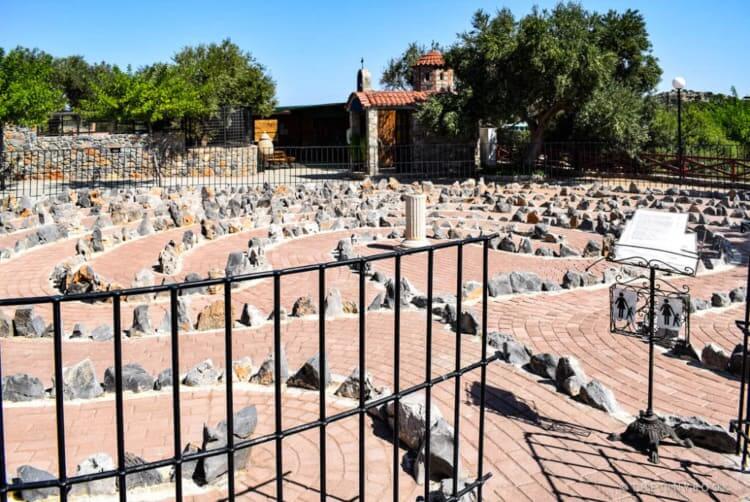 >> Check the Heraklion hotel guide to find where to stay with the family <<
There's plenty to do in the Labyrinth park. Kids enjoyed the Eco-Garden, teaching all about different local fruit and vegetables, indigenous aromatic herbs and flowers. Another favorite was the Farm, where they got a close look at Markus the donkey, Achilles and Hector the mini-Shetlands. Children can also try some horseback riding.
Archery lessons in Labyrinth Park, Heraklion
After that, we went for some Archery lessons that had the children going crazy every time they hit and made the balloon explode! A very knowledgeable guy guided them through the magic world of arches and arrows. This activity had them definitely asking for another visit to the park.
The laser maze in Labyrinth Park
My favorite part was the Trojan horse, a huge wooden structure in the middle of the park. The Trojan horse is, in fact, a dark chamber that turns into a stunning Laser Maze. You will go through subtle laser beams trying not to make the alarm go off.
We crawled, jumped and crept, and laughed so much trying to find our way in the dark. In the end, a computer screen showed us our records and made mom the one to blame for the alarms. Yeap, I'm not that good at crawling!
Endless attractions
Back to more relaxing activities, kids were able to try their pottery skills as well as concentrate on a Cretan Chessboard. The Miniature Village was fun whenever they were able to recognize all the different actors of the past Cretan society, still very much active today. Such as the raki producer, the honey maker and many other inhabitants of our mountains.
Escape Atlantis
Finally, you can take a look at Escape Atlantis, for this attraction allow at least one hour more. This puzzle-solving game is based on the legend of Atlantis.
The god Poseidon ruled the seas and made his first son, Atlas, king of the island. God Zeus, quite annoyed by the immortality of the Atlanteans, punished them. The island of Atlantis was swallowed by the sea.
Here you turn into a leading character, in search of the lost island but when you enter the temple, there's no way out! In 50 minutes you must discover the secrets of Atlantis and escape before you are lost within the ruins forever!
Our experience at Labyrinth Park in Heraklion, Crete
We loved the idea behind the park. You need at least a morning for all the activities. We didn't love so much paying extra for nearly every attraction. So, consider about 3 euro per kid, per activity for every attraction. The Atlantis requires 25 euro more for the whole family. Kids loved it though, so I guess we'll do it again despite the extra expenses.
No language barriers
In the Labyrinth Park also watch videos about the Minoan Civilization or a ride quad bikes. Language barriers are minimum, most attractions have multilingual labels. There's also a nice cafeteria with reasonable prices. All in all, it was an interesting proposal, we really enjoyed our day at the Labyrinth Park.
Visit the Labyrinth Park
4th km Hersonissos to Kasteli Road,
Ano Hersonissos, 70014, Heraklion, Crete
Telephone: +30 28970 29297 & +30 6975903300/3
Get in touch if you need extra help to plan your trip. If you want to tour West Crete, check my guide. Want more? Join my Private Facebook Group to connect with like-minded tavelers who love Crete as much as you do!
Coming to Crete any time soon? These resources will help you organize the trip!
Start by reading these helpful tips to plan a trip to Crete, which covers details such as when it's best to travel, what documents you need, or how to get a SIM card. Check family holidays in Crete if you travel with kids.
To visit Crete's heavenly beaches, check my guide to the best beaches in Crete. Discover what region is best to stay or check what things you can do in Crete.
For updated information about the island, join my private group on Facebook, or get my West Crete Guide!
Finally, make sure you've got everything you for a hassle-free trip!
I never move around Crete without my Osprey backpack, a sturdy, light, roomy, and super comfortable travel partner I just love. To visit villages, sites, and museums instead, I carry this little crossbody bag.
When driving around, I pack my Crete Michelin map and my Nikon D7200. In Summer I also carry good sunscreen lotion, the sun on the island can be pretty aggressive.
Airfares to Crete can change from one airline to the other, make sure to compare prices with a powerful search engine. Planes are fast, but nothing like the romantic experience of traveling by sea in Greece. Direct Ferries has great ticket deals to reach Crete from Athens or to visit other Greek islands.
If I need to book accommodation, I personally use different search engines. Booking.com and Hotels.com are my go-to options.
Sometimes, the best way to get to know a place and make the most of your time on Crete is to join an organized tour. GetYourGuide has top-rated tours to save time and money. From cooking lessons to archaeological site tours, skip-the-line attractions, and even airport transfer!
Do you have everything you need? Then you just have to get ready to discover Crete, Greece's most beautiful island!
Would you take your kids to this theme park?
Let me know in the comments below!
This is a pin-pin situation!
---
You might also want to read:
---