Truly a child-friendly island, Crete has lots of places especially thought for kids spending their holidays here, one of these places is The Labyrinth Park, which not only entertains but also tells some of the best legends of the island.
---
Disclaimer: Posts include affiliate links to products or services. I might earn a commission if you make a purchase, at no extra cost to you.
---
Day Trip to Labyrinth Park Heraklion with Kids
When visiting Heraklion, don't miss a visit to the archaeological site of Knossos. The Palace, about 10 km from the city, is a great experience for those interested in Ancient Civilizations.
But Knossos isn't enough without a stop at the Archaeological Museum of Heraklion.
However, what happens when you've got small kids? To make this visit a full-immersion experience, start with a didactic approach. It will prepare kids to visit both the Palace and the Museum.
There's an interactive way to introduce them to the wonders of the Minoan civilization: the Labyrinth Park in Heraklion, full of interesting cultural ideas that get kids asking for you to take them back.
About Labyrinth Park
The Labyrinth Theme Park is a destination park with activities available for all families and attractions for all ages. There's a basic entrance fee and then you decide the itinerary for the day.
As the name suggests, the main idea of the park is developed about the Labyrinth.
The Minoan labyrinth allows you to get lost and spend some time trying to discover secret rooms and mysteries (you must get the stamps from every room to get your Labyrinth diploma sealed) belonging to Greek mythology.
Best Hotels in Heraklion
Affordable: Candia Studios & Rooms or Rea Hotel in the city center.
Mid-range: Capsis Astoria and Veneziano Boutique Hotel in town.
Luxury: GDM Megaron H. M. Hotel or Galaxy Iraklio in the center.
Check also Heraklion Accommodation Guide and Best Places to Stay in Crete.
PERSONAL EXPERIENCE: Since we had already visited both the Museum in Heraklion and the Palace of Knossos, we combined the Labyrinth park with a visit to the Archaeological Site of Malia, just a few minutes away… and it worked great!
You might also want to read: Gorgeous Villages in Crete You Should Visit.
Many Labyrinths, Golf, and Animals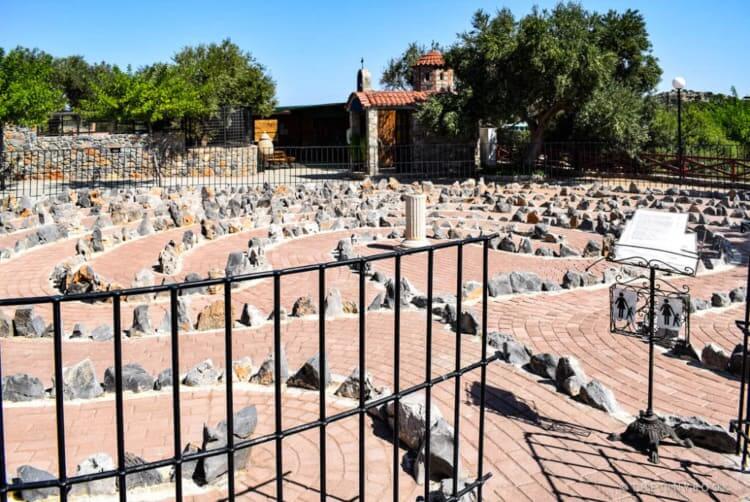 After completing the maze, we all got stamps for Mini Golf. There is also a Cretan Stone Labyrinth.
Probably the maze I found most stimulating, not because of the way it develops, but for all the hints of ideas to ponder while walking the maze. It boosts your self-confidence and teaches you more than one lesson.
There's plenty to do in Labyrinth Park. Kids enjoyed the Eco-Garden, teaching all about different local fruit and vegetables, indigenous aromatic herbs, and flowers.
Another favorite was the Farm, where they got a close look at Markus the donkey, Achilles, and Hector the mini-Shetlands. Children can also try some horseback riding.
Check the Heraklion hotel guide to find where to stay with the family.
Archery Lessons in Labyrinth Park
After that, we went for some Archery lessons that had the children going crazy every time they hit and made the balloon explode!
A very knowledgeable guy guided them through the magic world of arches and arrows.
This activity had them asking for another visit to the park.
The Laser Maze in Labyrinth Park
My favorite part was the Trojan horse, a huge wooden structure in the middle of the park. The Trojan horse is, in fact, a dark chamber that turns into a stunning Laser Maze.
You will go through subtle laser beams trying not to make the alarm go off.
We crawled, jumped, and crept, and laughed so much trying to find our way in the dark. In the end, a computer screen showed us our records and made mom the one to blame for the alarms.
Yeap, I'm not that good at crawling!
You might also want to read: Outstanding Things to See in Knossos Palace, Crete.
More Attractions
Back to more relaxing activities, kids were able to try their pottery skills as well as concentrate on a Cretan Chessboard.
The Miniature Village was fun whenever they were able to recognize all the different actors of the past Cretan society, still very much active today.
Such as the raki producer, the honey maker, and many other inhabitants of our mountains.
Escape Atlantis
Finally, you can take a look at Escape Atlantis, for this attraction allow at least one hour more.
This puzzle-solving game is based on the legend of Atlantis.
The god Poseidon ruled the seas and made his first son, Atlas, king of the island.
God Zeus, quite annoyed by the immortality of the Atlanteans, punished them.
The island of Atlantis was swallowed by the sea.
Here you turn into a leading character, in search of the lost island but when you enter the temple, there's no way out! In 50 minutes you must discover the secrets of Atlantis and escape before you are lost within the ruins forever!
Our Experience at Labyrinth Park in Heraklion, Crete
We loved the idea behind the park.
You need at least a morning for all the activities.
We didn't love so much paying extra for nearly every attraction.
So, consider about €3 per kid, per activity for every attraction. The Atlantis requires €25 more for the whole family. Kids loved it though, so I guess we'll do it again despite the extra expenses.
No Language Barriers
In Labyrinth Park also watch videos about the Minoan Civilization or ride quad bikes. Language barriers are minimum, most attractions have multilingual labels.
There's also a nice cafeteria with reasonable prices.
All in all, it was an interesting proposal, we enjoyed our day at Labyrinth Park.
Labyrinth Park
4th km Hersonissos to Kasteli Road,
Ano Hersonissos, 70014, Heraklion, Crete
Telephone: +30 28970 29297 & +30 6975903300/3
MORE KID-FRIENDLY TOURS IN CRETE:
These are some of the most popular tours in Crete for families with children!
– Acqua Plus Water Park Entrance Ticket
– Horse Riding with Lunch in the Mountains near Heraklion
– Black Rose Pirate Boat: 5-Hour Trip from Heraklion
– Knossos Palace: Family-friendly Mythology Tour
– CRETAquarium Admission Ticket
Would you take your kids to a theme park when in Crete
Let me know in the comments below!
You might also want to read these articles about Crete:
– Fun Things to Do in Crete with Kids: Getting Ready for a Fantastic Family Vacation! – A guide to planning your family vacation in Crete.
– Insanely Useful Packing List for Your Crete Vacation (Plus Bonus Insider's Tips) – What to pack for a perfect trip to Crete.
– Things to do in Heraklion with Kids: Dinosauria Theme Park – A visit guide to a great theme park in Heraklion.
– The Safest Beaches for Kids in Crete for a Stress-Free Holiday: Insider's Guide – A list with the best beaches in Crete for children and how to visit them.
– Discover the Most Stunning Archaeological Sites in Crete – The most interesting archaeological sites on the island.
Let's Start by Getting Ready for Crete!
RESOURCES TO BOOK YOUR TRIP:
Book your flight: I use Skyscanner to compare prices before booking a plane ticket.
Book your ferry: When ferries are more convenient than air travel, I use Ferryhopper.
Book your accommodation: I've tried many different platforms for accommodation, but none of them beats the advantages of Booking.com.
Book your car: The best way to find an affordable car to rent is to use a powerful search engine that compares all the rental companies in the market. I use Discover Cars.
Book your tours: Live unforgettable adventures and cultural experiences with Get Your Guide. For instance, you can Visit Elafonisi, discover Balos Beach, hike Samaria, or explore Knossos.
Don't forget travel insurance: Things can go wrong at times, but travel insurance will protect you against illness, injury, theft, and cancellations. I recommend Safety Wing for peace of mind.
Pin these Useful Guide to the Labyrinth Park Heraklion in Crete For Your Next Adventure in Greece!
About the author of this blog: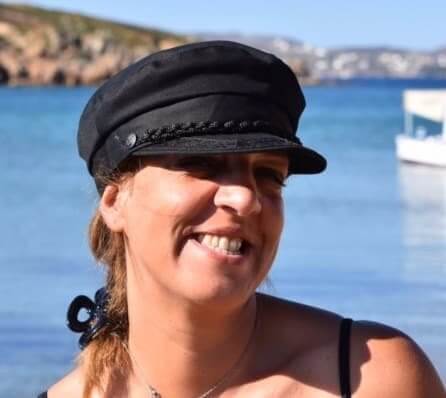 Gabi has been living in Crete for the last five years. On the island, she juggles being a solo mom, hosting culinary tours in summer, translating, and freelance writing.
She's written for Greek Reporter, published several travel guides about Greece, and had more glasses of frappe than any regular person would be able to handle.
COMING TO CRETE SOON?
Get in touch and let me know!