If you're willing to discover more about the fantastic Rethymnon region in Crete, then take some time to read about the amazing wines produced in the region. When you set out on an adventure to explore more, you can discover many interesting things.
On one of my trips to the region, I stopped at a small, family-run winery halfway through the road that connects Panormo and Skepastì. Klados Winery is about 20 km from the city and it can be a pleasant surprise if you decide to go wine tasting in Rethymnon.
---
Disclaimer: Posts include affiliate links to products or services. I might earn a commission if you make a purchase, at no extra cost to you.
---
Klados: Wine Tasting in Rethymnon
Best hotels in Rethymnon
Affordable: Ilian Beach and Summer Drem in Rethymnon Town.
Mid-range: Archipelagos Hotel in town or Veneto Boutique Hotel.
Luxury: Avli Lounge and Rimondi Boutique Hotel in the old town. Or read my review of this top old-town boutique hotel.
Check also Rethymnon Accommodation Guide and Rental Homes and Airbnb in Rethymnon.
Wines of Crete in Rethymnon
A young and enthusiastic Stelios, the winemaker, opened the doors to Klados but also to a whole new aspect of local wines.
He explained his personal philosophy focused on just a few labels, avoiding a very commercial approach and, at the same time, trying to introduce autochthonous varieties to visitors.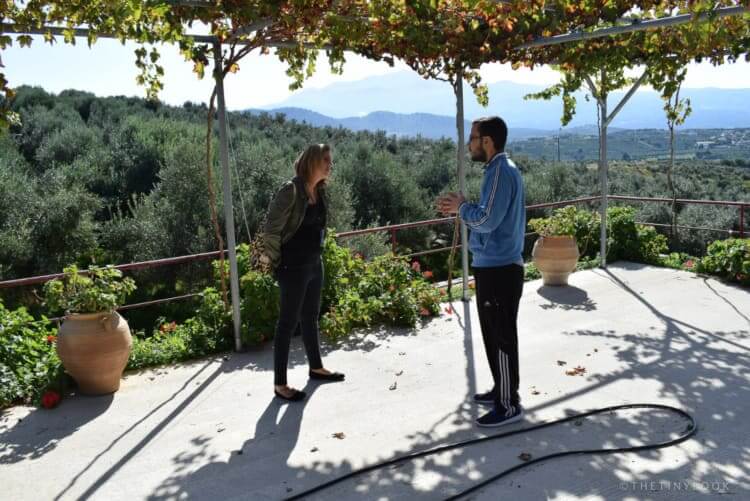 Focusing on wines he likes is key for Stelios. As simple as that, as complex as that. That's the philosophy behind his blends, that's the idea supporting his winery.
You might also want to read: Gastronomic Crete: Discover the Fantastic Wines from Crete.
Wine Tasting in Rethymnon
During my wine tasting day in Rethymnon at Klados winery, these are some of the labels I tried…
Three Whites
The first of the whites we tried was the Vidiano Great Hawk. Fresh and with fruity aromas, a wine that well pairs with the Cretan gastronomy, but also with more Oriental tastes, as well as with fish. A wine that can be enjoyed on its own as well too.
After that, it was the turn of a Sauvignon Blanc which Stelios defined as a Cretan Sauvignon.
This because of the hot weather, typical of the island, helps produce a slightly more alcoholic wine, with aromas of exotic fruits but also tints of herbs.
Finally, for the whites, it was time for a blend, Muscat of Spinas (60%) – Vidiano (40%).
This is probably the wine that best depicts the character of the winemaker, with excellent aromas and perfect acidity.
A glass of this wine will be ideal to pair with a dinner by the port on any summer evening on the island.
A wine that confirms the main goal of the winery, that is focusing just on a few labels but making them the best.
Want to read more? Discover the best things to do in Rethymnon.
A Rosé and Some Red Character
Interesting color for the Klados rosé (Kotsifali – Cabernet Sauvignon), with aromas of cherry, plum, and red fruits (fragostafilo), not the typical rosé you might find on Crete.
The red that Klados produces is the ideal wine for the long summers of the island. Yes, it's red wine and that's despite the island's hot weather.
It's fresh, as Stelios says, and to be enjoyed during the long Cretan summers.
A blend (Cabernet Sauvignon – Merlot) with intense color and low in tannins, ideal for tourists interested in approaching the indigenous ideas.
You might also want to read: Unique Experiences in Crete: Trip to Arkadi Monastery, Rethymno.
Visit Klados Winery
The winery has the facilities to receive visitors. Walk around the vineyard, take a look at the winemaking process technology, and – why not? Share a glass of wine.
The winery logo depicts a hawk on a branch, an image linked both with the family and the area.
The branch is associated with the family name klados while the hawk is common in the habitat around the winery.
A bird that protects the vineyard, preventing attacks of other birds against mature grapes.
What's more, Stelios tells us, the hawk also has mythological importance since, according to a Cretan tradition; it took over the protection and upbringing of Zeus in the Ideon Andron, a cave a few kilometers away from the winery.
Visiting hours:
April – October: Monday to Friday 10 – 18 / Saturday 10 – 15
November – March 10 – 15 (or previous phone appointment)
For more information, take a look at their website.
Are you a fan of rosé, white, or red wine? Have you ever tried the wines of Crete?
Let me know in the comments below!
You might want to read more blogs about Crete:
– Guide to Driving in Crete: Everything You Need to Know – A guide with tips for renting a car and driving in Crete.
– How to Spend 3 Fantastic Weeks on the Road in Crete – A 3-week itinerary on the island.
– What to Pack for a Road Trip in Crete: Genius and Practical Packing List – Everything you need to pack to spend your time on the road in Crete.
– Outstanding Things to See in Knossos Palace, Crete – A visitor's guide to the most important things to discover inside the most important Minoan palace on the island.
Let's Start by Getting Ready for Crete!
RESOURCES TO BOOK YOUR TRIP:
Book your flight: I use Skyscanner to compare prices before booking a plane ticket.
Book your ferry: When ferries are more convenient than air travel, I use Ferryhopper.
Book your accommodation: I've tried many different platforms for accommodation, but none of them beats the advantages of Booking.com.
Book your car: The best way to find an affordable car to rent is to use a powerful search engine that compares all the rental companies in the market. I use Discover Cars.
Book your tours: Live unforgettable adventures and cultural experiences with Get Your Guide. For instance, you can Visit Elafonisi, discover Balos Beach, hike Samaria, or explore Knossos.
Don't forget travel insurance: Things can go wrong at times, but travel insurance will protect you against illness, injury, theft, and cancellations. I recommend Safety Wing for peace of mind.
Pin This Guide to Go Wine Tasting in Rethymnon For Your Next Trip to Crete!
About the author of this blog: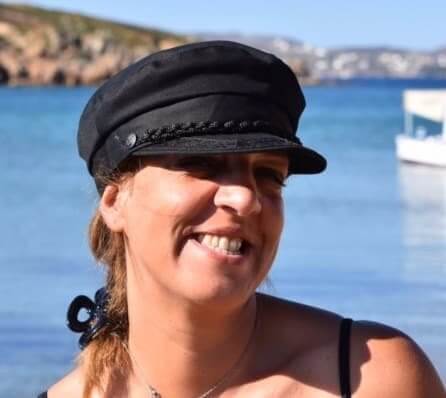 Gabi has been living in Crete for the last five years. On the island, she juggles being a solo mom, hosting culinary tours in summer, translating, and freelance writing.
She's written for Greek Reporter, published several travel guides about Greece, and had more glasses of frappe than any regular person would be able to handle.
COMING TO CRETE SOON?
Get in touch and let me know!