We've recently devoted two weeks to explore the region of Rethymnon. Over there, we discovered many interesting things, for instance, Rethymnon wine tasting. We also found that there is a place more than worth a visit. It's Klados, a small, family-run winery halfway through the road that connects Panormo and Skepastì, little more than 20 kilometers from Rethymnon.
This article may have affiliate links to products and services that I use. If you make a purchase through these links, I might earn a small commission at no extra cost to you. Some of the articles in this blog have affiliate links to properties and services provided by Airbnb. As an Airbnb Associate, I might earn a small commission – at no extra cost to you – if you book through one of these links.
Klados Winery, Rethymnon
Vidiano vineyard, Klados winery.
A young and enthusiastic Stelios, the winemaker, opened the doors to Klados but also to a whole new aspect of local wines.
He explained his personal philosophy focused on just a few labels, avoiding a very commercial approach and, at the same time, trying to introduce autochthonous varieties to visitors.
Focusing on wines he likes is key for Stelios. As simple as that, as complex as that.
That's the philosophy behind his blends, that's the idea supporting his winery.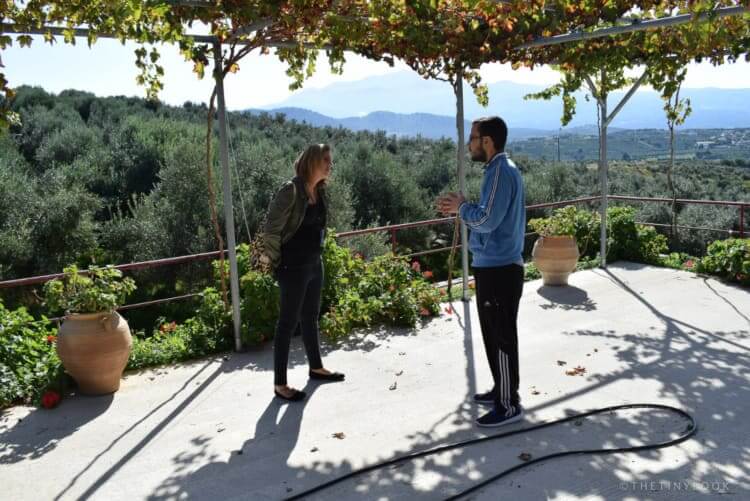 Wine tasting in Rethymnon
Three whites
The first of the whites we tried was the Vidiano Great Hawk. Fresh and with fruity aromas, a wine that well pairs with the Cretan gastronomy, but also with more Oriental tastes, as well as with fish. A wine that can be enjoyed on its own as well too.
After that, it was the turn of a Sauvignon Blanc which Stelios defined as a Cretan Sauvignon. This because of the hot weather, typical of the island, helps produce a slightly more alcoholic wine, with aromas of exotic fruits but also tints of herbs.
Finally, for the whites, it was the time for a blend, Muscat of Spinas (60%) – Vidiano (40%). This is probably the wine that best depicts the character of the winemaker, with excellent aromas and perfect acidity.
A glass of this wine will be ideal to pair with a dinner by the port on any summer evening on the island.
A wine that confirms the main goal of the winery, that is focusing just on a few labels but making them the best.
>> Discover more things to do in Rethymnon <<
A rosé and then some red character
Interesting color for the Klados rosé (Kotsifali – Cabernet Sauvignon), with aromas of cherry, plum and red fruits (fragostafilo), not the typical rosé you might find on Crete.
The red that Klados produces is the ideal wine for the long summers of the island. Yes, it's a red and that's despite the island's hot weather. It's fresh, as Stelios says, and to be enjoyed during the long Cretan summers.
A blend (Cabernet Sauvignon – Merlot) with intense color and low in tannins, ideal for tourists interested in approaching the indigenous ideas.
Visit Klados winery
The winery has the facilities to receive visitors. Walk around the vineyard, take a look at the winemaking process technology, and – why not? Share a glass of wine.
The winery logo depicts a hawk on a branch, an image linked both with the family and the area. The branch is associated with the family name klados while the hawk is common in the habitat around the winery.
A bird that protects the vineyard, preventing attacks of other birds against mature grapes. What's more, Stelios tells us, the hawk also has mythological importance since, according to a Cretan tradition; it took over the protection and upbringing of Zeus in the Ideon Andron, a cave a few kilometers away from the winery.
Visiting hours:
April – October: Monday to Friday 10 – 18 / Saturday 10 – 15
November – March 10 – 15 (or previous phone appointment)
For more information, take a look at their website.
Get in touch if you need extra help to plan your trip. If you want to tour West Crete, check my guide. Want more? Join my Private Facebook Group to connect with like-minded travelers who love Crete as much as you do!
Coming to Crete any time soon? These resources will help you organize the trip!
Start by reading these helpful tips to plan a trip to Crete, which covers details such as when it's best to travel, what documents you need, or how to get a SIM card. Check family holidays in Crete if you travel with kids.
To visit Crete's heavenly beaches, check my guide to the best beaches in Crete. Discover what region is best to stay or check what things you can do in Crete.
For updated information about the island, join my private group on Facebook, or get my West Crete Guide!
Finally, make sure you've got everything you for a hassle-free trip!
I never move around Crete without my Osprey backpack, a sturdy, light, roomy, and super comfortable travel partner I just love. To visit villages, sites, and museums instead, I carry this little crossbody bag.
When driving around, I pack my Crete Michelin map and my Nikon D7200. In Summer I also carry good sunscreen lotion, the sun on the island can be pretty aggressive.
Airfares to Crete can change from one airline to the other, make sure to compare prices with a powerful search engine. Planes are fast, but nothing like the romantic experience of traveling by sea in Greece. Direct Ferries has great ticket deals to reach Crete from Athens or to visit other Greek islands.
If I need to book accommodation, I personally use different search engines. Booking.com and Hotels.com are my go-to options.
Sometimes, the best way to get to know a place and make the most of your time on Crete is to join an organized tour. GetYourGuide has top-rated tours to save time and money. From cooking lessons to archaeological site tours, skip-the-line attractions, and even airport transfer!
Do you have everything you need? Then you just have to get ready to discover Crete, Greece's most beautiful island!
Are you a fan of rosé, white, or red wine? Have you ever tried the wines of Crete?
Let me know in the comments below!
Pin this article and read it later!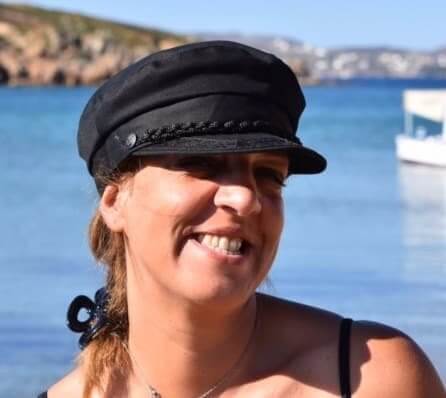 About the Author
Hola! I'm Gabi. Welcome to The Tiny Book – Crete Travel Blog! I moved to Crete to explore the island all year round. I love taking pictures and driving on the mountain roads of Crete. I'm a beach freak and on this island I've found heaven on earth!